This post is sponsored by Everywhere Agency on behalf of OshKosh B'gosh; however, all thoughts and opinions expressed are my own. #OshKoshKids #BeYourself
A quick Pinterest or Google search brings up tons of mommy and me looks for moms and daughters, but not many mommy and son matching outfit ideas. My little guy, Colton, loves being a part of the blog, so I wanted to do a special mommy/son matching outfit shoot to celebrate his start of preschool this year!
Plus, I've partnered with OshKosh to give away a $50 gift card to one lucky reader! Read on for the details…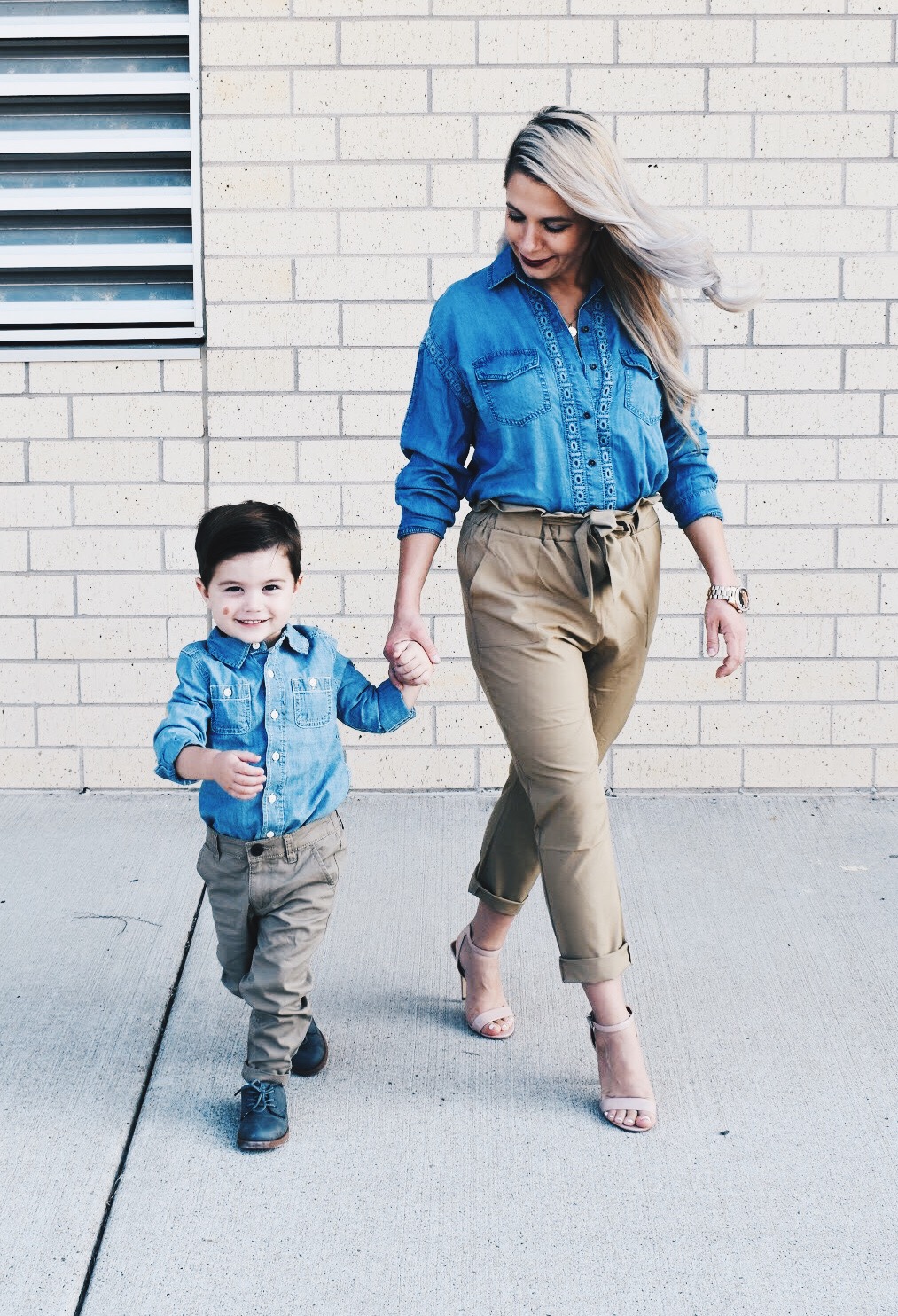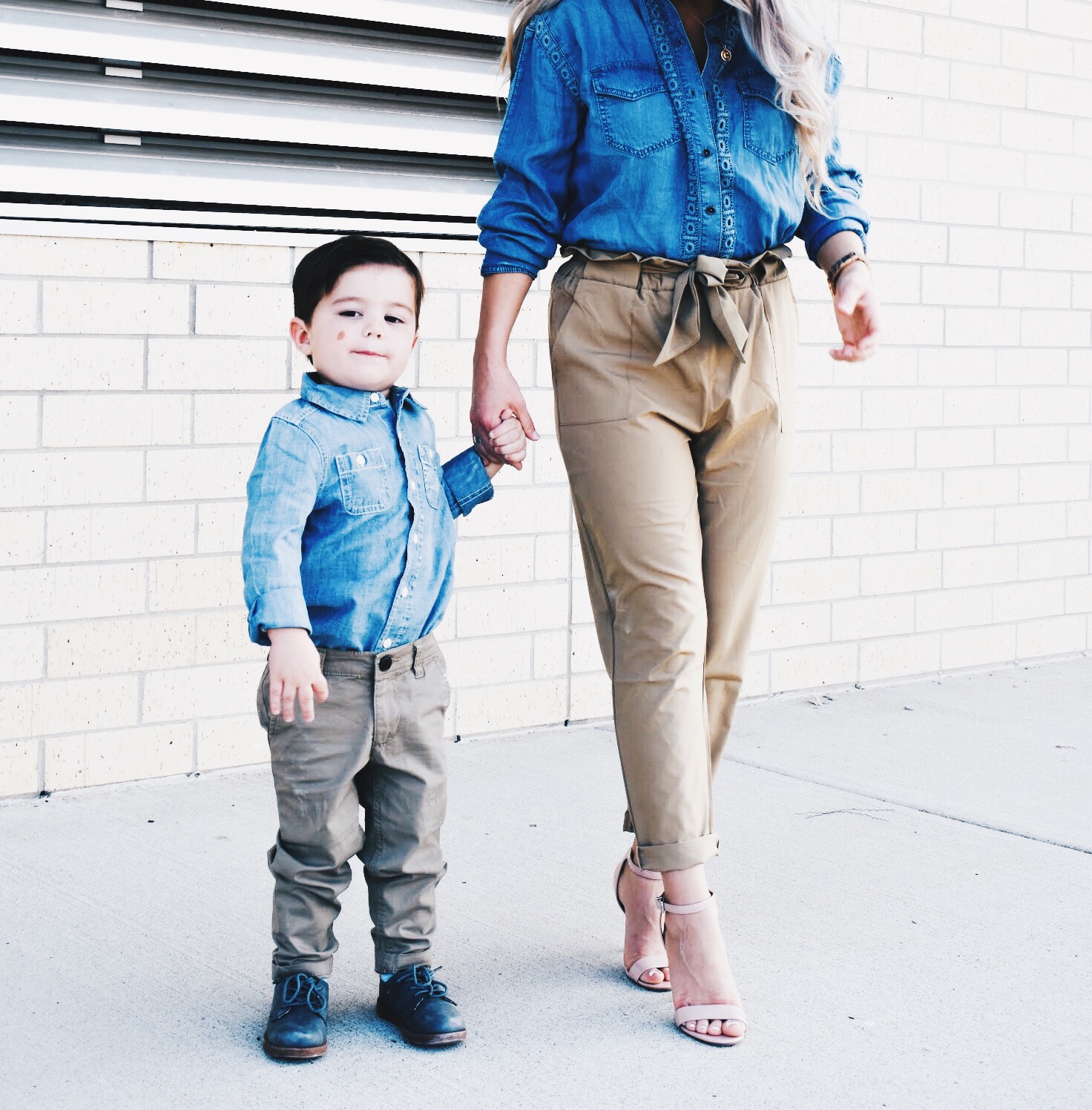 I've talked before about being nervous about my little guy starting preschool. It's such a big step for him… and me! He tells me every day that he's excited for his first day and can't wait to go to school, so that warms my heart. I was one of those kids that hated school, so I truly hope he enjoys it. I know that will be easier on both of us.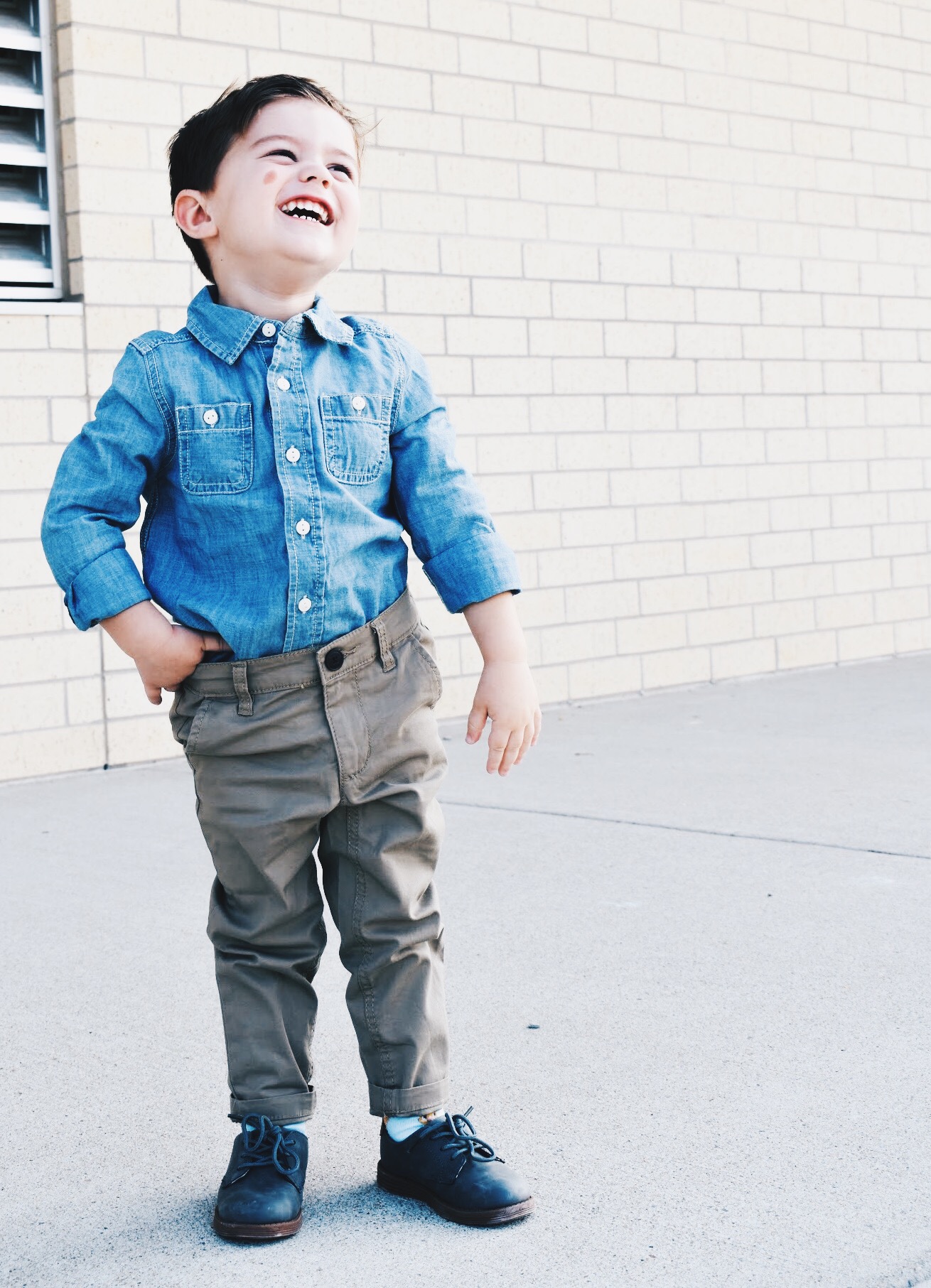 Colton has the sweetest, funniest, and most sincere personality. One thing about Colton, he is a bit "slow to warm." He has to hang out with someone a few times before he really wants to play with them, but once you've won him over, you've got a friend for life.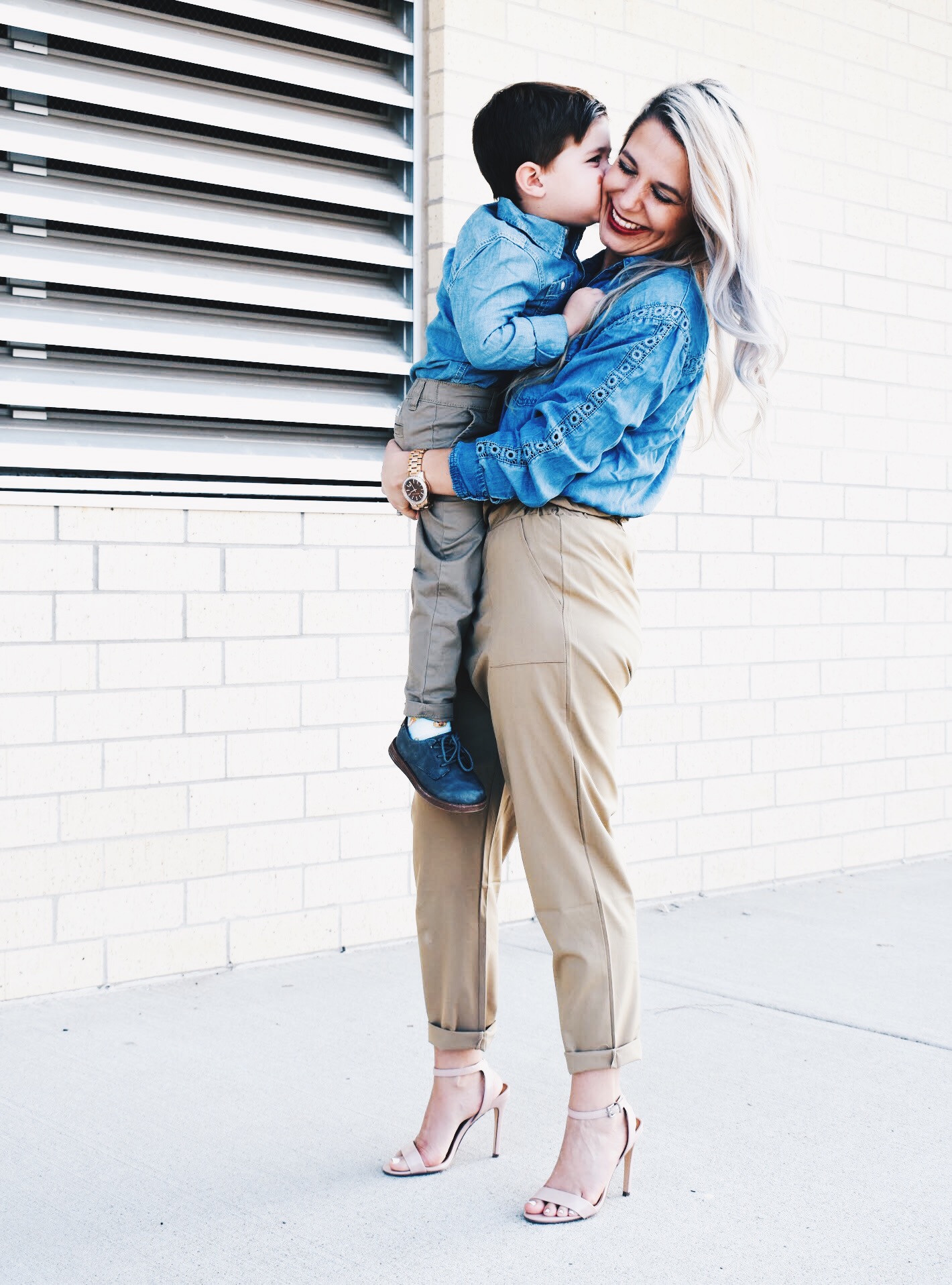 He and I have such a special bond, and I honestly can't imagine not having him around all day every day. Even though he'll only be gone for a few hours a week, it still seems like life is changing so fast.
I won't lie, there are days when he drives me crazy and brings me to my knees. I'm not a super mom, I use screen time as a babysitter, and I curse in front of my kids a little too much. But he doesn't care about any of that, he's my little boy and I'm his mama and his love is unconditional. My sincere hope for his time at preschool is that he finds friends who appreciate him the way that I do, and that he likes his friends a lot but not as much as he likes me. Ha!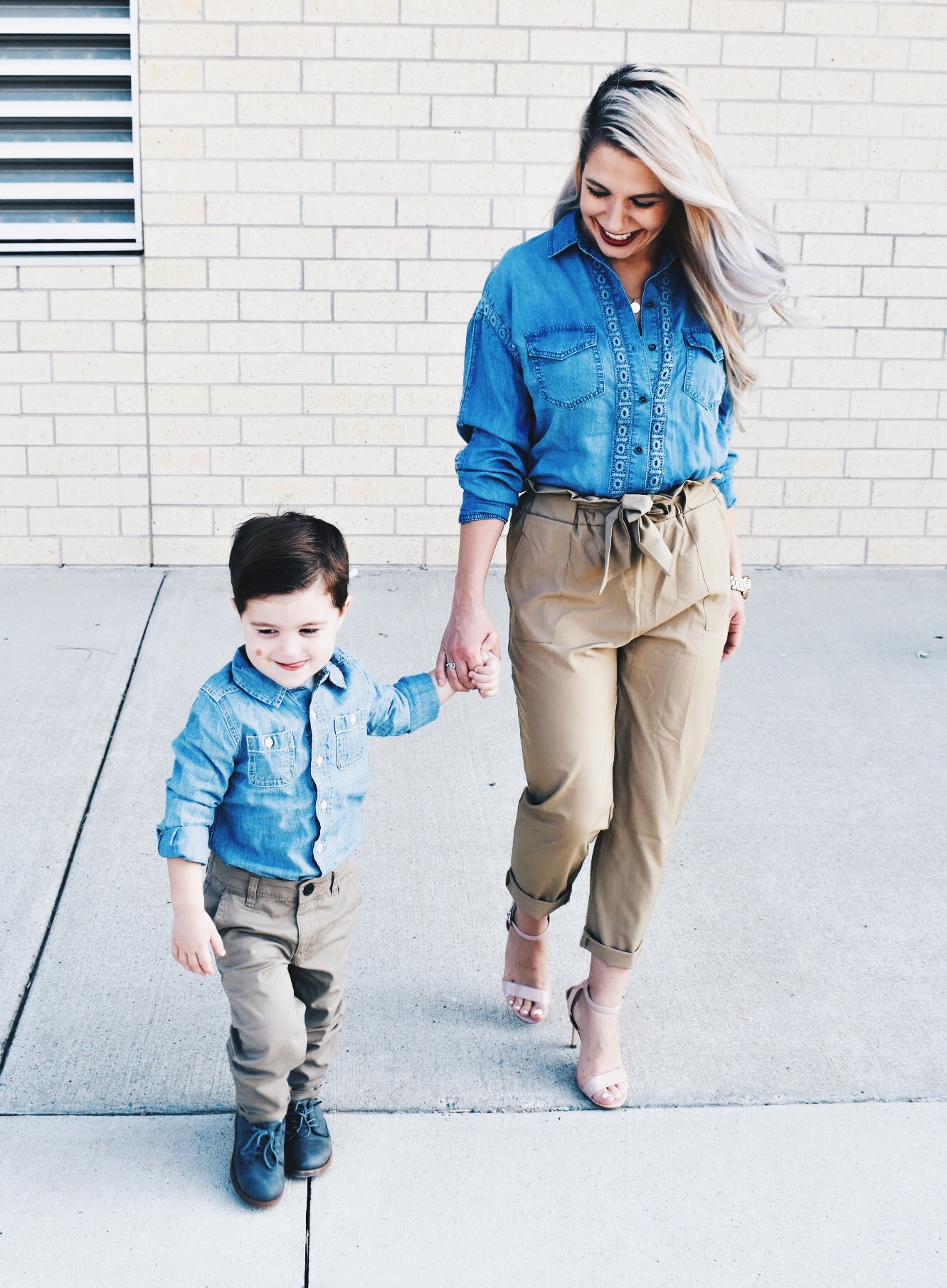 Colton loved the idea of doing mommy and son matching outfit ideas, so I wanted to take advantage of the time that he's still willing to be my little buddy. Plus, the way I got started in blogging was actually showcasing baby boy outfits with Colton on Instagram. I share a lot more women's fashion now, so it felt kind of full circle to do a matching look with my little guy.
Plus, he is such a little ham. I always say he should be a model. I know I'm biased, but come on.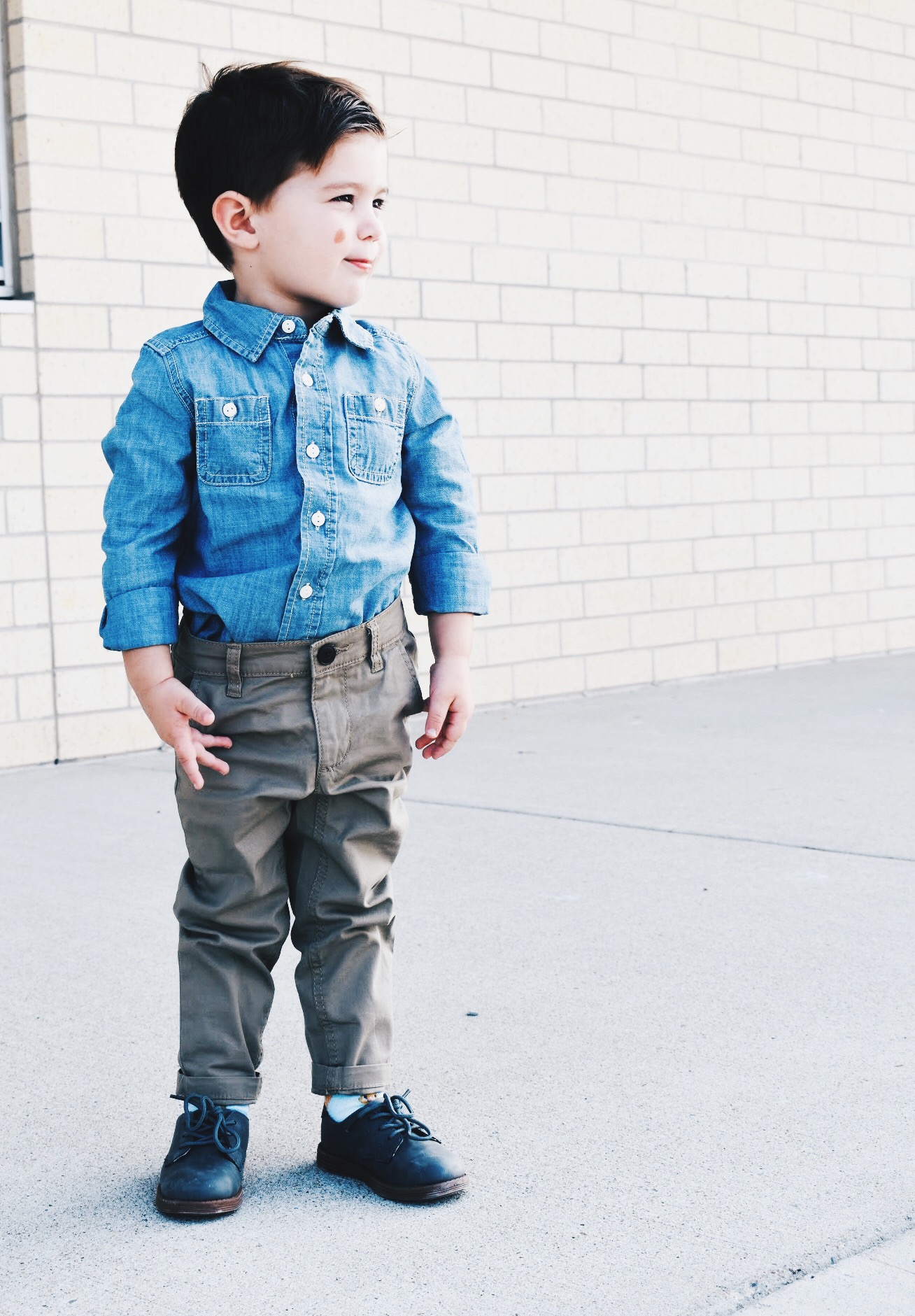 One of my favorite places to shop for Colton's clothes is OshKosh B'gosh, because they have great mix and match basics that let Colton develop his own kids style. The chambray shirt, khakis, and shoes in this outfit can all be worn with other items in his closet, which is a big win. He's also wearing a henley underneath the chambray, which is great for layering throughout the day.
You know I love companies that give back, and OshKosh is no exception. Their B'gosh Jeanius campaign supports communities with donations of clothing and school supplies. Having personally known families who struggled to provide their children with new clothing or supplies for school, I always try to support brands that help kids overcome those obstacles so they can start school with more confidence. [Click here to find an OshKosh store near you!]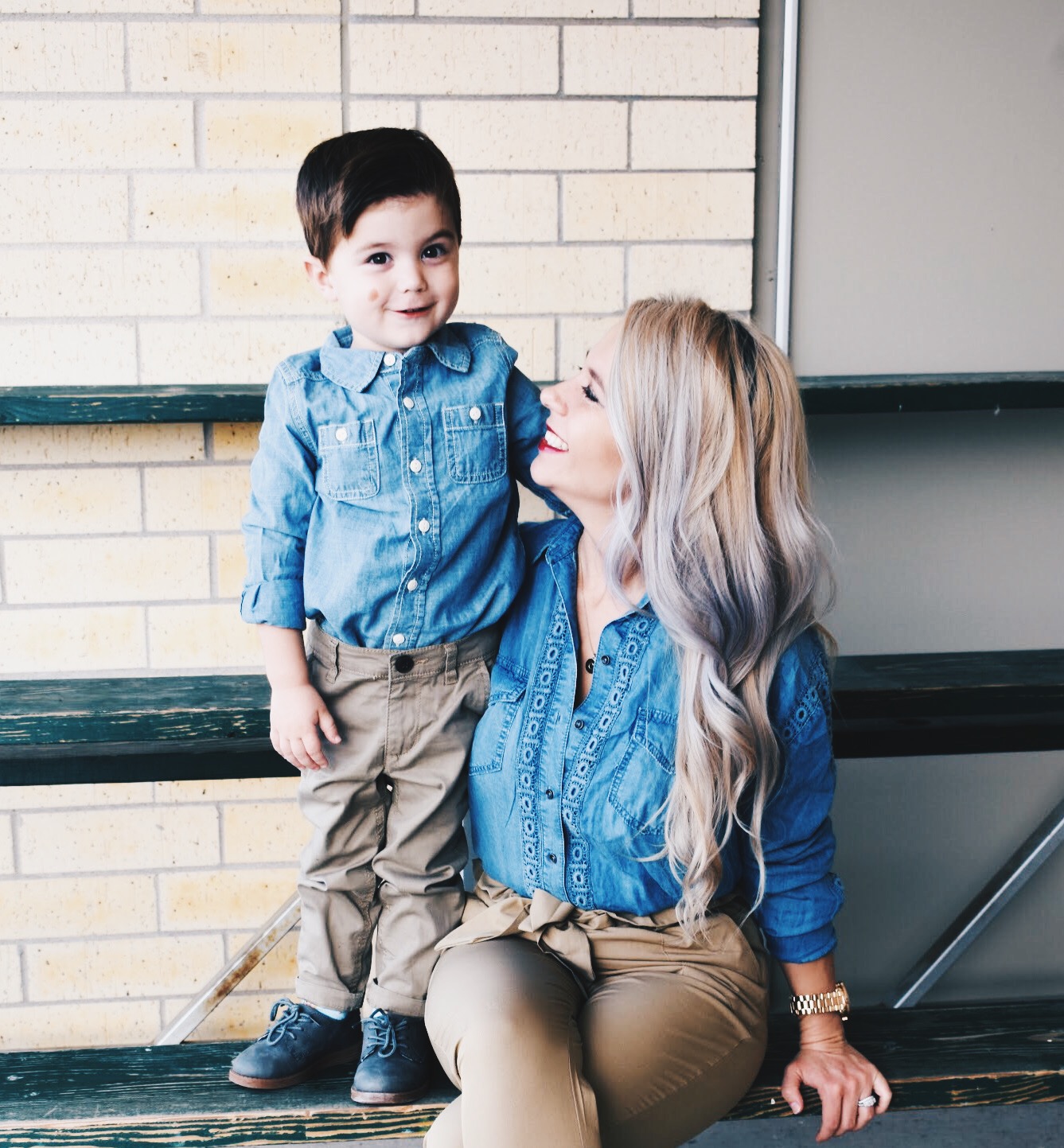 One of my favorite pieces from OshKosh are these khakis, as they're a nice slim fit. A lot of boys pants are wide leg, but simply switching to a slim fit makes the outfit look much more on-trend. This tip works for husbands, too! I'm slowly transitioning my hubs to these slim fit work pants and that simple switch has totally changed his look. Sounds crazy but it's true!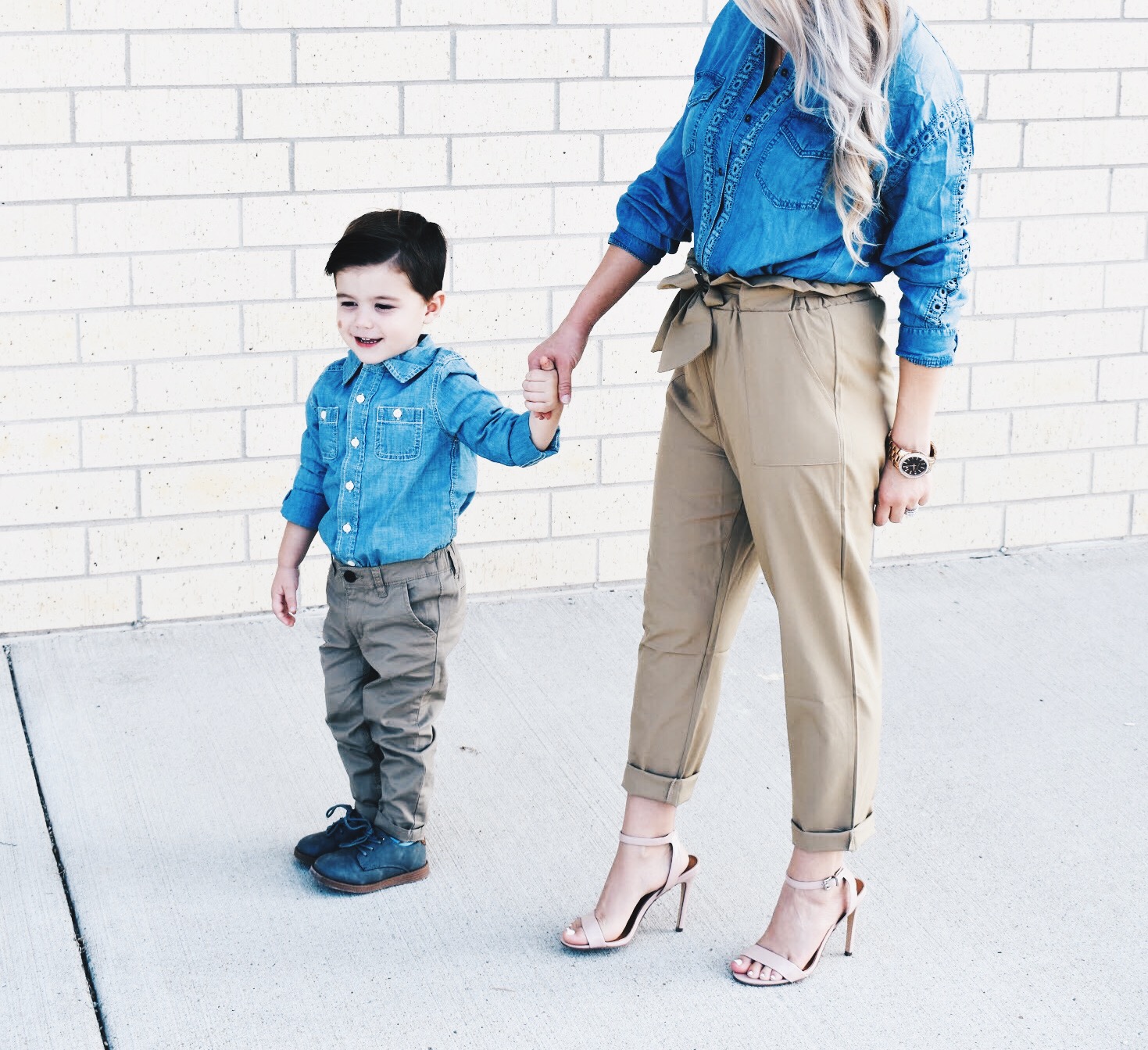 I wanted a more girly style for my half of these mommy and son matching outfit ideas, so I chose this chambray shirt with crochet detailing and tie-waist pants [both of which are super affordable, by the way!], along with heels.
To me, the key to mommy and son matching outfits is choosing mom pieces with some girly details, so it doesn't look like you're wearing literally the exact same thing as your son. Similar, not exact, is the way to go.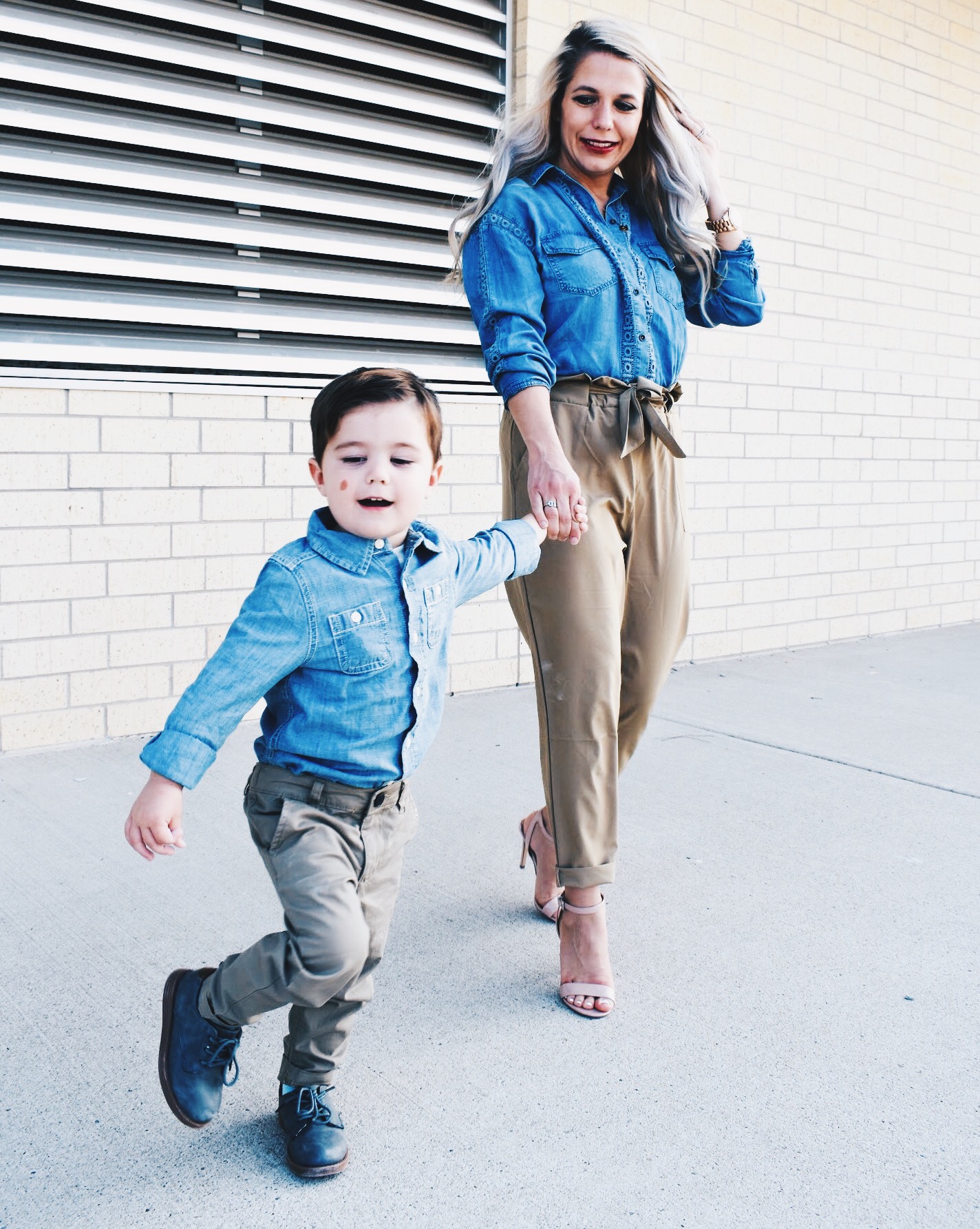 Speaking of OshKosh, they're running a fun first day of school photo sweepstakes on social media. From now until September 5, tag your social media photos with #firstdaysweepstakes to enter to win supplies for your children's classroom and an OshKosh gift card for yourself! How fun would it be if one of my followers won? I'll be following along on the hashtag and hope to see some familiar faces! [Check OshKosh's website for official rules.]
And from now through September 30, you can save even more on those back-to-school outfits for your little ones! Use promo code OKBG3478 online or screenshot this coupon to shop in-store [Retail Code 037958].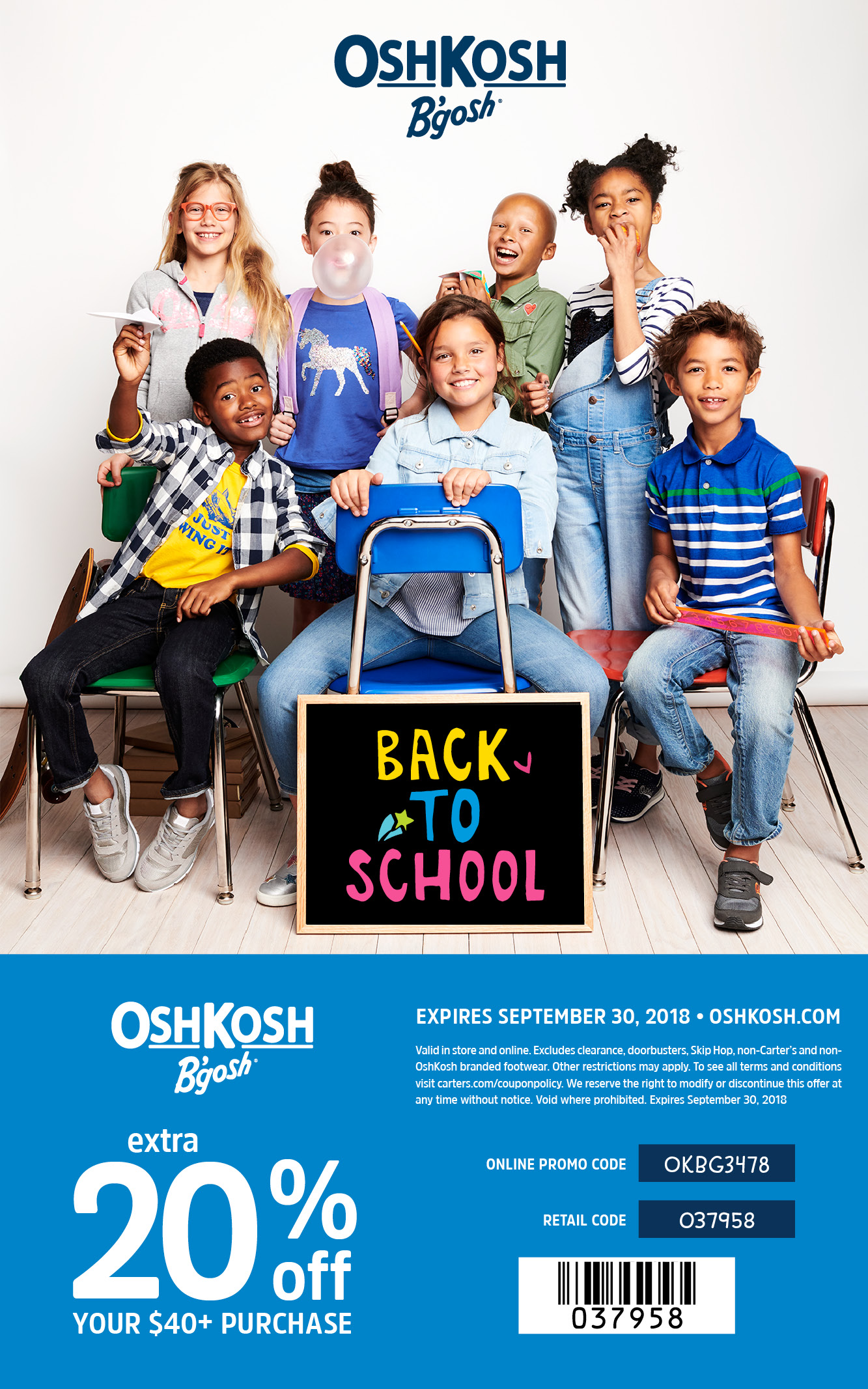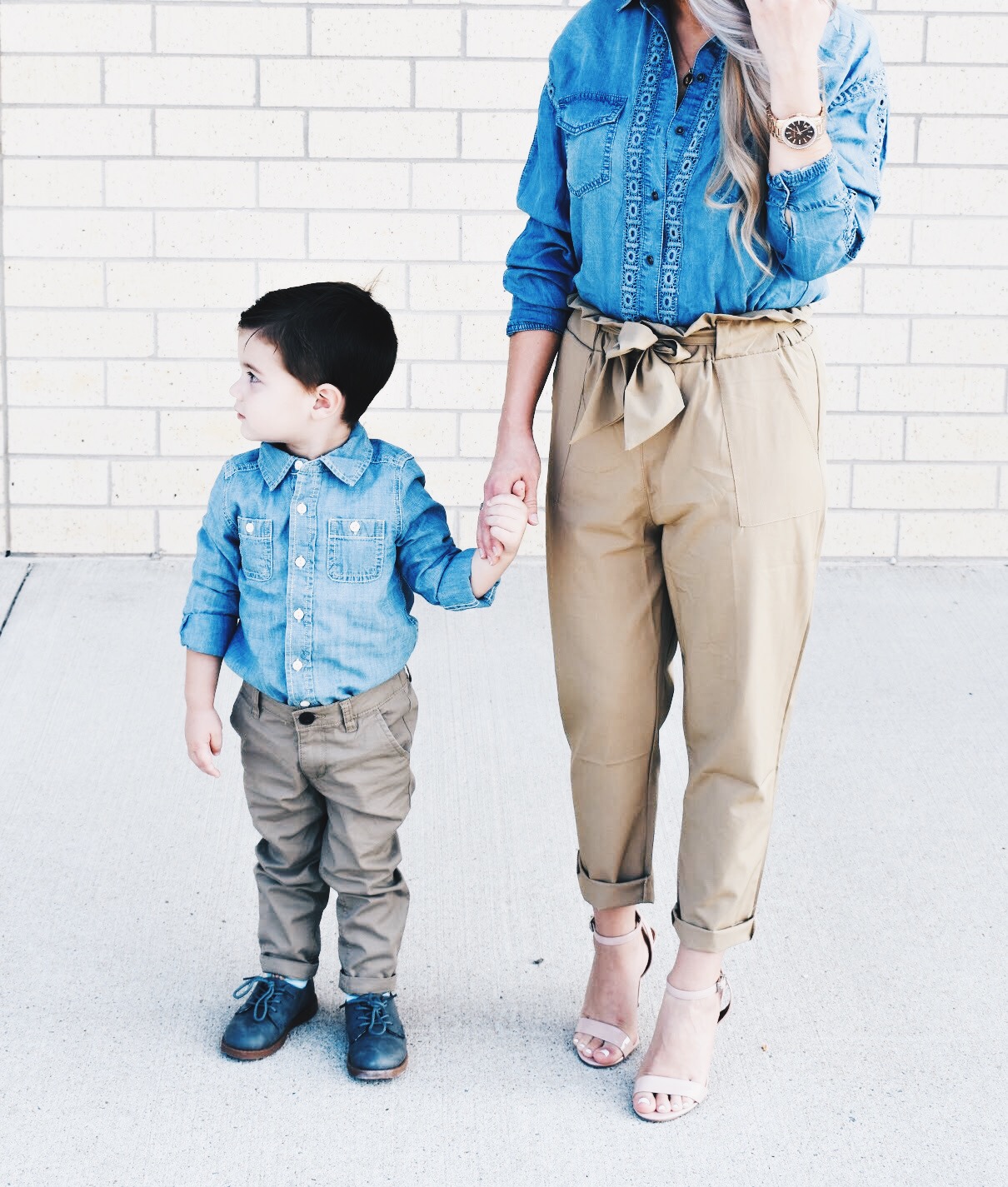 Hope you found these Mommy and Son Outfit ideas helpful! I know I'll treasure these photos forever as a memory of my little guy's last moments as, well, a little guy.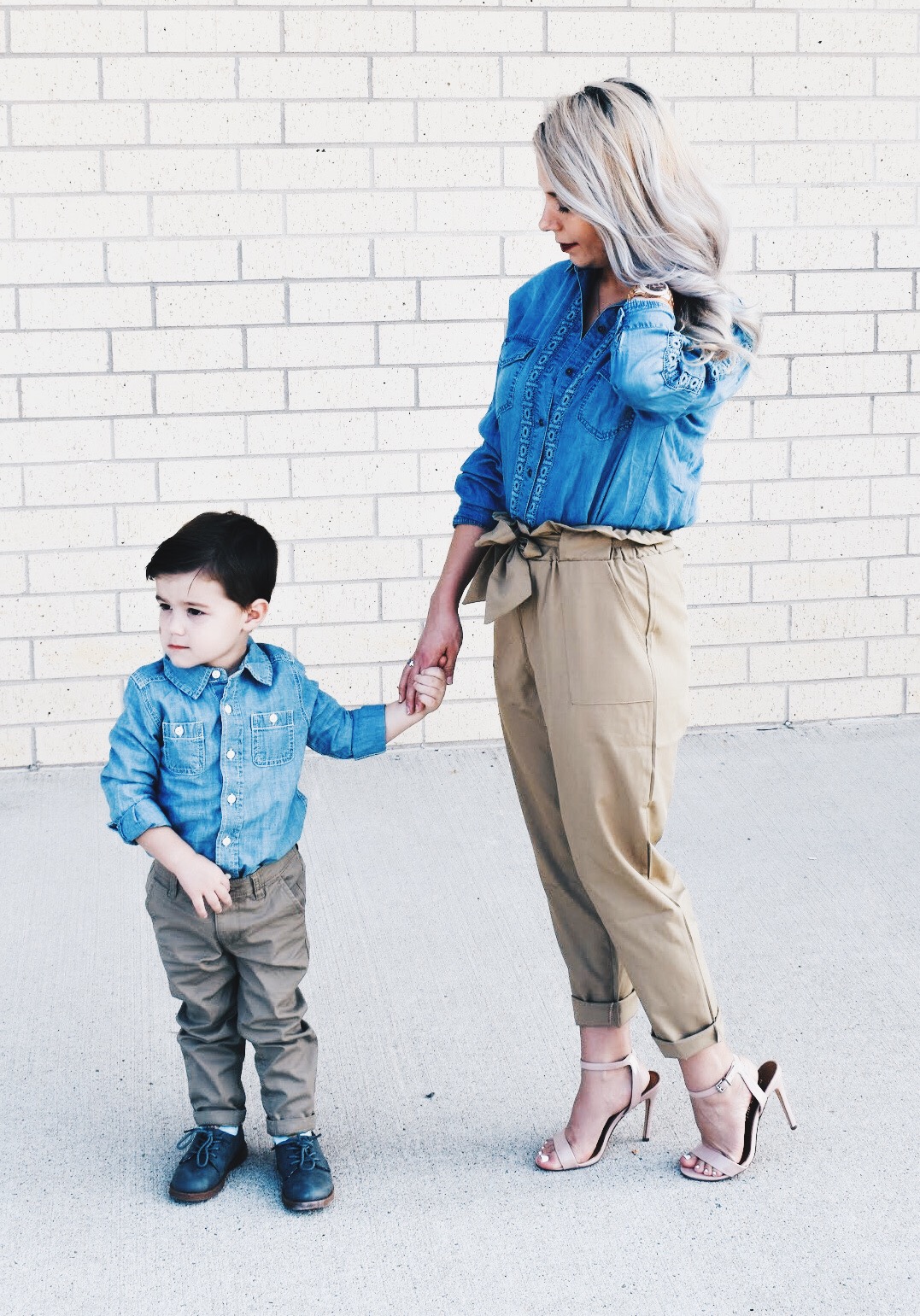 Don't forget to follow along on Instagram Stories for all of Colton's school prep! And, with any luck, more mommy and son matching outfit ideas–as long as he's willing!
And, of course, don't forget to enter to win a $50 gift card from OshKosh to build your own kiddos' back-to-school wardrobe. Giveaway is open to U.S. residents ages 18 and over and will run through Sunday, September 2nd.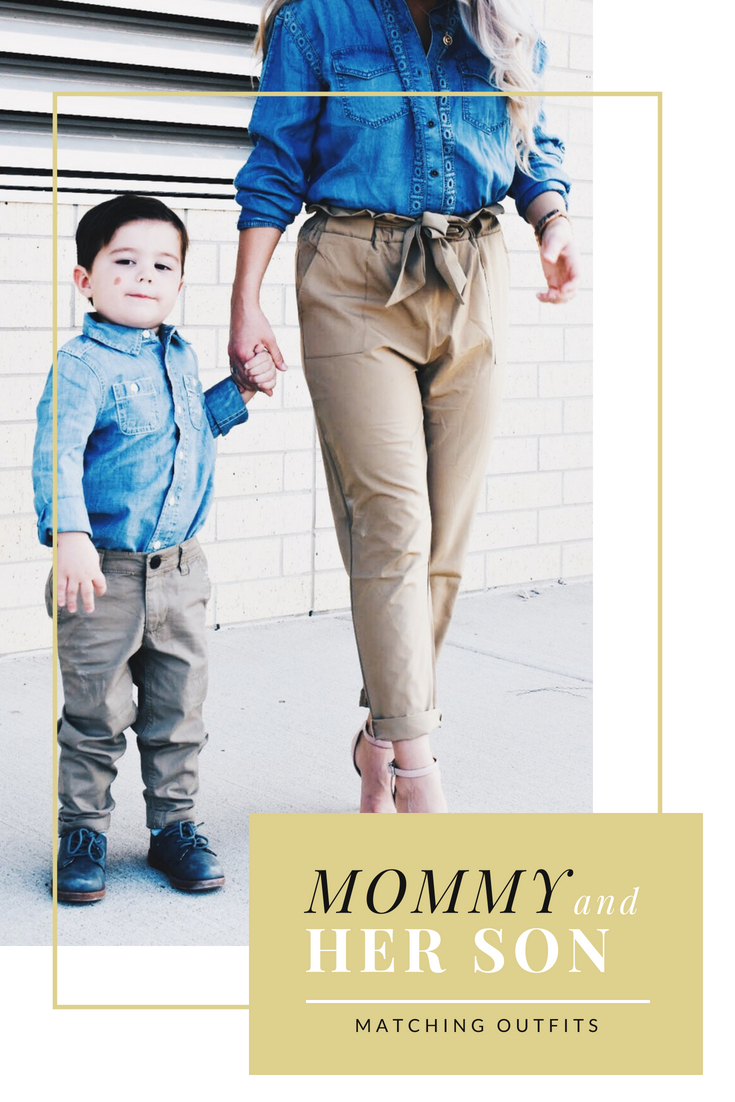 Pin these Mommy and Son Matching Outfit Ideas for later!
More Fun with Son: