I always enjoy reading Day in the Life posts on other blogs, so I figured I'll try one of my own. It's interesting to me how other people schedule their day [mostly because I am terrible at doing so], plus I'm just plain nosy. So here's a little glimpse into a Day in the Life of a Stay-at-Home Mom of 2…
Update: This post has gotten a ton of traction on social media. Read my follow up to the negative comments I've received both publicly and privately.
Our ages, for reference: I'm 30 (ugh!), my husband is 31, Colton is 3, and Blair is 7 months.

At 6:15am, Blair is up for the day, which means I'm up for the day. I kindly spared you the details of middle of the night wake-ups. She's sleeping in her own room now, so I head in to get her as quickly as possible after hearing her cries on the monitor. The faster I get her, the better chance we have of Colton sleeping a little longer. As usual, Blair and I begin our day with snuggles and breastfeeding. I check in on social media while she nurses.
By 7:00, Colton is up and joins us in Blair's room. We say goodbye to Daddy. I've been staying at home for 3+  years now, and I still get that little anxious feeling whenever my husband leaves. It's like this moment of panic like, oh, it's just me here with them. I know it's not rational, but I was the same way while I was working. After years in litigation, I still got nervous to depose a witness or go to court.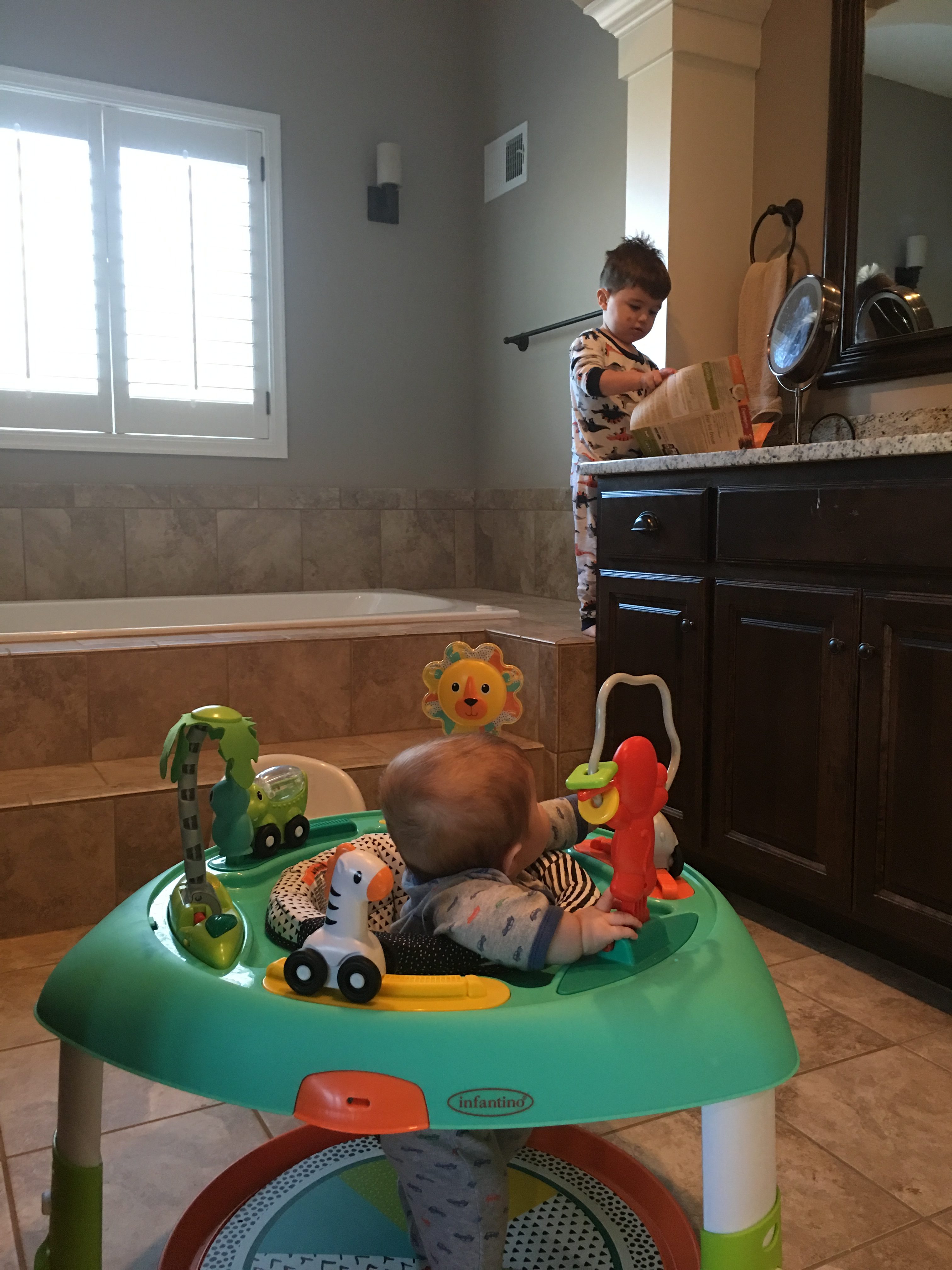 I take a quick shower while Blair plays in her activity center. After I shower, Colton entertains us both by taking our "orders" from a random deli menu floating around the house. He serves up some excellent milk, juice, and water. I guess Colton's Deli only serves drinks.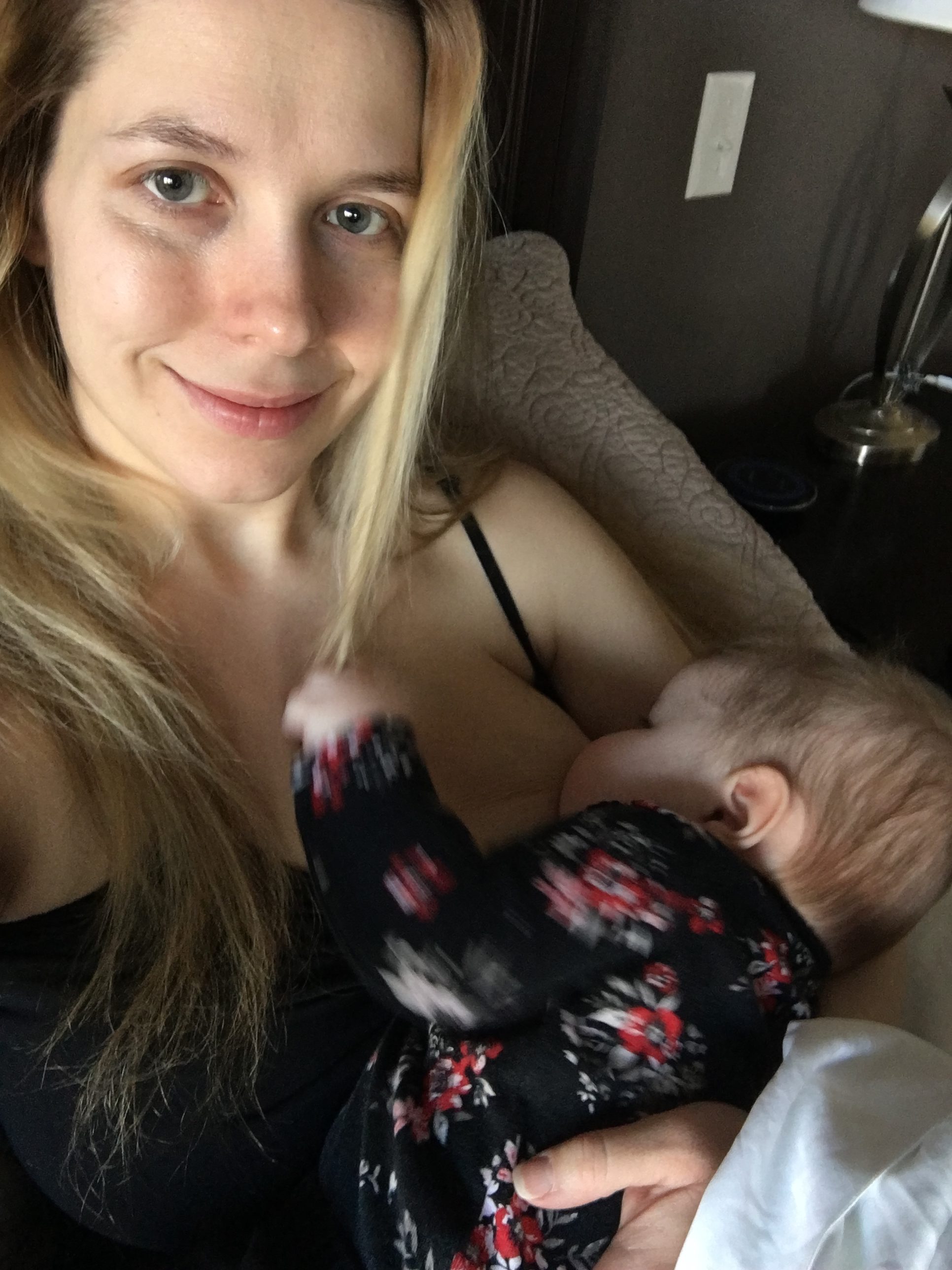 At 8:30, Blair lets me know that it's time for another nursing session. I'm gung-ho on documenting our day, but struggle to get a decent photo due to all of the hair pulling combined with the pain from using me as a teether. She just got her first tooth, so… ouch.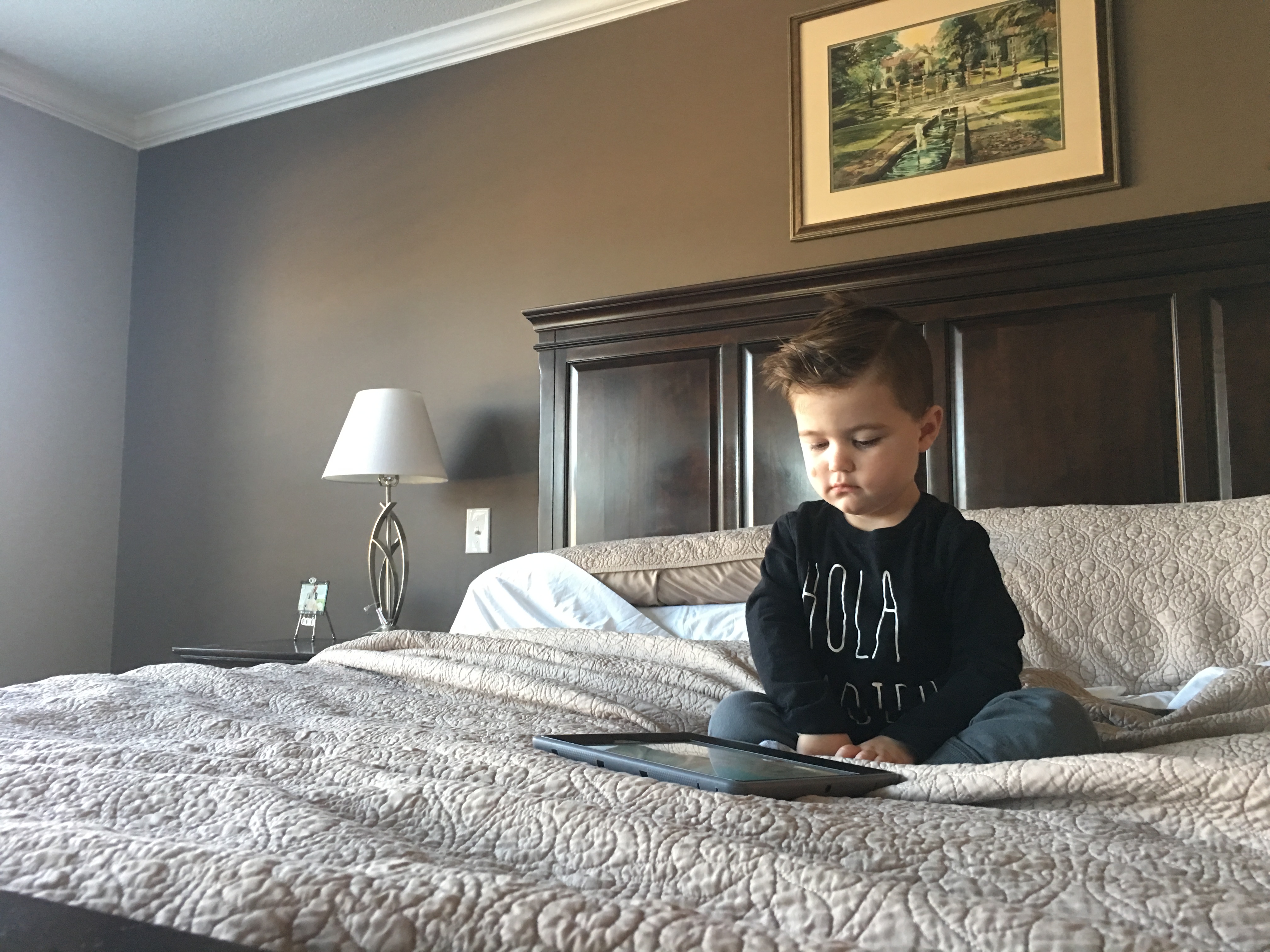 After Blair eats, I put her down for her morning nap and set Colton up with "me apps," which is what he calls his iPad games.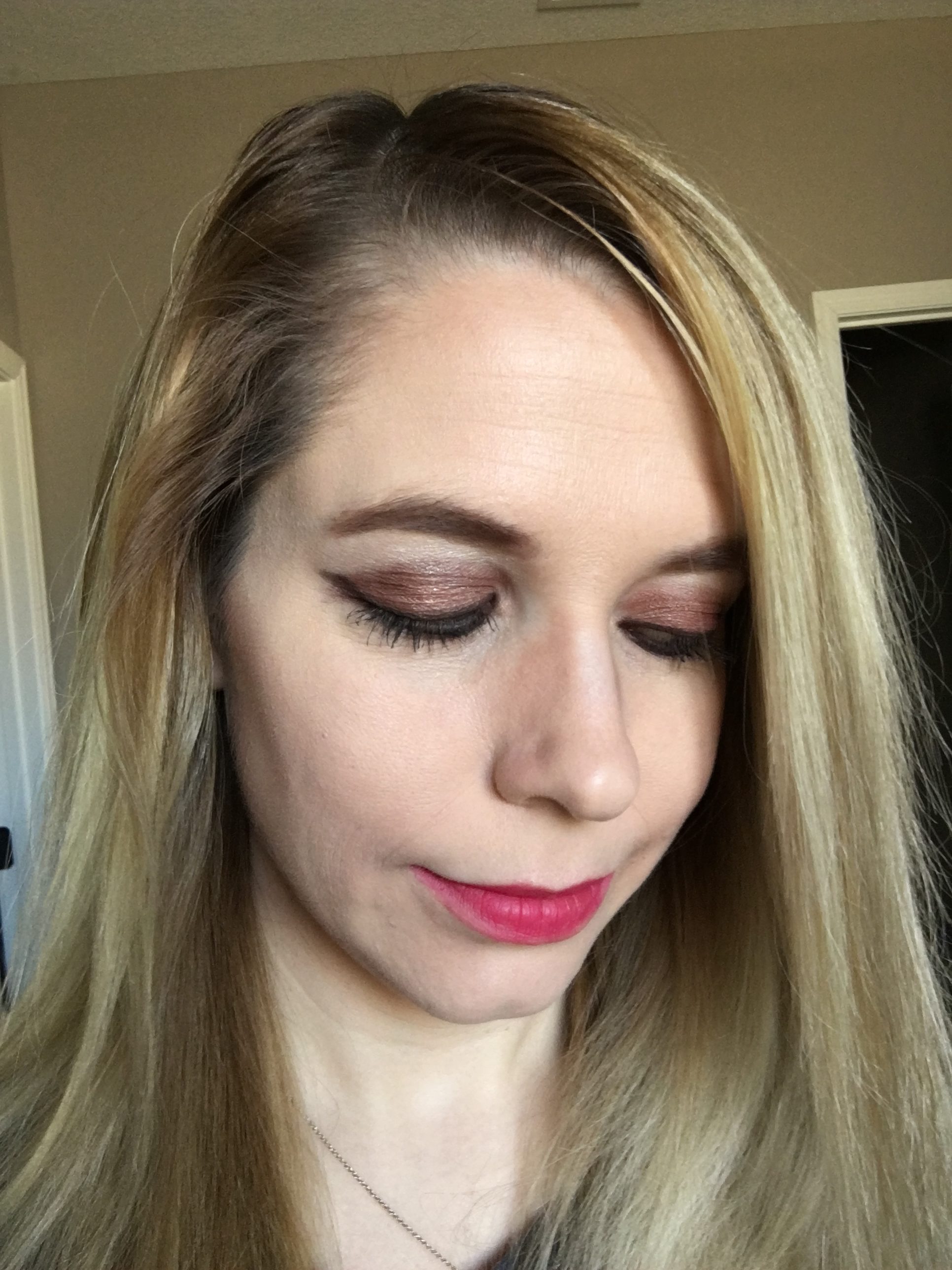 Blair fights her nap (as usual), so I give up and bring her back into the bathroom with me so I can put my makeup on. I try a new lip color from a subscription box, and I'm pleasantly surprised by how wearable it is. It looks so bright, but I actually think it's very flattering on.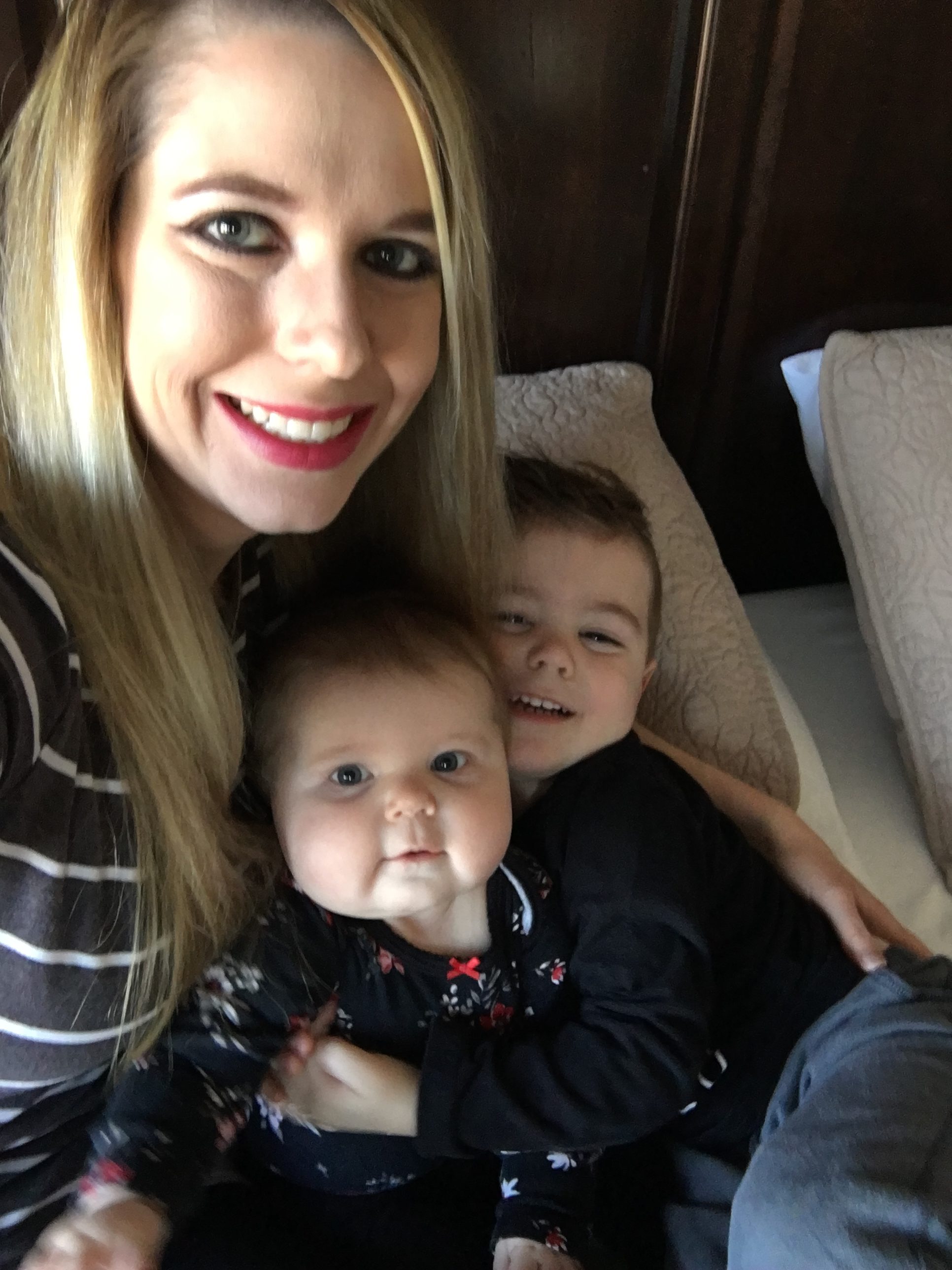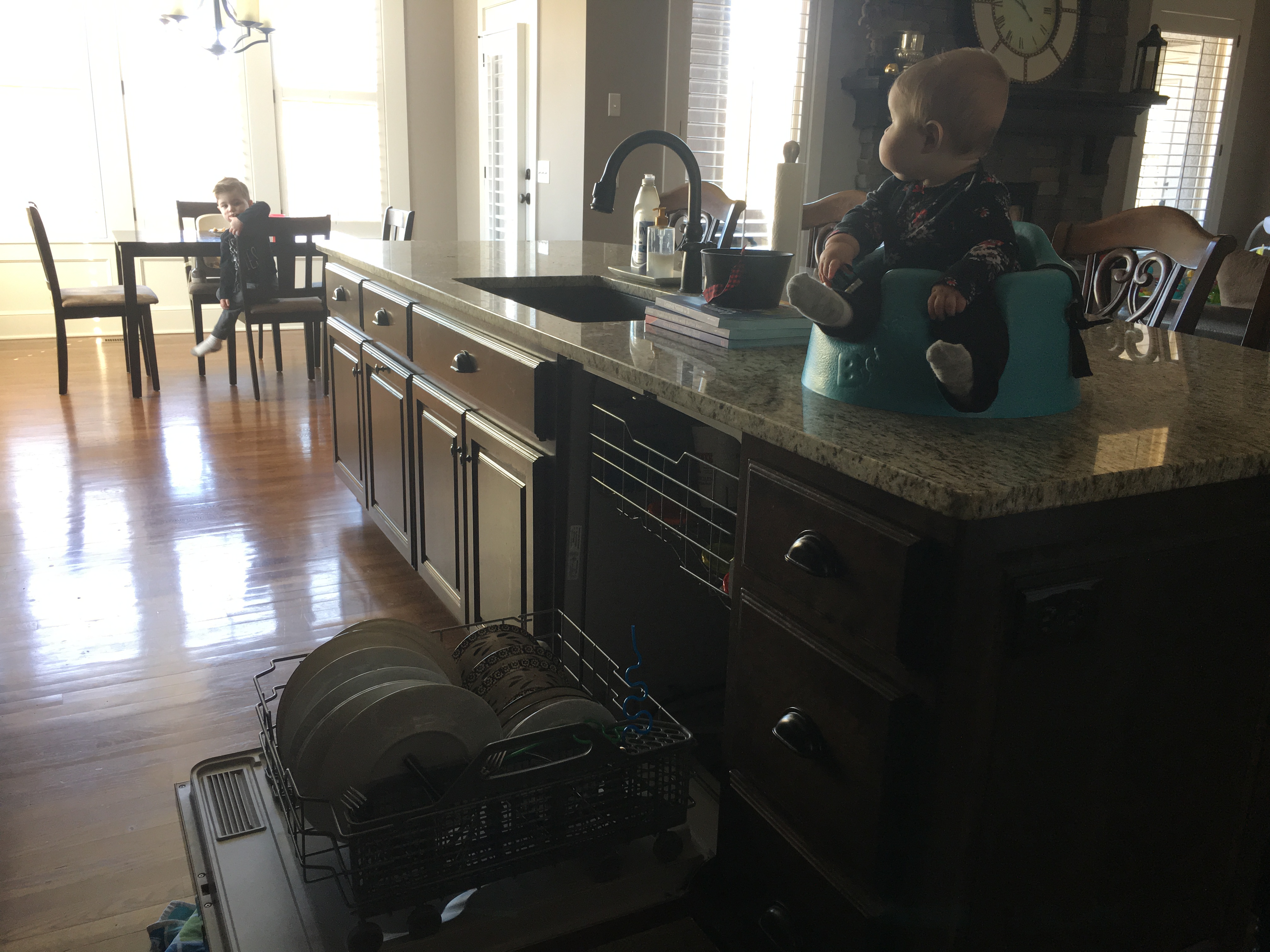 Now that everyone is dressed and ready, we snuggle for a minute before heading into the kitchen. Colton grazes on some of his breakfast, and Blair keeps me company while I unload and reload the dishwasher.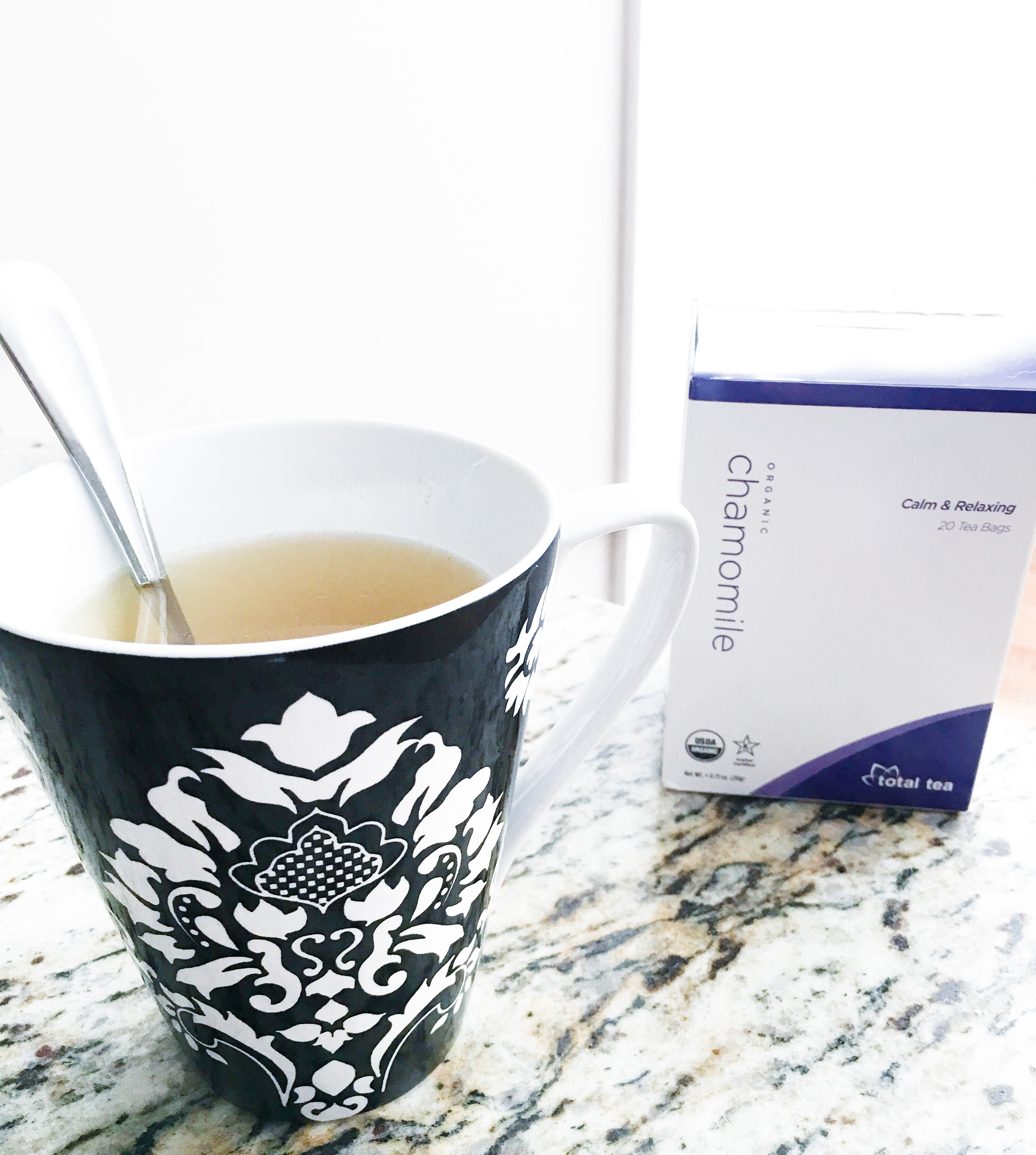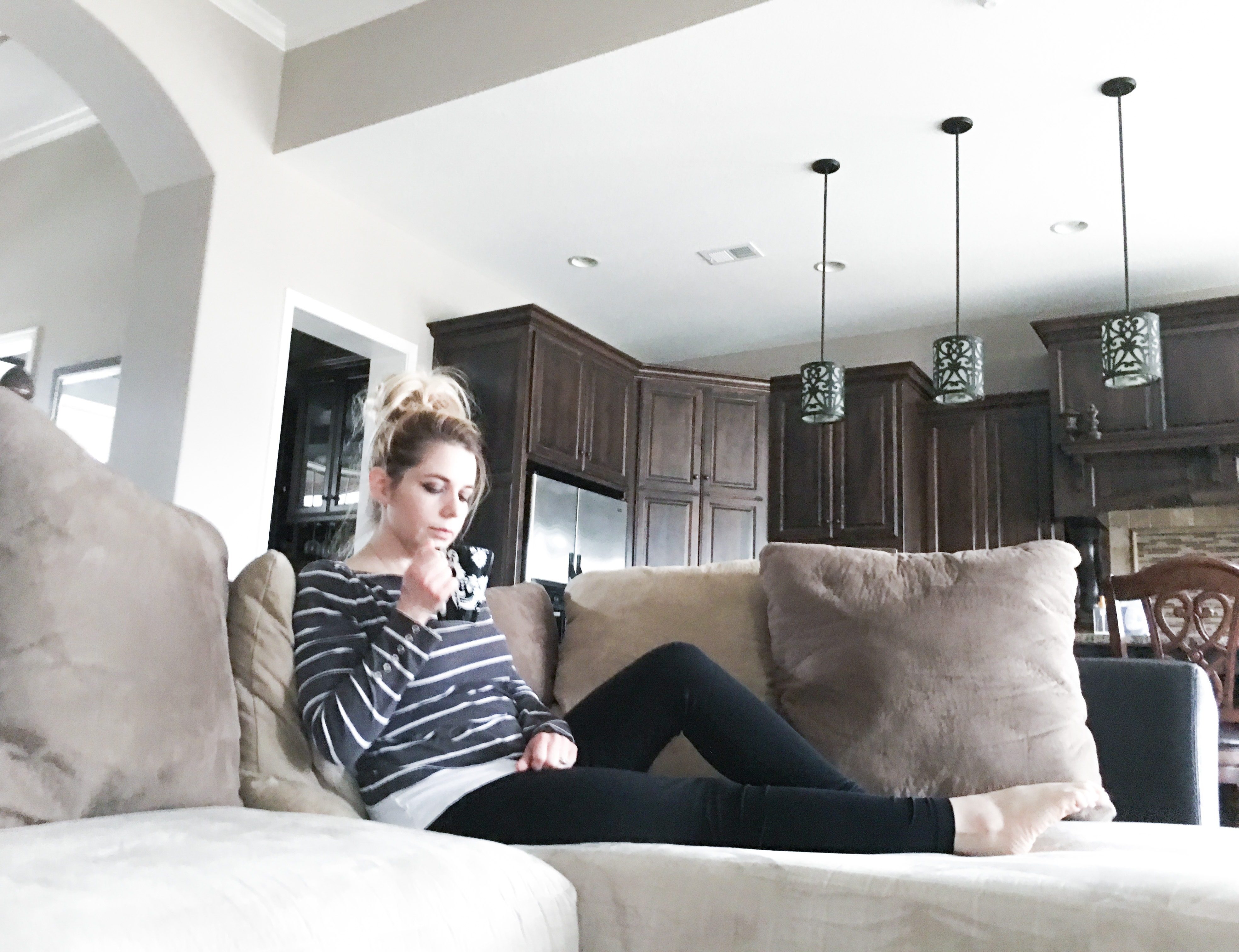 After dishes, I make a cup of Total Tea Pure Organic Chamomile Tea. I've written about my love for Total Tea before, and I love having their chamomile tea as a little morning pick-me-up. Once I'm done breastfeeding, I'm sure I will enjoy some of the caffeinated varieties (and their detox tea, which has such great reviews!). I sneak away to the couch to try to enjoy a few sips.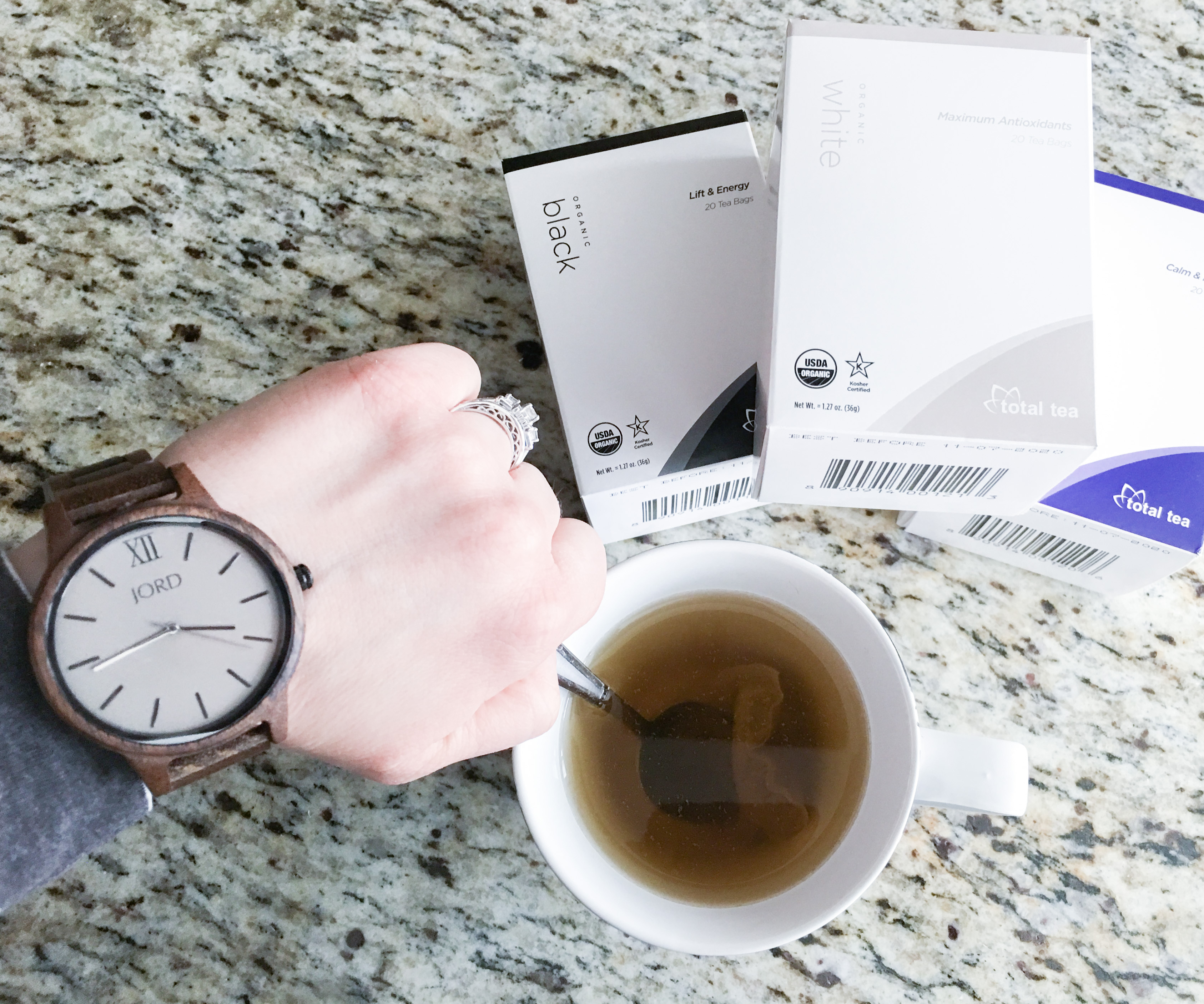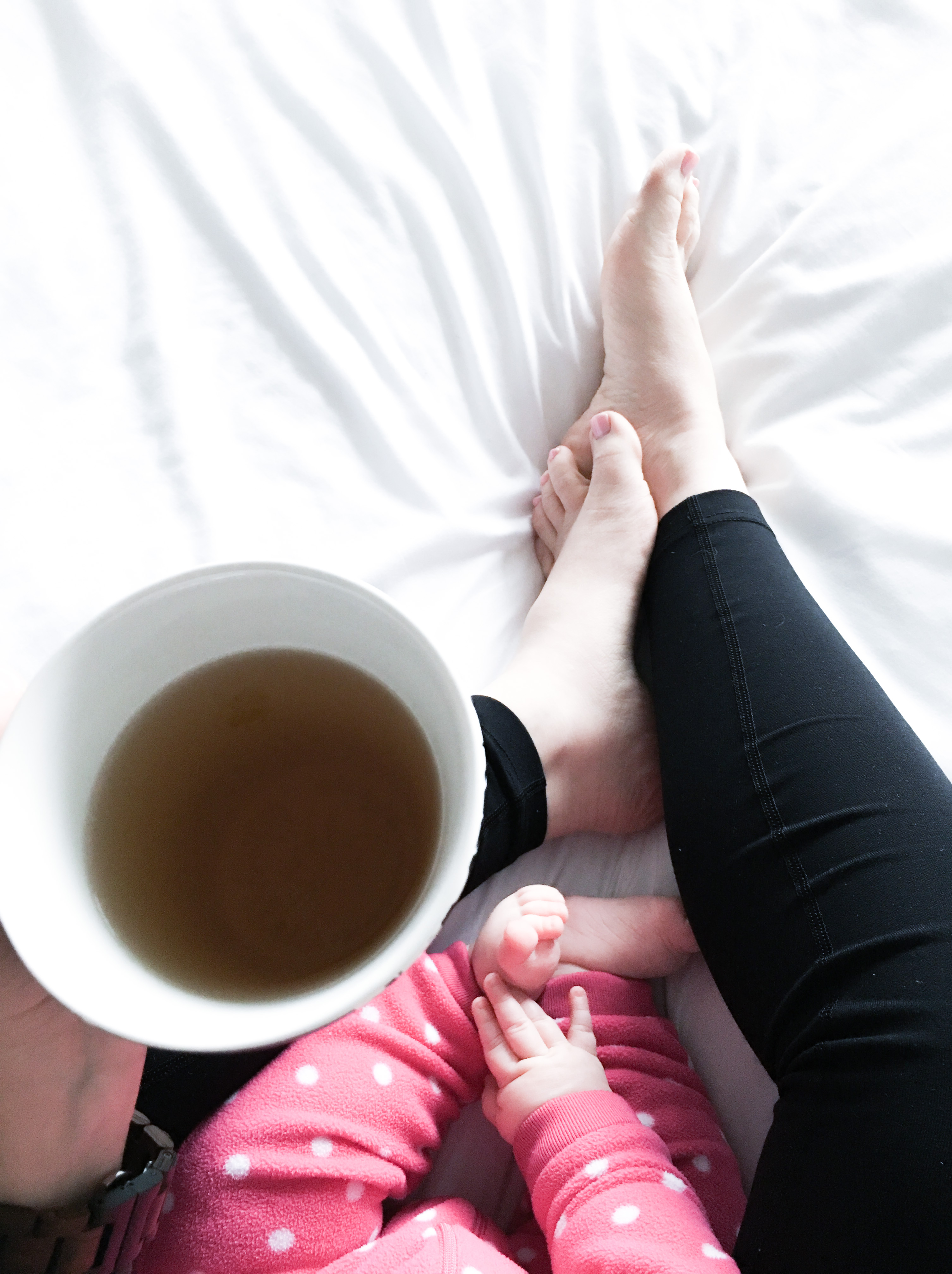 But in true mom life fashion, the tea is cold by the time I get to drink it. Side note: I've been on a weight loss journey for the past several months, and drinking plain water can get downright boring. But, I also hate drinking my calories instead of eating them! That's a big reason why I added tea into my daily routine: it has only a few calories per cup, so it's great way to break away from all-water-all-the-time without ruining your hard work. So, I snuggle Blair while drinking my cold tea!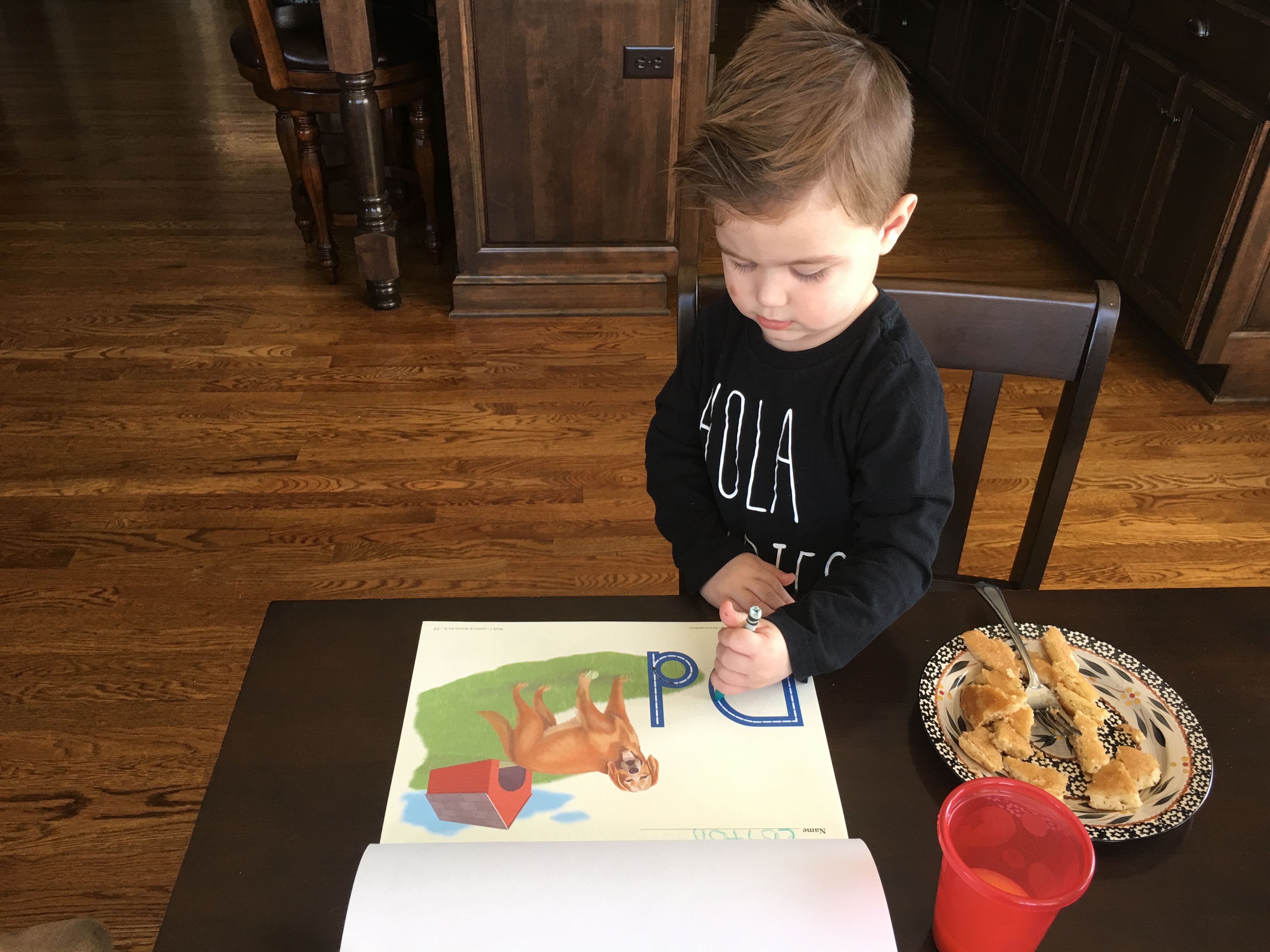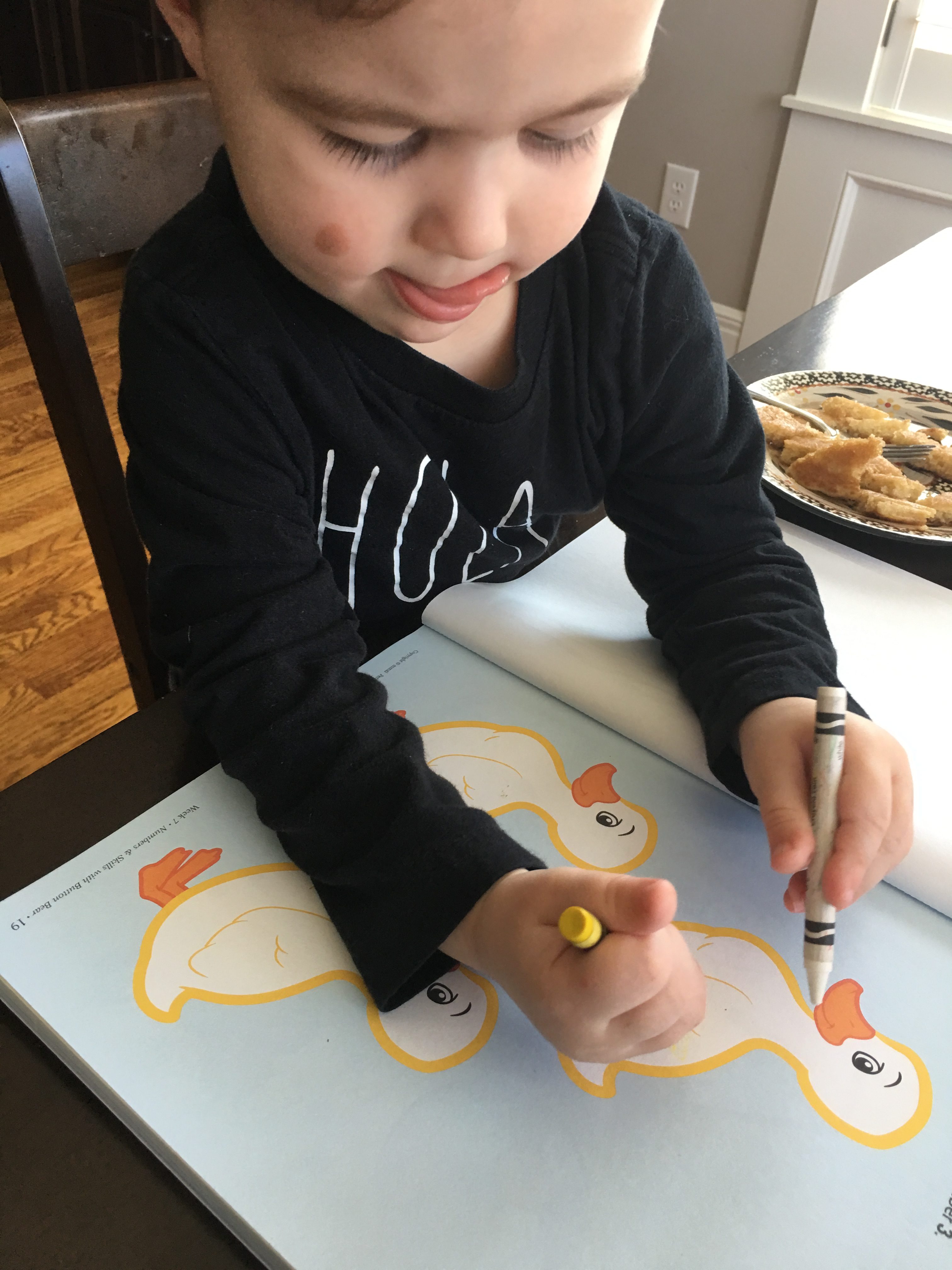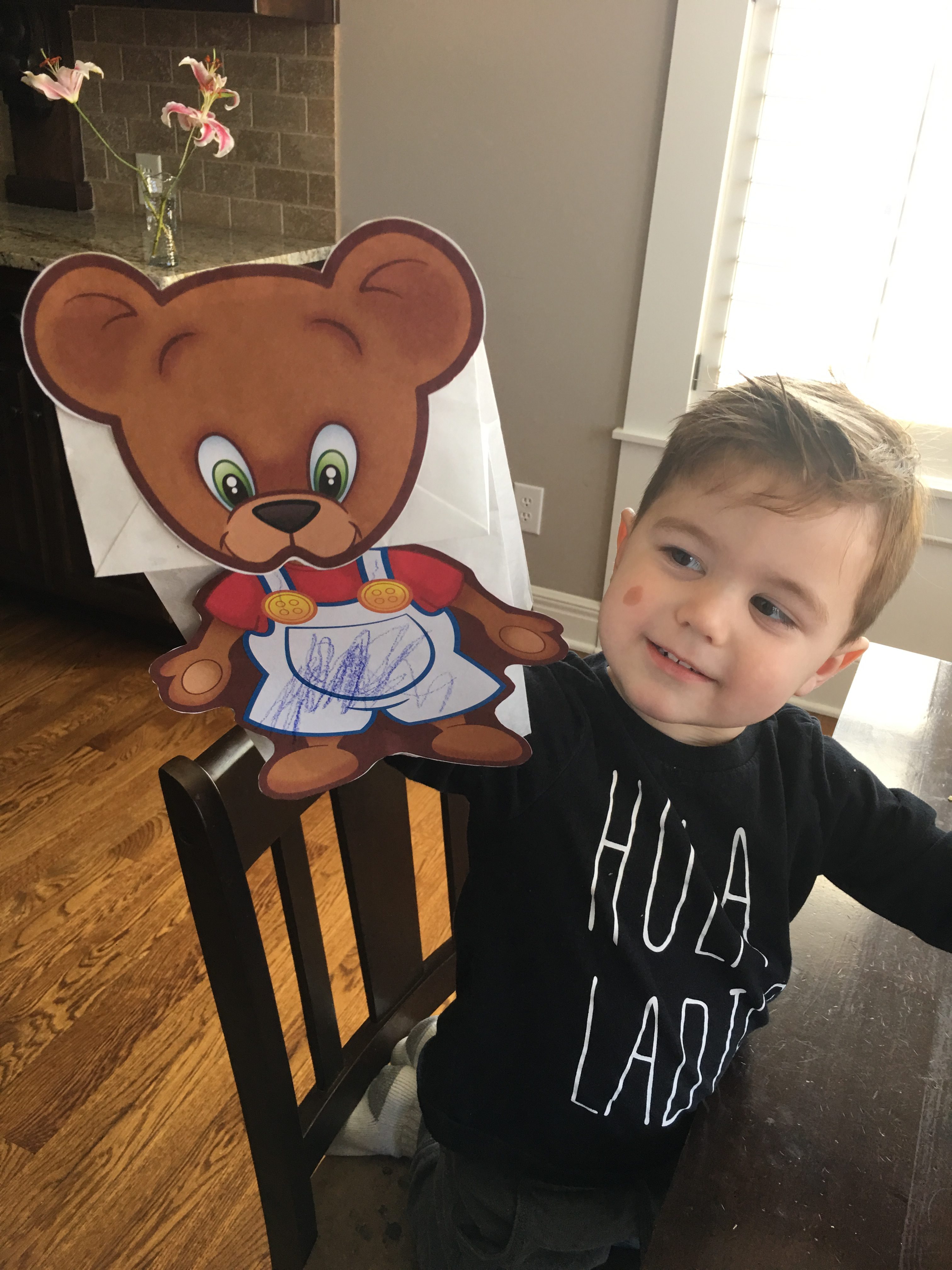 Then, around 10:00, we do some schoolwork. Colton is working on his numbers and letters. He can count consistently to 15, and sometimes higher. Right now, he recognizes about 75% of the alphabet and he can write half of his name. Blair steals a few bites of pancake while Colton works.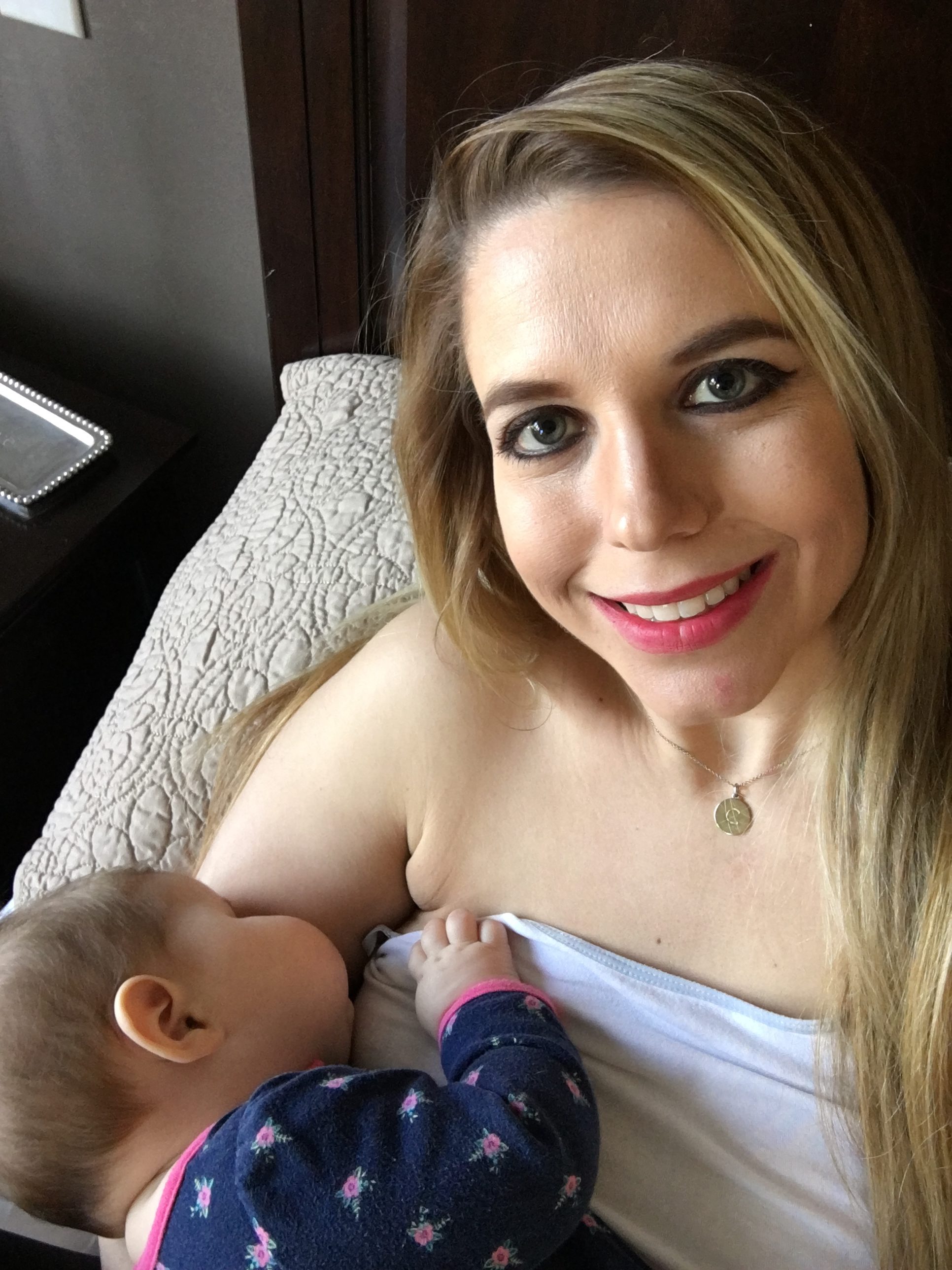 An hour later, it's time to nurse again! This girl loves her milk. I always try to nurse right before we leave the house to try to keep Blair as happy as possible while we're out. Sometimes it works and sometimes it doesn't… as is the case with most things baby-related. [Click here for some of the ways I keep my toddler busy while breastfeeding my baby!]
I snap a quick mirror selfie of my outfit before we head out to meet Daddy for lunch. I'm wearing my favorite mom leggings and my new wedge sneakers. I get compliments every time I wear them, which is a lot lately!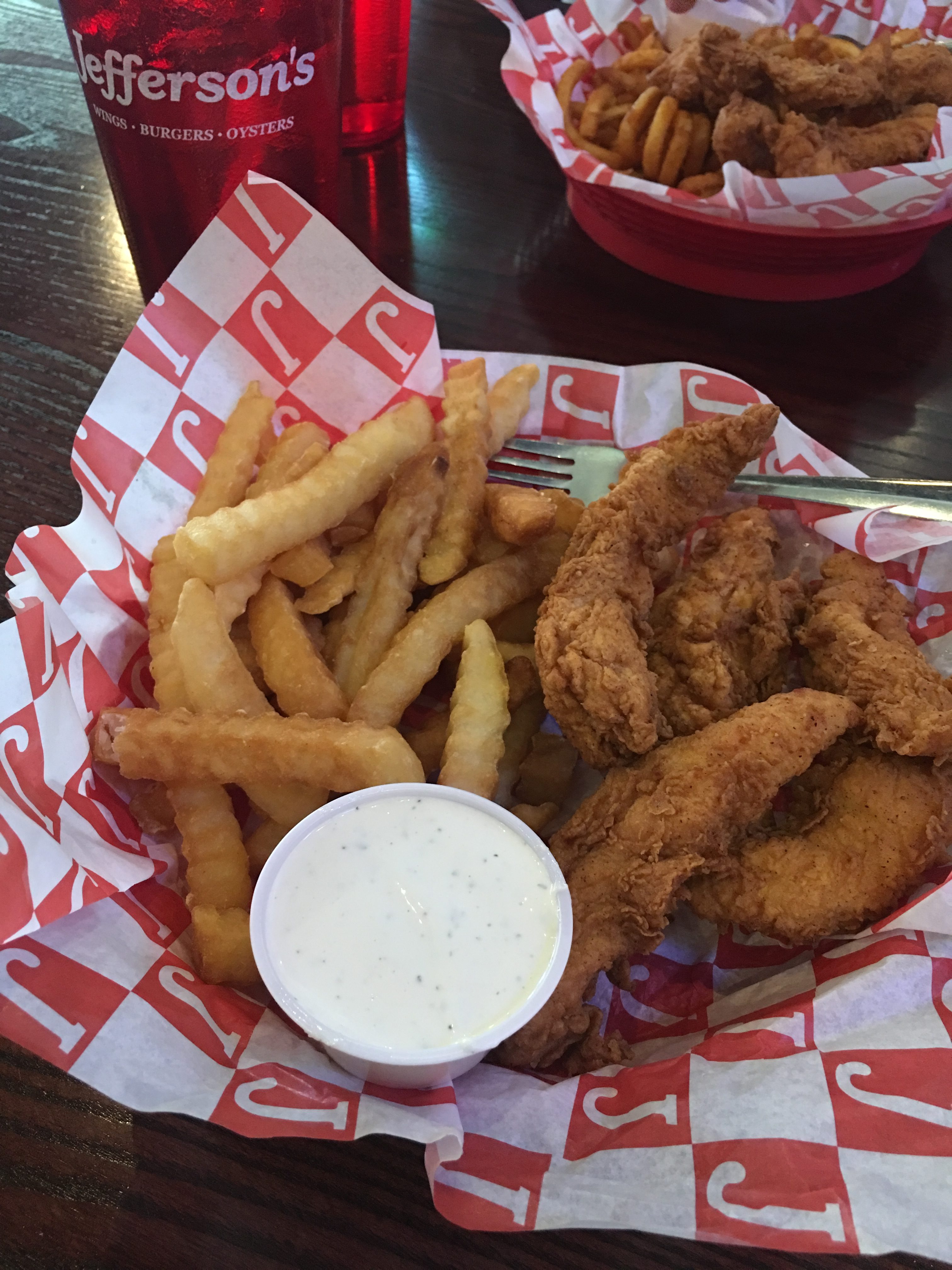 For today's lunch,Colton and I split a chicken strip basket and he eats 1.5 chicken strips!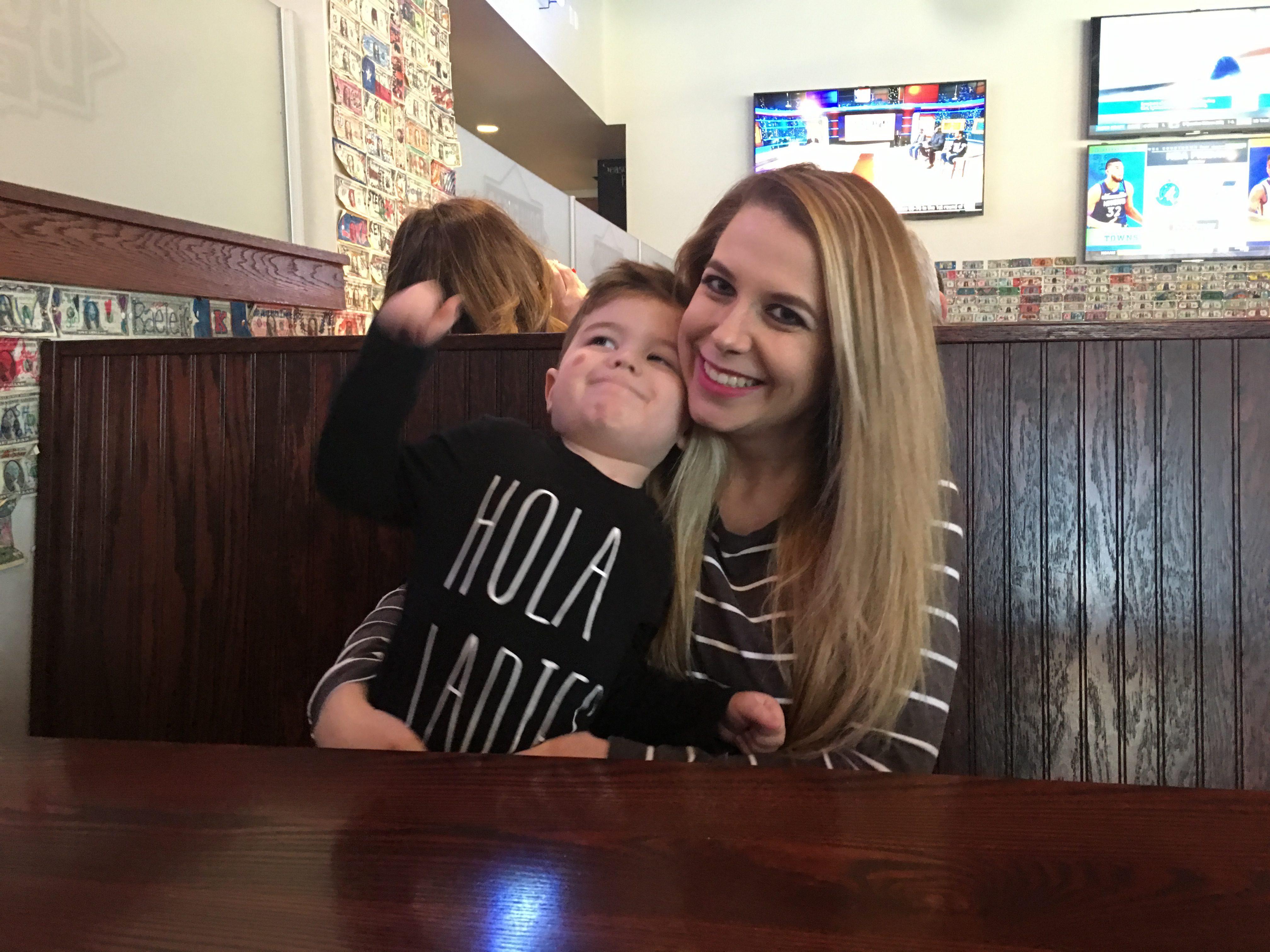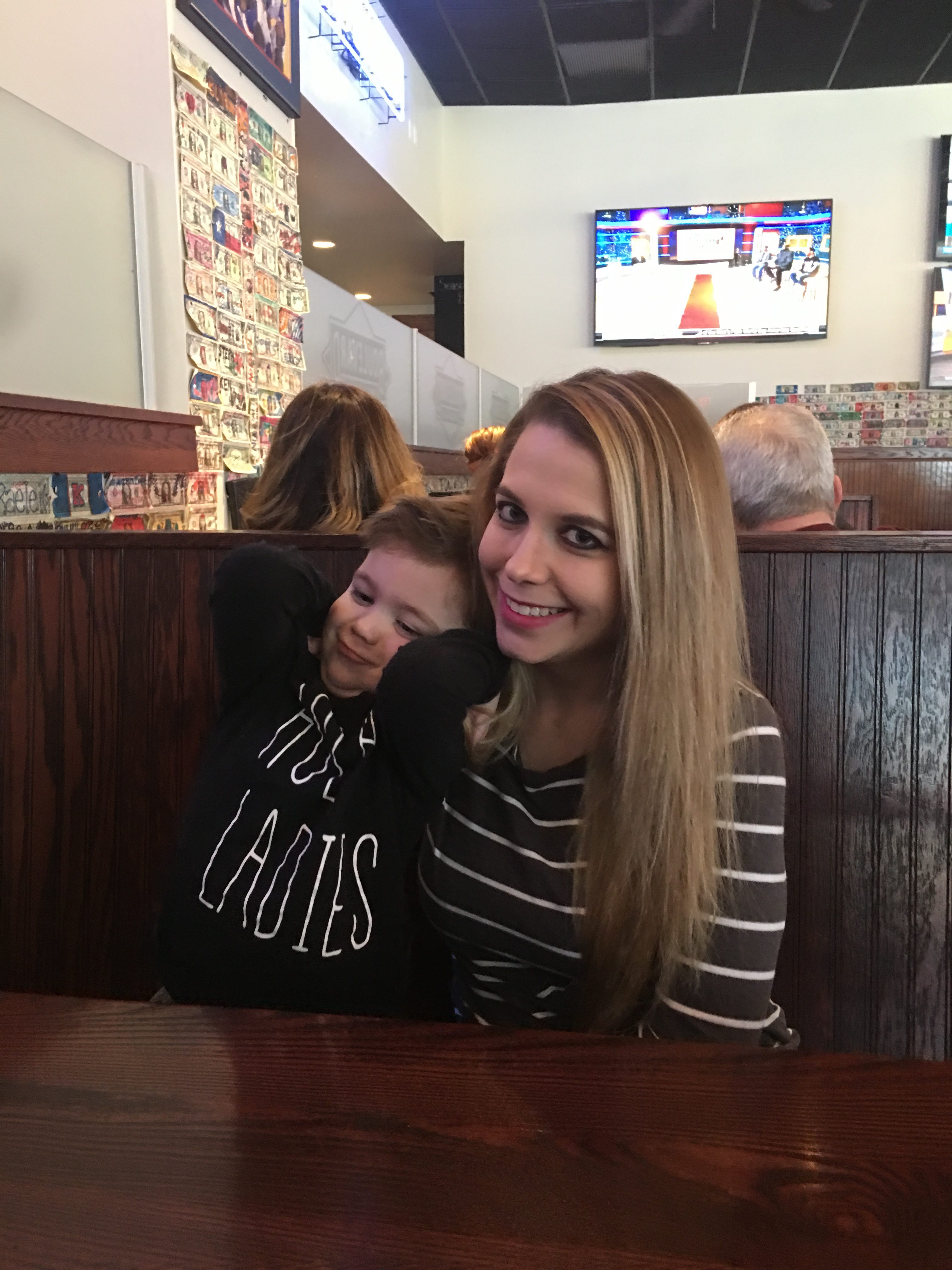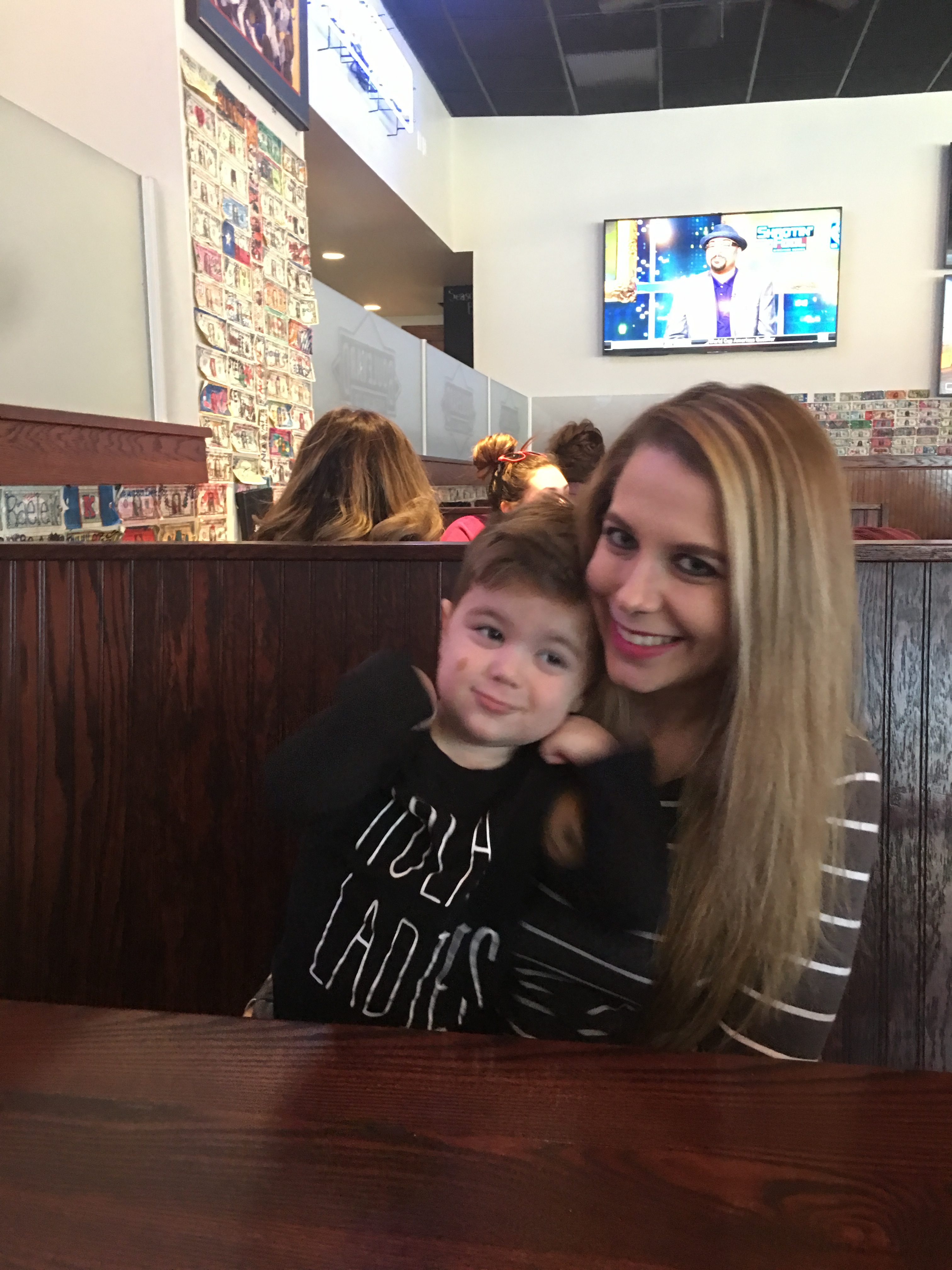 He also sits by me in the booth. He's wanted to sit by his dad for years (literally!), but the past couple of weeks, he's started asking to sit by me. I love my little man and always feel so special when he picks me. Blair sits with Daddy and enjoys some Cheerios.
I get a text with an almost-free Redbox code, so we swing by to pick up The House before dropping Daddy back off at work. It's nice to have a second adult to do stuff like that with, so I don't have to unbuckle two carseats and keep track of two kiddos just to rent a movie.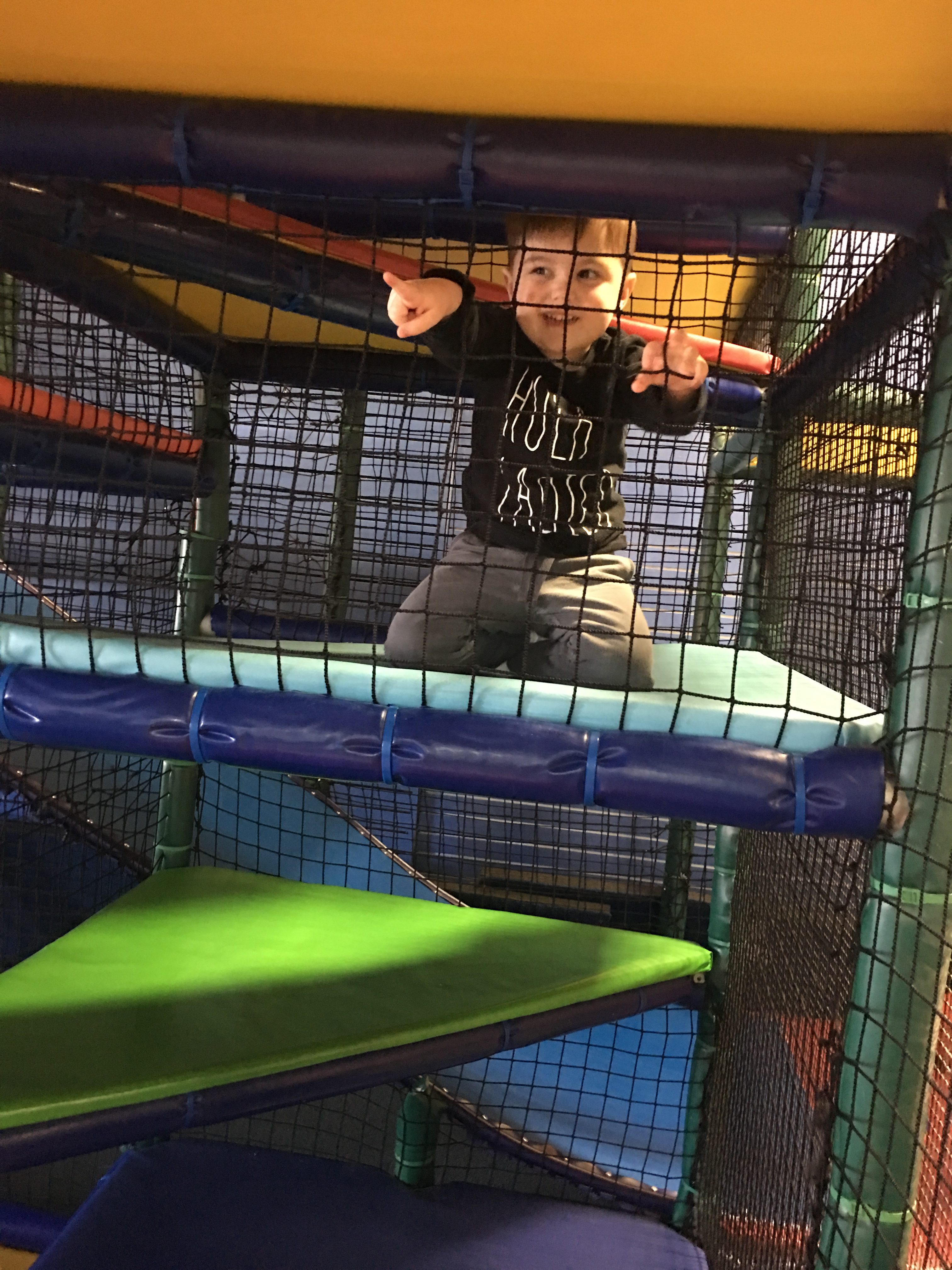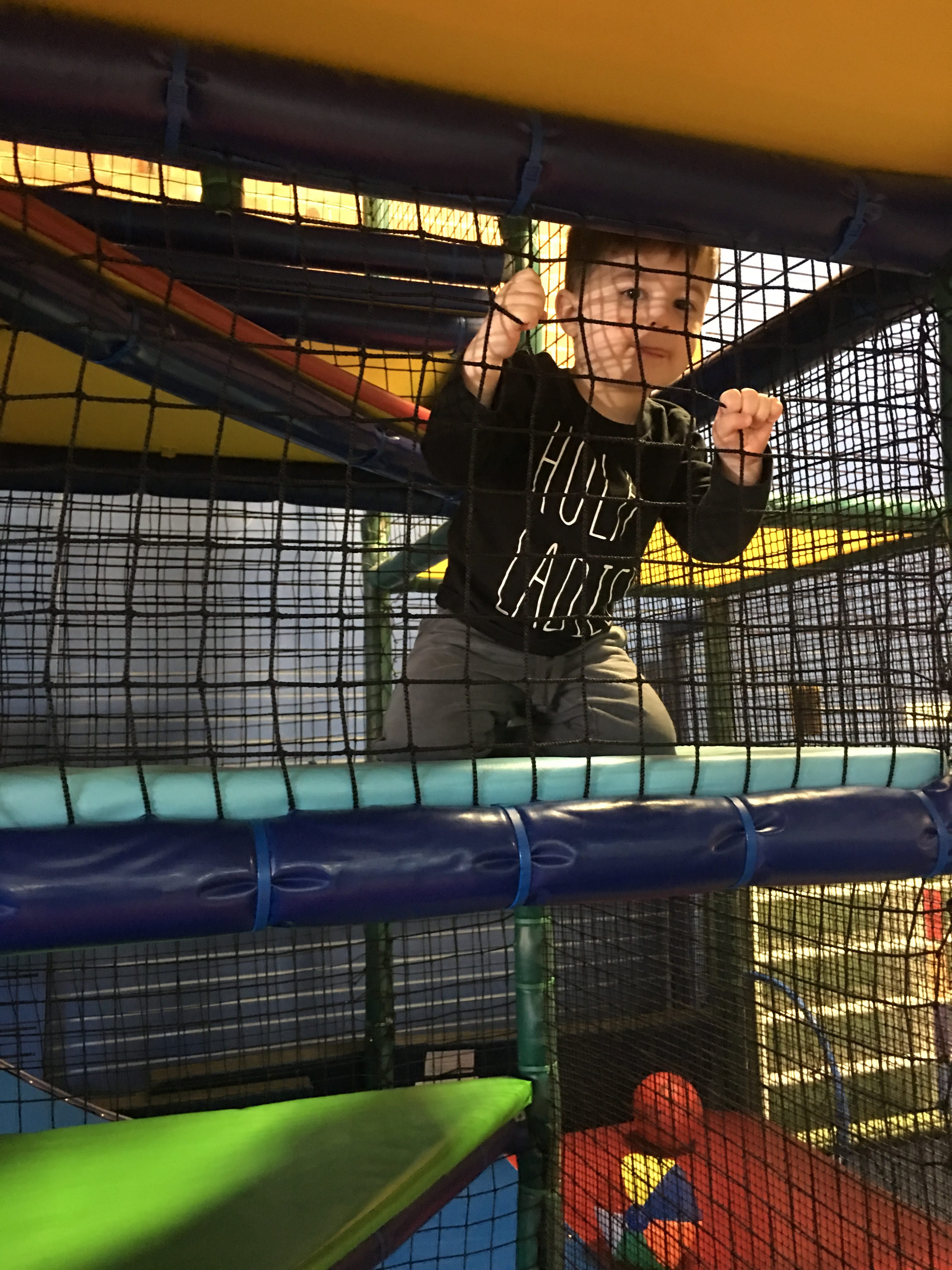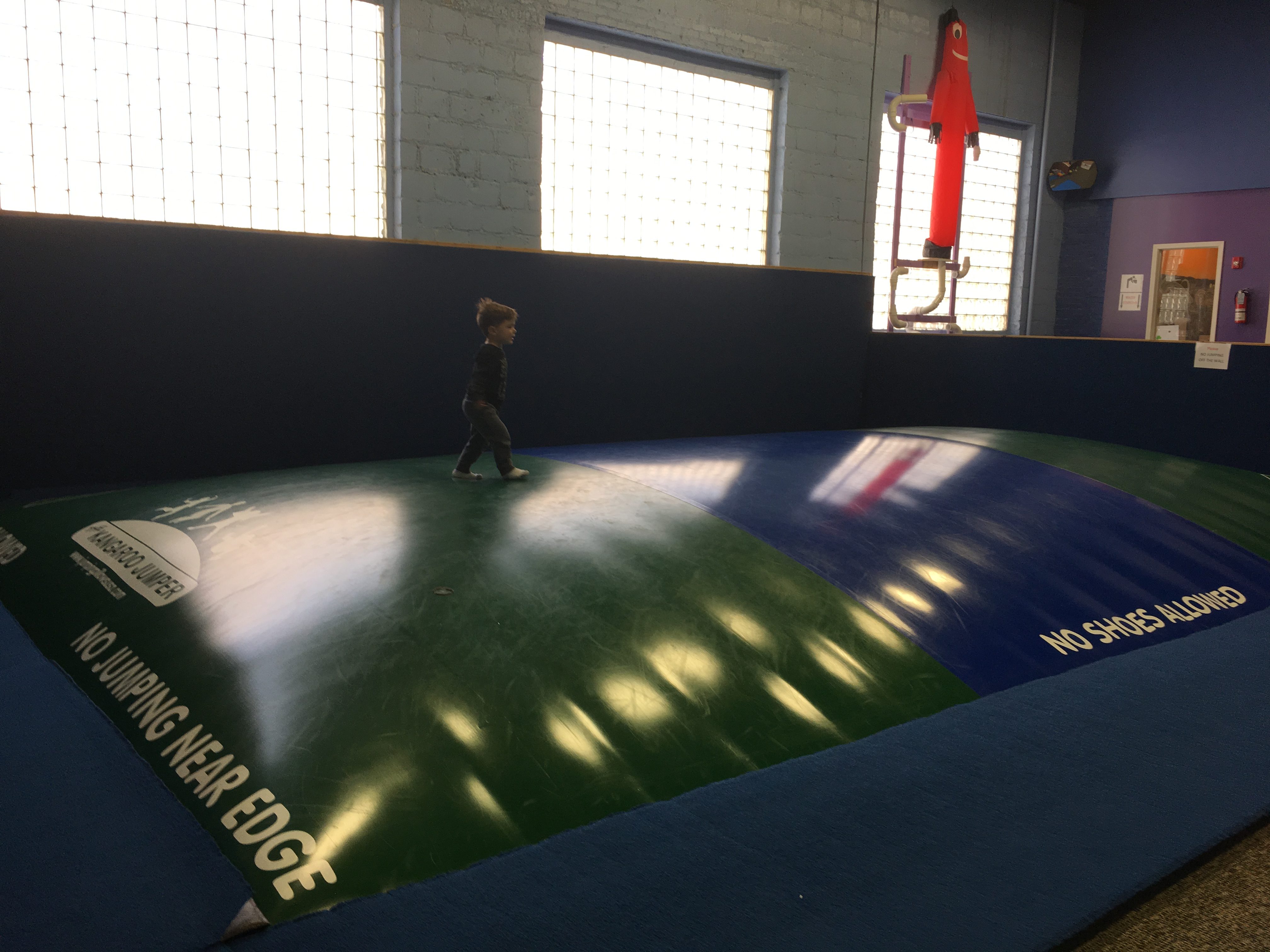 All morning I've been bribing Colton to be good with the promise of going to Laugh Out Loud, one of his favorite playplaces, after lunch. He's held up his end of the bargain, so now it's time for me to deliver. Laugh Out Loud is in Lawrence, KS and it's really a lot of fun. Plus, we "get" to feed a meter before going in, which Colton thinks is super cool. The parking tickets in Lawrence are only like $2, so I'm not even sure it's worth doing the meter, but he loves doing it.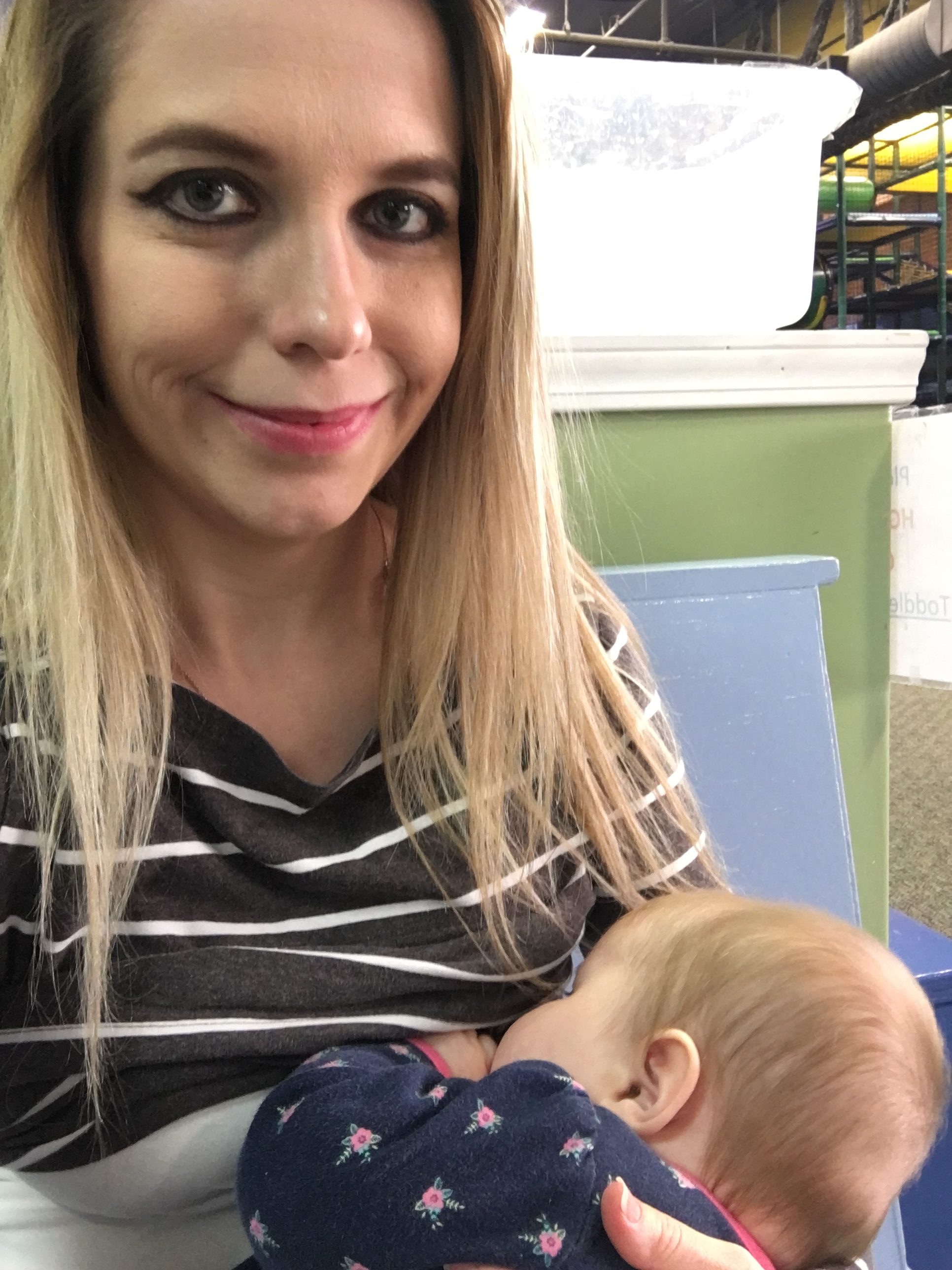 Colton plays for a long time, and Blair eventually gets hungry. Around 2:30, I "nurse in public." Saying that sounds so dramatic. At this point, after a combined 27 months of breastfeeding, I'll do it anytime, anywhere. A lady comes and stands right next to me (like, less than a foot away) to have an argument on her phone, which is strange.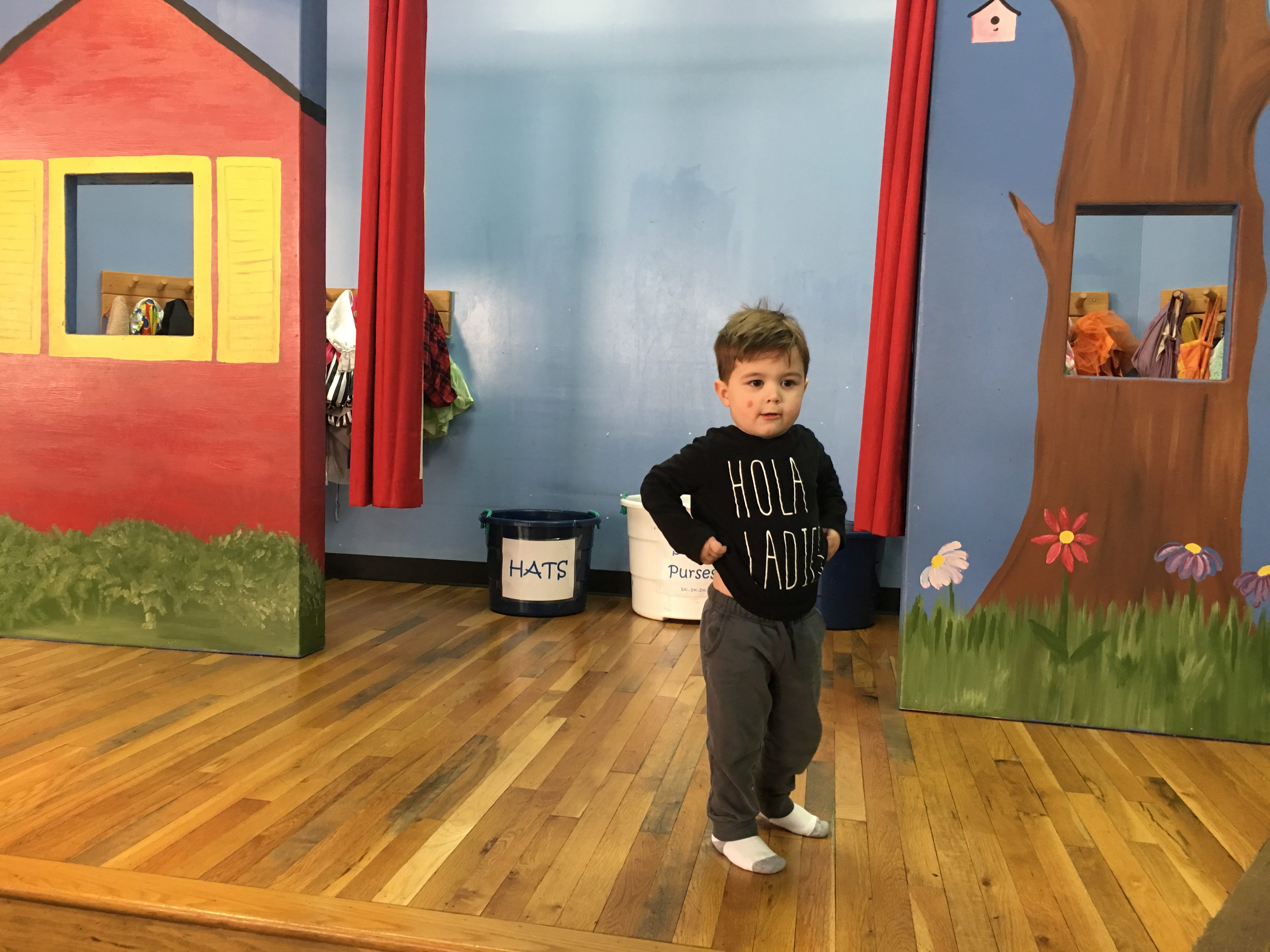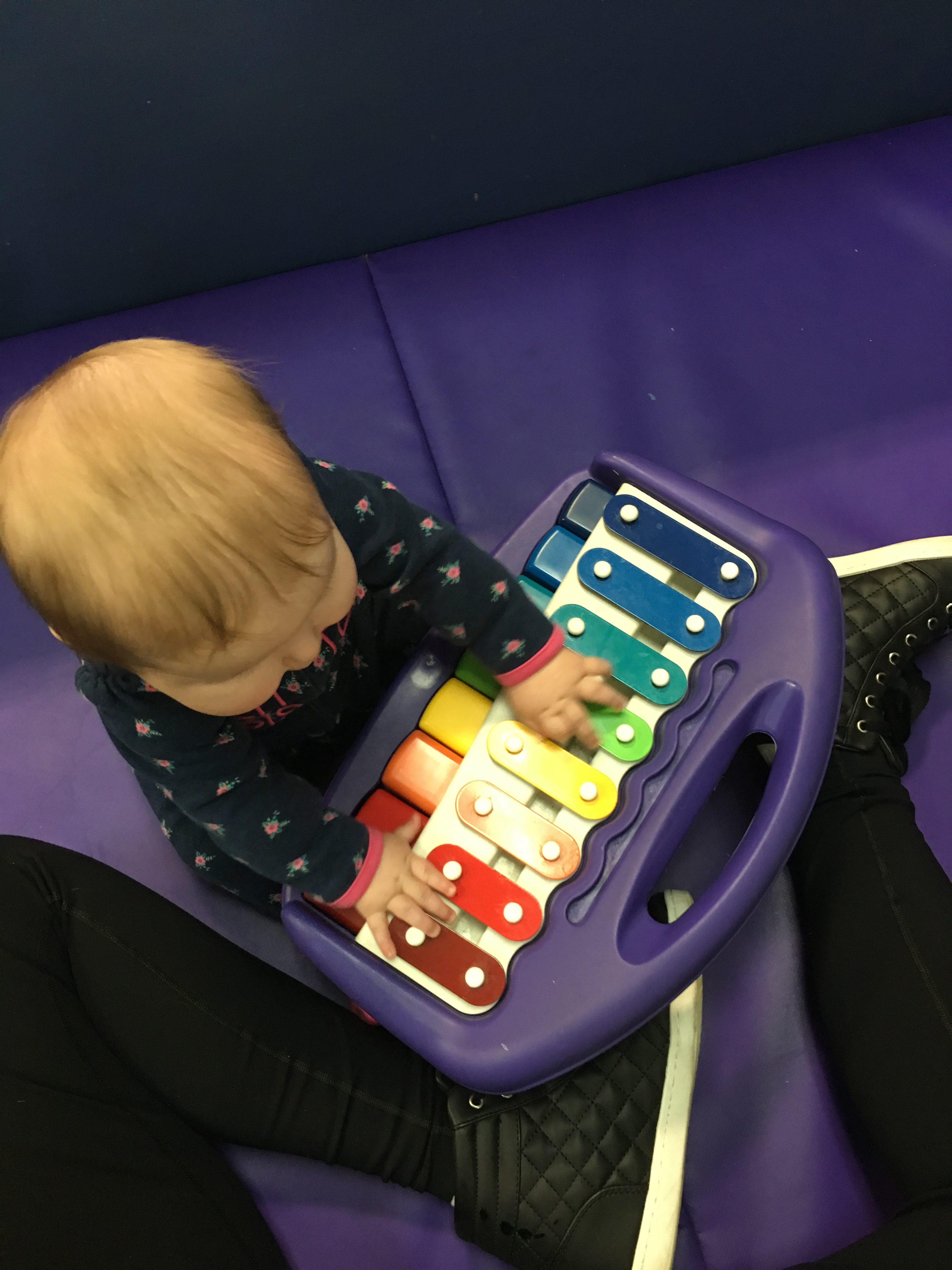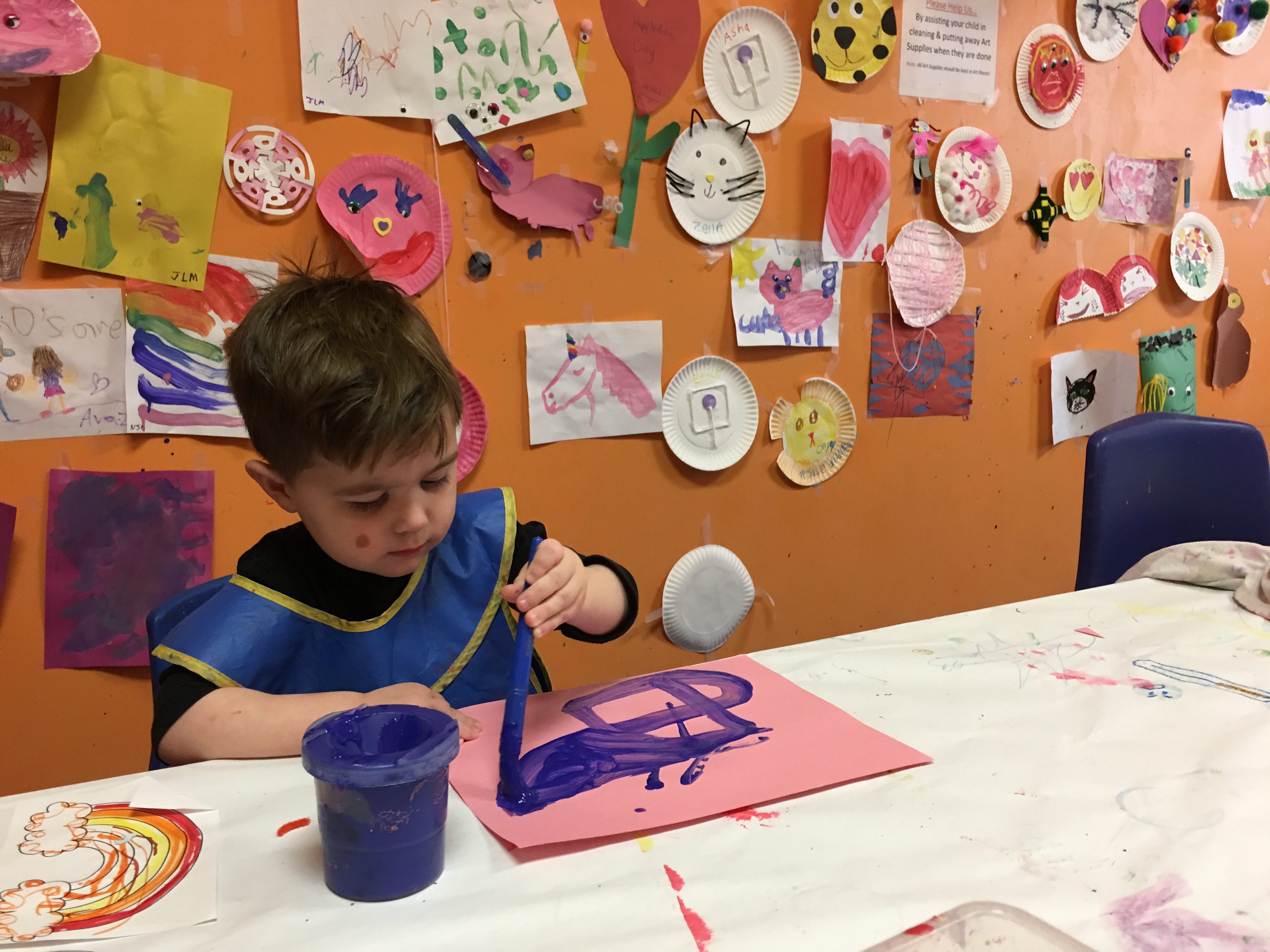 After playing for a couple hours, we head home. I'm already super tired, so I go through a drive-thru to pick up some dinner.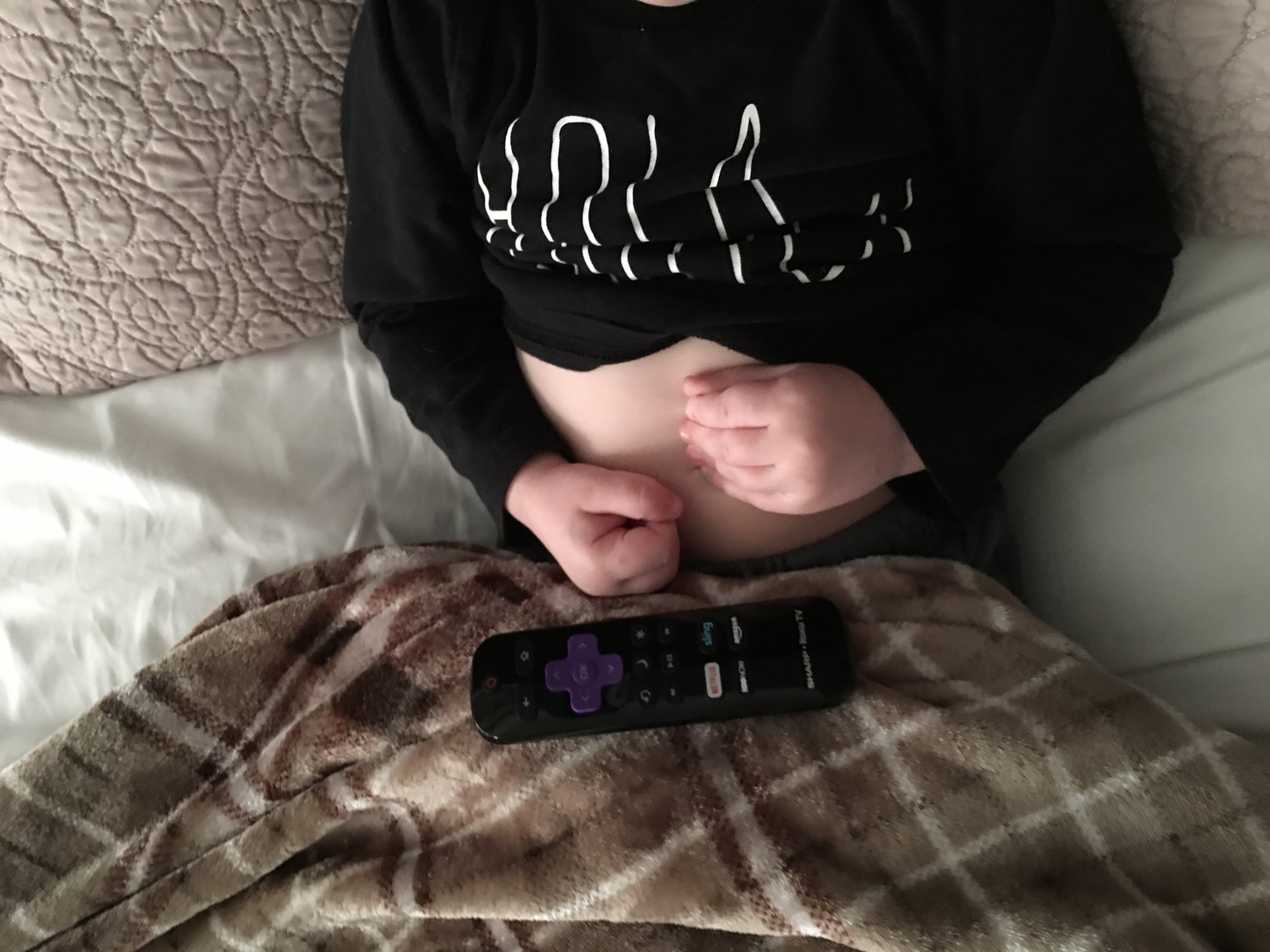 Colton asks to watch Netflix, so I set him up with Dinotrux, his current favorite show. He holds the remote hostage for fear that I may try to switch the show to a non-cartoon.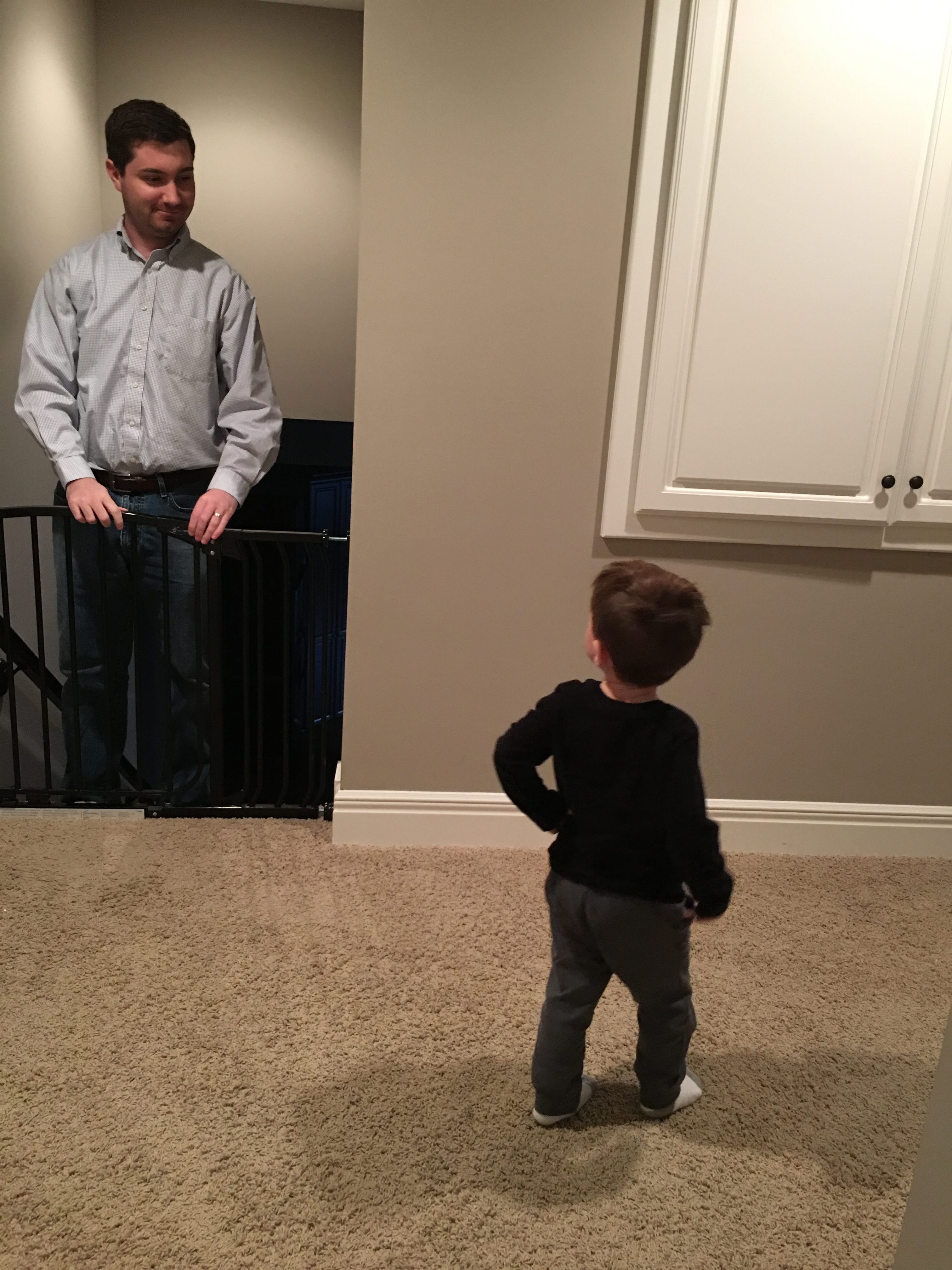 At 6:15, Daddy's home! We're all excited to see him, and I feel like the entire house just breathes a sigh of relief when Daddy comes home. It's the same when I've been gone, too. We're all just happier when we're all together, especially at home.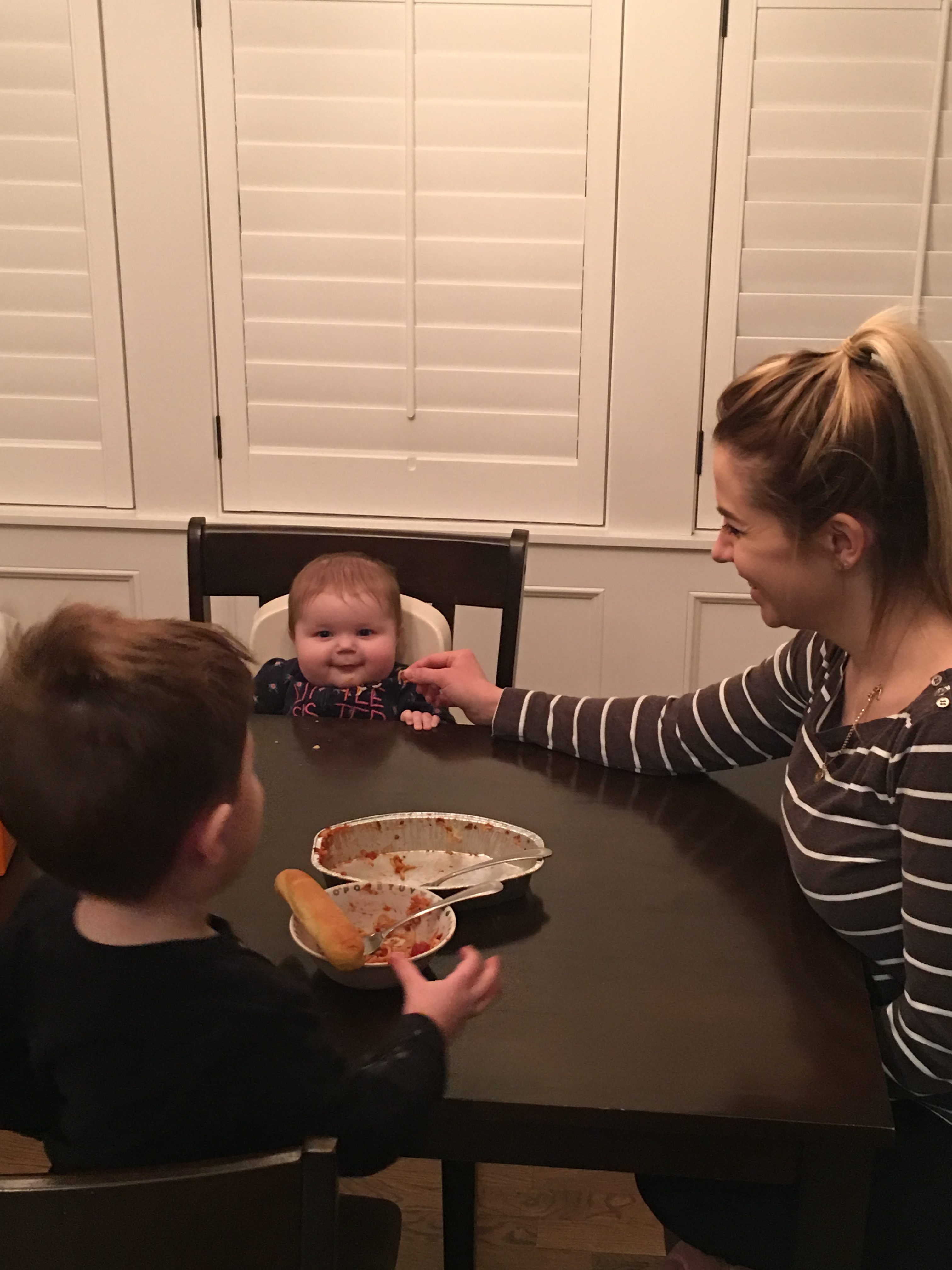 Time for dinner, and Blair loves her spaghetti!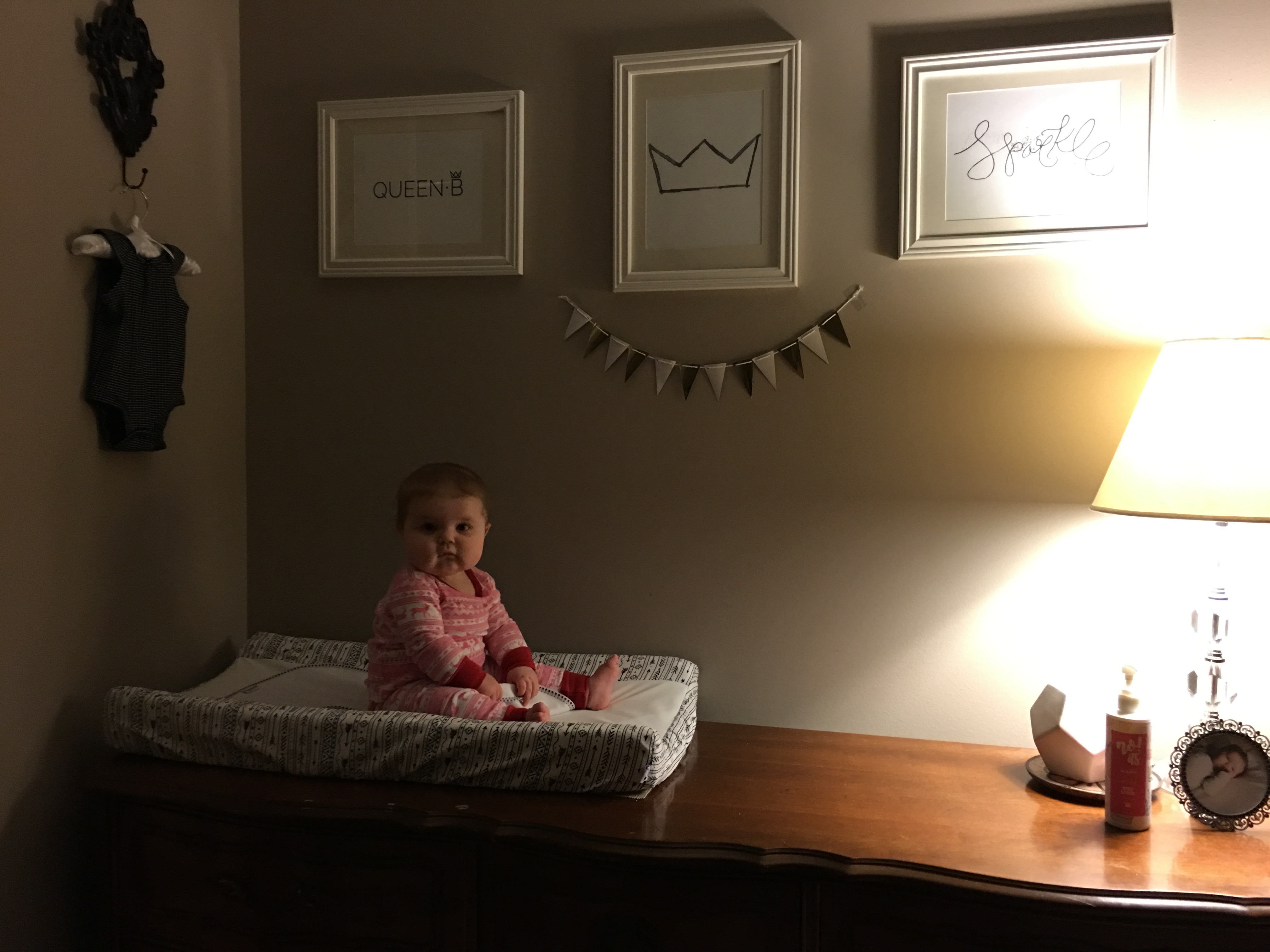 After spaghetti, Blair gets a much-needed bath. I put her (Christmas) pajamas on her and it's time to nurse to sleep. She's in bed by around 8:00, so I sneak into Colton's room for a story and a goodnight snuggle after my husband gets him ready for bed. [Click here for some of my best baby sleep tips! Here are some winter baby sleep tips, too.]
Then, hubby and I watch a little TV and go to bed. The Redbox movie remains unwatched.
And that's a day in the life of a stay-at-home mom of 2! My days are far from glamorous, but I try to make them memorable for my little ones.
Update: This post has gotten a ton of traction on social media. Read my follow up to the negative comments I've received both publicly and privately.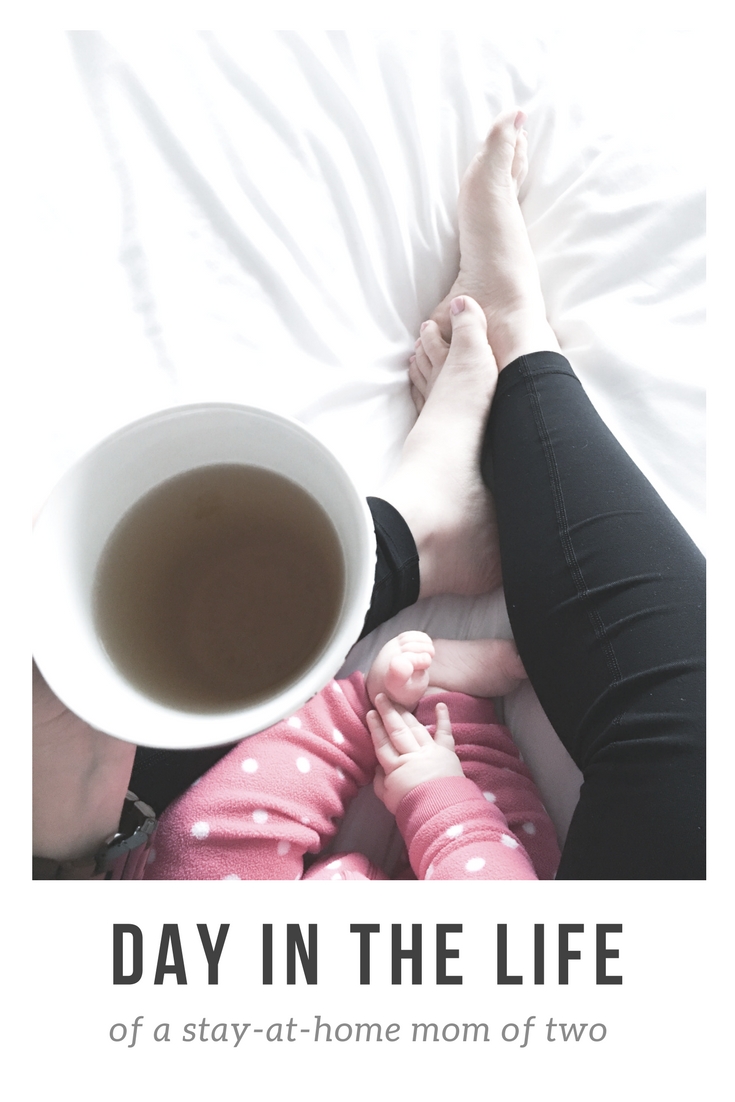 Pin this Day in the Life of a Stay-at-Home Mom of 2 for later!
More Motherhood Ideas…