Christmas is a week away… which means it's time to share our DIY family Halloween costume, because why not? Look, I have 2 little ones. Hence, why I'm posting Halloween costumes in December. But when they're as cute as this Ms. Pac-Man and Ghosts costumes ensemble, I can't let the season pass by without sharing. [And by "season," obviously I mean "the last 3 months of the year," which is totally a season in my book.]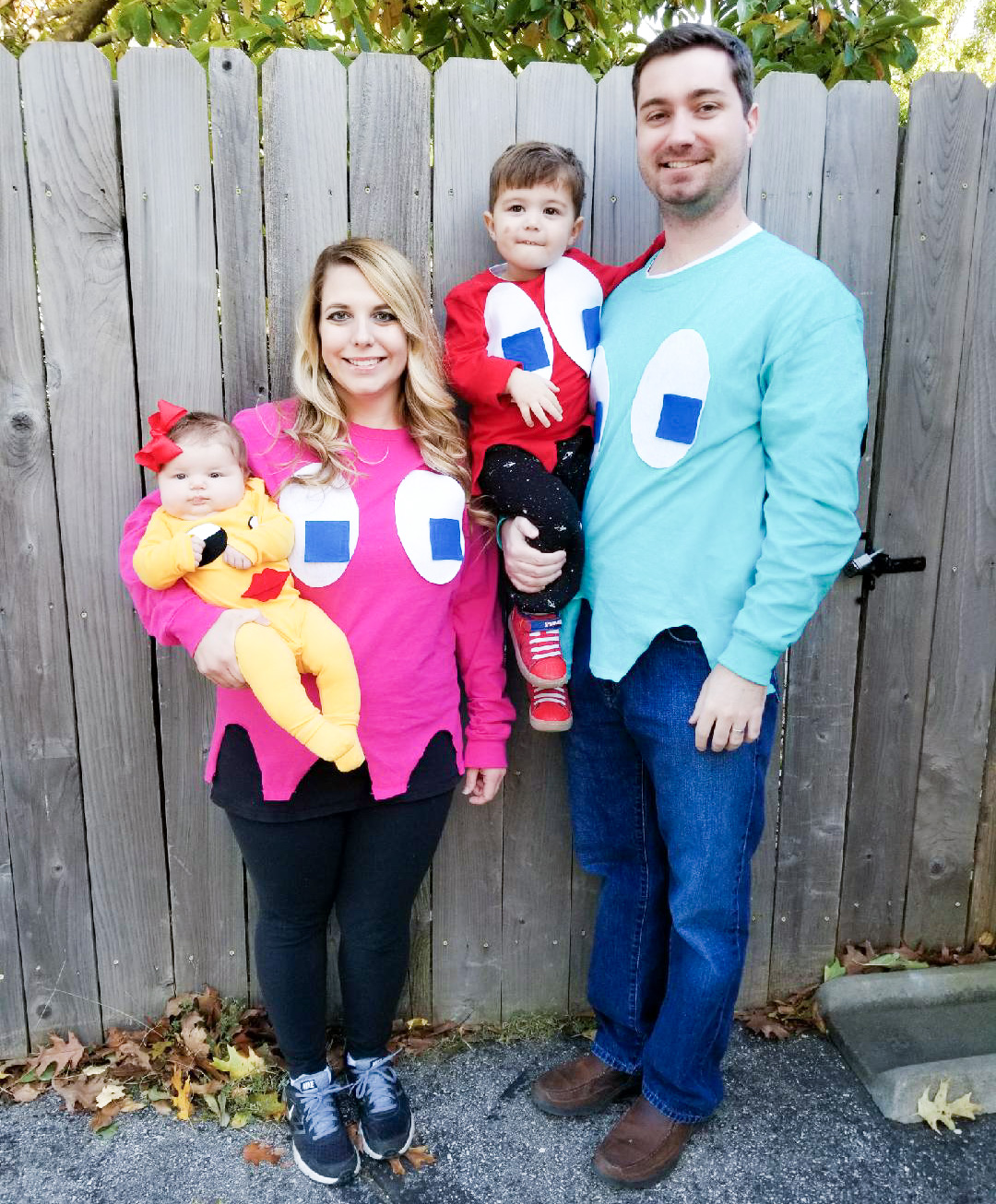 The most exciting part of this post? My husband's inaugural blog appearance! He's normally behind the camera [#instagramhusband], but I'm glad he agreed to be in the photo so I can share my whole family.
Plus, he was the mastermind behind these Ms. Pac-Man and Ghosts costumes. I wanted the kiddos to have a sibling costume, and my son was adamant that he wanted to be a "boo" [his word for ghost]. Honestly, I was just going to dress them up as a couple of ghosts and call it good. But, hubby had other [better] ideas, and suggested Ms. Pacman and her red ghost, since red is Colton's favorite color.
Then, he asked if he and I could dress up too. You guys. I almost fainted. My husband is not the costume-y type. I was so excited!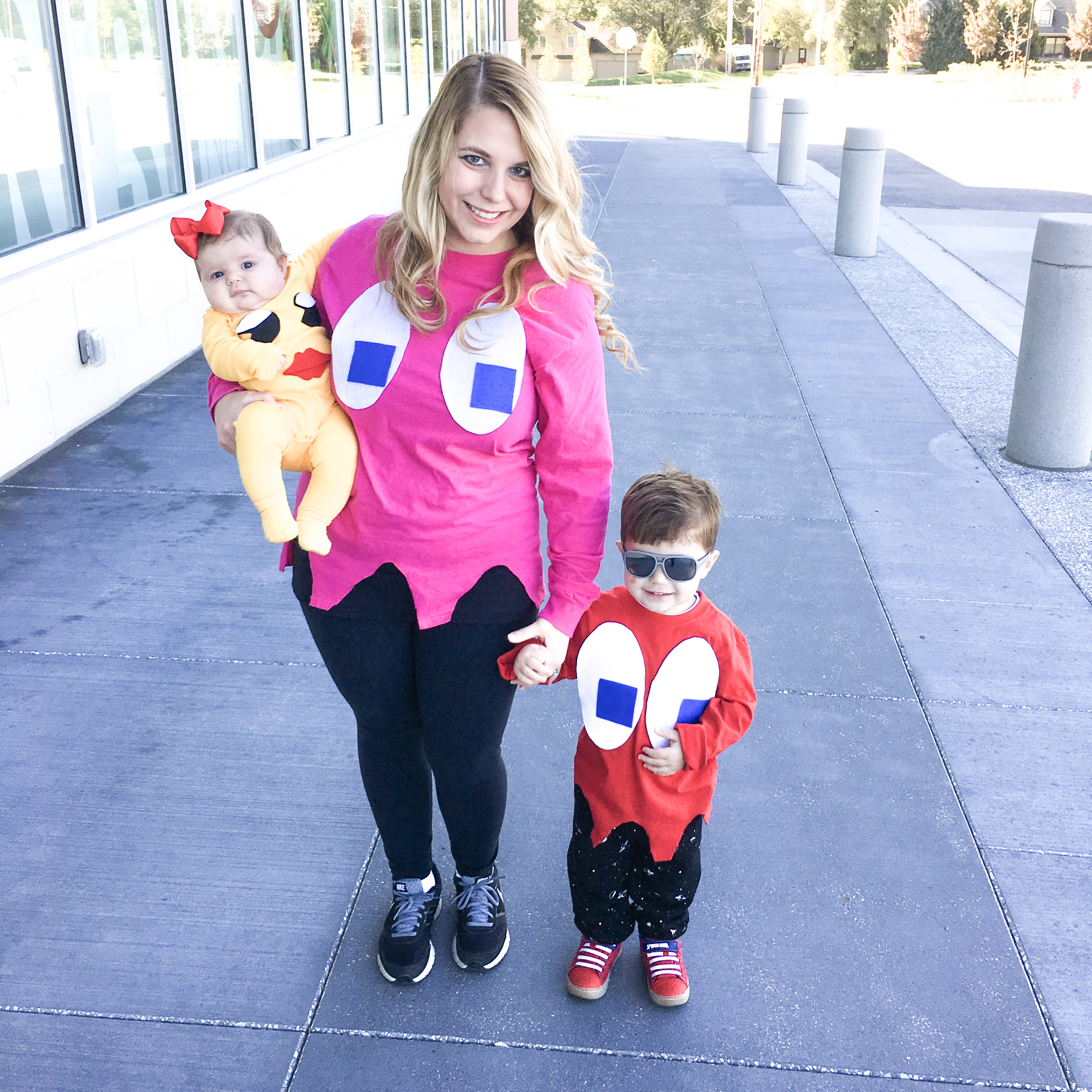 We debuted the costumes at a trick-or-treat event at a local grocery store. We got a ton of compliments, and Colton was all smiles! OK, I'm pretty sure he's smiling because of all the free candy.
These Ms. Pac-Man and Ghosts costumes were a super easy DIY. For the ghosts, I was able to find a pink shirt for me and red shirt for Colton easily. However, the teal ghost shirt was harder to come by. I ended up dying this plain white long-sleeve tee, but there are teal options available online if you don't wait until the last minute like me. For the baggy look, I bought everyone's shirt one size too big.
We used some cardstock to create oval and square templates for the eyes, then cut them out of white and blue felt. Then, I used this fabric glue to glue the eyes onto the shirts. I was impressed with how well it held. Typically, I'm overly cautious and choose to sew instead of using glue, but like I said… last minute.
Finally, I cut a big zig-zag pattern out of the bottom of the shirts. Again, you could sew the hem, but I didn't bother for such minimal wear.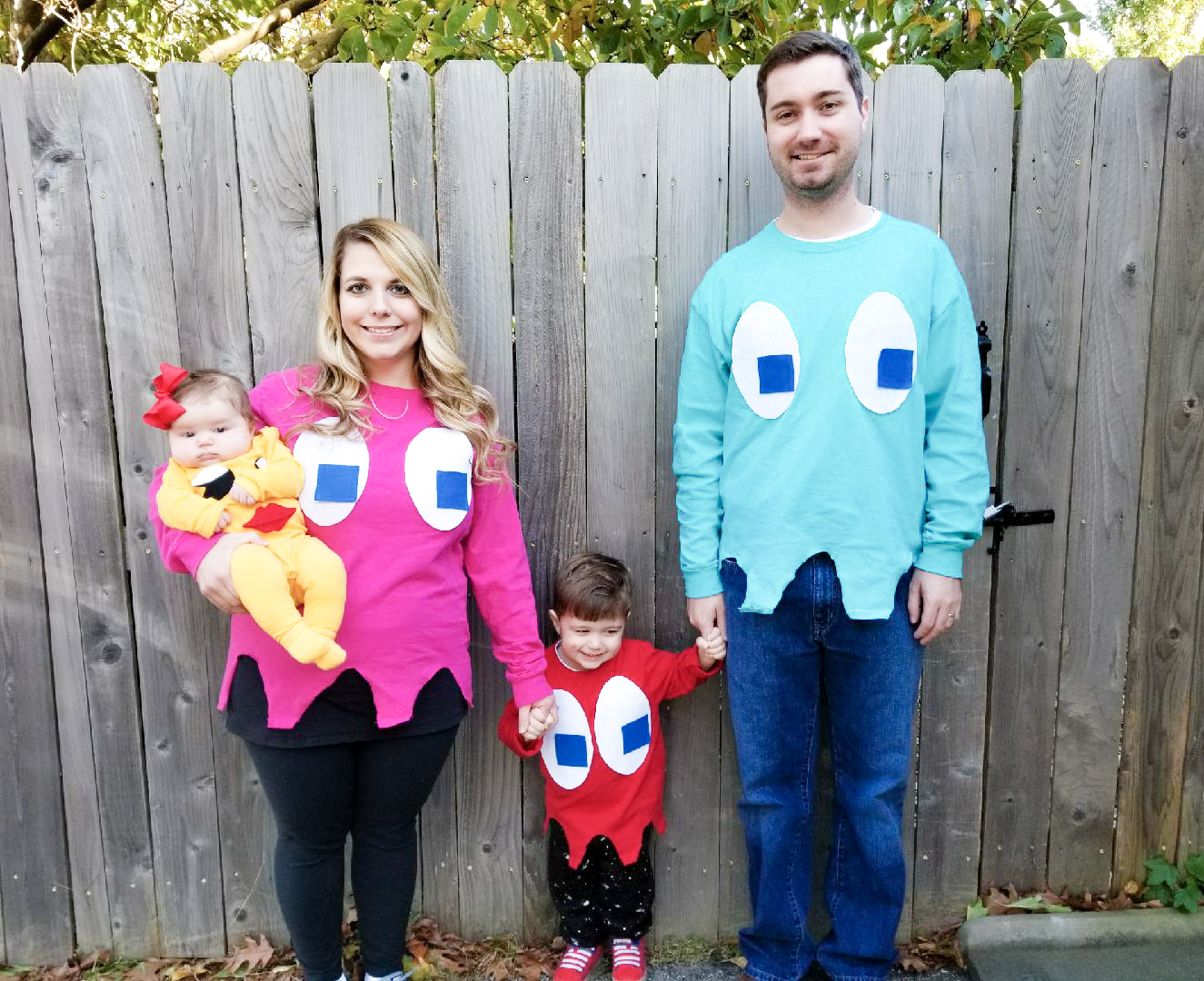 I chose to dye all of Blair's Ms. Pacman costume so that the yellows would all match. I couldn't find a yellow bodysuit, leggings, and socks from a single vendor, and I was worried that ordering from different places would mean her outfit would be 3 different shades.
We already had a white bodysuit and socks, so we just got some cheap white leggings and this yellow fabric dye. I seriously hadn't dyed fabric since doing some random tie-dye projects as a kid, so I wasn't sure how it would go. Thankfully, the instructions on the packet were easy to follow, and the color looked great. Just make sure you have a large stainless steel pot that will fit your clothes, and a stainless spoon to stir with.
Again, we used cardstock to create templates for the eyes and mouth, then cut them out of black, white, and red felt. I'm not artistic in the least, so trust me when I say that anyone can do this. Just do a Google Image search for Ms. Pacman to get an idea, then freehand until you're happy with the result. Arranging the cardstock directly on the bodysuit helped with sizing, so I could adjust without having to waste the felt.
Then, I topped her outfit off with a big red bow… just like the real Ms. Pacman! Then, she lost the bow at the grocery store and I had to re-trace our steps to find it. My husband suggested clipping it to her bodysuit, which, in retrospect, would've been better.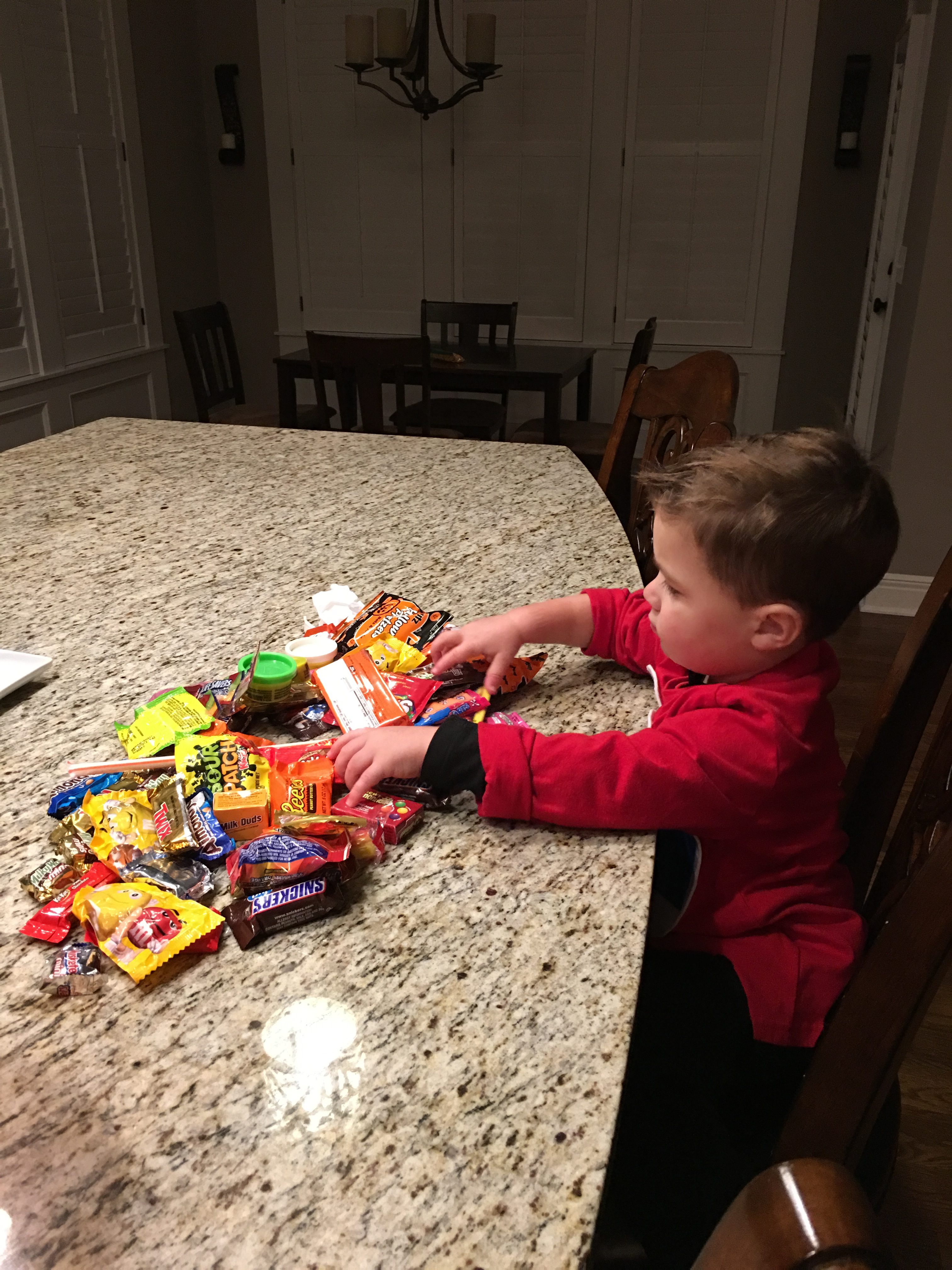 My red ghost came back with quite the candy haul on Halloween night! It was incredibly cold here on Halloween, and lots of kids didn't even go out. We had a ton of leftover candy [not that I'm complaining — look what I whipped up!]. Although it was freezing, Colton didn't want to stop trick-or-treating. He has a sweet tooth, just like me. Look how proud he is of his haul.
Almost as proud as I am of our costumes.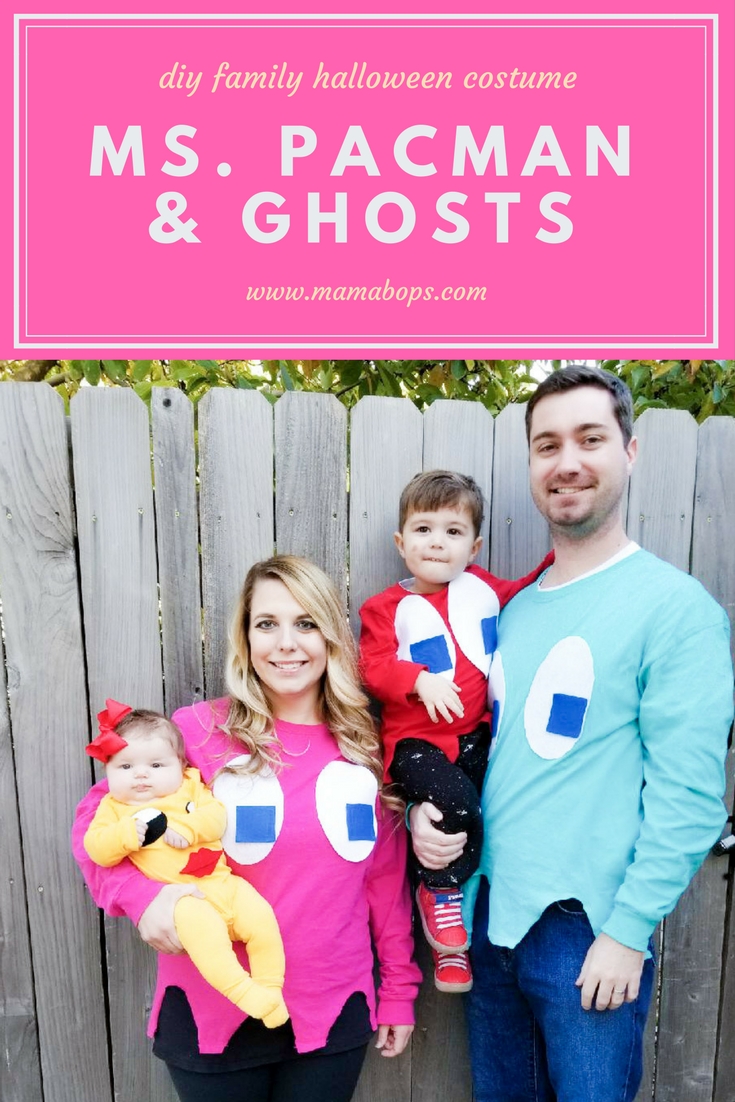 Pin this Ms. Pac-man and Ghosts Costumes idea for next Halloween!
I've always enjoyed making Colton's Halloween costumes.
In 2016. he was The Man in the Yellow Hat from Curious George: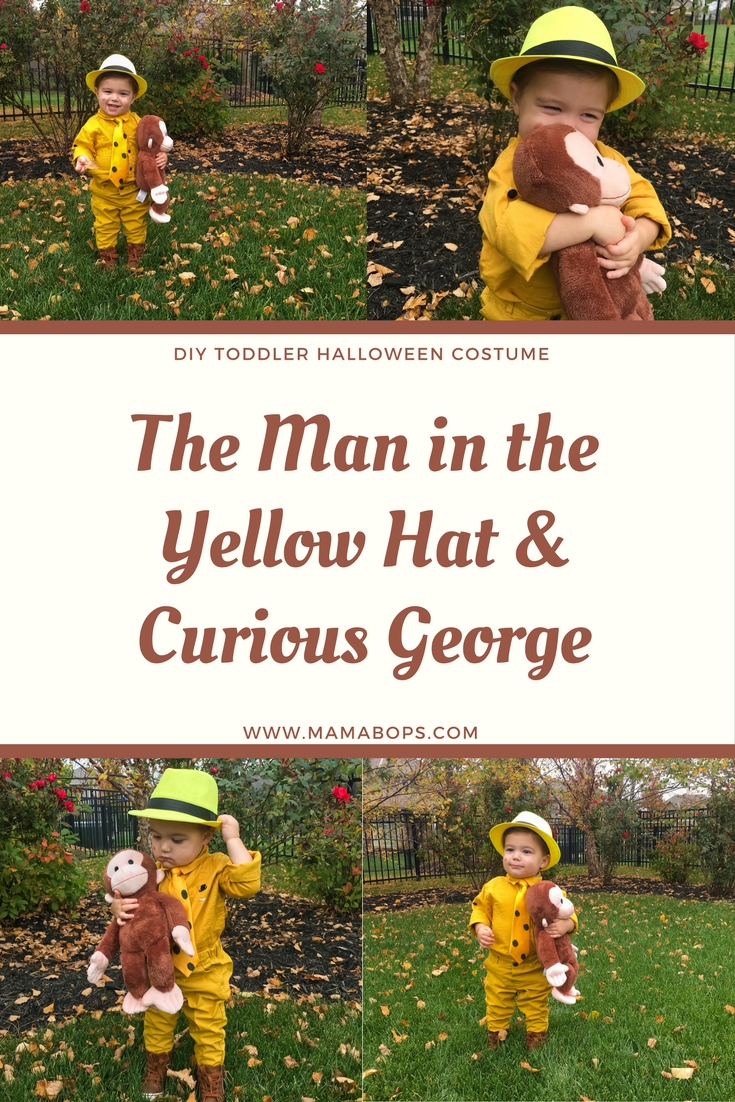 And in 2015, he was the Pillsbury Doughboy for his first Halloween!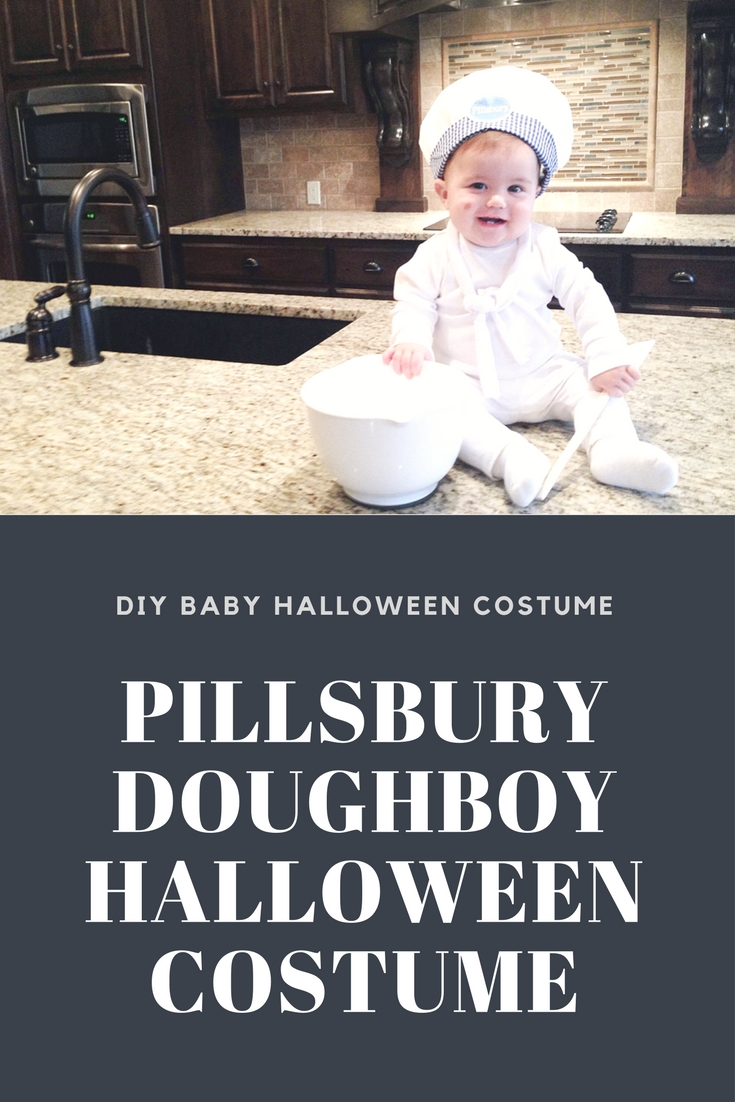 Here's a great idea to use up leftover Halloween KitKat candy:
Or leftover M&Ms: