Lately, there's been a lot of buzz about American Eagle jeans, and not just for the high school/college crowd. I wanted to try a couple pairs for myself, so I headed to the mall for this American Eagle Try On Fall 2018.
And I'm excited to share a special surprise with you all at the end of this post: an $800 Nordstrom gift card giveaway! Perfect for picking up all the items you regret not picking up during the NSALE…
American Eagle Try On Fall 2018 – Plaid Shirt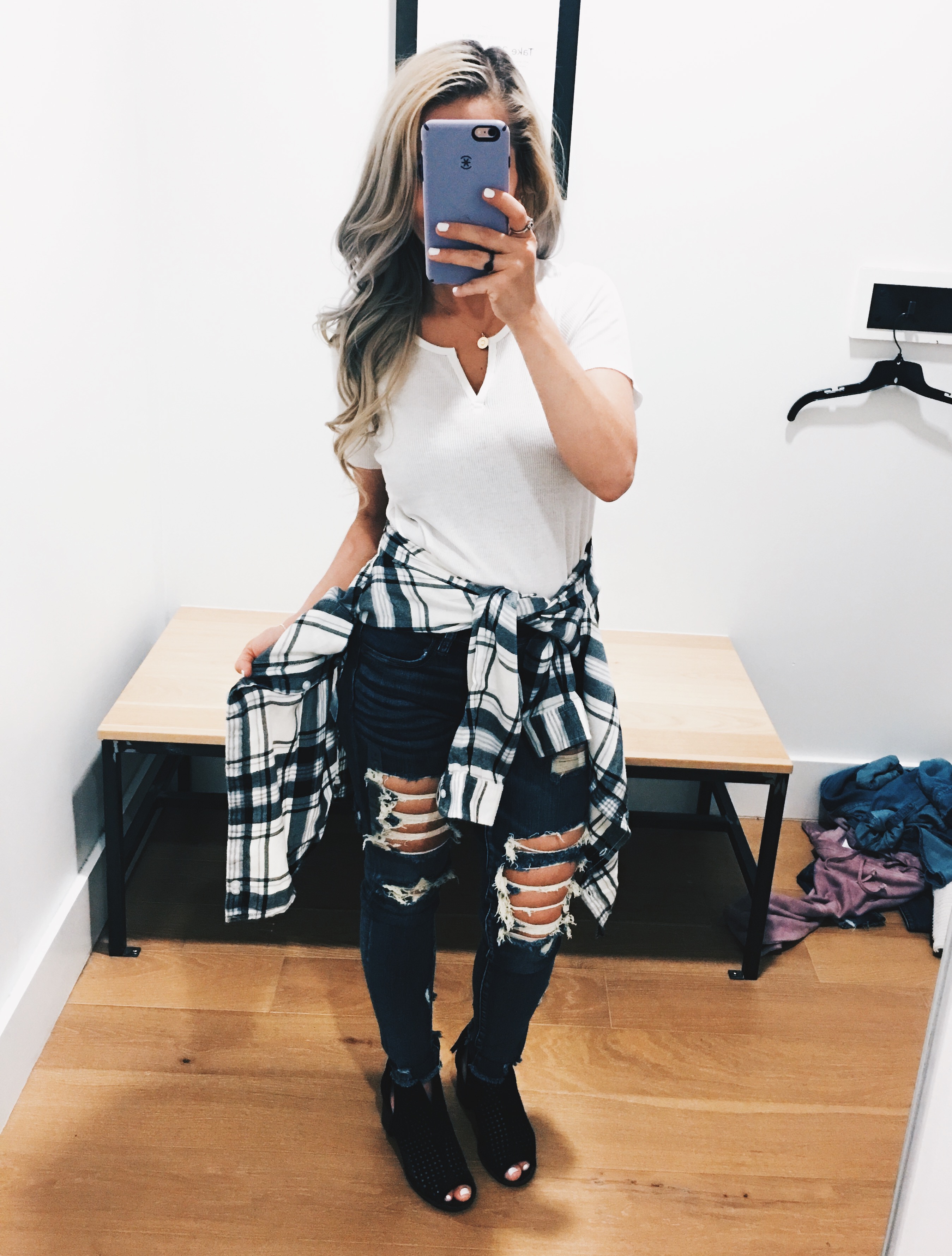 I'll start this American Eagle Try On Fall 2018 with one of my favorite looks for fall: plaid. This plaid shirt comes in multiple colors–of course, I chose the black and white. The material is soft and lightweight, not flannel. The lightweight material makes it a great transition piece to fall.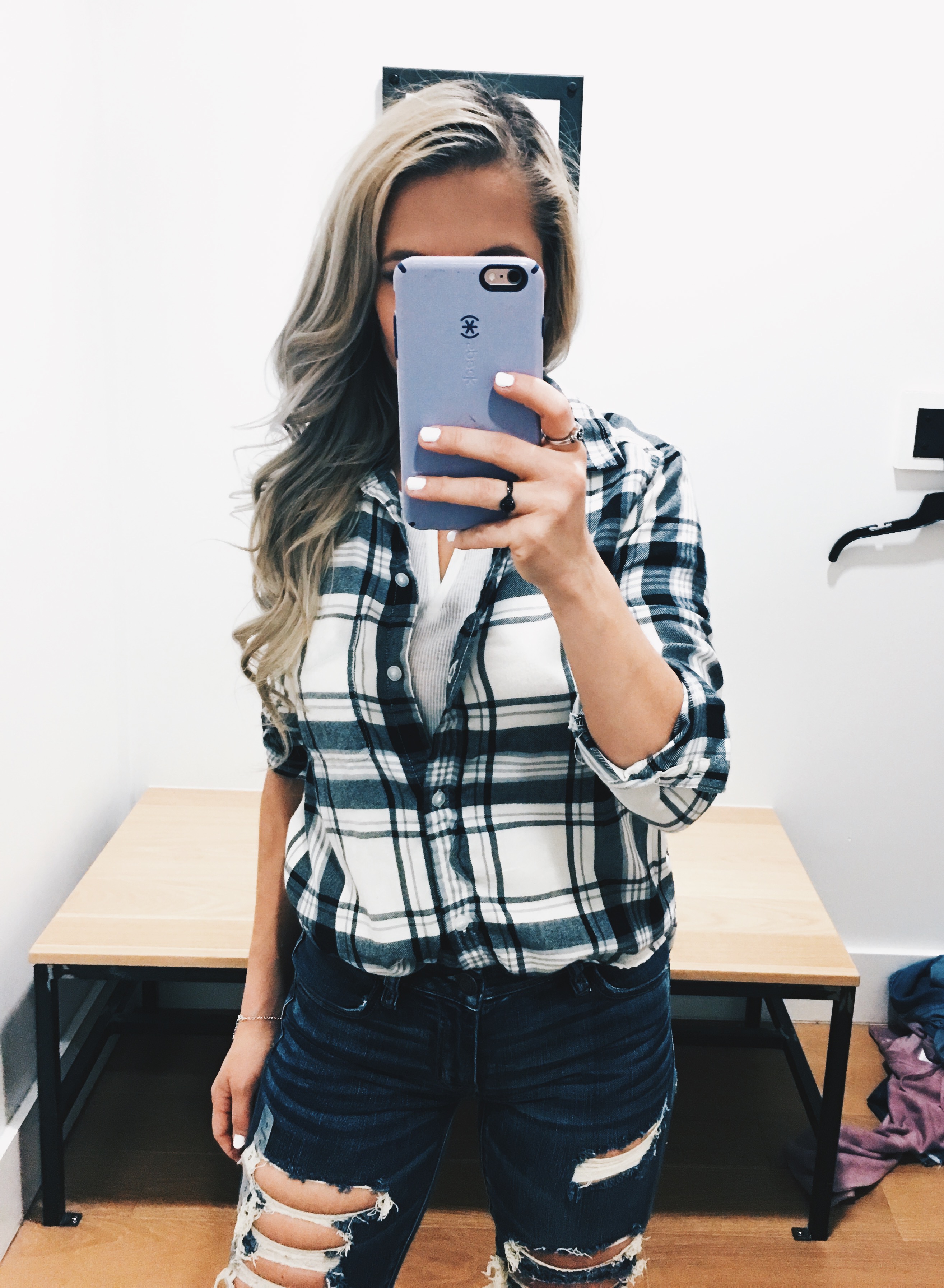 And here it is worn another way. The black and white plaid looks so chic to me, like a city girl's version of fall or something.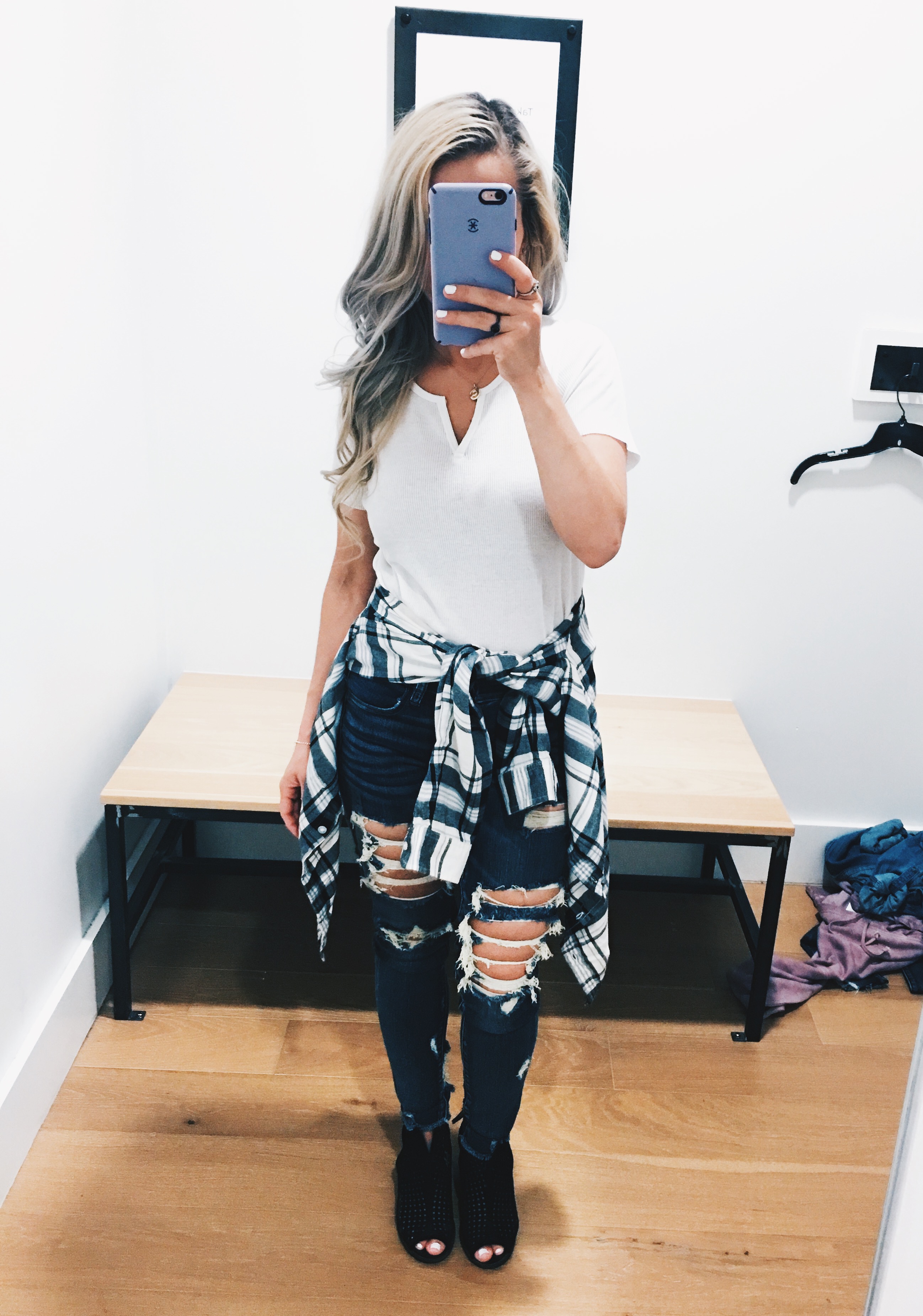 I'm wearing this ribbed t-shirt underneath, which I chose for the notch neck design. It's perfect to show off a favorite necklace, which, in my case, is the monogram pendant I'm always wearing. It was my push present with Colton! I also like how the ribbing takes a basic tee to the next level.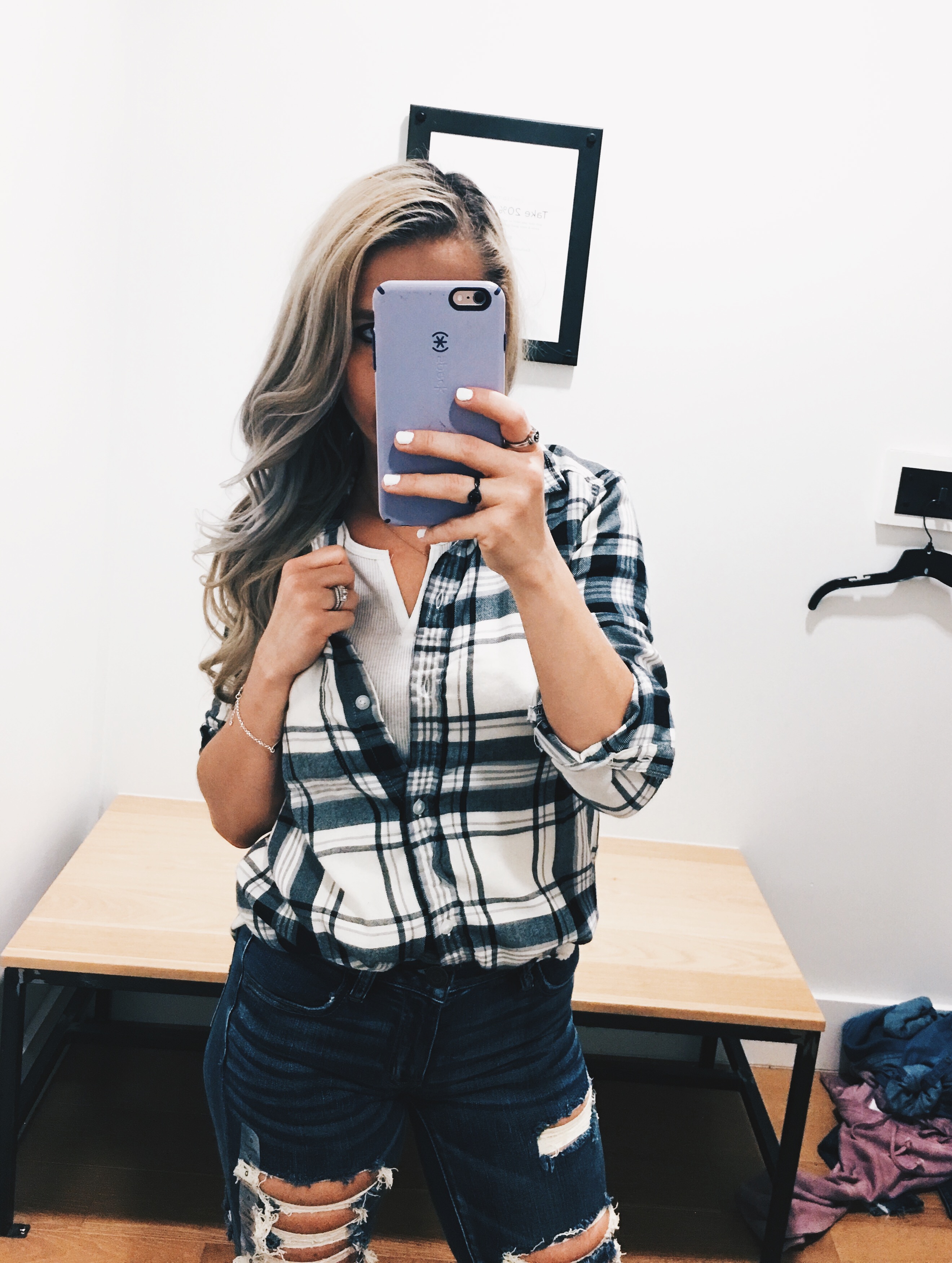 This is a perfect casual look to transition to fall. I'd wear this plaid shirt to the pumpkin patch, as I mistakenly wore a flannel one last year and… yeah, not a smart idea. Kansas is still really, really hot in September. You'd think I would've figured that out by now.
American Eagle Try On Fall 2018 – Rugby Stripe Sweater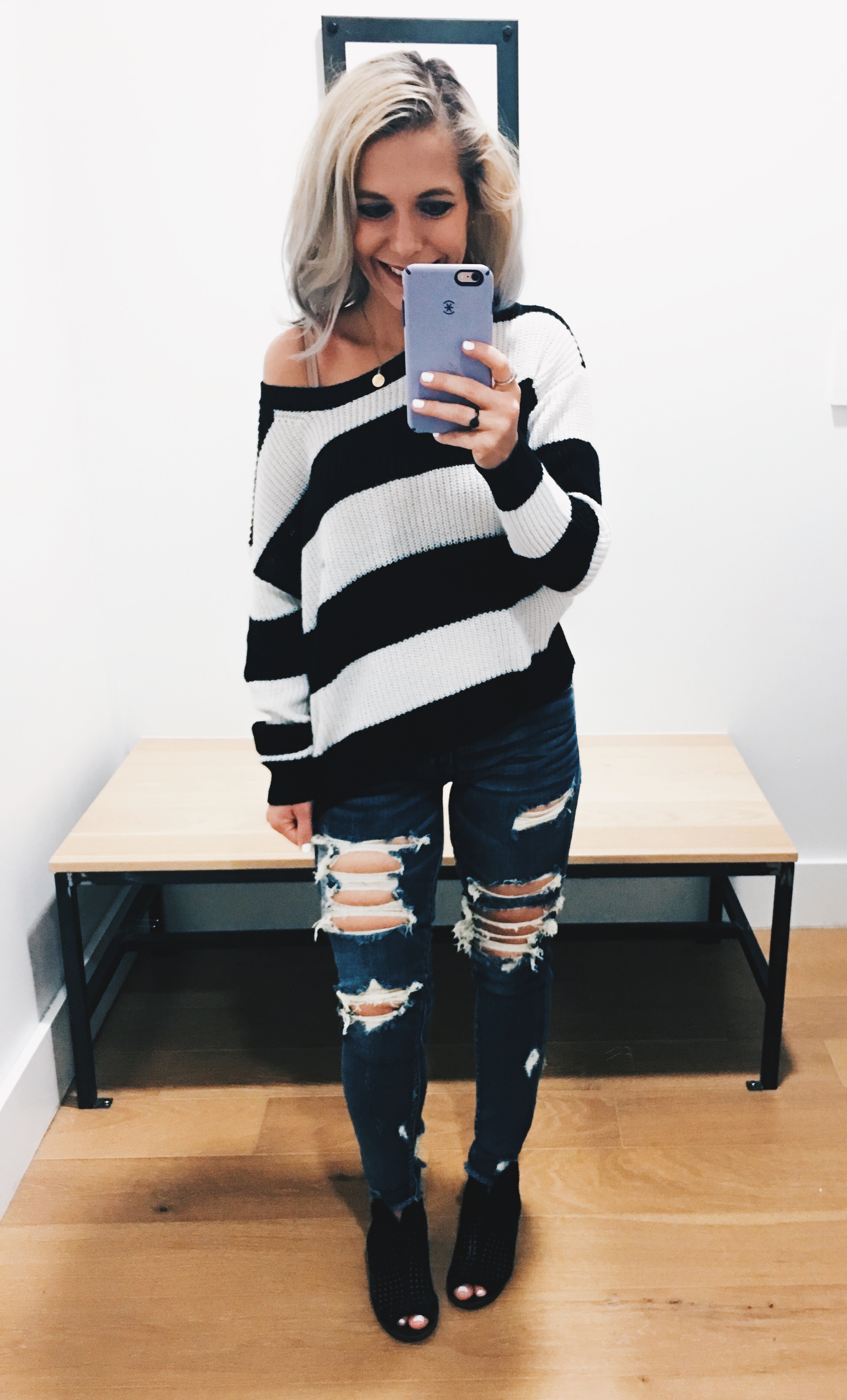 Continuing with the black and white theme, here's a beautiful rugby stripe sweater. It's available in a few different color combinations, too. It's not necessarily meant to be worn off-the-shoulder like this, but I always think that makes sweaters look a little more flirty.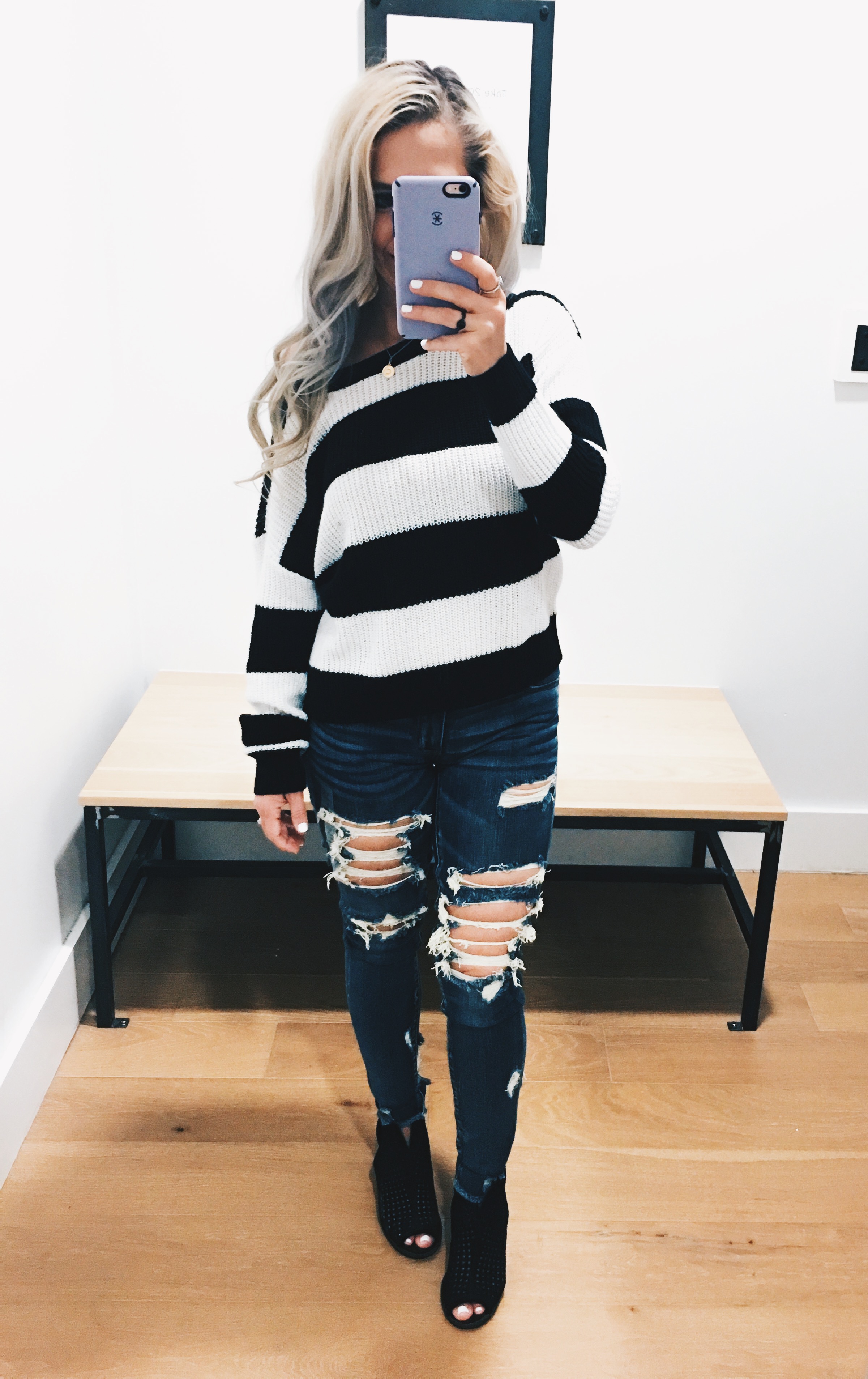 As I mentioned initially, jeans are the main reason I wanted to do this American Eagle Try On Fall 2018. This is the first pair I tried on, which I also wore with the plaid shirt above. They're technically a crop, but they ended up being a regular jean length on me. [AE does offer this jean in short, regular, and long lengths online. However, the store only had the regular length available in my size.]
I was impressed with the stretchiness and comfort of these jeans. Aside from the distressing, I also like the ripped hem. Colton was so confused as to why the jeans had so much distressing, though. He reminded me of a little old man, like, when dads ask why you're buying jeans that are "already destroyed."
American Eagle Try On Fall 2018 – Girly Hoodies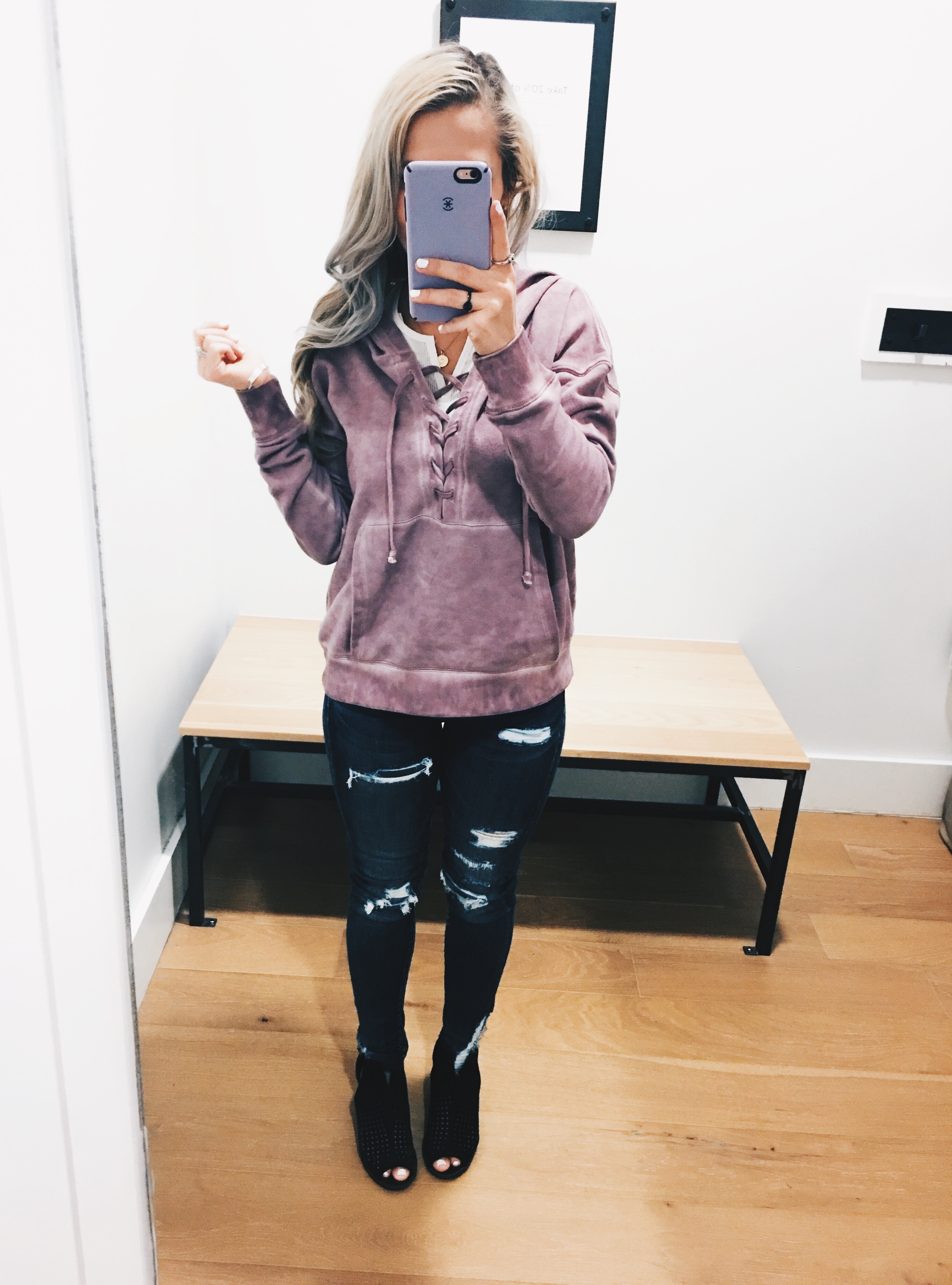 This is the second pair of jeans I tried on, and they are also super stretchy. In fact, I'm wearing a size down from my regular size here, which is a testament to the stretchiness of these. I'll be honest, I didn't think they had a prayer of fitting me when I picked them up, but I really liked this style and it was the only size even close to mine that was in stock, so I decided to give them a shot.
I often hear to size up in AE jeans, but I feel like they run TTS due to the stretchiness. Plus, jeans always loosen up a bit as you wear them.
I preferred this pair to the first because the majority of the distressing is reinforced, so you don't actually see skin. I'm not opposed to showing a little skin, but I feel like this is a more flattering look on my legs. Especially during the winter when I get very, very pale. As in, Colton will literally call me a ghost. Ha!
Here's a better look at the distressing on these American Eagle jeans. There's even some distressing near the ankle, which is unusual. A great way to draw attention to a favorite pair of shoes or booties!
And here's the hoodie you need this fall. I love the girly lace-up detail and the gorgeous color. Purple is my favorite color, and ever since Colton found out, he brings me anything purple he finds around the house or points it out in a store. He really is the sweetest little shopping buddy [although don't let that fool you, I definitely broke up my fair share of sibling fights during the time I was taking these photos!].
If you love girly hoodies as much as me, here's another option with ties and here's one that is just gorgeous. Both are half off and online only!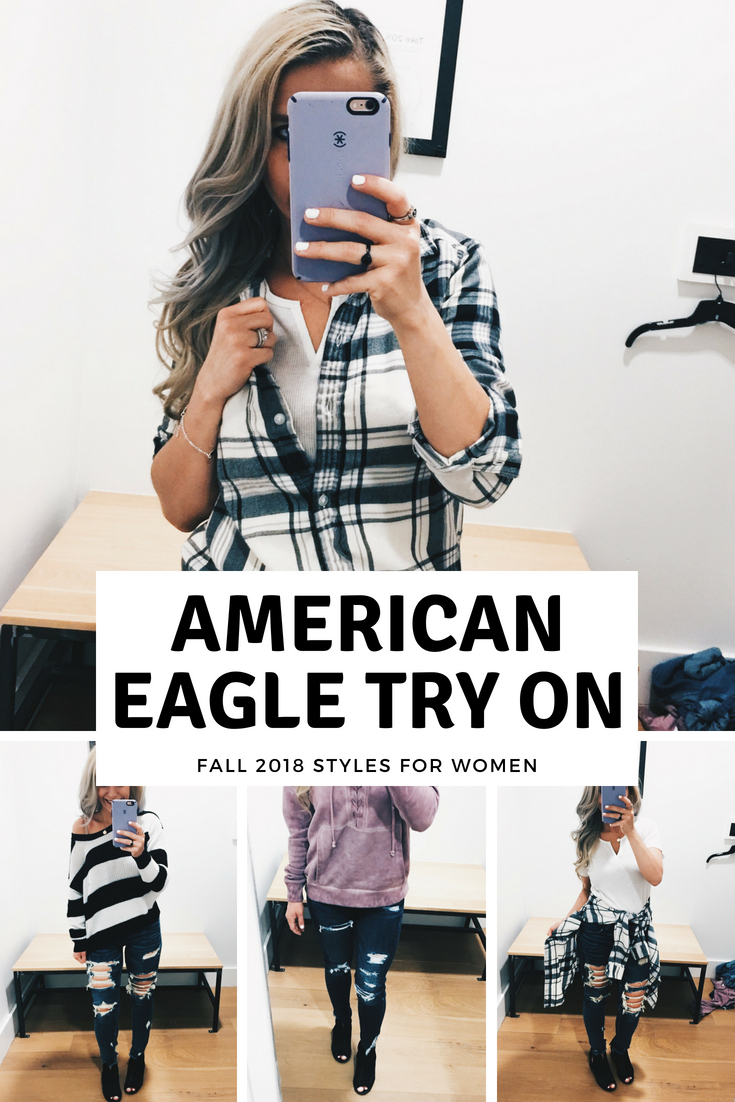 Pin this American Eagle Try On Fall 2018 for later!
$800 Nordstrom Gift Card Giveaway
To kick off our last month of Summer, I've teamed up with a group of bloggers to give you
a chance to win an $800 Nordstrom Gift Card!
To enter: complete the steps in the rafflecopter below. The more steps you complete,
the more entries you receive, and the better your chance at winning!
This giveaway runs until Tuesday, August 28th at 12am PST
Winner will be announced here. Good Luck!
*this giveaway is in no way sponsored by Nordstrom.
Need some ideas on what to spend that Nordstrom gift card on?