This post contains affiliate links. Please see our Legal page for more information.
Happy Easter!
Easter is fast approaching, which means it's time to start getting those baskets ready! I'm helping you out today with some creative and unique Easter basket ideas for 2-year-old boys. Of course, many of these ideas will work for other ages and toddler girls as well. I've also included some of my favorite Easter basket ideas for babies!
In 2017, Easter is on April 16. That means we have less than a month to get everything ready for the little ones. Isn't it funny how much planning goes into holidays when you're a parent? I miss being a kid, when everything was magically ready for you when you woke up on a special day. Only now do I realize how much work my mom put into those Easter baskets, Easter meals, and egg hunts!
For once, I actually planned ahead and already have Colton's basket ready to go! Here's what's in my 2-year-old boy's Easter basket this year…
Easter Basket Ideas for 2-Year-Old Boys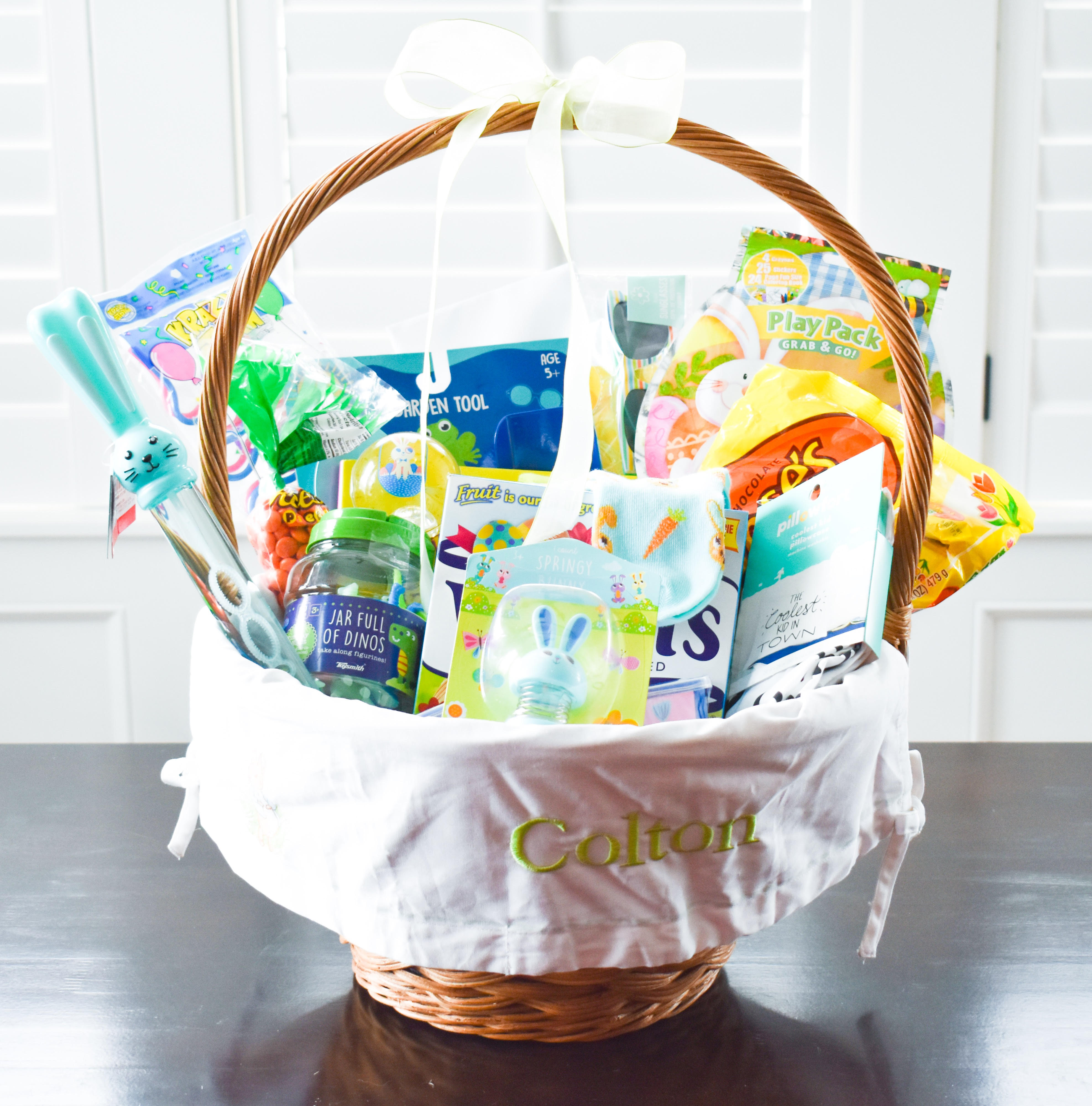 As you can see, we do a mix of candy and non-candy items for our baskets. Honestly, my husband and I will eat most of the candy! I consider it a "tip" for all of my hard work putting together the basket. That's fair, right?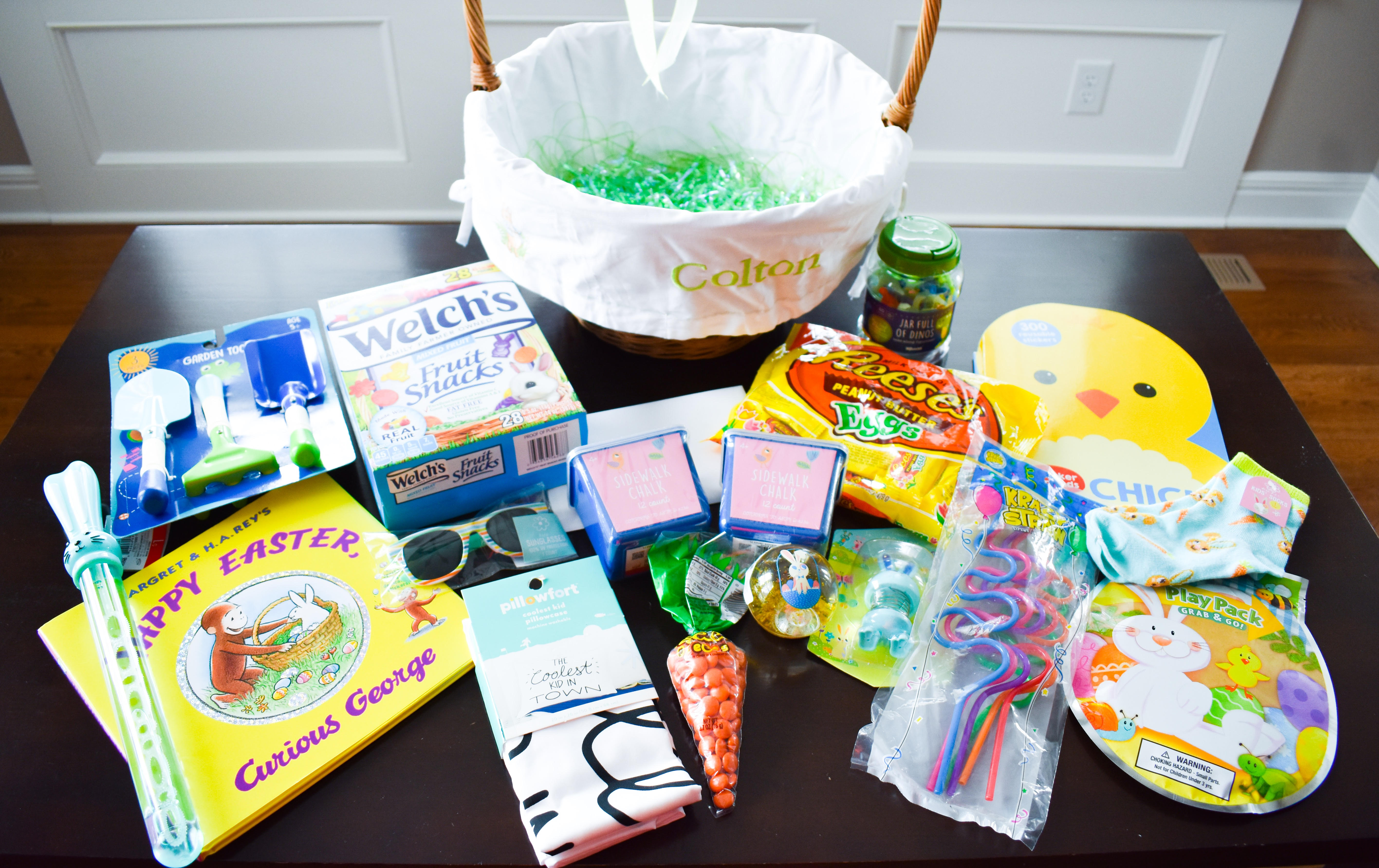 Easter Basket for a 2-Year-Old Boy
Here's a detailed look at what's inside my 2-year-old boy's Easter basket this year. These are some of my favorite Easter basket ideas for 2-year-old boys!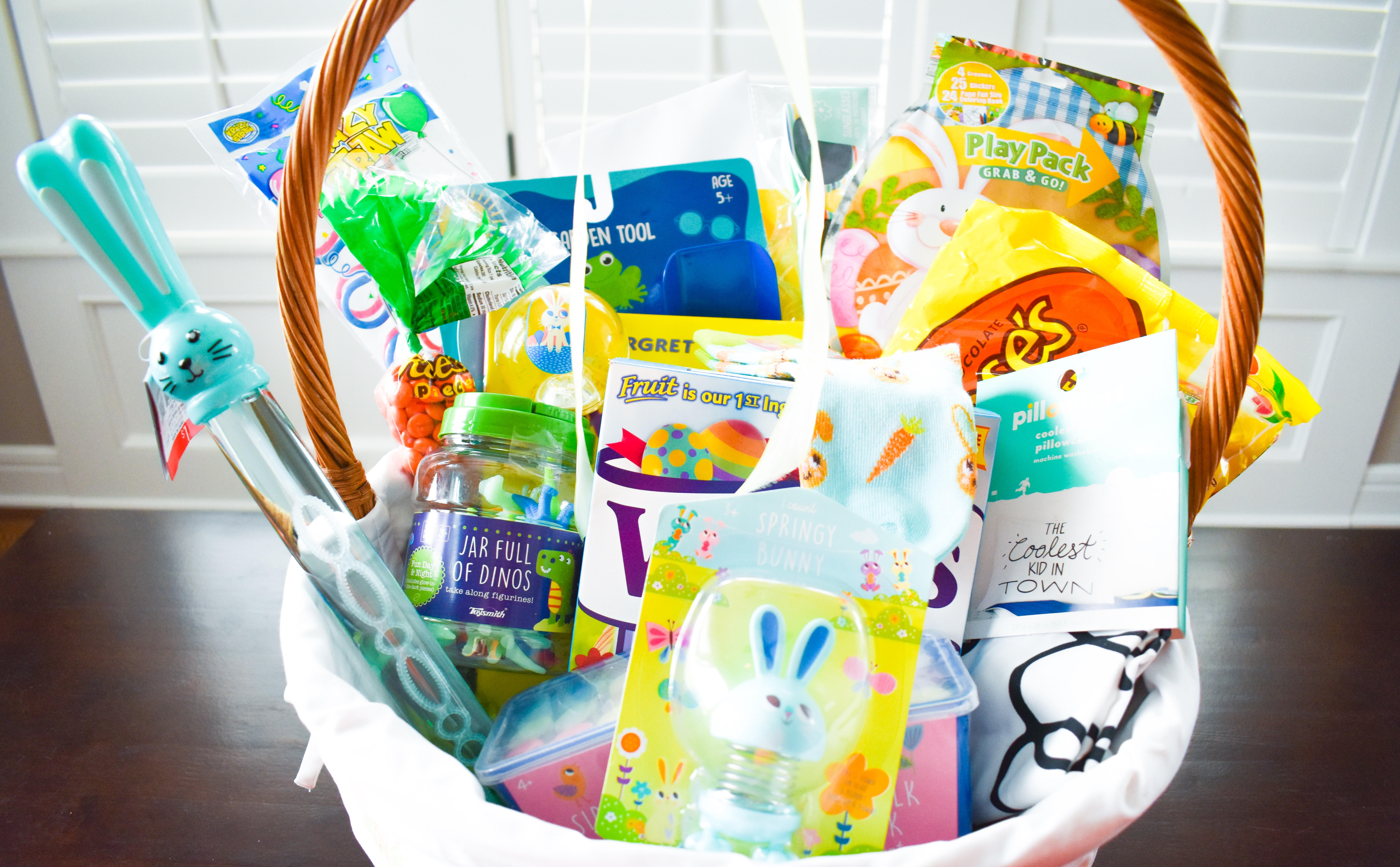 Many of my son's Easter basket fillers are toys that he can play with in the car, like the sticker book and play pack. I'm always running out of ways to entertain him in the car, so I try to give "car toys" as part of his gifts whenever I can. I also included some outdoor items (garden tool set, bubble wand, sidewalk chalk) because he loves spending time outdoors in the summer.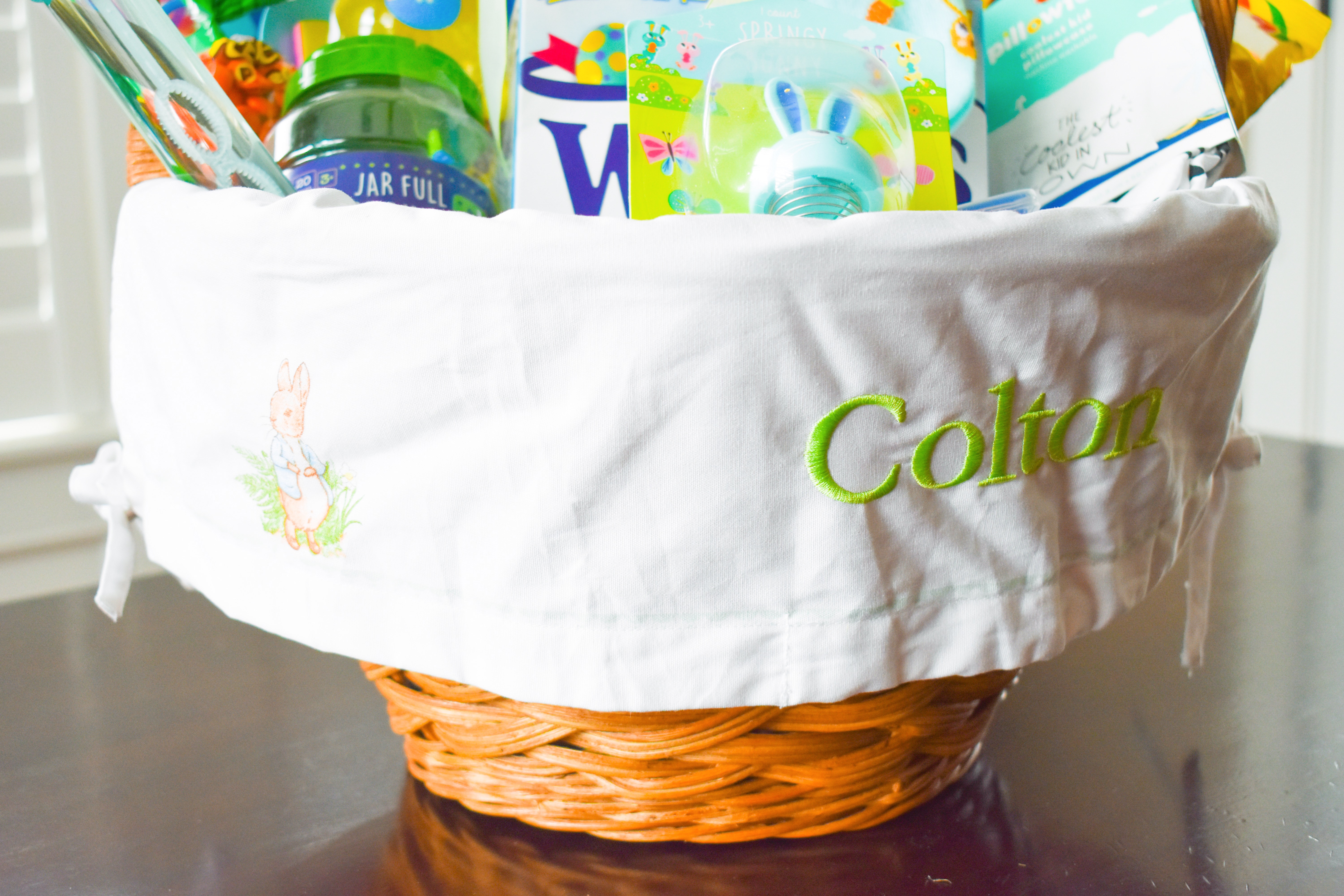 Pottery Barn Kids Easter Baskets
The basket itself is a Peter Rabbit design from Pottery Barn Kids. I purchased the basket and liner for his first Easter in 2015, and it doesn't appear that PBK stocks the exact designs any longer. They have several similar offerings, though. I really like this option for a little guy. And this one would be precious for a little lady! I bought Colton's PBK basket as an investment and plan to use it every year for him. I'm going to pick one up for baby girl, too!
Easter Basket Ideas for Babies and 1-Year-Olds
If you're shopping for a slightly younger kiddo, here are some ideas from Colton's first 2 Easters.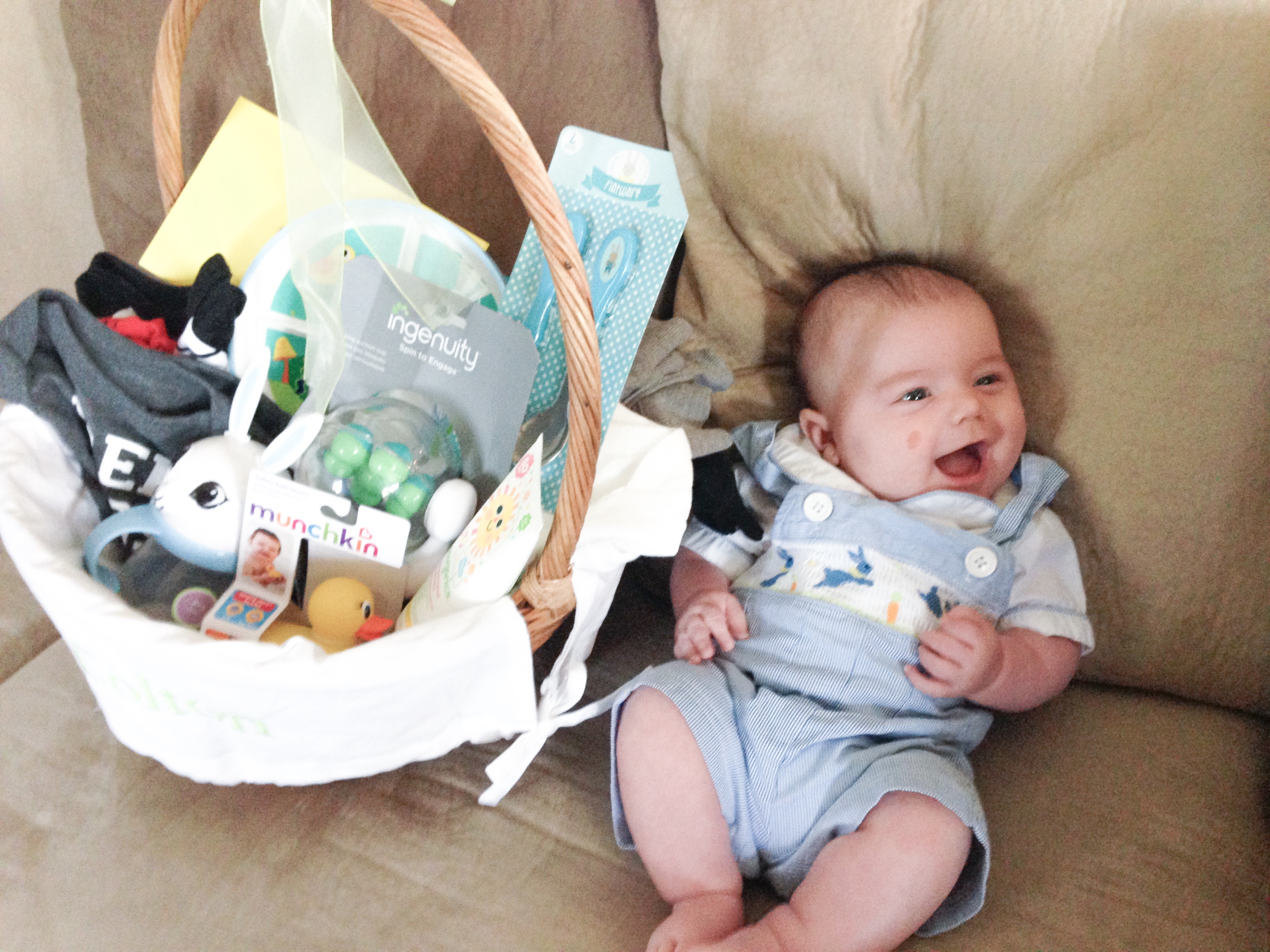 Easter Basket Ideas for Baby Boys
How sweet is 3-month-old Colton with his very first Easter basket? By the way, please excuse the grainy photo quality. I was working with an ancient phone at that time! At least my subject was cute.
Colton's first Easter gifts included: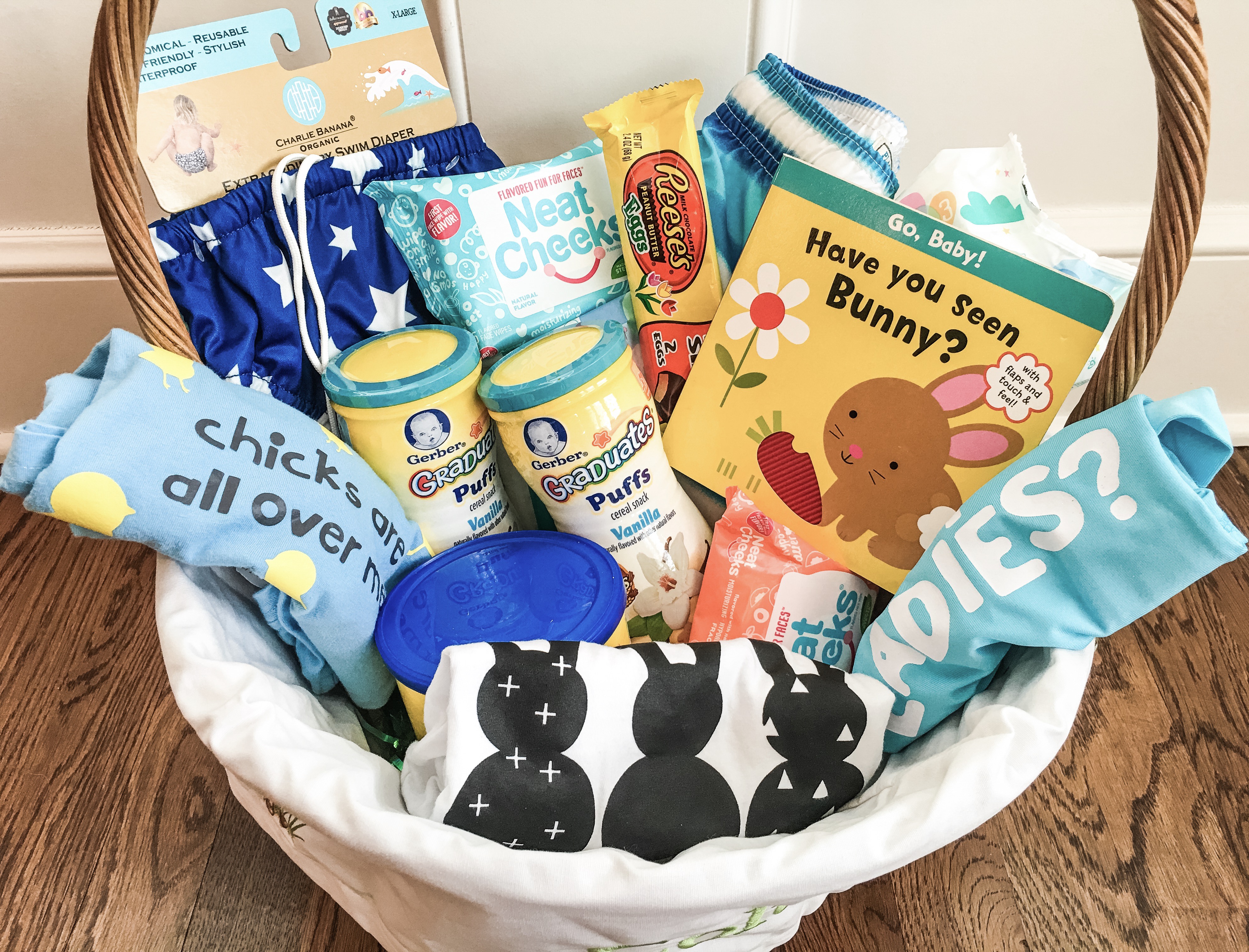 Easter Basket Ideas for 1-Year-Old Boys
Colton's 1-year-old Easter basket included:
Best Places to Buy Easter Basket Fillers
Over the past couple years, I've found some of the best places to shop for Easter basket fillers are Target (especially the Dollar Spot!), Amazon, and Dollar Tree.
Easter 2017
Seeing these photos of Colton and his Easter baskets is making me nostalgic. I can't wait to see what he thinks of his Easter basket this year!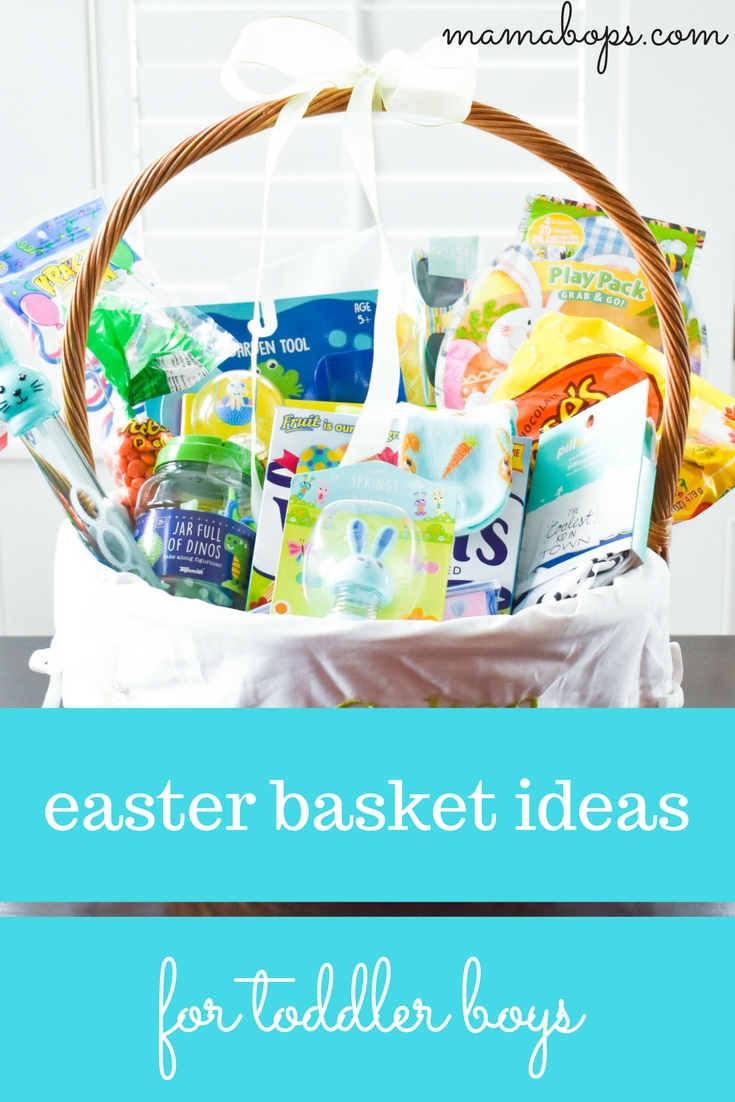 Pin these Easter Basket Ideas for 2-Year-Old Boys for later!
If you missed it, check out my favorite Toddler Boy Easter Outfits! I loved sharing some of my favorite classic and hipster styles for little guys.
What's in your child's Easter basket this year? I'd love to hear in the comments!