If you've been wondering about my lack of posting as of late, blame this horrible winter weather. My entire family has been sick lately, and blogging has, unfortunately, taken a backseat. To say I'm ready for Spring is an understatement! So, today I'm sharing my Top 5 Spring Fashion Trends 2018 to get you all in the warm weather mood. Plus, I have an exciting giveaway with one of my favorite brands!

1. Wooden Watches
You can't have the perfect outfit without the perfect accessories! Lately, I've been styling this unique wood watch from JORD with lots of my outfits. You've already seen it here with a tank top + jeans, and for this look, I dressed it up with a unique one-shoulder ruffle dress from one of my favorite brands, Tyche.
Shop this Look: Wood Watch // Blue One-Shoulder Dress with Ruffles // Pink Aviator Sunglasses // Open Heart Ring // Black Bow Earrings [similar] // Wedge Sandals [similar]
As you can see, one of the things I love most about a wood watch is its versatility. It's so easy to dress up or down!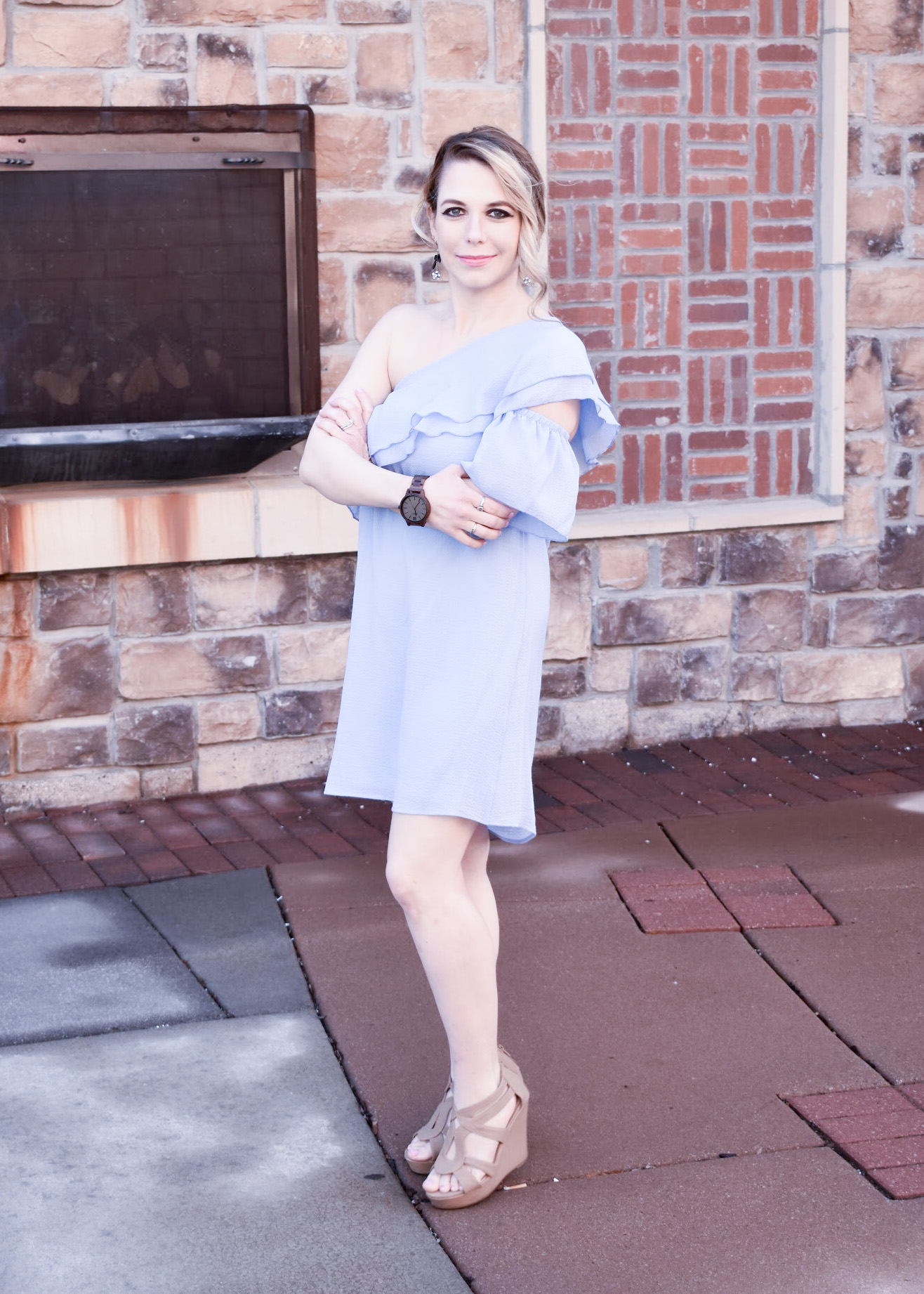 The watch in these photos is the JORD Frankie in Koa + Ash. The face is a gorgeous grey color, which complements so many outfits.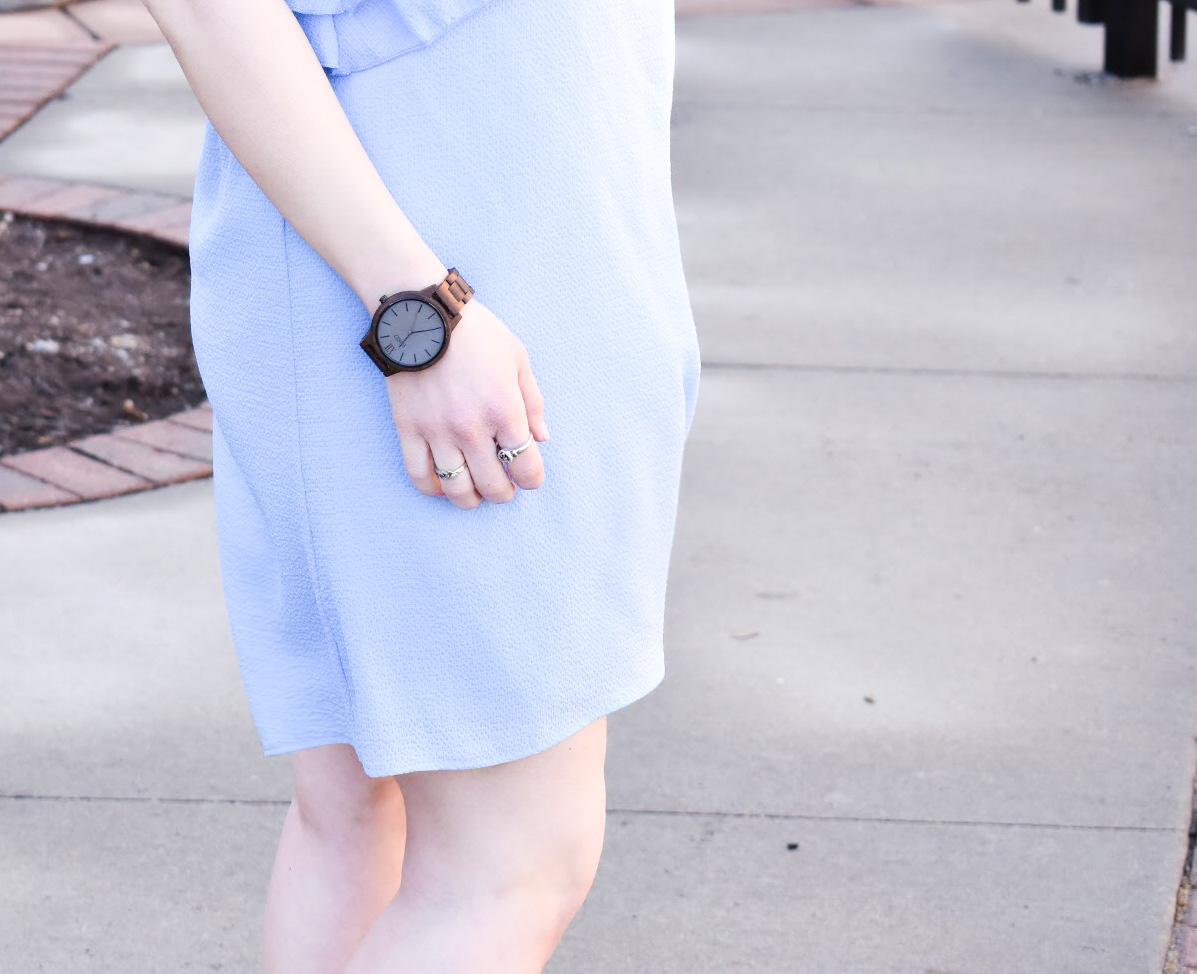 Wooden watches aren't just for women, though. A year ago, I wrote about my husband's favorite men's wooden watch, and he still wears it almost every day. [Click here to read more of my gift ideas for husband's birthday!]
If you're thinking of giving a watch as a gift [even if it's a gift to yourself!], why not consider some custom watch engraving? I'm thinking initials [you know I love everything monogrammed!], important dates, or a favorite quote… the possibilities are endless!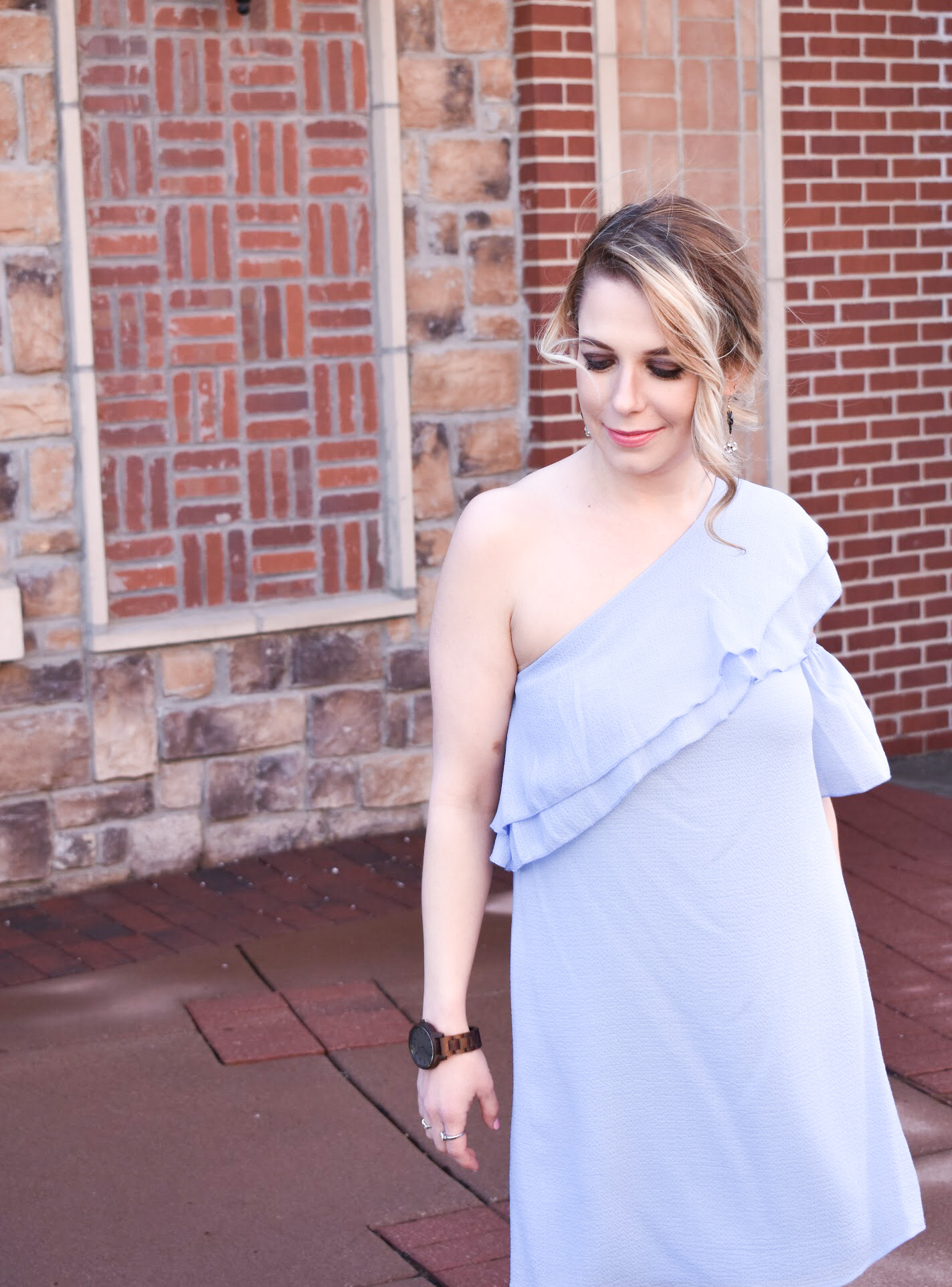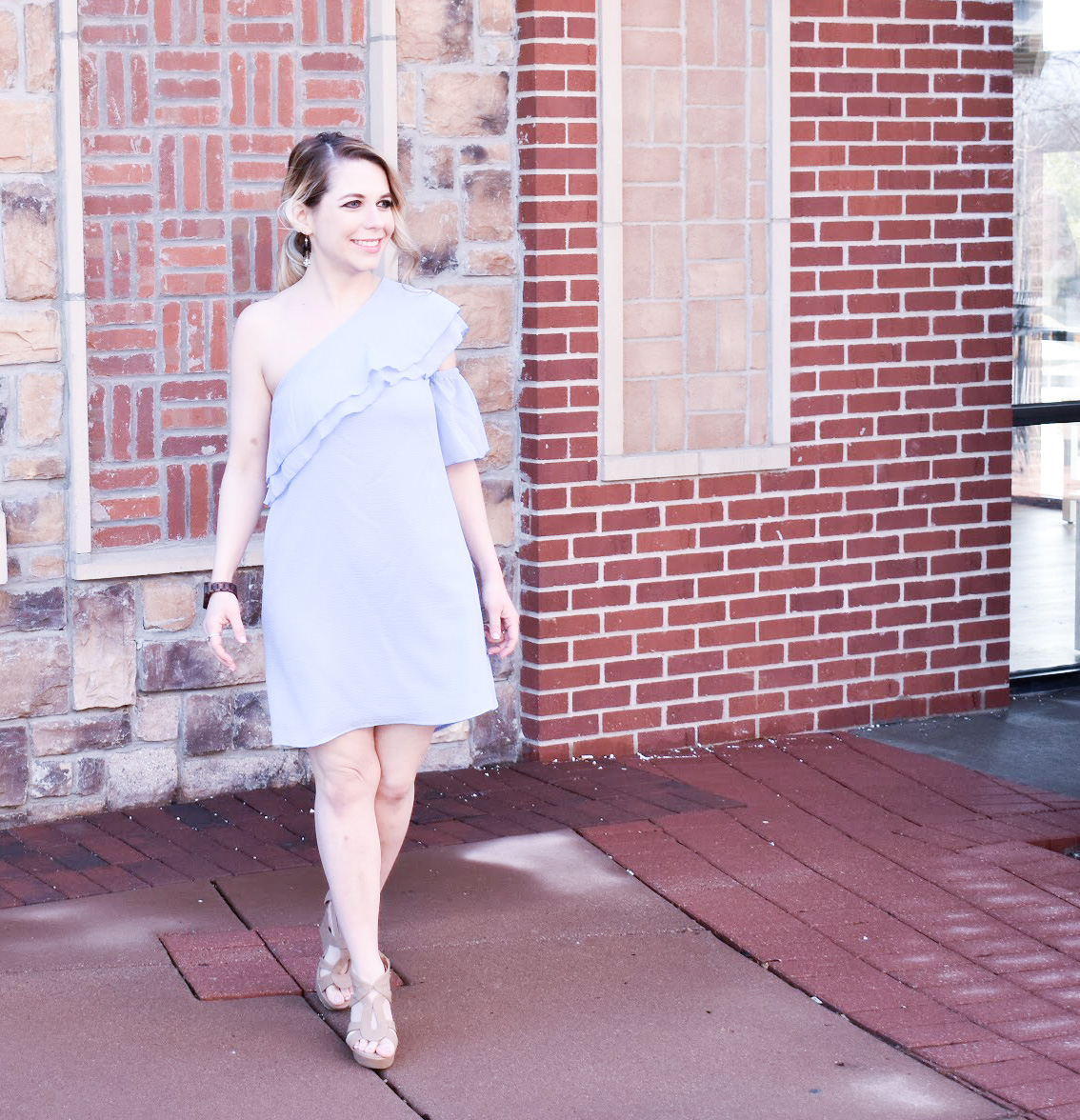 JORD Watches Giveaway
Want a wooden watch of your own this spring? Click here to enter to win a $100 coupon code for JORD watches! All you need is your first name + e-mail address, and, just for entering, you'll receive a 10% off JORD watches coupon code!
2. Ruffle Details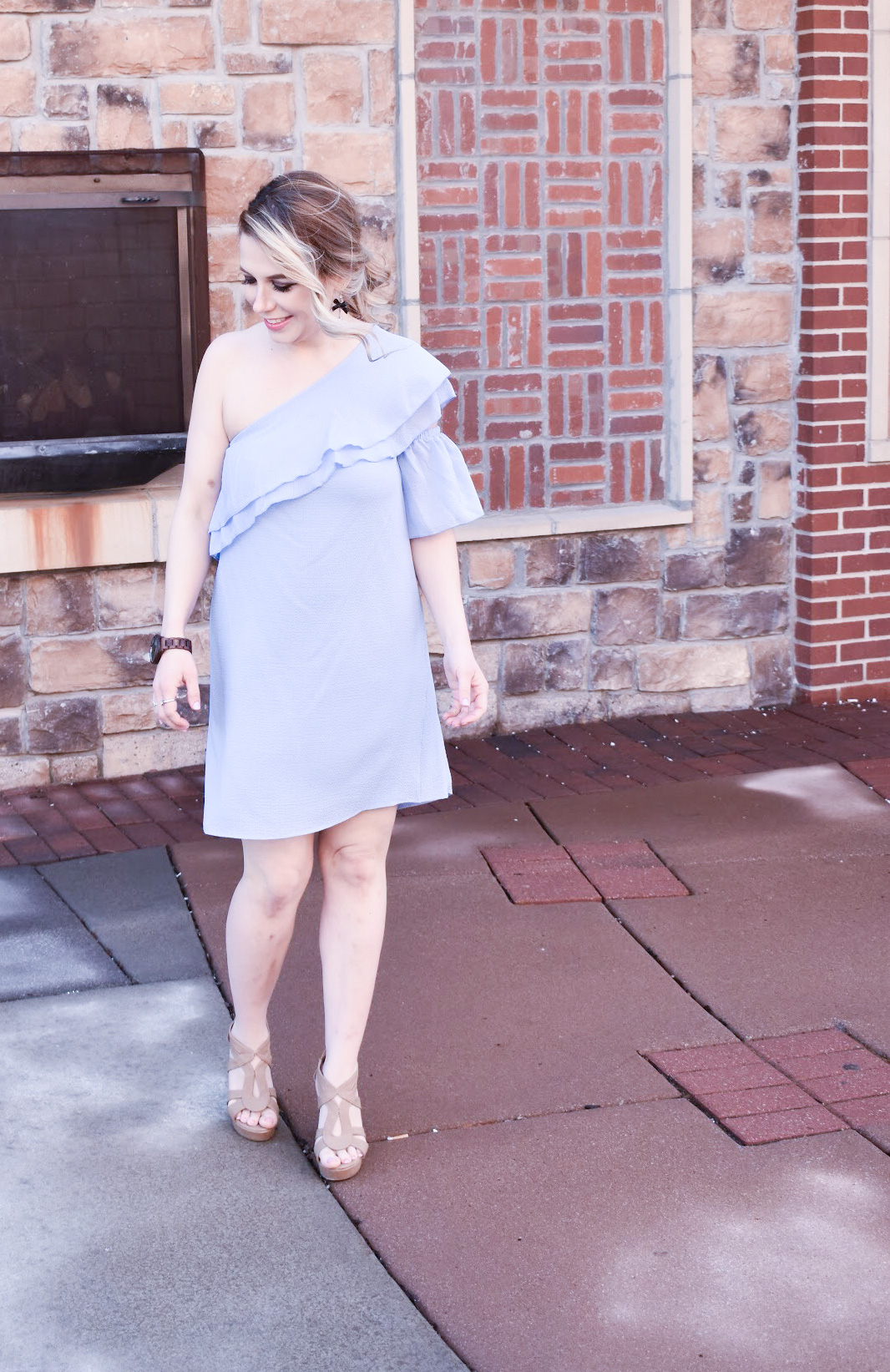 With Spring comes alllllll the girly details, and you won't hear me complaining. Ruffles, like the ones on this dress, are one of my favorite spring trends!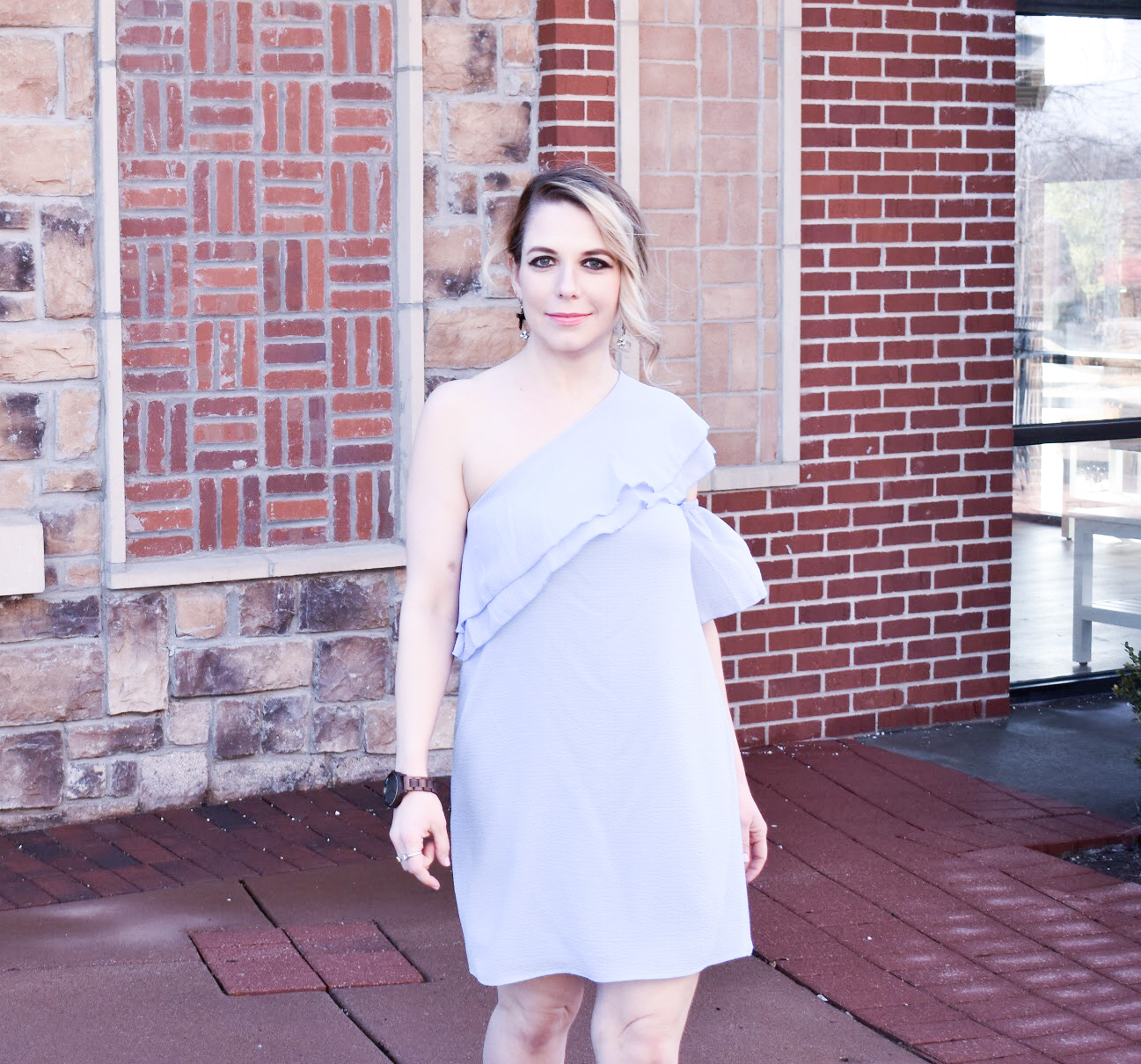 Fun fact: We shot these photos on a day when there was snow on the ground. I had to do some creative cropping to keep the spring feel alive, but you can still see the ice melt pellets behind me. Hey, I tried.
3. Off the Shoulder Tops
Up next on my list of the top 5 spring fashion trends 2018 are off the shoulder tops and other unique necklines, which are here to stay! If you need to keep it conservative [you know, so you don't get asked if you have a date at preschool pick-up], keep the shirt looser-fitting. You can always knot any excess at the waist if you want a sexier look.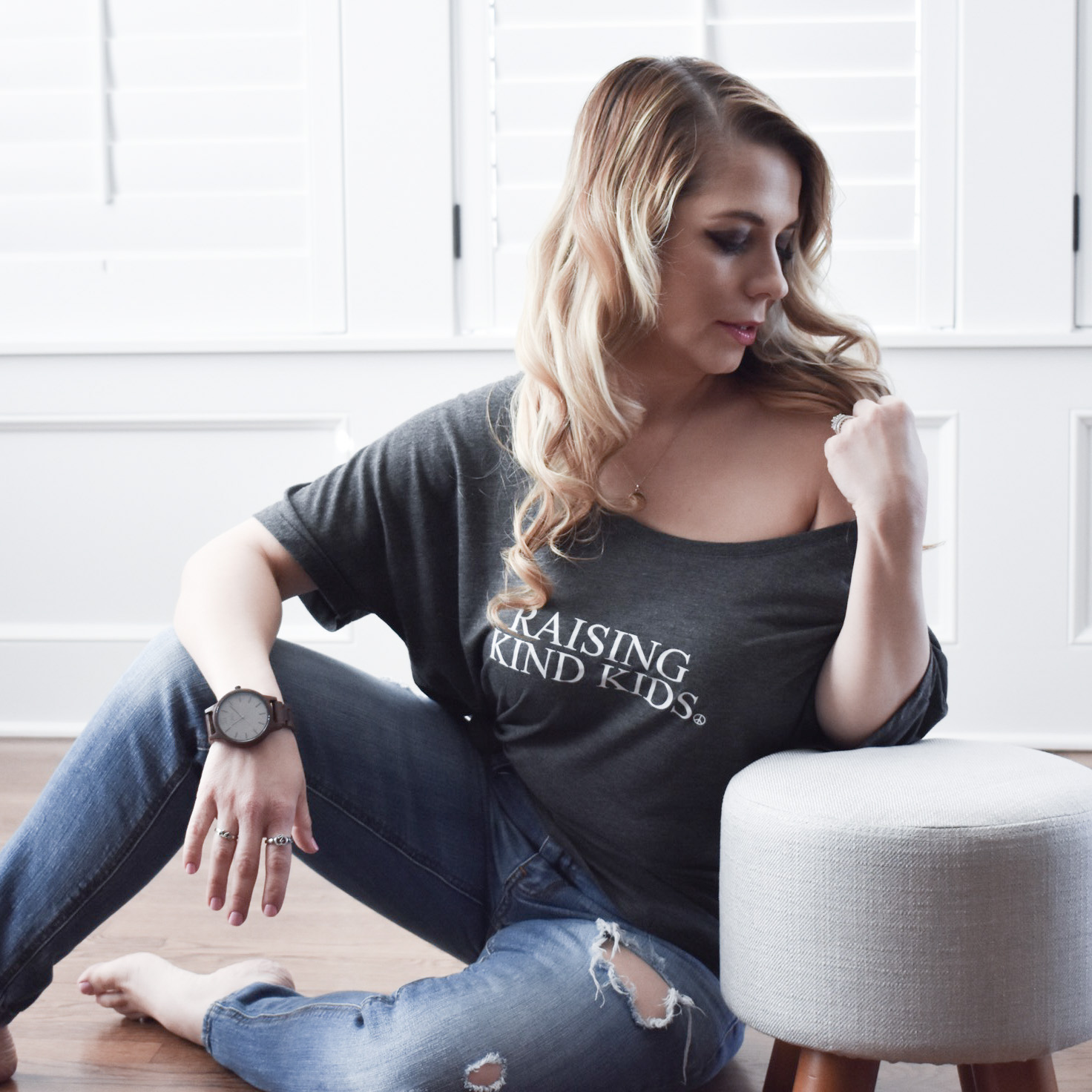 I shared this photo on my Instagram a few weeks ago, along with a very personal story. I'm always hesitant to put those kind of personal thoughts out in such a public space, but… isn't that what blogging is all about?
Shop this Look: Raising Kind Kids tee // Ripped Denim // Wood Watch // Initial Pendant // Open Heart Ring // Ottoman
4. Pink Mani-Pedis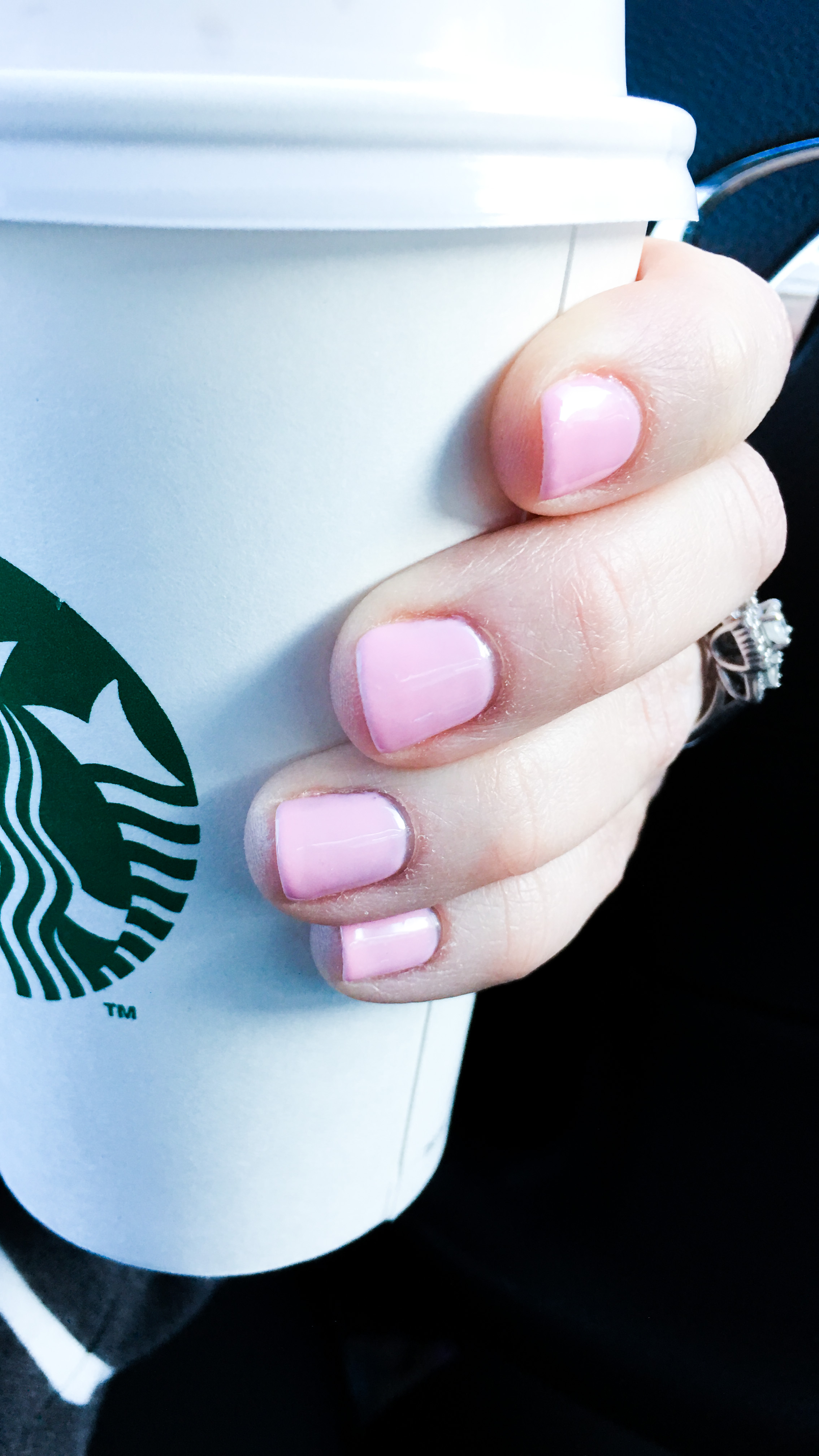 To me, nothing says warm weather like a fresh coat of pink polish on your fingers and toes. When the weather starts to warm up, I always like to head to the nail salon for my first mani-pedi of the season.
But, I do my nails at home more often than not, partially to save money and partially because it's hard for me to find childcare during the times the nail salons are open. I know some people bring their kids with them to the salon, and… yeah, I'm not really sure what else to say about that, except that it sounds absolutely terrible. I've never needed a manicure so badly that I was willing to tote along a toddler + infant to get one.
5. Unique Sunglasses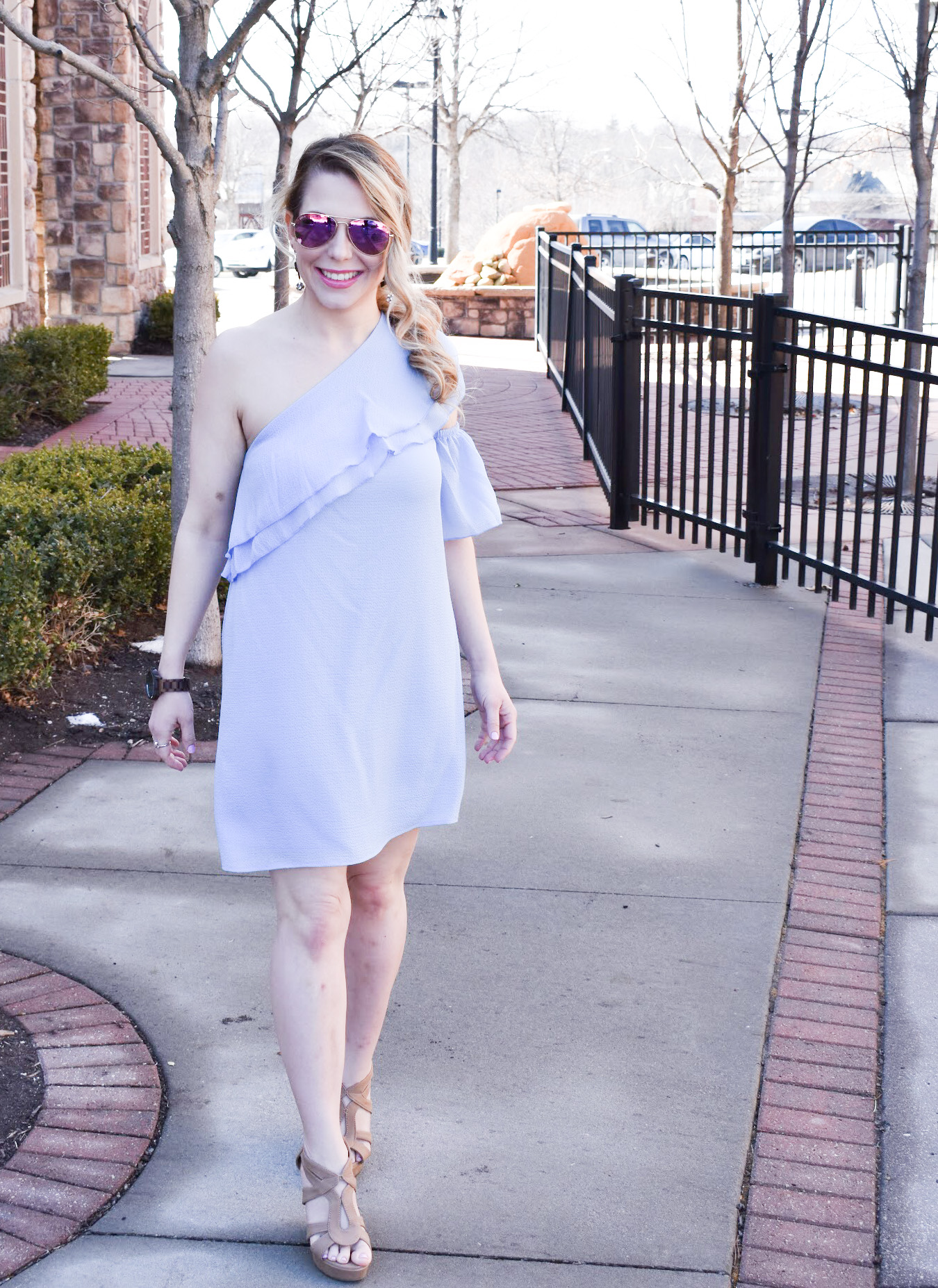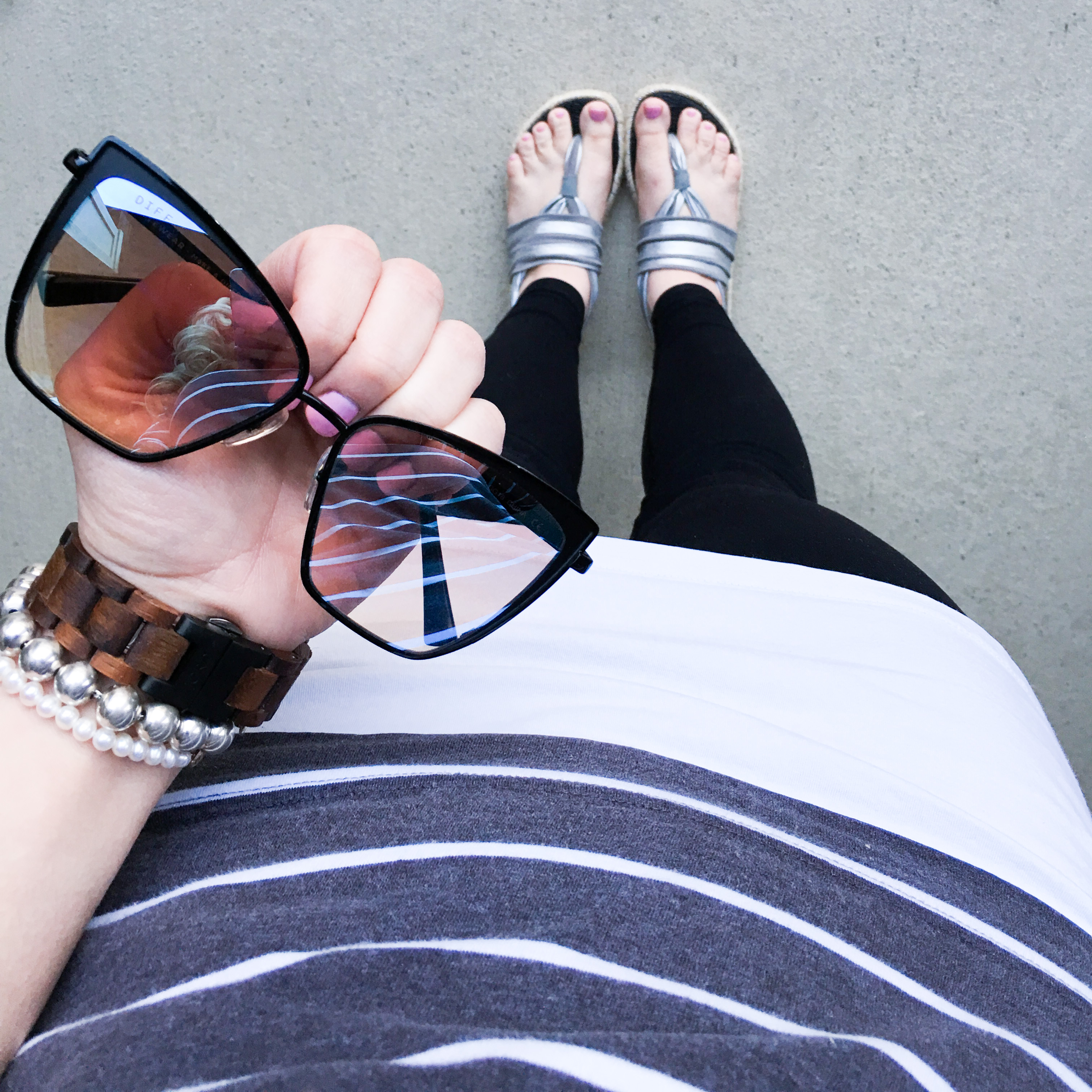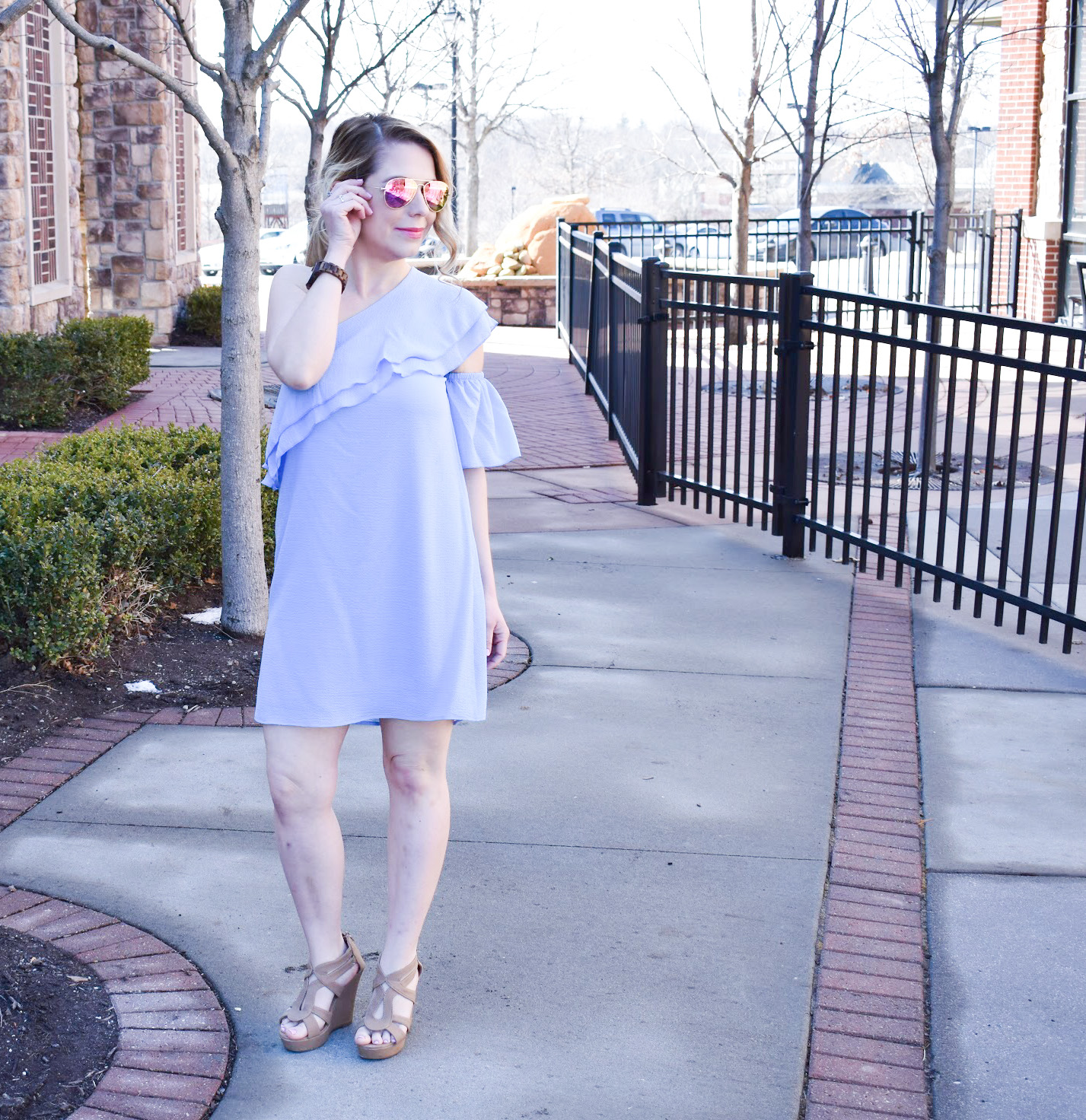 A unique pair of sunglasses is a great way to freshen up any springtime outfit. Look for a unique lens shape, fun colored lenses, or both!
Both of these cute pairs are from DIFF Eyewear: the Cruz + the Becky. In addition to making great sunnies, DIFF also give backs by donating a pair of glasses for every pair sold. So you can feel good about indulging your shopping habit!
And those are my Top 5 Spring Fashion Trends 2018! What are your spring fashion must-haves? I'd love to hear in the comments below!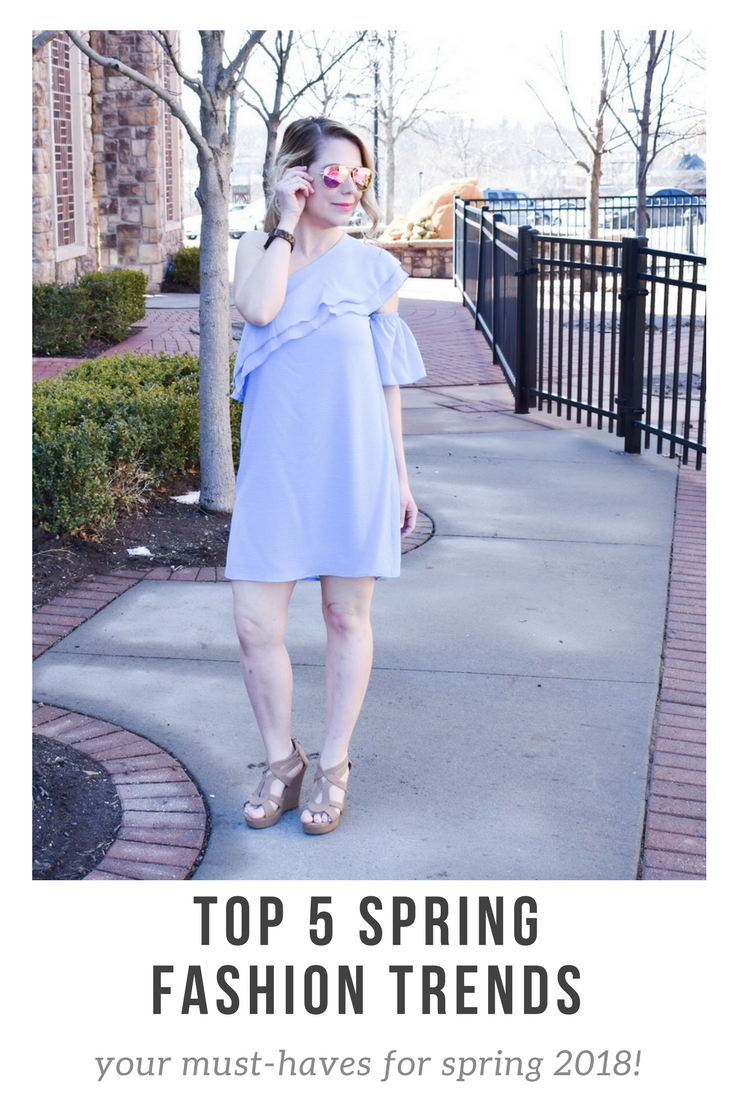 Pin these Top 5 Spring Fashion Trends 2018 for later!
Want more Spring Fashion inspiration?