I felt very Blair Waldorf in this skirt. Oh, and if you're wondering… yes, my daughter is named after Blair Waldolf. But anyway, this black mini skirt with ruffles is one of my favorite additions to my closet as of late. I really think it would look even better with bare legs, but as you can see, there was snow on the ground. Read on to see how I styled a mini skirt for the cold weather… and for my musings on law school "fashion."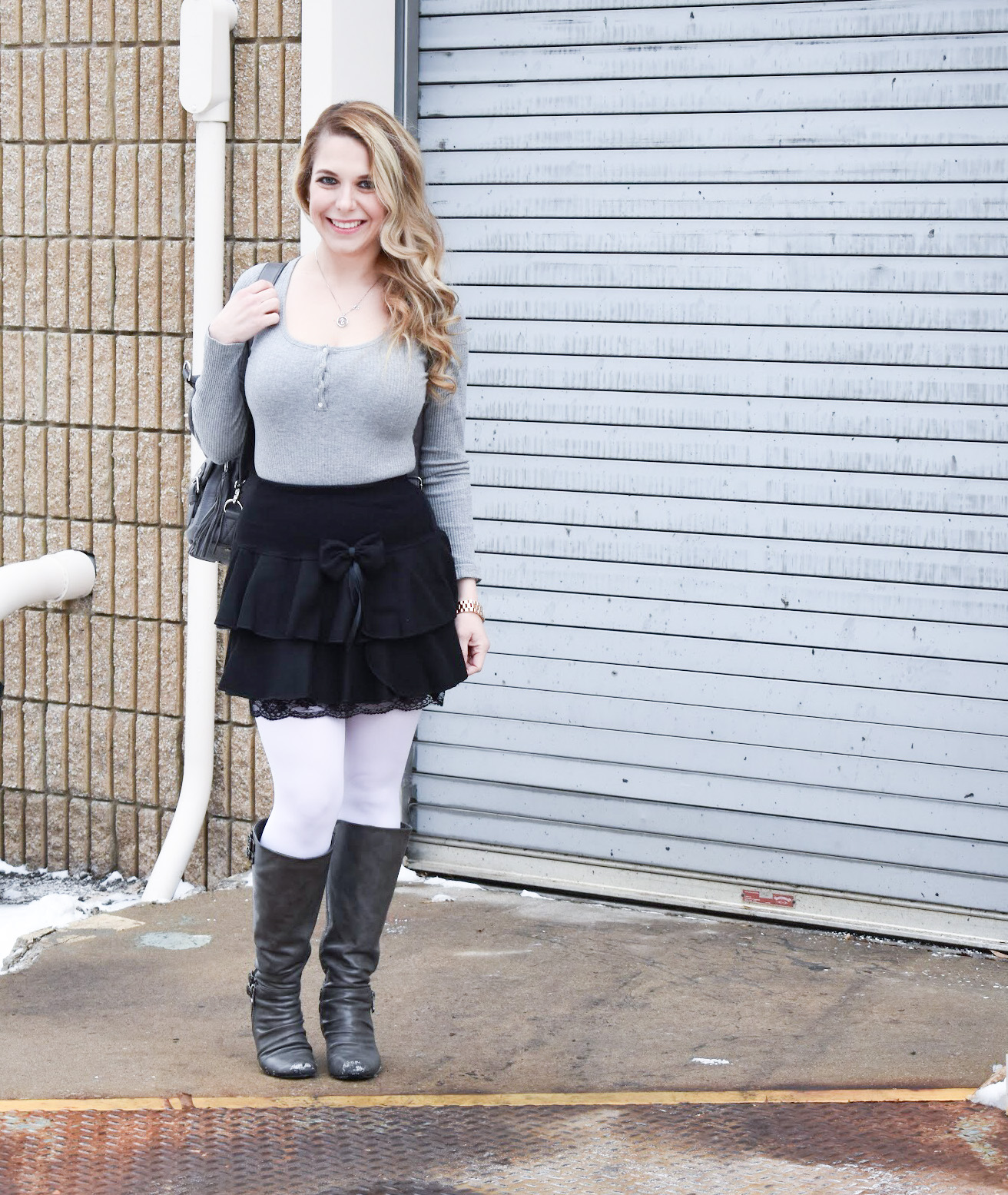 Shop this Post
Black Ruffled Mini Skirt // Grey Ribbed Bodysuit // White Opaque Tights // Grey Wedge Boots // Rose Gold Watch // Open Heart Necklace // Backpack Diaper Bag
Let's start by talking about this skirt. Mini skirts are tricky for me, because I'm only about 5 feet tall. I don't have model legs. But I couldn't resist the ruffles, lace, and bow detail on this one! So fun and flirty!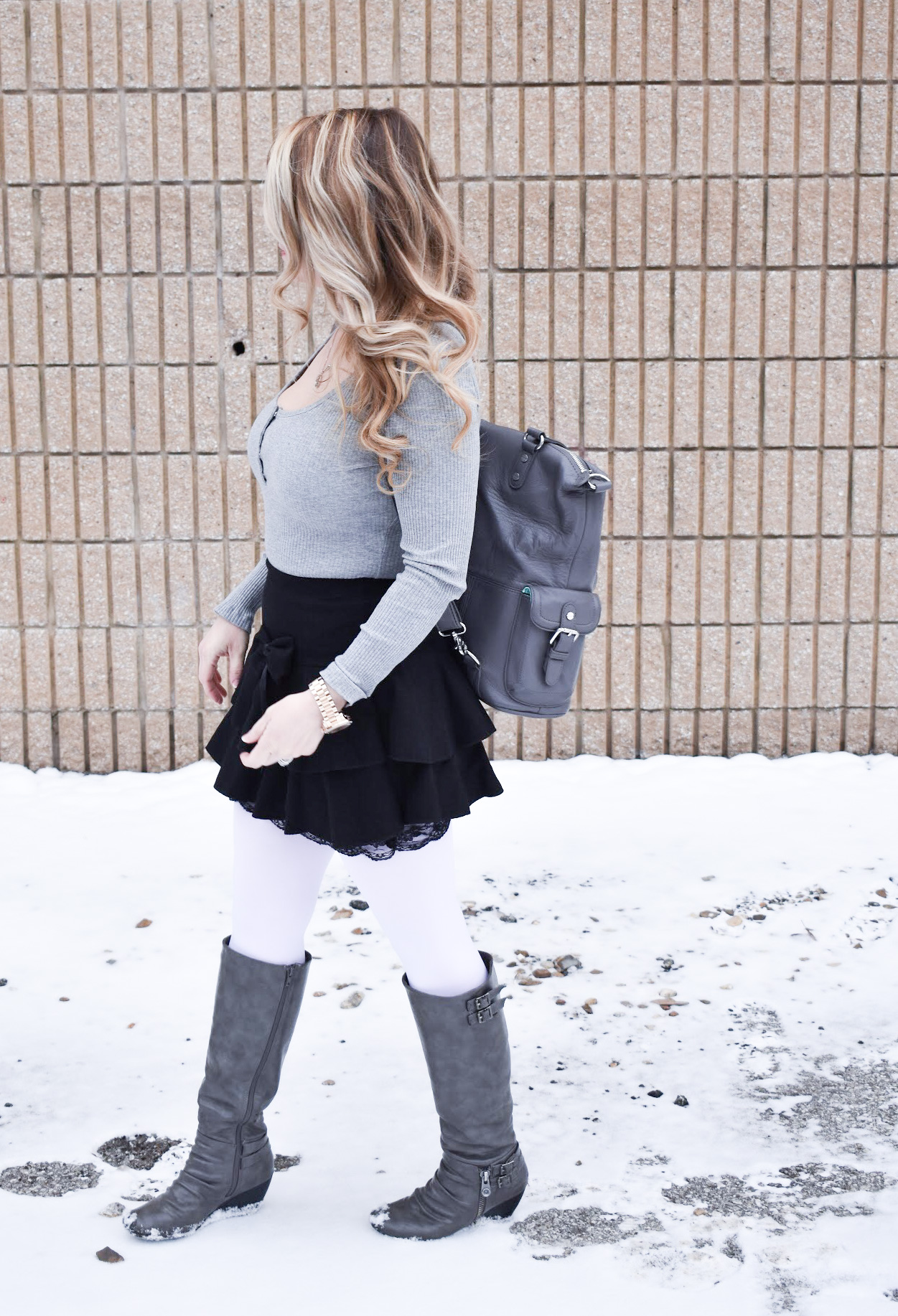 I think this outfit is perfect for date night. I say this because my son's Mothers' Day Out teacher asked me if I had a date when I returned for pick-up. No, I'm just a fashion blogger who tries to squeeze in photo shoots during my 2 hours of freedom during the week.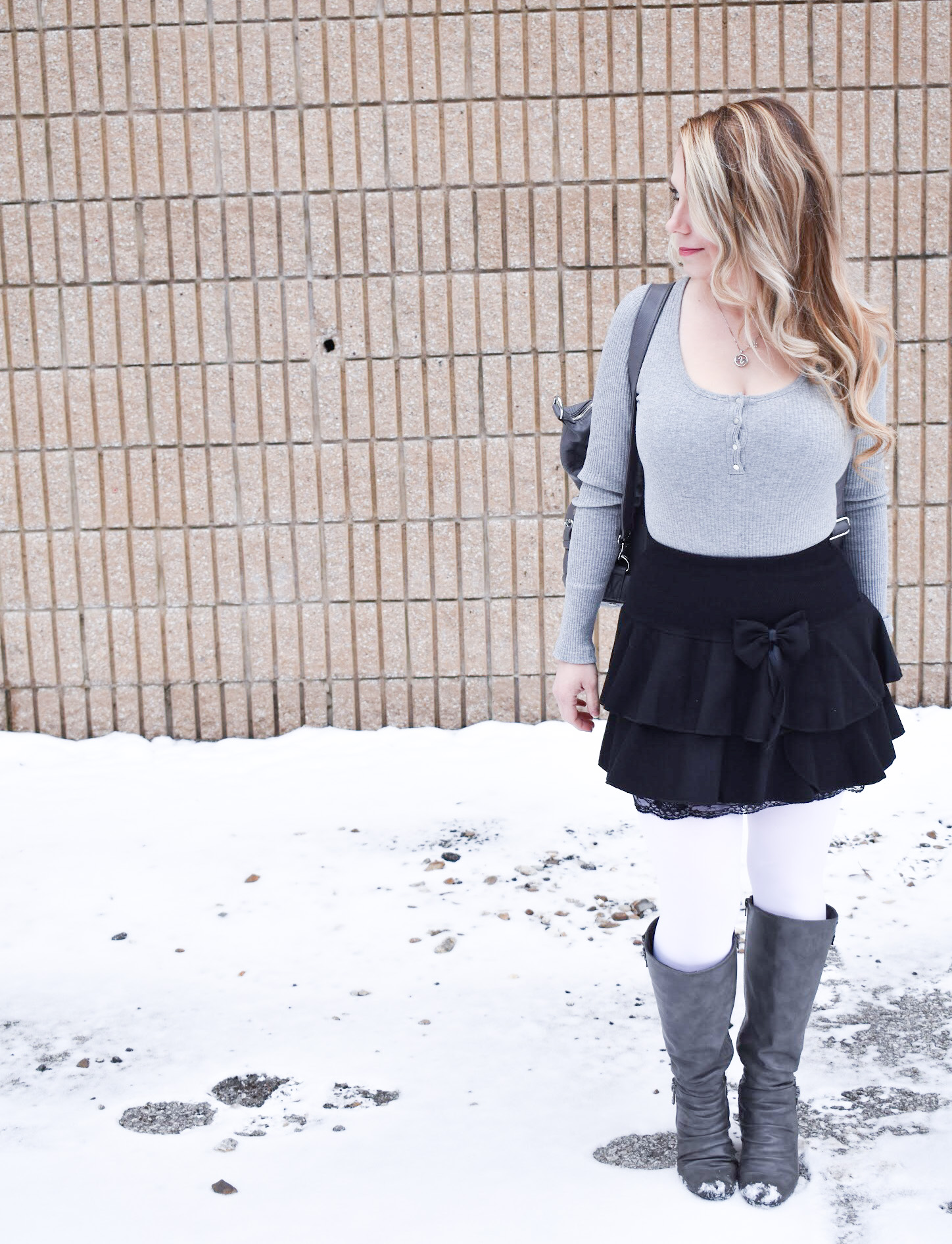 One thing about this black mini skirt with ruffles: it runs small. Like, I'm wearing two sizes up from my normal size. You'll definitely want to size up, especially if your thighs are larger. The lace around the thighs is not stretchy, so you don't want it to be super tight.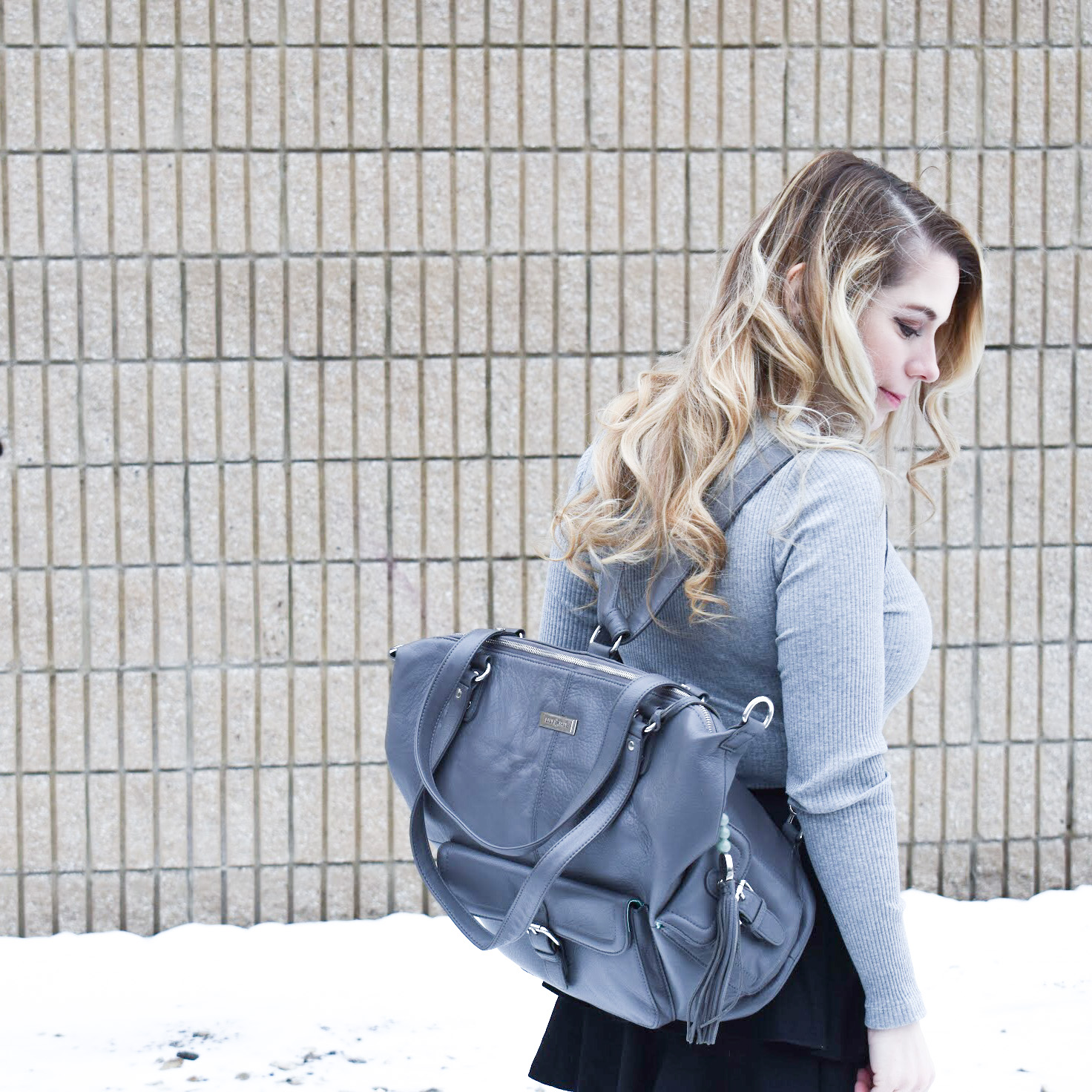 I'm a mom, so no outfit is complete without a diaper bag. This Lily Jade Meggan is one of my favorites. And if you head to my Instagram today, you can enter to win a huge contest with Lily Jade: one of my followers will win $75 to use for a fun date night, plus three lucky Lily Jade followers will win $500 AND the LJ bag of their choice! Lily Jade is truly an awesome company with awesome bags and I love supporting them!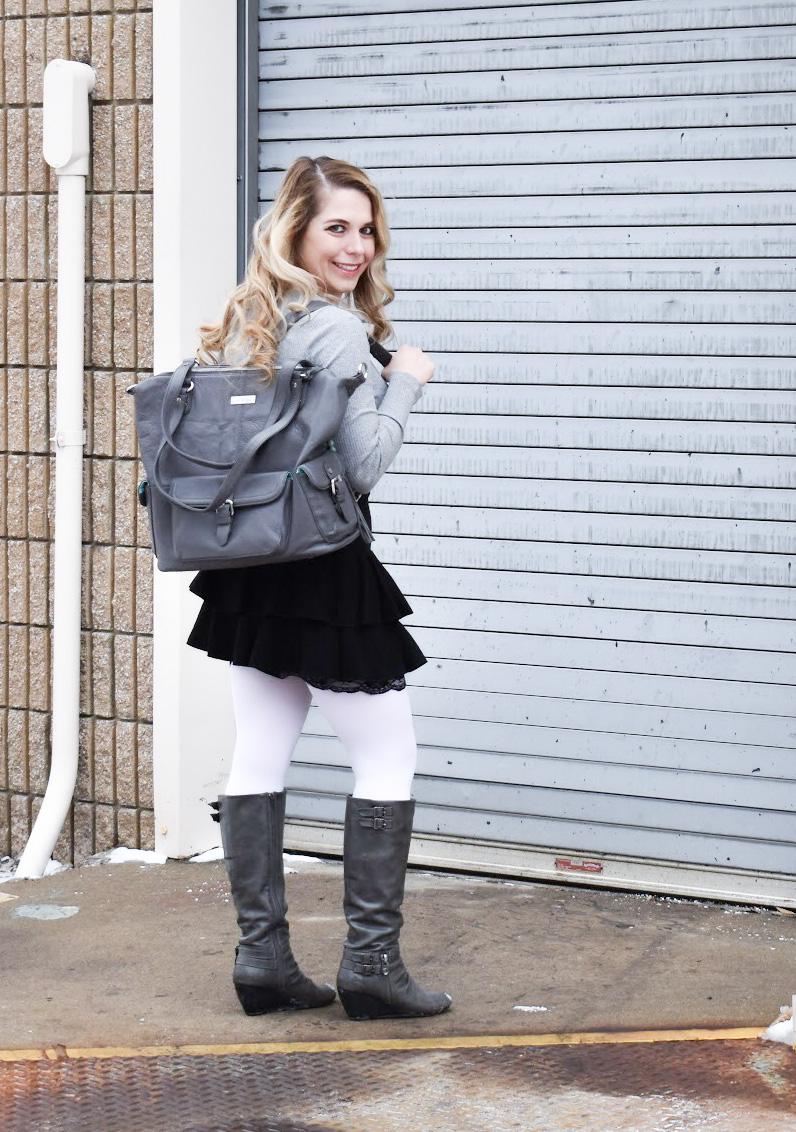 Having a backpack diaper bag can be so handy, you guys. I never really realized that until I was walking through the pumpkin patch this fall with a baby strapped to my front and my diaper bag strapped on my back… and still had 2 free hands for my toddler.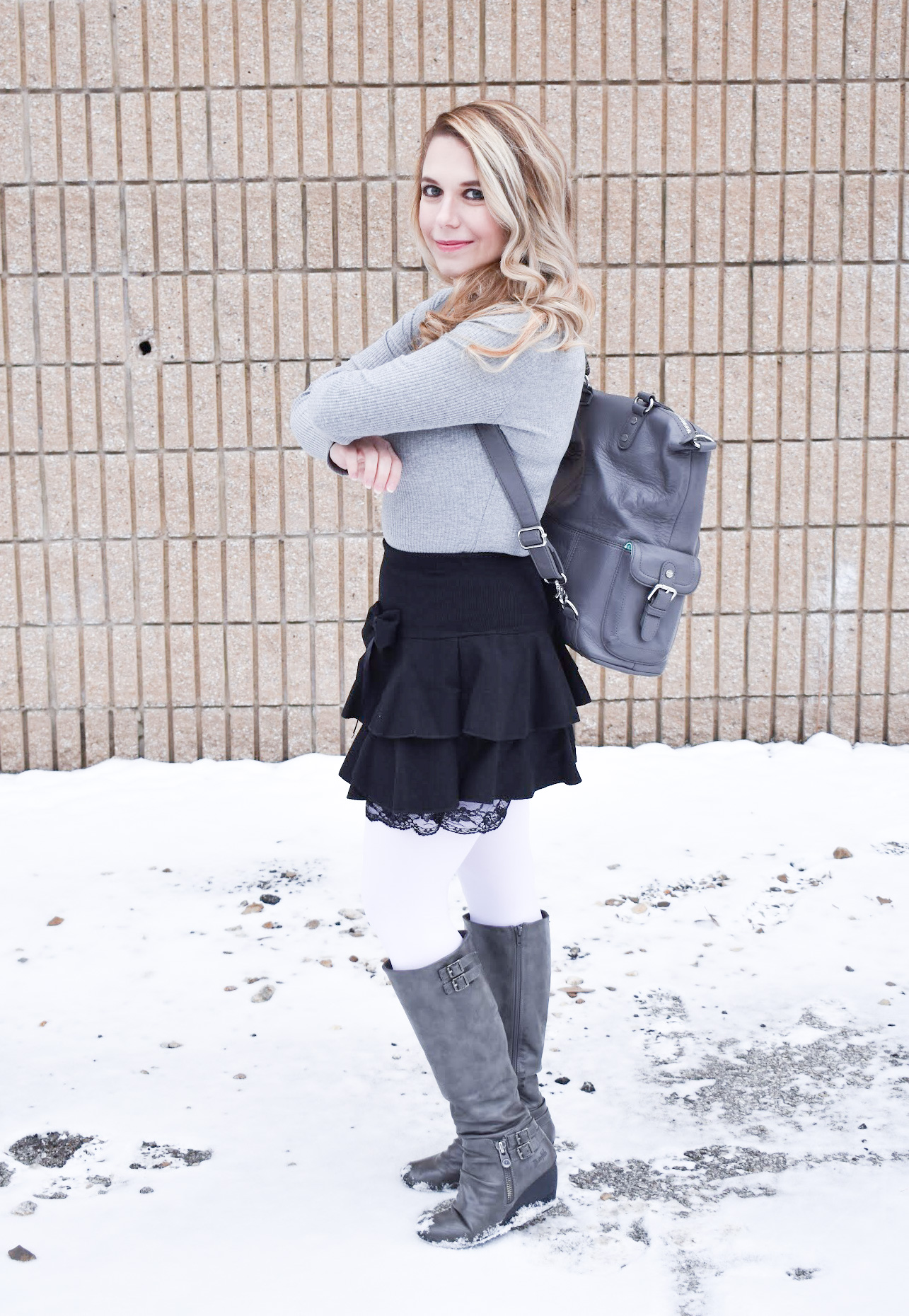 So yeah, Colton goes to Mothers' Day Out once a week now. It's weird. He's been with me almost every minute of his little life, but it's good for him to get some time with other kiddos his age. And it's good for me to get some one-on-one time with Blair… or a couple hours to try to shoot some blog content!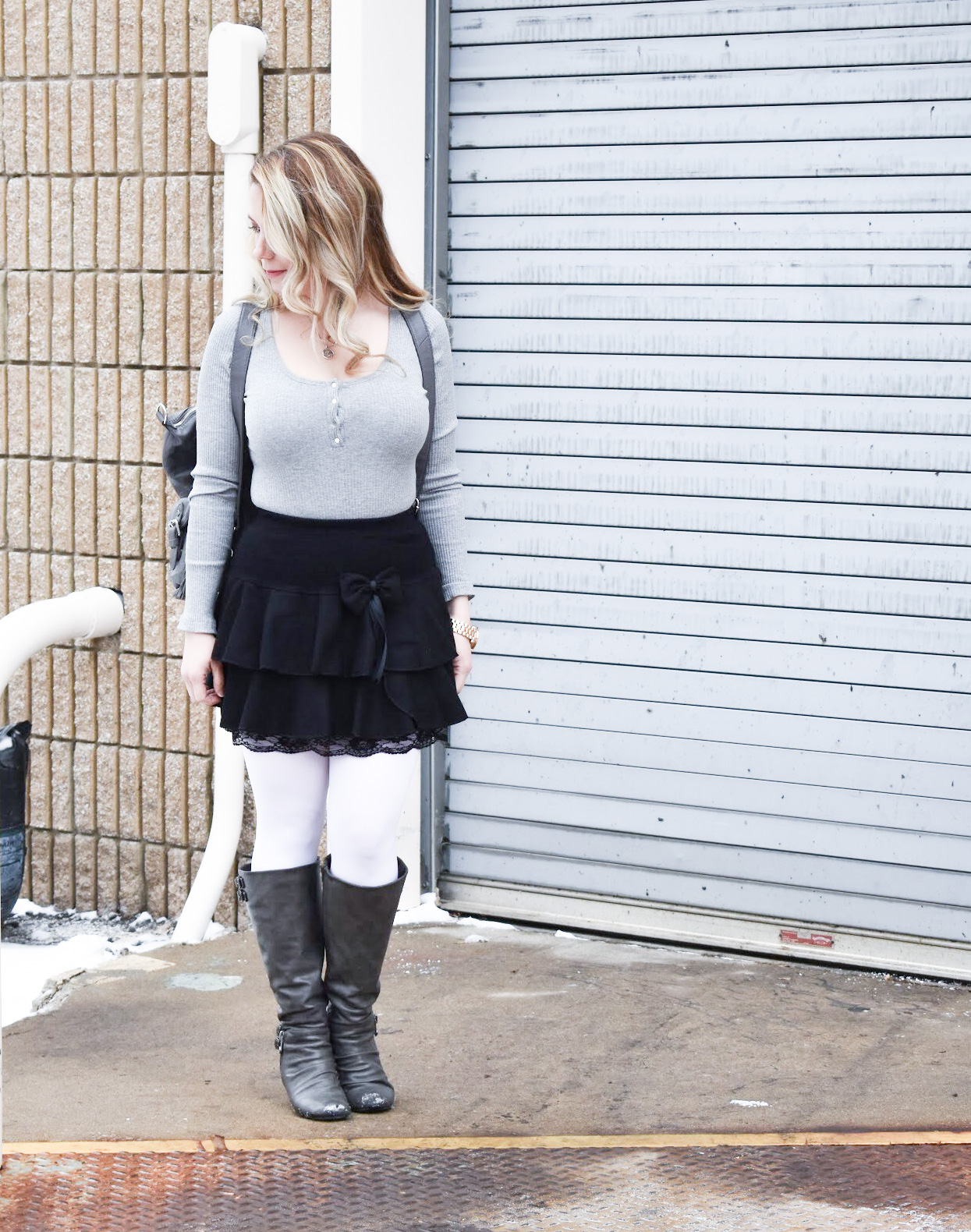 Speaking of blog content, if you've been following me for awhile, you've probably noticed that my content is shifting more towards fashion. I've always loved fashion — in fact, I wanted to go to school for fashion merchandising! Unfortunately, options for that are limited in Kansas. So, I ended up studying Mass Media with an emphasis in Broadcasting. Then…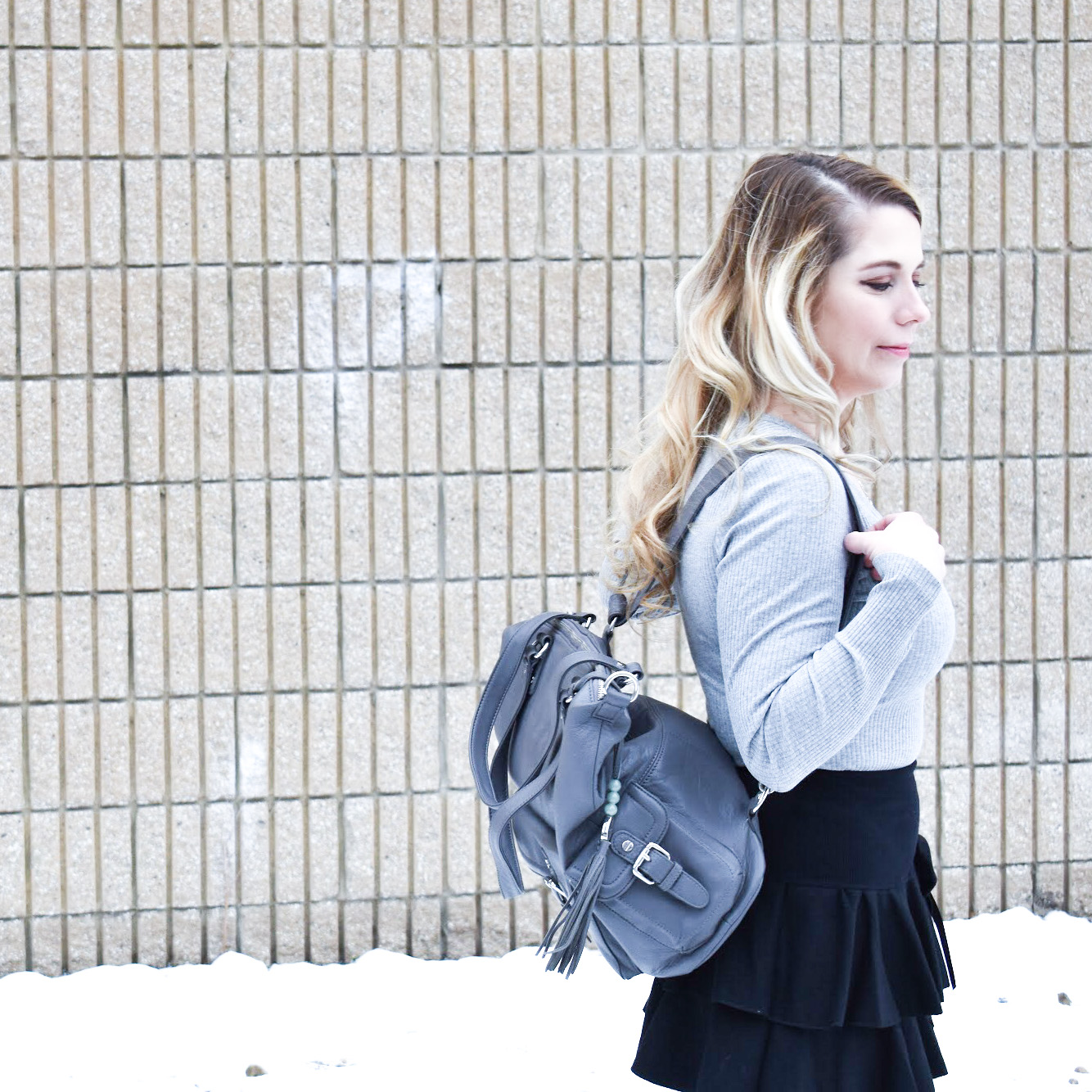 I went to law school. Which is honestly like the least fashionable place on earth. Attorneys aren't exactly known for their fashion sense to begin with, but at least working lawyers typically have the income to purchase a few decent outfits to get them through the week. Law students, on the other hand, are generally desperately broke.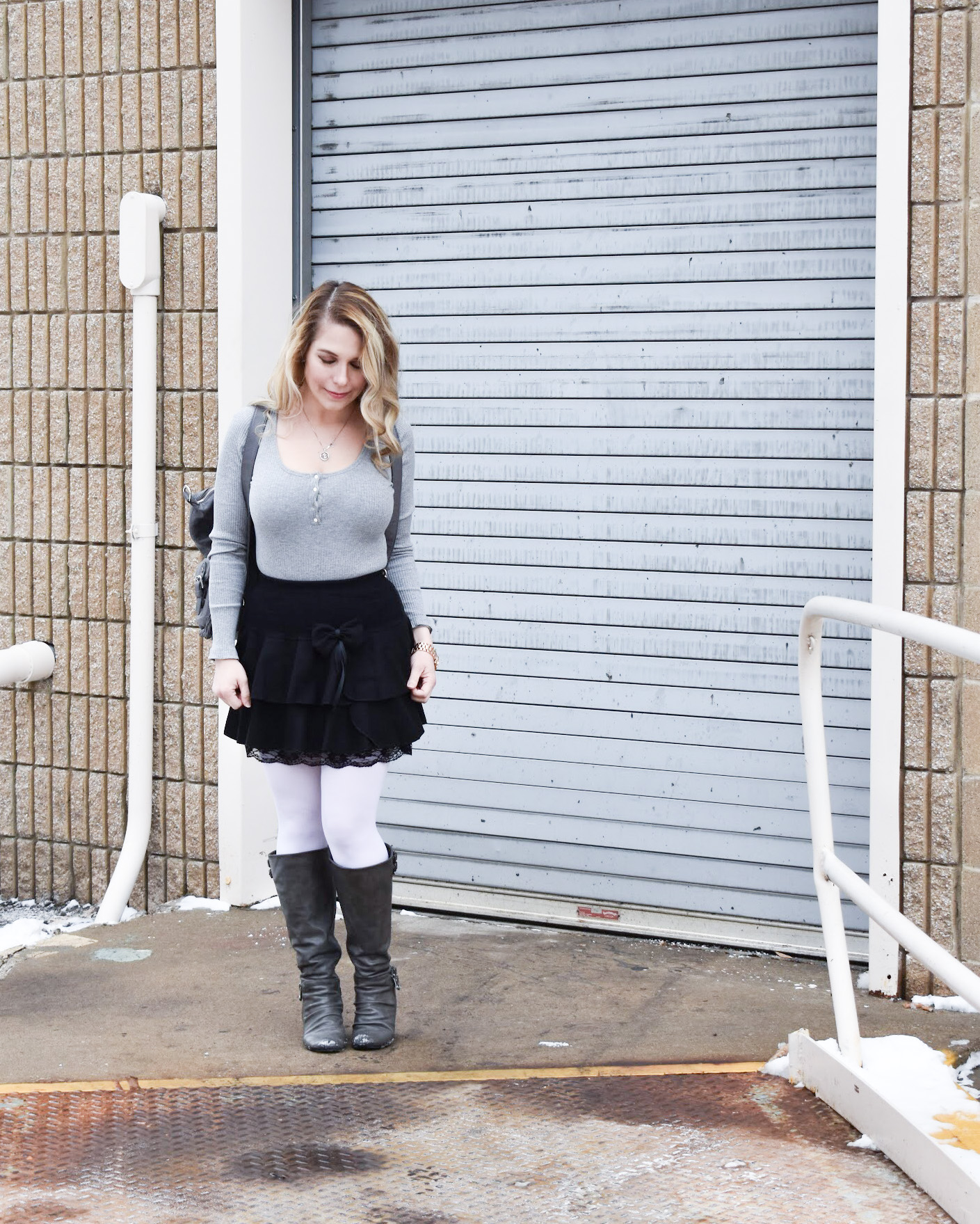 Basically, law school fashion works a little something like this… everyone wears sweatpants and hoodies until the week of OCI — on-campus interviews — begins. Then, for one week, everyone actually showers and wears a suit. Yes, usually the same one suit, because we're all broke, remember?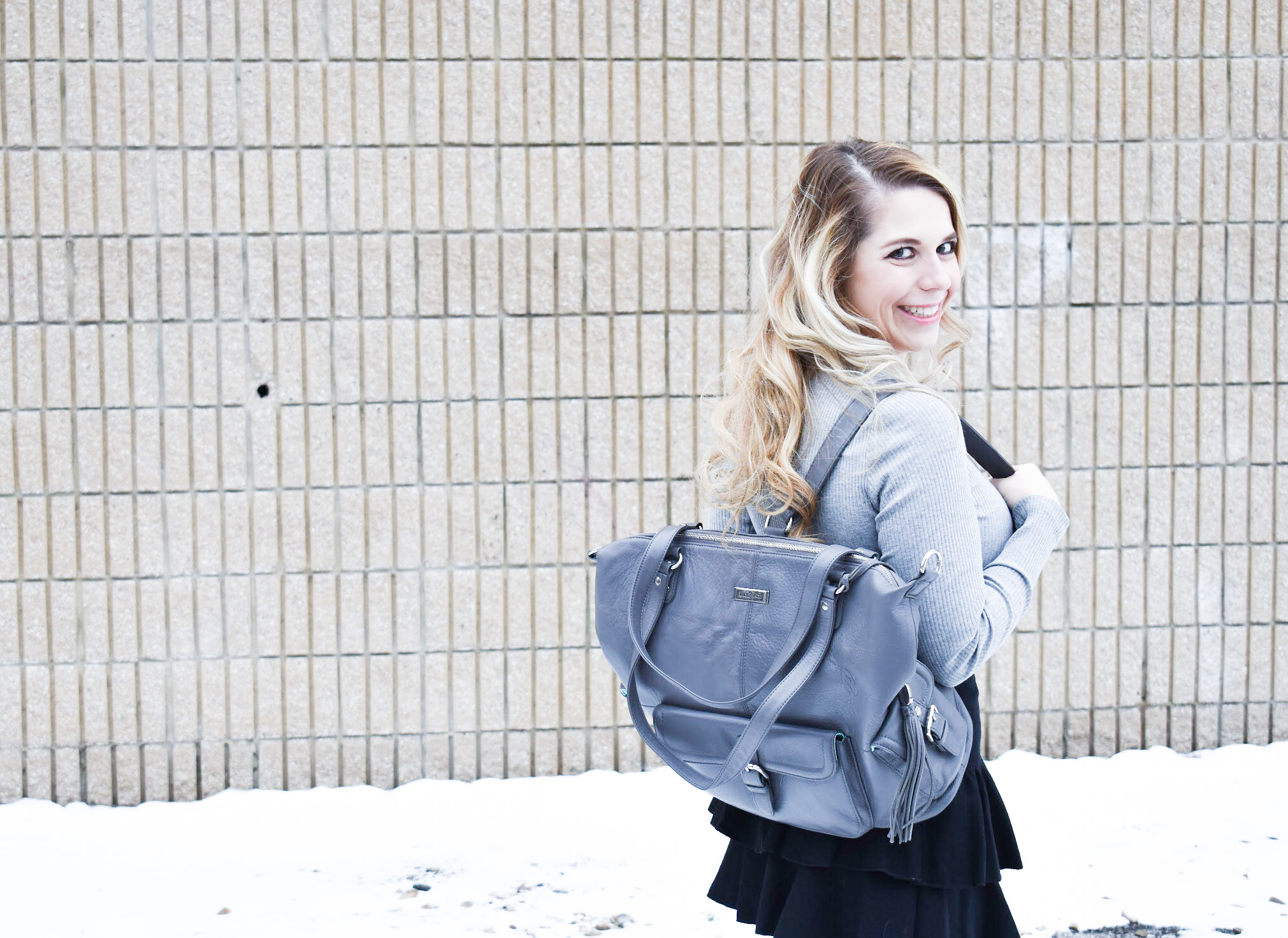 So yeah, now that I'm out of the practice of law [hallelujah!], I'm focusing on finding my own passions again. And clothing is definitely one of them!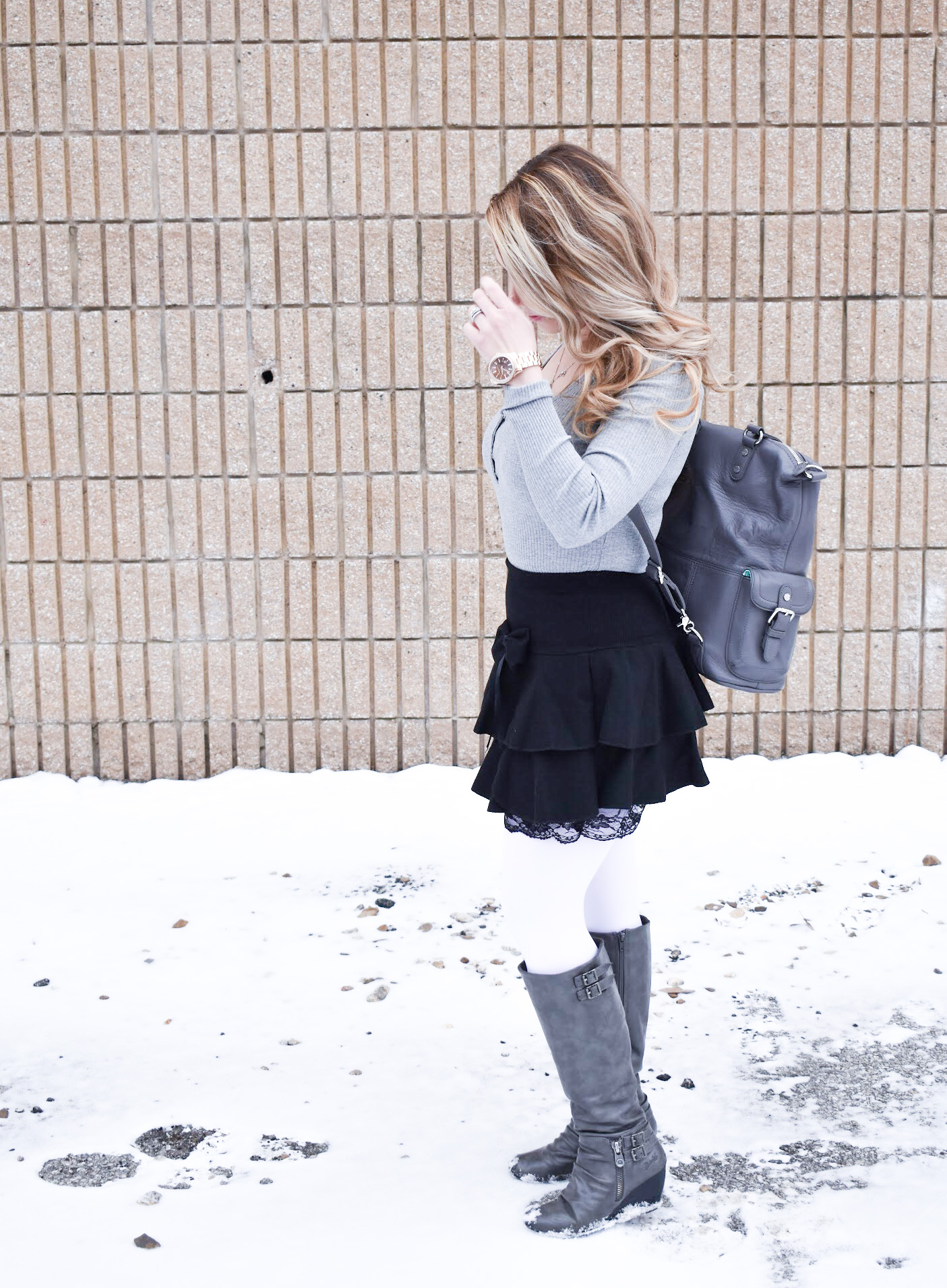 I mean, I would've never worn a black ruffled mini skirt to work as a lawyer. But fun fact, the watch I'm wearing here is actually a relic from my lawyer days. I distinctly remember seeing another lawyer wearing it during a deposition in 2012. Some depositions are really boring, OK? And the most interesting thing to do is check out what the other lawyers are wearing. [Yes, that boring.]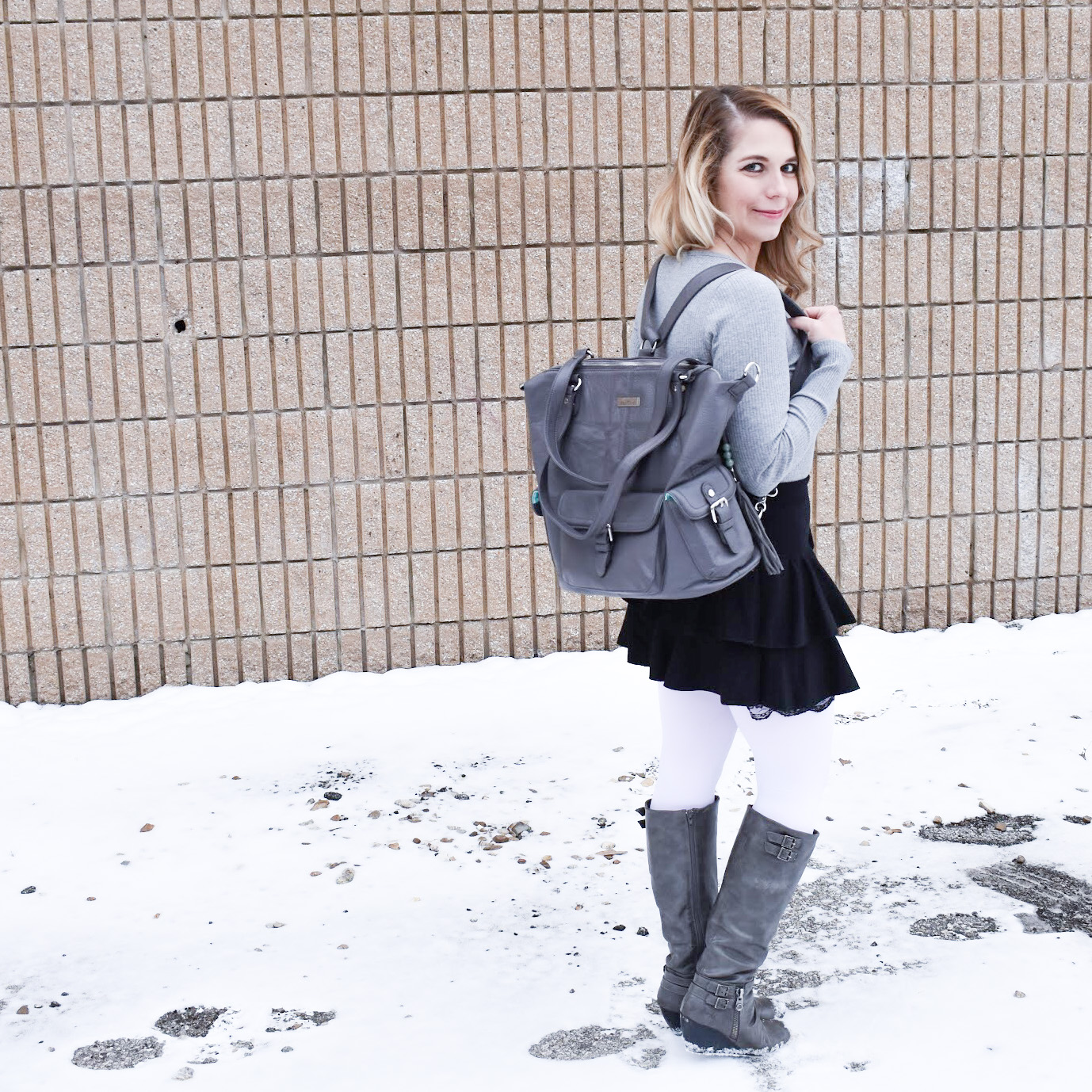 So anyway, I looked the watch up on my phone and sent the link to my husband, which is my way of "hinting." Is it really even a hint if you send a direct link…? Anyway, he came through and I've worn the heck out of this thing ever since! Here is the closest one I can find that's currently available. Seems like the company must've updated their design over the past 6 years…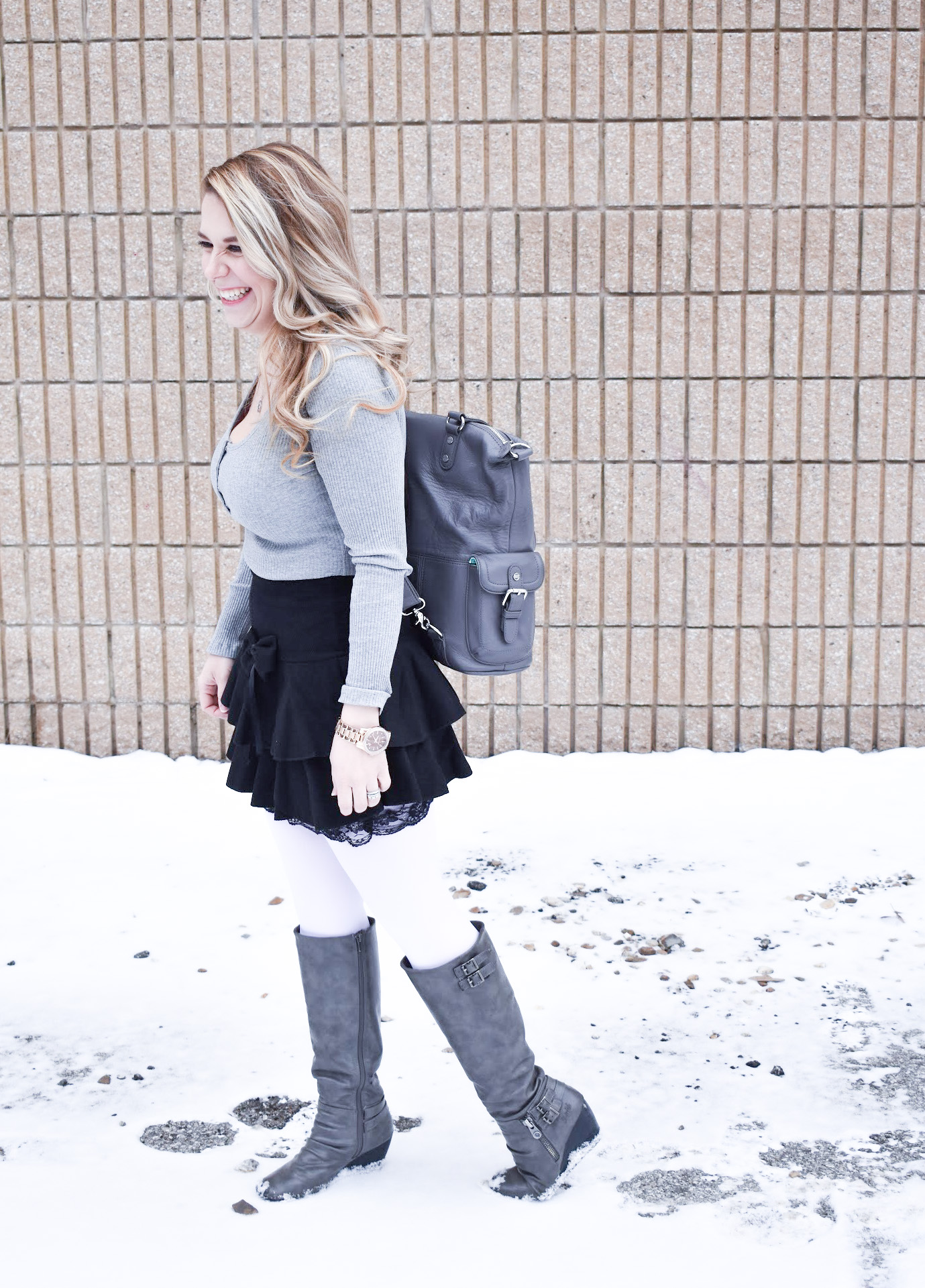 This ribbed grey bodysuit is perfect for tucking into skirts or jeans. I wasn't sure I would get on board with the bodysuit trend [or, as my husband calls them, "adult onesies"], but they are really very handy! I tried tucking a traditional shirt into this skirt and didn't like the look nearly as much.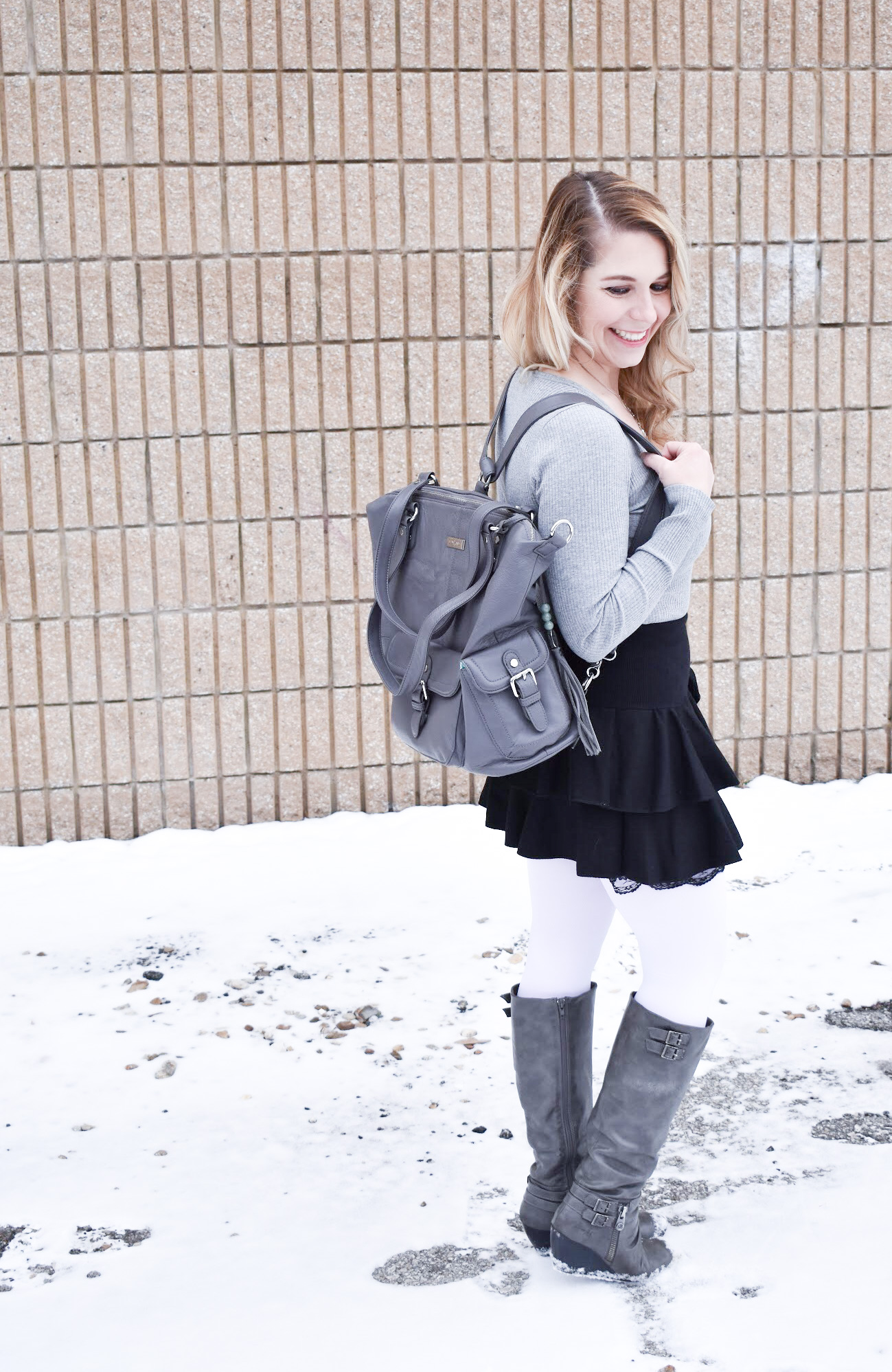 Of course, it's no surprise that I finished off the outfit with some of my favorite grey wedge boots. These get a lot of wear around here, especially when there is snow on the ground. I love that they have a little bit of a wedge heel, but not so much that I feel unsafe walking around.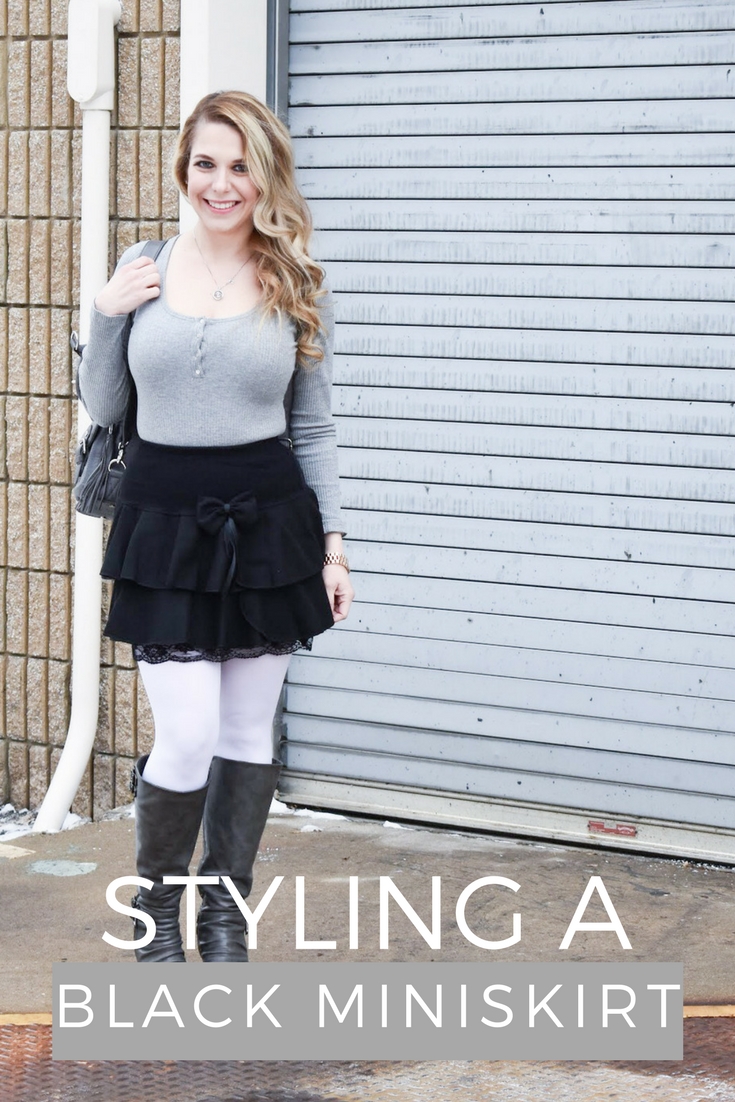 Pin these style tips for a black mini skirt with ruffles for later!
Want more style inspiration?