I received a complimentary dress in exchange for promotion on this post and on social media. This post contains affiliate links. Please see our Legal page for more information.
Let's talk maternity style…
Okay, moms… am I the only one who finds it challenging to feel beautiful while pregnant? Your body changes so drastically and so quickly that it can be hard to keep up. For me, the hardest part of feeling attractive during pregnancy is finding flattering clothes. Cute maternity clothes are hard to come by!
I've written before about how, for various reasons, much of my maternity wardrobe from Baby #1 isn't working for me this time around. It's a different season, I'm a different size, and my style has changed a lot. So, I was totally game when PinkBlush Maternity asked if I wanted to feature their cute maternity clothes on my blog!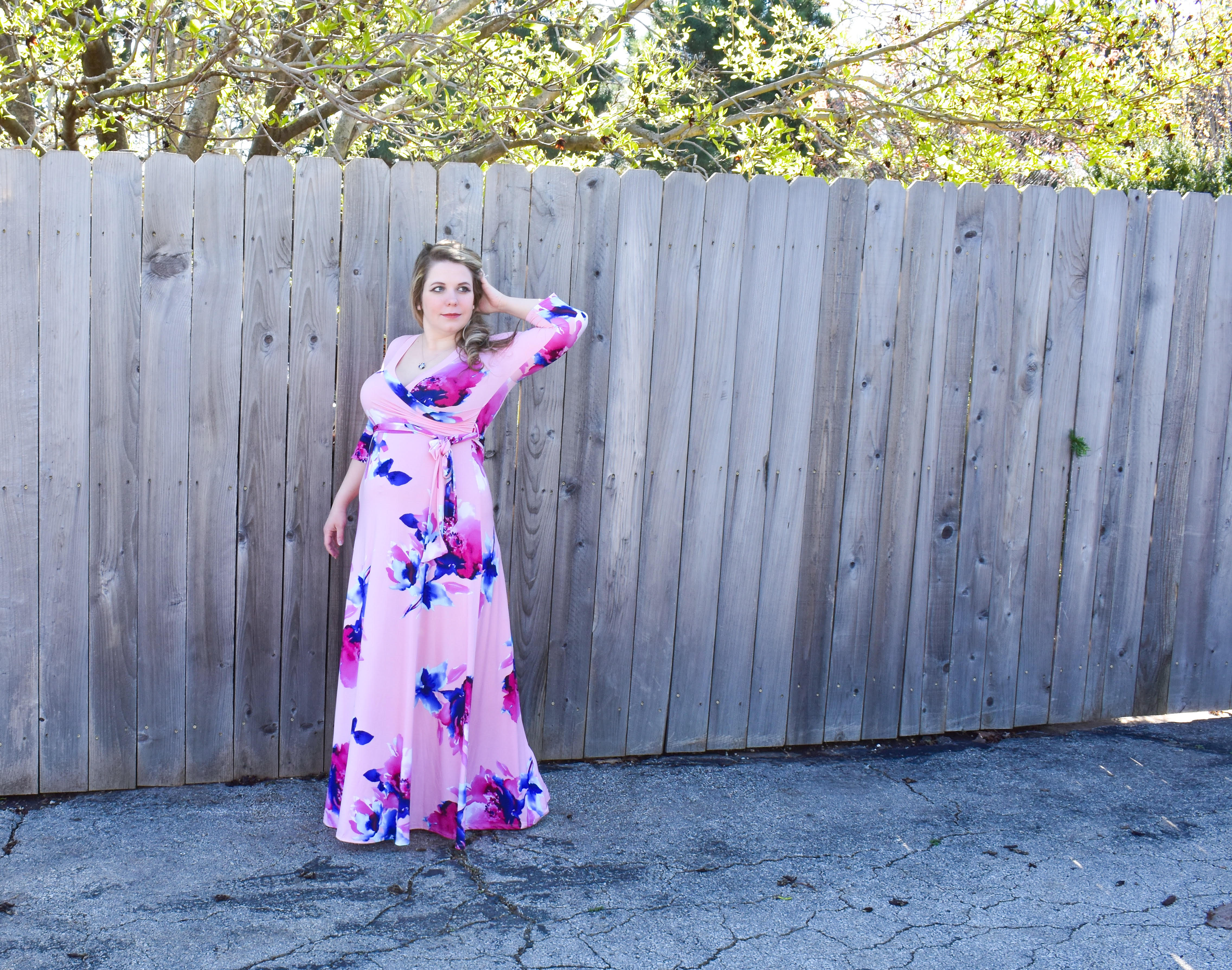 Maternity Style for a Summer Pregnancy
In these photos, I'm wearing the Peach Floral Abstract Wrap Maternity/Nursing Maxi Dress. The gorgeous floral pattern and luxurious fabric make me feel beautiful in this dress. But most importantly, this dress is amazingly comfortable! And as any mom can attest, comfort is key during pregnancy. Especially during a summer pregnancy, which I'm a little nervous about. I'm kind of a baby about the heat even when I'm not pregnant. Bring on all the dresses! And air conditioning. Lots of air conditioning.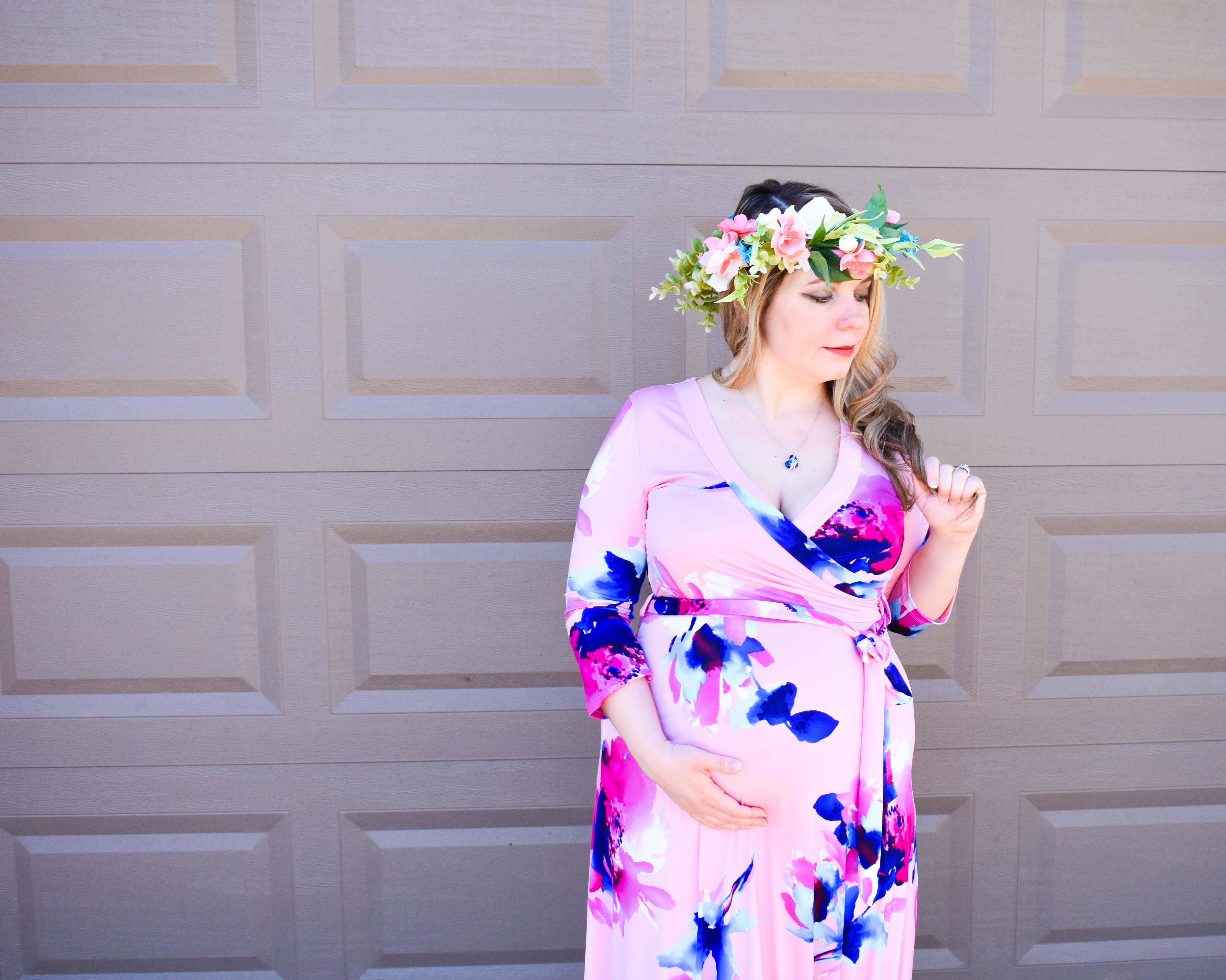 Nursing-Friendly Design
I love how this dress will transition to the "4th trimester" (and beyond!) as well. I struggled to find nursing-friendly clothes after my son was born, so I was immediately impressed with how easy it will be to breastfeed in this dress. PinkBlush offers several dresses in this same nursing-friendly style, so you can easily find a pattern (or several!) that you'll love.
After Colton's birth, I mainly lived in nursing tanks (for an embarassingly long time). We had a couple of weddings to attend when he was about 6 months old, and I remember panicking that I couldn't find anything nice to wear that would 1) allow me to nurse and 2) be flattering to my postpartum body. I'm excited to have this dress in my closet now so I won't have to stress about dressing for nice events after Baby #2 is here!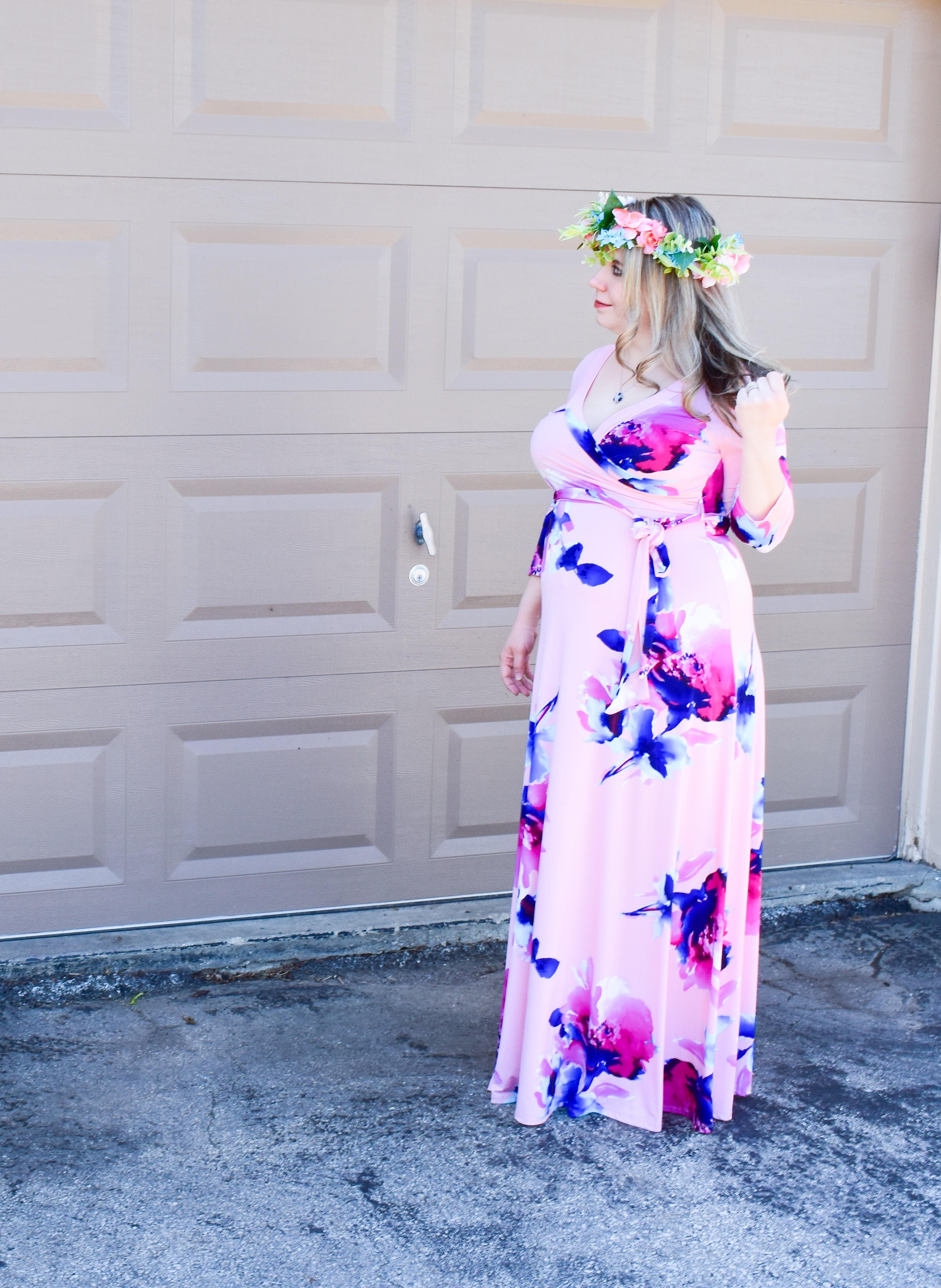 Accessorizing a Maternity Dress
Any woman knows that accessories make the outfit. I accessorized my PinkBlush Maternity dress with a flower crown and a bright blue heart pendant. I made the flower crown myself! It was my first one and I'm really happy with how it turned out. I'll be posting a tutorial soon. They're super easy to make and don't take much time at all!
My husband gave me the beautiful blue heart necklace for Christmas. It's gorgeous, but I honestly don't wear it too often as I don't have a lot of things in my closet that it coordinates with. I was so excited when I realized it was the perfect blue to match the floral pattern on my PinkBlush dress!
Random fact, my husband (then boyfriend) gave me diamond studs for our first Valentine's Day… way back in 2005! I've worn them every day since. I don't know what I'd do if I lost them. I'm a little surprised I haven't, to be honest. I have a horrible track record of losing jewelry.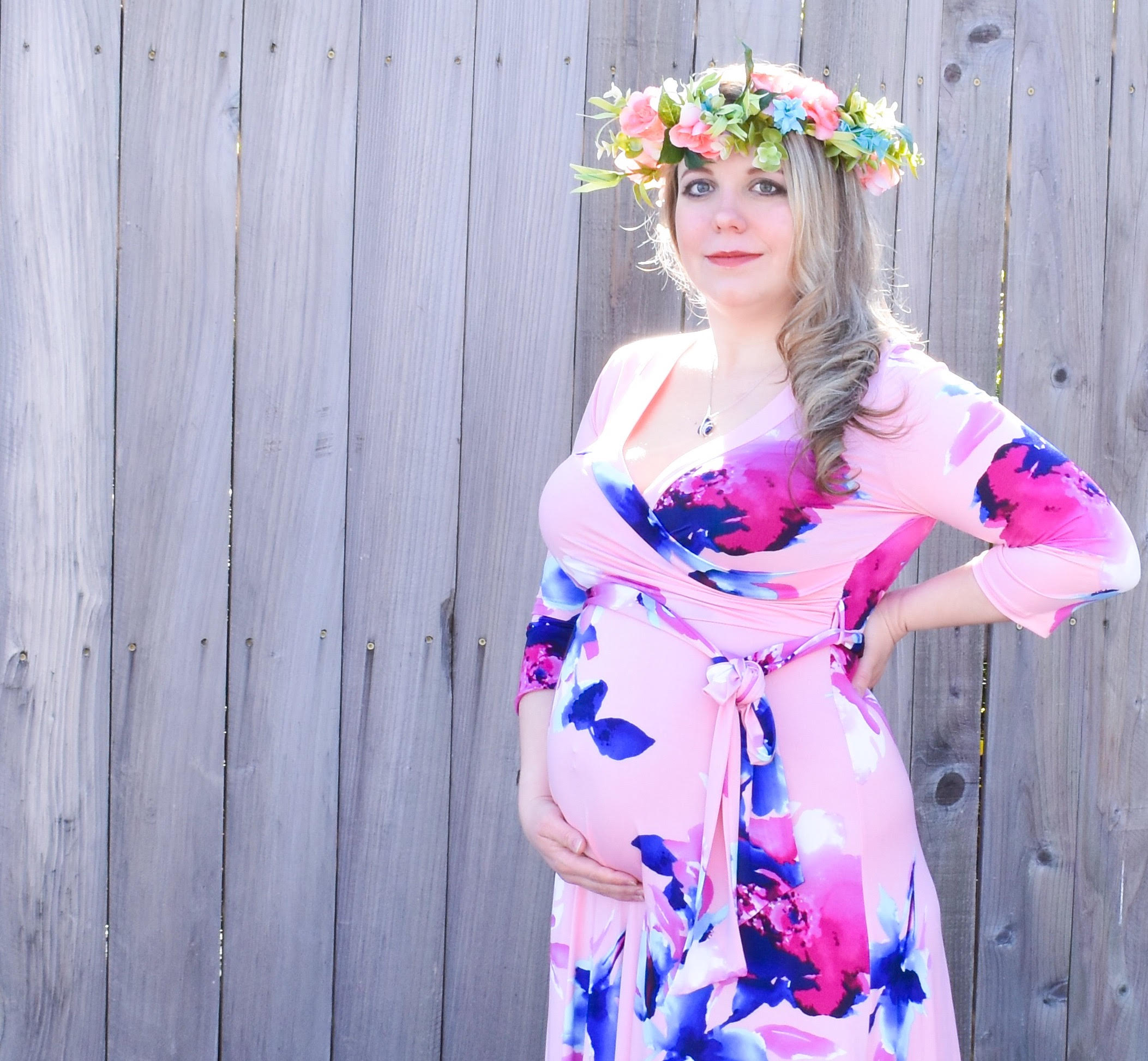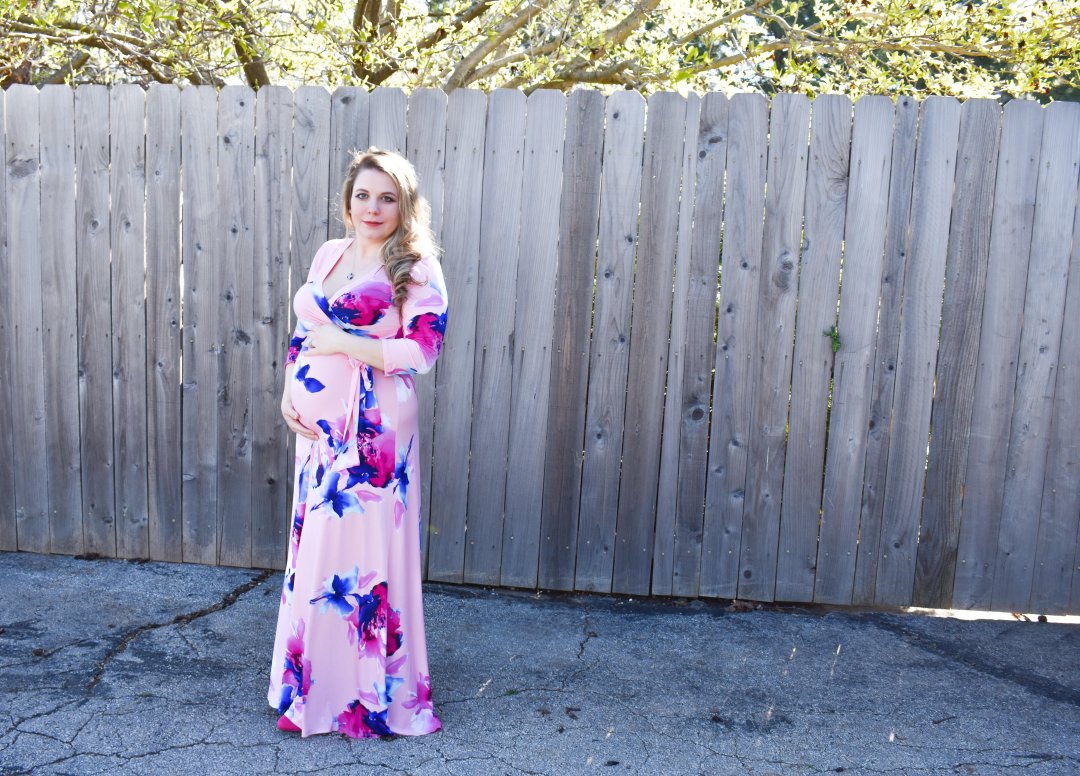 Cute Maternity Clothes: PinkBlush Giveaway
I'm so happy with this dress from PinkBlush Maternity! The style, the fit, and the pattern are all on point. PinkBlush has a ton of pregnancy clothes to choose from, and I'm so excited to offer you a chance to win a $75 gift card to select some cute maternity clothes for yourself!
This PinkBlush Maternity giveaway is open only to U.S. residents ages 18 and over. You are not eligible to win if you have won a PinkBlush giveaway within the past 6 months. Use the form below to enter the PinkBlush giveaway:
Mamabops PinkBlush Maternity Gift Card Giveaway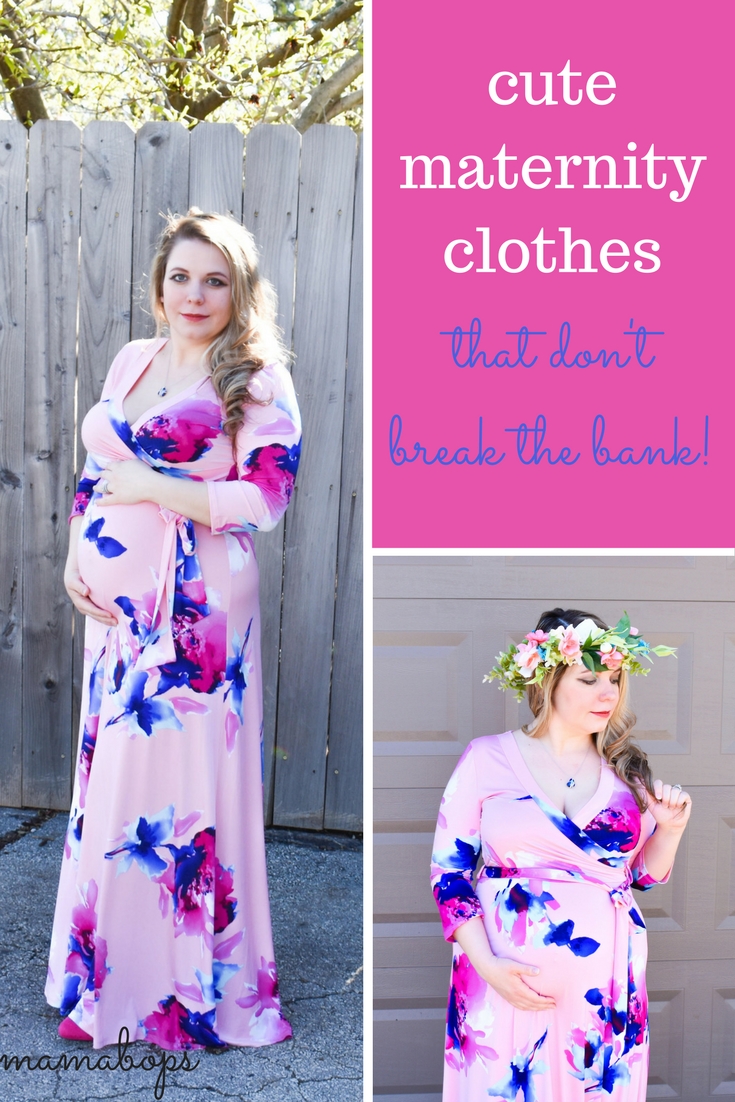 Don't forget to pin this look!
Want more maternity style inspiration? Check out my previous pregnancy fashion posts on second trimester style and maternity workout clothes.
Like giveaways? Enter to win a Gifted movie prize pack or a hardcover copy of I'm Going to Give You a Bear Hug!