With warmer weather on the horizon, it's time to add some spring-friendly pieces into your wardrobe. Or maybe the warmer weather is just wishful thinking on my part. Regardless, I'm loving sheer and lace blouses for spring. Here's how to style a sheer top — so you'll be ready whenever the weather [finally] decides to cooperate!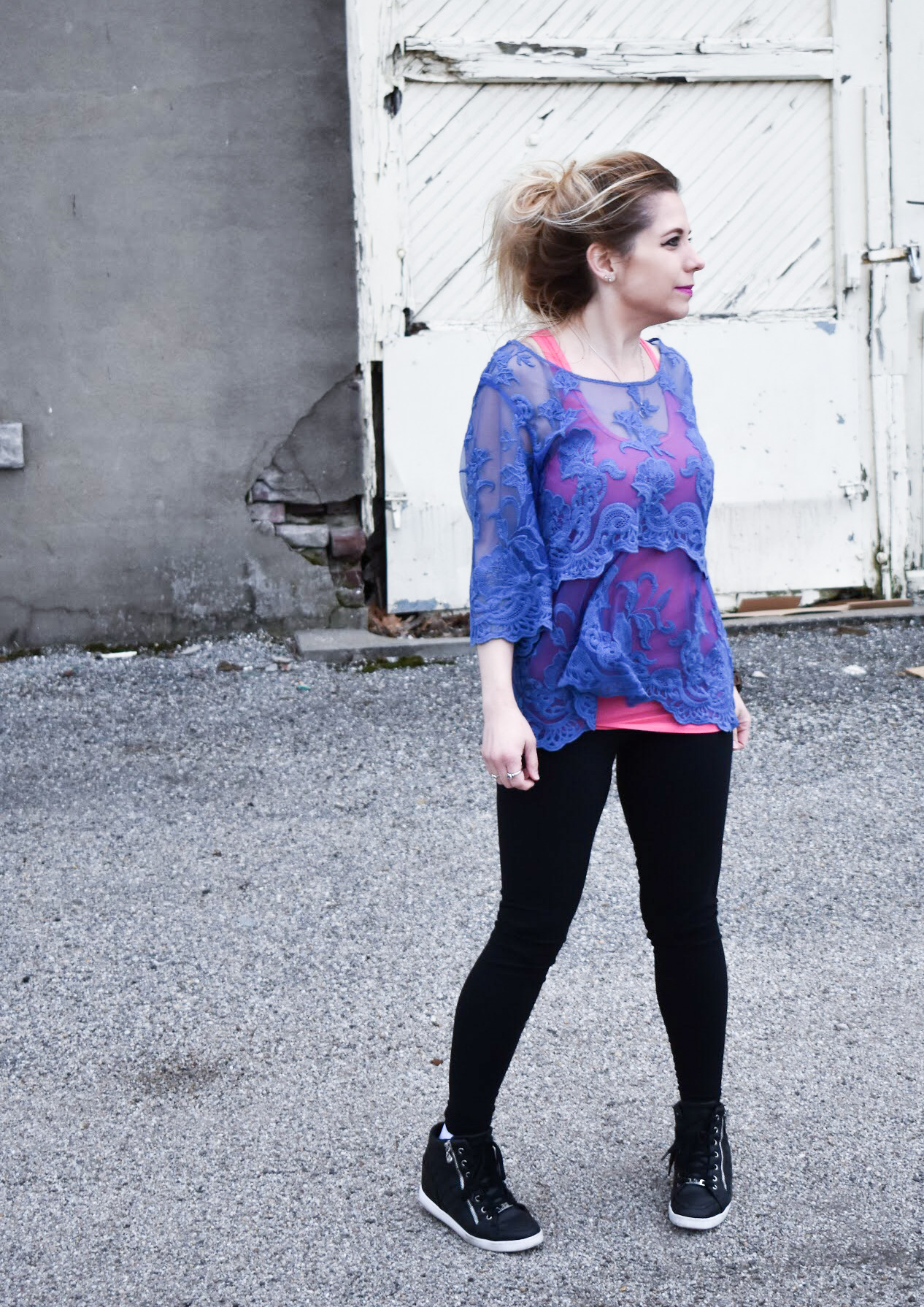 Shop this Look
Blue Scalloped Embroidered Mesh Top // Ribbed Racerback Tank Top [available in tons of colors!] // Wedge Sneakers // Leggings // Wooden Watch // Open Heart Ring // Open Heart Pendant // Liquid Lipstick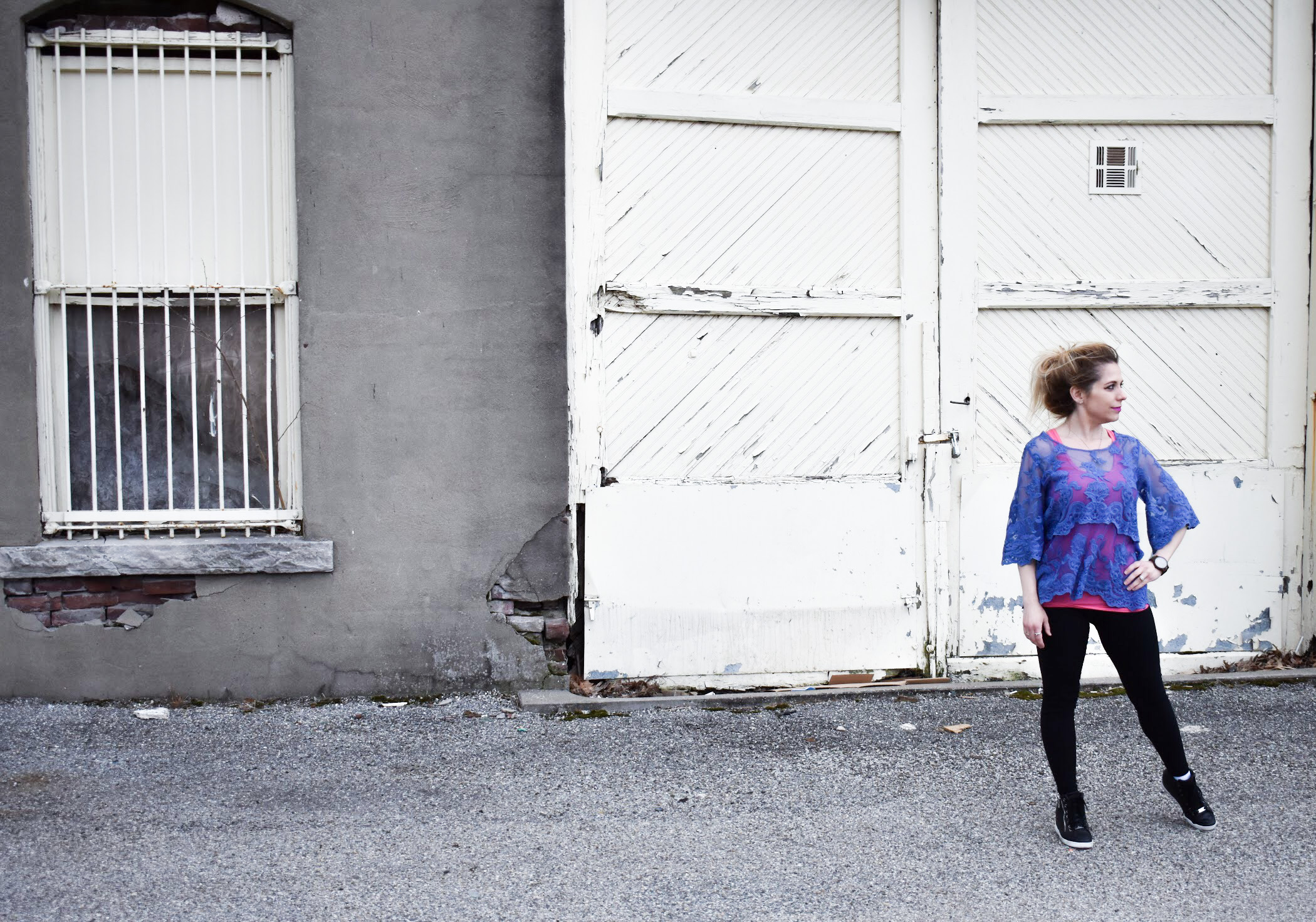 When I saw this blue sheer blouse at one of my favorite online boutiques, PinkBlush, I knew I needed it in my closet. The embroidered detail and scallop hem are unlike anything else in my closet.
However, that presented a bit of a problem: the top was unlike anything else in my closet. So, when it arrived, I wasn't quite sure how to style a sheer top.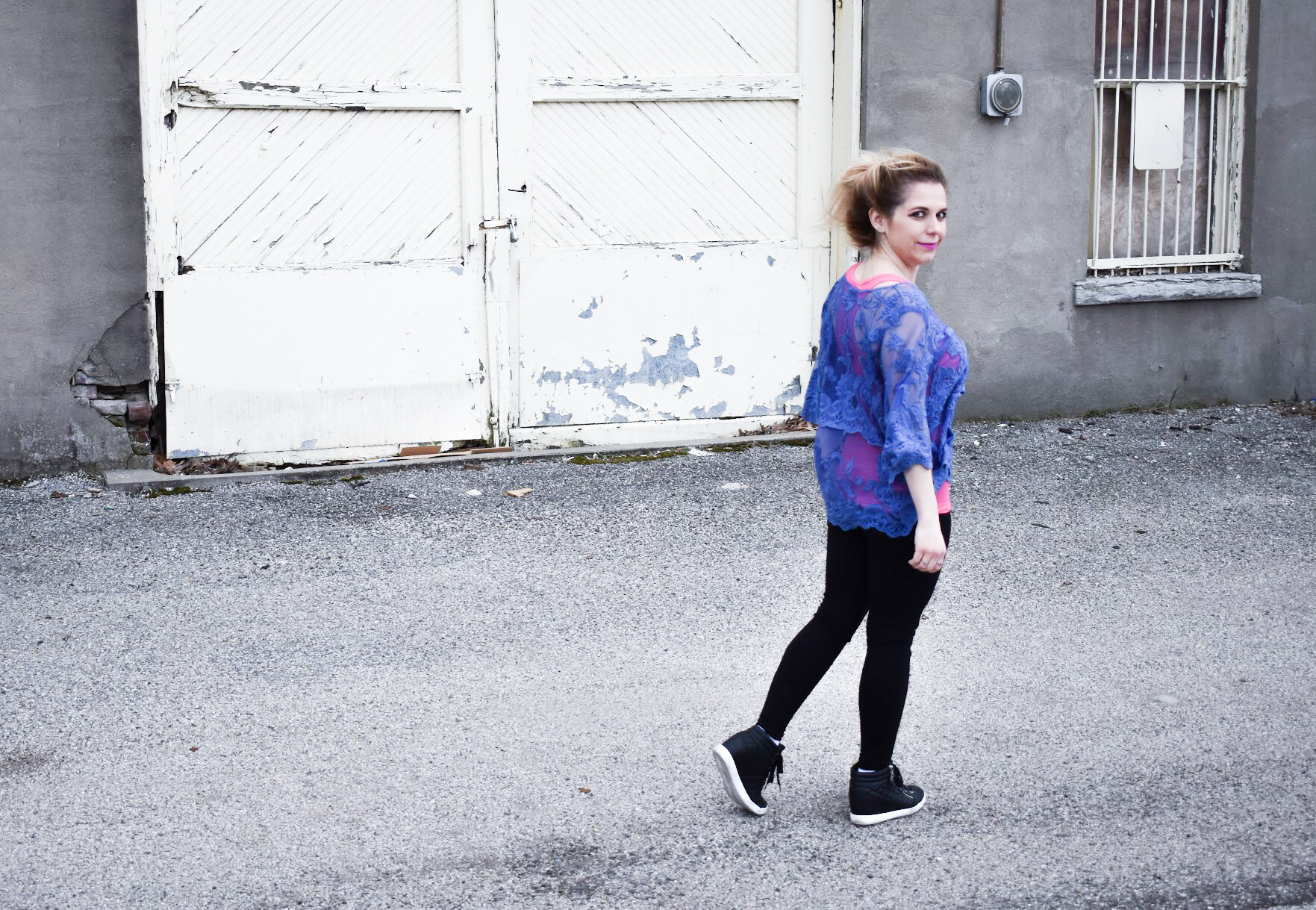 First, I tried wearing a plain white camisole underneath… but that felt too, well, boring. So, I grabbed this pink ribbed racerback tank and it was the perfect match! The racerback detail is much more fun than a normal cami, and the hot pink looks great peeking out from underneath the blue.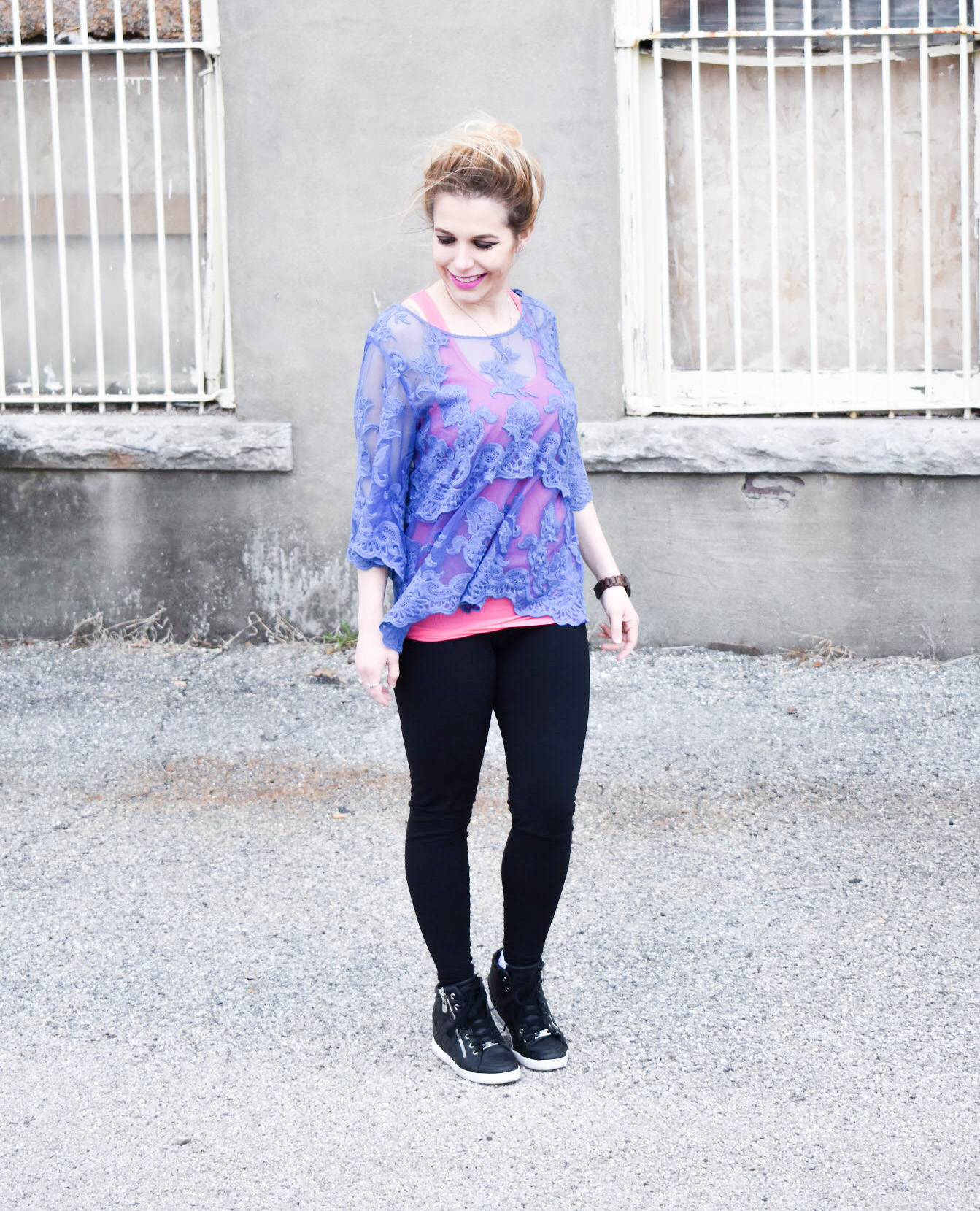 I love to pair a bright blouse with a bright lip, so I wore one of my favorite liquid lipsticks to complete the look. 
Then, I put my hair in an extremely messy bun, because the winds were out of control. Which reminds me… have you ever seen a building that is a standalone tornado shelter?
Random question, I know. But I shot these photos while tagging along on one of my husband's work trips to southeast Kansas, which led to me and the kids driving around quite a bit in the Kansas countryside. And in one of these really really really small towns, I came across a building that was literally called, "Tornado Shelter." I thought this was such an anomaly that I almost went back to take a photo of it, but when I brought it up to my husband, he was just like, oh yeah, I see those all the time. Well, OK then.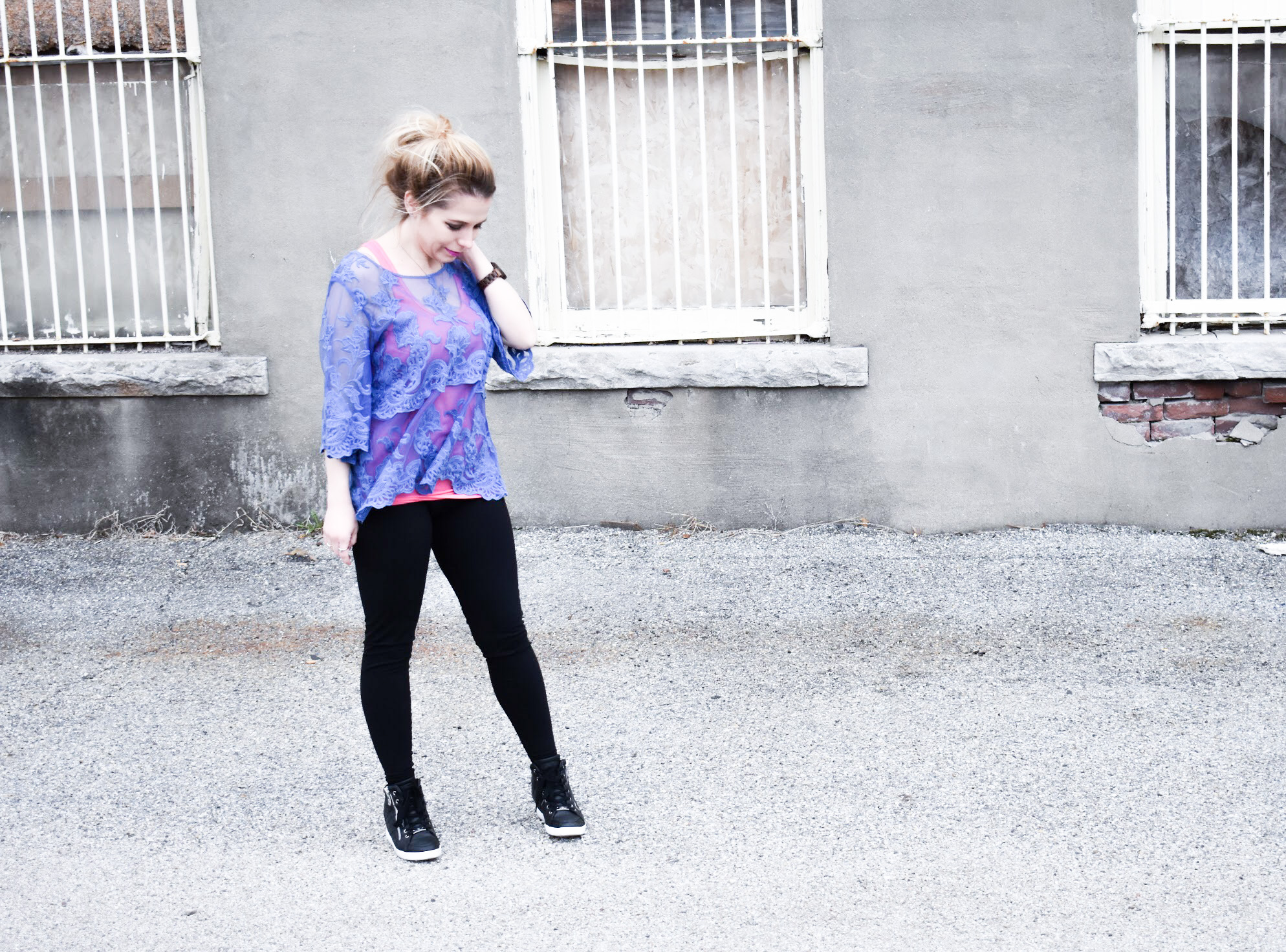 As windy as it was on this particular day, though, I wouldn't be surprised if the tornado shelter got some use soon.
Not exactly the kind of spring weather I'm hoping for, Kansas.

Pin these tips on how to style a sheer top for later!
Want more spring style inspiration?