The Tory Burch Miller is one of the most iconic sandals of all time. Sold in a rainbow of colors, the Miller is a summer must-have for many fashionistas. But, the approximately $200 price tag is more than many people want to pay for sandals. So, I scoured the Internet for the best Tory Burch Miller dupes and am sharing them all in this post!

This post contains affiliate links. Please see our Legal page for more information.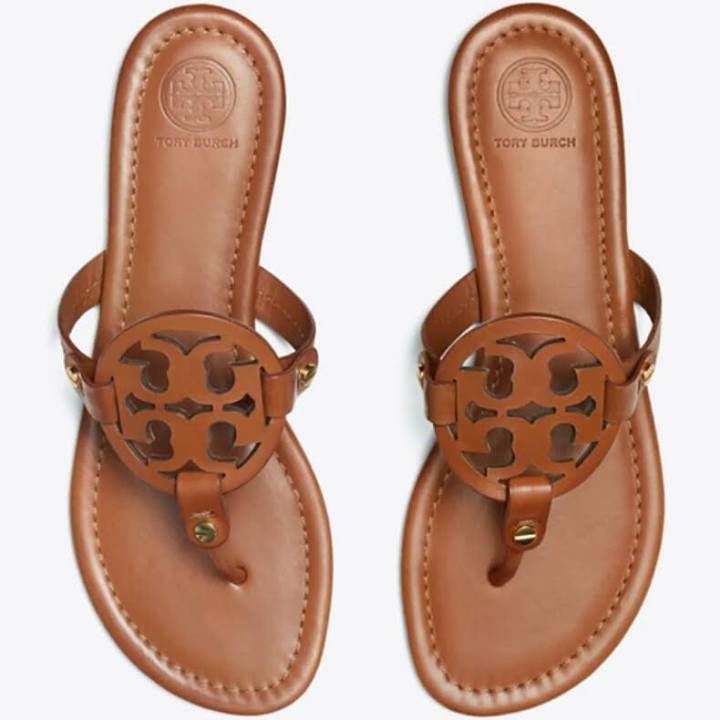 Pictured above are the authentic Tory Burch Miller sandals in Vintage Vachetta, which is the best selling color according to the Tory Burch website. They retail for $198, but I'll include some tips on how to find them at a discount at the end of this post!
In the meantime, let's explore some of the best Tory Burch Miller dupes, shall we?
Report Genie Sandal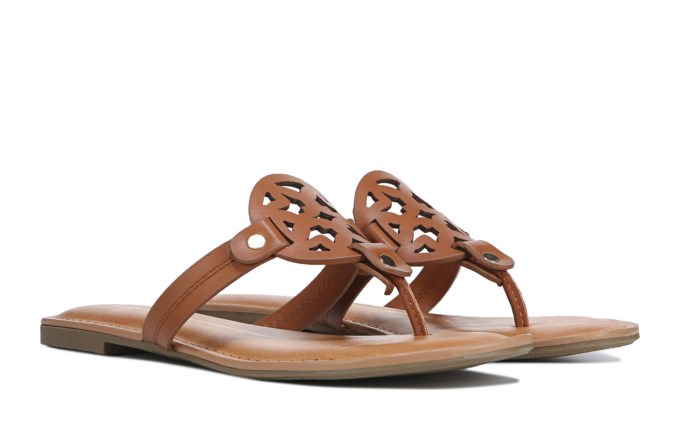 In my opinion, the Report Genie sandal is the closest Tory Burch Miller dupe. It's available in tan, black, and white.
The medallion design isn't far off, and the brass accents are similar as well. The Genie retails for $39.99, as compared to the Miller's $198. However, I frequently see the Genie on sale even lower! Here's a site that often has them on sale, and try this one too! You might even get lucky and score a pair extra cheap here!
Pierre Dumas Limit 20 Sandal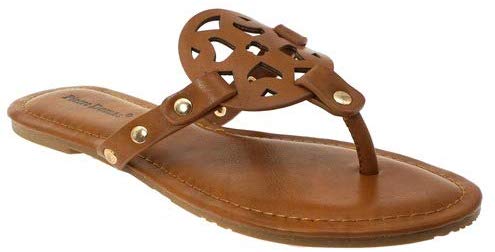 The Pierre Dumas Limit 20 sandal is another of my favorite Tory Burch Miller dupes.
The biggest difference I see between the Limit 20 and the Miller is the brass accents. The Limit 20 has 3 brass accents going down the side, whereas the Miller has only 1.
Pierre Dumas Limit 20 retails for $39.99, but you can often find them cheaper here depending on your size/color preferences. And, Bella and Bloom Boutique stocks a lot of the more rare color options for Pierre Dumas–think python, tortoise, and more!
Circus by Sam Edelman Canyon Sandal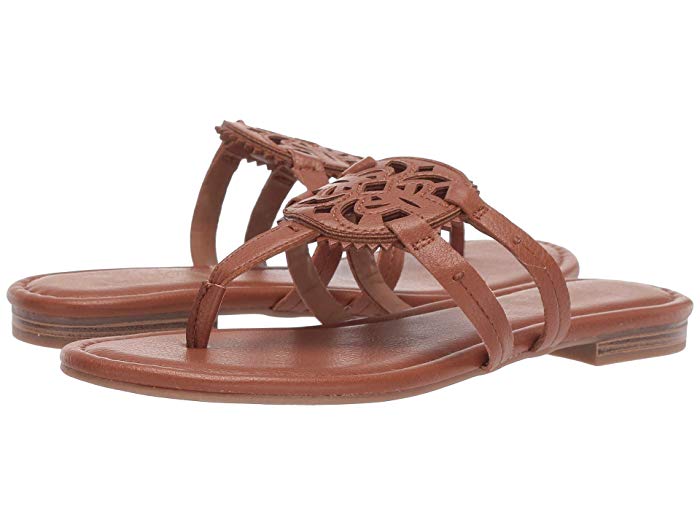 Next up is the Circus by Sam Edelman Canyon sandal. It's available in a variety of colors and retails for $59.99.
Of all the pairs I'm featuring, I think this one looks like the least like the Miller. It doesn't have any brass accents, has a double strap on the side (whereas the Miller has a single strap), and the medallion isn't all that similar. That said, the Canyon has great reviews extolling its comfort and style. Therefore, I think it's worthy of inclusion on the list.
You can often find the Sam Edelman Canyon discounted here or here, so check both to be sure you're getting the best deal. Sometimes Circus runs specials on its own site, too.
Cheap Tory Burch Miller Sandals
If only the real thing will do, I've found a couple sites where you can often find discounted authentic Tory Burch Miller sandals.
Did you know you can buy Millers from Walmart? Yes, seriously. Some Walmart.com sellers will offer discounted Millers on there. Worth a shot to see what's available!
eBay has a ton of Millers available, both new and pre-owned. You can sort by size to make your search easier.
Shop the Best Tory Burch Miller Dupes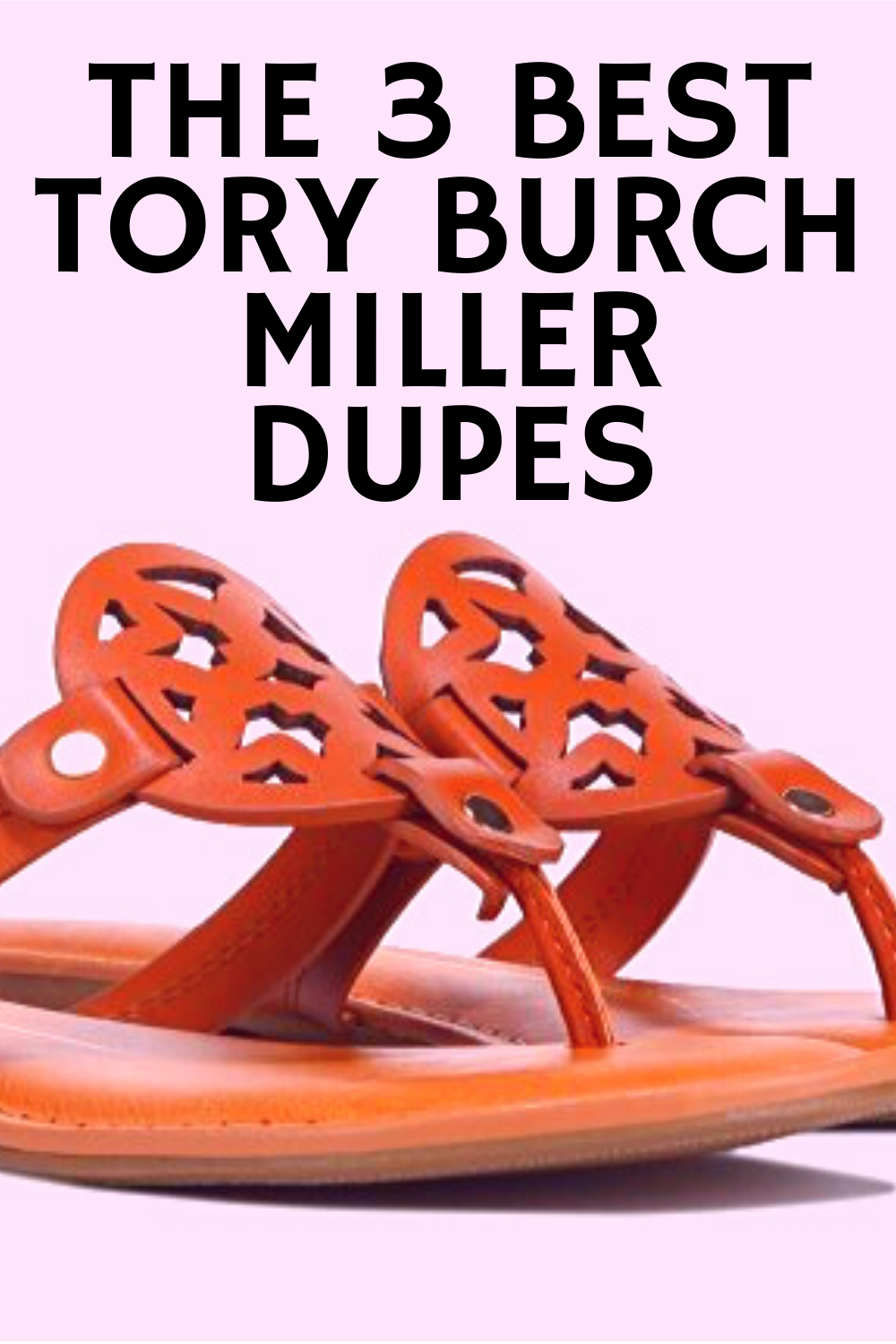 Pin these Tory Burch Miller dupes for later!
More Designer Dupes: