Until recently, I honestly couldn't remember the last time I wore Walmart clothes. I'm all about a deal for sure, but most Walmart fashion wasn't doing it for me. But lately I have found lots of good finds there! They're really stepping up their game. Here's my first Walmart Try On Haul fall 2019!

Walmart Haul Shopping Tips
One thing I've noticed about shopping Walmart fashion is that things sell out fast. I'm actually working on a second Walmart fall haul already, and at least half the items I wanted to order for it were already sold out in my size. So if you see something you like, order now!
You can also use Walmart's website to locate items in stock at your local store and order online for same-day store pickup. They also offer free 2-day shipping on lots of item when you spend over $35. I'll sometimes add some random household items like laundry detergent, tissues, etc. to get up to that free shipping threshold.
I appreciate when you shop through my links whether for shipping or store pick up because I can receive a commission, which makes it possible for me to keep doing these try on hauls! Unfortunately, I don't get credit if you buy these items in-store. [I feel completely awkward saying this because I want you to shop however is best for you! But a lot of people don't understand how bloggers make money, so I'm just being honest. Thank you for understanding!]
Sizing–I'm wearing my normal size in all items in this Walmart haul unless otherwise noted. Feel free to message me with any specific sizing questions.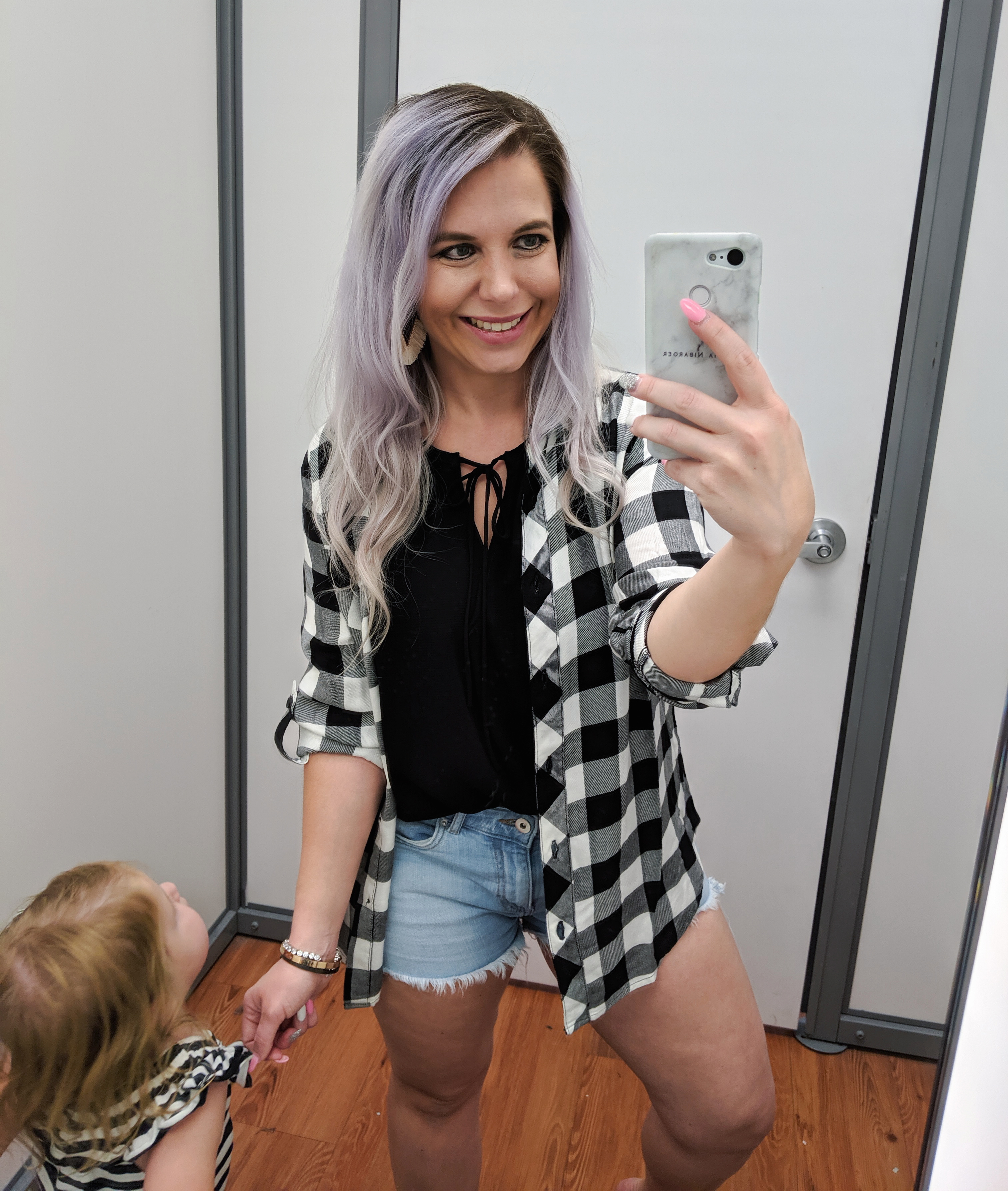 This $15 plaid top is perfect for fall! It's a soft material, not flannel, which makes it hang very nicely–plus, it's easy to tie around your waist if you get too hot during this fall transition time. The length is great, too. Three other color combinations available as well.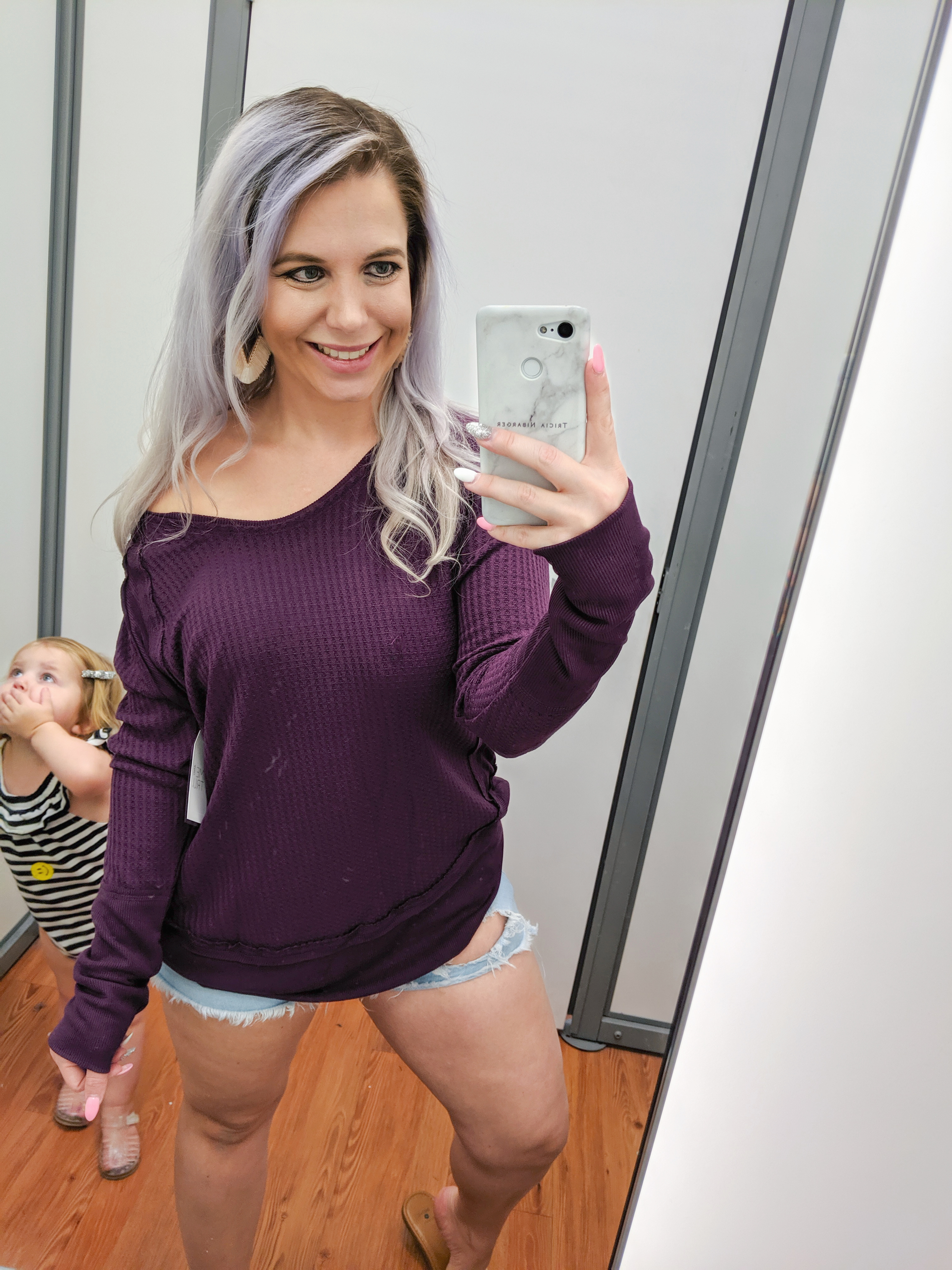 My $13 Walmart top is a spot-on Free People Catalina dupe. The material is a bit thicker and not as soft as the FP version, but the look is basically identical. Well worth the price. This would look perfect with a scarf, vest, or jacket layered on top. Comes in 4 colors.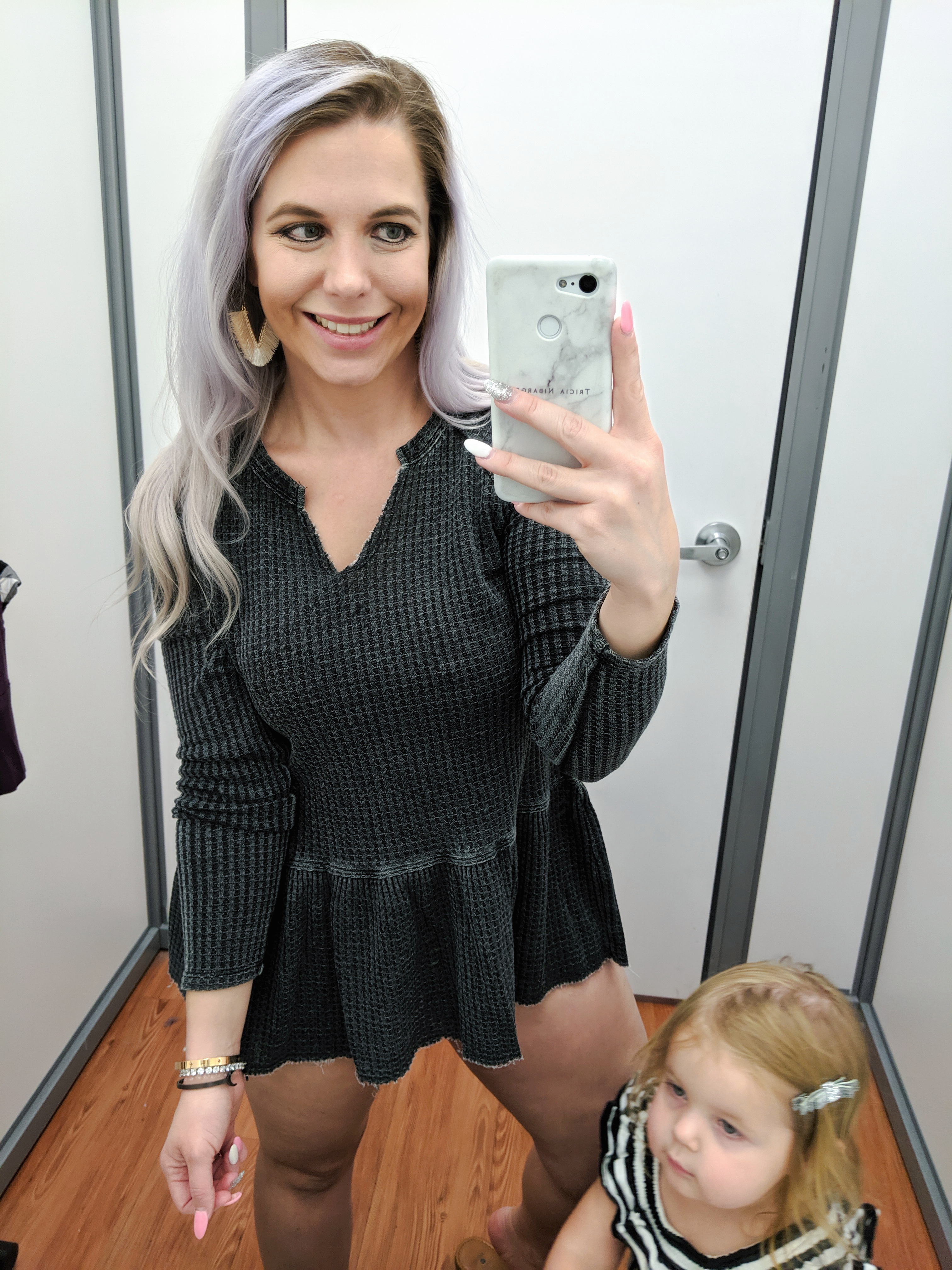 I promise I'm wearing shorts in this photo! Just an unfortunate angle. But this little $13 waffle peplum is so cute and fun for fall. It comes in 4 colors.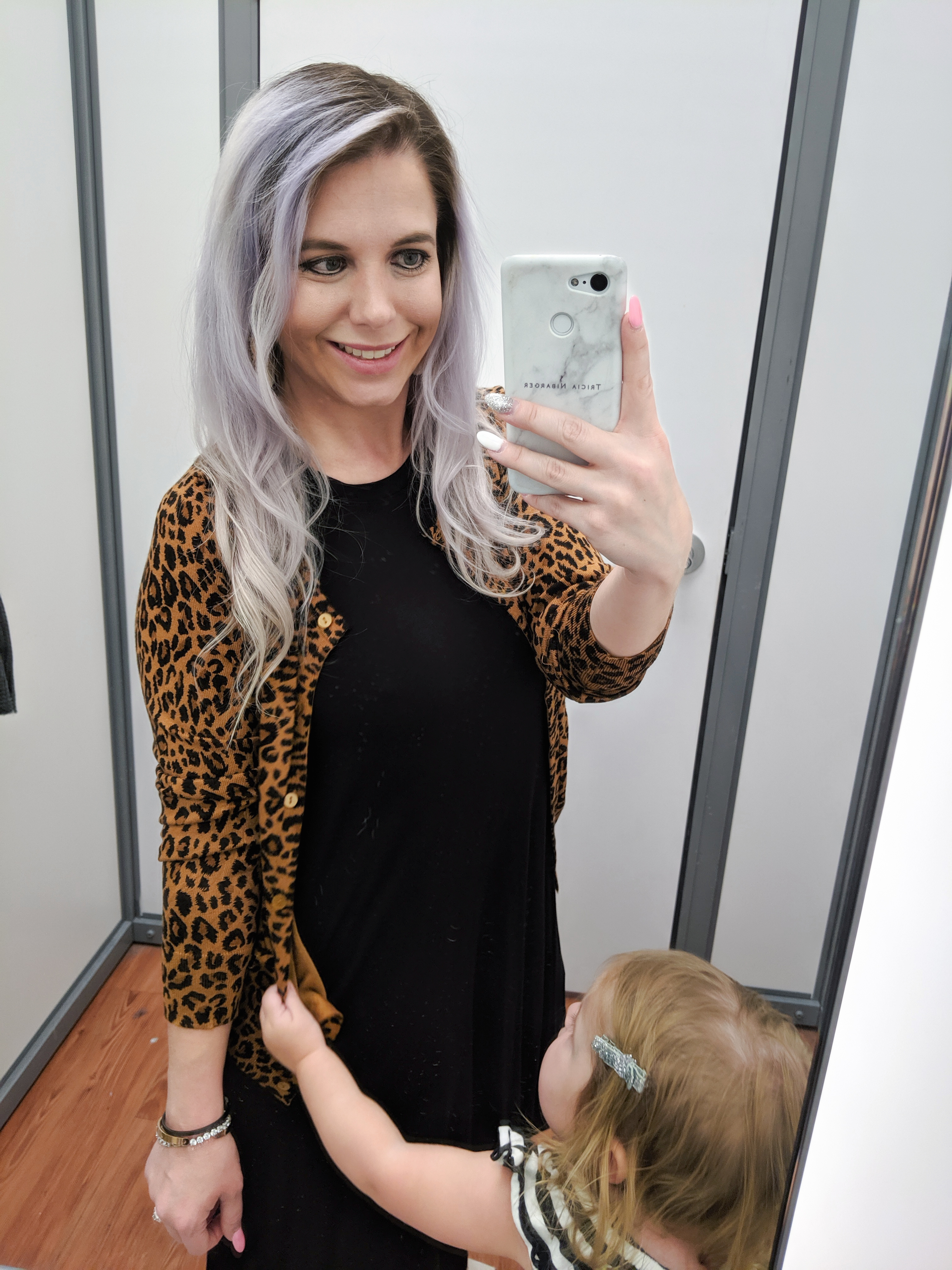 This $12 leopard cardigan will easily take a basic outfit to the next level. The material is so soft and cozy. It's a lightweight knit, so best for early fall. Comes in 13 different colors/patterns! Back in my lawyer days, I probably would've bought them all. Cardigans were like my office uniform.
The under $10 black dress underneath is also a Walmart find. It's sleeveless, so perfect under a cardigan. I hate when my sleeves get bunched up! The dress comes in 4 colors and, while it's not much on its own, it's the perfect base layer for a cute cardigan, scarf, etc.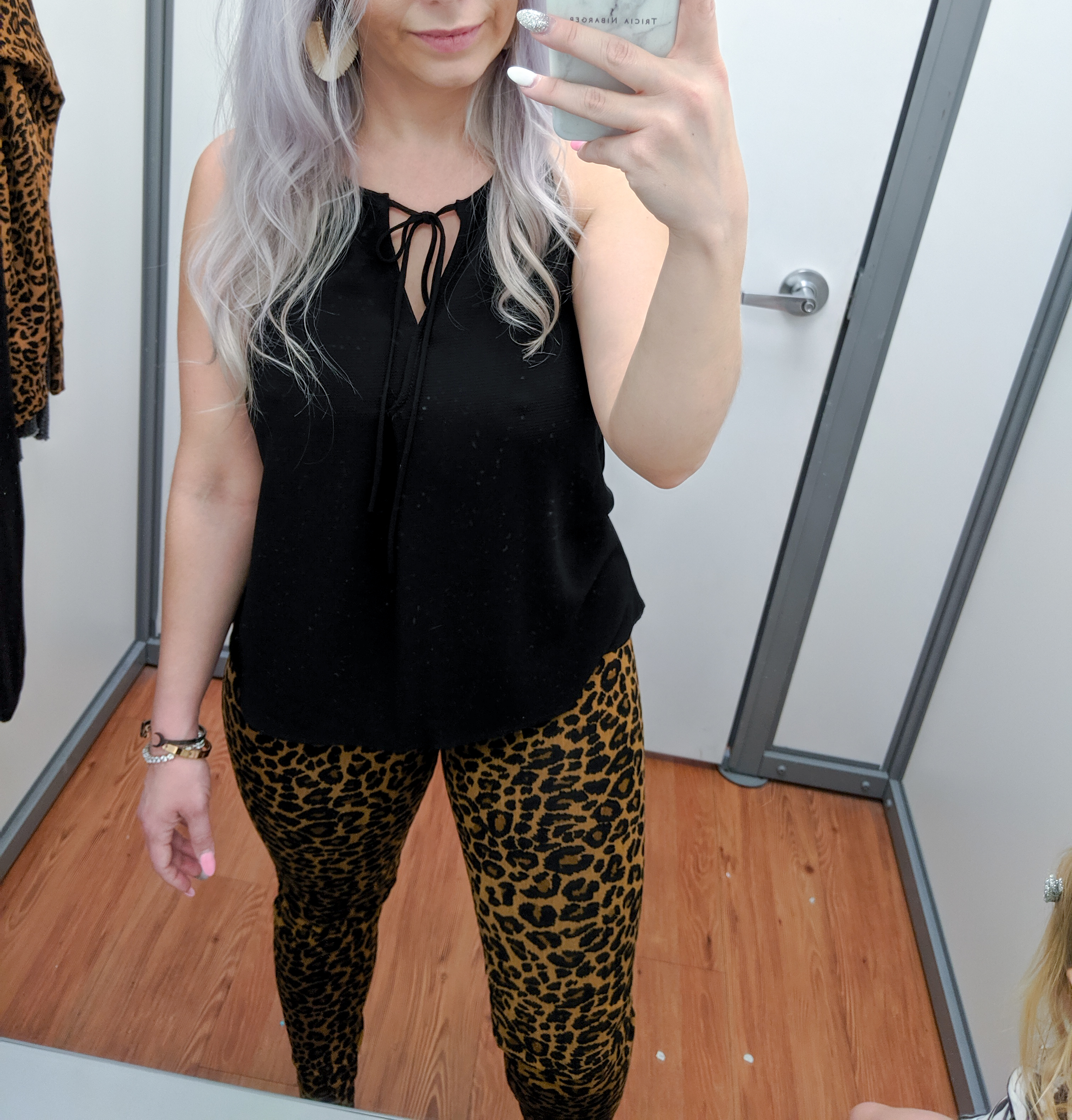 Keeping with the leopard print theme, how about these under $6 leopard leggings? The quality on these wasn't as good as some of the other pieces, but at a $6 price point, they'd be fun to wear a couple times.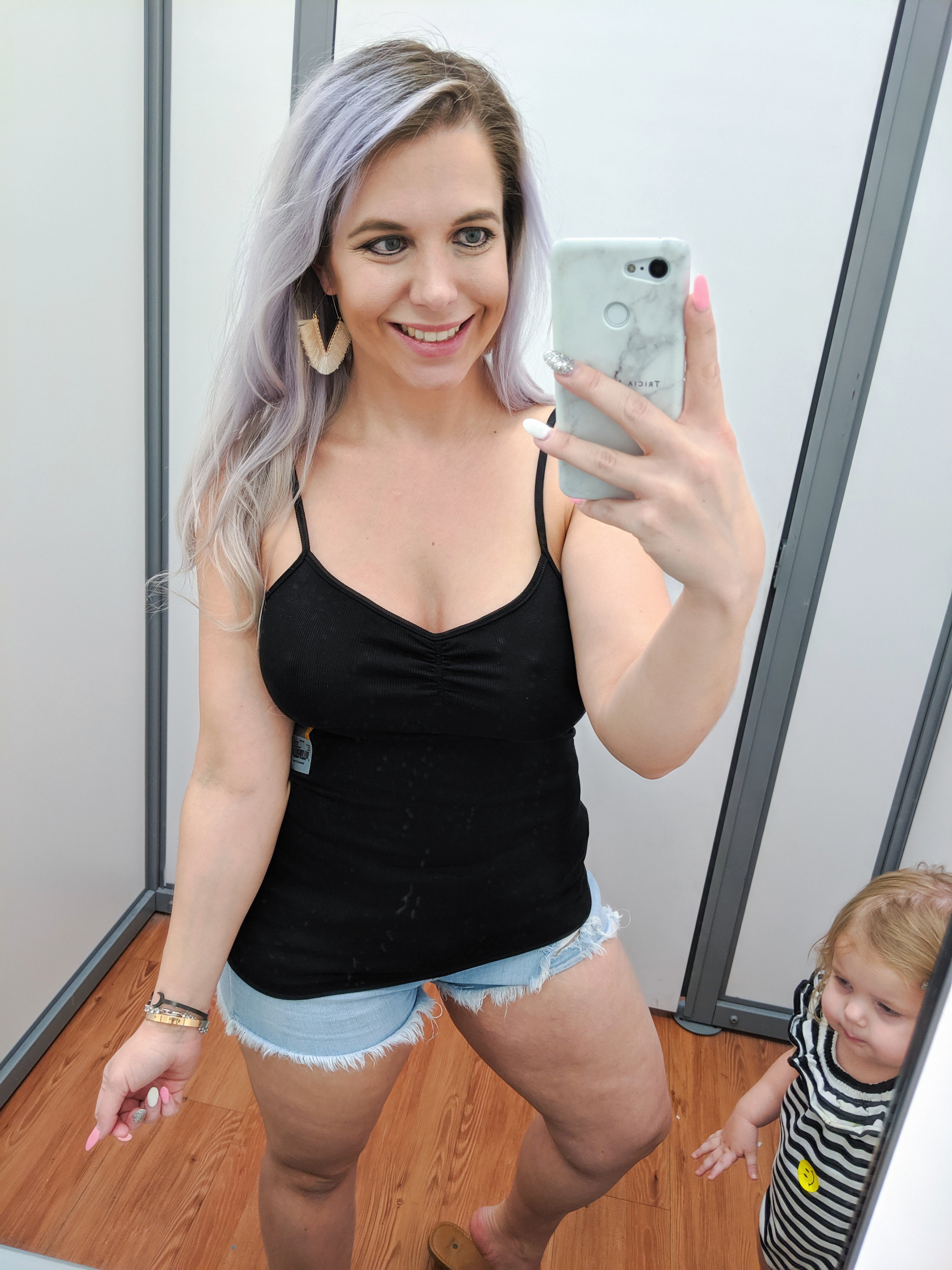 I bought this ruched cami in 3 colors. The ribbing and ruching makes it cuter than a basic cami, and they were only $2! It looks like they're currently sold out online, but I'll put links to check stock at your local store: single colors // 2-pack. These are juniors sizes so I sized up one.
I couldn't find this specific MTV shirt online, so it might be in-store only or maybe sold out. I'll link some similar MTV shirts at Walmart, though.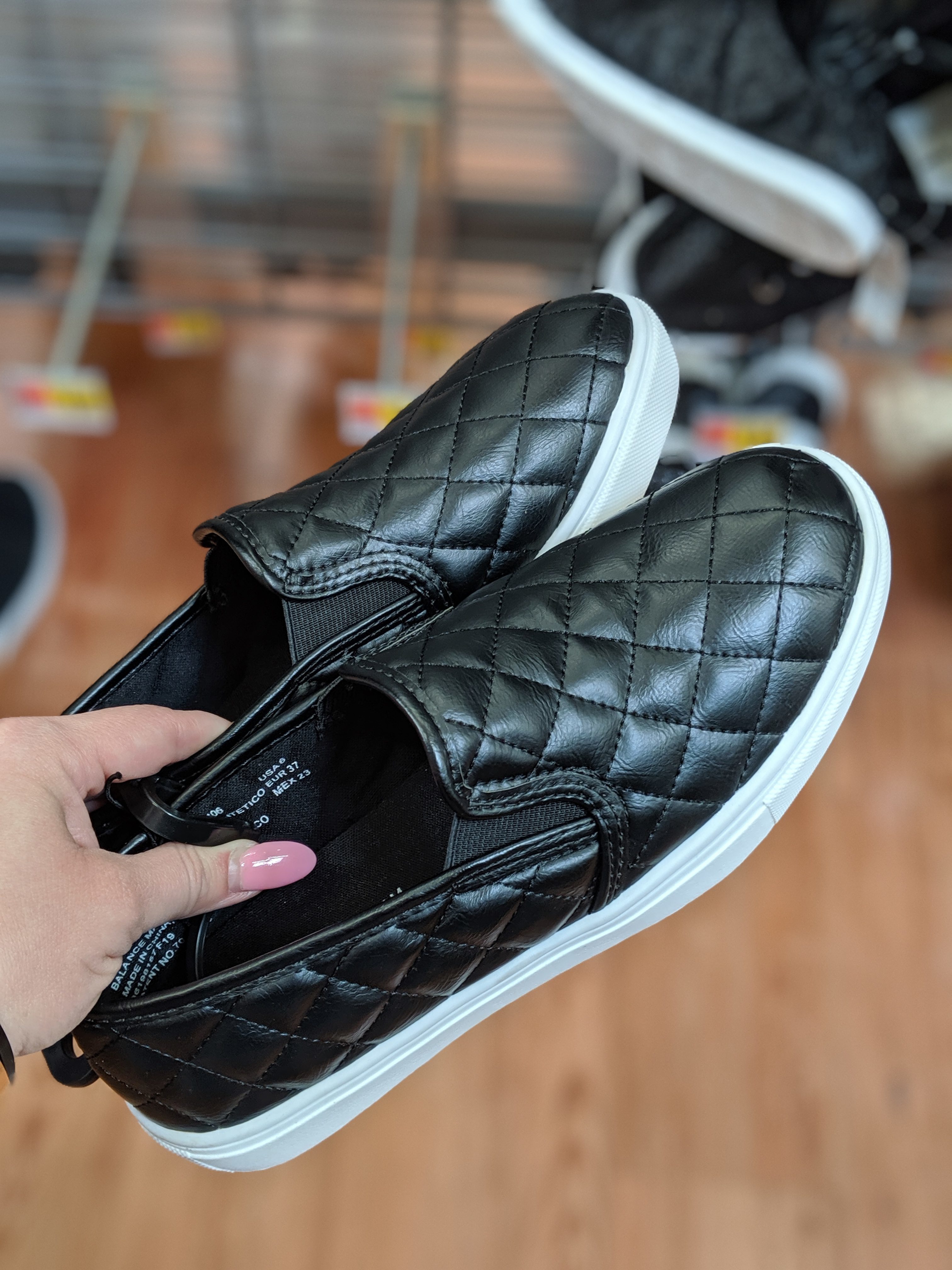 Now on to some things that I don't have try on photos of but they caught my eye. These Steve Madden Ecentrcq dupes are under $15. Shoes like these are so easy to throw on with leggings or jeans but they look a little cuter than a basic tennis shoe. There's also a $10 girls version for those of you with smaller feet. [Pro tip: Your women's shoe size minus 2 = your girls' shoe size. I wear a 6 women's so I'm a 4 in girls.] By the way, here's a link to the Steve Madden version if you want to compare.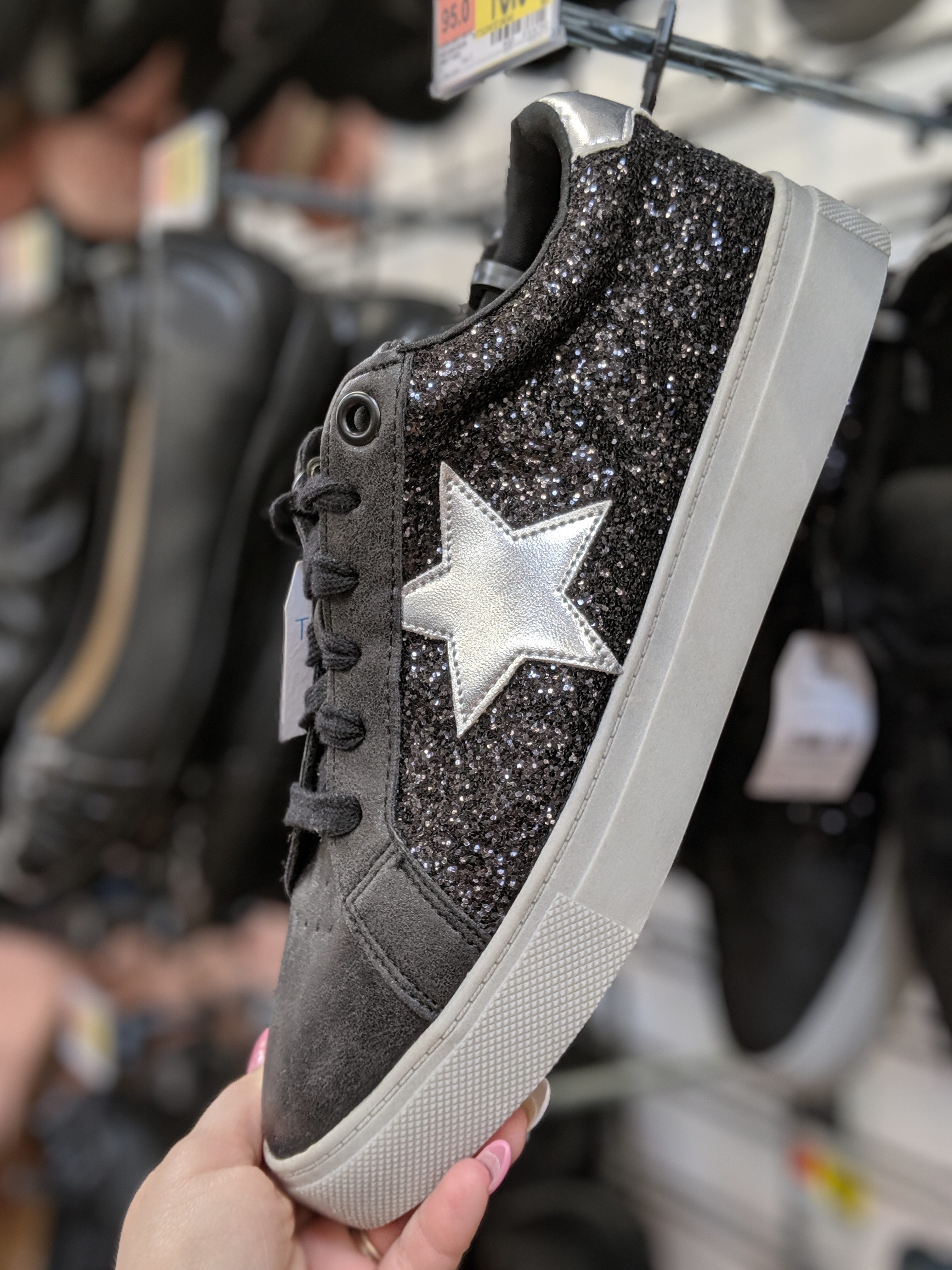 Under $17 for these Golden Goose dupes! Here's a similar $515 Golden Goose pair.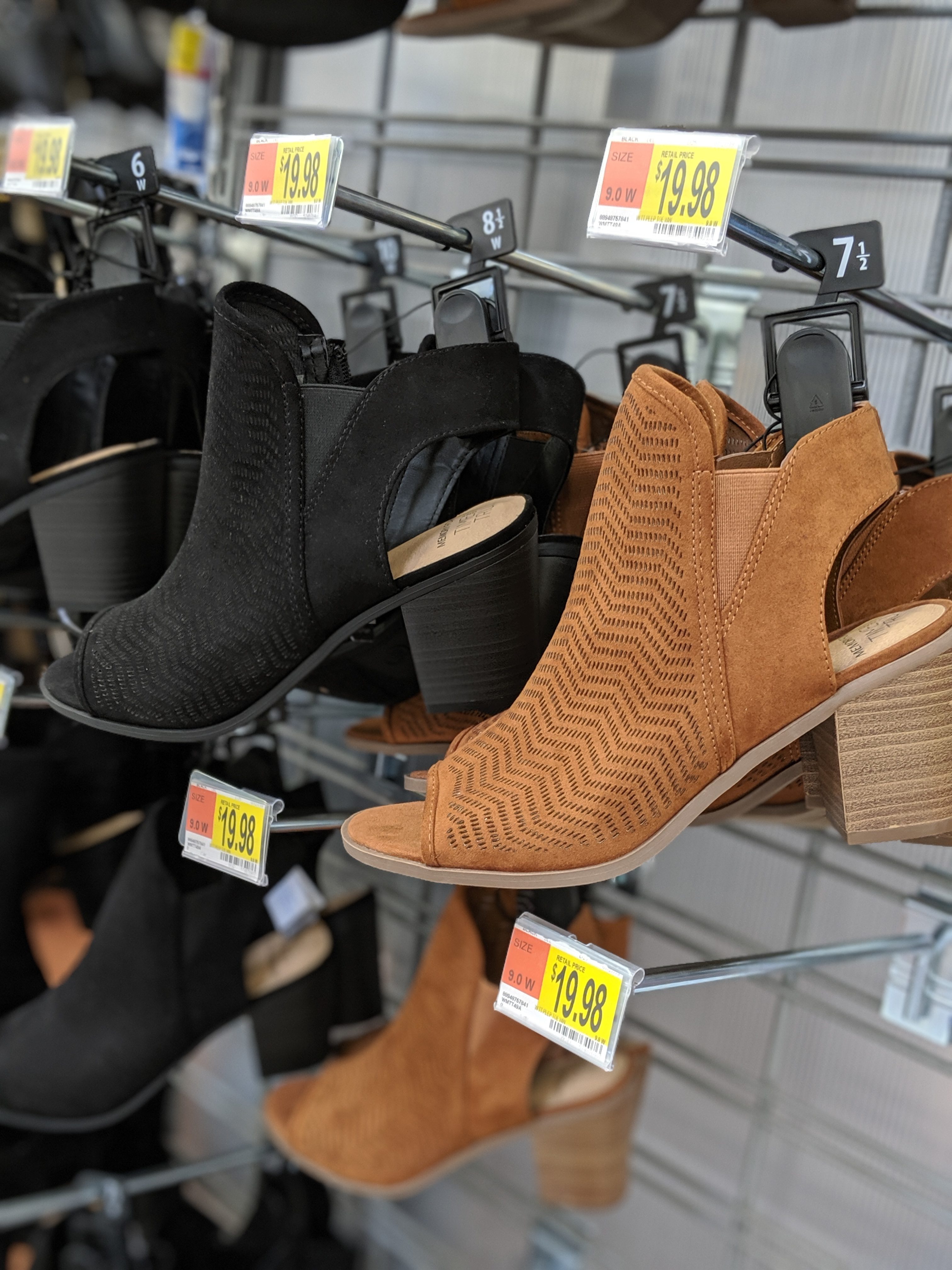 Fall booties under $20! The Time and Tru brand has a lot of cute shoes; you can see them all here.
Walmart Try On Haul Fall 2019
Linking everything in this Walmart try on haul below! If I missed anything, please let me know.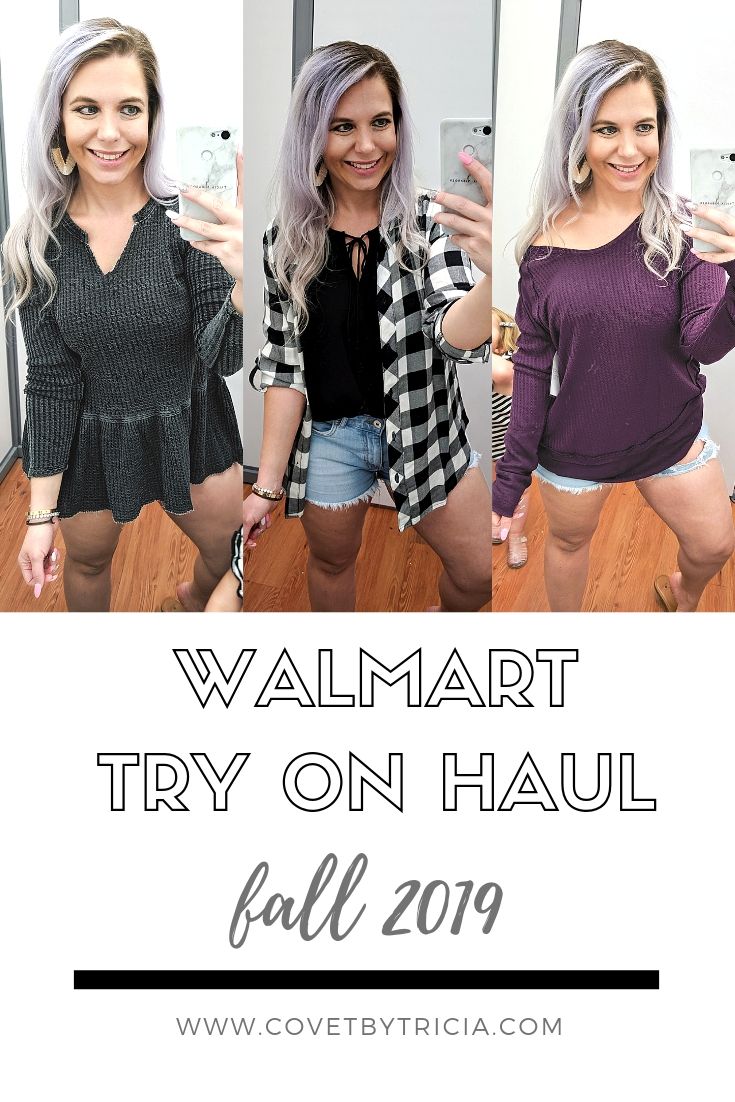 Pin this Walmart Try On Haul Fall 2019 for later!
Read these next: