This post contains affiliate links. See our Legal page for more information.
I'm so cute, my parents are having another!
Our little family has some very exciting news… we are expecting! We put together a sweet pregnancy announcement for a second baby to share the news.
We didn't do a pregnancy announcement for our first baby. I wasn't blogging or active on social media at that time, so we just told our friends and family in person. So old school, right? This time, I knew I wanted to include our little guy in the announcement.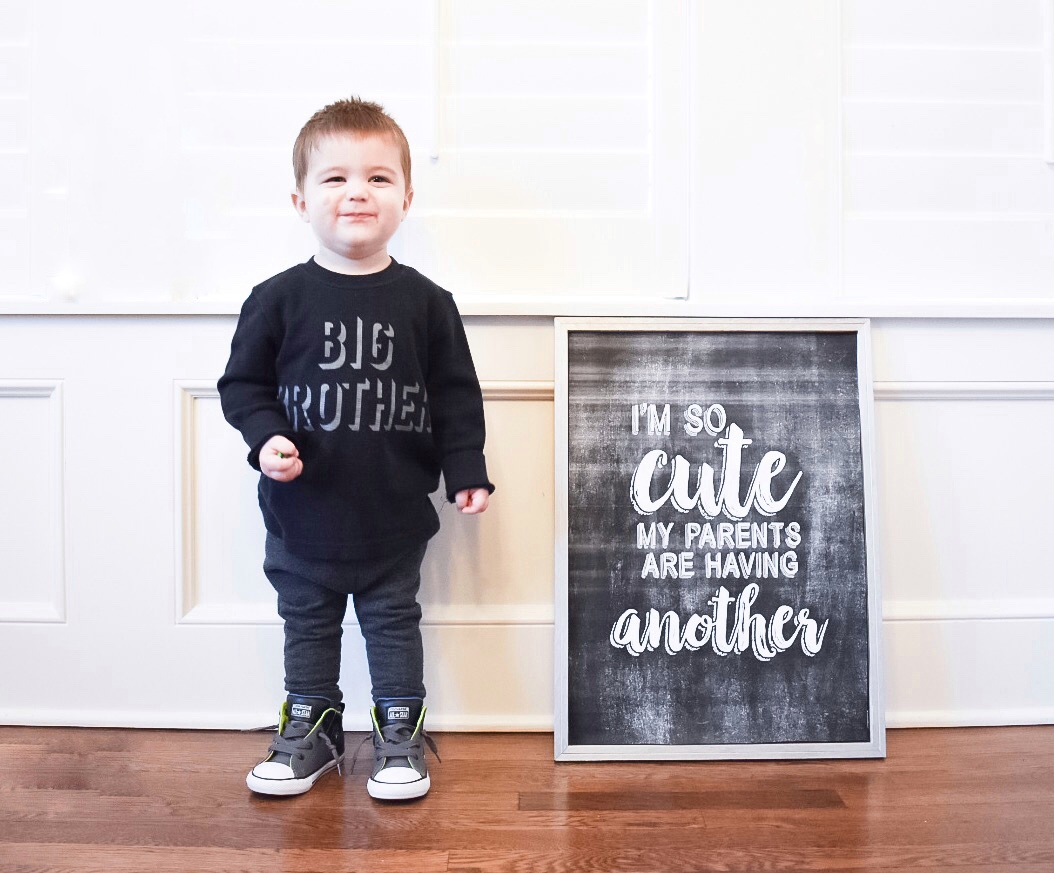 What second pregnancy announcement for a second baby is complete without a Big Brother shirt for the sibling-to-be? The shirt Colton is wearing is from Carter's, and I actually purchased it before finding out we were expecting this baby. I was afraid they would discontinue it! Looks like that was a smart move, because I don't see it on their site anymore. There are lots of great options out there, though. Here
and here
are a couple others that I love for big bros. There are also tons of cute options for big sisters, like this
and this
.
The chalkboard says, "I'm so cute, my parents are having another." I'm his mom, so of course I think Colton is the cutest little guy! I fell in love with this design as soon as I saw it. I purchased a digital download of the image on Etsy and had it printed as a black and white engineer print at Staples. The print only cost a couple dollars. I already had a chalkboard on hand from Colton's first birthday, so I simply taped the print onto it. Super easy!
I took the photo myself with the new camera
I got for Christmas. Editing was done with PS Express and Snapseed. They are two of my favorite phone editing apps, as I wrote about here. My husband (and a handful of M&Ms!) helped keep Colton in position long enough for me to snap a few shots. Look very closely and you can see some M&Ms peeking out of those little fists.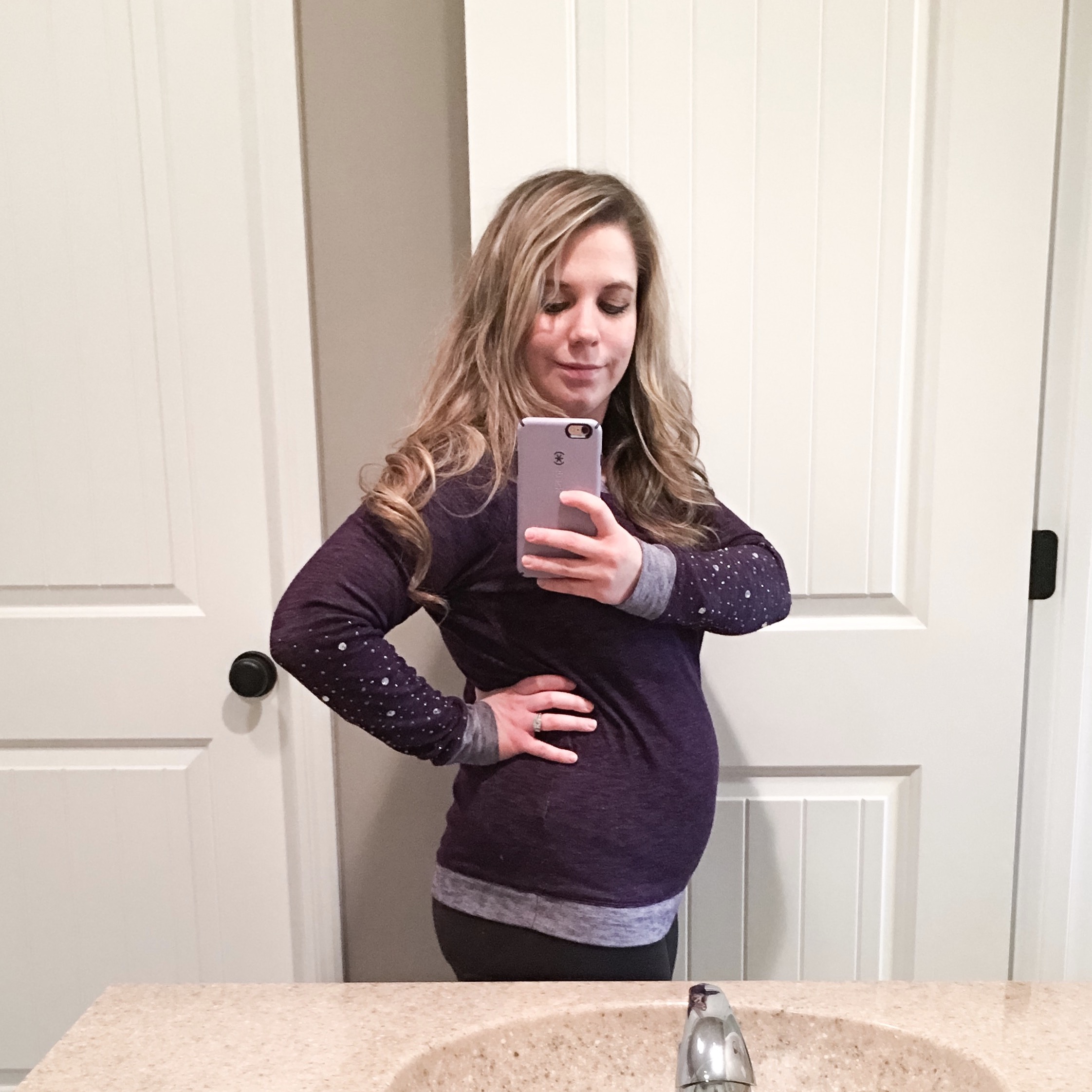 Onto the pregnancy itself! This picture is about a month old. Guess I'm slacking on the bump photos this time around! I'm 18 weeks along and getting excited to find out Baby's gender. We don't have a preference; I just want to know! This pregnancy has been more difficult for me than my last. I've had a lot of morning sickness this time, whereas I didn't have any with Colton. I've also had a lot of migraines and break outs. My skin looks like I'm 13 again! The most important thing is that Baby is happy and healthy. We had an ultrasound at 12 weeks and Baby looked perfect. We are so happy and grateful. And excited!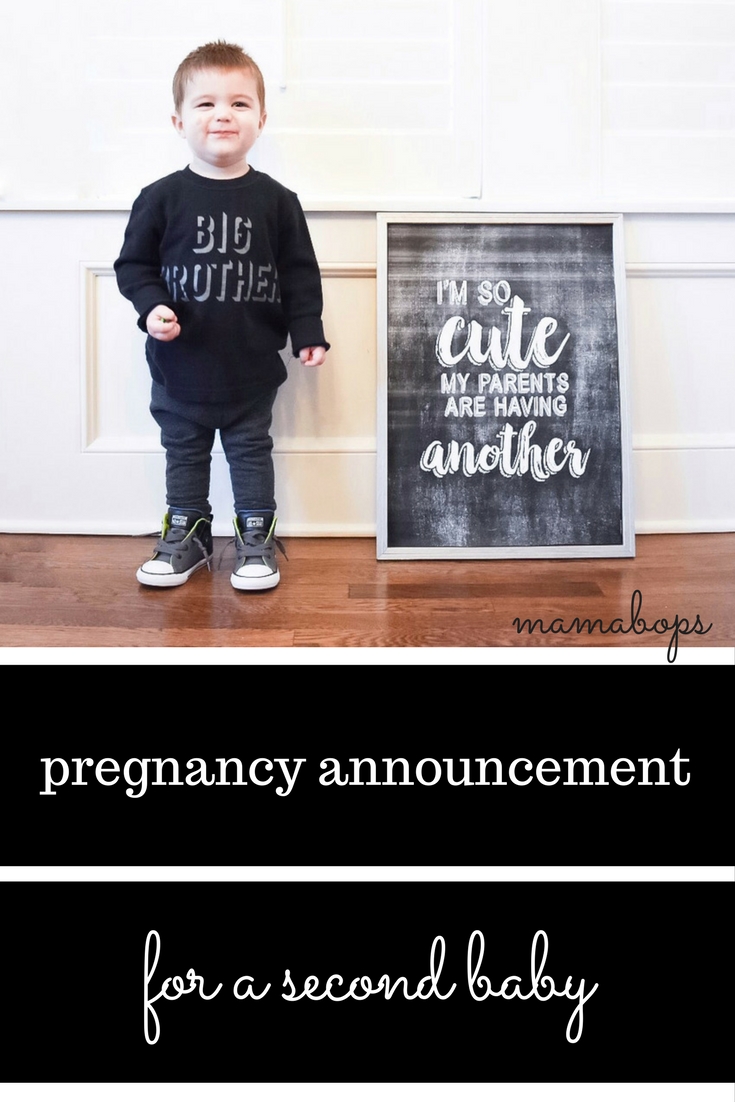 Pin this pregnancy announcement for a second baby!
How did you announce your pregnancies? I'd love to see your announcement on blogs and social media! Leave your links below.