This post contains affiliate links. Please see our Legal page for more information.
Maternity Outfit Second Trimester
I've been showing a lot faster with this pregnancy than with my first. Although I'm only 19 weeks, I've been wearing maternity clothes for awhile now. In this post, I'm showing a favorite maternity outfit for second trimester.
My first pregnancy was 3 years ago. My style and body have changed quite a bit since then. Plus, my first baby was due in January, whereas this baby is due in July. Completely opposite seasons! So, although I saved my maternity clothes from my first pregnancy, most of them don't fit my needs anymore. So, I've recently been trying to pick up some stylish, yet budget-friendly, maternity clothes.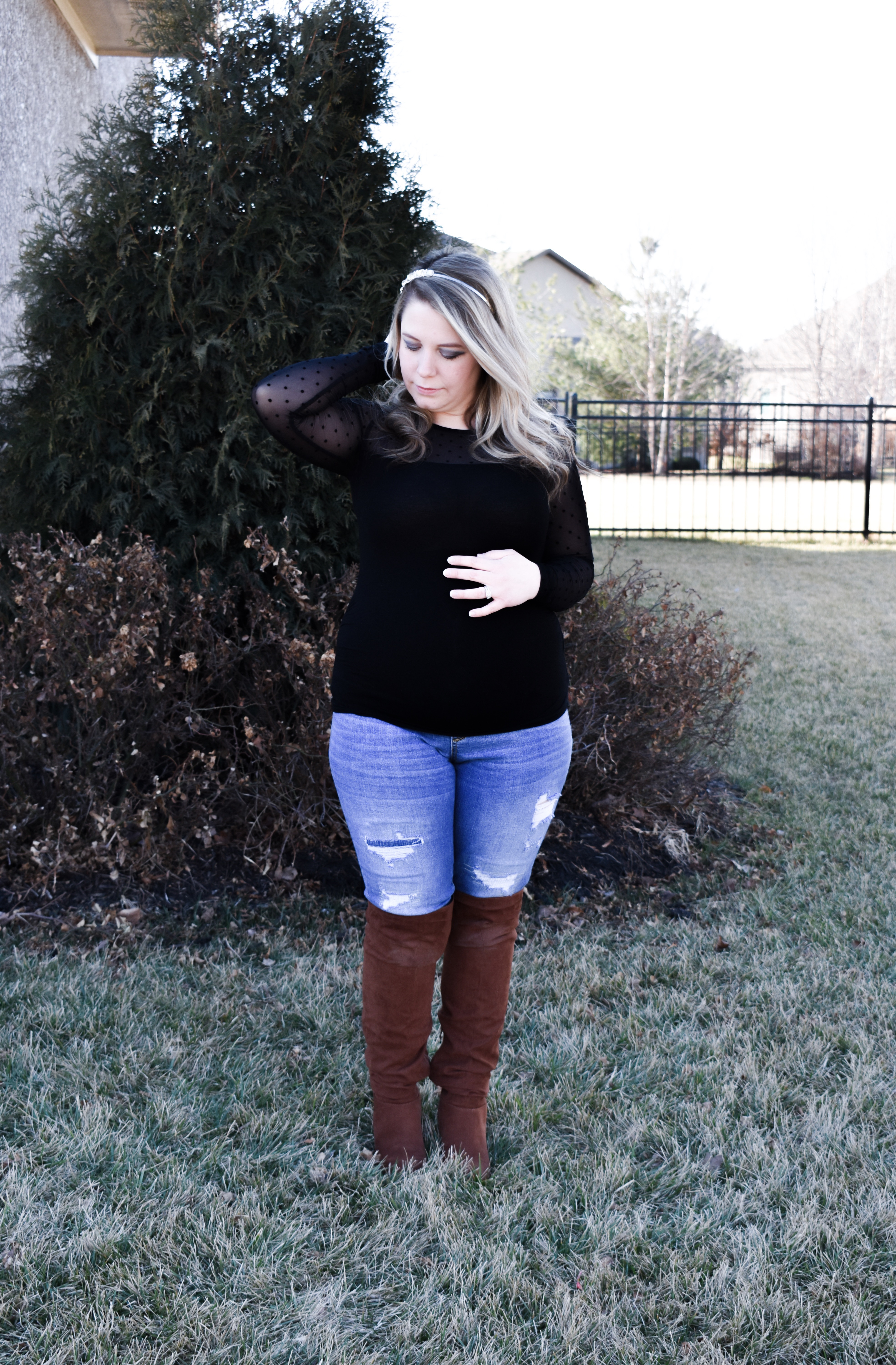 Maternity jeans were one item I definitely couldn't reuse from my last pregnancy. I didn't realize how much denim trends had changed in the past 3 years until I pulled out my last maternity jeans! It was like a blast from the past.
So far, I've only bought one pair of jeans for this pregnancy. Let's face it, I pretty much live in leggings anyway. For the days when I need to step it up, these maternity jeans from Target are just the thing. They're comfortable, stylish, and affordable. The skinny leg is perfect for tucking into boots. Plus, I didn't even need to have them altered. That's a huge deal for a shortie like me.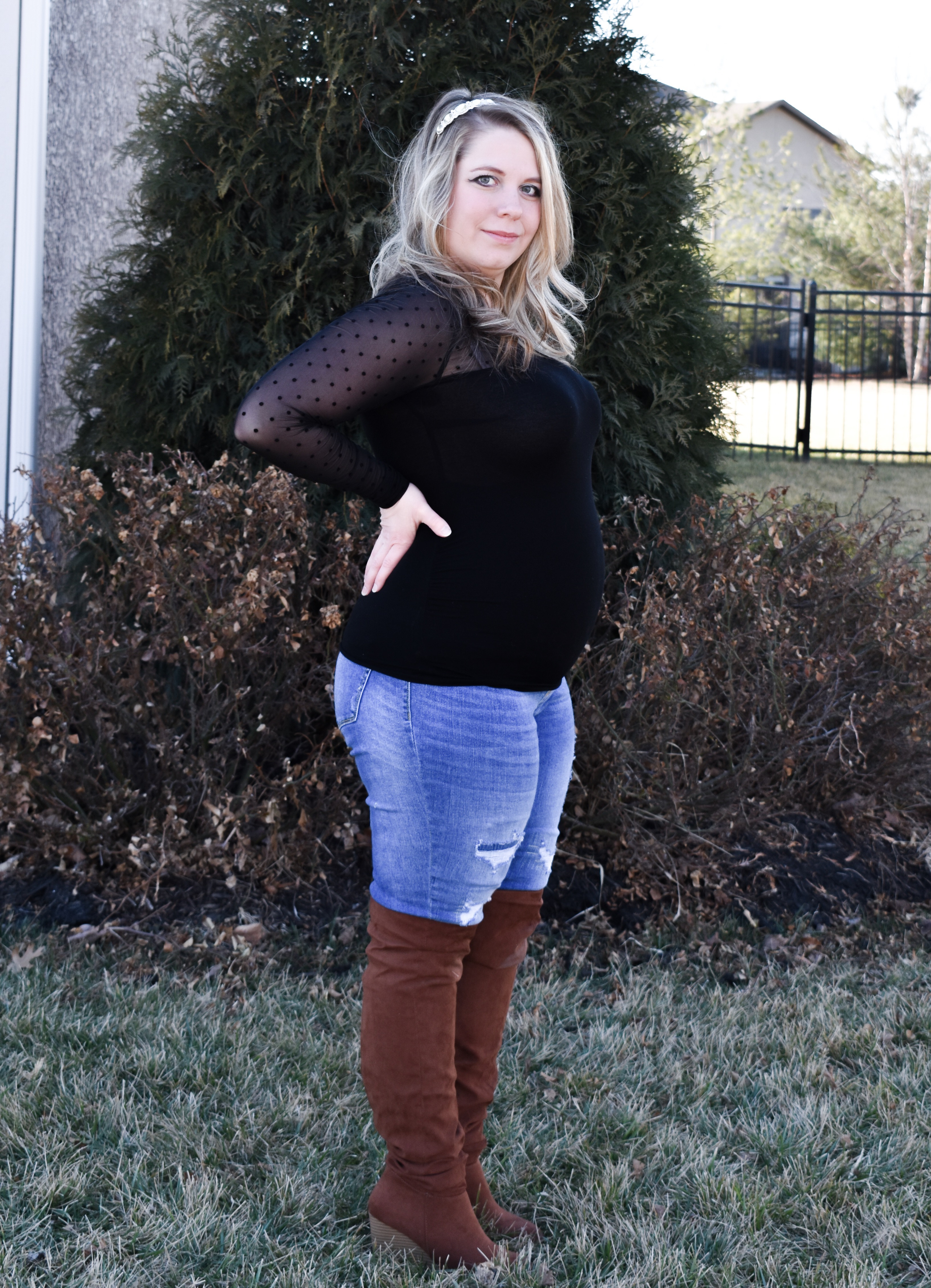 These over-the-knee wedge boots are also from Target. And currently on clearance! I love wedge boots because they give you the height of a heel without the feeling that you're going to fall over. These are the kind of factors you don't think about until you're trying to keep up with a 2-year-old every day. These particular boots are very comfortable, too. I can wear them all day without issue. Even as part of a second trimester maternity outfit!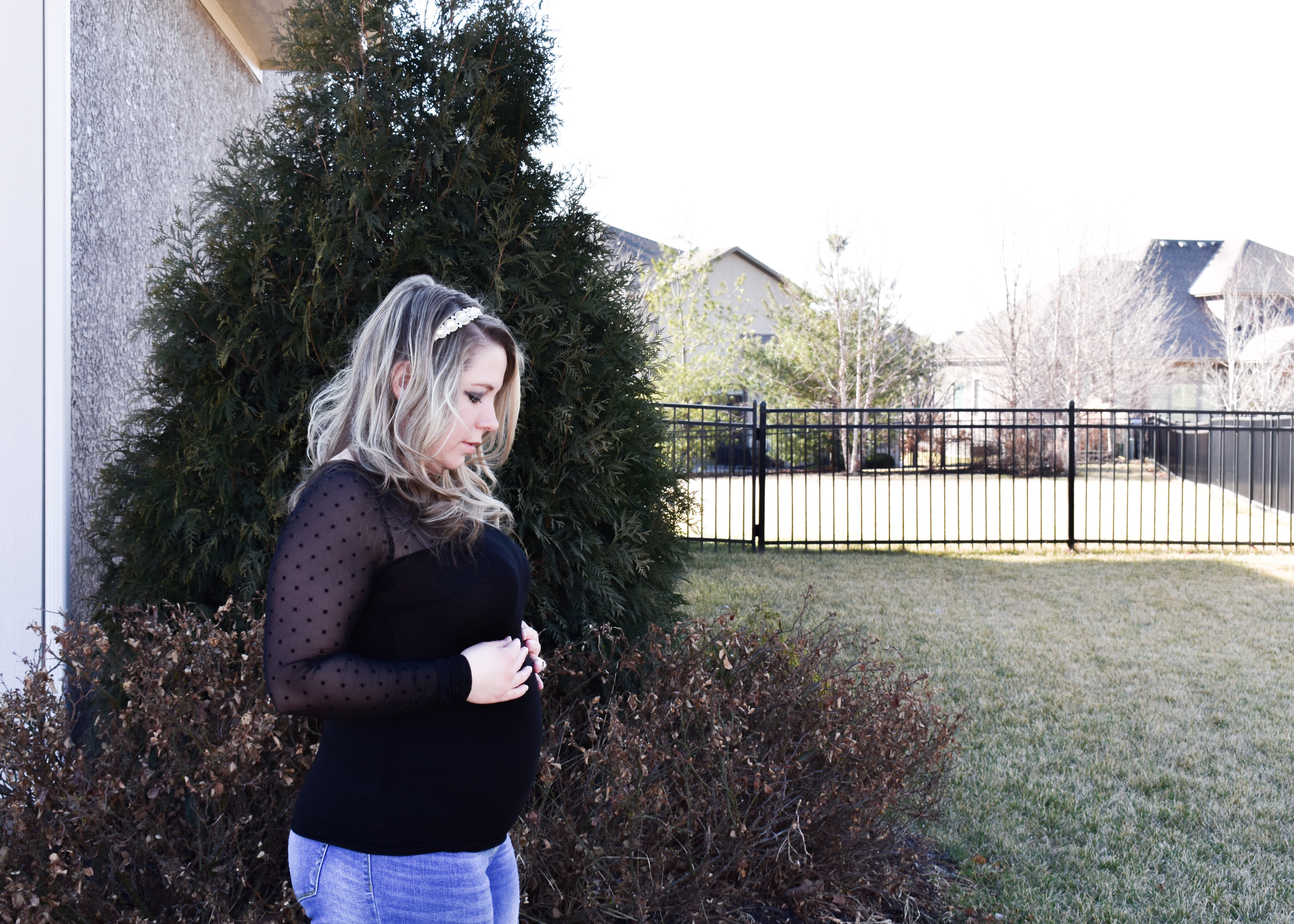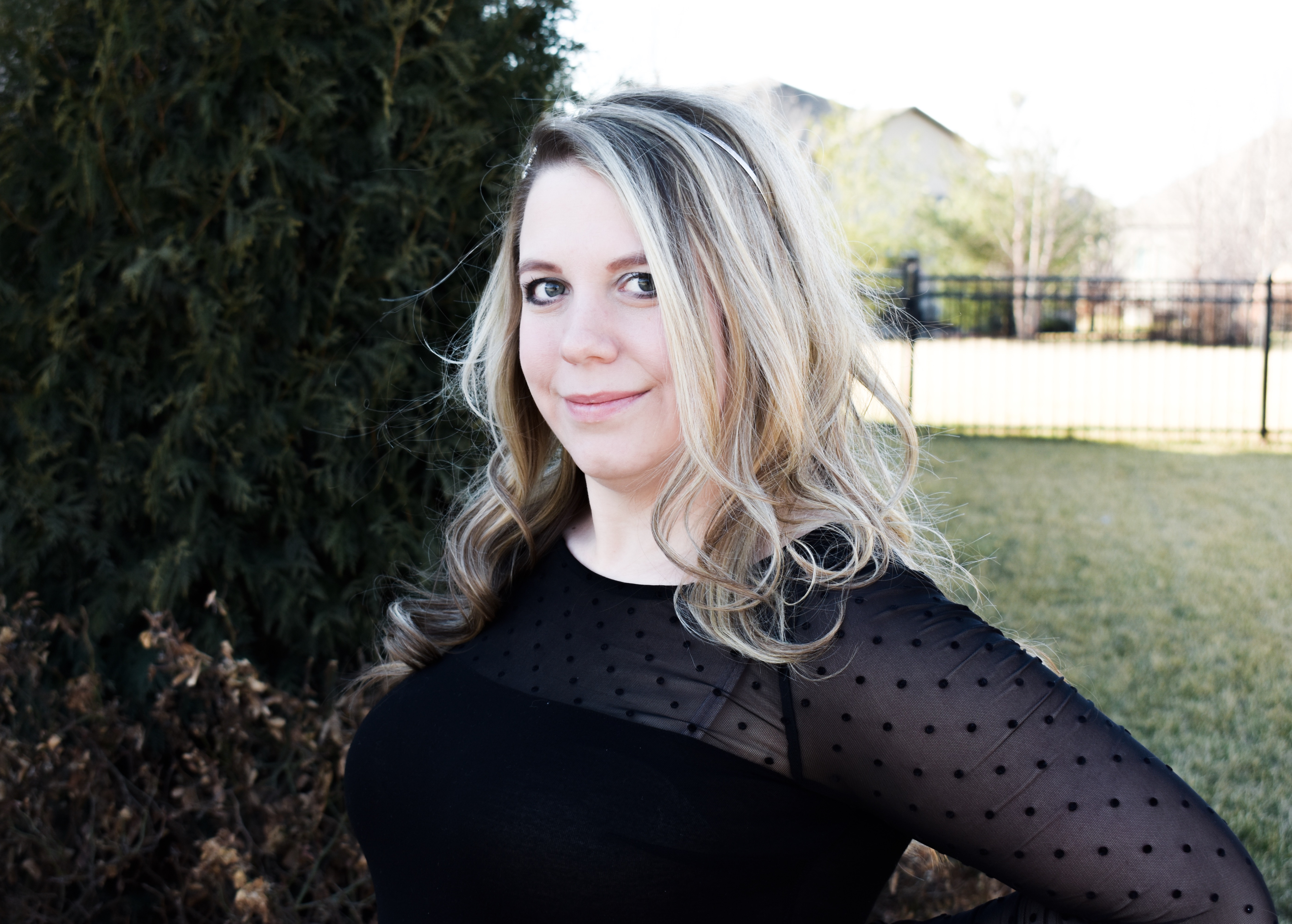 I love the polka dot mesh detail on this shirt. The sheer sleeves and necklace make the shirt a good seasonal transition piece. Plus, they make me feel pretty! A lot of maternity clothes are quite basic, so I appreciate when designers add little details to make mamas-to-be feel more beautiful. I picked this top up on clearance at H&M, and an exact match doesn't appear to be available anymore. They are selling a short-sleeve pink version now. If you prefer the long-sleeve look, they are offering a similar black shirt with sheer sleeves and a white blouse with lace sleeves.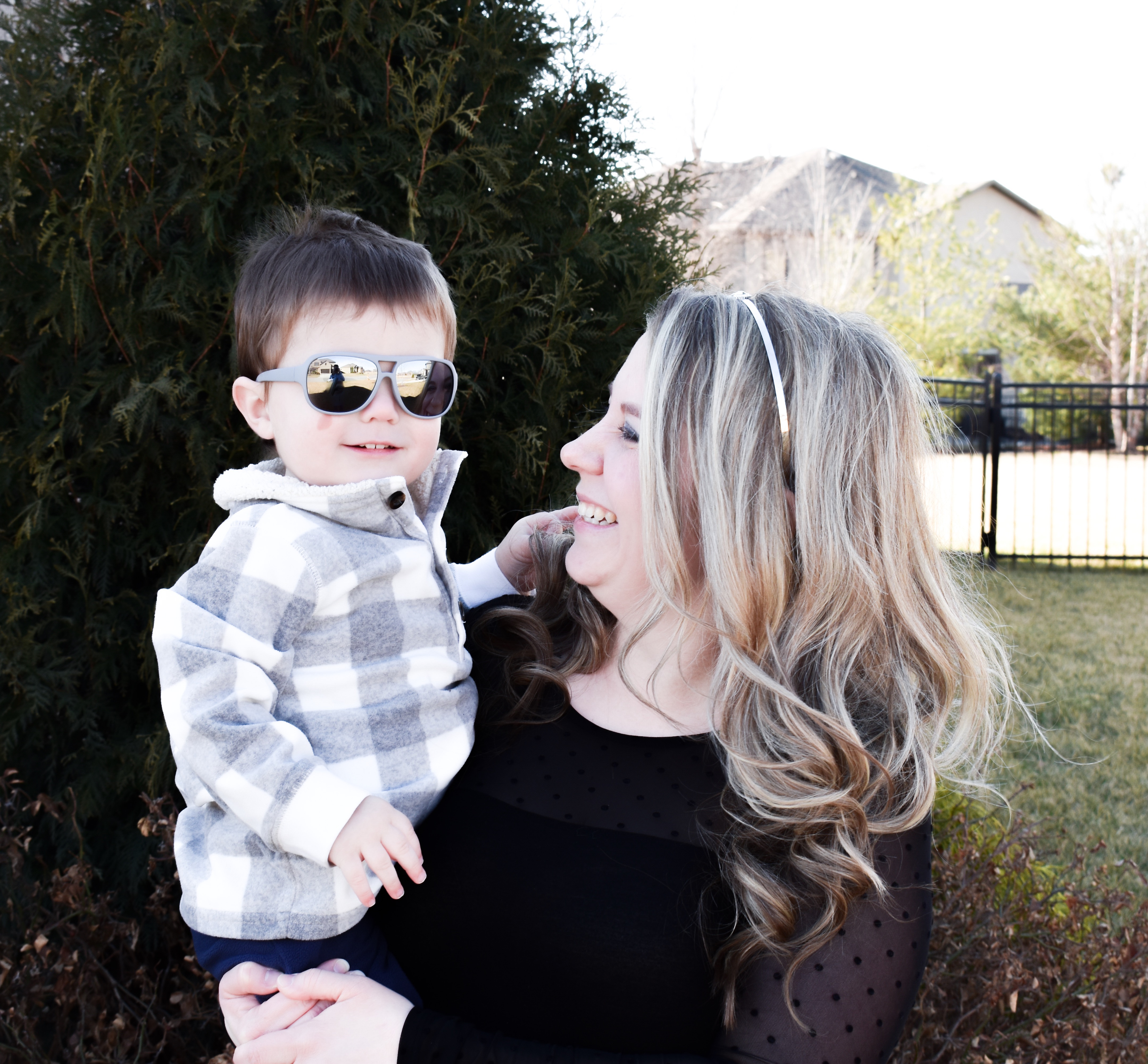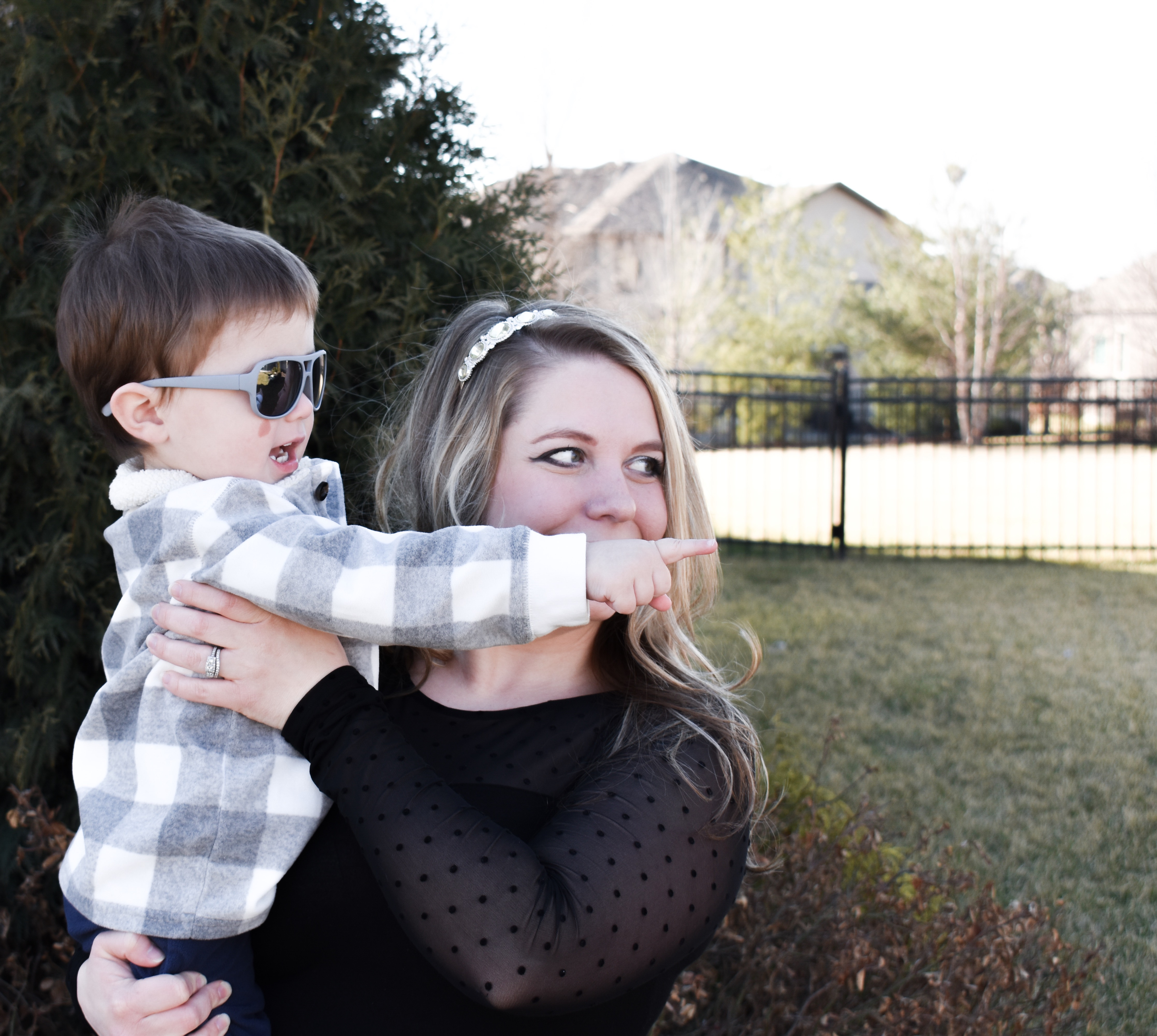 My little man wanted in on the photo action. Until he saw a bird, anyway. Then, he was gone!
My headband was a Christmas gift, so I'm not sure where it is from. Amazon has several similar ones, like this
gold beauty. I think a headband is an easy way to dress up an outfit without much effort. Which is my favorite way to do, well, basically everything.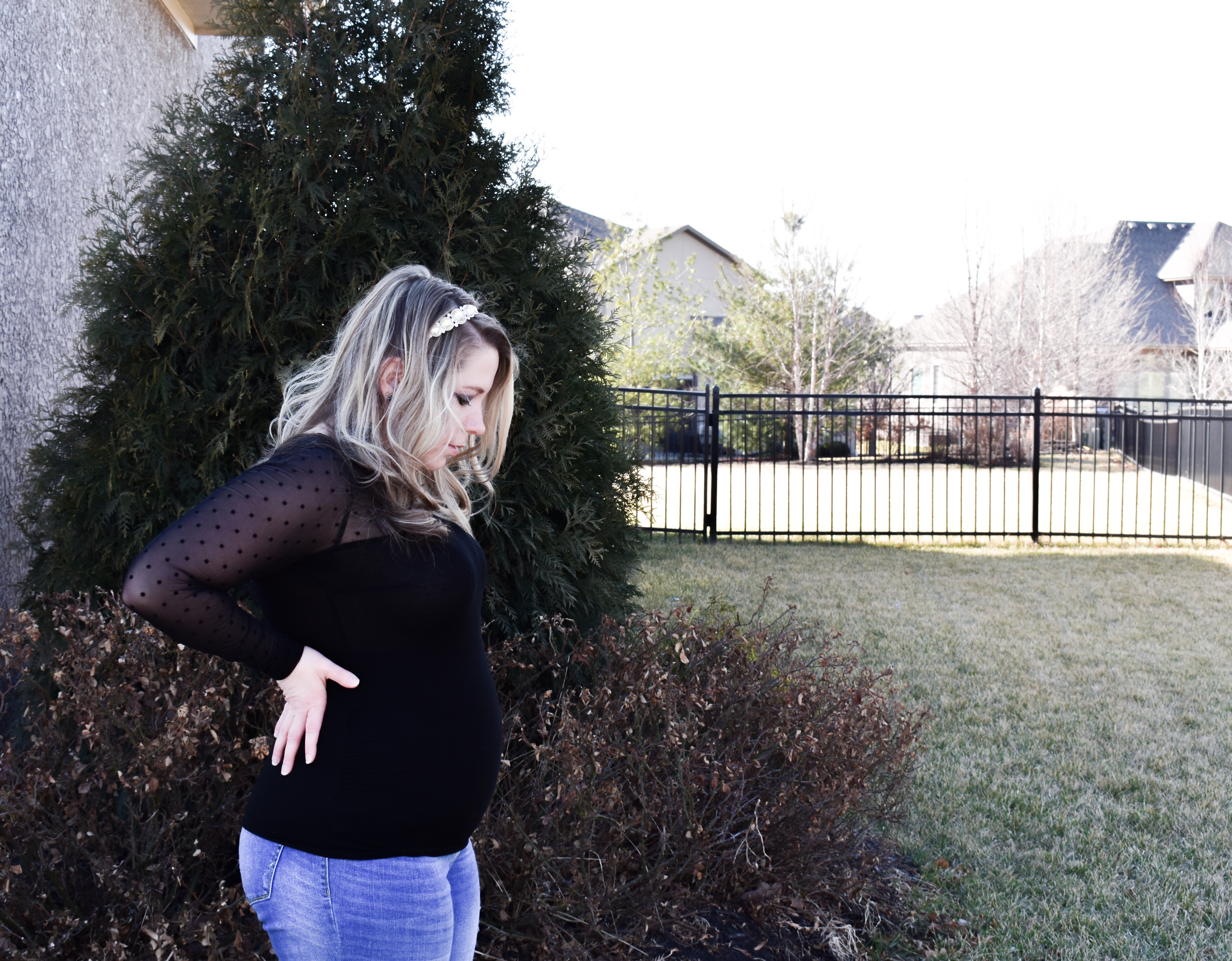 There you have it, a maternity outfit for second trimester!
We find out next week if this sweet little baby is a boy or girl! I'm counting down the days. Leave your guesses in the comments! For the record, I'm thinking boy… for now. I've changed my mind too many times to count during this pregnancy. Completely different than when I was pregnant with Colton. From the day I found out I was pregnant, I knew he was a boy. This little one is keeping me guessing!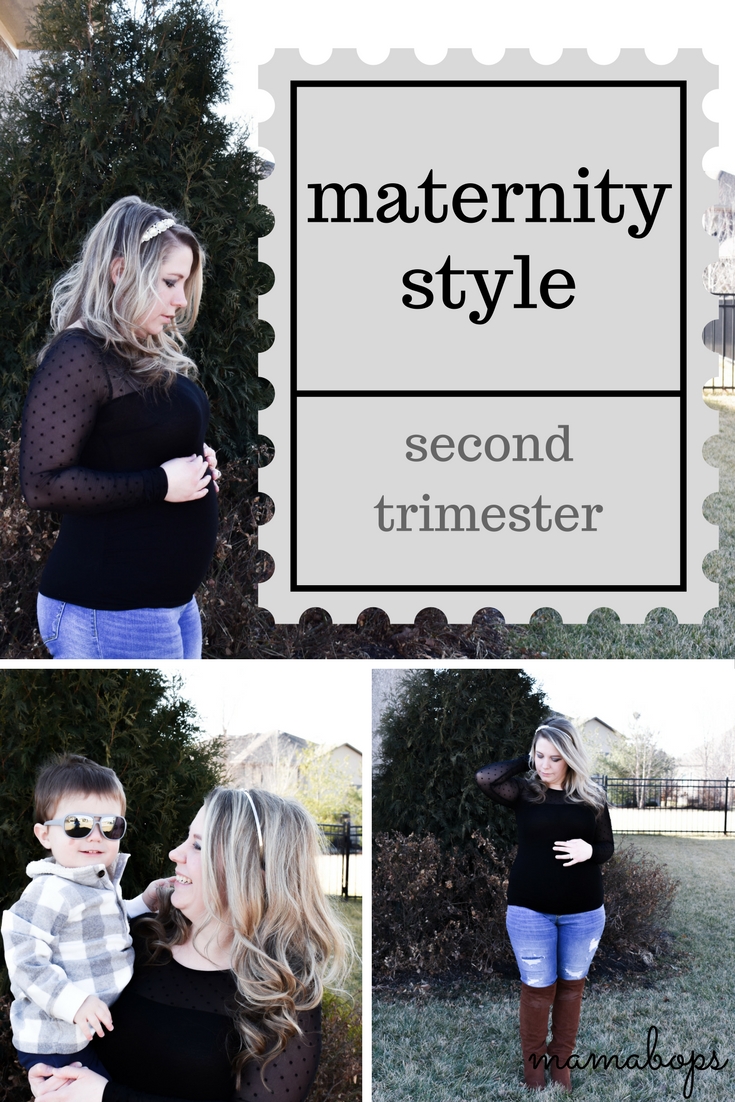 Don't forget to pin this Maternity Outfit Second Trimester post for future shopping!
What is your favorite maternity style advice? And, more importantly, do you think this little one will be a boy or girl?