You know I'm a bit extra about the treats I bring for my kids' activities, so it's no surprise I came up with these little ballerina ghosts for Blair's Halloween dance class. Her studio has a fun little tradition of having the dancers wear their costumes and pass out candy during Halloween week. I'm so happy with how these dance class Halloween treats turned out, plus they were really easy to make. Keep reading for the how-to!

This post contains commissionable links. Please see the Legal page for more information.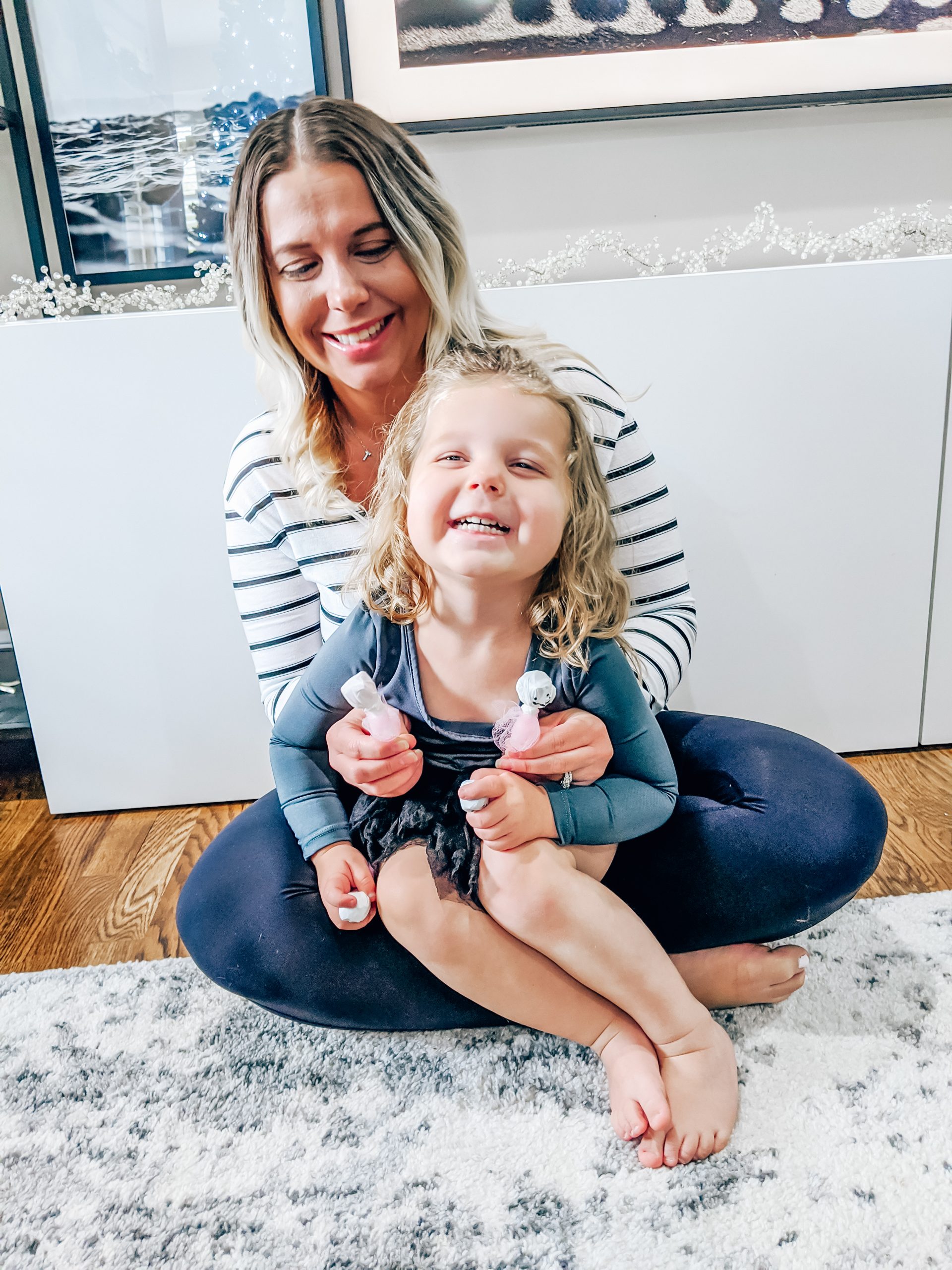 Blair was so excited to help me show off her dance class Halloween treats! She's wearing part of her Halloween costume here. She chose to dress up as a witch this year! If you follow me on Instagram, you know I went through quite the ordeal trying to dye an existing white tutu to black. Learn from my mistake and just buy the black tutu here.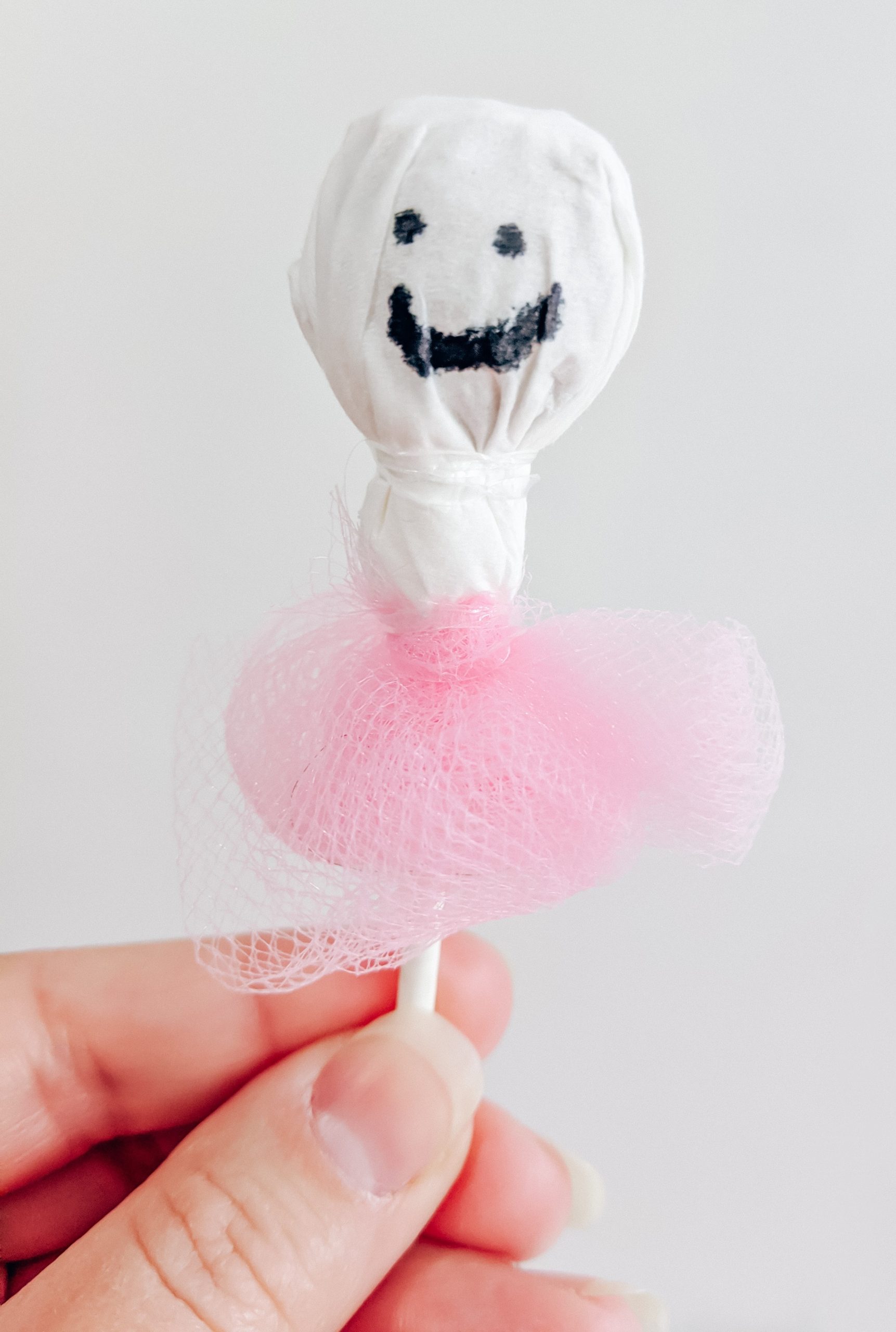 Anyway, how cute are these little ballerina ghosts? Let me show you exactly how to do it. Once I had the design down, I was able to knock out about 1 per minute.
What You'll Need to Make Dance Class Halloween Treats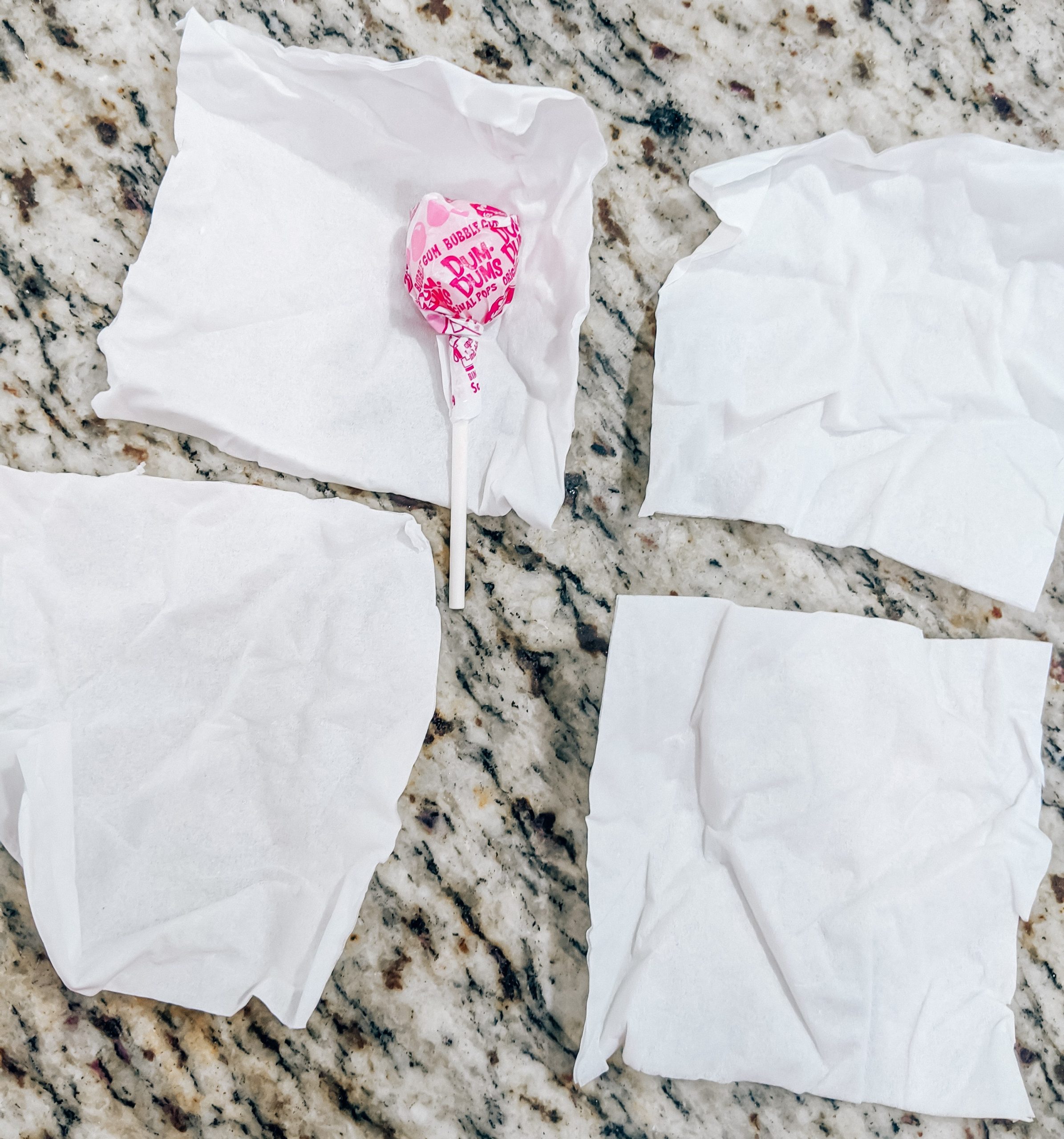 How to Make Dance Class Halloween Treats
First, cut a tissue into fourths. Place a lollipop in the middle of one of the tissue pieces.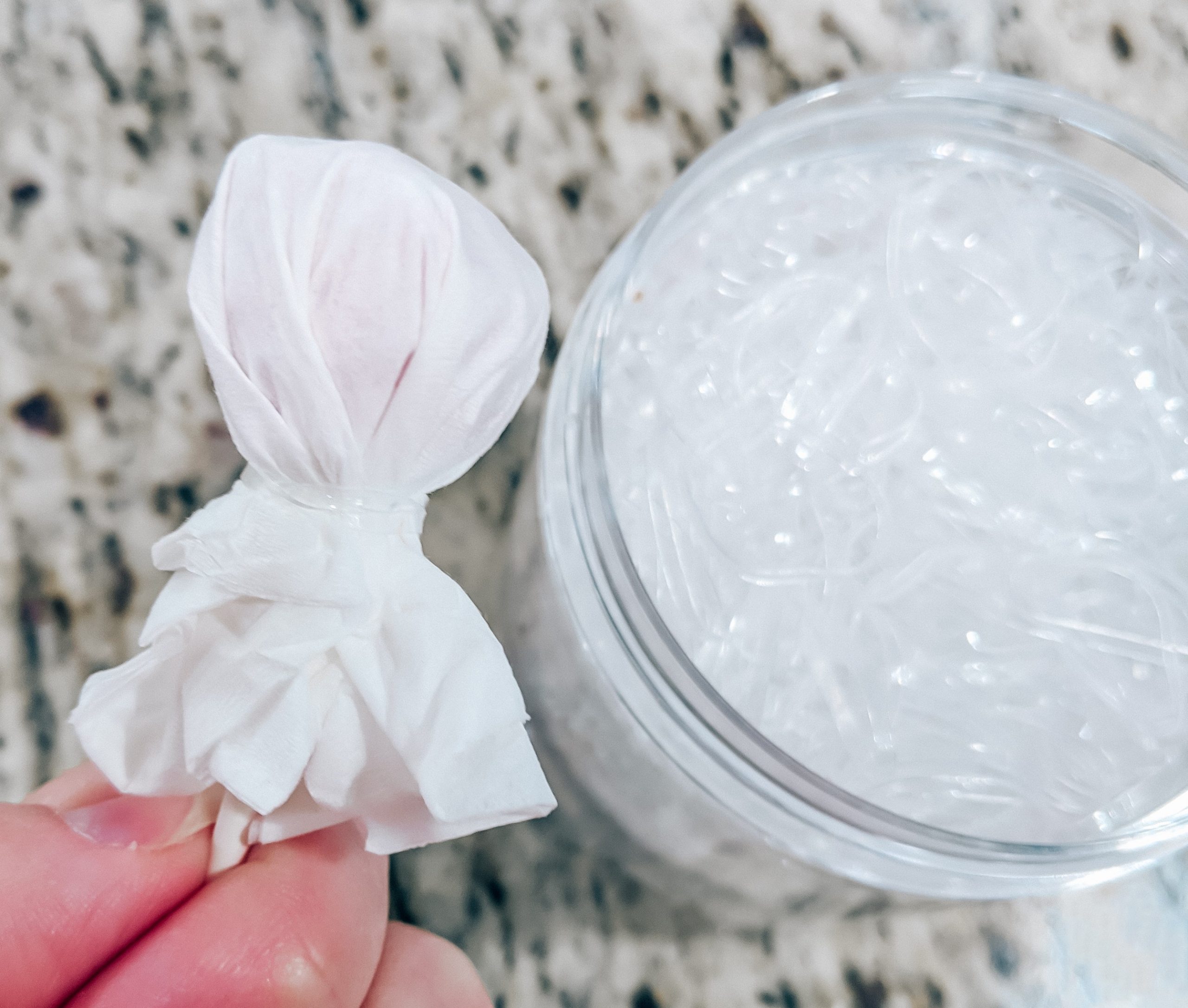 Use a small clear hair band to secure the tissue piece around the lollipop.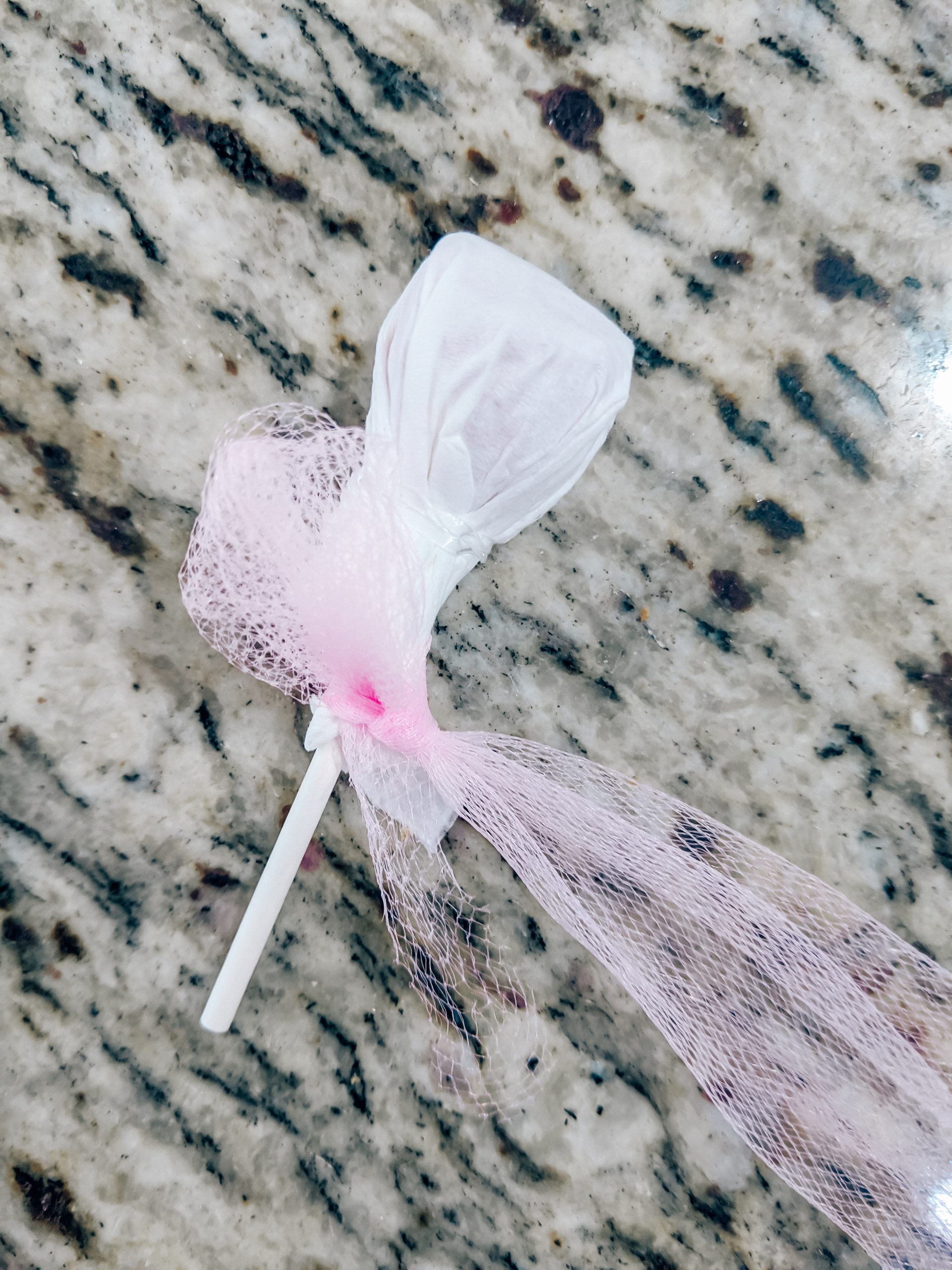 Tie a piece of tulle around the lollipop where the tissue ends. I found that tying the tulle in kind of a half bow (as pictured above) helped with the overall fullness of the "tutu." I used about 6″ pieces of tulle, but you can experiment with how full you want the tutus to look.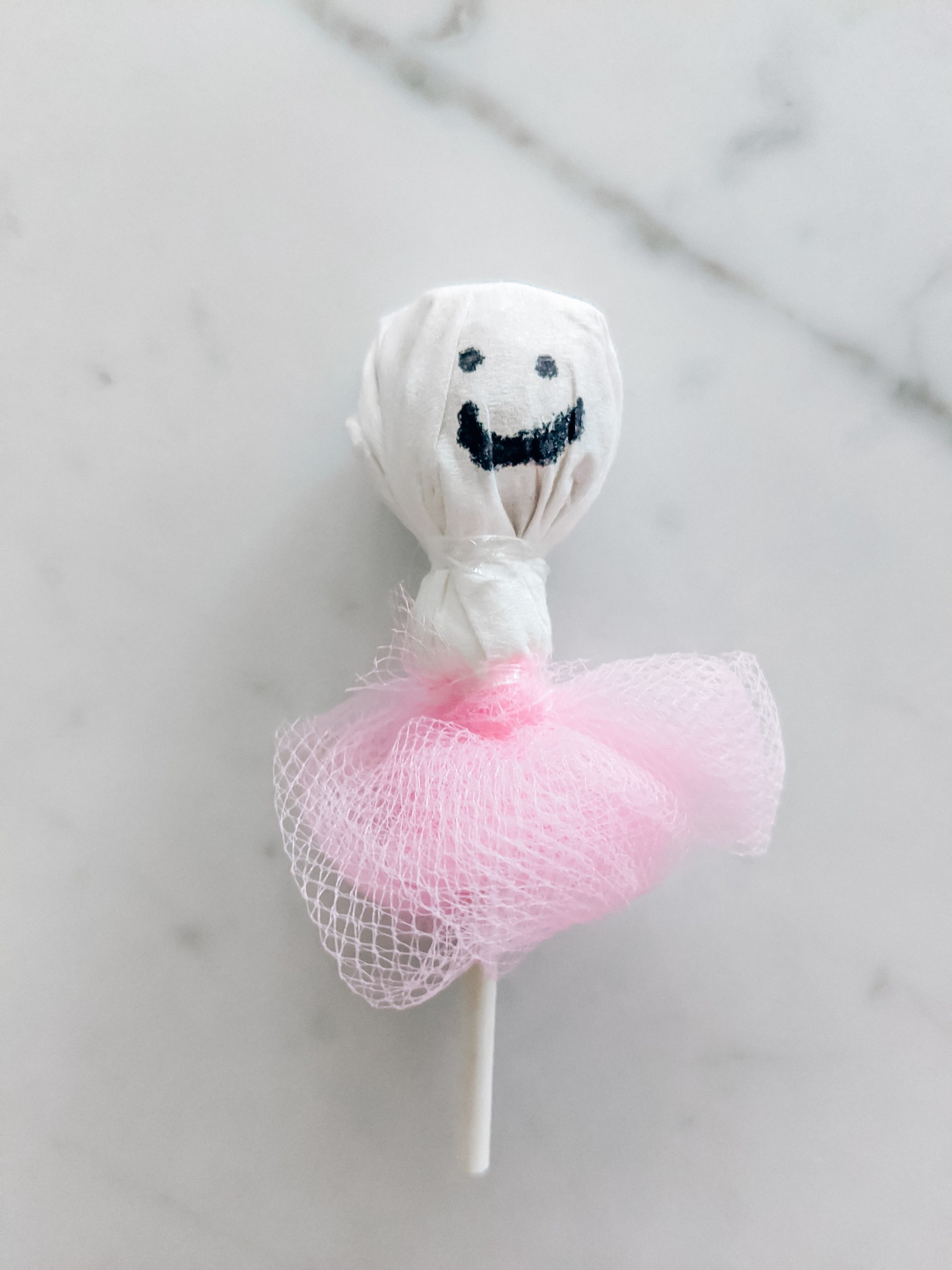 Use a second clear hair band to secure the tulle onto the lollipop stick, then fluff the tutu as desired. If you don't love the shape, you can always undo this hair tie and try again.
Draw on the ghost's face using a black marker. I used a regular size Sharpie because I already had it, but I think a fine tip would've looked better.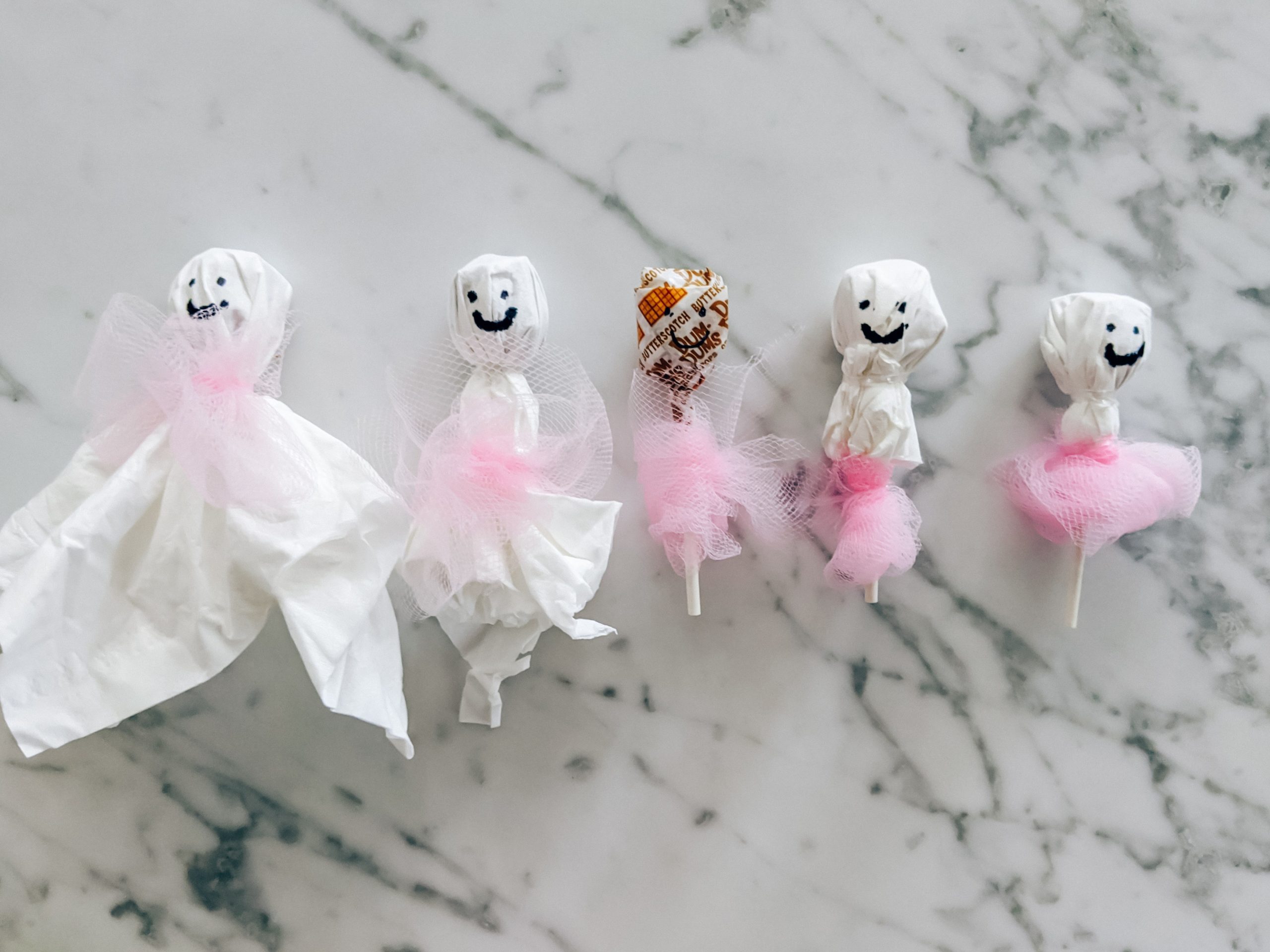 Just for fun, here are the different designs I went through before finding one that actually looked cute. This was the longest part of the process! Trial and error, I suppose.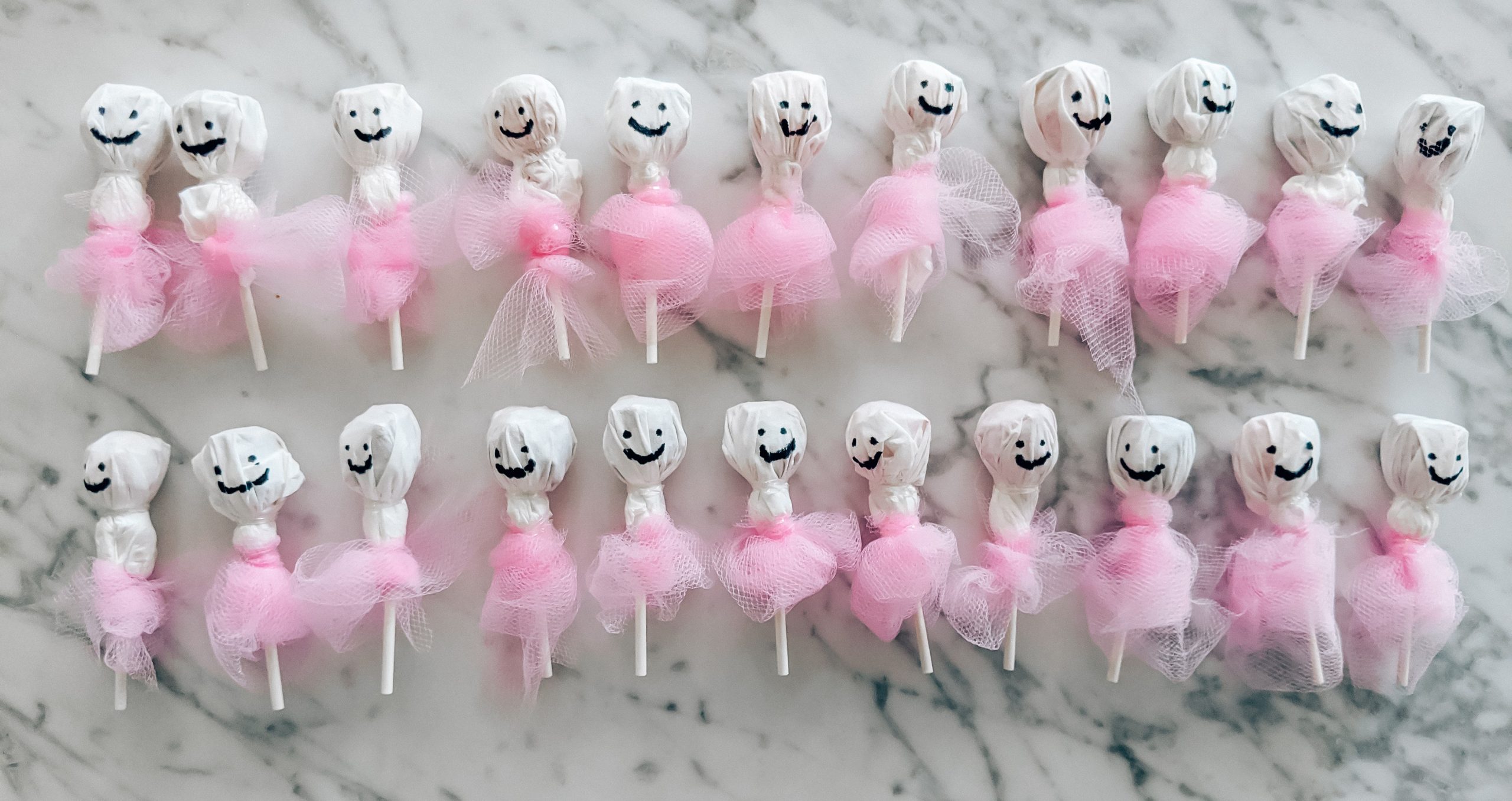 And here are all the little ballerina ghosts ready for dance class!
Story time: Blair had one of her dance classes last night. She came home with a bag full of candy, but no ballerina ghost. When I asked her why, she said she liked them too much and didn't want to share with her friends. Sure enough, I opened her dance bag and the treats were all still inside. Oops. So she is going to bring them to her Wednesday night class and hopefully she will actually pass them out then! I've explained to her that we can always make more at home, so hopefully that helps.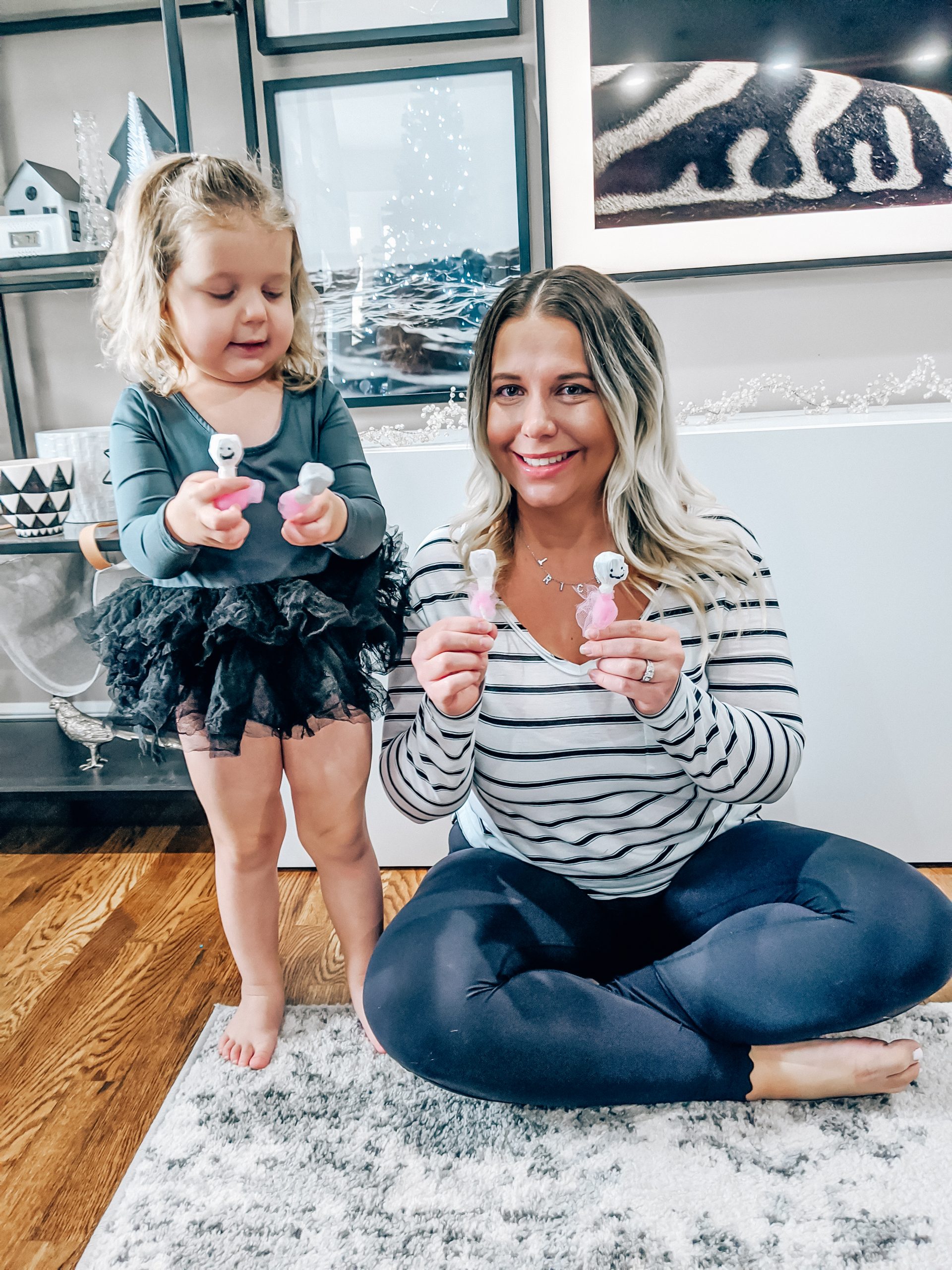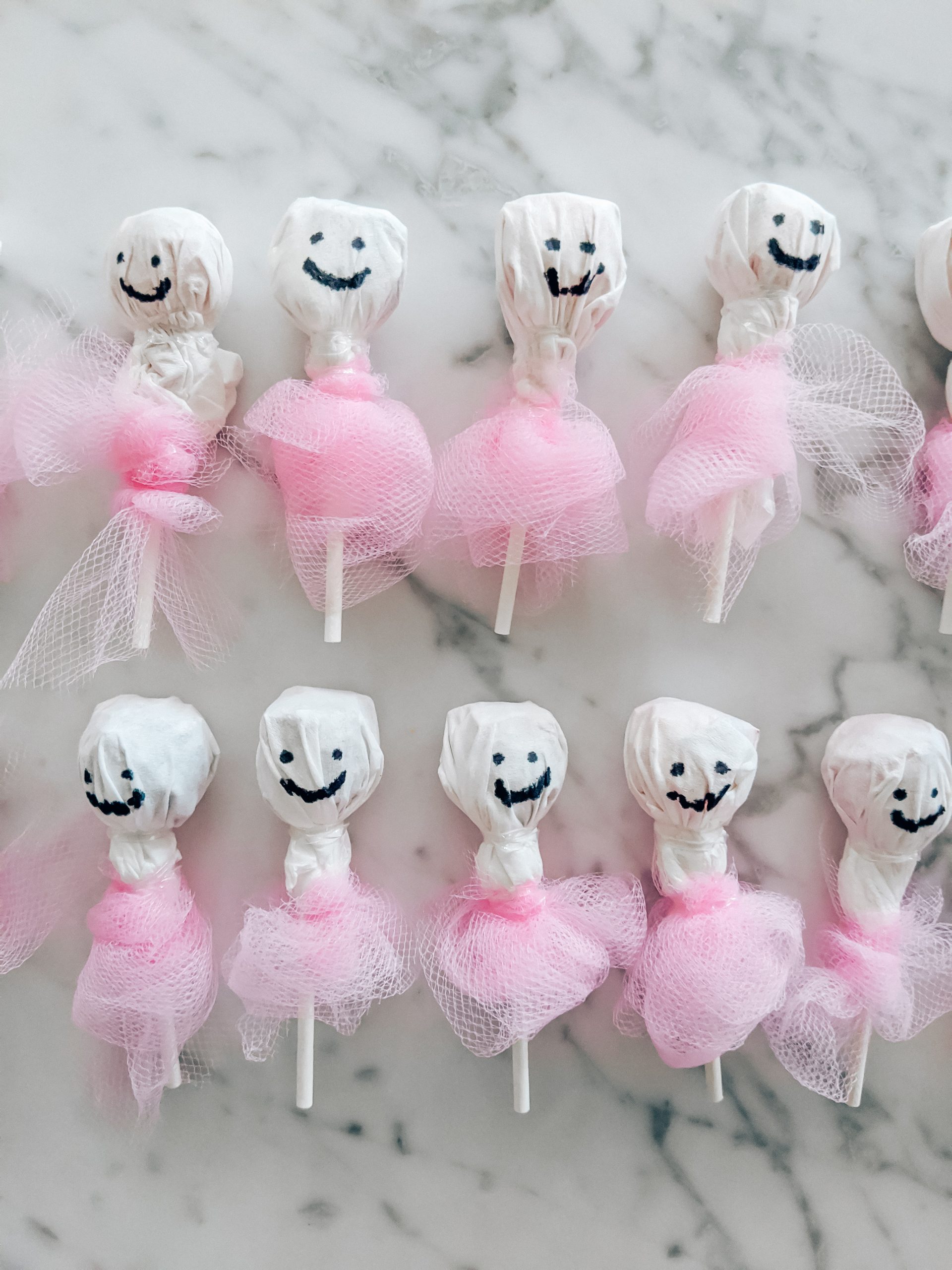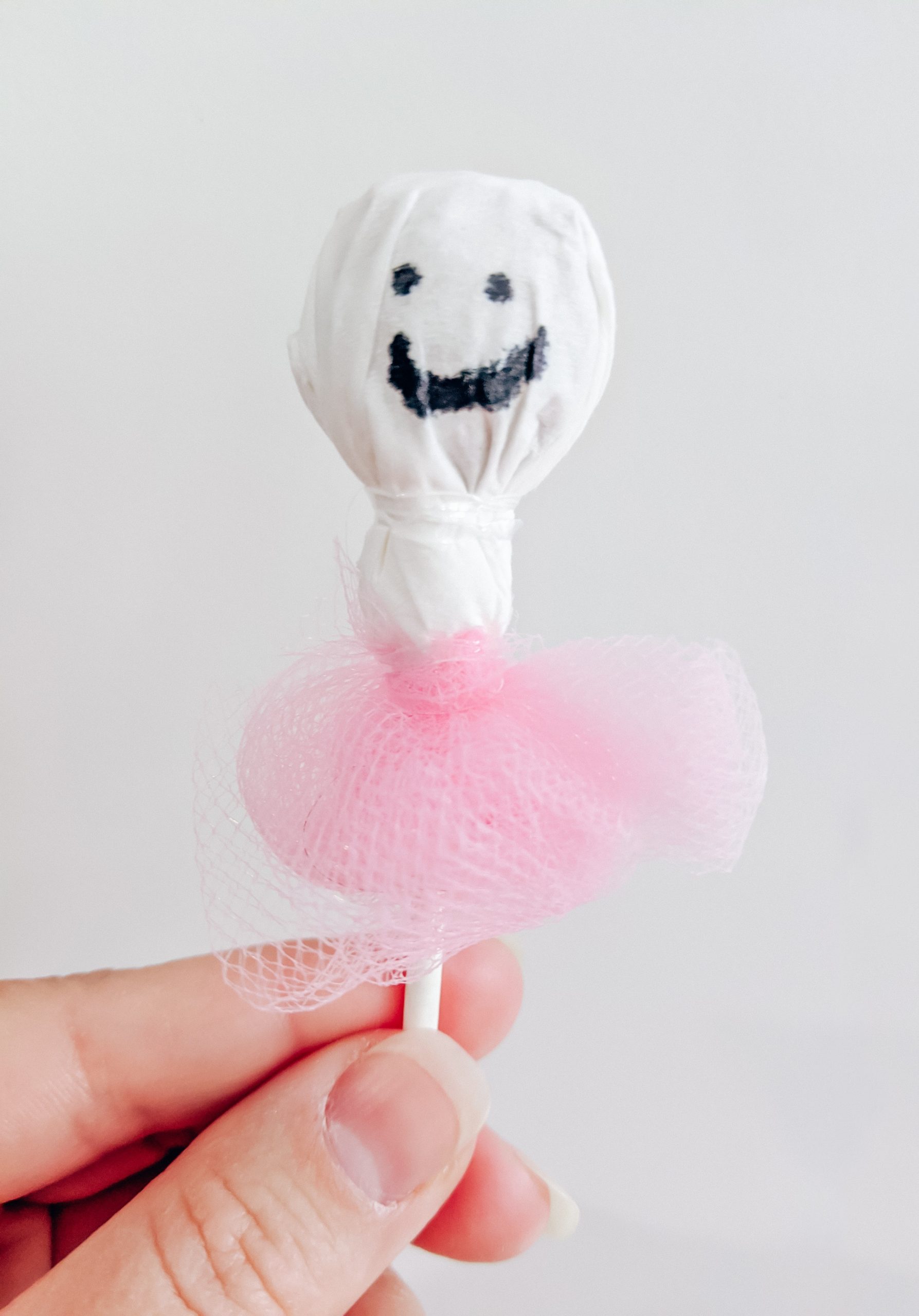 I'm pretty proud of how these dance class Halloween treats turned out! Apparently my daughter is too–just not proud enough to share them. Haha.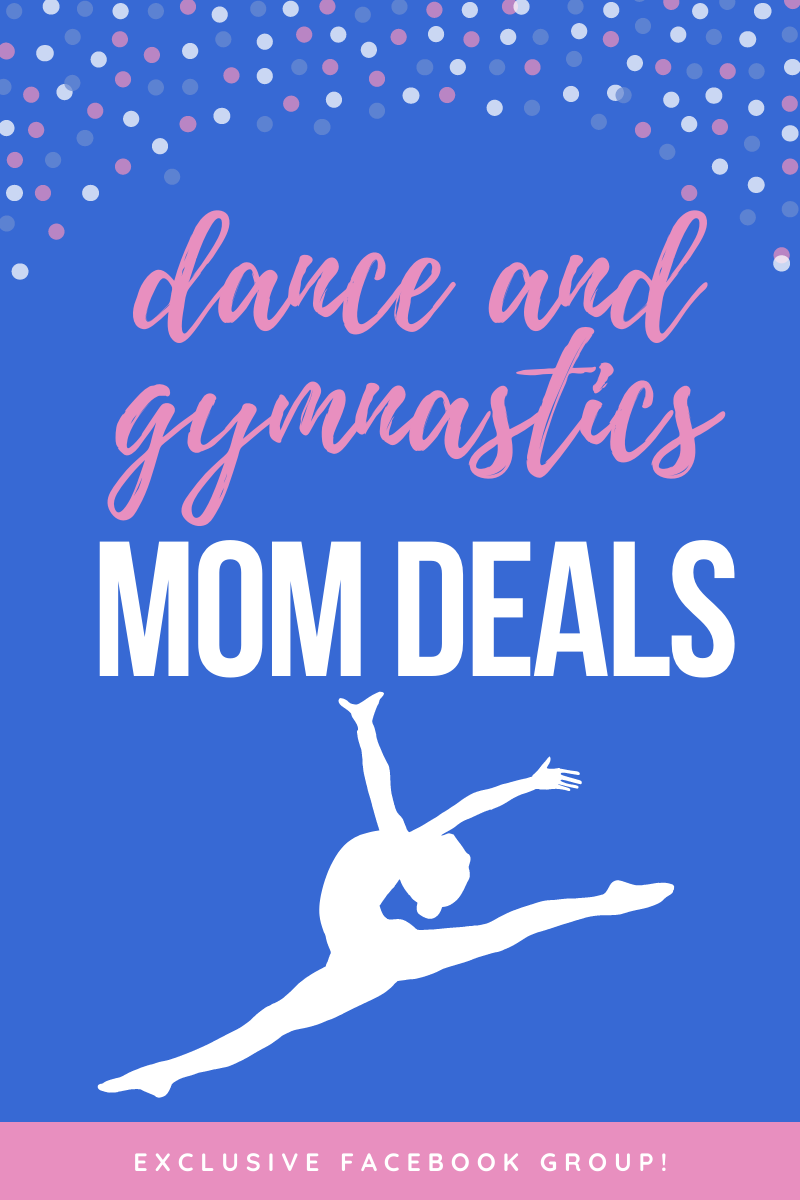 Dance Moms, Join my Facebook Group!
If you're reading this post, chances are you have a kid in dance class. Did you know I have a Facebook group just for dance and gymnastics moms? We have members-only giveaways, exclusive deals on brand new dance stuff from your favorite brands, and you can buy/sell gently used items. Join us today in Dance and Gymnastics Mom Deals!
Shop Supplies for Dance Class Halloween Treats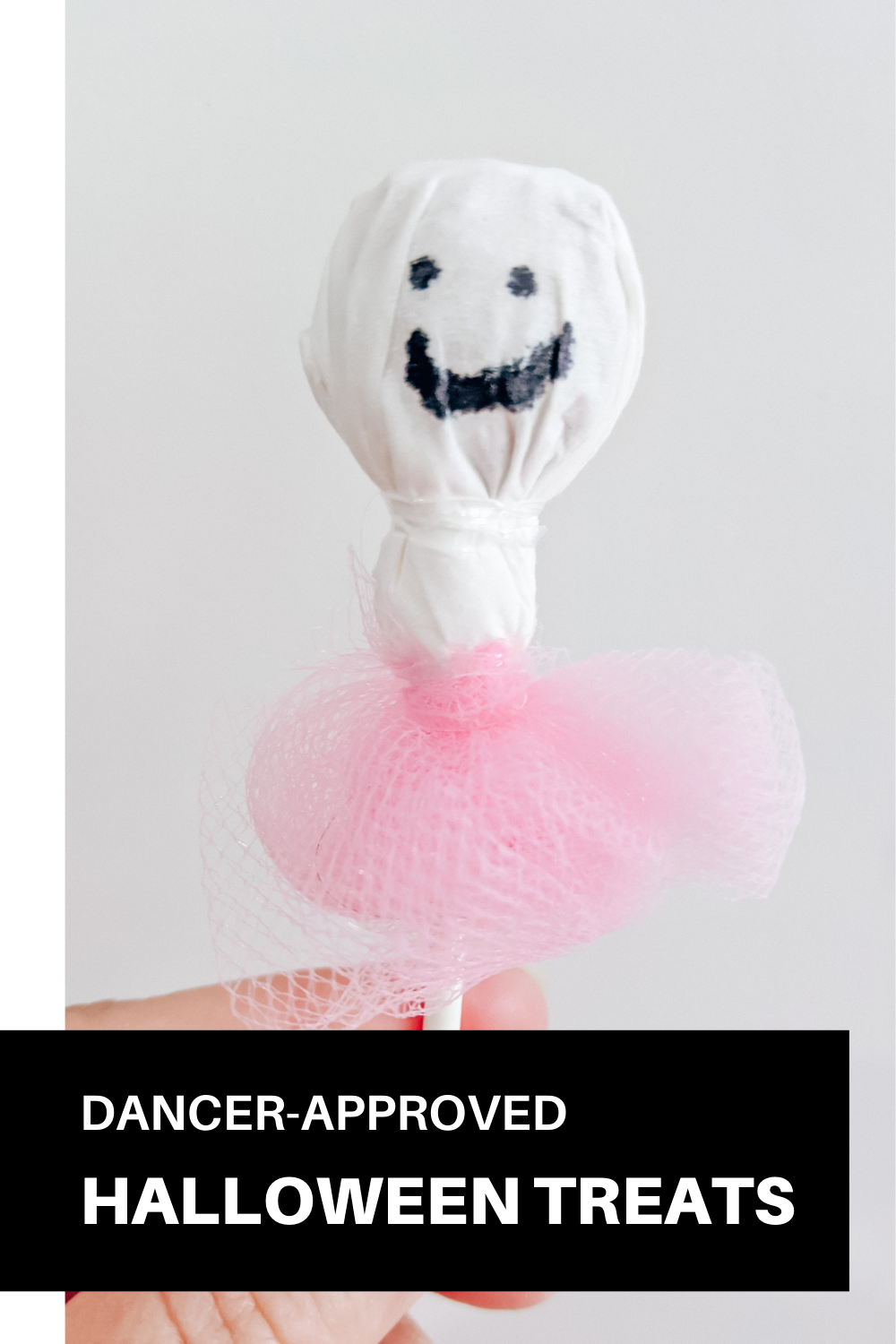 Pin these Dance Class Halloween Treats to your Pinterest boards!
Read these next: