This post contains affiliate links. Please see our Legal page for more information.
My son is now the ripe old age of 2, which means it's time for my initiation into the world of Being a Soccer Mom. I want to do something special with Colton during the last few months before Baby arrives, so we signed him up for a parent/child soccer "clinic." It's basically a group of preschoolers getting together every weekend to kick a ball back and forth to their parents between tantrums. And continuously asking if it's snack time yet.
Of course, a huge part of Soccer Mom duties is bringing snacks! But, finding cute and creative soccer snack ideas can be challenging. Read on for the tutorial on the soccer snacks Colton helped me assemble when it was his turn to bring soccer team treats…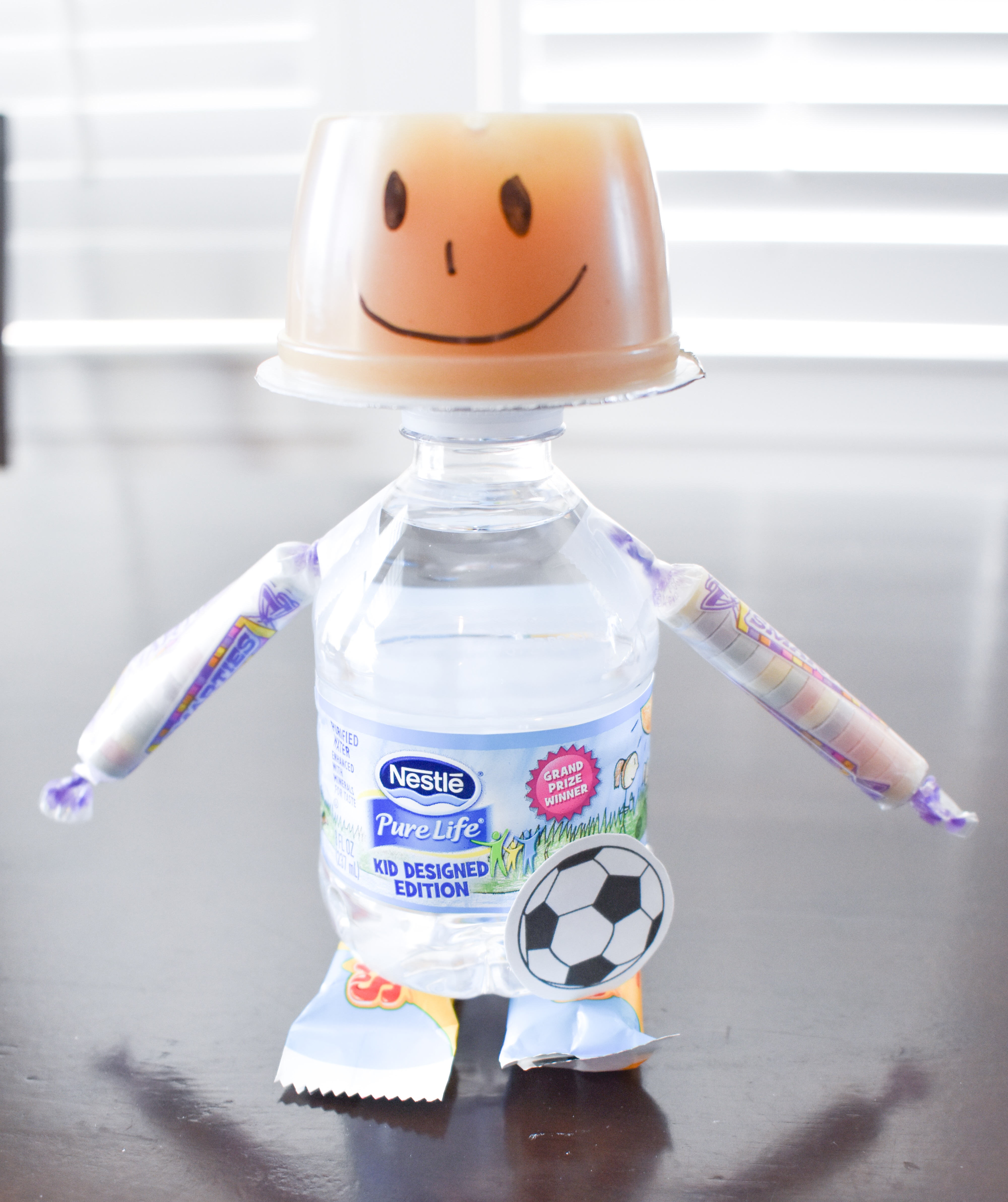 Colton was so proud to hand these robot soccer snacks out to his little friends! He called them his "bots." The best part is that they're super easy to make, which is always a plus for busy parents!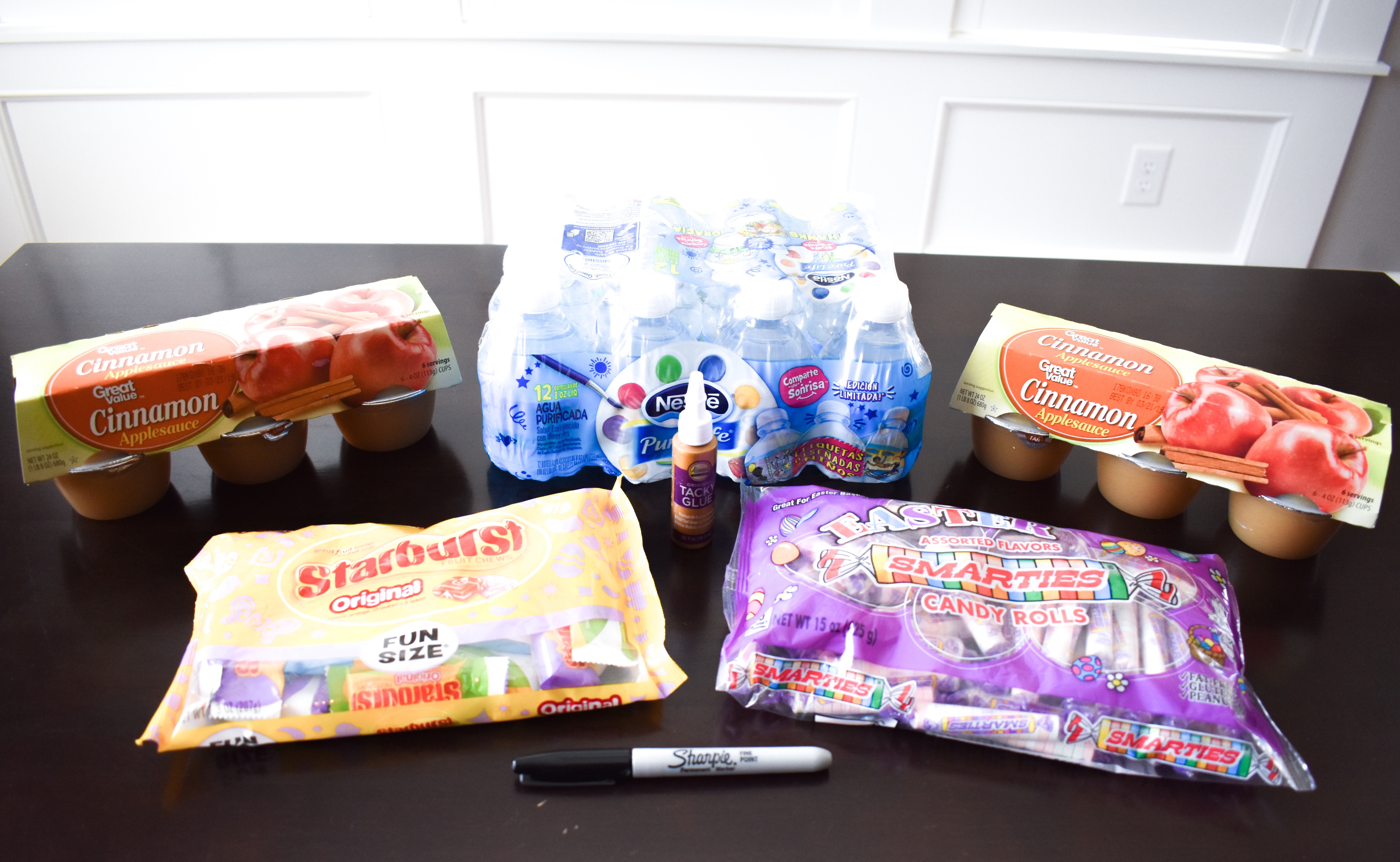 There are tons of different ways to assemble these soccer snacks. We used miniature water bottles for the body, but you could also use juice boxes or sports drinks. If I were doing it again, I would probably use something with a larger cap than the water bottles, as it was somewhat difficult to balance the applesauce cups on the tiny water bottle lids. Our robots' feet were made of Starburst packages. You could also use small chocolate bars, boxes of raisins, etc. Smarties worked well for the arms. You'll also need applesauce cups, a Sharpie to mark on them, and some glue and/or tape to hold everything together.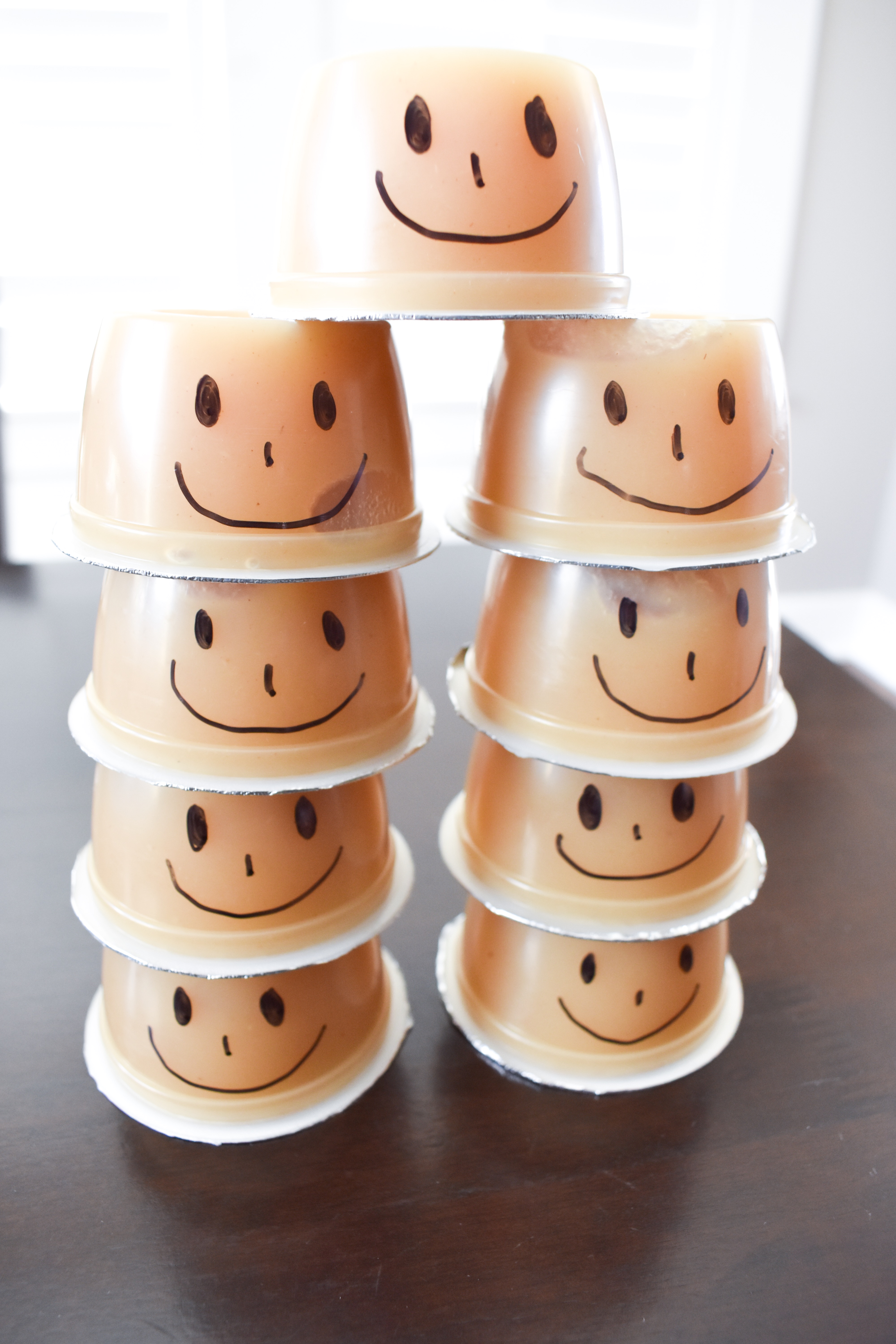 Use the Sharpie to draw faces on your applesauce cups. Colton thought this was so fun!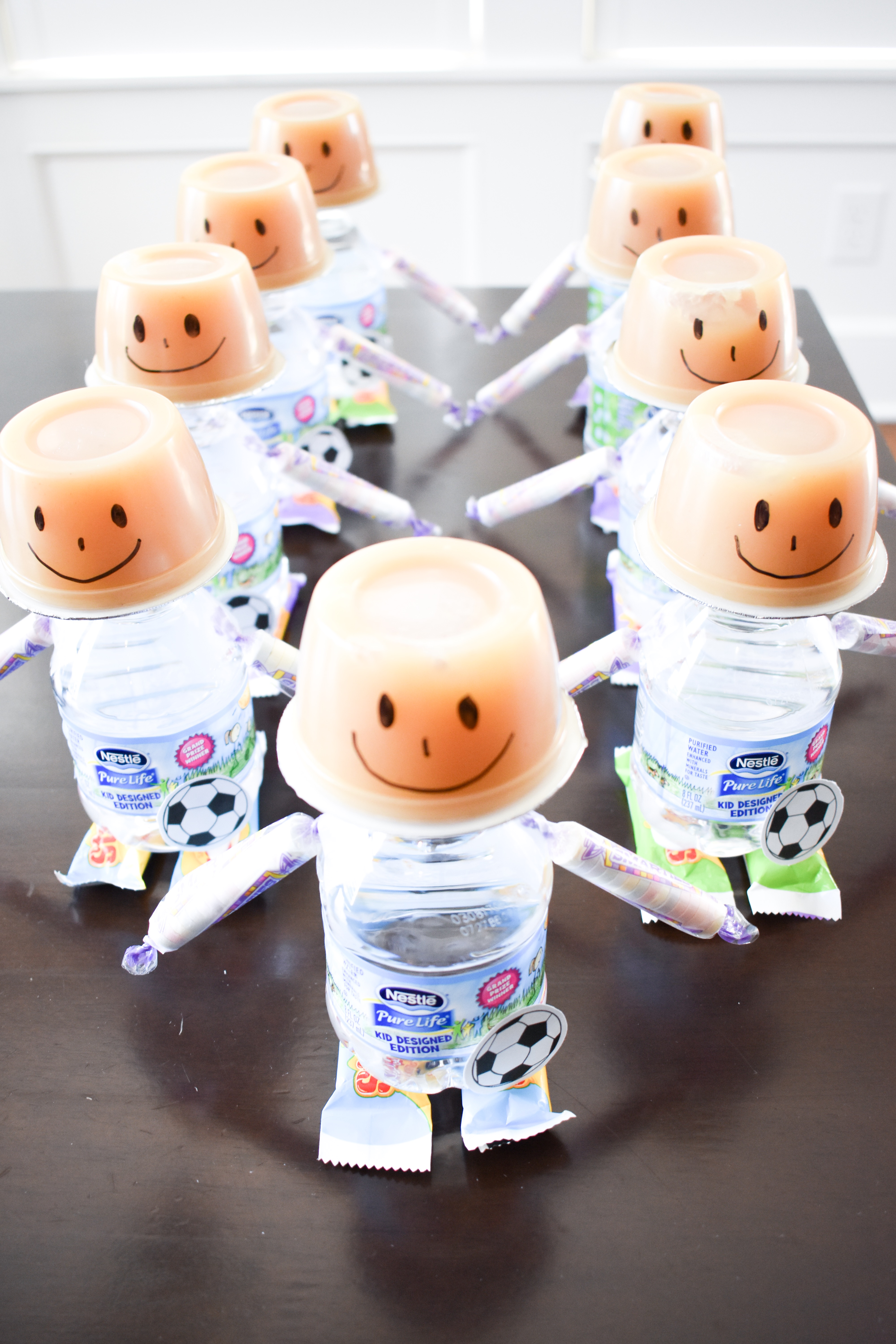 Next, it's simply a matter of attaching all of the pieces. We used glue to attach the Starbursts and applesauce cups. Tape worked better for the arms. You can't see in the photo, but we also taped a spoon to the back of each soccer robot so the kids could eat the applesauce right then.
I thought these soccer snacks needed a little something more, so I printed a soccer ball clip art on cardstock and taped it to the front of each water bottle.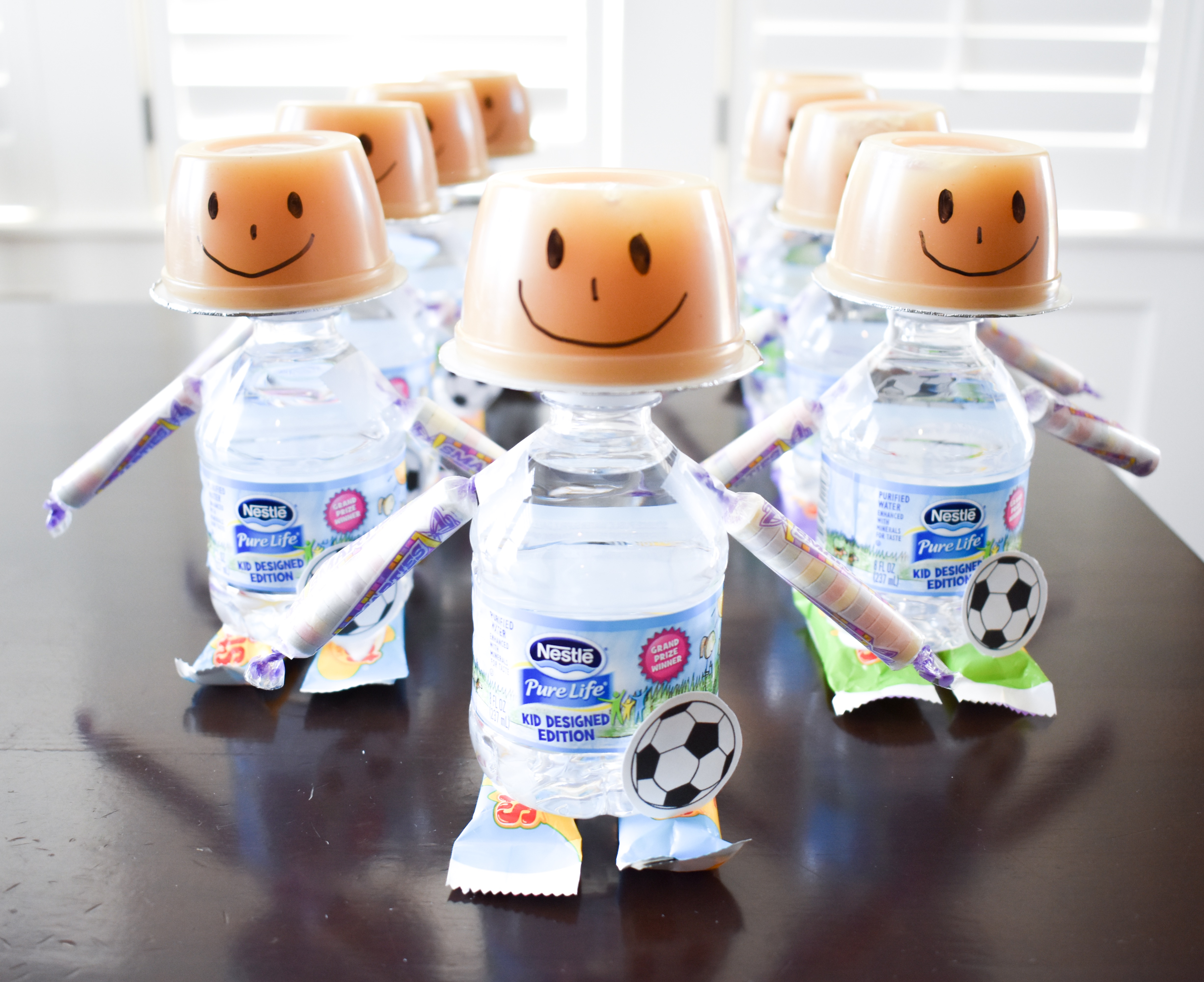 And that's it! A cute and creative soccer snack idea that only takes minutes to assemble!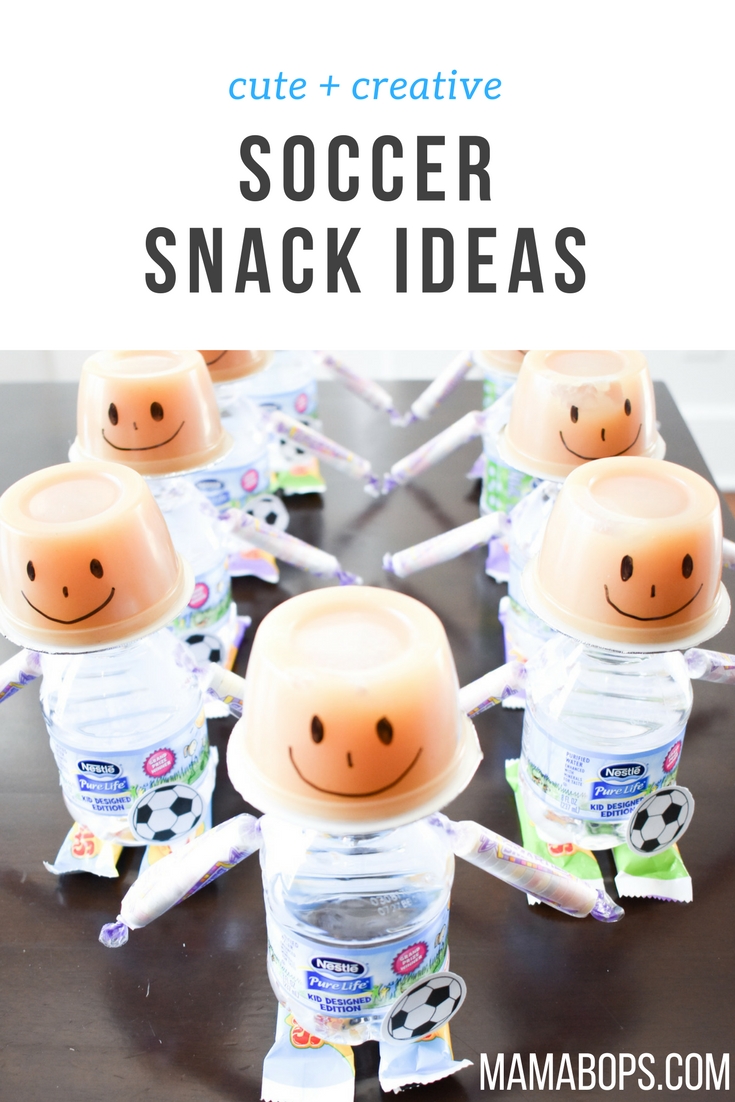 Pin these Soccer Snack Ideas for later!
Want more kid-friendly treats? How about Toddler Snack Mix, DIY S'mores Kits, or S'mores Cookies?