Is there anything better than browsing the aisles of Target during the holiday season? They do such a great job of sourcing decor that fits with a variety of aesthetics. Today, I'm sharing some of my favorite modern Christmas decorations from Target! Plus, read to the end for a chance to win a $500 Target gift card!

This post contains commissionable links.
Tap on any item in the photo above to be taken directly to it!
Modern Christmas Decorations from Target
As you know, I do my Christmas decorating in a black and white aesthetic. (Here's a post I did last year showing our black Christmas tree!)
But, a lot of modern decor stores are out of my budget. That's why I love Target–it's affordable and they always have a great selection of on-trend, modern, minimalist decor for the holidays.
I've picked some of my favorites and put them in the graphic above. You can tap on any item on that picture and it will link directly to the item. It took me a long time to figure out how to do that–I'm not the most tech savvy person. But once I figured it out, I've done it for a few posts now: more modern holiday decor from Crate & Barrel, and some gift ideas for her and for him.
How to Transition to Modern Christmas Decorations
I really only started doing the black and white Christmas theme last year. Before that, I did a fairly neutral theme, but it was still "classic" vs. modern.  I wanted to change up my decor for awhile, but it's difficult to go out and buy all new decor at once! So don't feel bad if it takes a few years to transition to a more modern look. Here are a few tips for along the way:
Start with your tree! You can get boxes of ornaments in your preferred color scheme for a minimal cost, which will transform the entire look of your tree.
Replace warm white or multicolored lights with cool white. (We did this inside last year when we got a new tree since our old pre-lit one didn't fully light up anymore. Going to do it outside next year, since a lot of our old outdoor strands didn't light up this year. We usually use things until they don't work any longer, lol)
Buy wrapping paper and bags in your preferred color scheme so packages under the tree look cohesive. (I'll buy a few rolls of paper I *love* at full price during the season, but mostly I just wait for the half off sales and grab anything black and white then!)
Speaking of, definitely take advantage of after-Christmas sales to build your decor stock!
Finally, sell decor that doesn't fit your vibe any longer on Facebook Marketplace or similar. Use the money you make to get new decor! (Check out my tips on how to sell on Facebook Marketplace fast!)
Shop Target Christmas Decorations
You can check out all of the Christmas decorations from Target here!
I've also linked the items featured in this post below:

Target Gift Card Giveaway
Enter to win a $500 Target gift card here and you could get all of your holiday shopping done in one place!
Holiday Shopping? We've got you covered at Target!
I've teamed up with a group of bloggers to give one lucky winner
a chance to win a $500 Target Gift Card!
To enter: complete the steps in the Rafflecopter below. The more steps you complete,
the more entries you receive, and the better your chance at winning!
This giveaway runs until Wednesday, December 16th at 12am PST
Winner will be announced here. Good Luck!
*this giveaway is in no way sponsored by Target.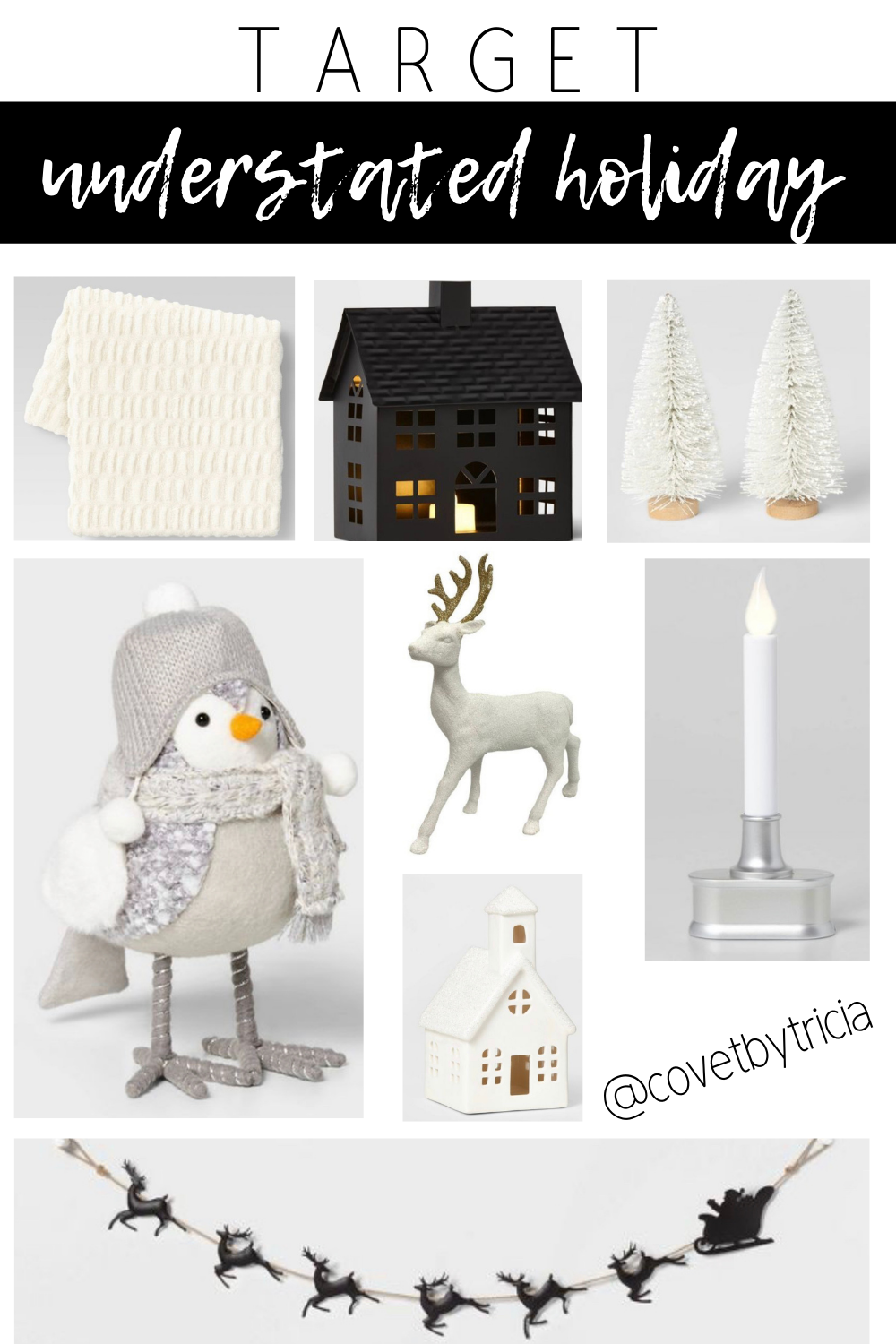 Pin modern Christmas decorations from Target to your holiday Pinterest boards!
Read these next: