We celebrated Blair's third birthday with a Breakfast at Tiffanys Party! I'm so excited to share all of the party details with you. We started with a Breakfast at Tiffanys Photoshoot for her invitations, so make sure to check out that post first if you missed it. Now, on to the party!

If you make a purchase from this post, I may receive a commission. Please see the Legal page for more info.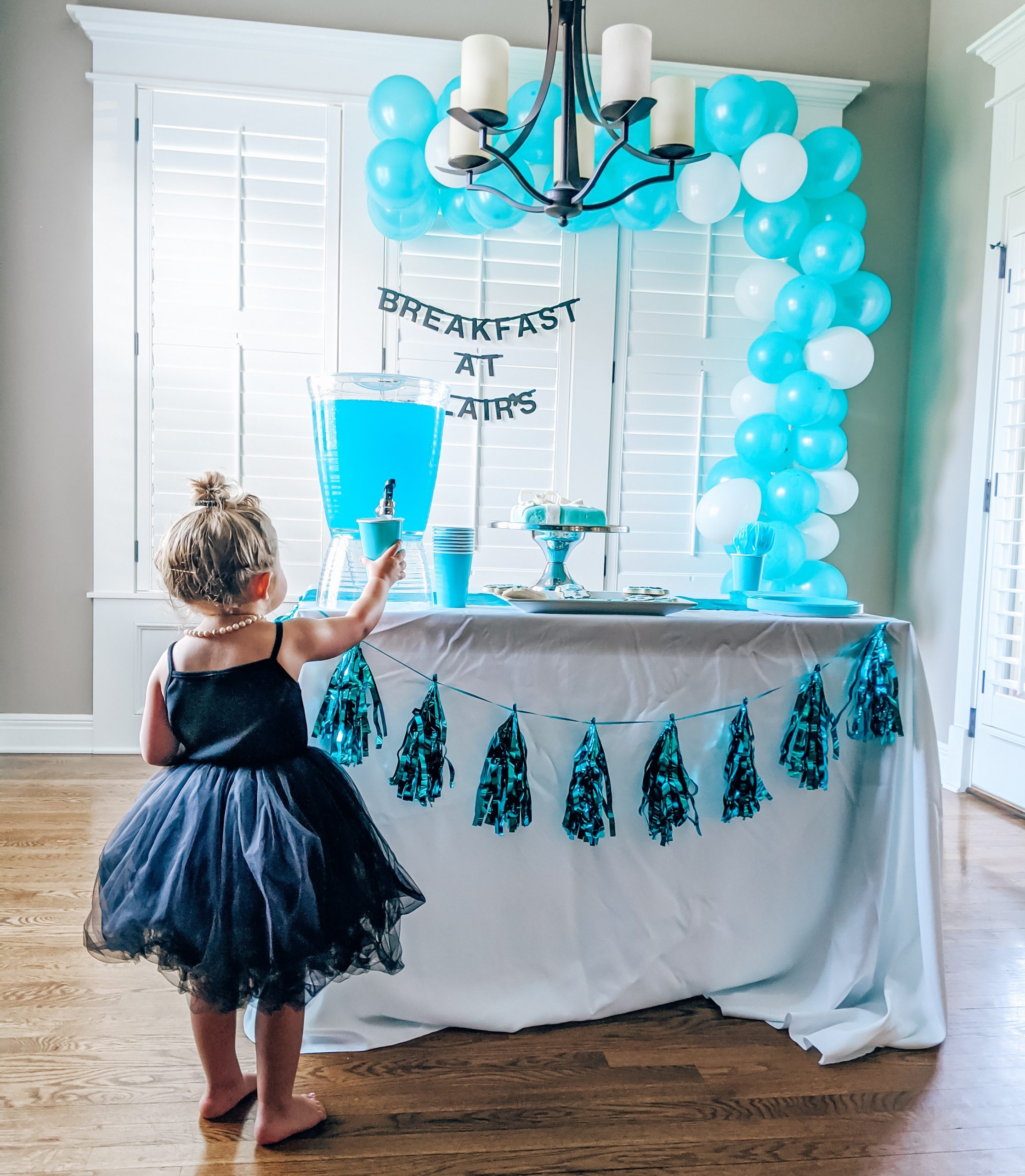 Hard to believe our little lady is already 3 years old! It seems like I was just posting her birth story yesterday.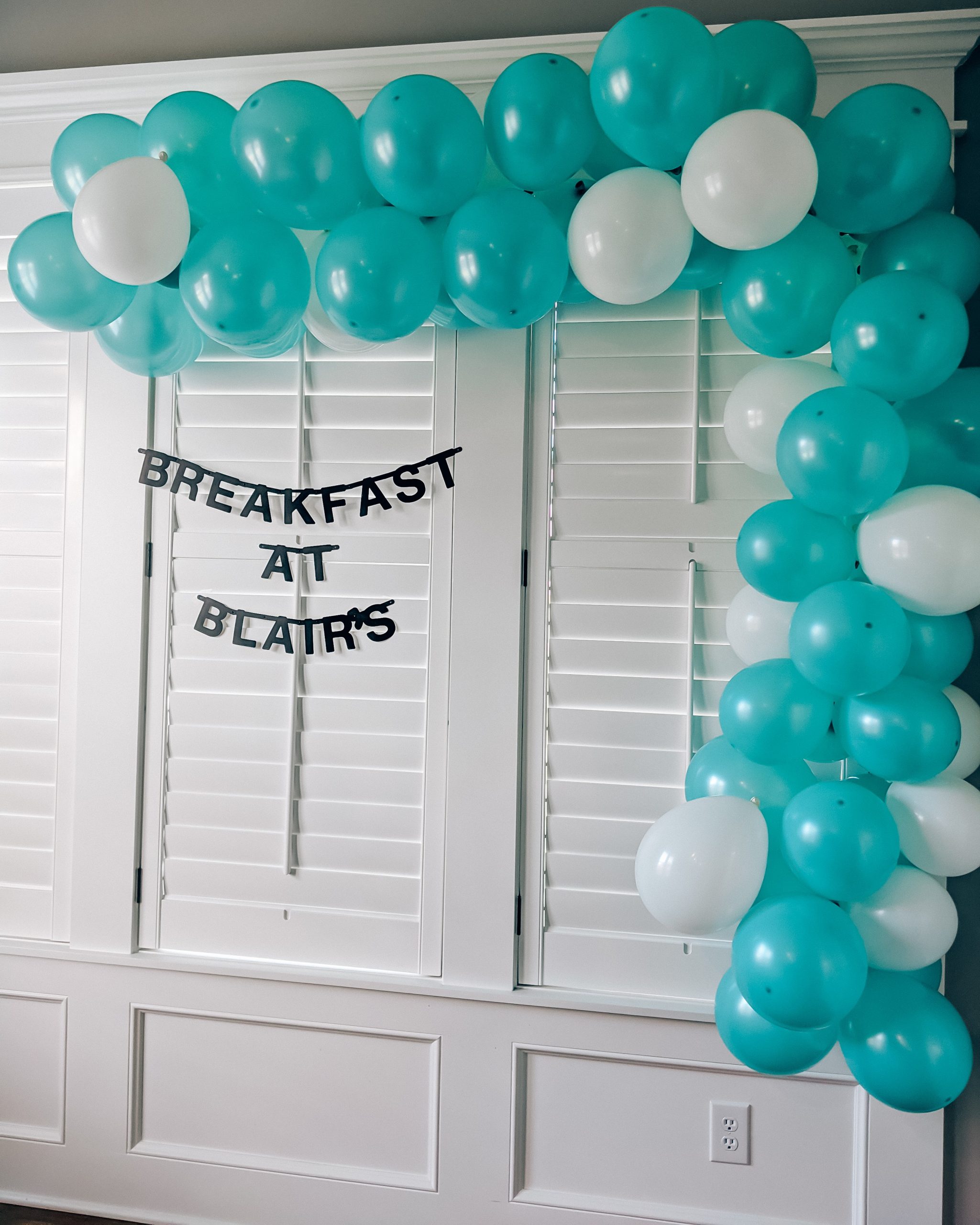 I always try to set up a photo area for each of my kids' birthday parties. (My favorite one ever is this one that I did for Colton's Spiderman party, but I think this one is in second place!)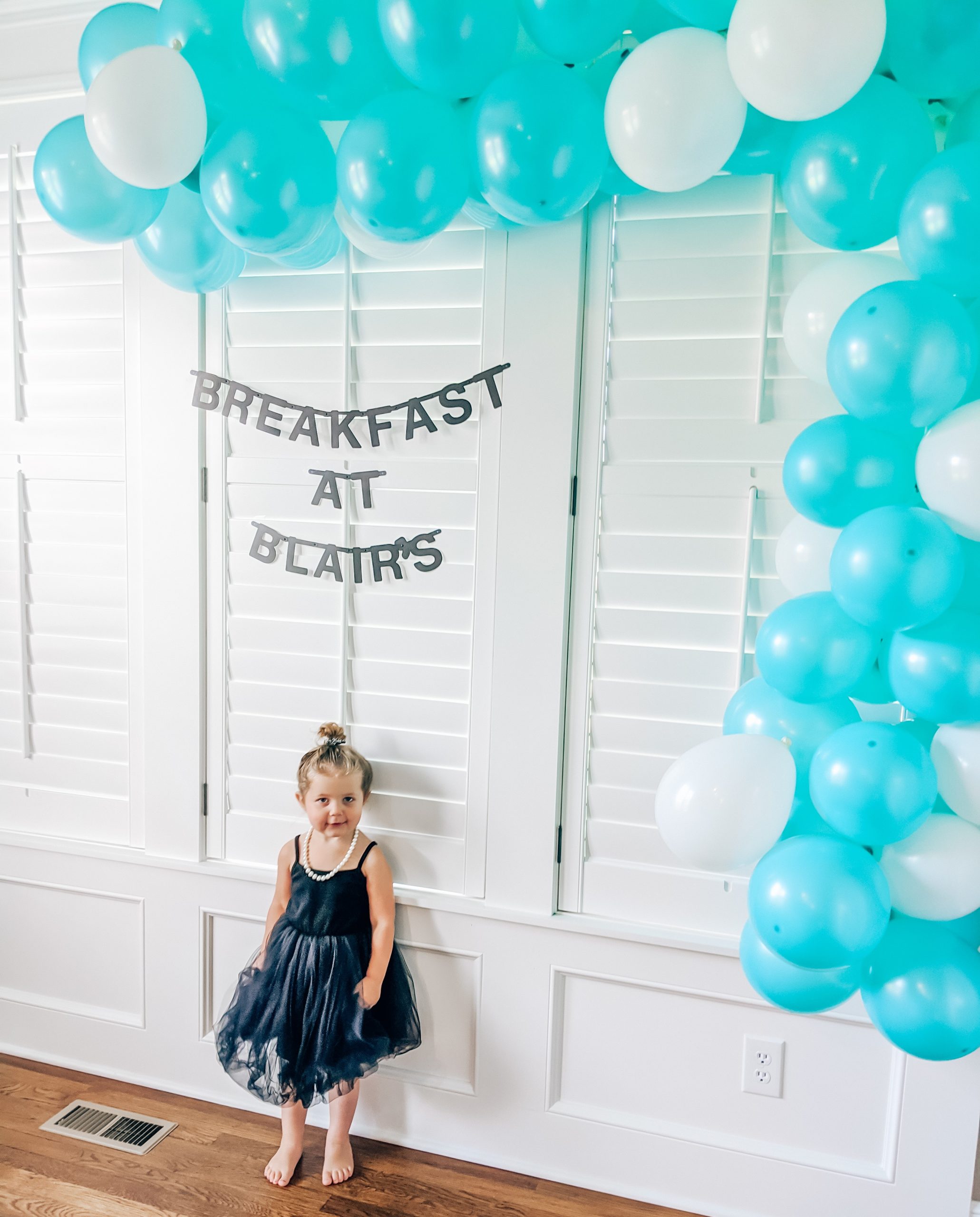 We made the Breakfast at Tiffany's inspired balloon arch ourselves using these blue balloons and these white ones. A balloon machine is a must if you're making a balloon arch! After inflating and tying the balloons, we tied them to a long piece of fishing line. I also taped on a few balloons after the fact to cover some of the more sparse areas. The process was a bit time consuming, but it was worth it for the cost savings. This DIY balloon arch cost us under $20, whereas the quotes I got to have someone else make one for us were around $100.
The "Breakfast at Blair's" banner was a DIY using this kit. I looked into ordering a custom banner and found the prices were going to be significantly higher, plus I would have to wait longer for shipping. The DIY kit came right away with Prime shipping, plus I can reuse it to create banners for other parties in the future!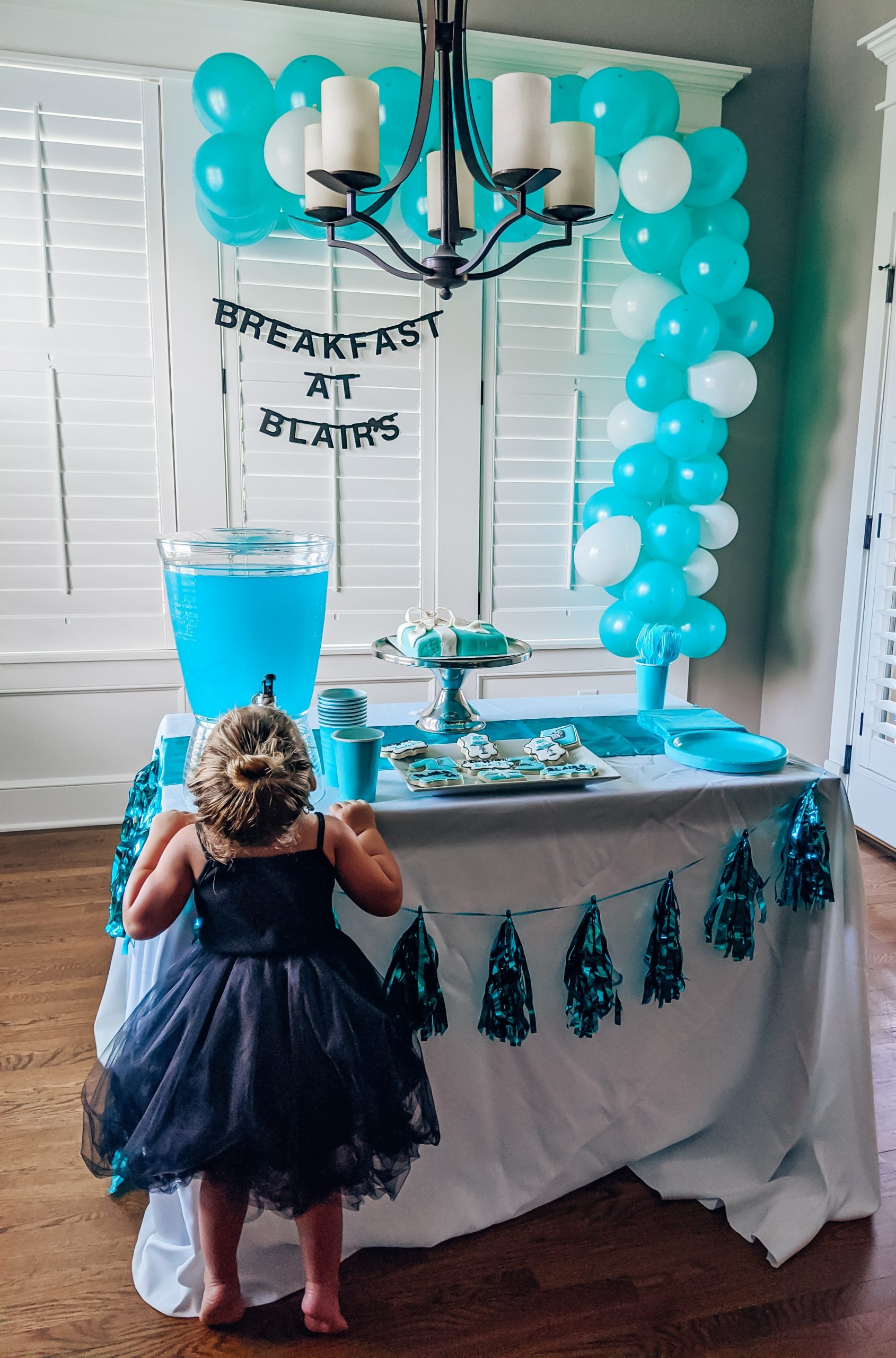 Practicing her releve while checking out the party table!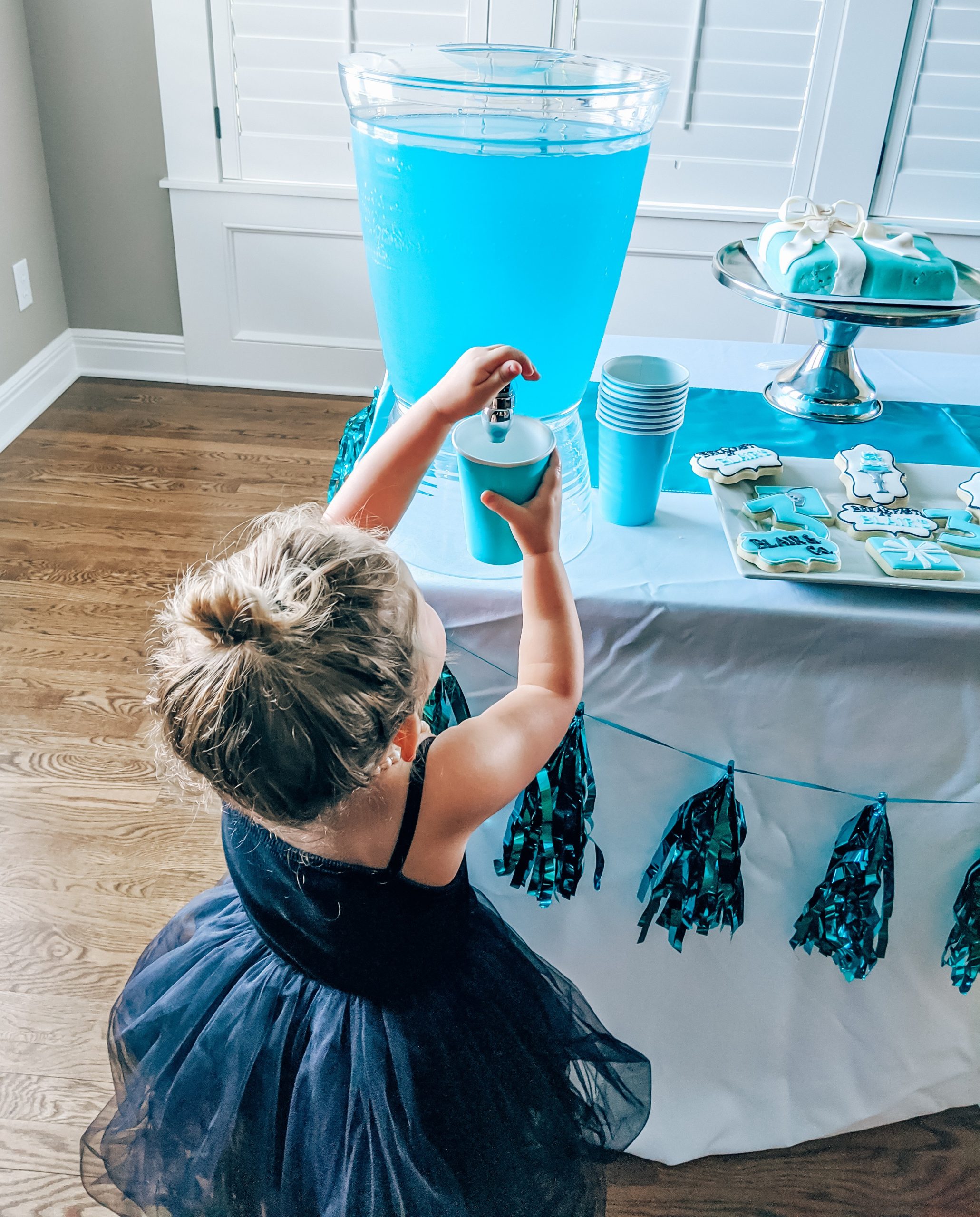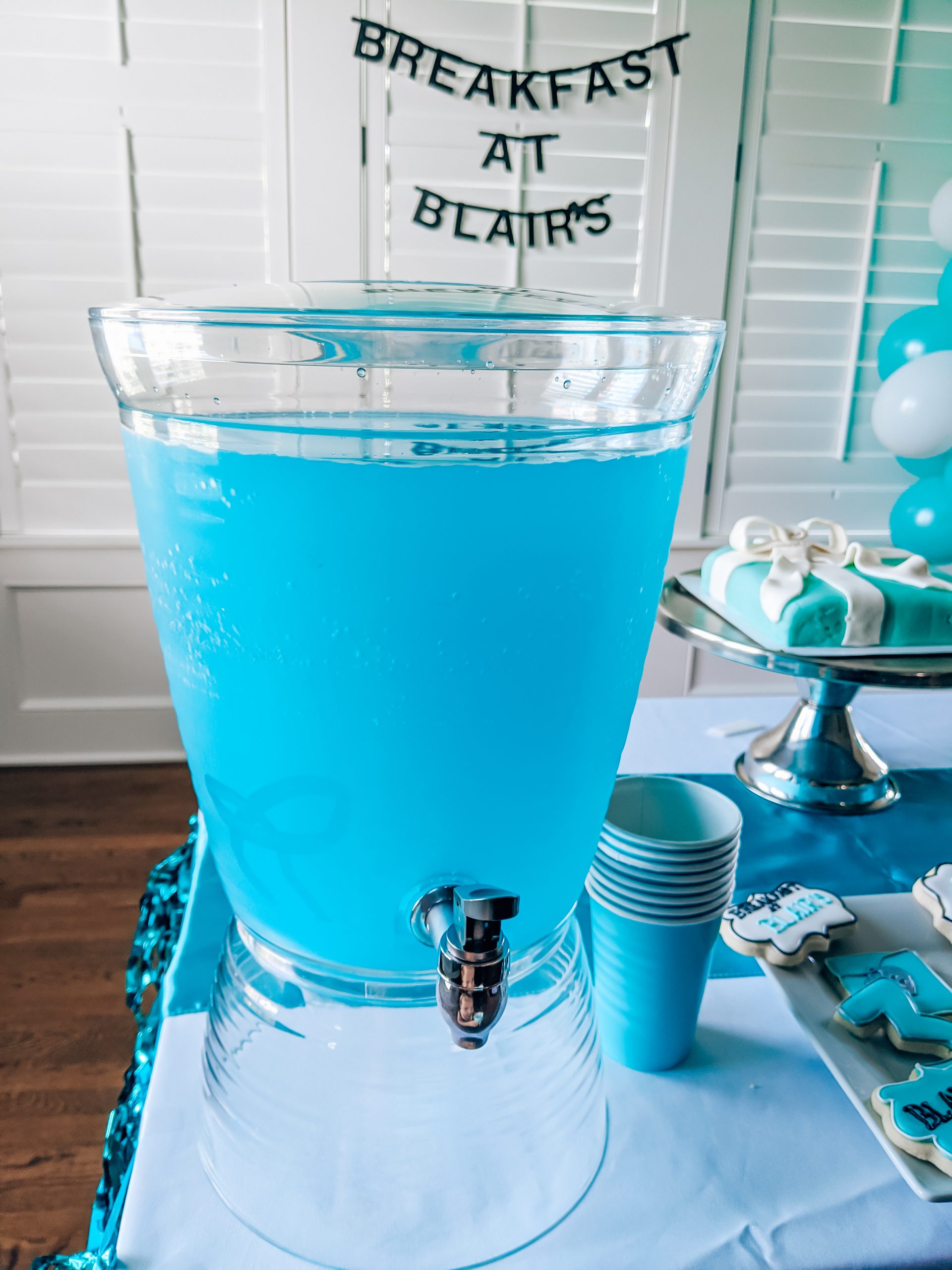 Blair enjoyed her Breakfast at Tiffanys Party Punch! It's a mix of this juice and lemon lime soda. Super easy, and it fit the party theme well! Our beverage dispenser is this one.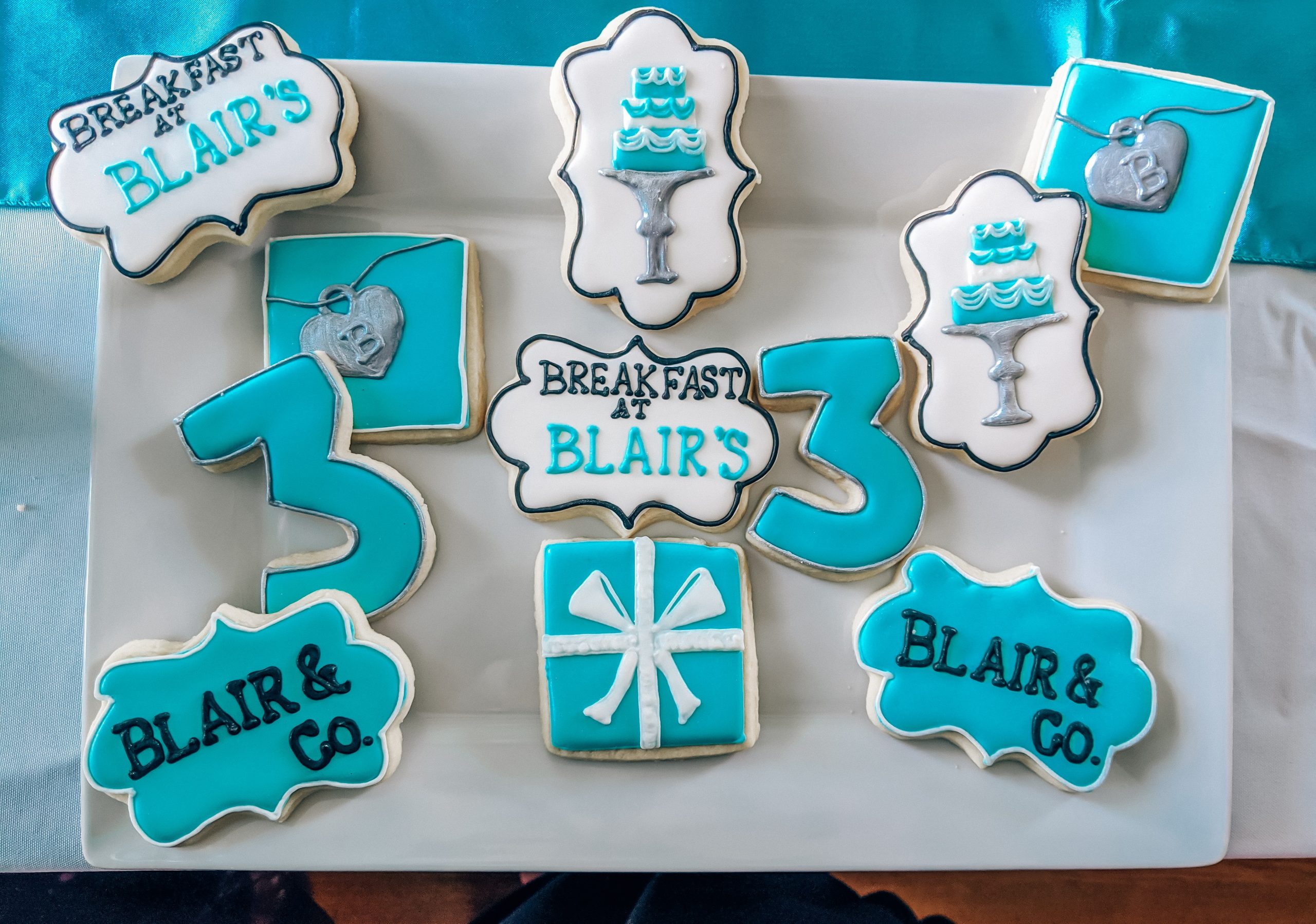 No theme party is complete without cookies! (Check out some of Blair's other birthday cookies from her first birthday and second birthday in these posts!)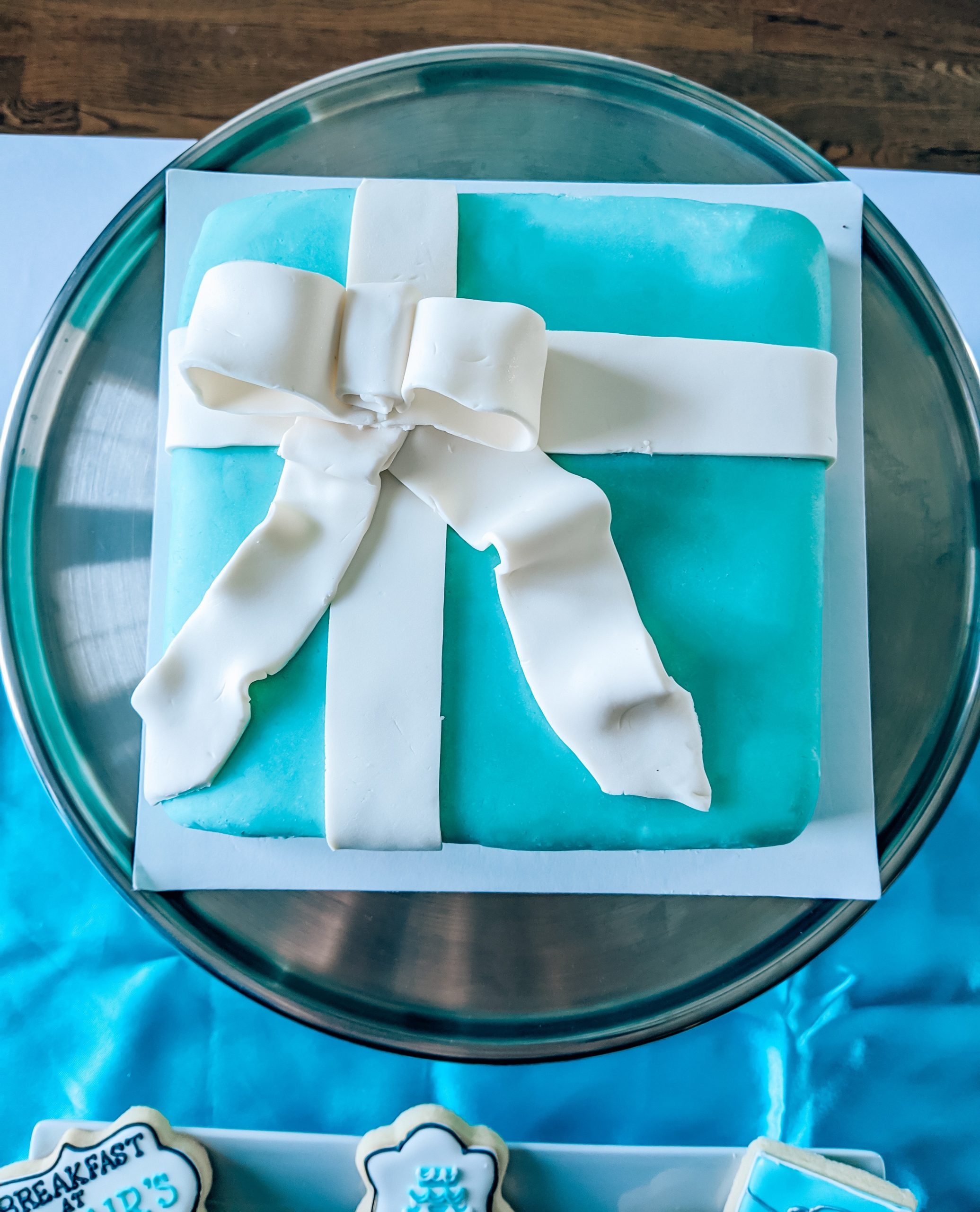 Her DIY Breakfast at Tiffanys cake was the first time I ever worked with fondant. I've made cakes for some of the kids' other parties (like this ombre cake for Blair's second birthday and this DIY character cake for Colton's fifth), but never with fondant. I chose this fondant because it has good reviews and came in the color I needed. Working with fondant really wasn't as hard as I thought. After reading reviews, I also ordered one of these handy fondant smoothers, which helped a lot. You can tell mine isn't perfectly smooth, but I think it's pretty good for a beginner.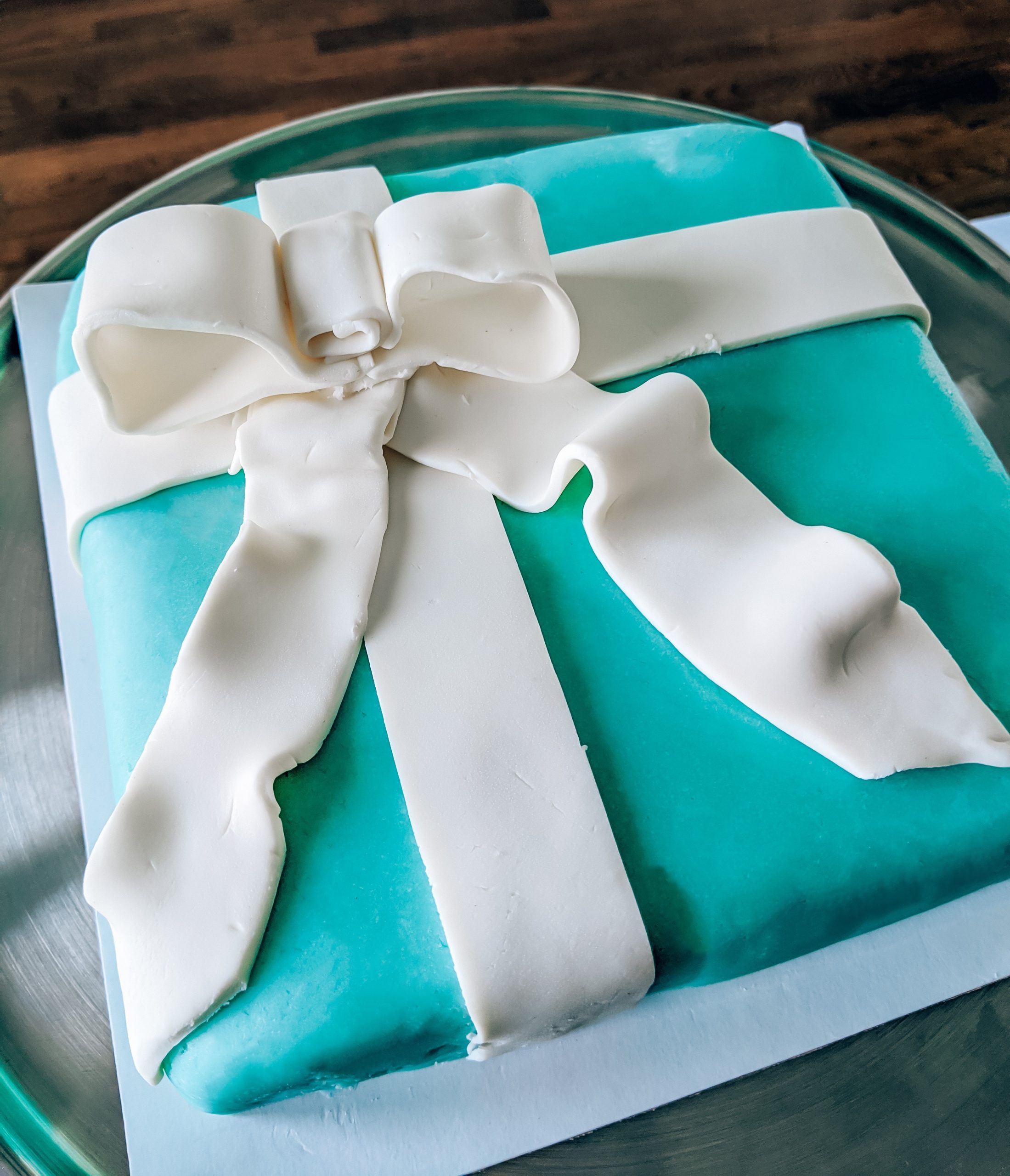 Another shot of the cake. If you're interested, you can see more detail in this video I posted on my TikTok.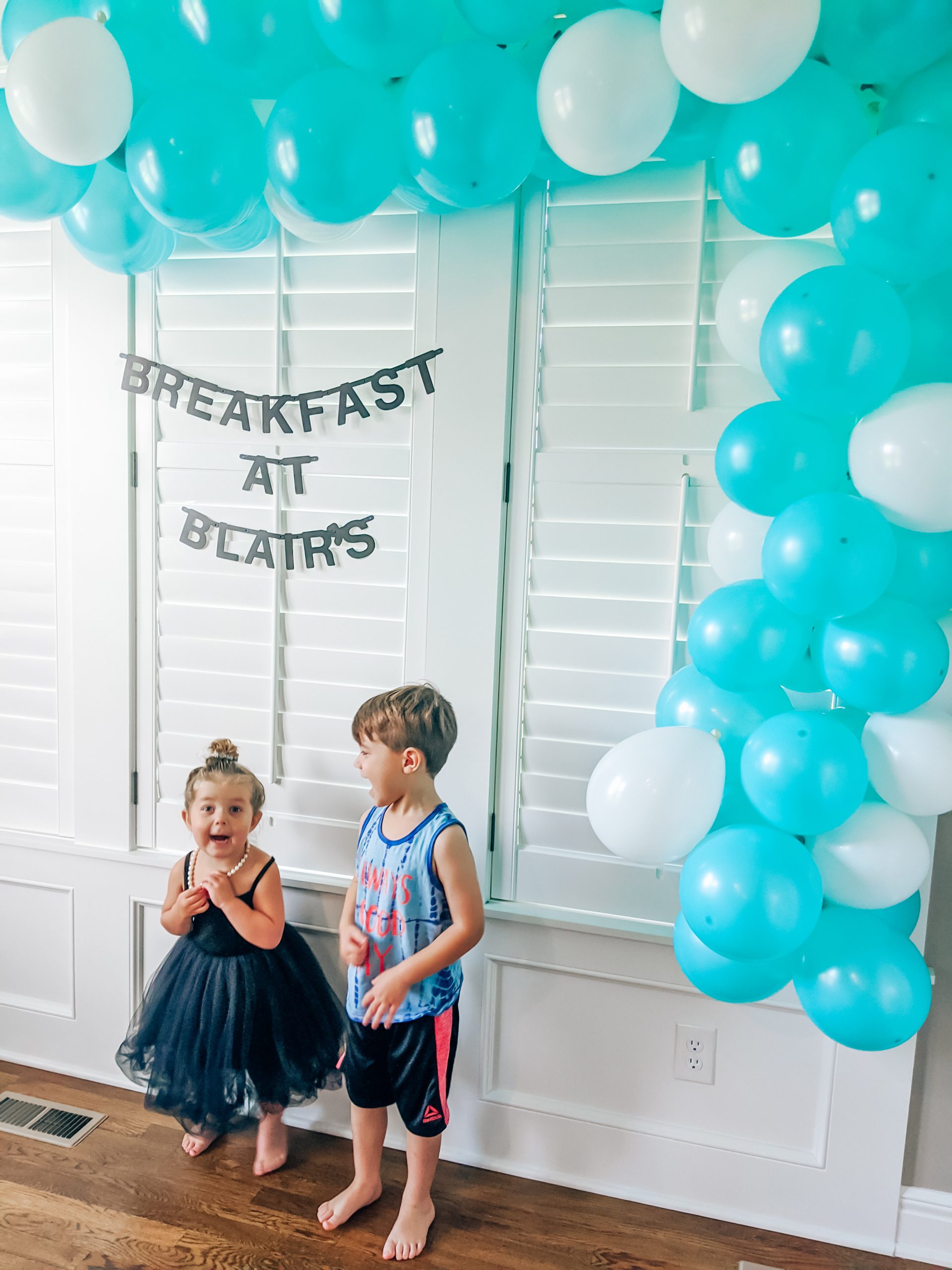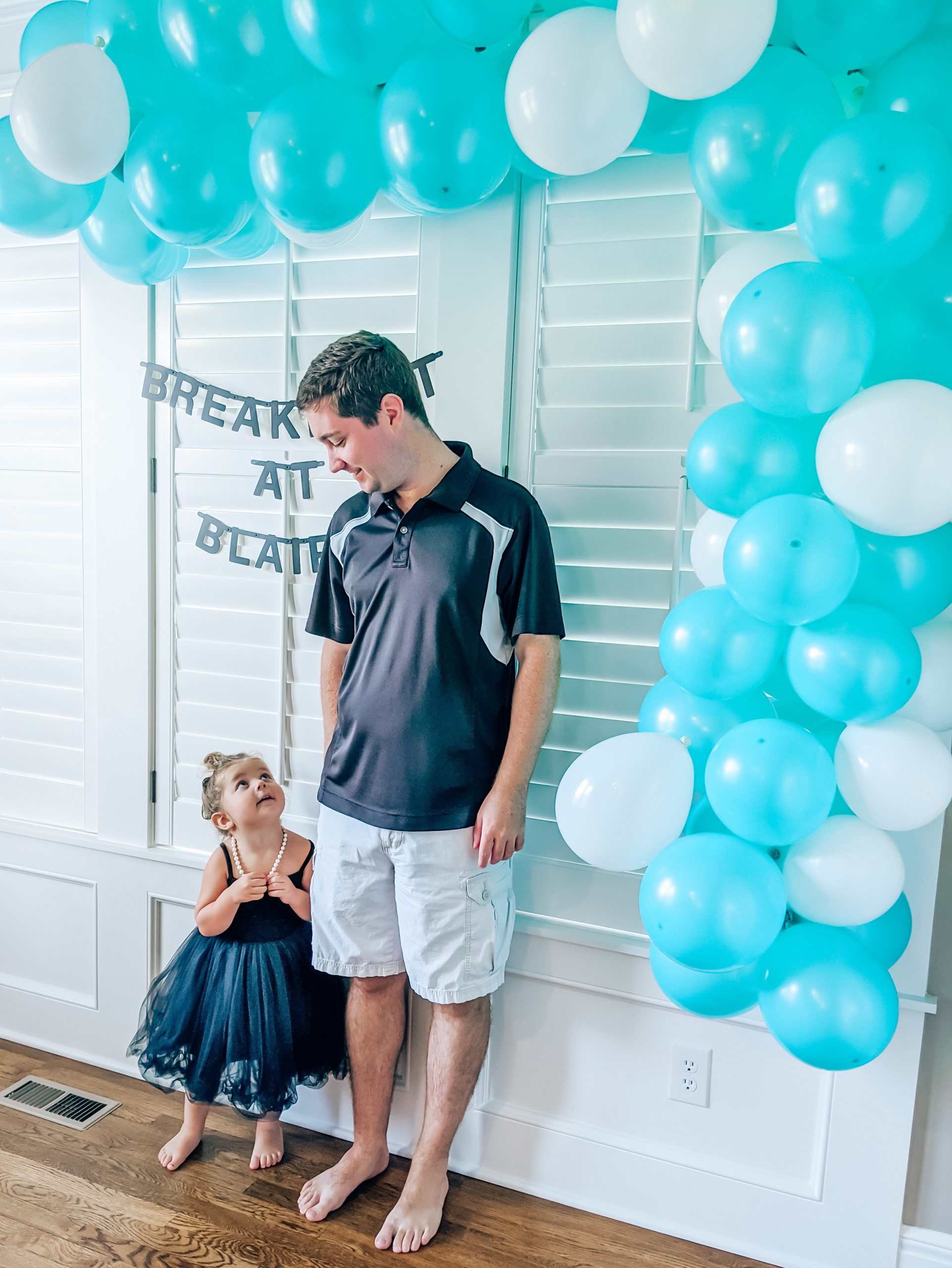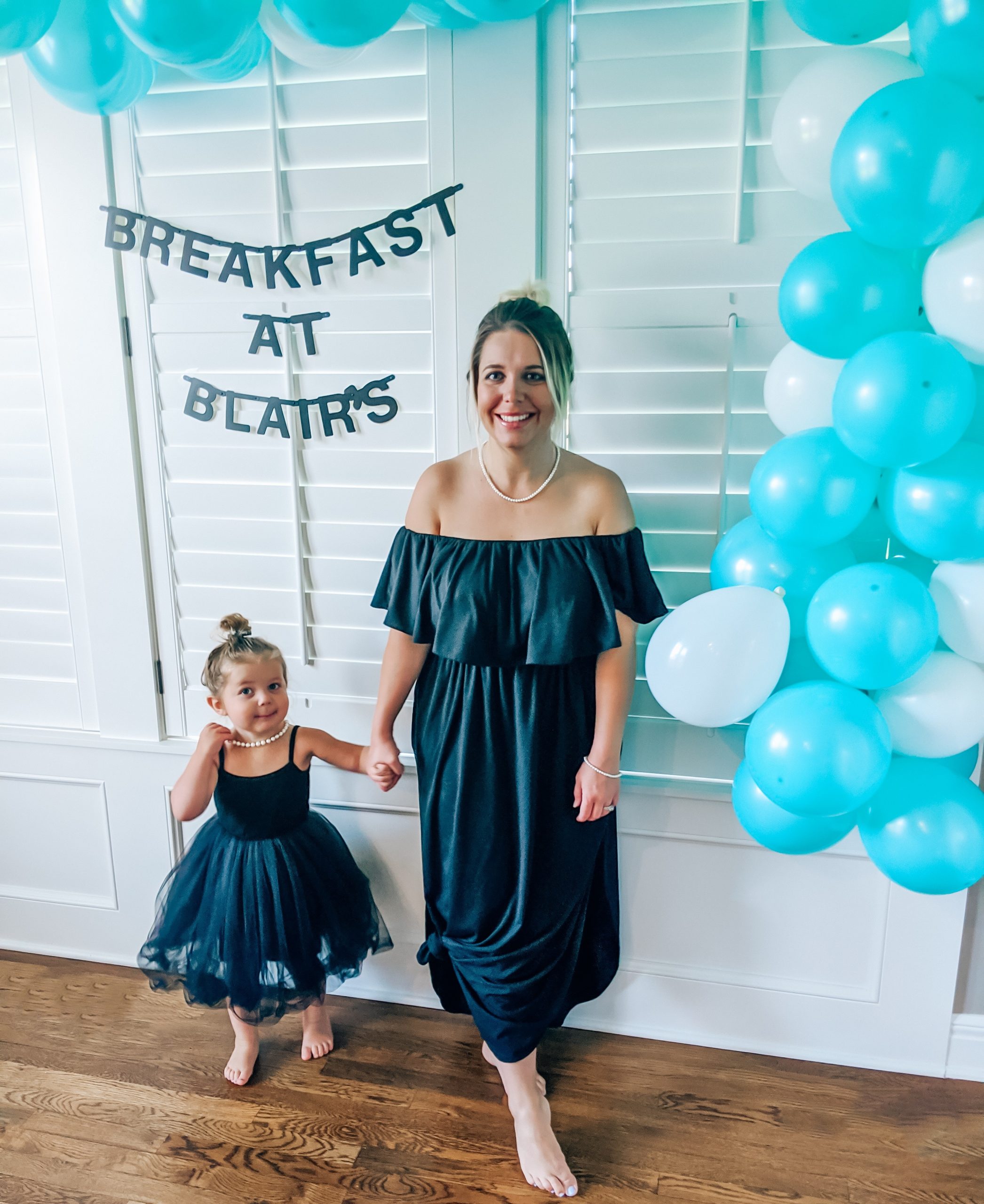 Of course, we all wanted to get a pic with the birthday girl! (I'm wearing my favorite Amazon black maxi dress. If you follow me on Instagram, you see me wear this one all the time!)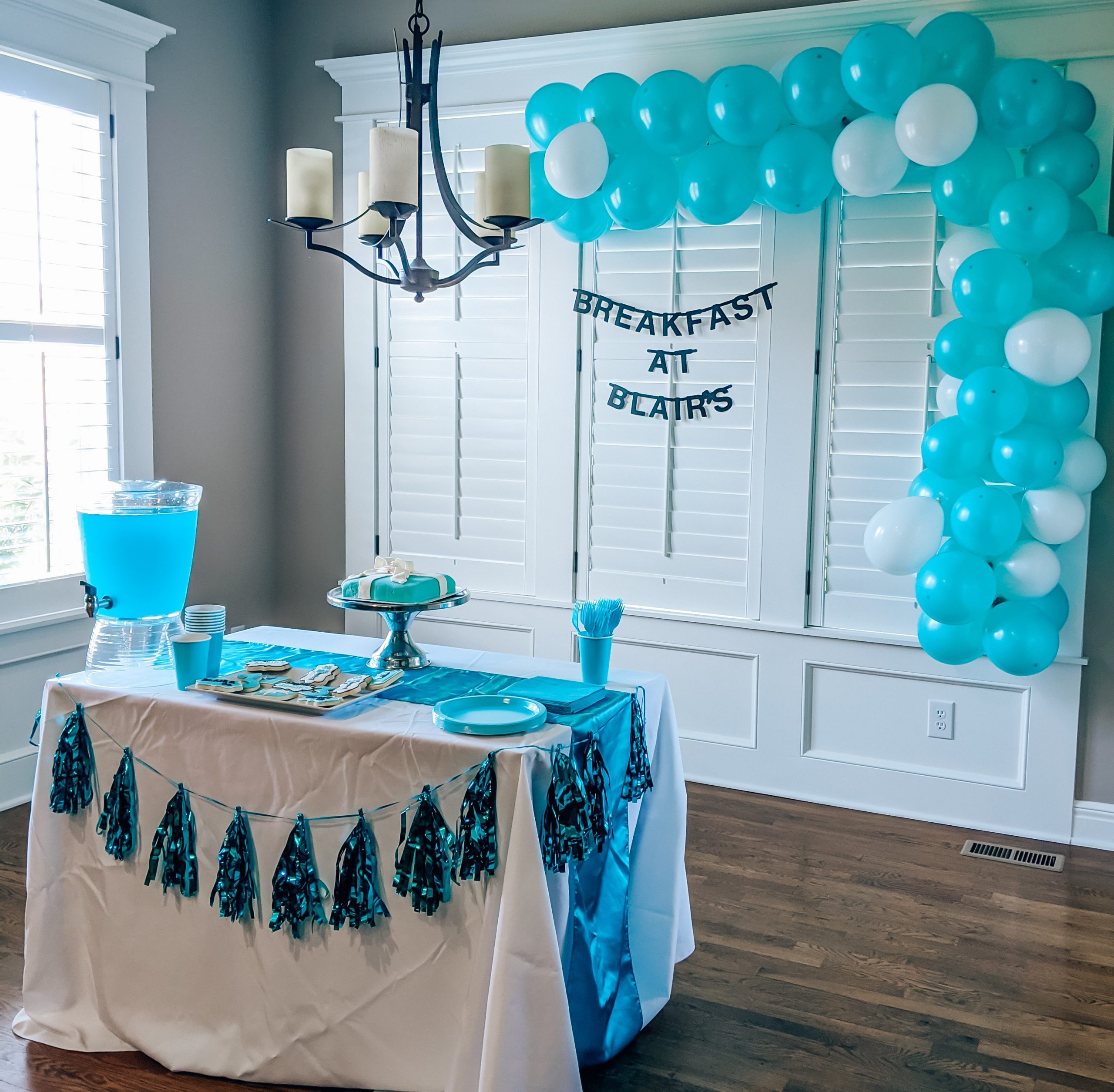 Our full Breakfast at Tiffanys party setup. Fun fact: the tablecloth, table runner, and cake stand are actually from our wedding, circa 2009. Tiffany blue was one of our wedding colors.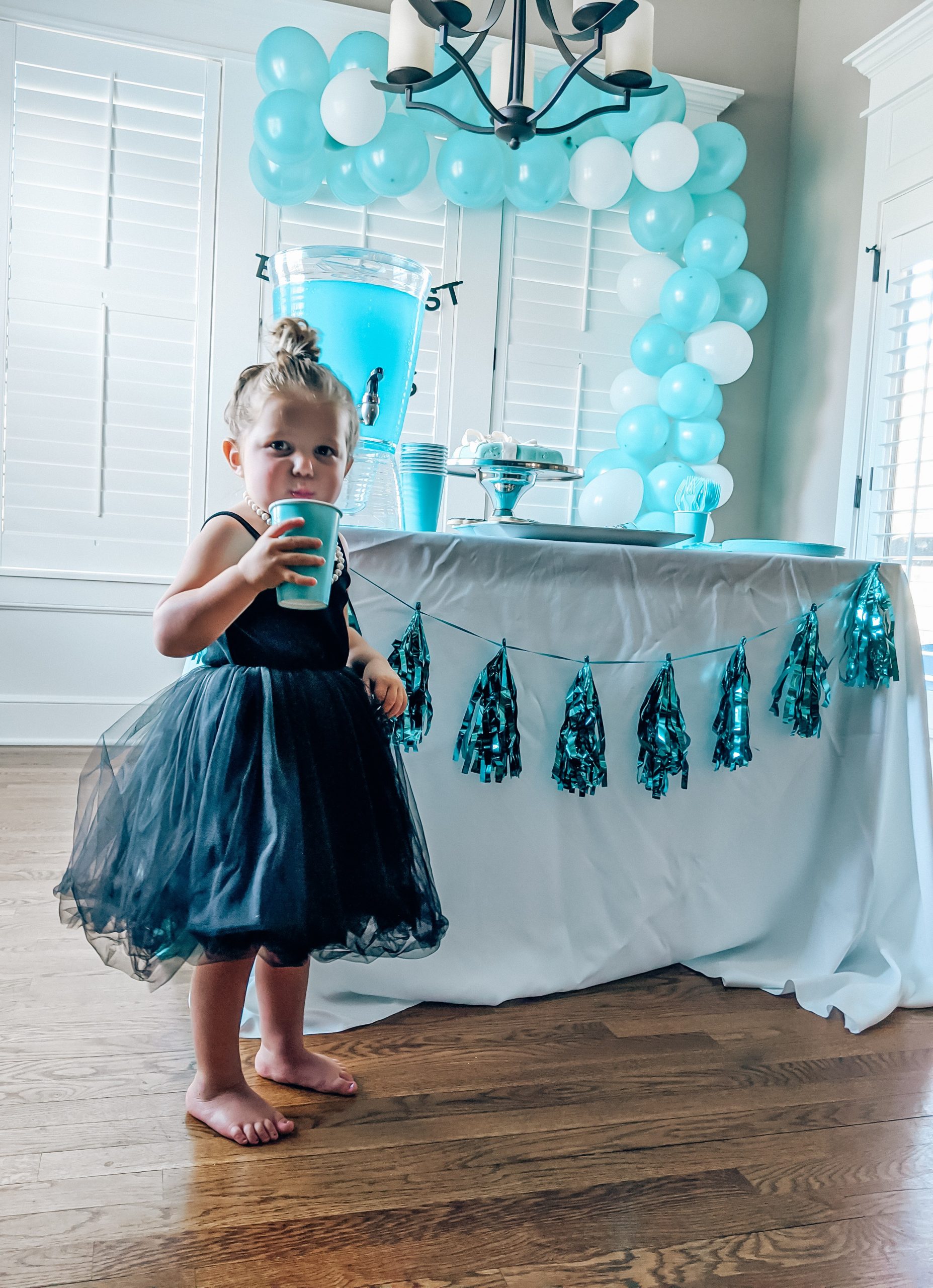 Blair's birthday dress is linked here. More details on her outfit and similar options are in the Breakfast at Tiffanys photoshoot post!
Happy birthday, Blair Karmen!
Shop Breakfast at Tiffanys Party Ideas

Check out my other party posts: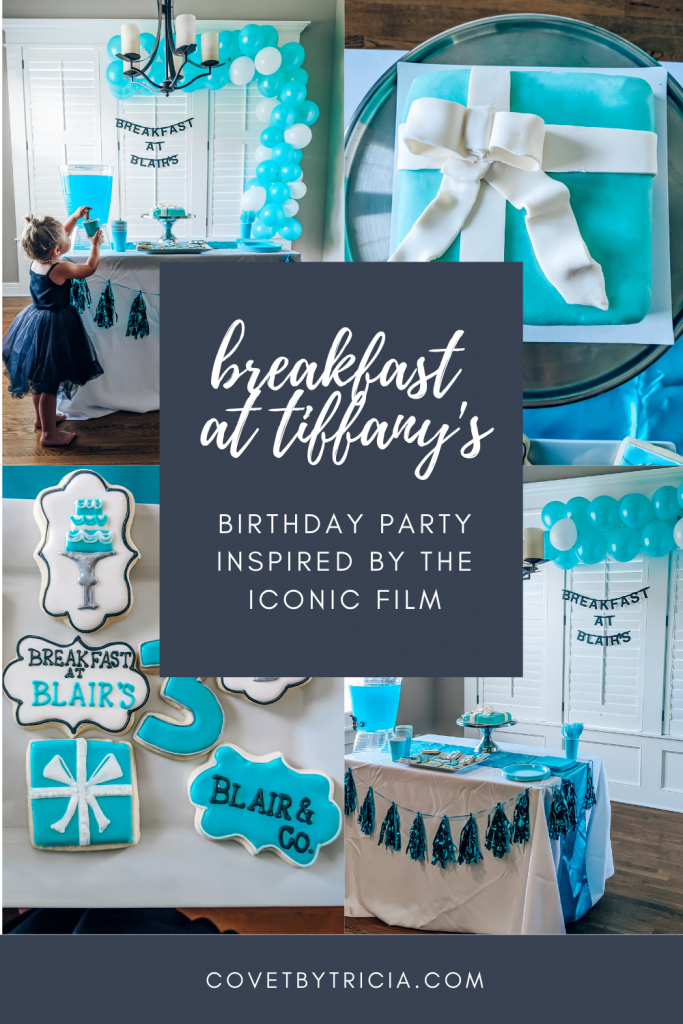 Pin this Breakfast at Tiffanys party to your Pinterest boards!
Read these next: