It's been almost 6 months since I had my Mommy Makeover! If you're considering having a Mommy Makeover, you're probably wondering what you'll need to have around for recovery. Today I'm sharing my Mommy Makeover recovery checklist — what to buy for tummy tuck, breast augmentation, and more.
What is a Mommy Makeover?
First things first, what is a Mommy Makeover? A Mommy Makeover is a combination of cosmetic surgeries that earned the nickname because the patients are generally moms looking to restore their bodies closer to how they looked before children. There's no specific combination of procedures that constitutes a Mommy Makeover. However, it generally consists of procedures to the stomach and breasts–areas that tend to look a lot different after pregnancy.
What do I need for a Mommy Makeover recovery?
Before having my Mommy Makeover, I read through lots of lists of Mommy Makeover "necessities." Many of them contained a lot of extra items that most people won't actually want or need. So, I've tried to put together what you'll really need for your Mommy Makeover recovery:
RELIABLE HELP! You cannot do this recovery alone, especially with young children. You'll want someone around to help for at least a couple of weeks. Keep in mind you'll be restricted on lifting, so you won't be able to lift your kids in and out of a crib, carseat, etc.
WEDGE PILLOW: After a tummy tuck, you won't be able to stretch your stomach to lay flat. Your breasts will also feel very heavy when you lay down. I used this wedge pillow in the 25x24x12 size.
FRONT-CLOSE SPORTS BRAS: You won't be able to lift your arms over your head for awhile after a breast augmentation, so you'll need bras that hook or zip in the front. You want a sports bra that does not have separated cups. The idea is to "train" your implants to sit close together. These sports bras are highly recommend for post-surgery. I suggest getting at least 4-6 bras, because your incisions will leak, requiring multiple bras to get through the day. Plus, you won't want to do a lot of laundry immediately post-op. [Here's another brand that some surgeons use, if you prefer a zip front.]
GAUZE: Speaking of leaking incisions, you'll need a lot of gauze. Place it over your incisions to protect them from rubbing on clothes, bras, shapewear, etc.
WALKER: Yes, really. You won't be able to stand up straight for at least 1-2 weeks after your tummy tuck. Using a walker helps relieve some of the strain on your back from constantly walking hunched over. This one is an affordable option with great reviews. [And you can re-sell it afterwards to recoup some cost. Click here to read tips on how to sell items online fast!].
SCAR TAPE: I did a lot of research on scar treatment before my surgery, and silicone is the only ingredient that plastic surgeons generally recommend for scar treatment. This silicone scar tape is much more affordable than what they'll try to sell you on at the surgeon's office. Check out the amazing before and after photos in the reviews! You can also use a silicone gel like this, either in addition to or in lieu of the tape.
HIGH-WAISTED LEGGINGS: You won't want to wear any pants with buttons, zippers, etc. for a long time after surgery. [If you've had a c-section like me, think about how long it was until you wanted to put jeans on that incision!] These high-waisted leggings are a cult favorite with many of my Instagram followers–they're super affordable and help keep everything feeling secure and "in place," which you'll appreciate after surgery. Like the sports bras, I recommend having a few pairs on hand due to leaking incisions and not wanting to do laundry all the time!
LOOSE-FITTING CLOTHING: You'll need to wear loose-fitting clothes to and from surgery. I wore some of these drawstring pajama pants. I love that specific collection because they are so soft and there is basically no elastic in the waistband, so you can make them super loose and comfy. Again, you won't be able to lift your arms above your head after surgery, so make sure your shirt buttons/zips up the front. A zip-up like this one is perfect.
SNACKS AND EASY FOODS: You won't be very hungry immediately post-op, but you'll need to eat with your medications. Stock up on simple snacks like crackers, cheese cubes, granola bars, etc. For meals, I ate a lot of sandwiches. Believe me, you won't feel like hanging out in the kitchen to cook. [Prime Pantry is a great way to get non-perishables delivered right to your door!]
MEDICATIONS: Fill your prescriptions before surgery, so you don't have to stop off at the pharmacy on the way home. [Pro tip: compare prices on GoodRx to determine what pharmacy will be cheapest!]
DRY SHAMPOO: Not being able to lift your arms over your head makes washing your hair basically impossible. Dry shampoo is a must! This one is my favorite, but it's a bit spendy. Here's the best budget-friendly option I've found.
STOOL SOFTENER: Not to get too gross here, but the first bowel movement after surgery is… scary, to say the least. Much like c-section recovery, you'll be encouraged to take a stool softener to make the first bowel movement easier. I used this brand after my c-section and mommy makeover.
What else might I need for Mommy Makeover recovery?
These next items are more optional than necessary, in my opinion. Some people swear by them, so I'm including them so you can make your own choice.
SHAPEWEAR/"GARMENTS": A lot of patients swear by garments or shapewear after a tummy tuck. As for me, the garment constantly pressed against my body actually gave me a painful heat rash. My surgeon recommended I just wear high-waisted leggings during recovery, and, in my opinion, my results look just as good as ladies who used the garments. And I was much more comfortable!
LIPO FOAM BOARDS: I never tried these, but a lot of ladies swear by putting these foam pieces inside their garments post-lipo.
GRANNY PANTIES: Your incisions will leak, so you might want some high-waisted granny panties like these to throw away afterwards.
NEOSPORIN AND/OR VASELINE: A lot of people swear by putting Neosporin on incisions to aid in healing. I'm actually allergic to Neosporin, so it's a no for me. Vaseline is an alternative that helps keep your scars moist to aid in healing, but minus the antibiotic ingredients of Neosporin–making it a better choice for those of use prone to allergic reactions.
ARNICA TABLETS: Almost everyone I know who had surgery swore by Arnica tablets to help with pain and swelling. I never tried them, so I can't speak directly to their benefits.
Shop Mommy Makeover Recovery Essentials

What to Buy for a Tummy Tuck and More
I hope you found this mommy makeover recovery checklist of items to buy for a tummy tuck, breast augmentation, and other plastic surgeries helpful. Did I miss anything? Let me know in the comments!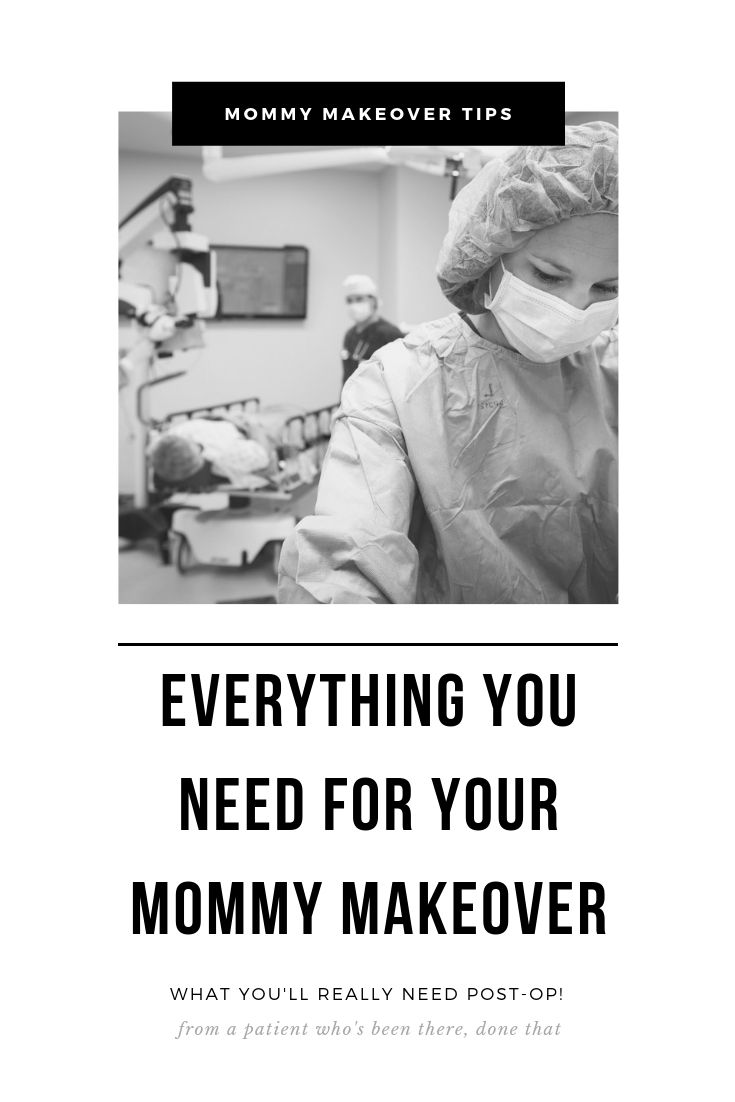 Pin this Mommy Makeover Recovery Checklist – What to Buy for a Tummy Tuck Recovery and more for later!
More like this: