Today I'm sharing all the details of my lip injections and answering your most common questions about lip fillers! The main question I get is, are lip injections worth it? Read on for my experience with lip injections in Kansas City (Olathe) and my recommendations…

This post is sponsored by Johnson County Dermatology.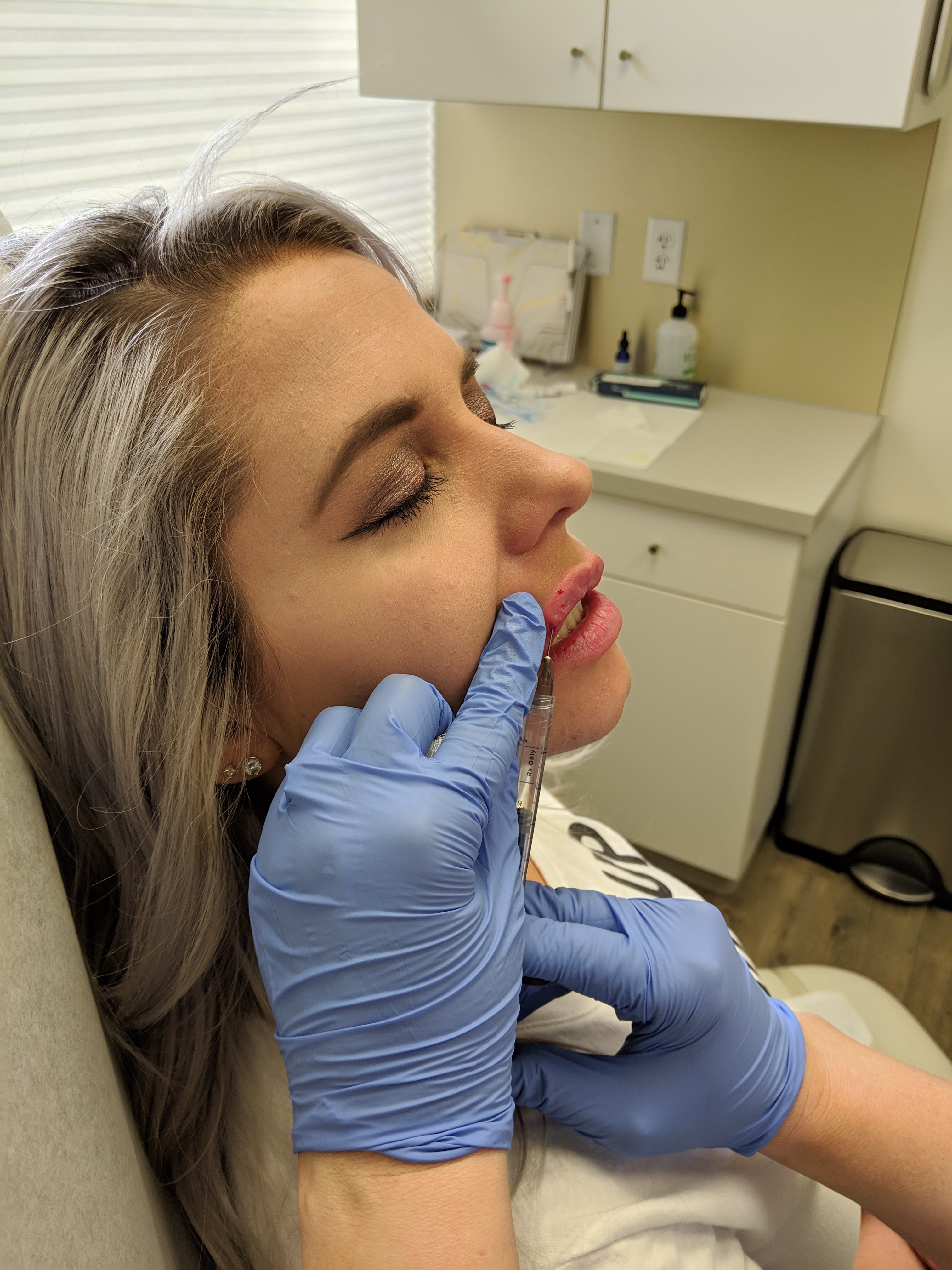 The biggest questions I had before getting my lips done were about the lip injection process. So, I want to break it down for you as detailed as possible so you know every step along the way.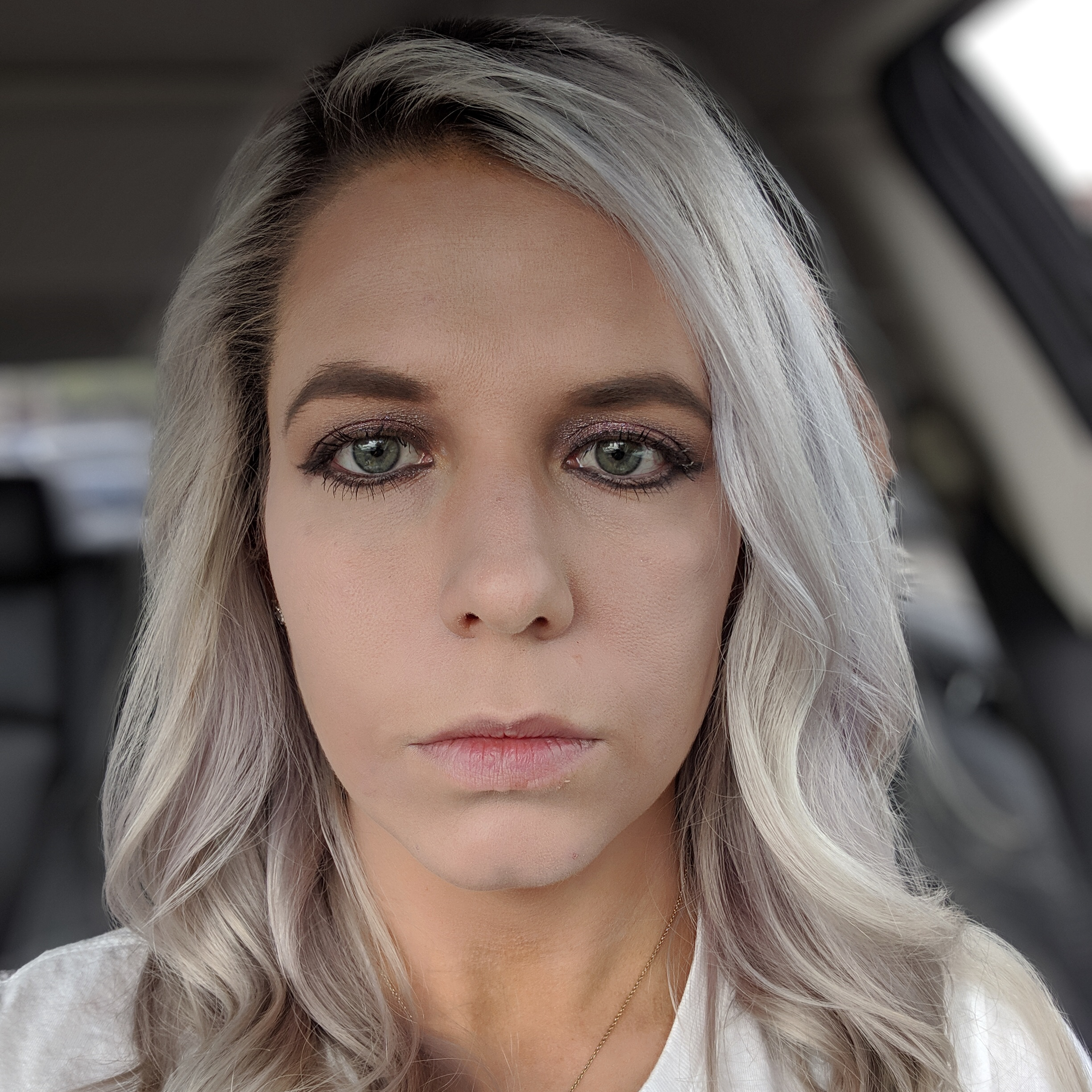 Here's a before shot I snapped in the car before heading in to get my lip injections. Apologies for the mugshot-esque expression–I was trying to keep my face completely neutral to avoid unfairly distorting my lips.
Anyway, I liked the overall shape of my before lips, but the top lip seemed a bit uneven and also pointed downward in a way I didn't love.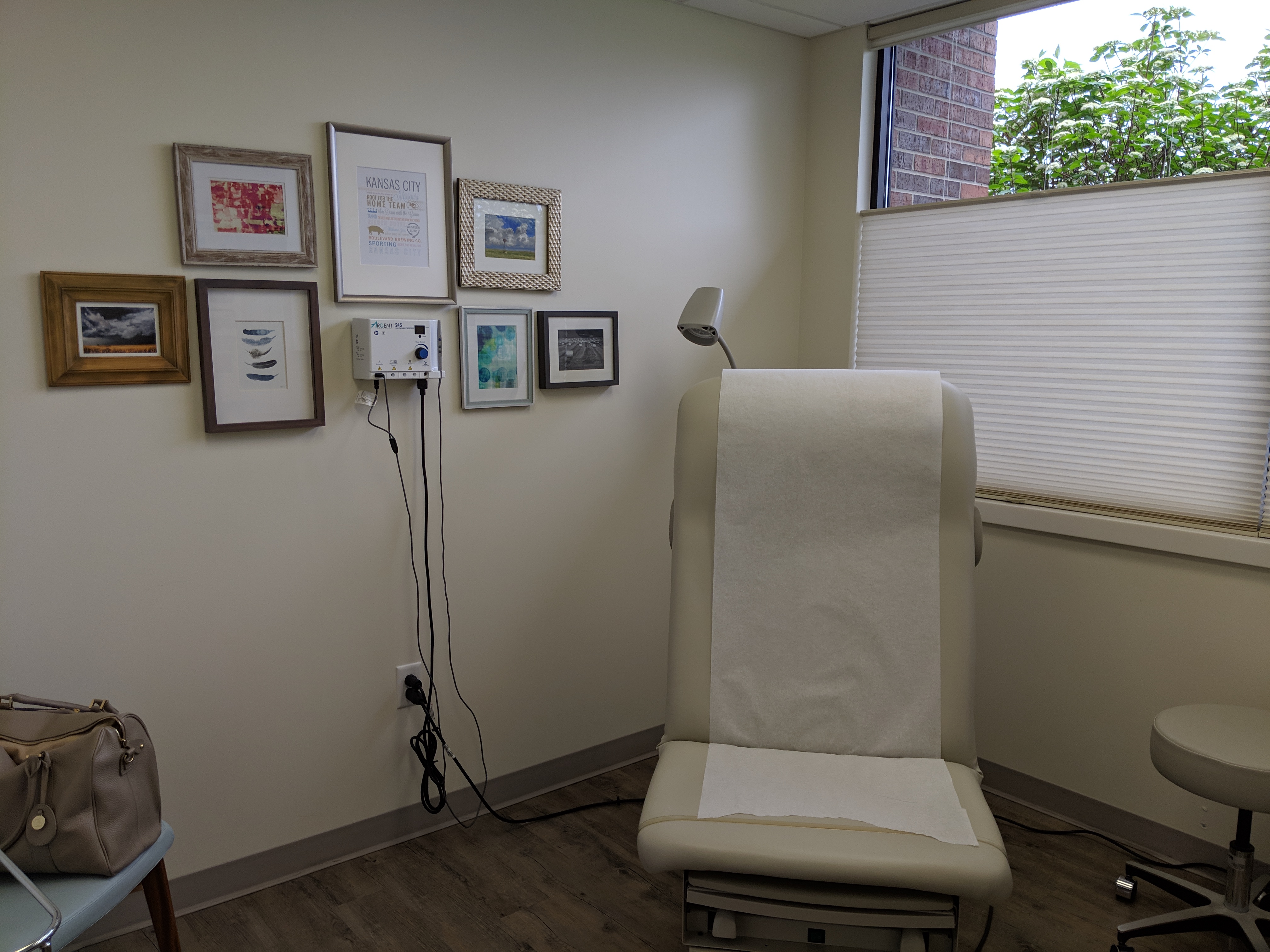 I had my lips injections done in Kansas City (Olathe), at Johnson County Dermatology. My time in the waiting room was brief, just filling out a couple medical history forms, then I was called back to the exam room.
Once in the exam room, a nurse went over the process with me and answered my questions. Then, it was time to get started!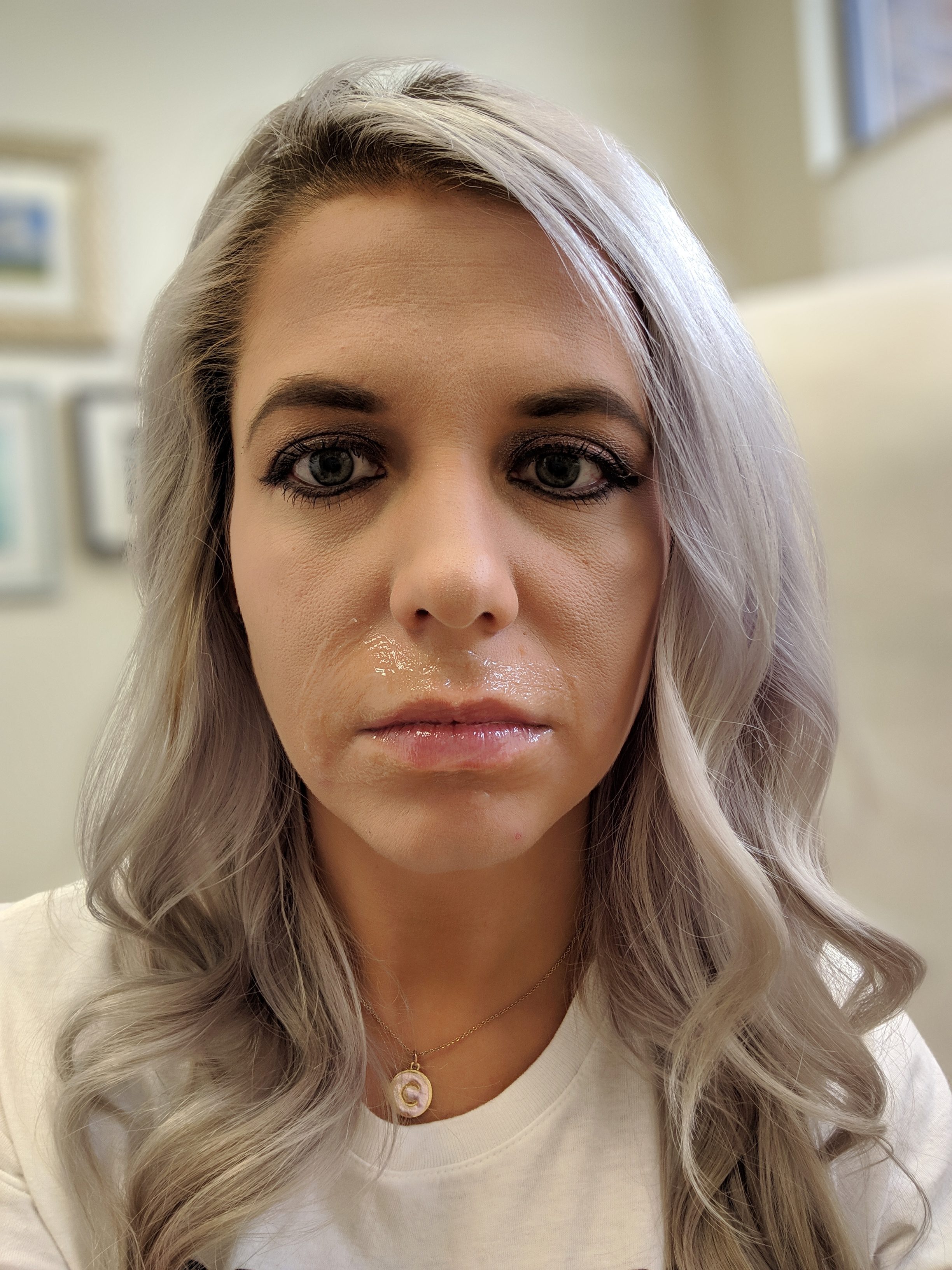 The first step was smearing this numbing gel on my lips and surrounding areas. It kind of reminded me of the stuff dentists use on your gums before giving you a shot. It worked fast, and I was numb within a few minutes. [The numbness lasted a couple hours for me, although I assume that's a bit different for each person.]
By the way, don't wear makeup–especially on your lips–to get lip injections. I only wore makeup because I knew I would be photographing the process. Wearing makeup won't ruin your injections or anything, but your makeup will get messed up so it's just wasted effort.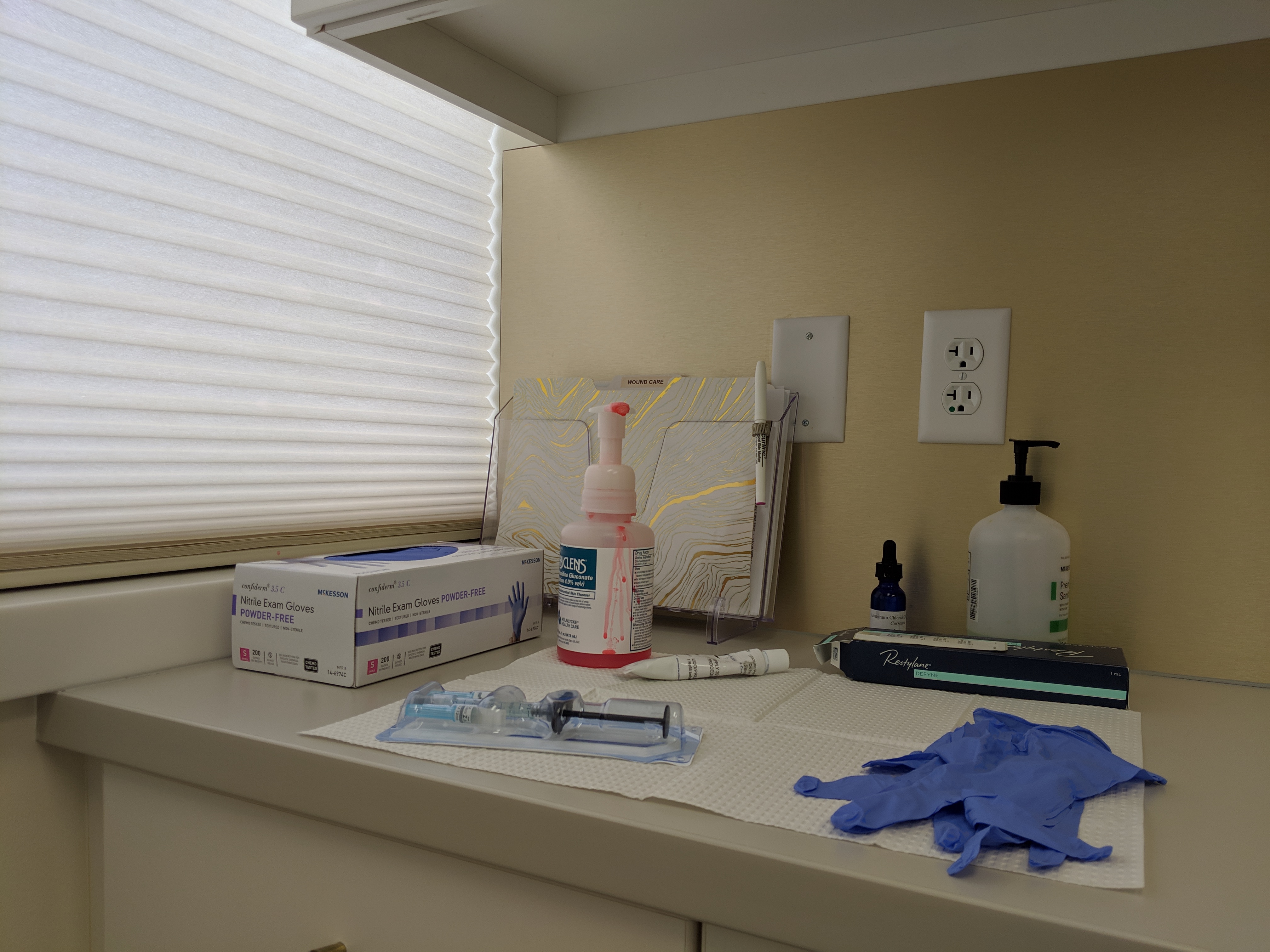 While I was numbing, the nurse checked in and set out everything needed for my lip injections. As you can see, my injector used Restylane Defyne as the filler. We only did 0.5ml [basically half of the syringe] this time, so this post is a before and after of 0.5ml Restylane Defyne lip filler. For my first time getting injections, it was suggested to use half the syringe first, then come back in a few weeks if I wanted a fuller look. It's been about a month at this point and I do think I'm going to return for the rest, but I wanted to live with this for awhile to see what I thought.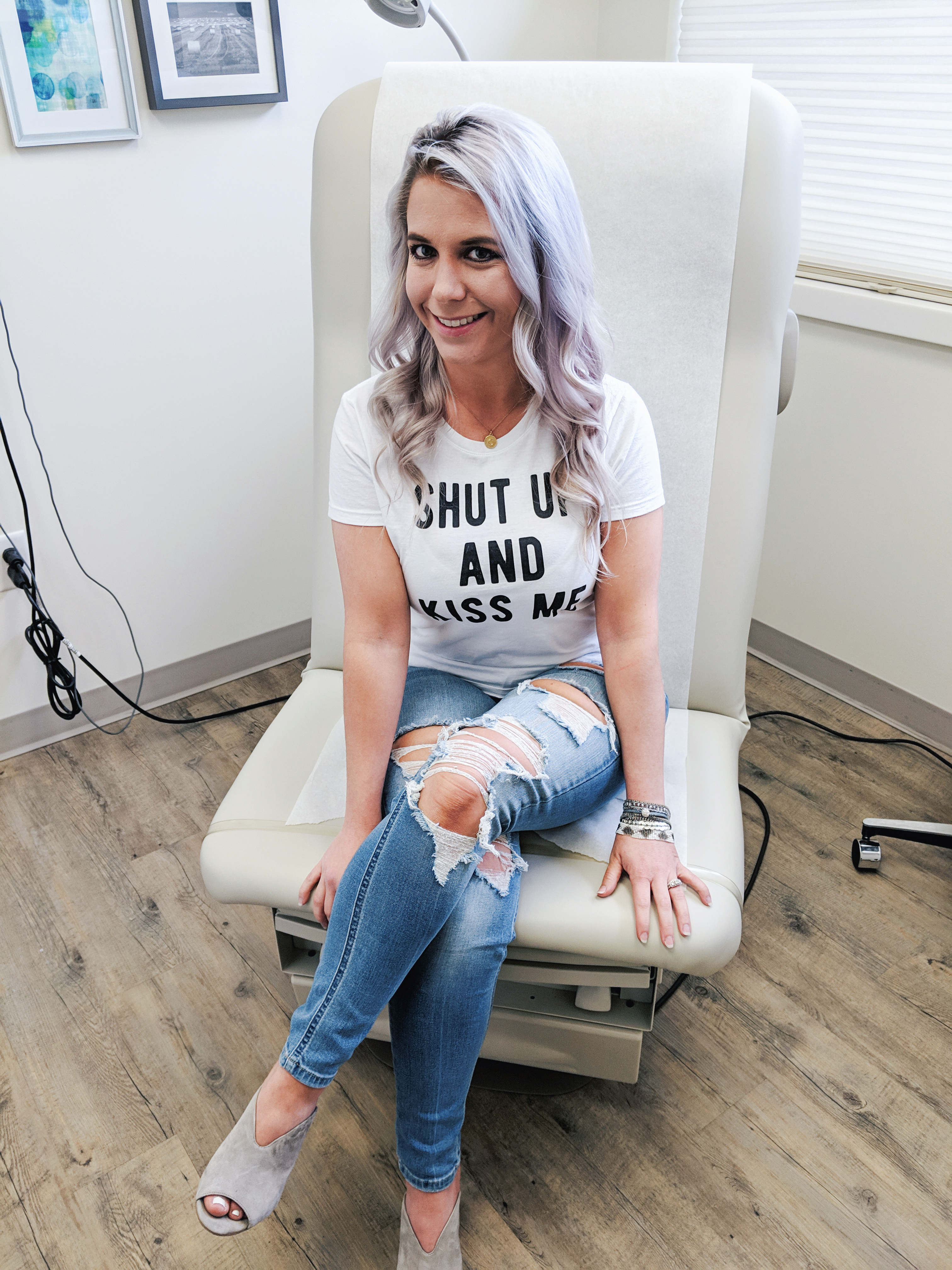 Ready for my transformation! Check out that nervous smile.
Shop My Look

[You can use my Victoria Emerson coupon code COVETBYTRICIA for a discount on my fun bracelet!]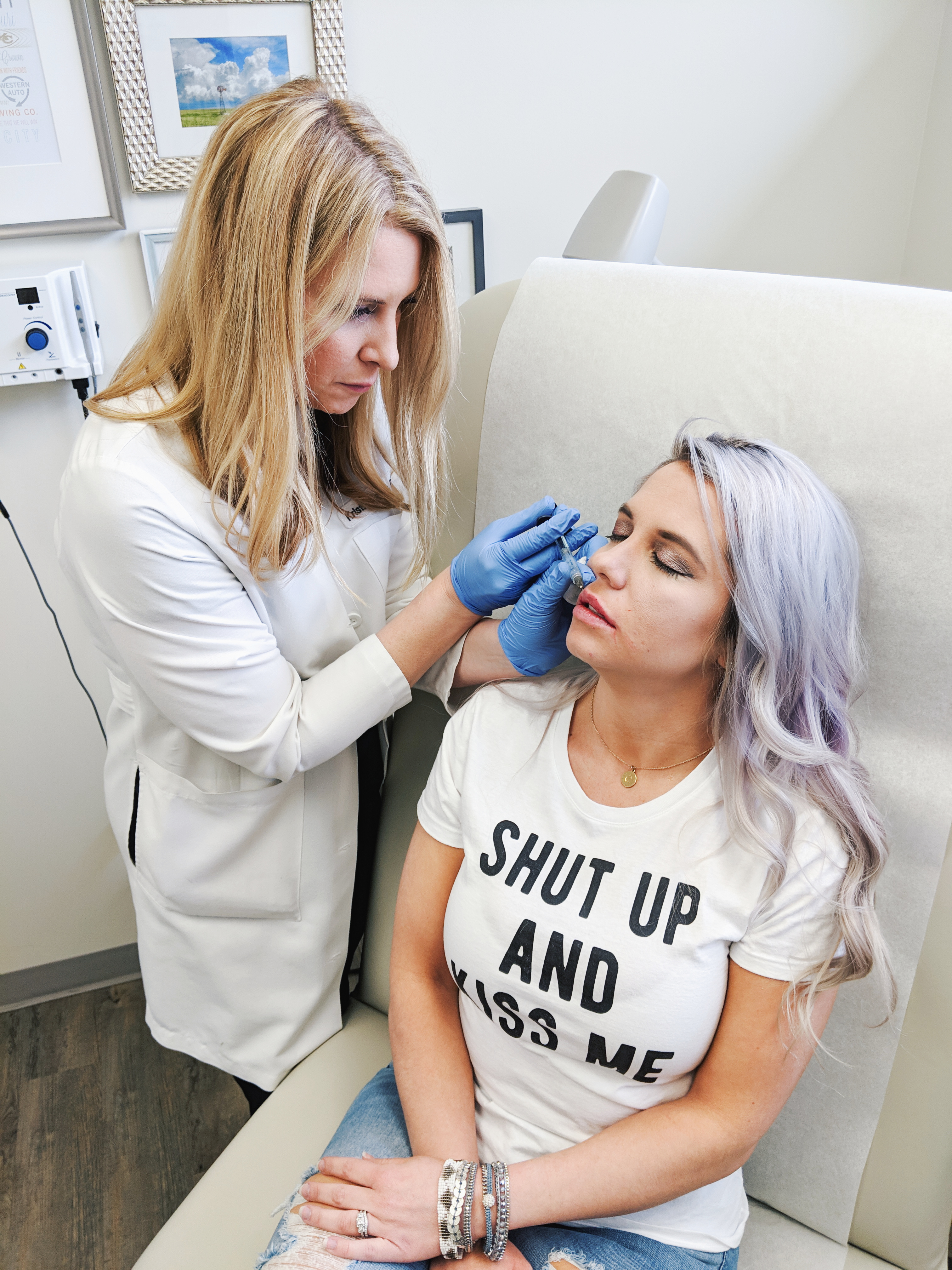 After the numbing took effect, my injector came in and got to work!

Her name is Kristin Sands, and you can find some of her work on Instagram. I'm lucky that she is my friend and neighbor, so I trust her judgment! She is seriously so kind and funny, you will have such an easy time with her. And she really has a great eye for this stuff!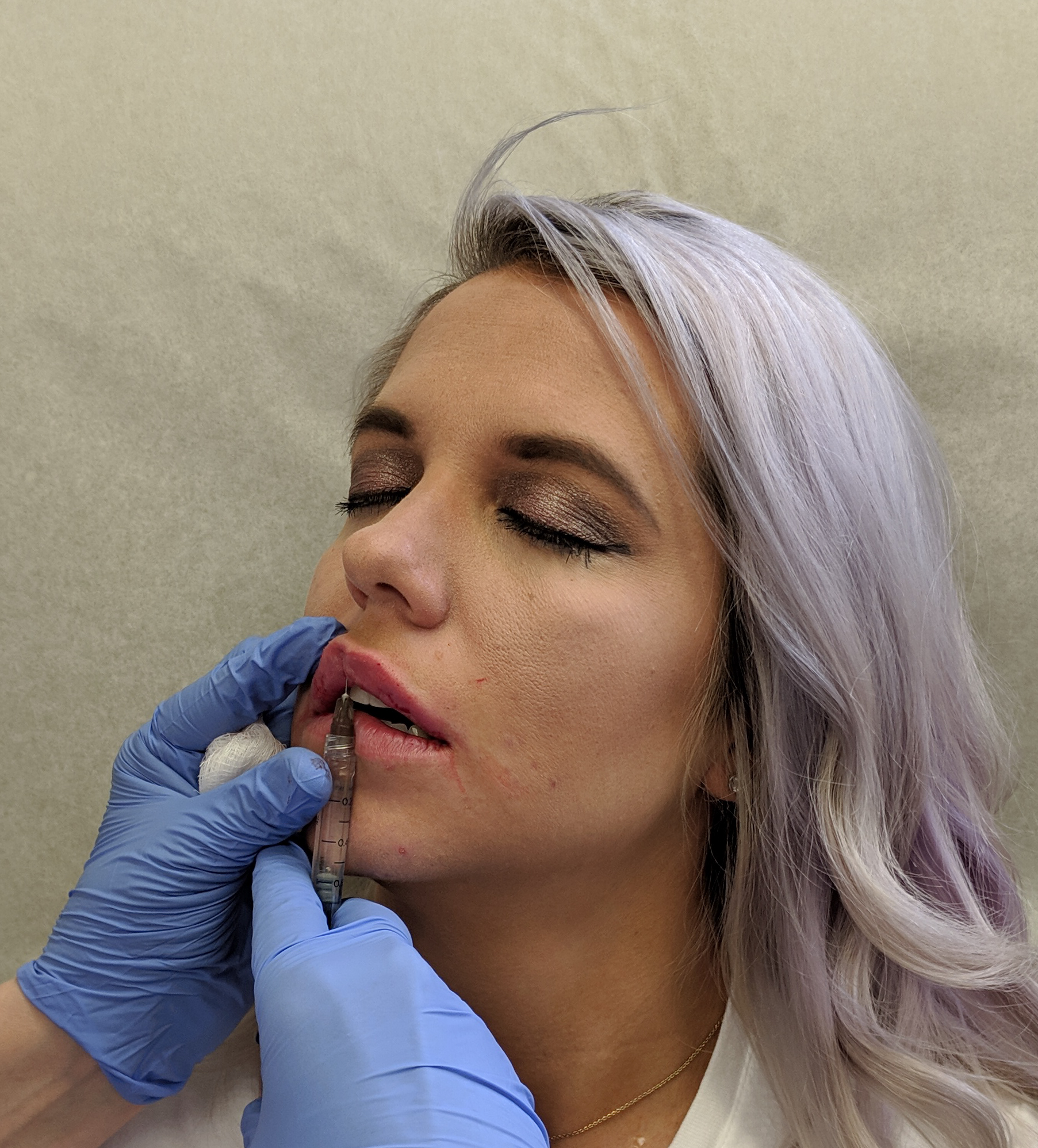 Most of my lip filler was in my top lip, which is generally the most painful. Kristin said the top lip is more painful than the bottom and it's more painful the closer to the edge of the lip that the needle is going.
If you ask me, do lip injections hurt, I won't lie–it's certainly not comfortable. But, the process is quick and the payoff is worth it. You can see immediate results! [You can ask your injector about taking any OTC pain meds if you're worried about the pain. I was told not to do Advil for a few days before and after, but check with your own injector to see what you can and can't do.]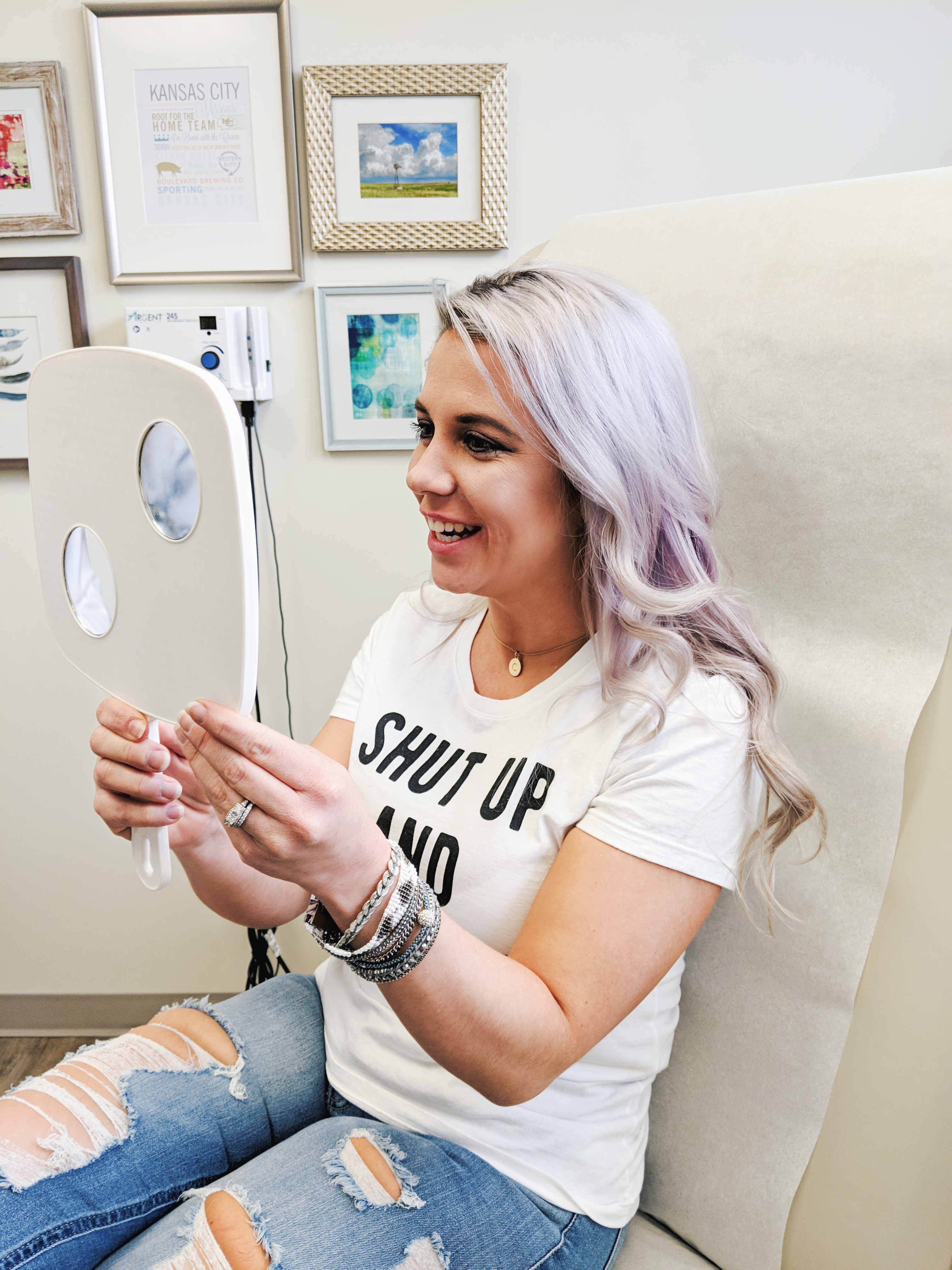 Here was my reaction upon seeing my results for the first time. I know this pic looks totally staged, but I swear it wasn't. I was legitimately surprised how much of a difference the lip injections made! [P.S., love that Kansas City art in the background!]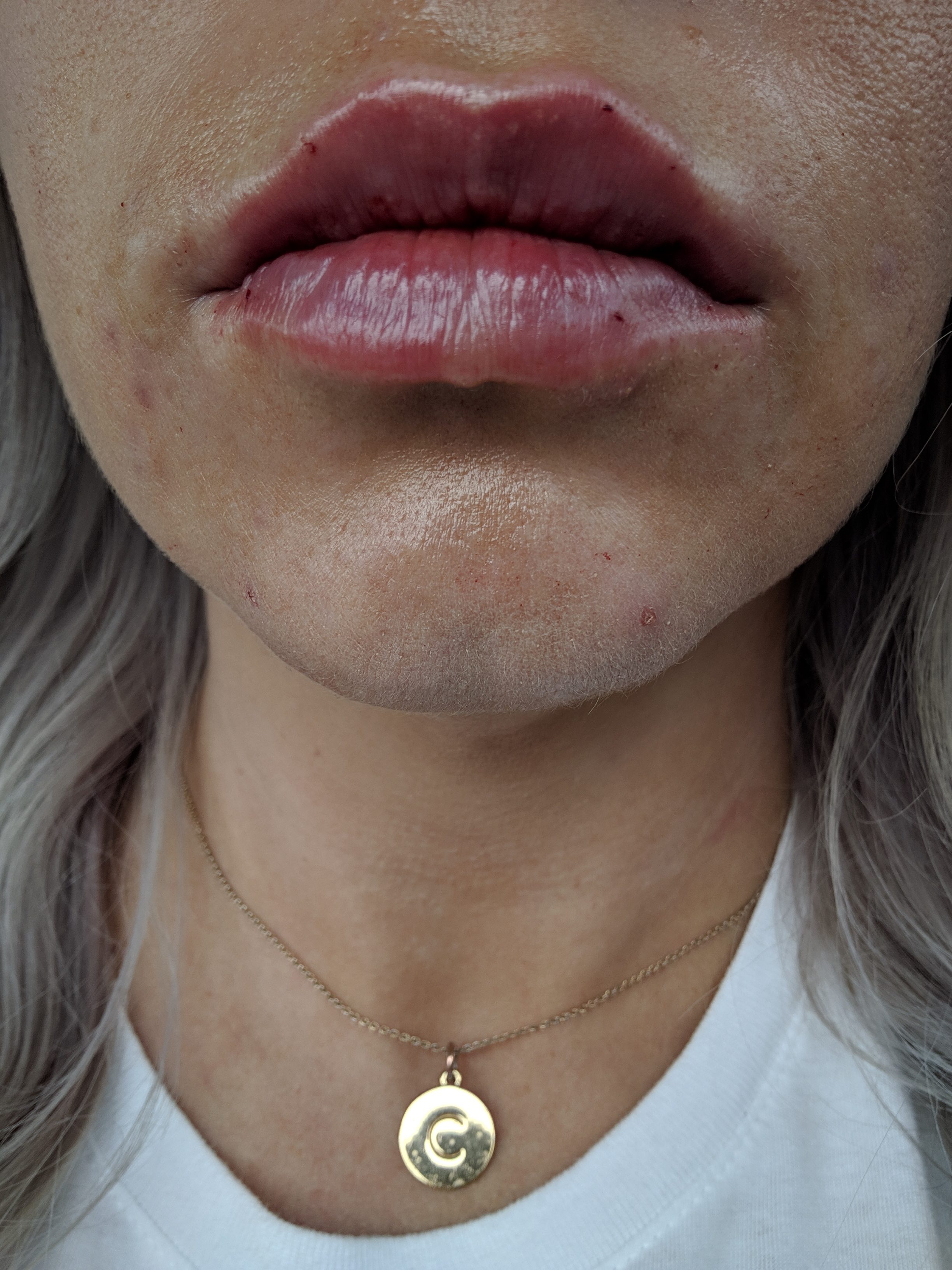 Here's a close up of my lips immediately after, so you can see where some of the injection spots were.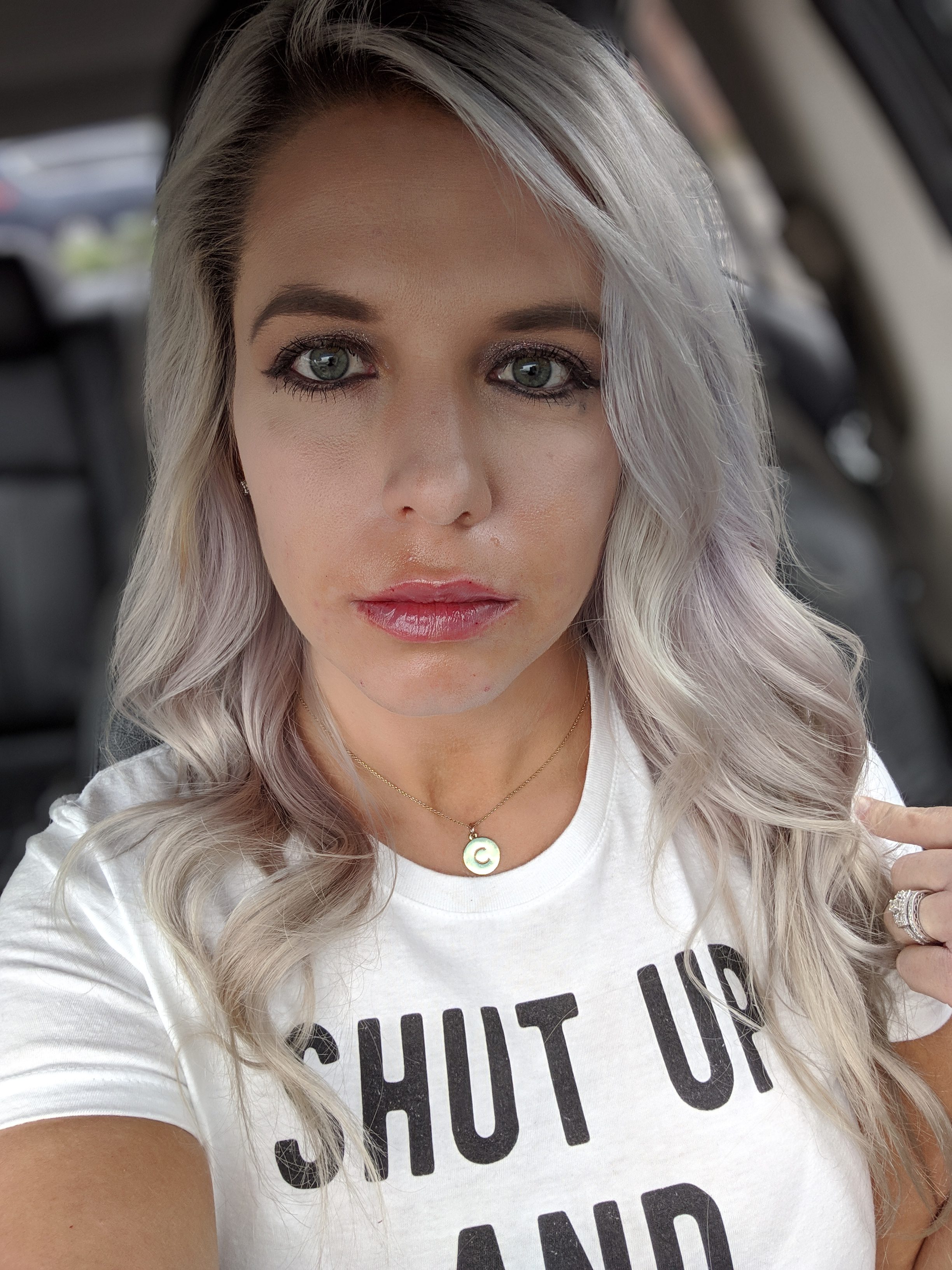 And here's a selfie in the parking lot right after my lip injections. My upper lip especially looks much fuller and youthful!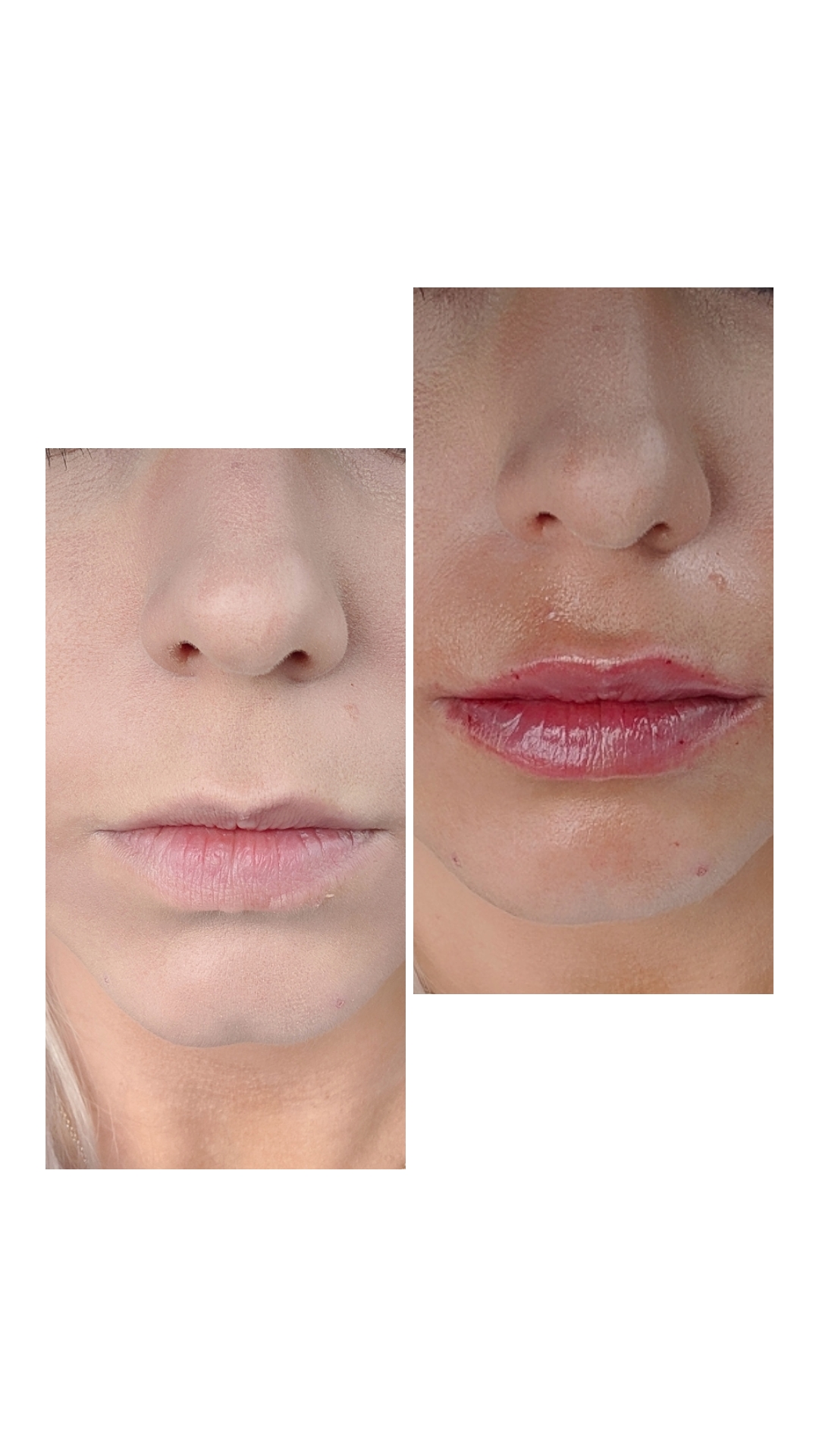 So you don't have to scroll up, I put my before and after selfies side-by-side. And just to have all the stats in one place, this is a before-and-after using 0.5ml Restylane Defyne lip filler, injected by Kristin Sands at Johnson County Dermatology in Olathe, KS.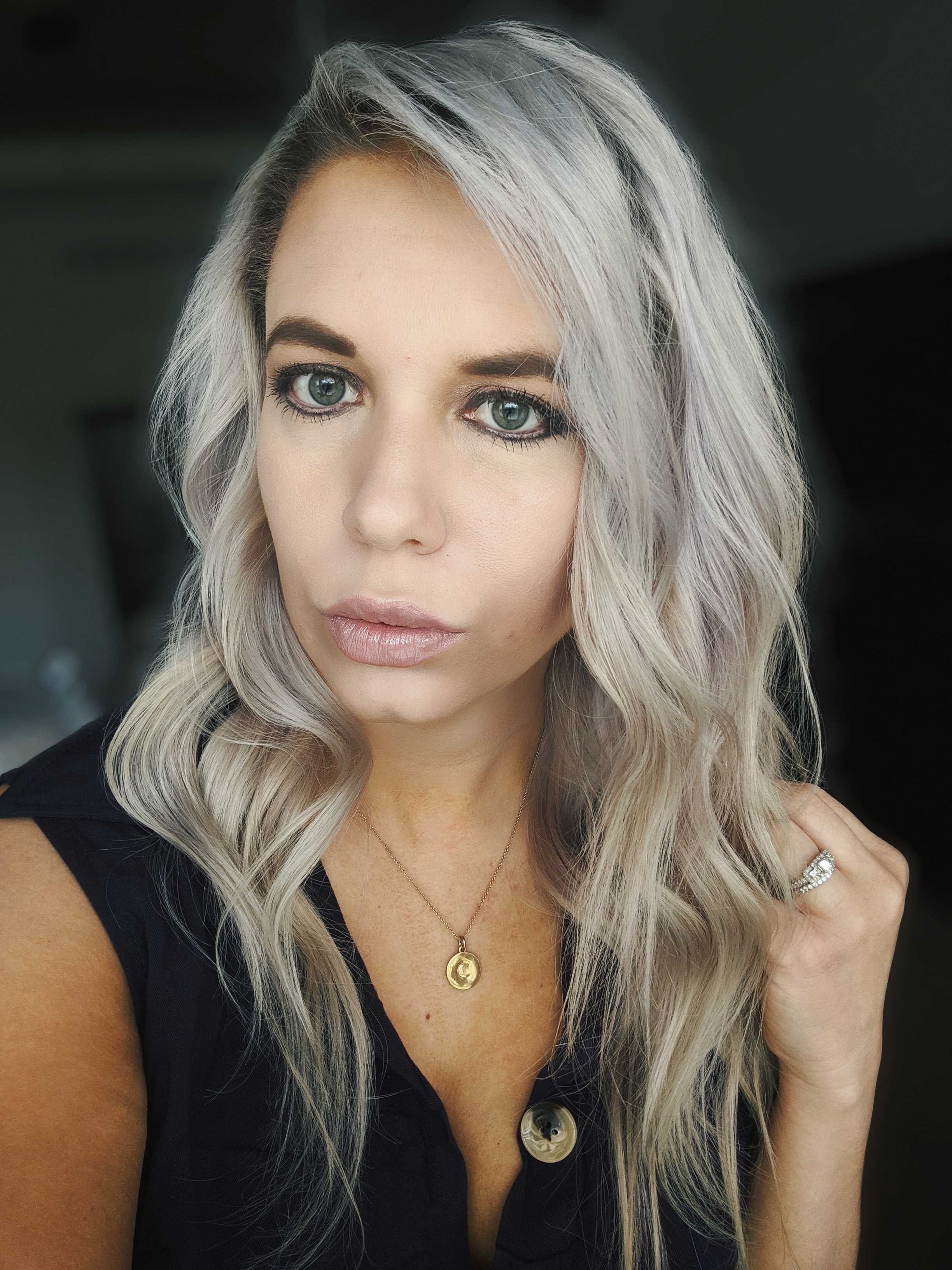 Here's a selfie I took about a week after getting the lip injections done. As you can see, the initial swelling is gone–that only took a day or 2 to go away.
So, to answer the initial question–are lip injections worth it–I say yes. It's a quick way to subtly change your appearance, minimal discomfort, and quick recovery. I plan on going back to get mine done with Kristin at Johnson County Dermatology again!
If you have any questions on lip injections in Kansas City or just generally about the process, feel free to reach out!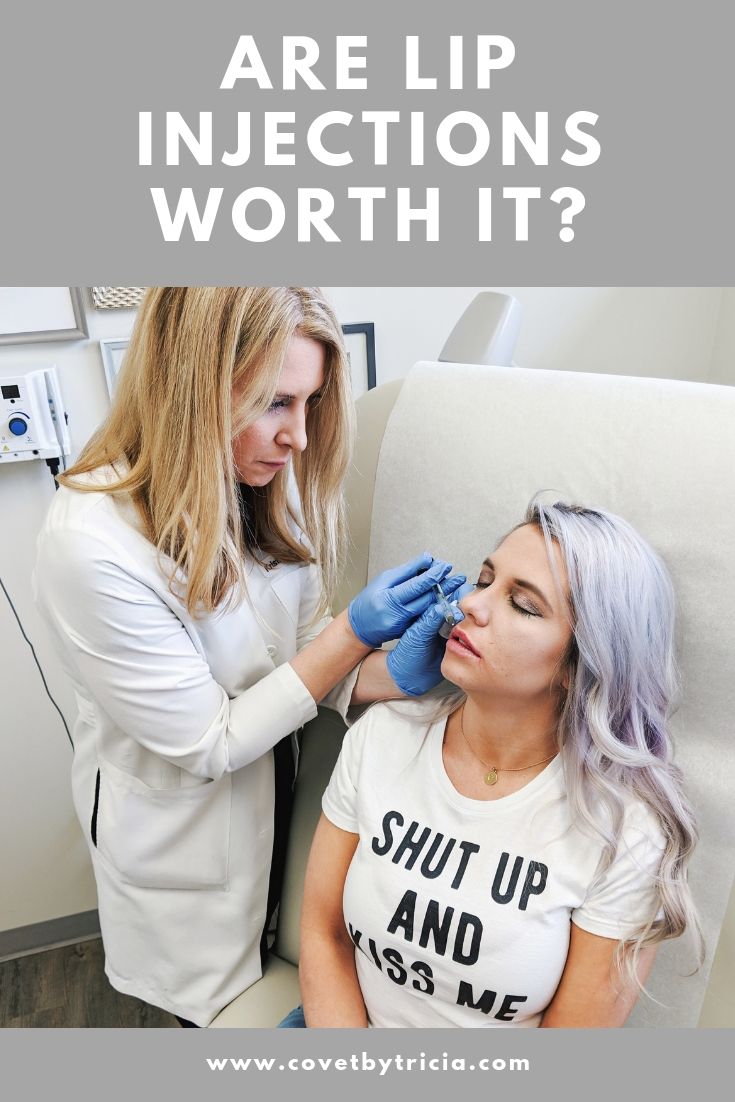 Pin this info on "Are Lip Injections Worth It?" and the best place for lip injections in Kansas City for later!
More Beauty Inspo: