So glad you've been loving my try-on hauls lately! I started a special tag here on my blog to keep them all in one place, so check here for all my recent try-on hauls. Today I'm coming at ya with an Old Navy try-on haul spring 2019! This Old Navy try-on haul includes dresses, workout wear, tops, shorts, and more. Lots of cute and affordable pieces, so let's get to it…

Quick notes: Old Navy offers a lot of their items in petite and tall lengths! I'm 5'1″, so I'm wearing the petite length when available. Also, you'll notice I generally speak positively about the items in my try-on hauls. This is because I only show you items I truly love and recommend. Whenever I do try-on hauls, there are always items you don't see [for a variety of reasons].
Old Navy Try-On Haul Spring 2019: Dresses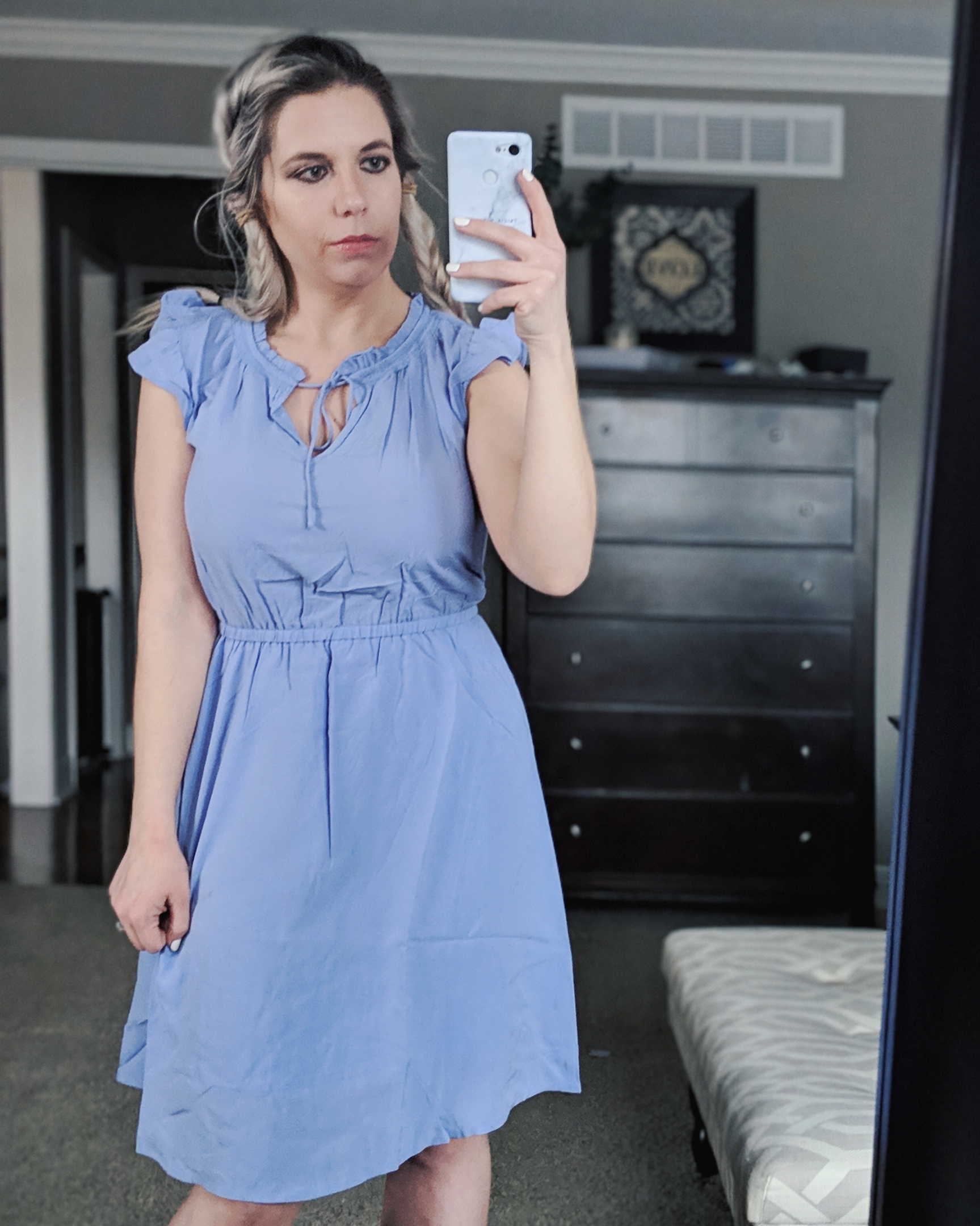 flutter sleeve dress // personalized phone case // the best white nail polish // chip-proof top coat
This Old Navy dress is my favorite of the try-on haul! The sleeve detail is perfection.
This sheath dress is perfect for the office. The fit is very flattering, and it comes in a variety of colors. I totally would've worn this to work when I was still practicing law.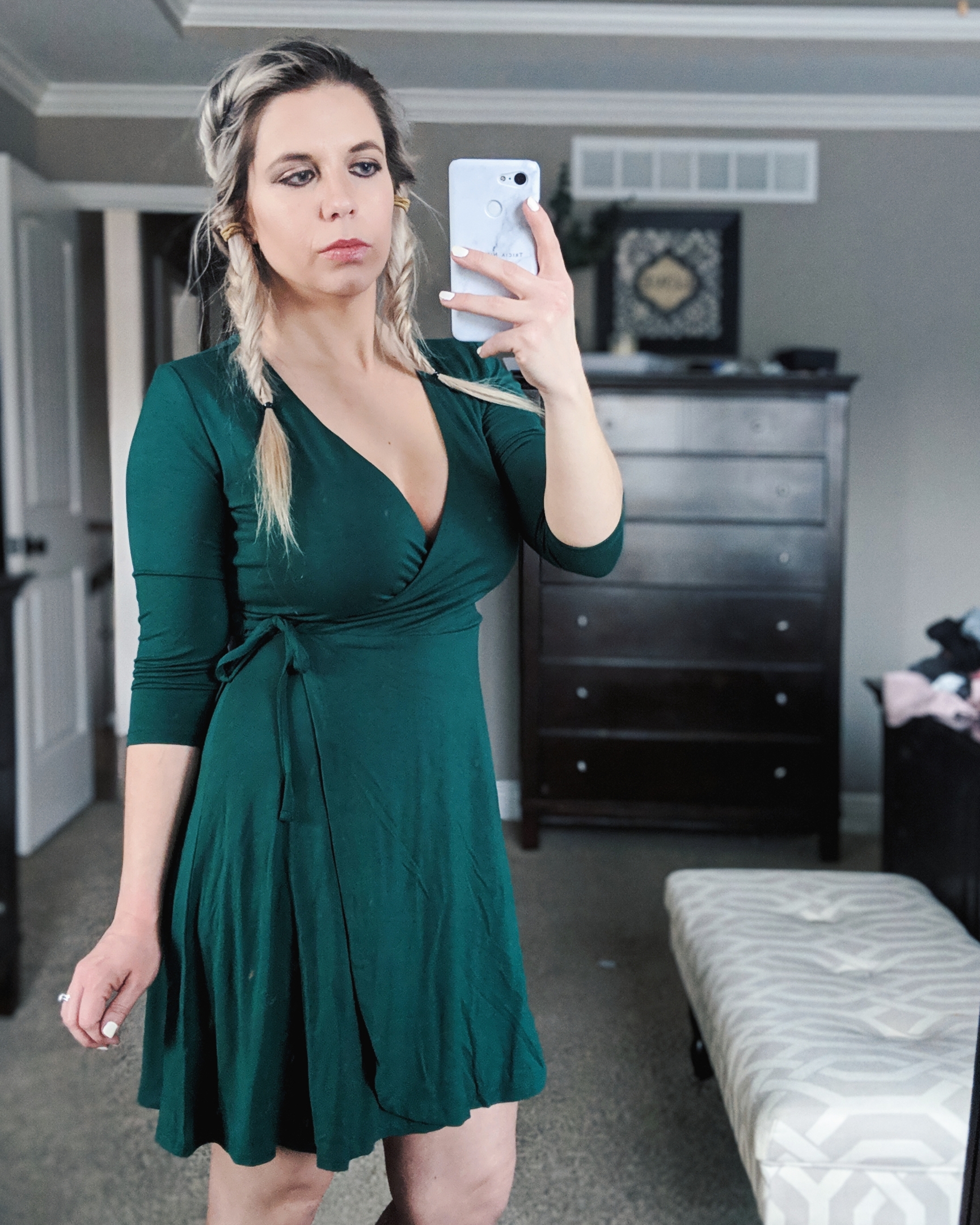 This Old Navy wrap dress is insanely flattering, and the fabric is so comfortable. It's cute enough to wear on the weekend, and could even work for a more casual office [as long as you're not super busty–this one is pretty low cut, so bustier gals probably shouldn't choose it for workwear].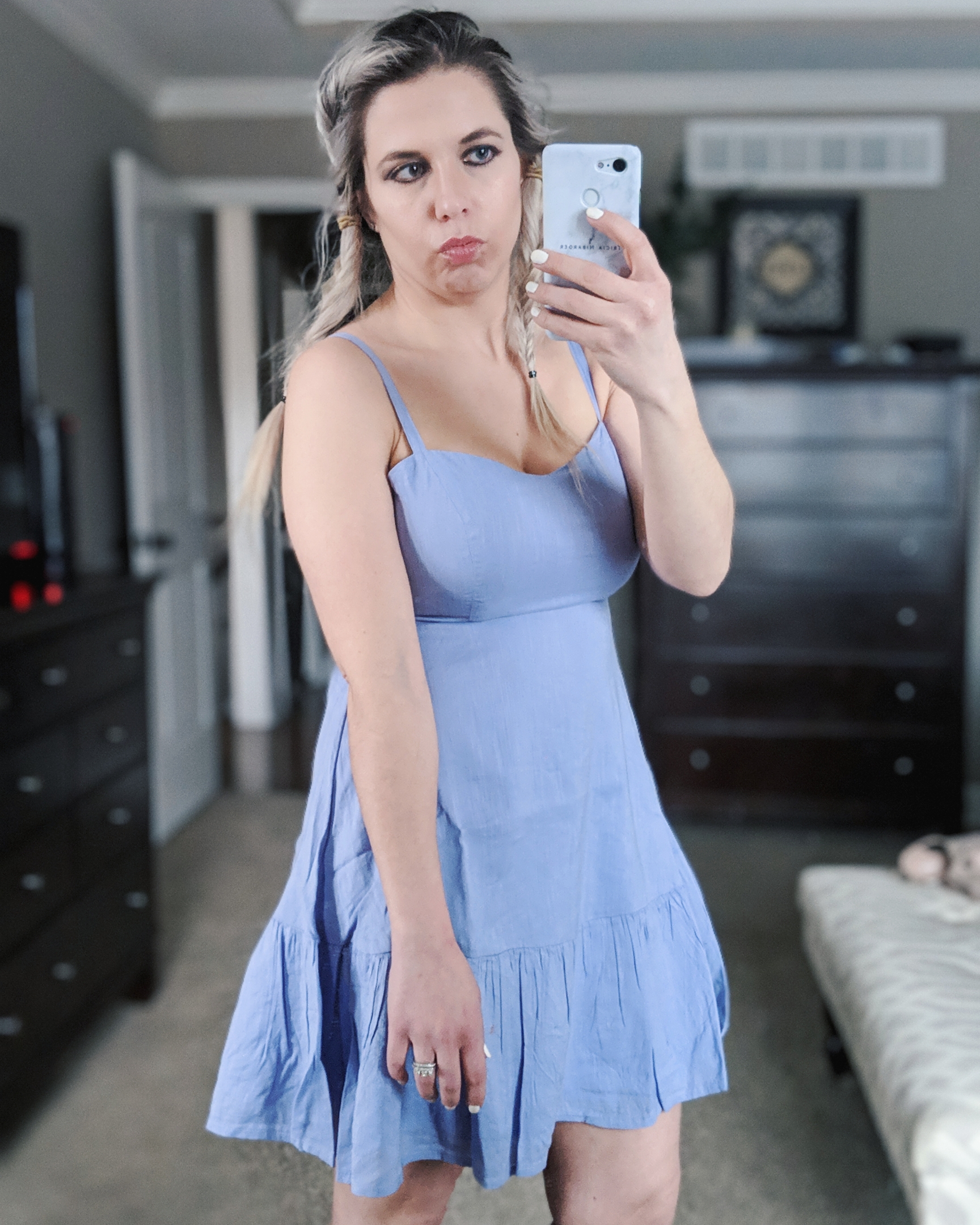 This little sundress is so flirty and fun! It's also very flattering, as it's fitted at the bust and flares out over the hips and stomach. Wear it alone in the summer or throw on a cardigan or light jacket for the spring.
Old Navy Try-On Haul Spring 2019: Everyday Outfits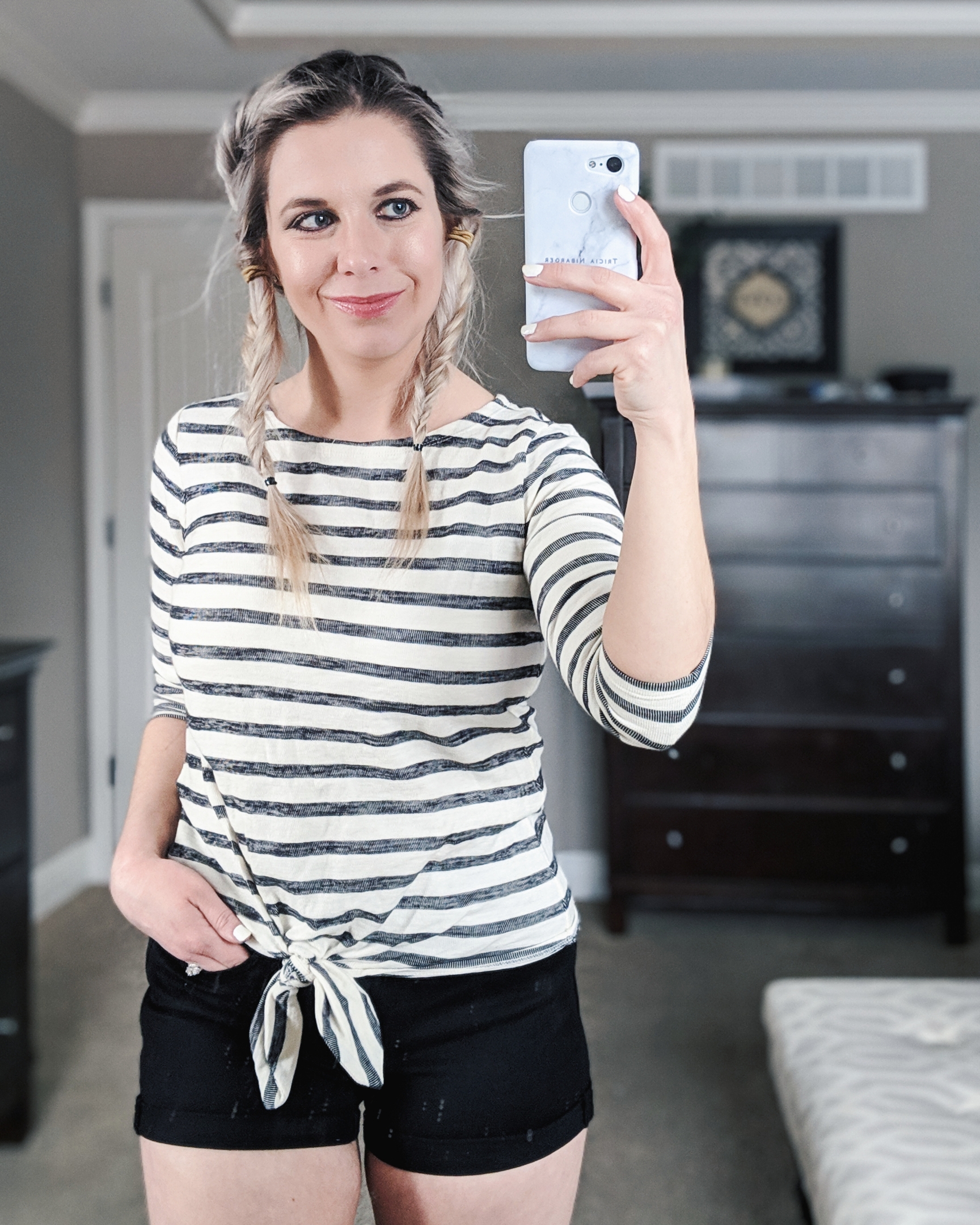 Tie-front tops are very on-trend for spring 2019, and the fit of this one is spot-on. Not too tight, not too loose. The shorts are a nice stretchy material [read: very comfortable].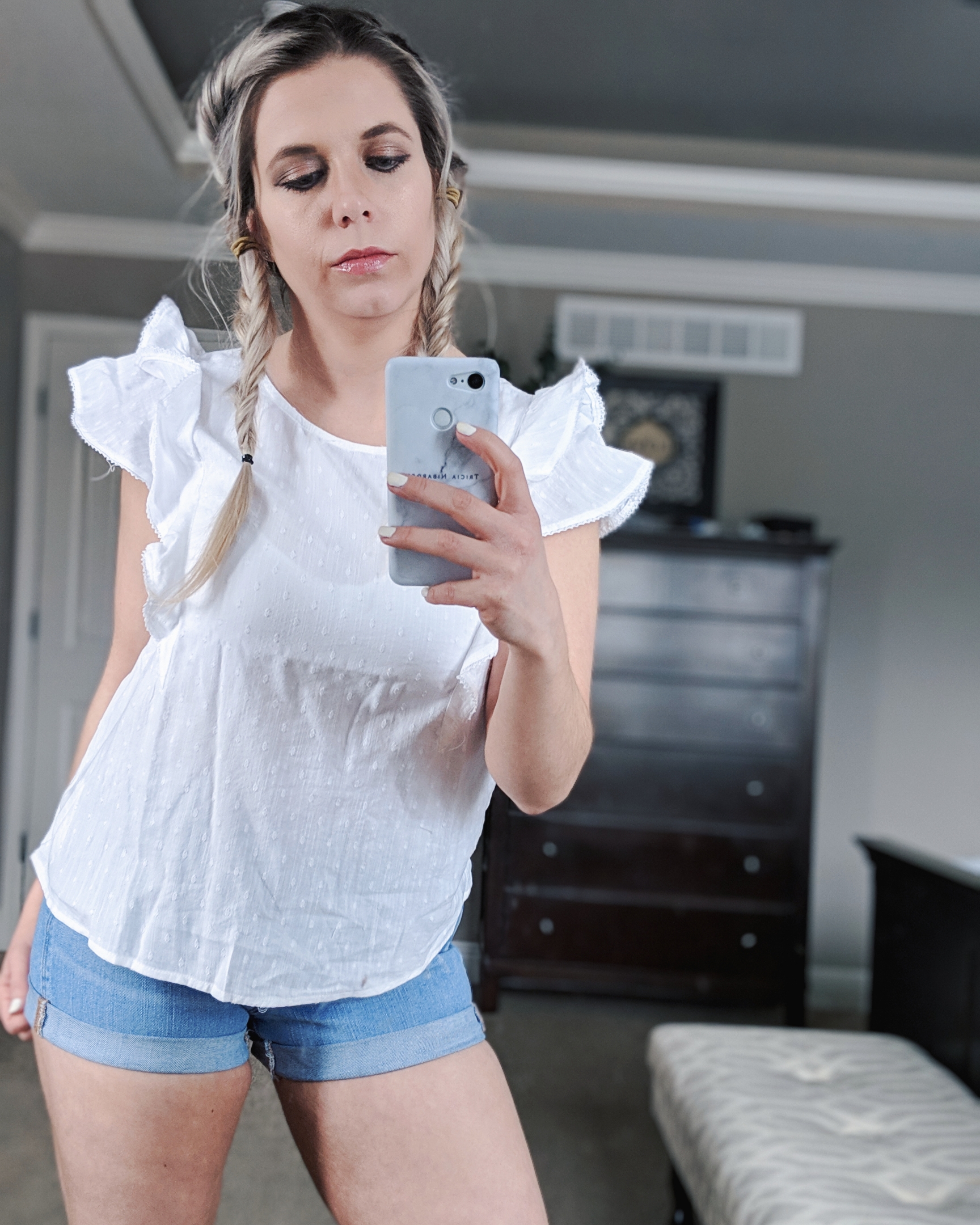 Nothing says spring like a cute eyelet blouse. I love the sleeve detail on this one. It is fairly sheer, so you may want a camisole or nude bra underneath. [Please excuse my white bra showing through; I was still recovering from my surgery when I did this try-on and my bra selection was very limited!]
As for these shorts, they're cute but nothing spectacular. I'm generally not a huge fan of Old Navy denim beyond the fact that it's affordable. I do like their non-denim shorts and pants quite a bit, though.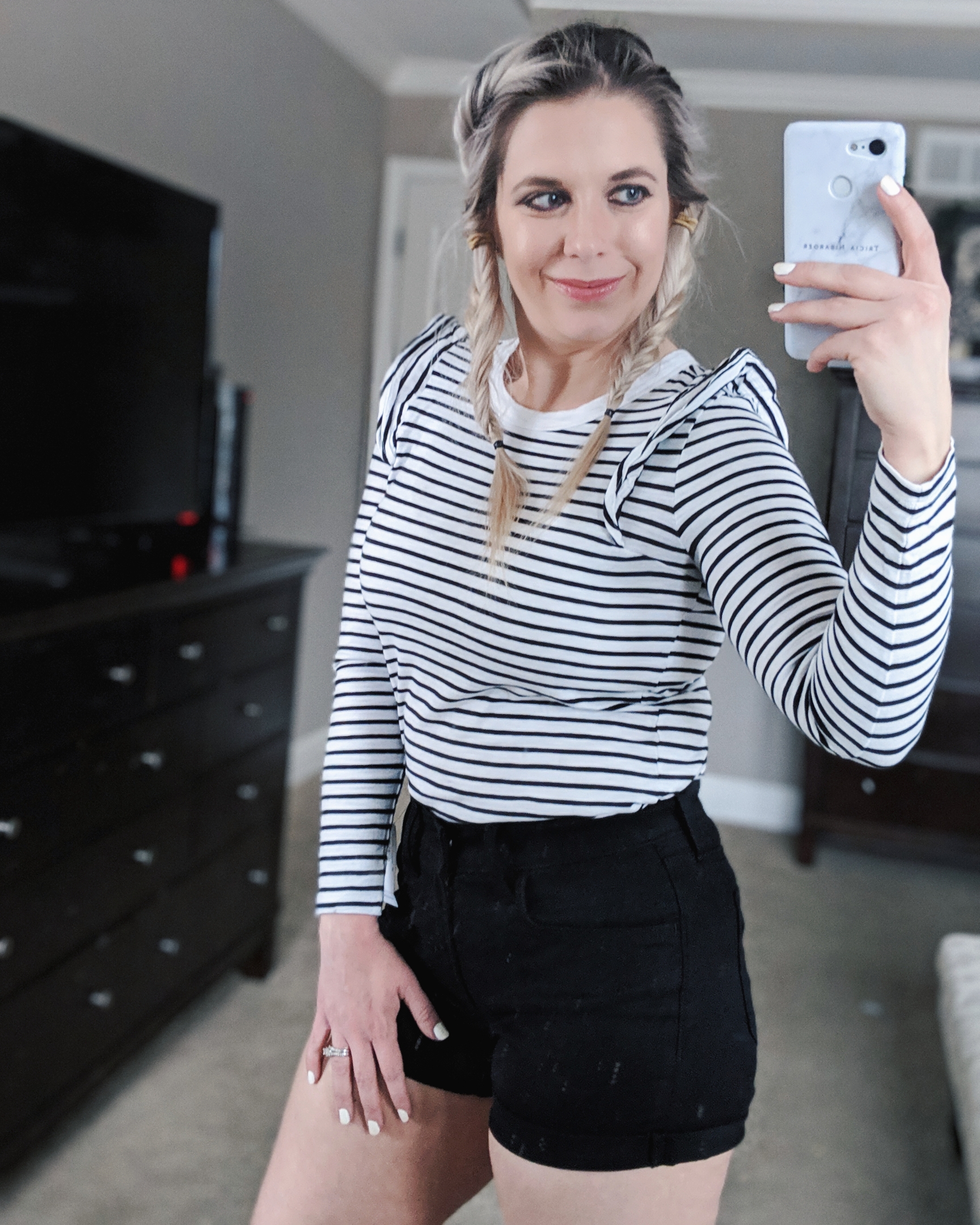 ruffle shoulder top // black shorts
Another black and white striped top, no surprise there! Stripes are on-trend and the shoulder details on this top are adorable. The fit is great for tucking in.
These black shorts are very stretchy and comfortable. Love them!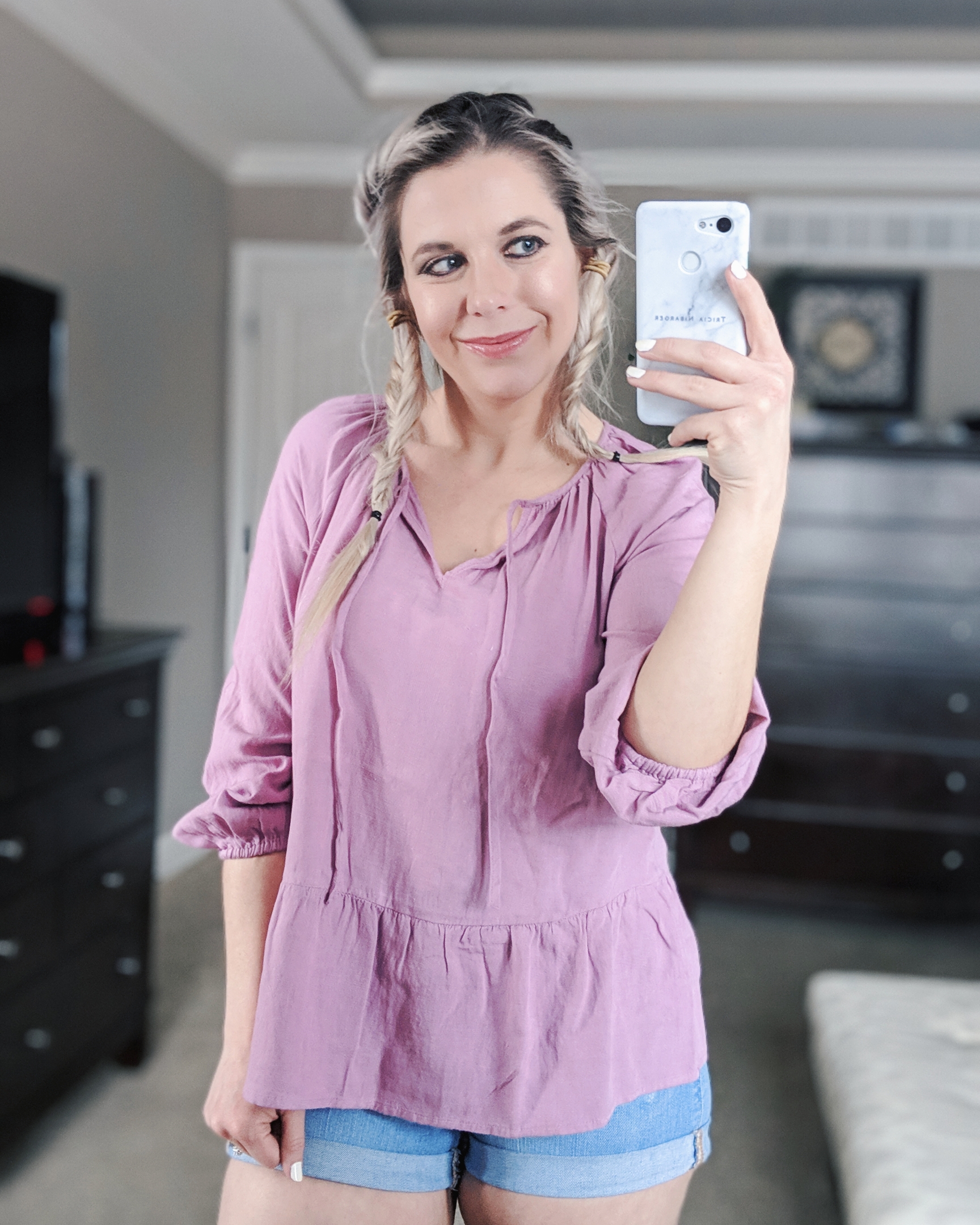 tie-neck boho top // denim shorts
I couldn't pass up the feminine details on this gorgeous Old Navy tie-neck top. I love the boho vibes and the loose, comfy fit.
Old Navy Try-On Spring 2019: Athleisure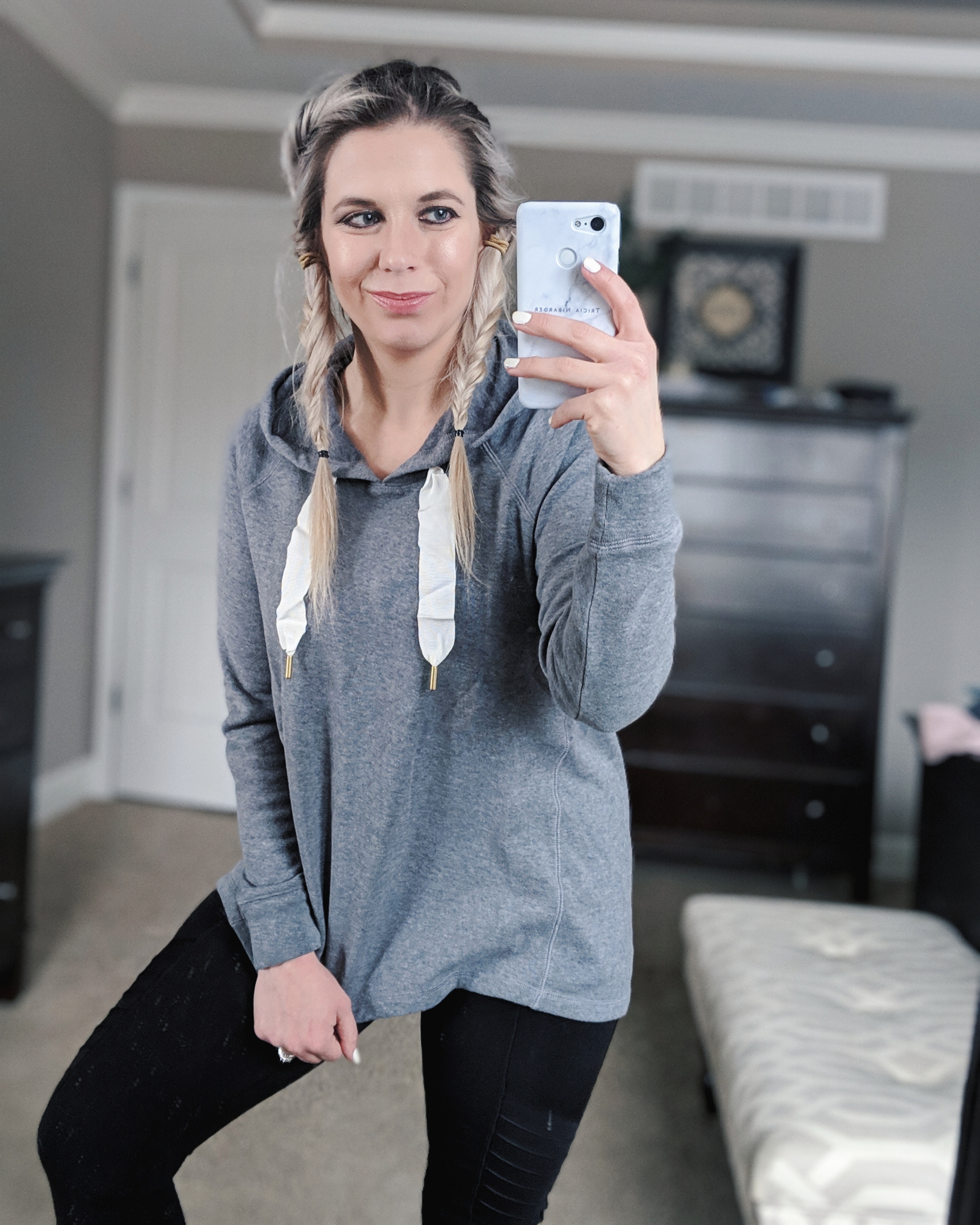 ribbon tie hoodie // moto leggings
I was immediately sold on the cute ties on this Old Navy hoodie! This little detail makes your athleisure look seem more put together than the average grey hoodie.
Affordable moto leggings are hard to find, so I was really excited about these! I recommend sizing up one, as they fit quite tightly.
Note: Old Navy often does special sales on their activewear that are a higher percentage off than their regular clothes. Click here to see the current activewear sale!
Old Navy Try-On Haul Spring 2019: Jackets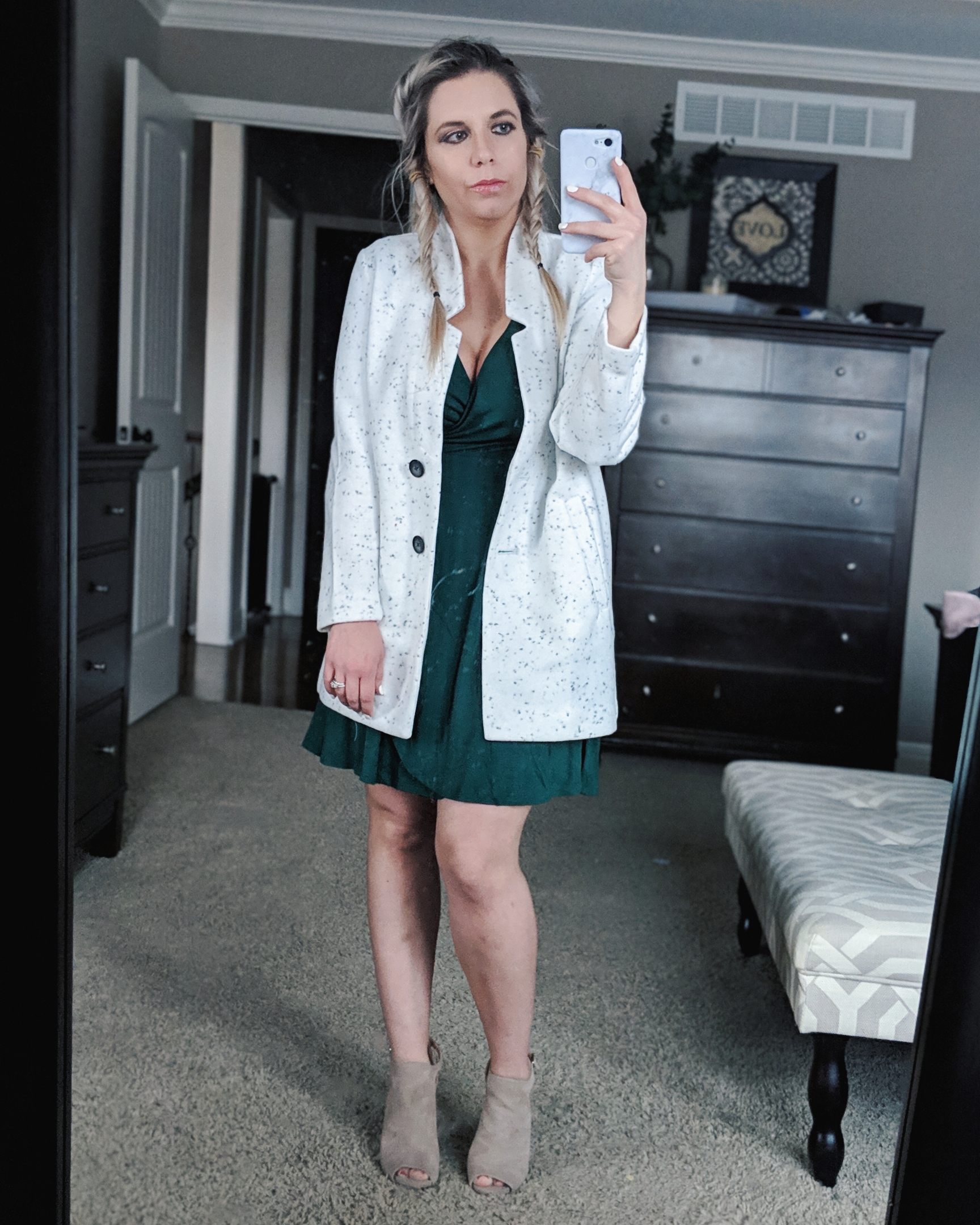 button-front coat // wrap dress // shoes
The cut of this coat is so cute! I love the notches near the neck and the large buttons.
pink jacket // rugby stripe long-sleeve tee // black shorts
I can't resist a good pink jacket! [Here's how I styled a pink moto jacket–one of my favorite looks!] The fit and styling of this jacket is somewhat masculine, but the pink gives it a fun girly touch.
Also love this long-sleeve rugby stripe tee! The material is so soft.
Shop this Old Navy Try-On Haul Spring 2019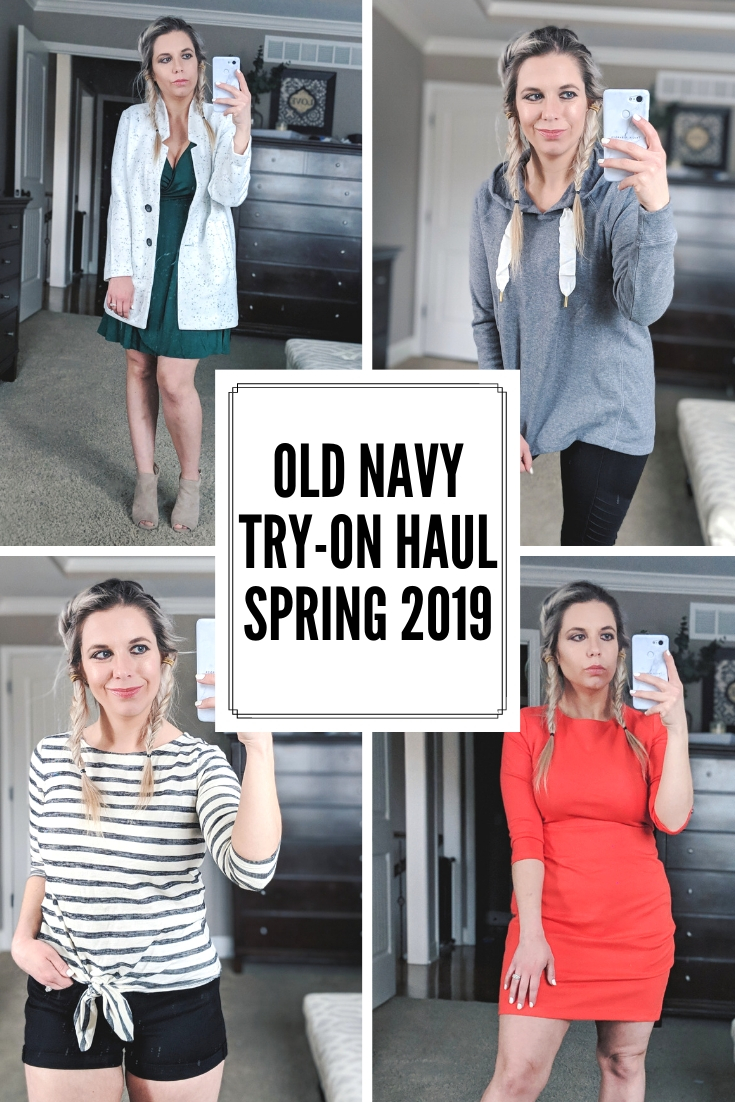 Pin this Old Navy Try-On Haul Spring 2019 for later!
More Try-On Hauls: