What mom doesn't love a good opportunity to twin with their littles? There are lots of retailers that sell outfits specifically designed for "twinning" with your kids–and I've patronized a lot of them, often repeatedly! But today I want to share some affordable mommy and me twinning outfit ideas, or how to create mommy and me outfits with items already in your closets.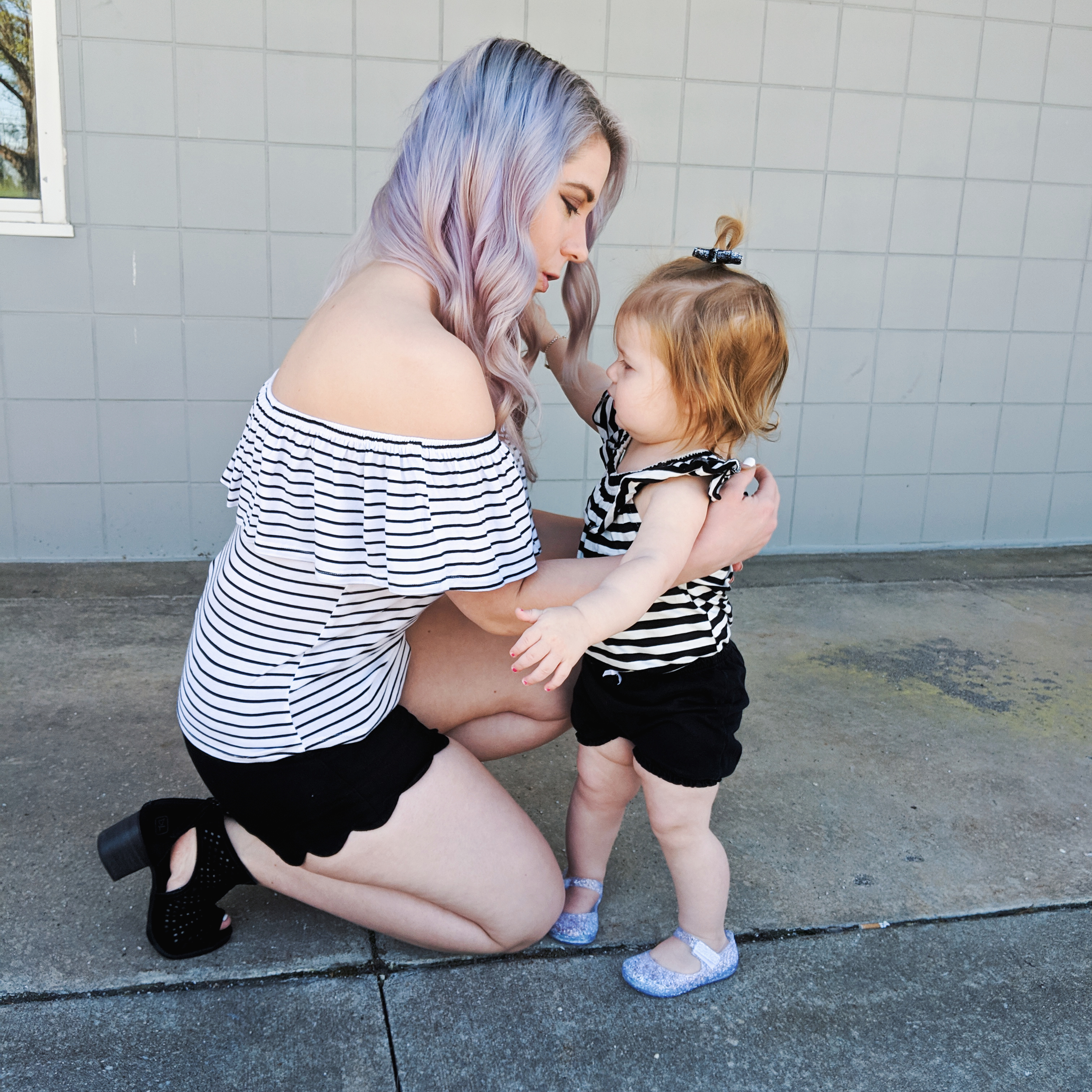 Shop this Mommy and Me Twinning Outfit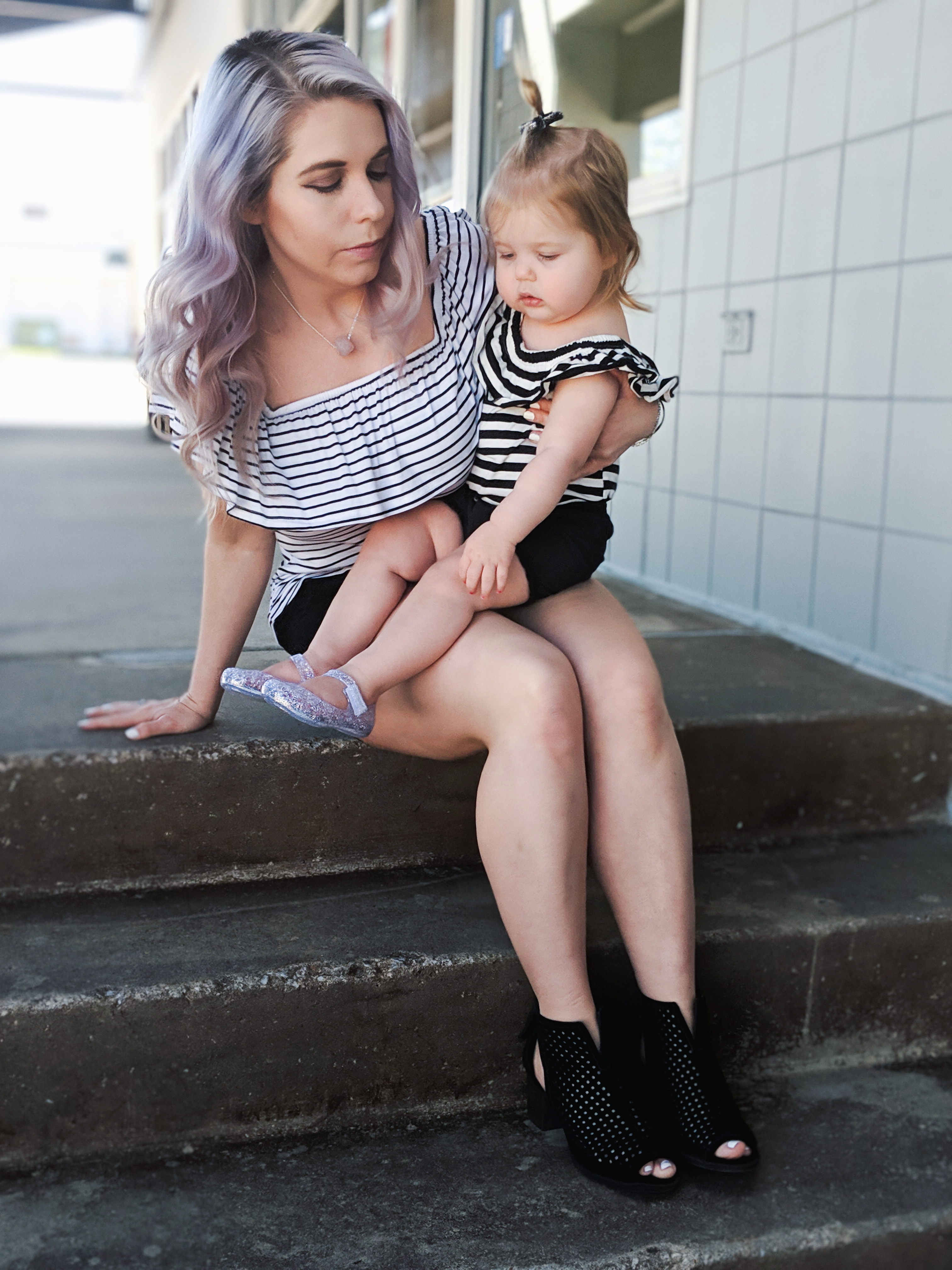 As you can see, Blair and I are twinning in these outfits, but the only item I purchased new for these looks was her bodysuit. Which was super affordable, plus she needed new clothes for the summer anyway, so it's no big deal. Everything else was already in our closets.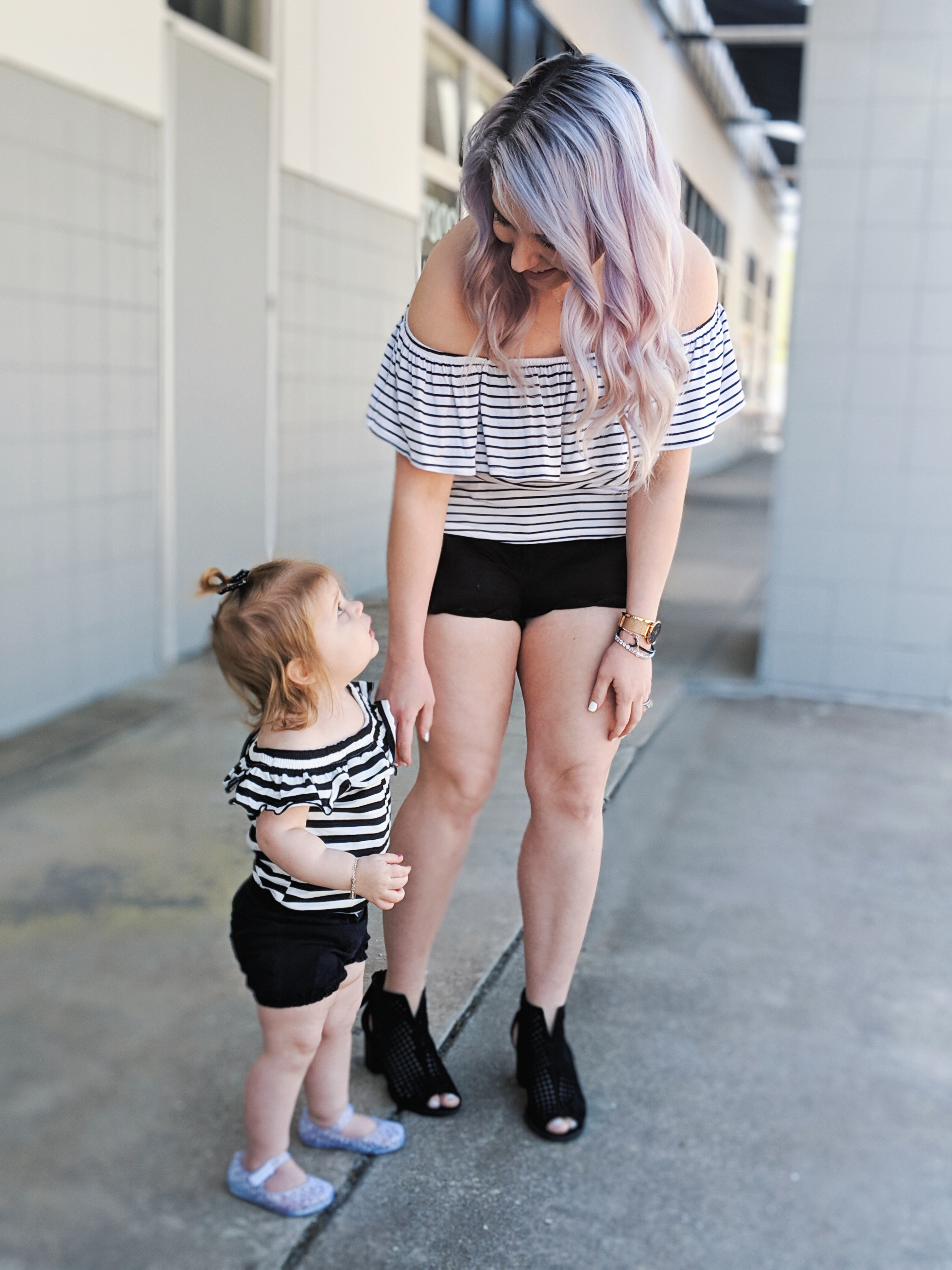 The easiest way to create mommy and me outfits with items already in your closet is to look for basics. I've done this technique before with a chambray shirt/khakis combo with my son, grey pants/white shirts [also with Colton!], and most recently with black bodysuits/white shorts with Blair… as well as a ton of other times.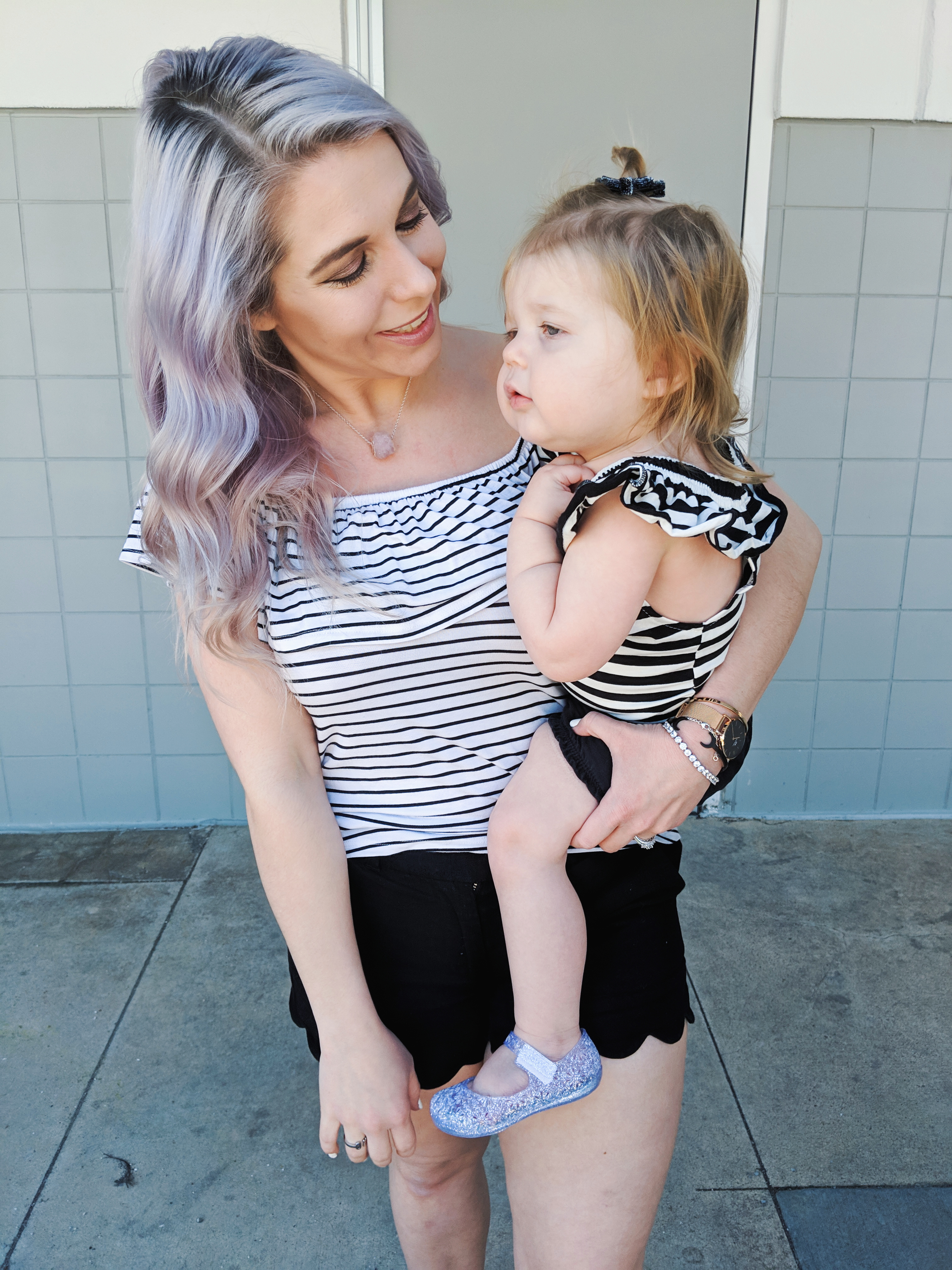 I've discussed previously how I create capsule wardrobes for my kids. Blair's color scheme is black, white, grey, and pops of light pink. Colton's colors are black, white, grey, and pops of blue [his favorite color]. Of course, I'm not militant about this–obviously they have clothes that don't fall into those specific colors. But I try to keep each of their color schemes in mind when I'm selecting new pieces for them, because I know it will match items already in their closet.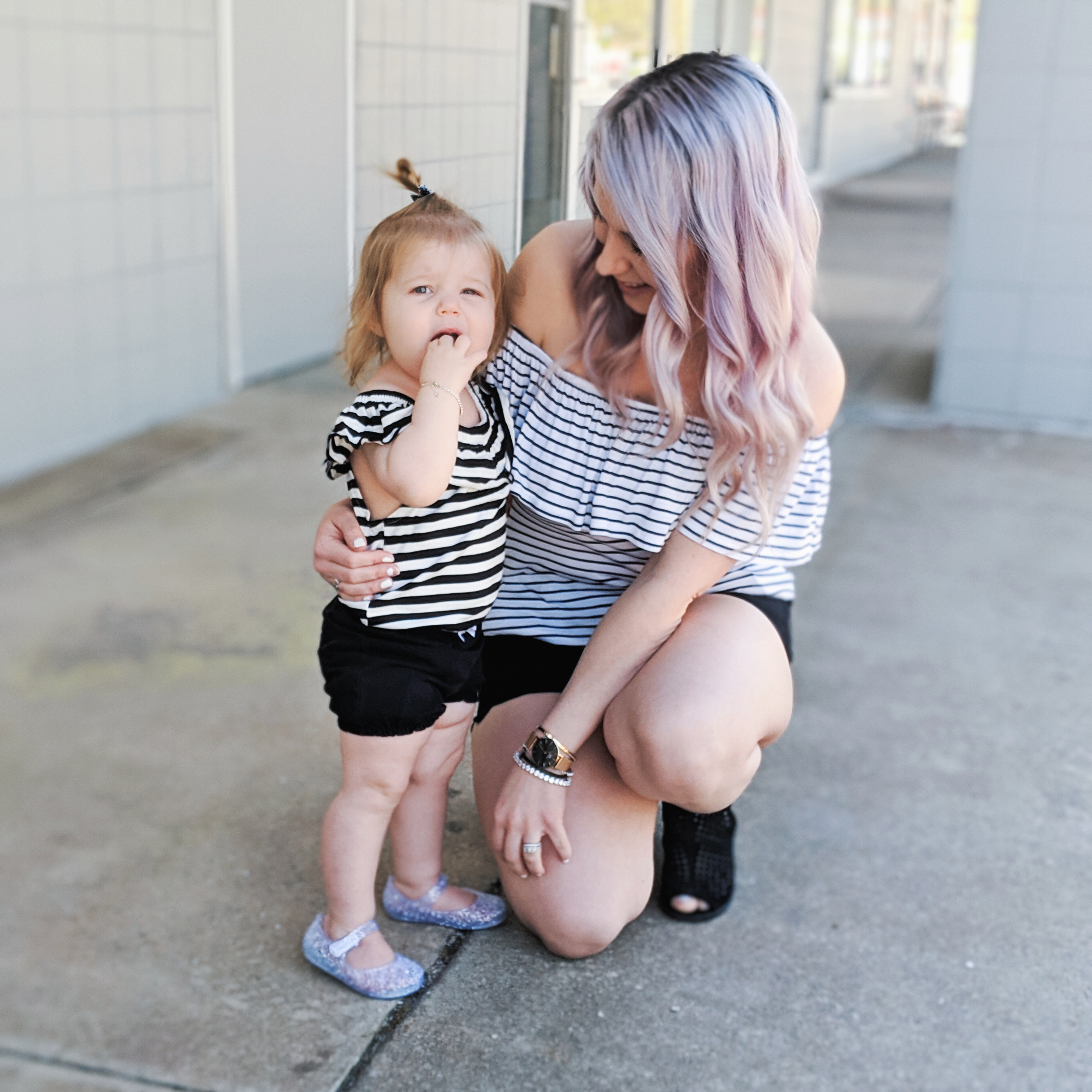 And, if you follow me on Instagram, you know I tend toward a lot of black and white pieces myself. So, this makes it easy to pull pieces out of each of our closets that will easily coordinate, or "twin" if you will.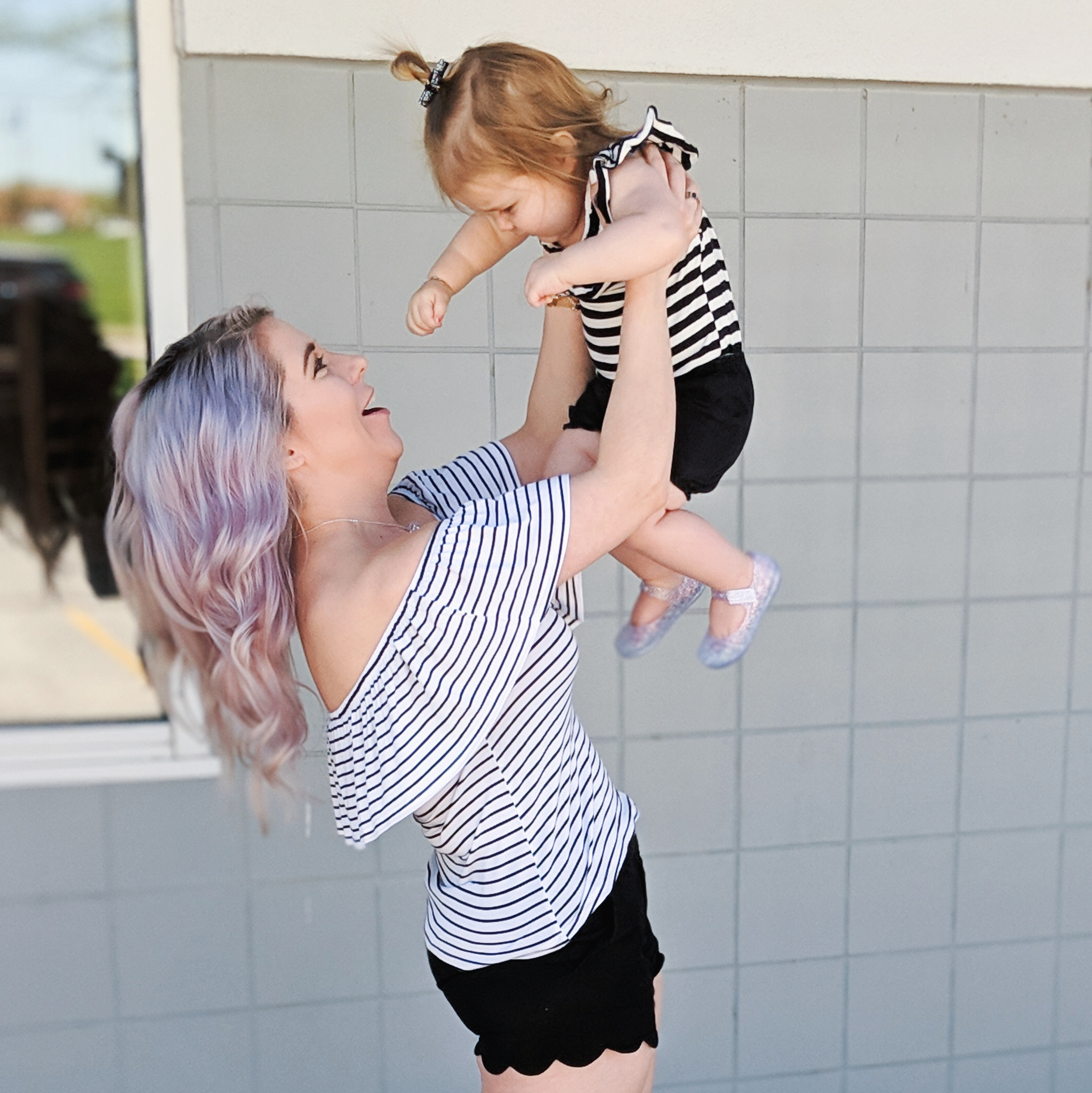 For this affordable mommy and me twinning outfit, I knew Blair and I both already had black shorts. I had this cute ruffle off-the-shoulder top in my closet already, and I found a similar bodysuit for her on Amazon that was super affordable.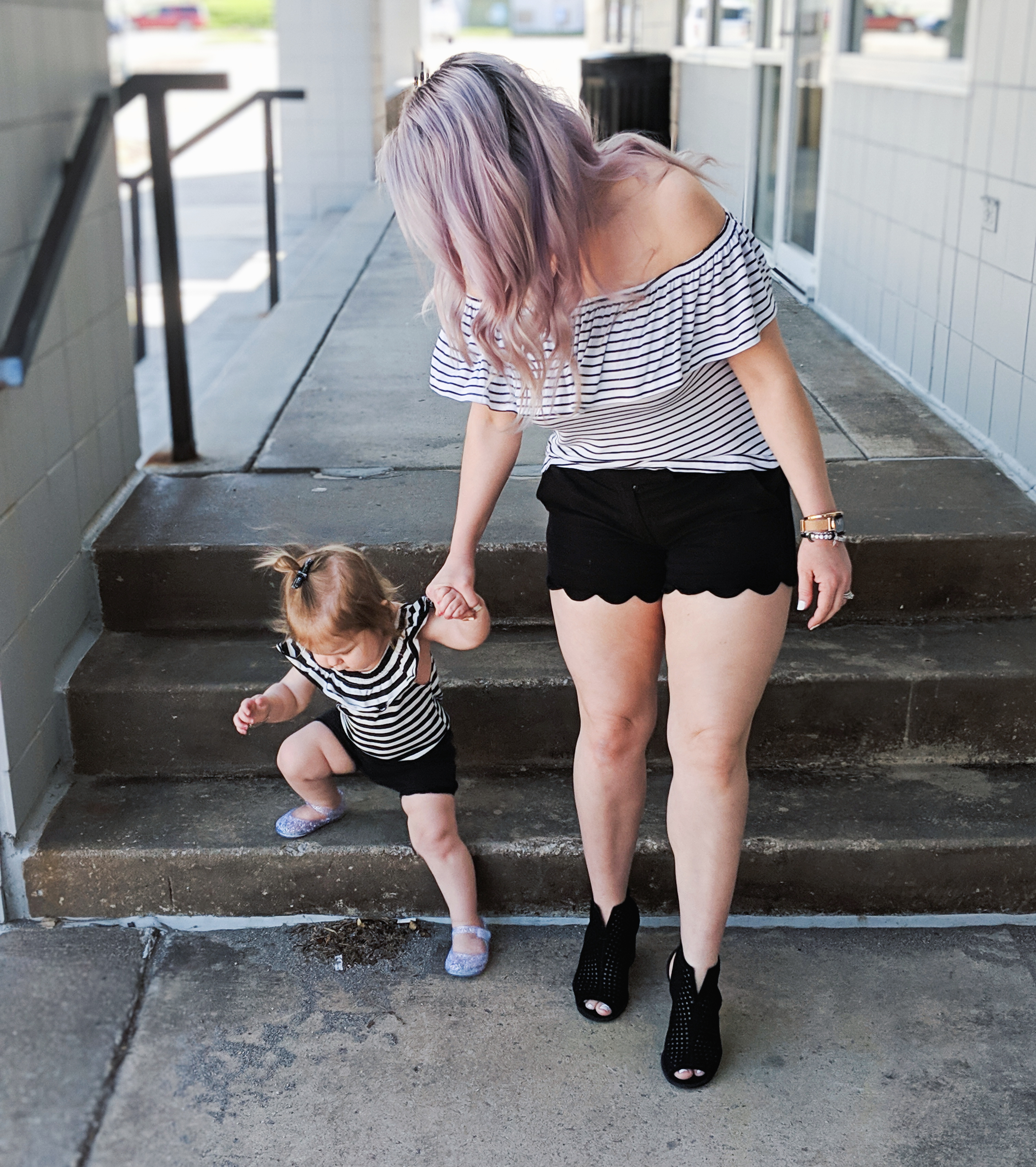 Blair's baby hair is in that awkward growing out stage where it falls in her eyes if I don't pull it back, but it's not quite long enough to tuck behind her ears. So, she ends up with the "Blair topknot" most days. It stays in her hair better than a normal ponytail. [These are the clear elastics I use for her. A much better deal than what I found in store, and they work really well for fine baby hair.]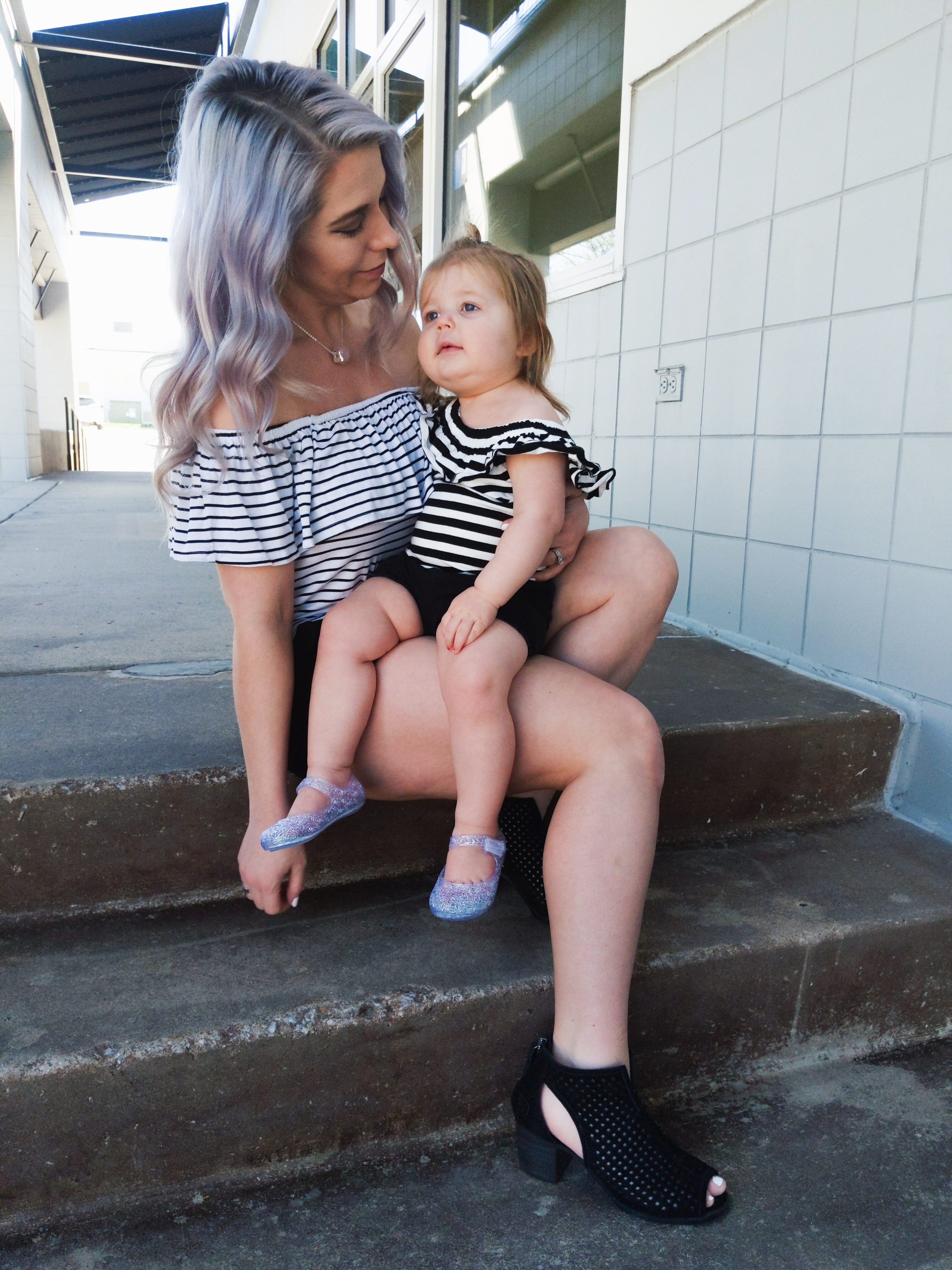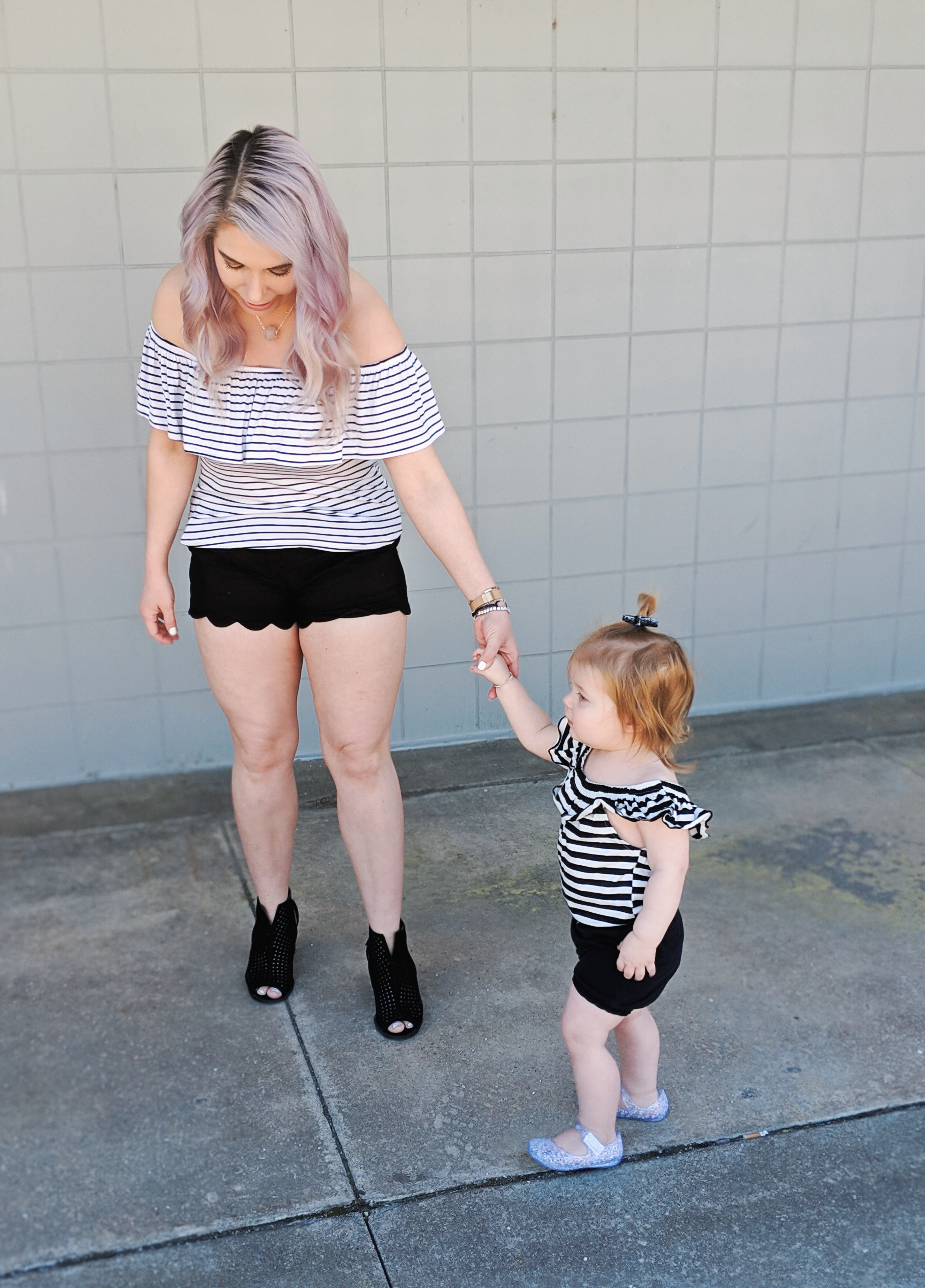 For the record, it was while editing these mommy and me outfit photos that I decided I needed to sign up for a spray tan membership. Ha! I used to do the regular tanning beds but had to stop after my mommy makeover, as my surgeon indicated it could worsen my scarring. I rocked the pale look for awhile but finally broke down and started spray tanning.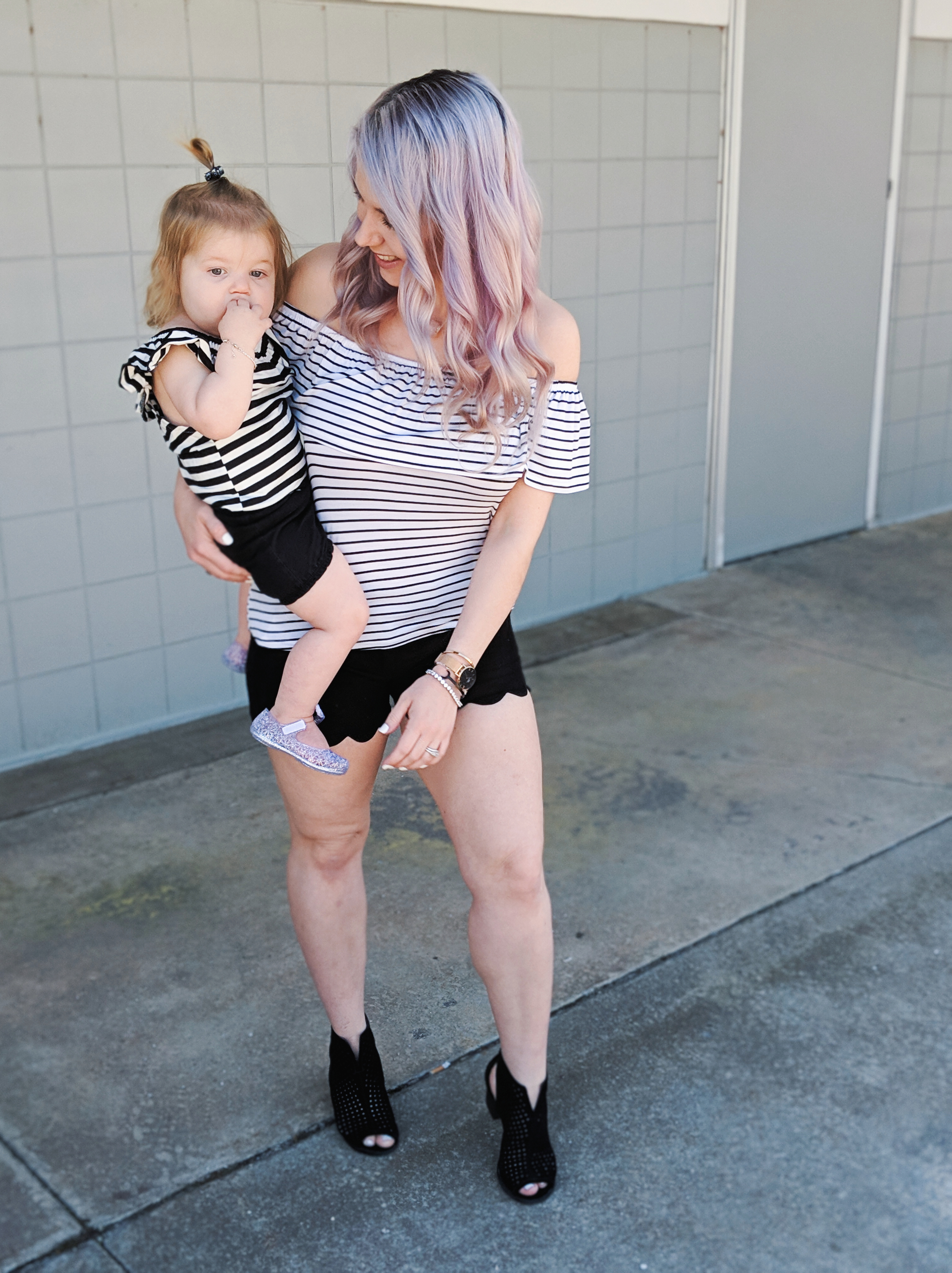 Hope you found these affordable mommy and me outfit ideas helpful! I'd love to see your own twinning looks, so feel free to tag me on Instagram [@covetbytricia] and I'll share some of my favorites!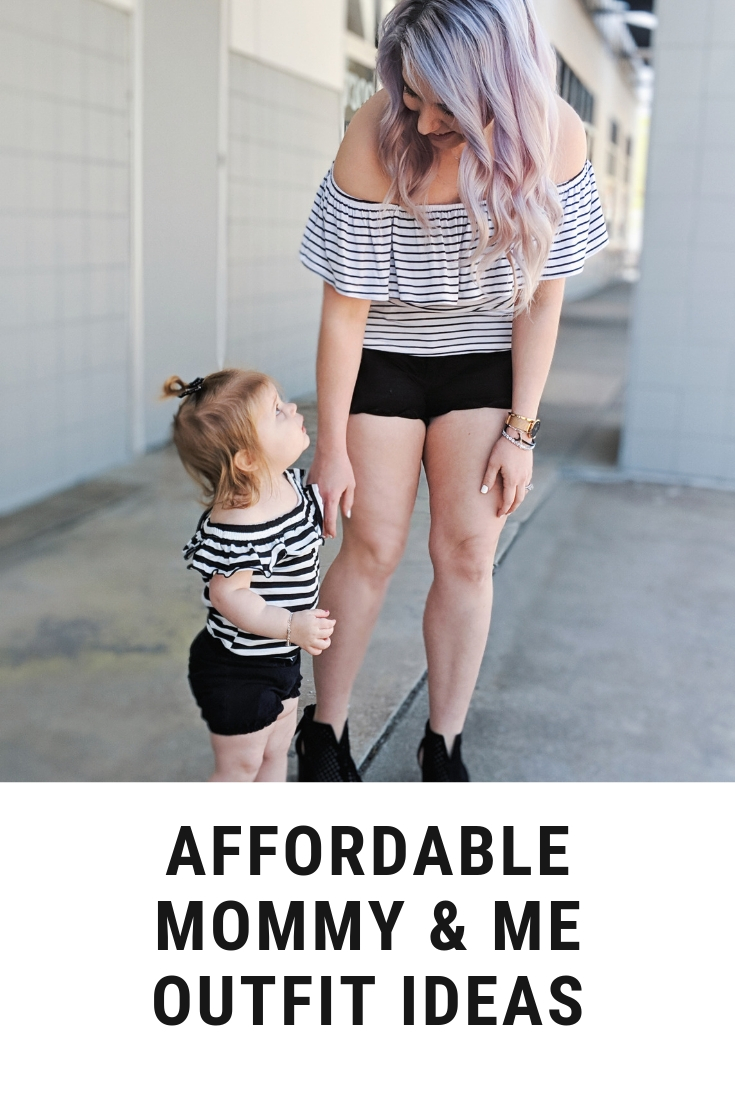 Pin these affordable mommy and me outfit ideas for later!
More Mommy and Me Outfit Ideas: