Mommy and Me Dresses are some of my favorite outfits to style! In the spirit of fall, I put together some fall matching outfits for Mommy and Daughter. These matching Mommy and Me dresses would be perfect for fall family photos, a visit to the pumpkin patch, or even for Christmas dresses.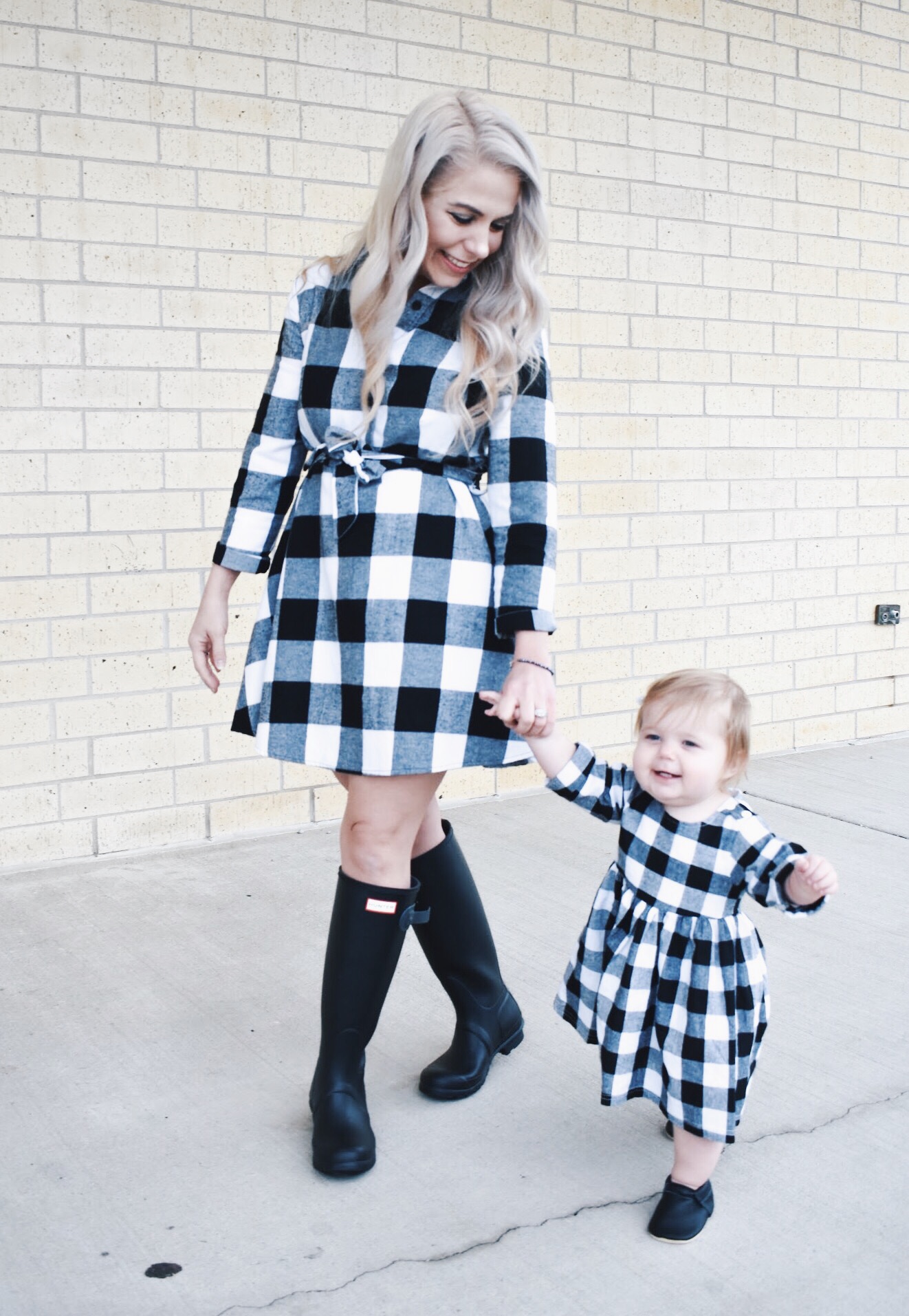 Shop Our Looks:
My Dress [super affordable!] // Hunter Boots // Blair's Dress [size down one] // Blair's Fringeless Moccasins // Bracelets // My Eye Makeup Palette
One of the best parts about these Mommy and Me dresses is that they're actually affordable. You can get both my dress and Blair's dress for around $30 total!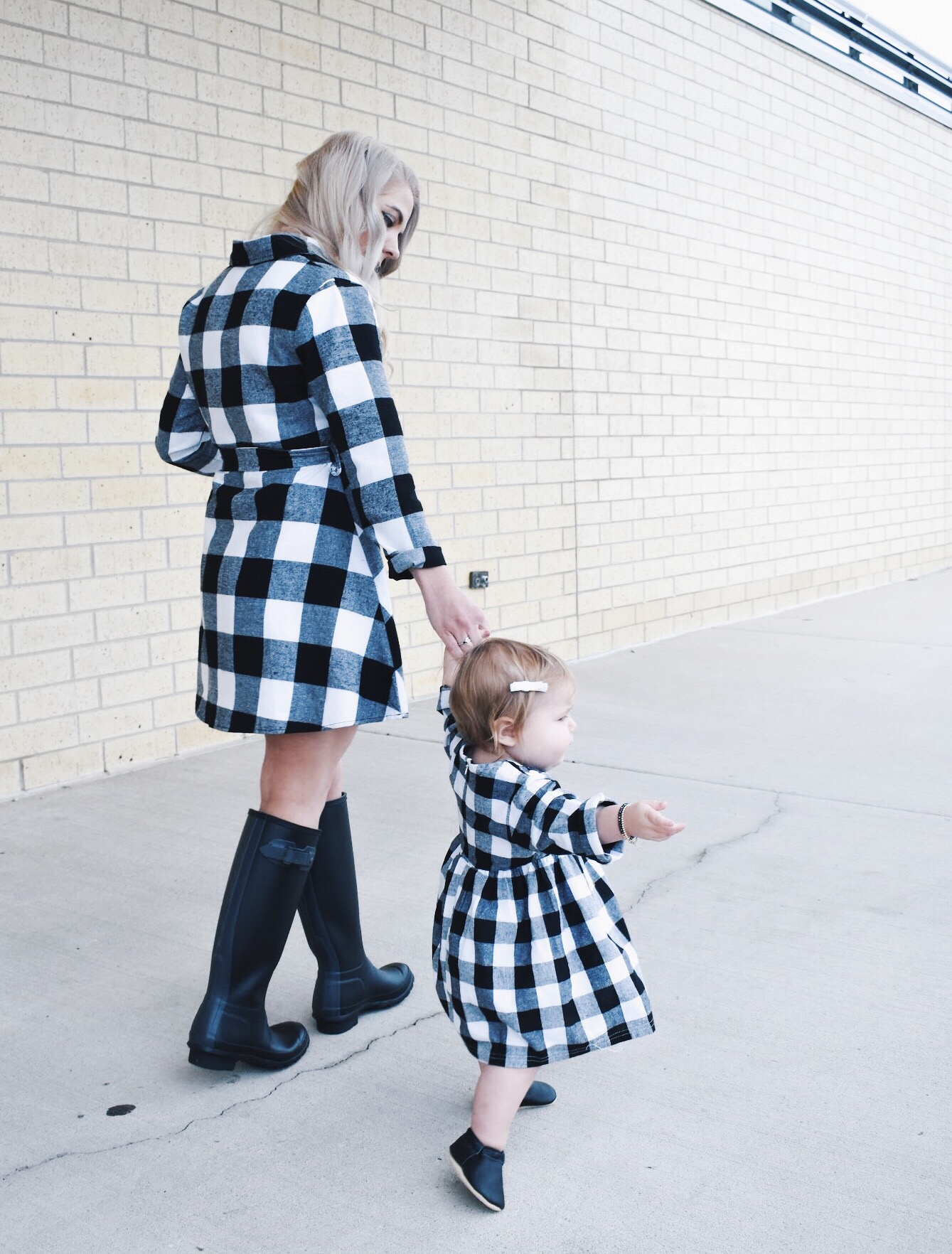 For the women's dress, I recommend sizing up one size. I usually wear an XS and I'm in a Small here. The fabric isn't stretchy, so better to size up.
For the little girl dress, size down one! Blair is wearing the size 80 (ages 6-12 months) here. For reference, she's usually size 18 or 24 months in other brands like Carter's, Cat & Jack, etc.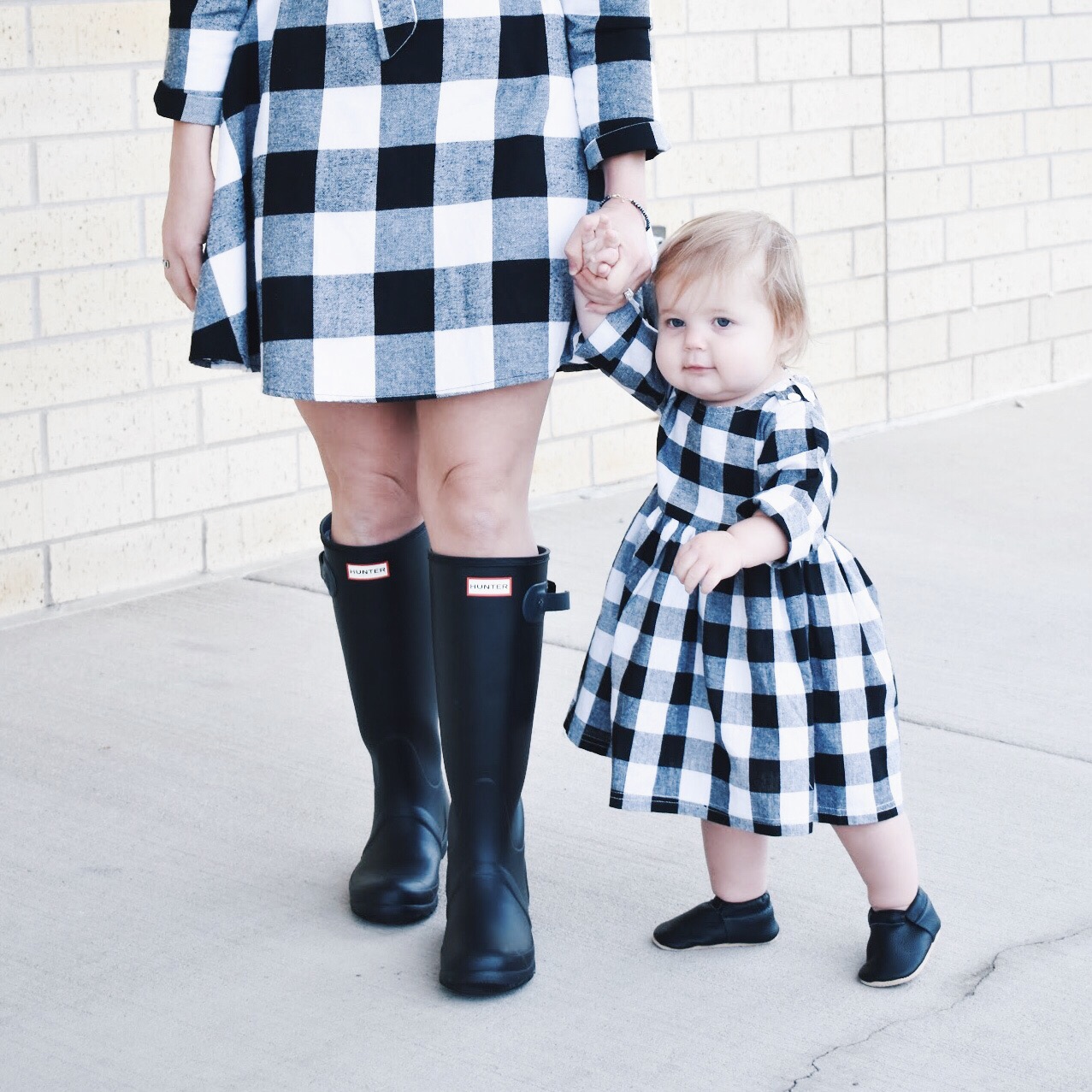 How cute are these fringeless baby moccasins? I've actually never seen baby moccs without fringe, and I really like how sleek these look. They're part of a new collection from BirdRock Baby and come in several different colors, available to purchase both here and here! Personally, I'm partial to black because it goes with everything. Hence why my Hunter boots are also black. [Maybe one day I'll be rich and can afford lots of colors of Hunter boots, but… prob not.]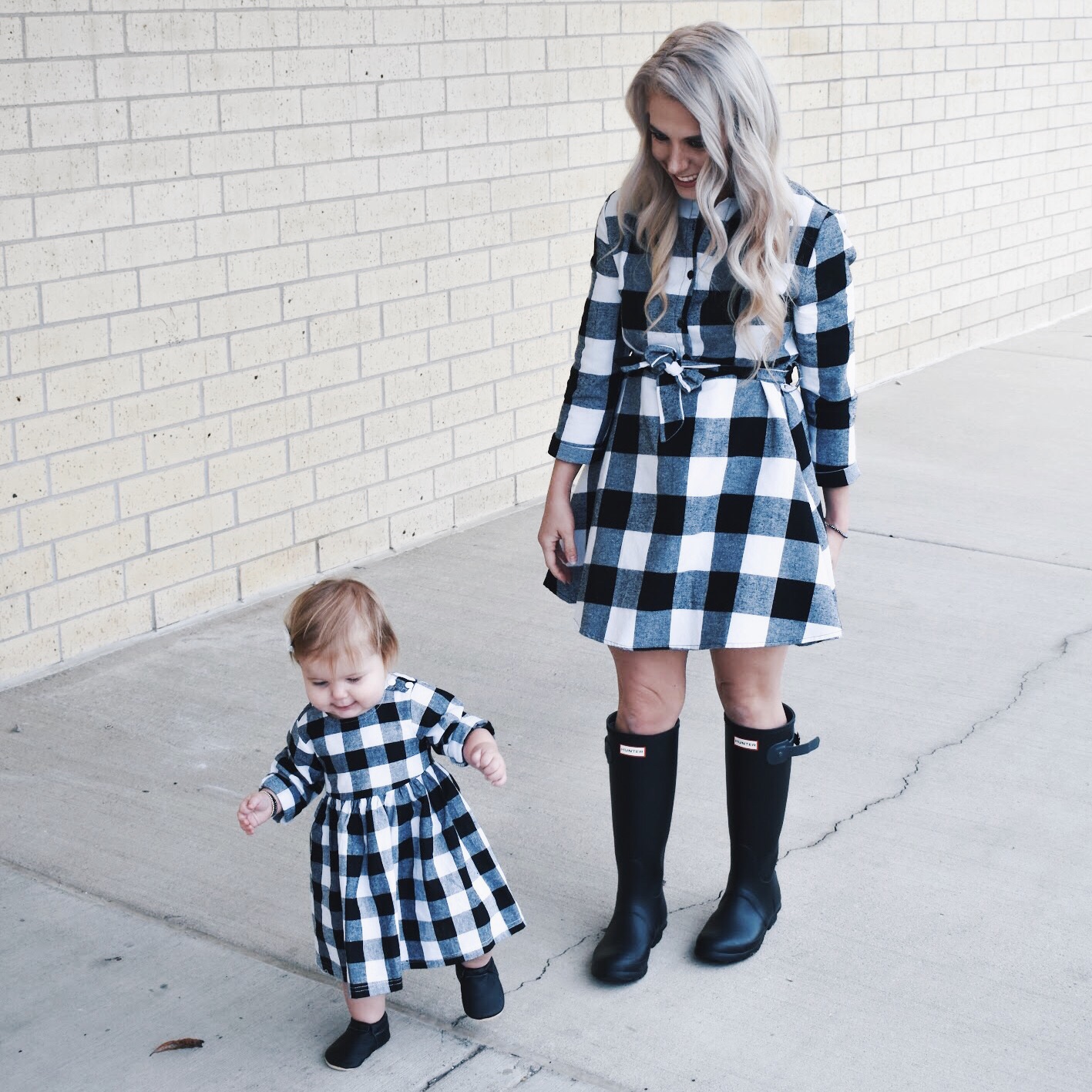 It's so fun to see Blair walking on her own. Both my kiddos wore baby moccs as some of their first shoes, as the soft sole is perfect for new walkers. Plus, they're really cute.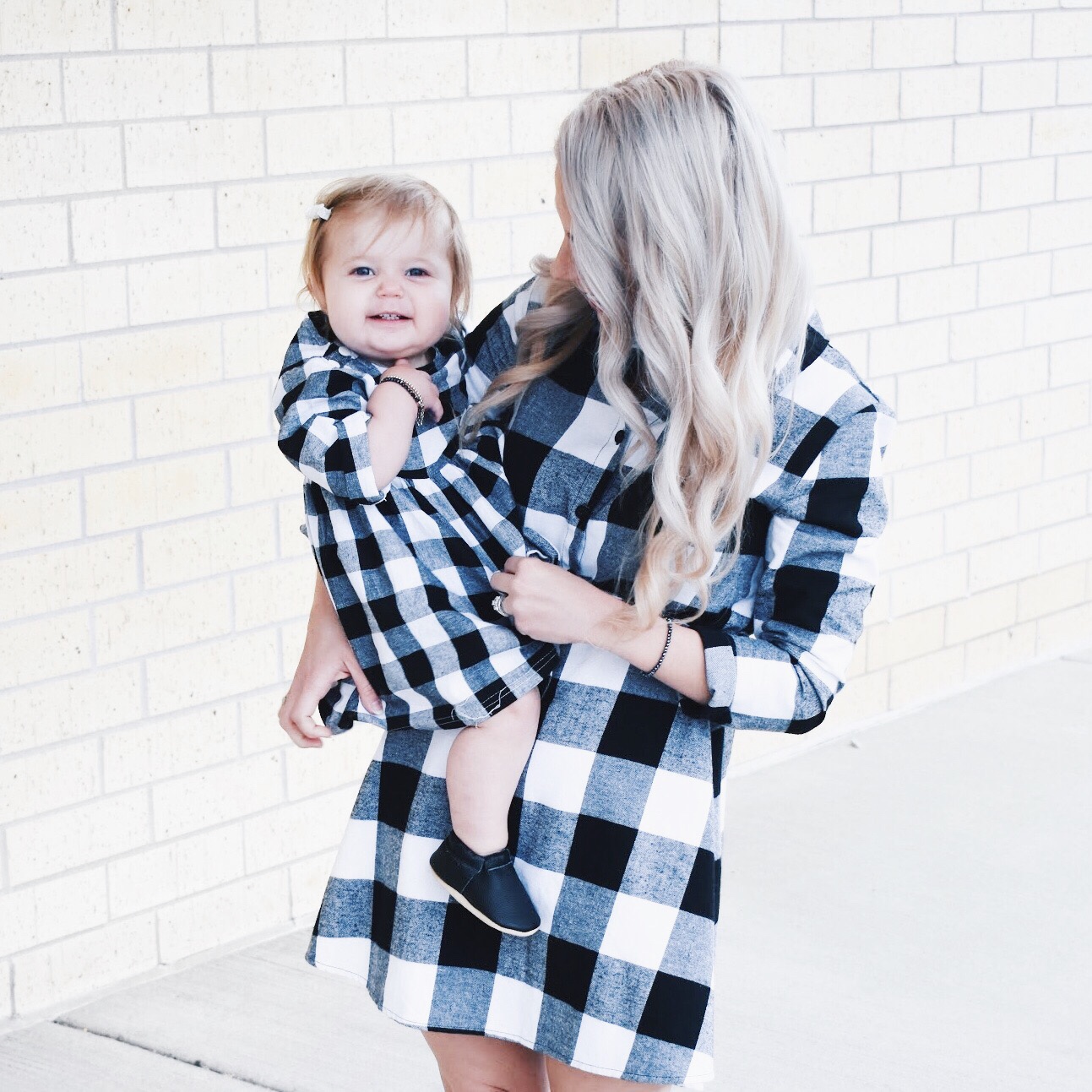 Look at those sweet little chins. And she even let me put a barrette in her hair for the very first time. It's getting so long that I have to swoop it out of her face all the time now.
We also brought out the matching bracelets! These little ones are handmade from Kate Marie Designs. I love how elegant and chic they look, especially on Blair's little wrists.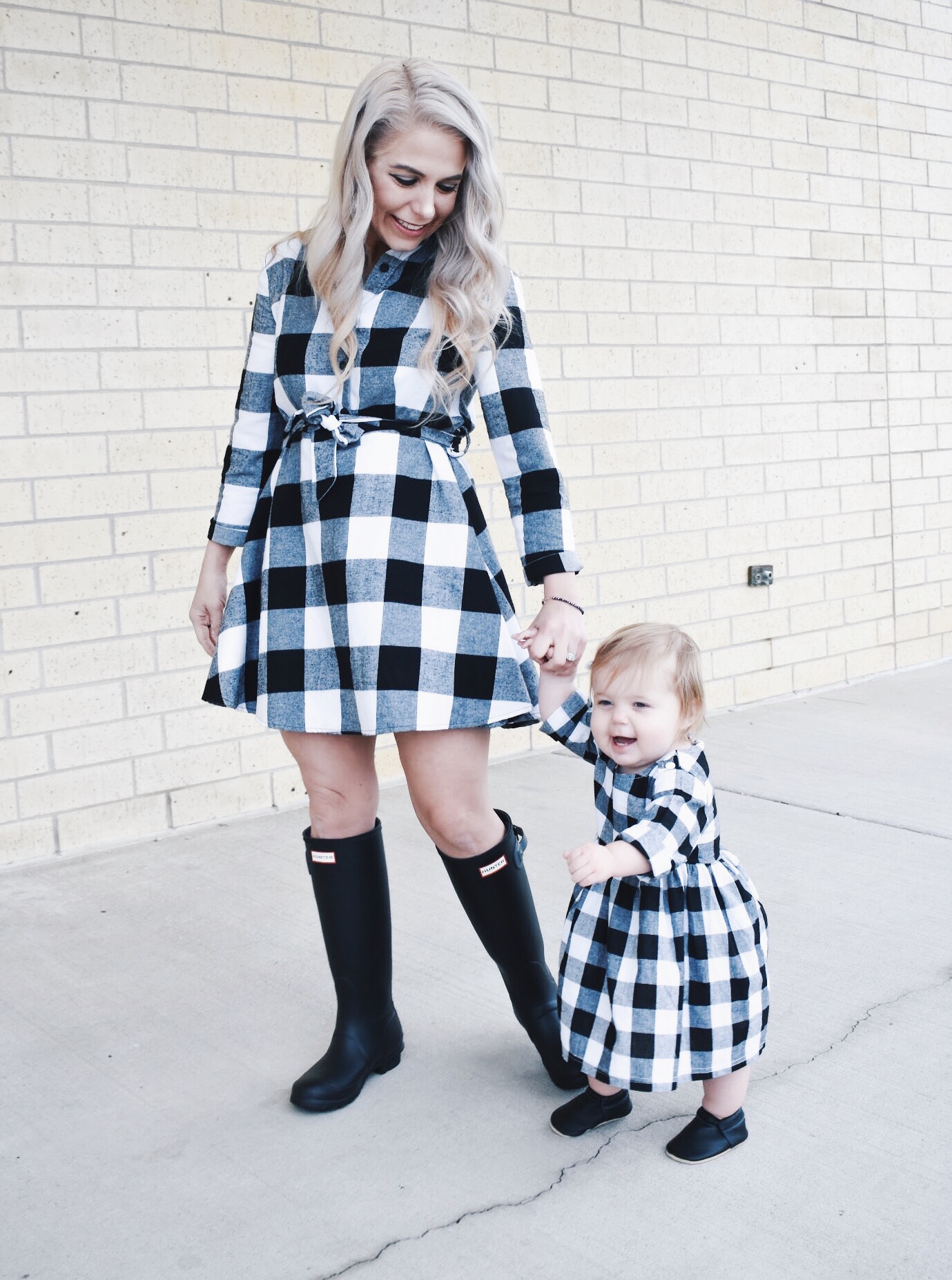 One of the best things about having a daughter is all the twinning! Of course, I love to twin with my little guy, too. I need to find an outfit that all 3 of us can wear! Or maybe even get my husband in on the action. He always tells me he's more comfortable behind the camera, though. #InstagramHusband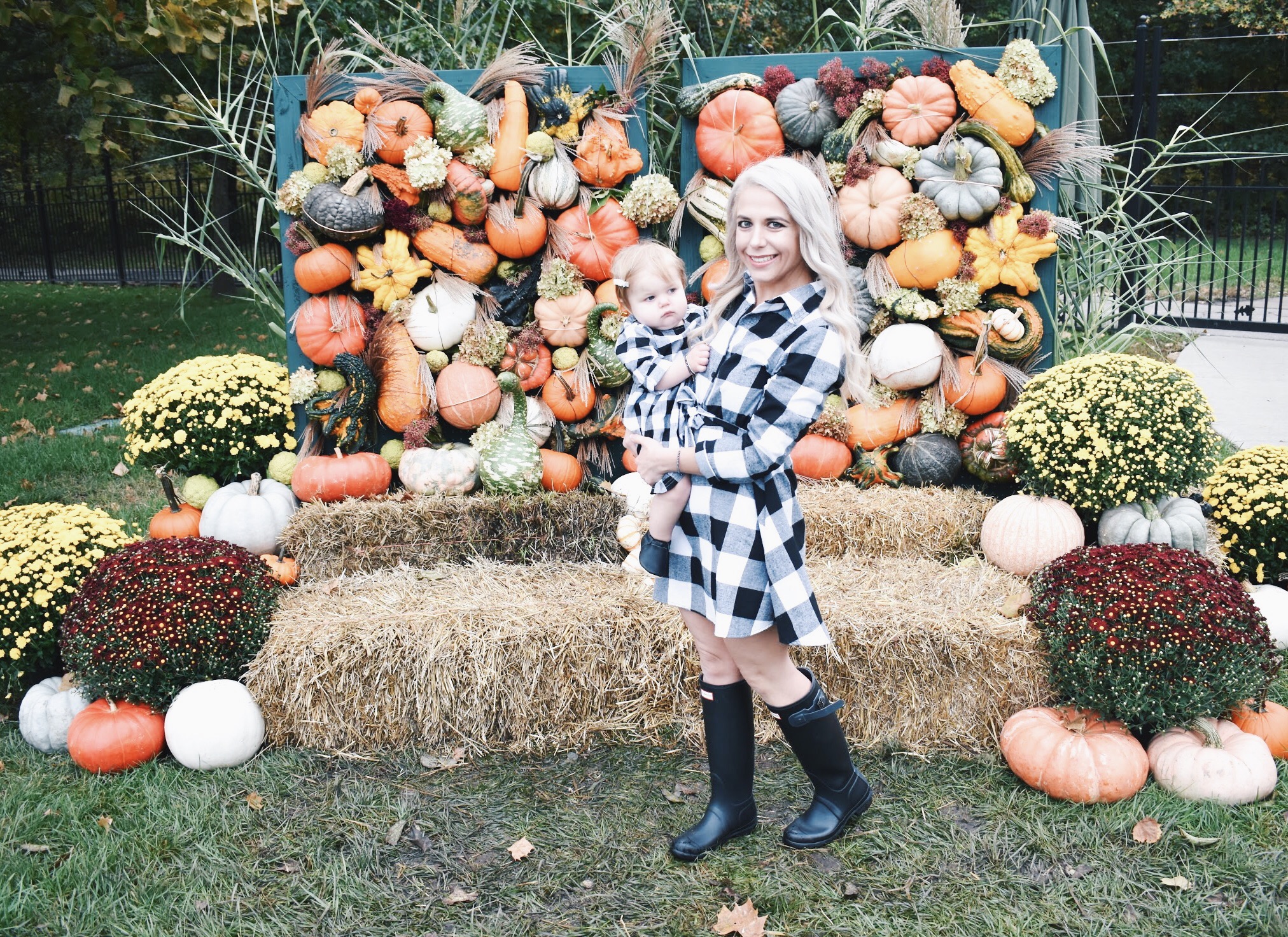 If you follow me on Instagram, you already know this is as close as we've gotten to the pumpkin patch this year. It's a display set up outside of a local park. It's been nothing but rain here lately [just look at the muddy grass in this pic!] and I don't love the idea of dragging 2 kids around a muddy pumpkin patch. I'm hoping it dries up soon, because the pumpkin patch is one of my favorite fall activities.
[Here are our pumpkin patch adventures from last year, including an itty-bitty baby Blair!]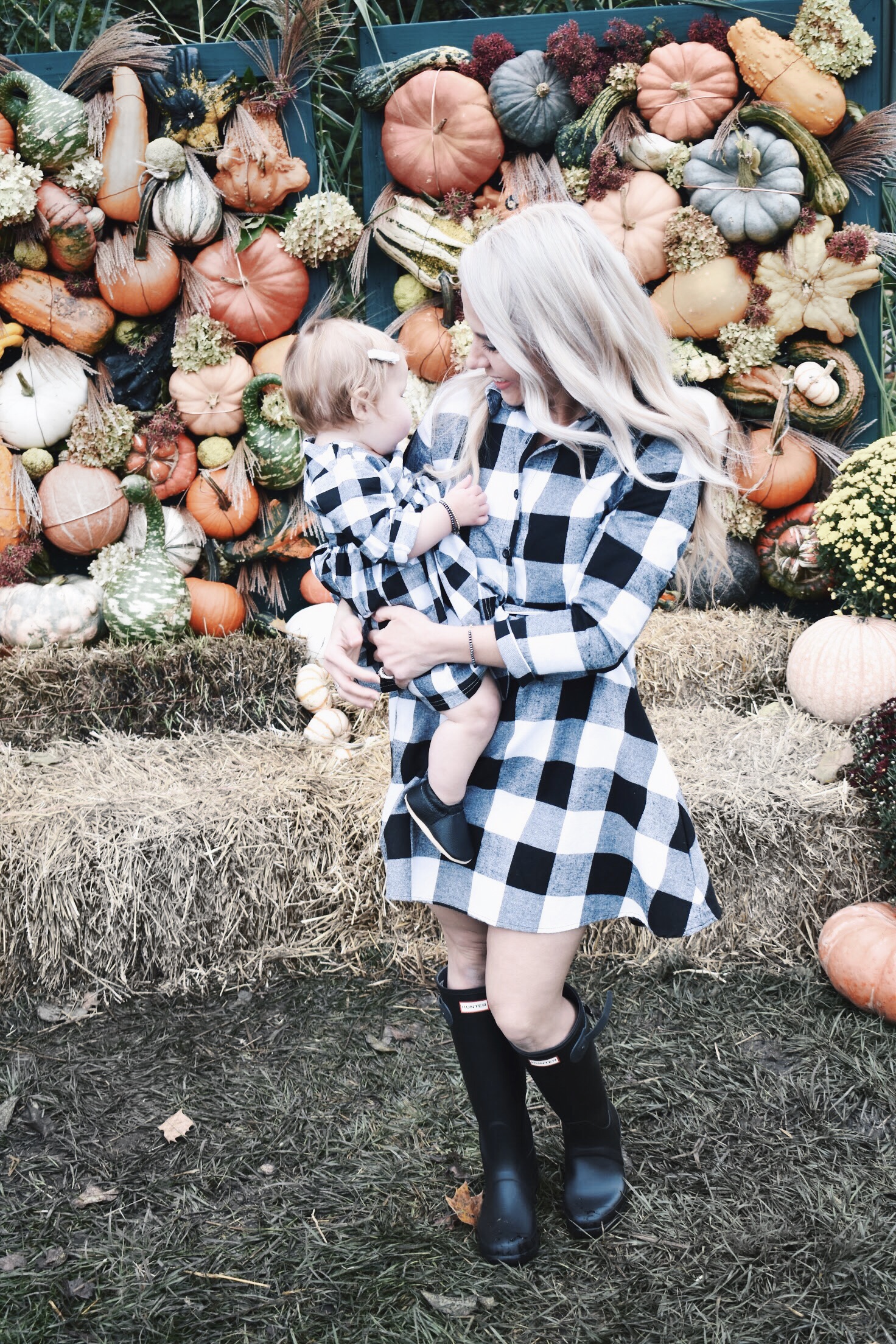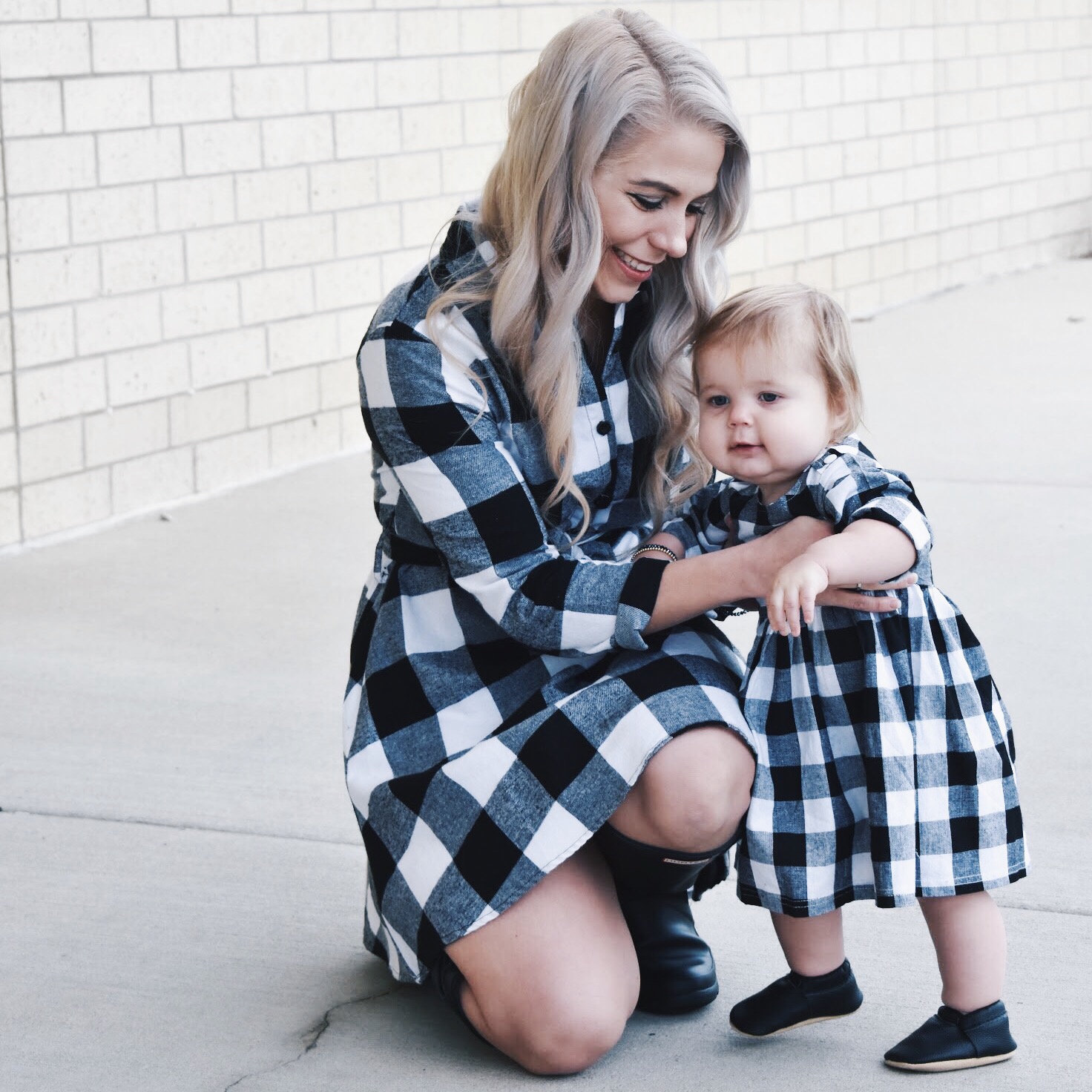 Blair is such a good girl, and very attached to her mommy. I have a feeling she might even let me twin with her for awhile. But seriously, the only time she cries or gets upset is when she's not with me. Or I'm not paying enough attention to her. She's fairly chill, which I've heard is normal for a second child.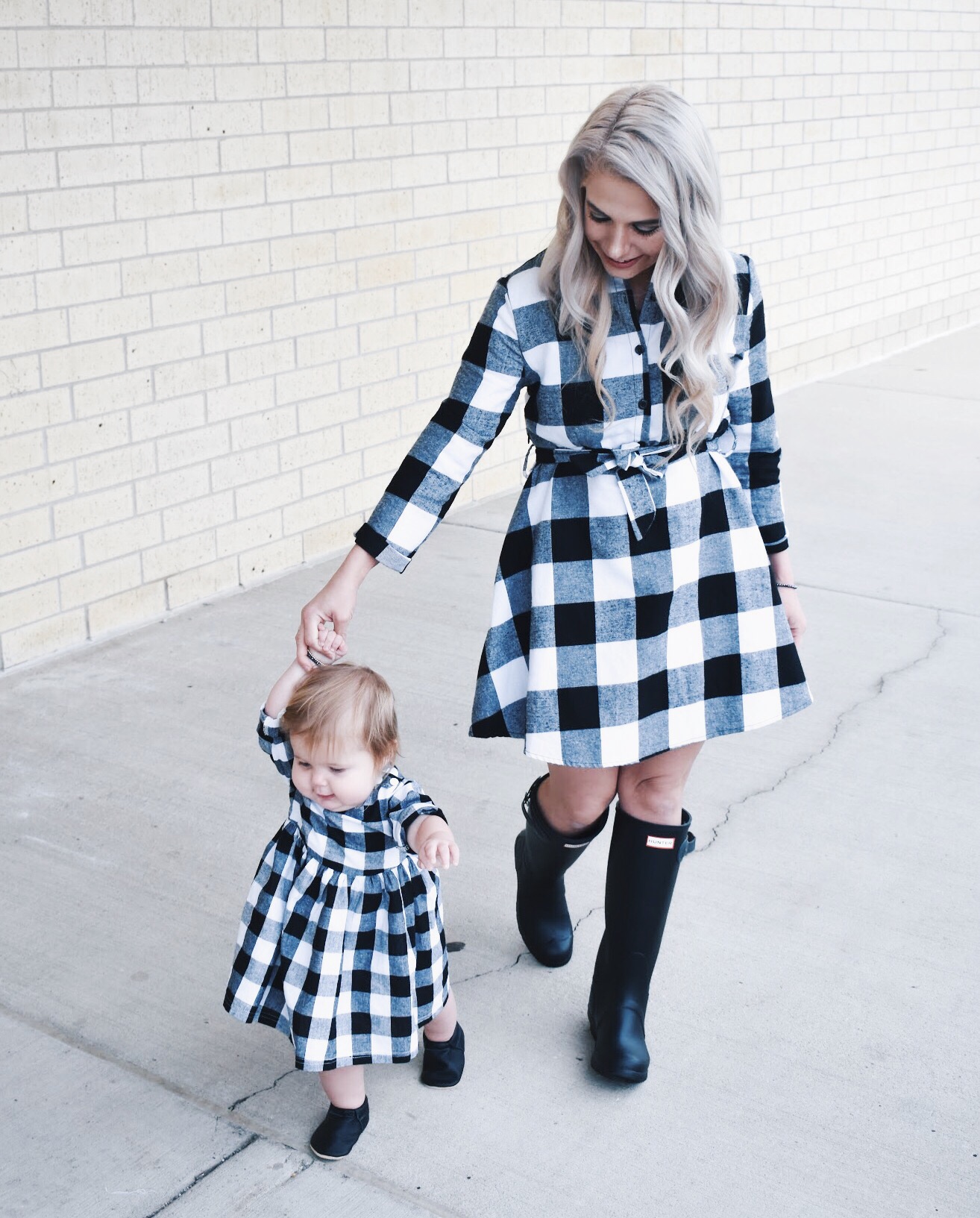 Let's go, Mommy!
I hope you all loved these Mommy and Me Dresses! Make sure to grab them for your own fall matching outfits for Mommy and Daughter!

I'd love to see your own #twinning pics, so feel free to tag me on Instagram when you share them [@covetbytricia].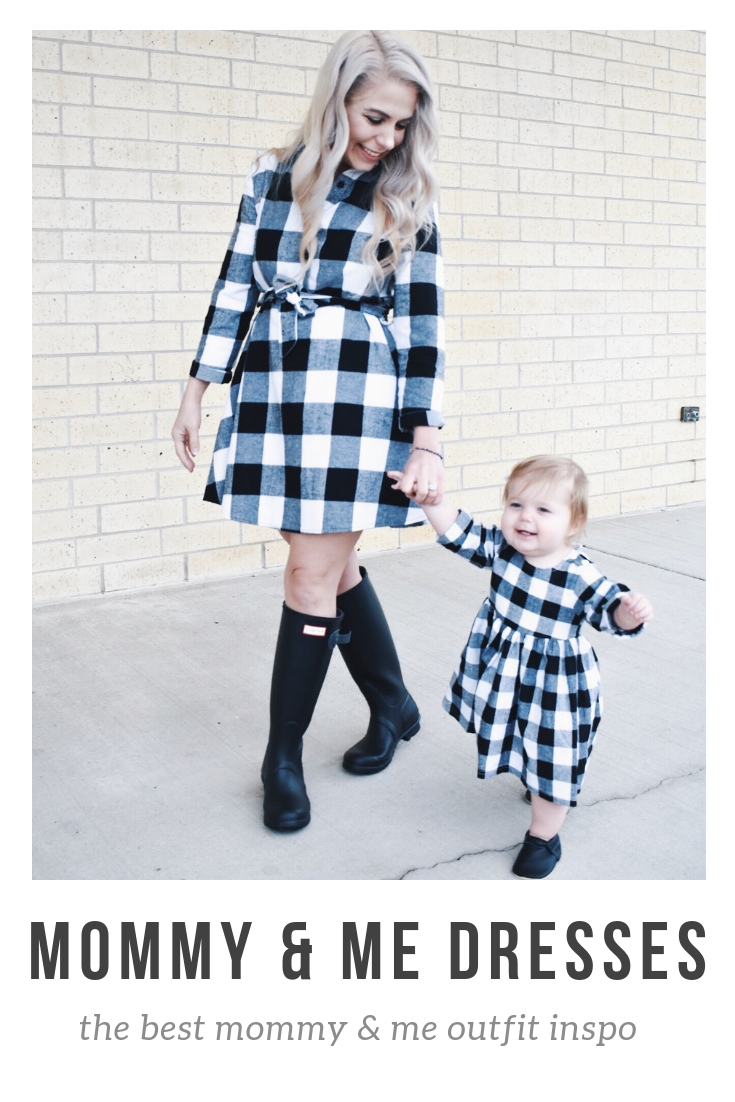 Pin these Mommy and Me Dresses – Fall Matching Outfits for Mommy and Daughter for later!
More Mommy and Me Outfit Ideas: