Colton and I discovered some super cute mother son matching outfits that I wanted to share with you all! If you've been following me for awhile, you know I love posting twinning looks with my little ones–but especially Colton, because boy mom twinning looks are so hard to come by. Here are a couple that will work for boy or girl moms!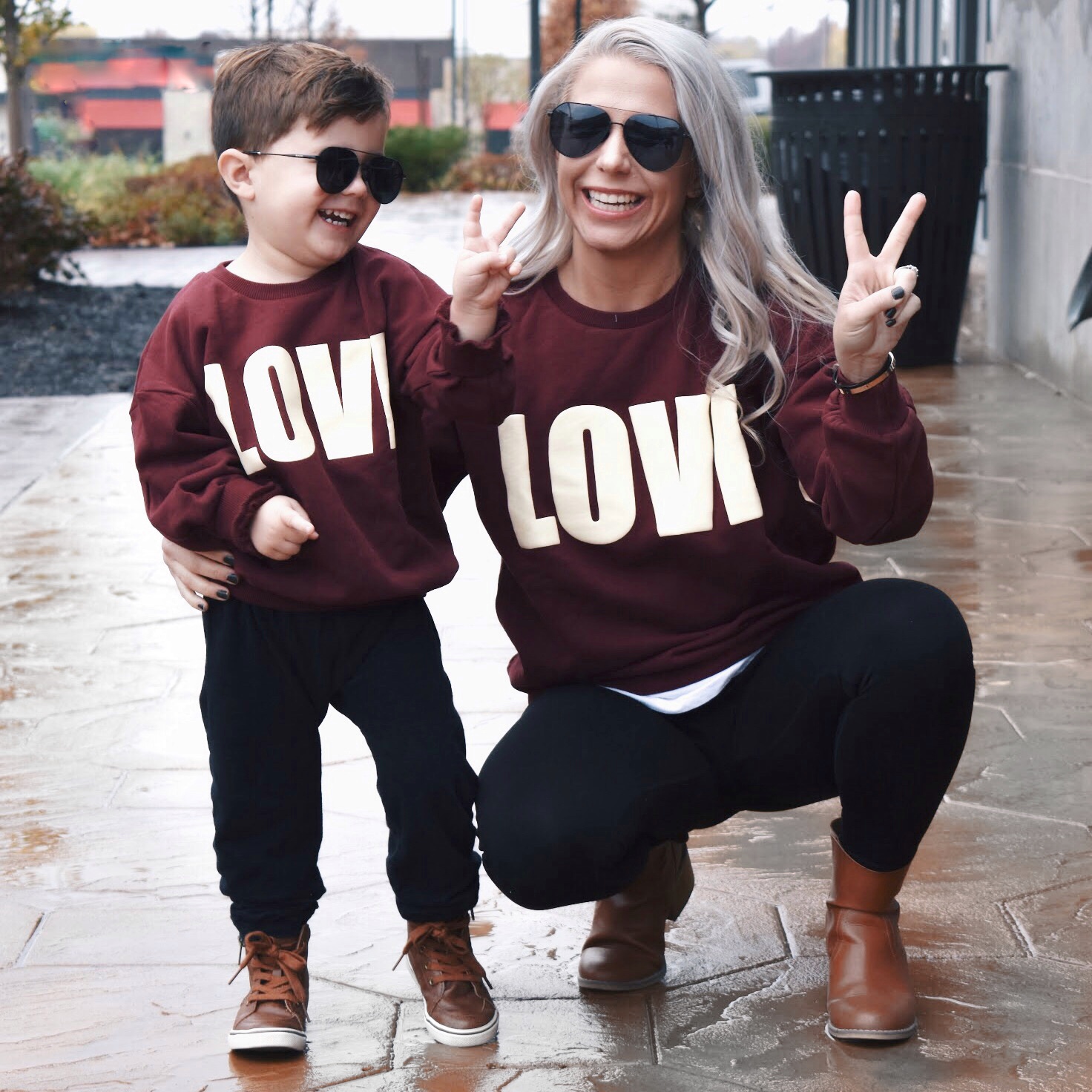 Shop This Look:
Colton: LOVE pullover [use code Tricia12 to save!] // Sunnies [use code COVET25 to save!] // Joggers [under $5!] // Boots
Me: LOVE pullover [use code Tricia12 to save!] // Sunnies [use code COVET25 to save!] // Leggings [great quality and $15!] // Layering Tee [30% off right now!] // Boots // Rose Gold Cuff // Black Cuff // Nail Polish [I'm wearing "Storm"–it's a black glitter polish that actually goes on smooth and is easy to remove]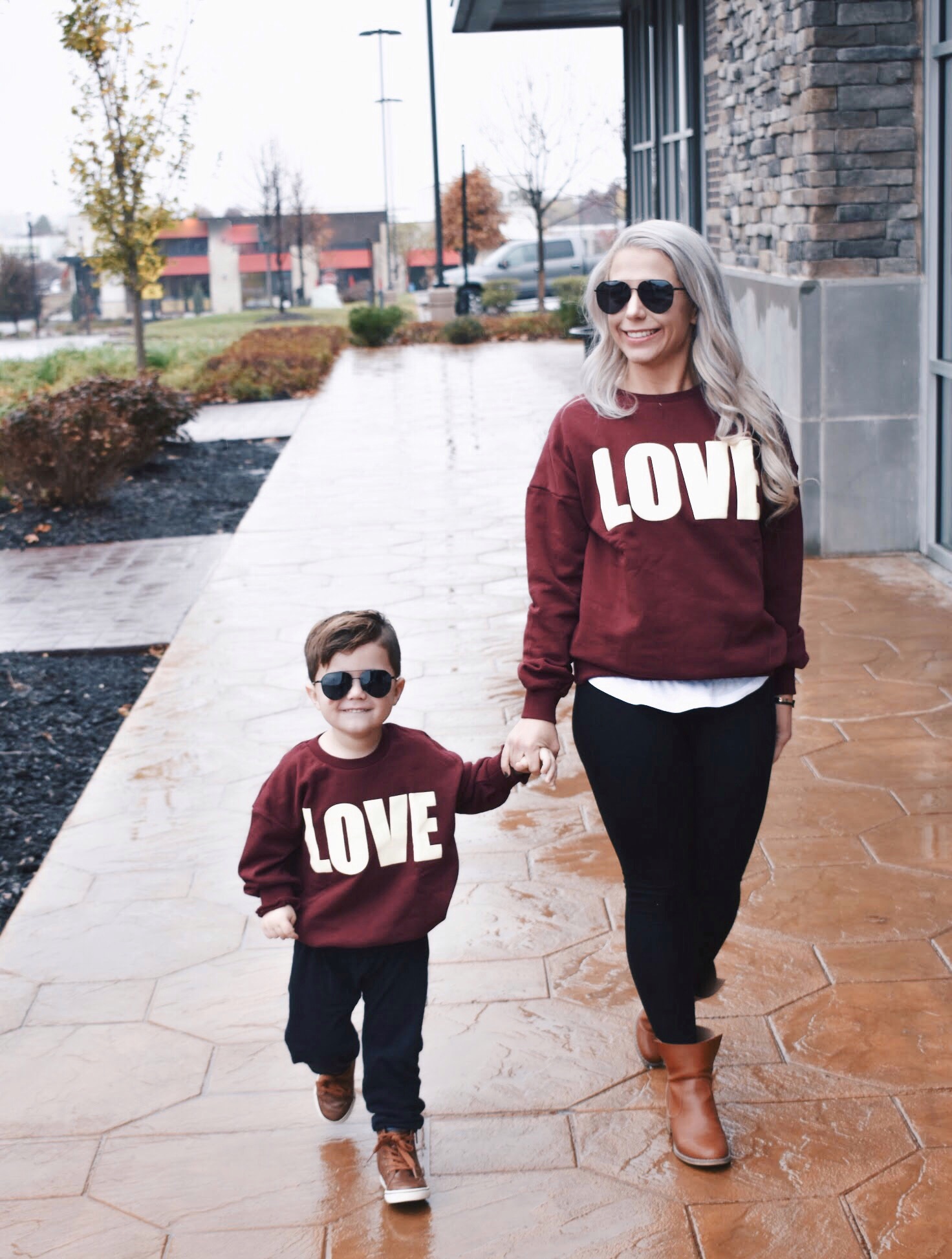 These mommy son matching outfits were super easy to put together. The LOVE pullovers from PatPat are super affordable, and you can use my discount code Tricia12 to save even more on them. Pair with leggings, joggers, or jeans and you've got a simple, yet adorable, look for both mommy and son!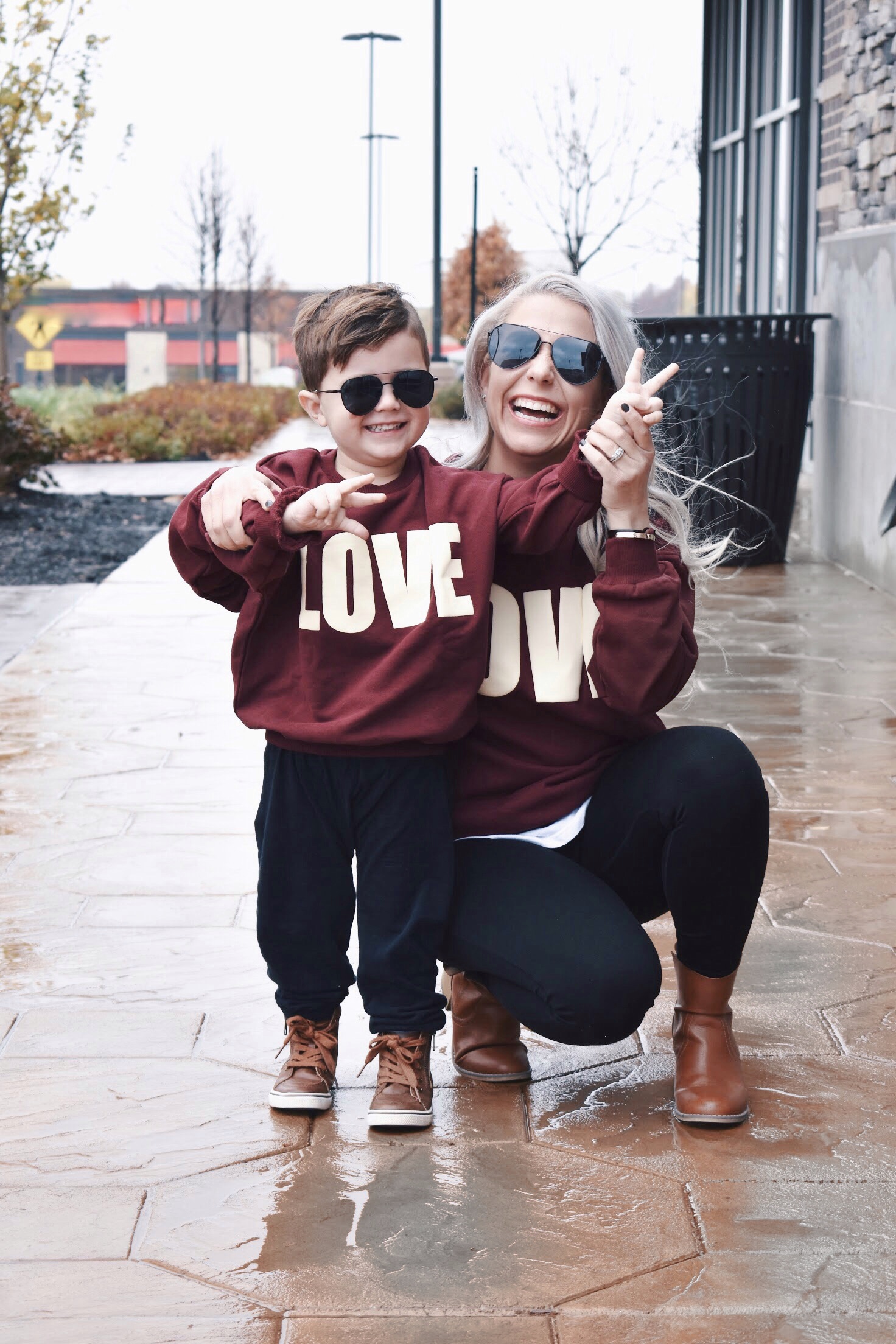 If you follow me on Instagram then you've already heard this story, but it's too good not to share again… I sometimes ask Colton to make a peace sign with me in photos, which always leads to him cracking up laughing. For awhile, I wondered why he thought the peace sign was so funny. Eventually, I figured it out when he started asking me how to make a poop sign. He thinks "peace sign" is "pee sign," which is just hilarious to a 3-year-old boy. And update from this earlier post–yes, he's made up his own poop sign.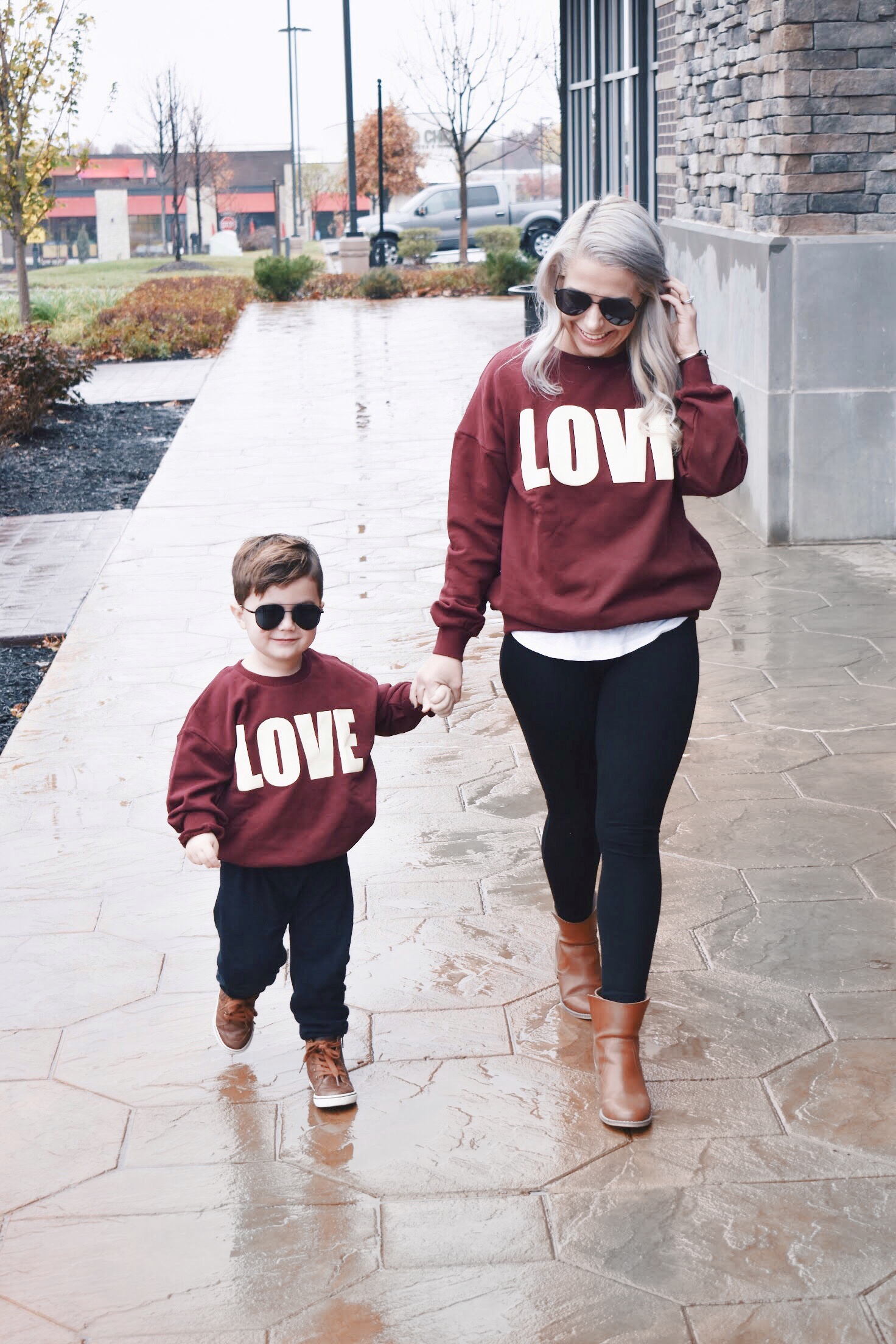 One of my favorite fashion tricks is to wear a long layering tee under sweatshirts and hoodies, in order to dress them up a bit. Adding that extra layer somehow makes the outfit seem more like "a look" and less like "I just rolled out of bed."
I like these layering tees because they're cut longer in the front, so they work really well for this trick. They're also long enough to knot in the front or do a little front tuck. And, they're 30% off right now!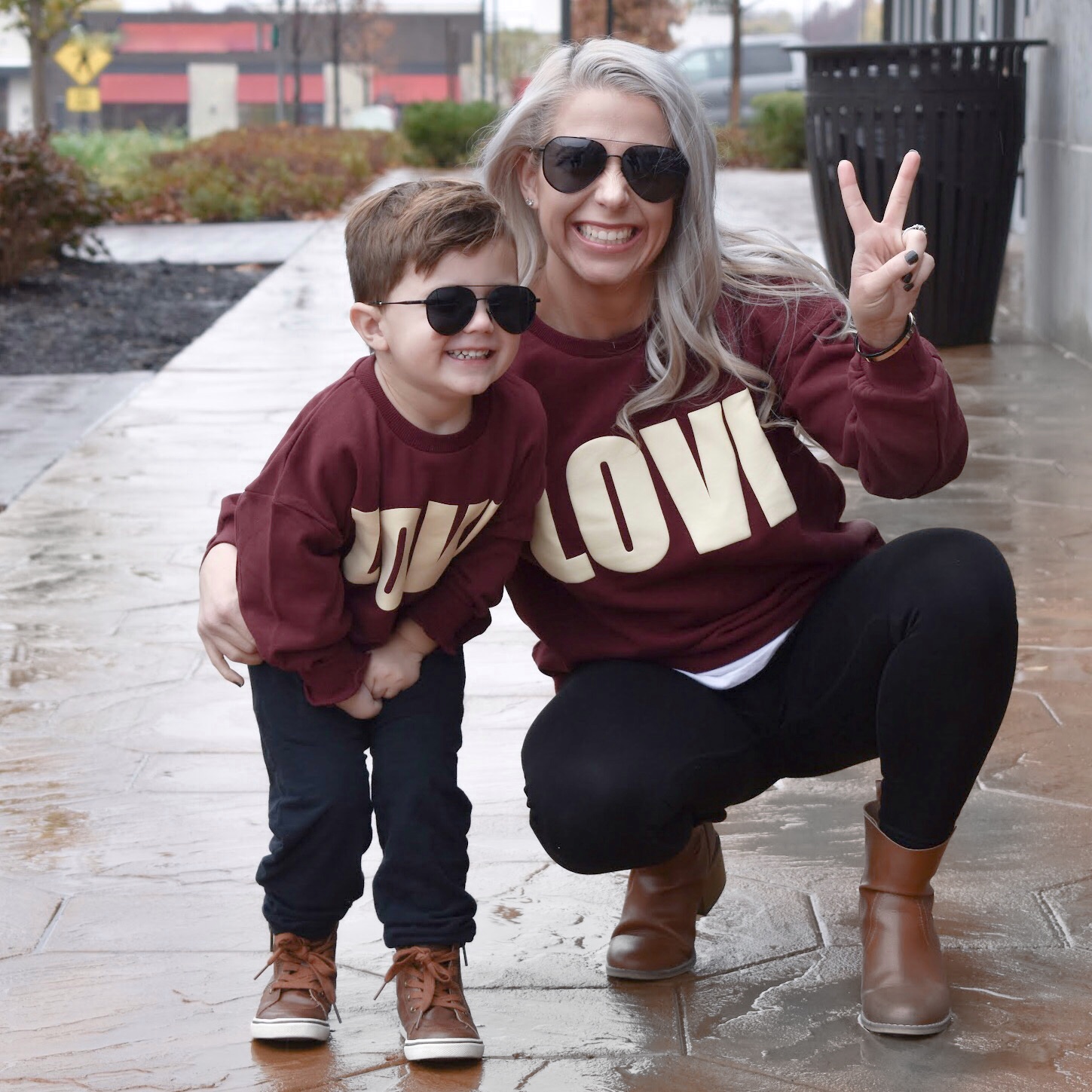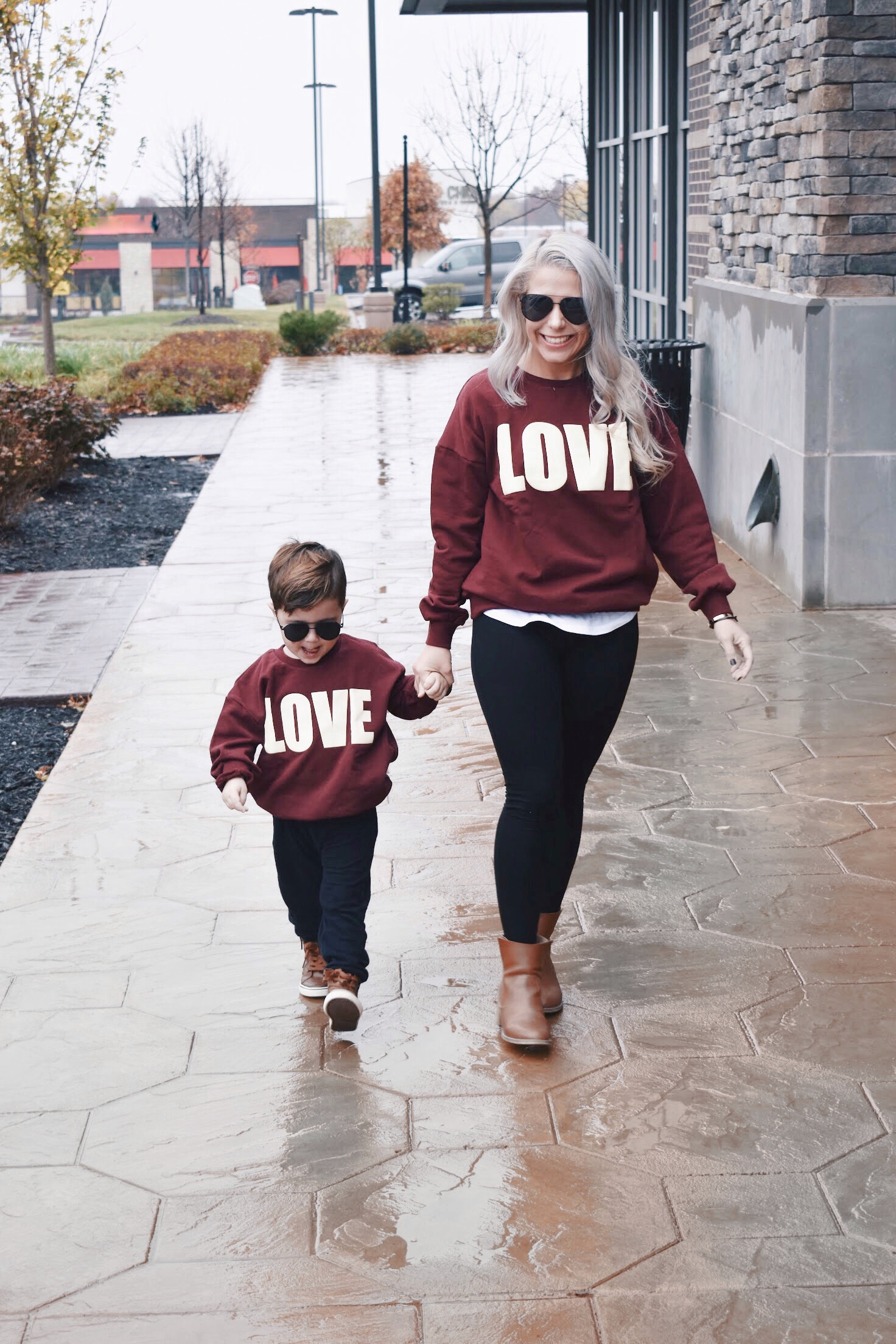 I'm lucky that my little guy is willing to do so many mother son matching outfits with me! His personality ebbs and flows [like any 3-year-old!] but right now he's in a place where he thinks being like mom is really cool… which I love, of course.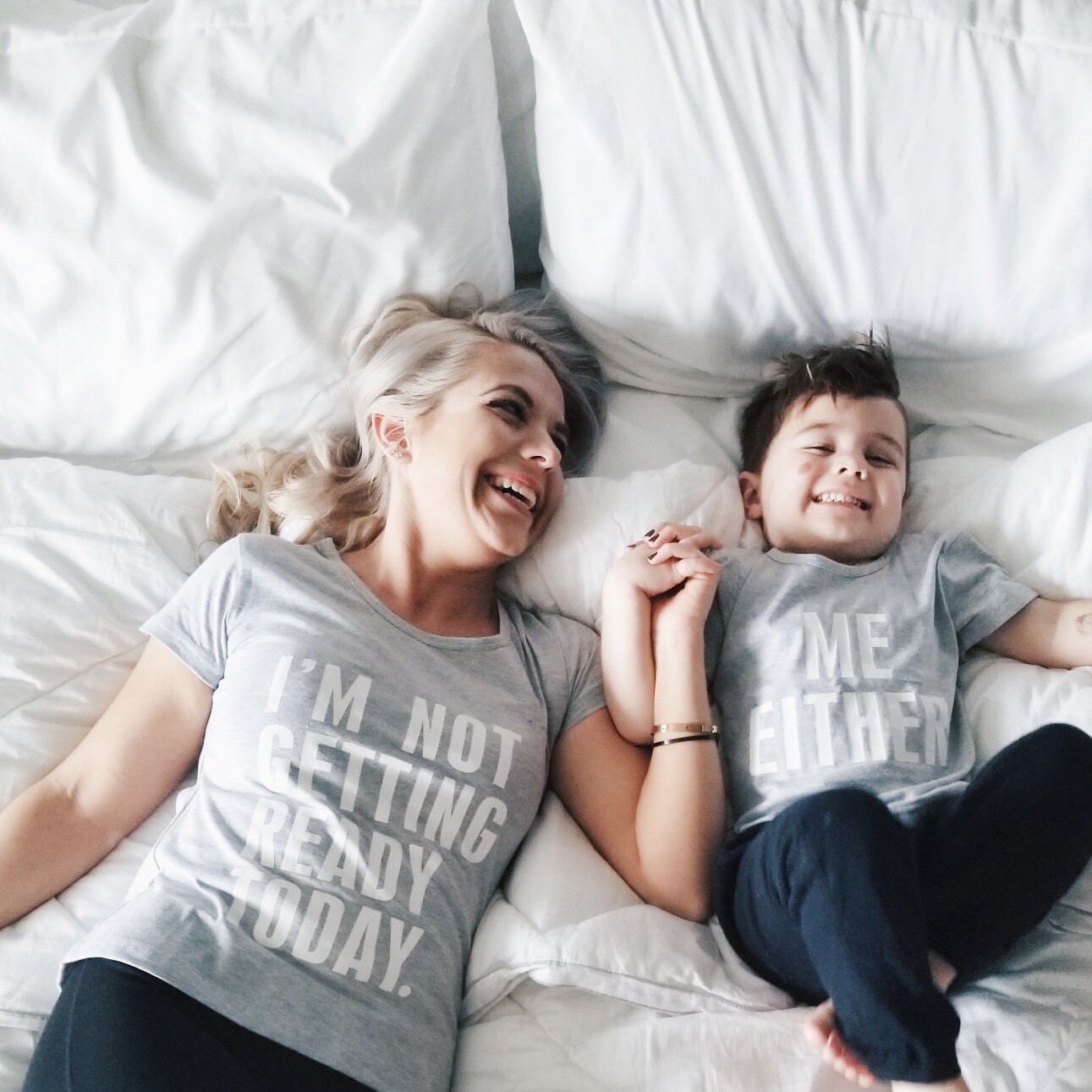 Here's another of our mother son matching outfits. I didn't get many pics of this one but I really, really love it. Probably because I really, really hate getting ready. 🙂
If you're thinking of ordering these tees, I suggest sizing up. We're both wearing our normal size here, however, they're pretty short. It works for me since I'm only 5'1″, but a taller person will need to size up for a good length [or add a cami/layering tee underneath].
Shop this Look:
Me: I'm Not Getting Ready Today tee [use code Tricia12 to save!] // Leggings [just $15 and great quality!] // Rose Gold Cuff // Black Cuff // Nail Polish [I'm wearing "Storm"]
Colton: Me Either tee [use code Tricia12 to save!] // Joggers [under $5!]
Our Bedding: I get a lot of compliments on our all-white bedding! All the details are here.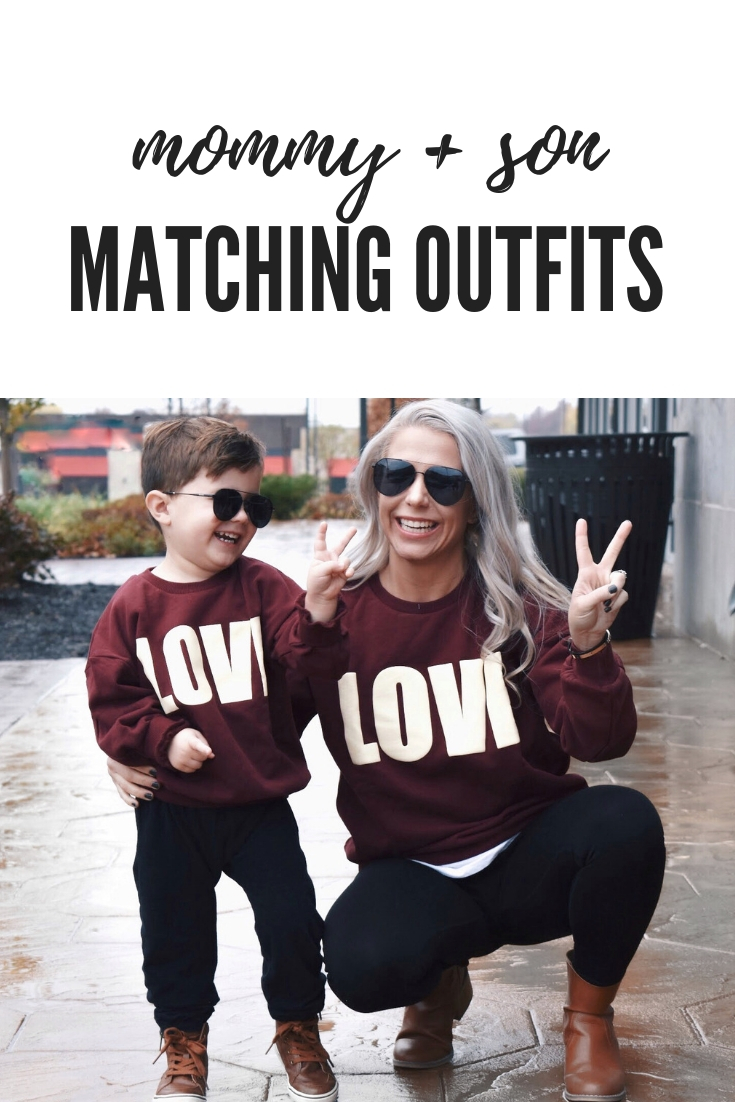 Pin these Mother Son Matching Outfits for later!
More Twinning Outfit Inspo: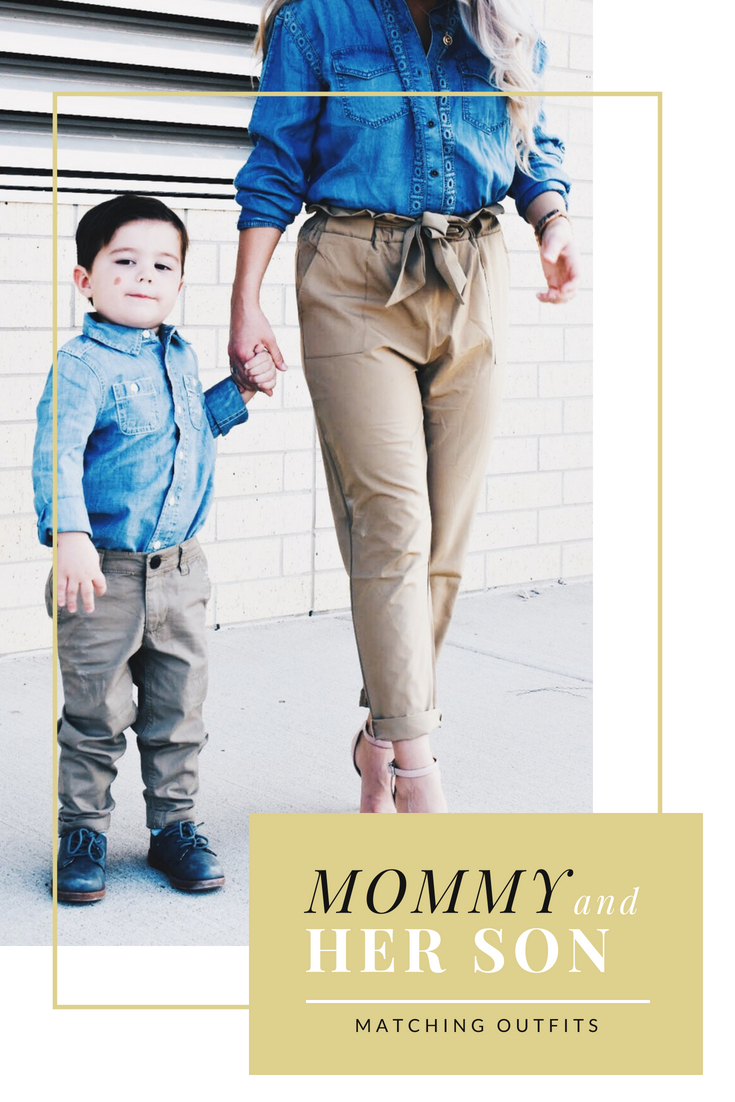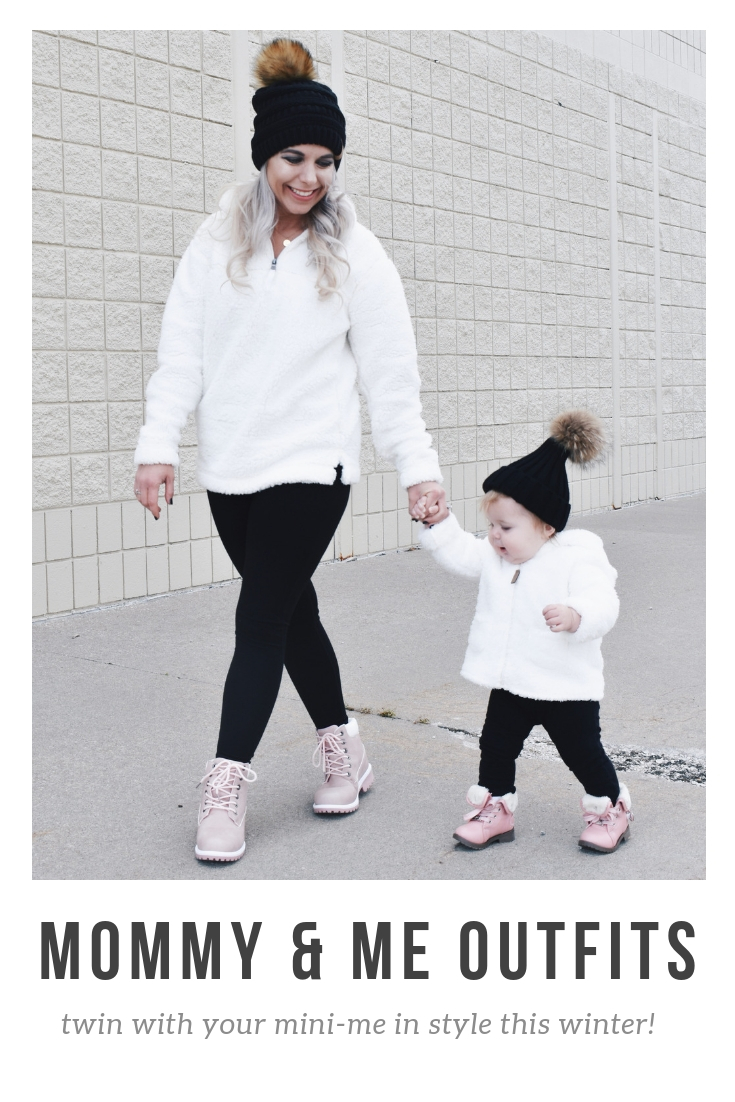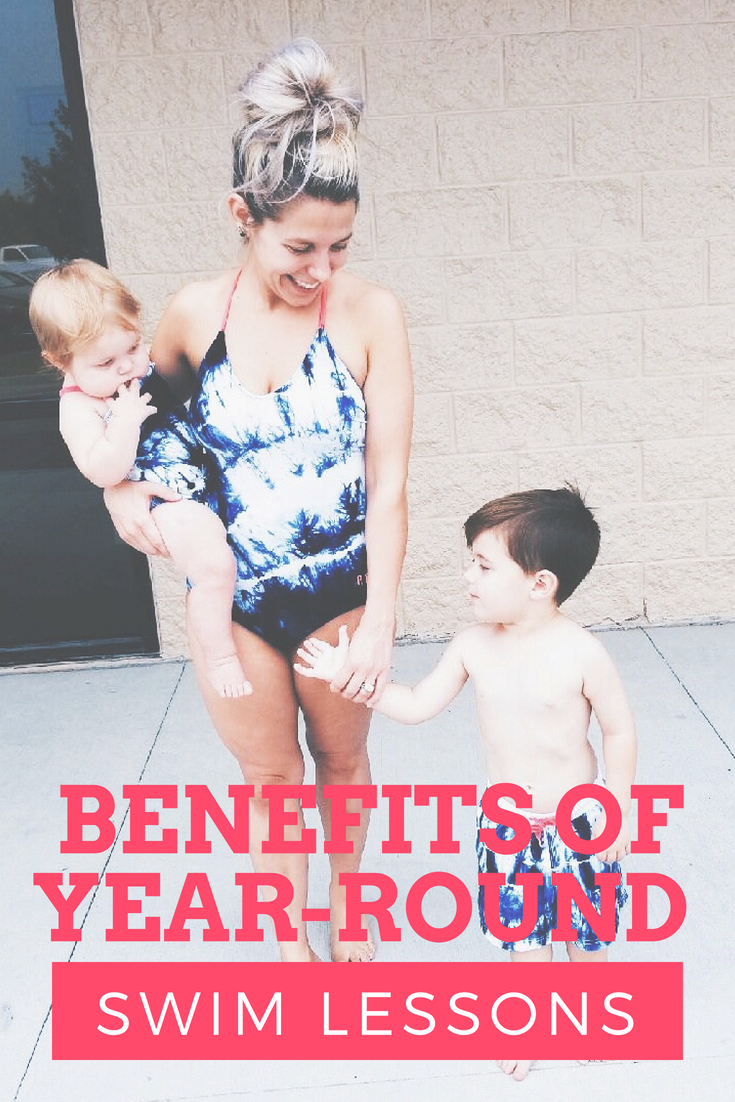 Here's a special surprise: I've teamed up with some other bloggers for a Nordstrom giveaway, just in time for the holidays!
To make your holiday shopping a little bit easier, I've teamed up with a group of bloggers to give you
a chance to win a $1,000 Nordstrom Gift Card!
To enter: complete the steps in the rafflecopter below. The more steps you complete,
the more entries you receive, and the better your chance at winning!
This giveaway runs until Tuesday, December 11th at 12am PST
Winner will be announced here. Good Luck!
*this giveaway is in no way sponsored by Nordstrom.