This post is sponsored by Kohl's. I was paid for this post and received the included home goods as compensation. Thank you for allowing me to share this White Bedding Inspo for Master Bedroom as part of my master bedroom makeover with you.
I've been wanting to refresh our master bedroom for a long time, and I finally got my husband on board! Honestly, sometimes that's the hardest part of a home project. The first thing I knew I wanted to change out was our dated brown bedding for something white and bright. So, without further ado, here's part one of our master bedroom makeover: white bedding inspo for master bedroom!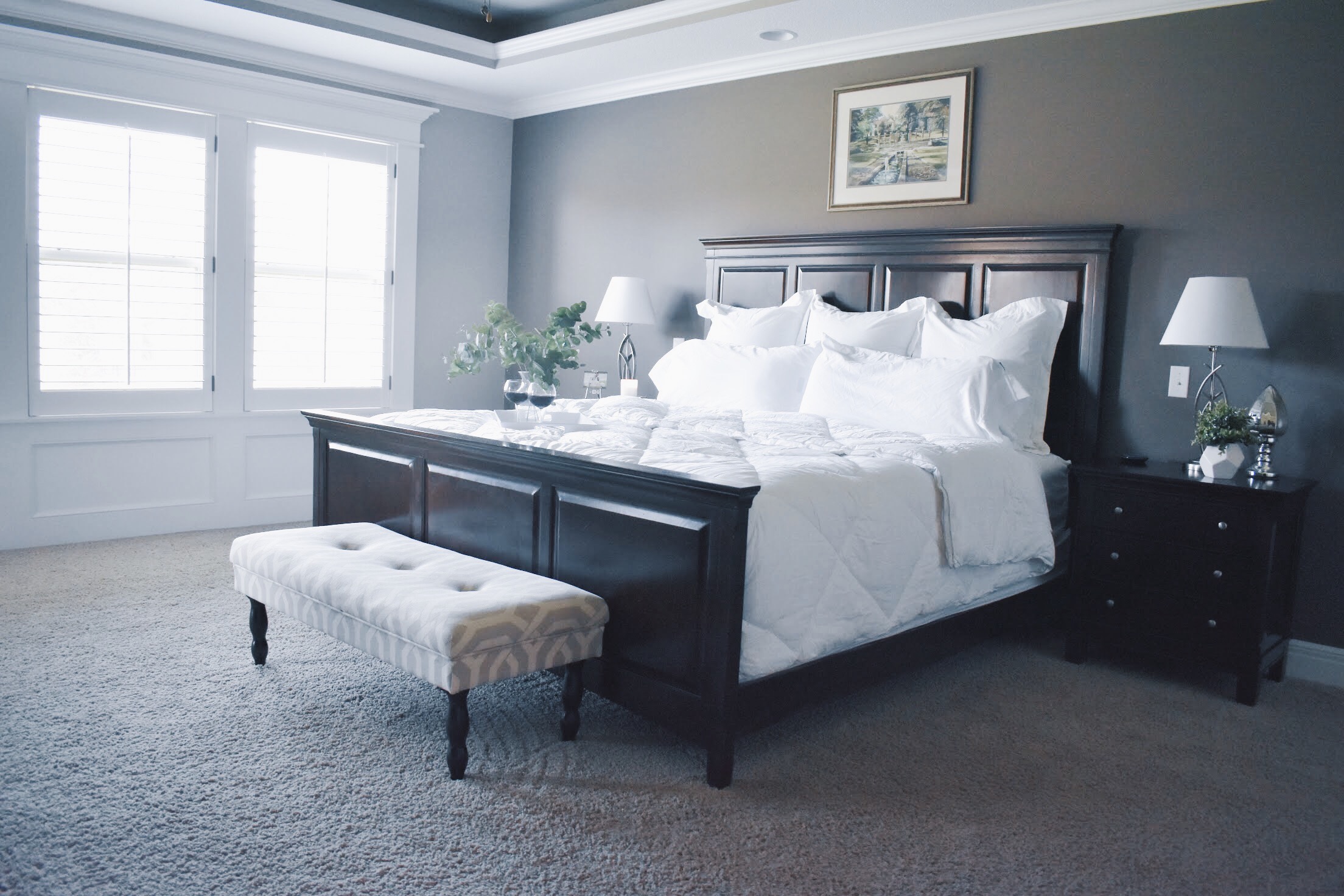 Here's the view from the door when you walk into our master bedroom. We moved into our home 6 years ago, and master bedroom furniture was the first thing we purchased. We'd been limping along with childhood bedroom furniture for the first few years of our married life, so selecting our own king-size bed was like a dream.
Unfortunately, beige was all the rage back in 2012, so we have a lot of brown in our home: walls, carpet, and, until now, bedding. I'm much more into cool tones and the crisp look of black + white, so I've been wanting to switch out our dated beige bedding for white for quite awhile.
Thanks to the great savings from Kohl's November Home Sale, I was able to get my husband to agree. From now until November 18th, you can save on bedding from Cuddl Duds, Columbia, The Big One, and Serta–plus lots more home items, too!
I don't have too many "before" photos of our bedding, mainly because I didn't like it and tried to avoid having it in photos. Here are a couple random ones I found: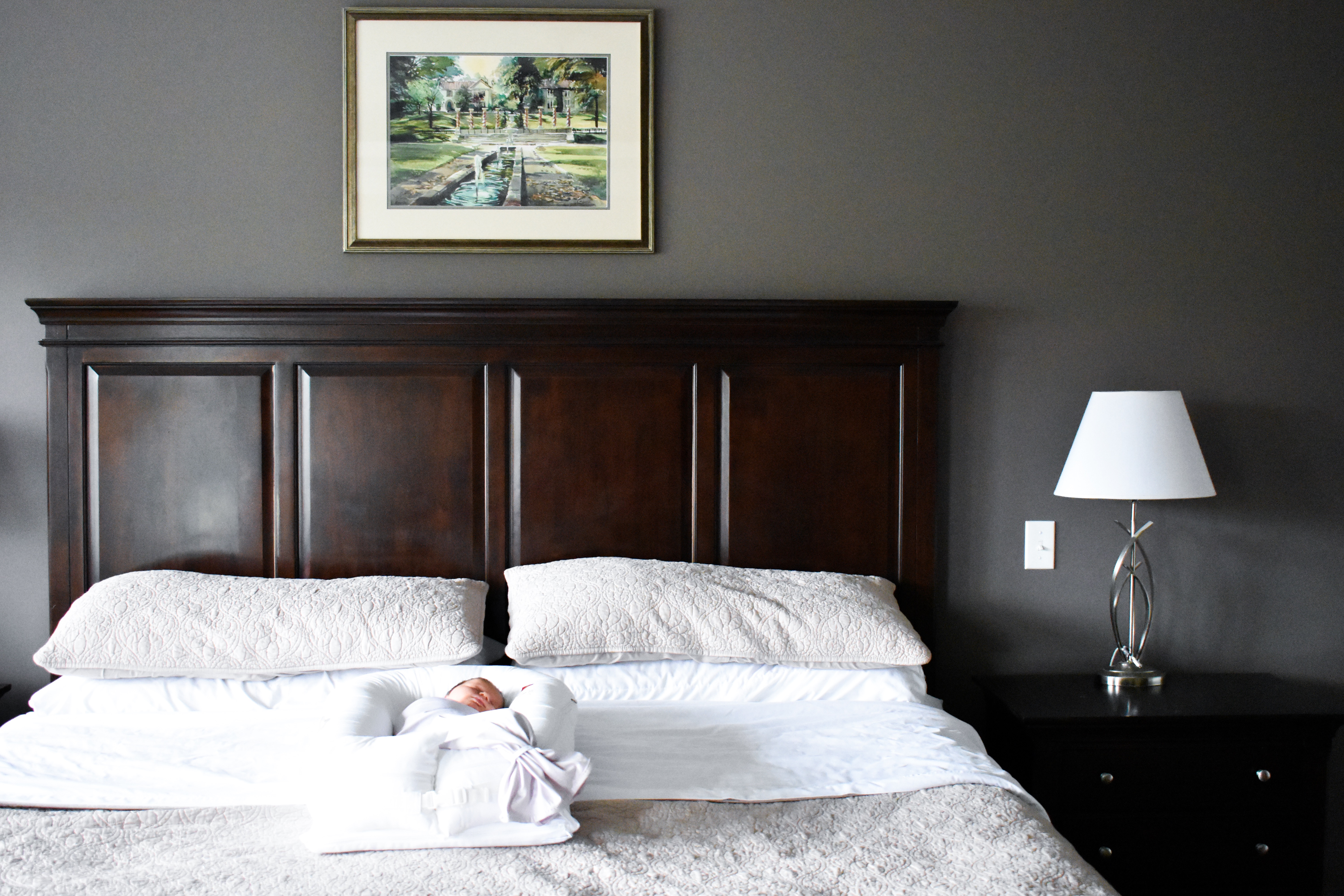 A tiny newborn Blair snoozing away. [Speaking of sleeping babies, here are my best baby sleep hacks! And here are tips on transitioning baby to winter sleep, perfect for Daylight Saving Time!]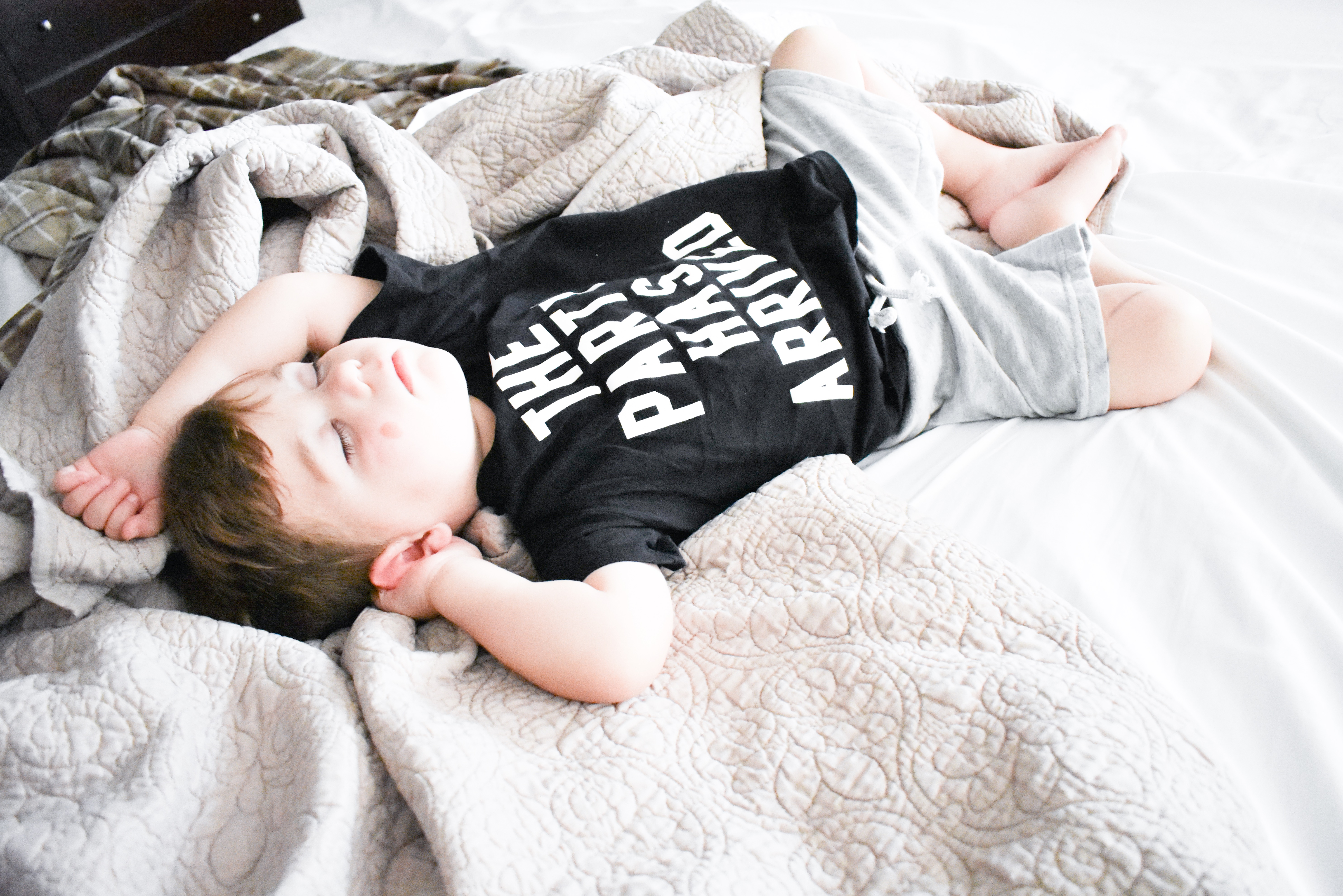 And a sleepy big brother, too–which better shows the beige color of our previous bedding. Not to mention, the blanket was just a coverlet, so not very warm at all.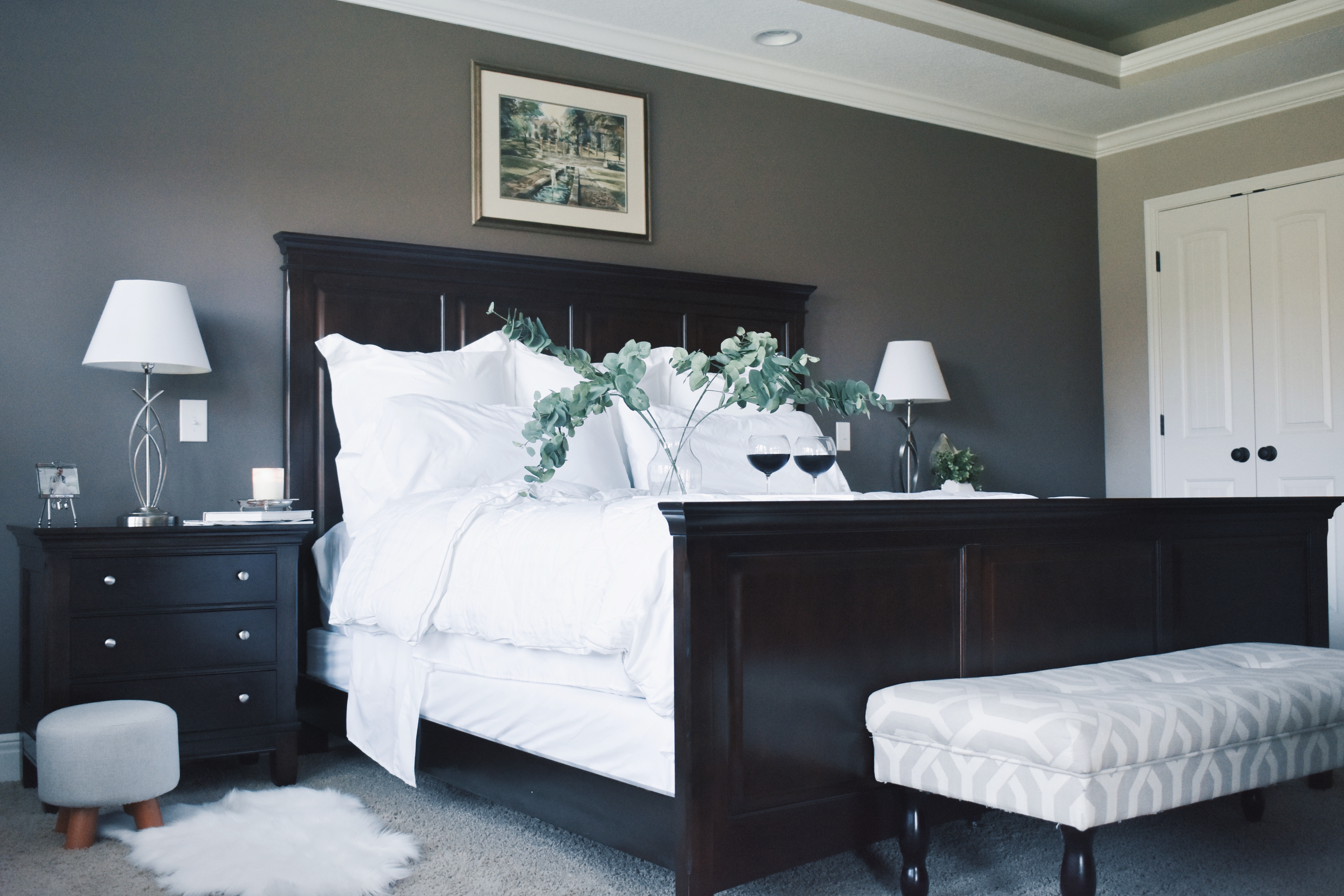 And here's what we're working with now. Much better, yes?
I love how the bright white contrasts with our dark furniture. Next up: painting the walls white, too. My husband is a bit hard to get on board with some projects, so I take things in stages.
Fun fact: the painting above our bed is of the spot where we got engaged. Do any KC locals recognize it?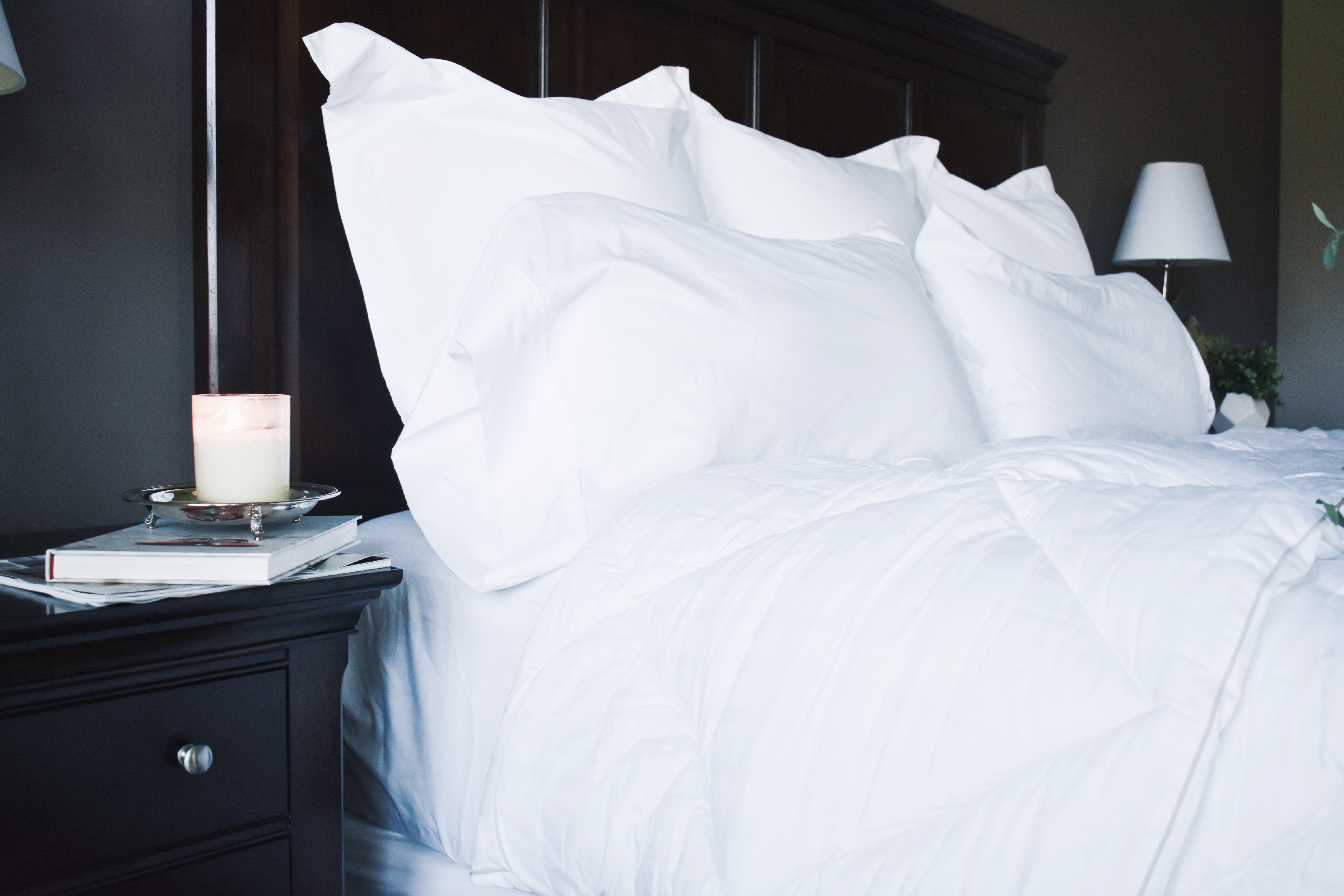 Our entire master bedroom white bedding is from Kohl's. I was really impressed with the quality of their selection [including lots of name brands like Columbia and Cuddl Duds], and their great price point made it where I could update the entire bed at once… on a husband-approved budget!
I still want to add a couple accent pillows and a throw blanket at the bottom of the bed, but this is a [huge] step in the right direction. I'm thinking maybe a light grey for the accent pillows and throw, just so every single thing isn't white. On the other hand, I really love how the all-white looks, so… who knows?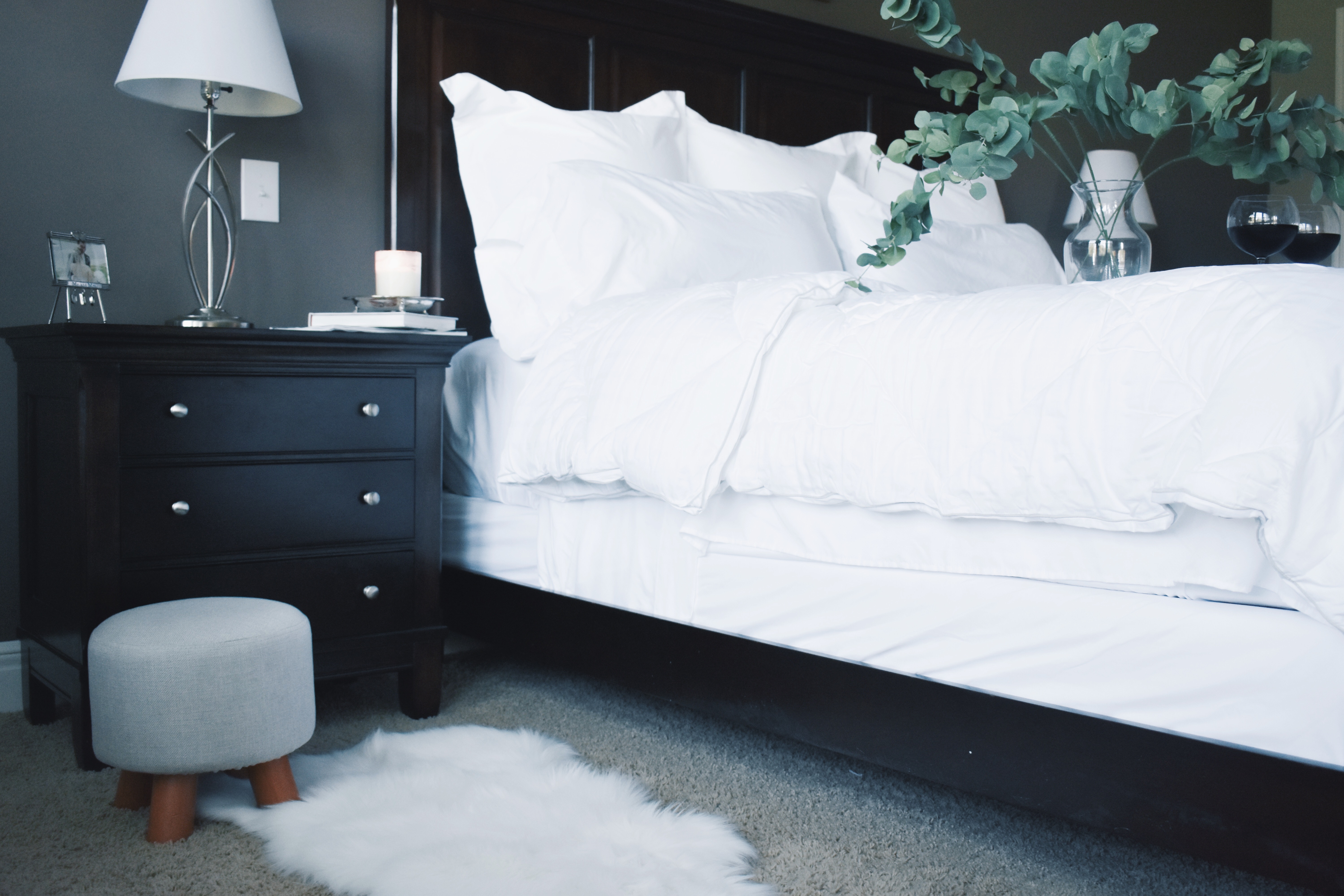 One of the great things about white bedding is that it's easy to mix-and-match brands and still have everything match. Our bedding is actually three different brands: our comforter is from Cuddl Duds [yes, they make bedding, too!], sheets are from Columbia, and euro pillows are from The Big One.
Since our bedroom is on the main level of the house, it gets pretty chilly here in the winter [heat rises and all that]. So, I specifically chose sheets and a comforter with temperature-regulating capabilities. I'm excited to see how they stand up to our harsh winters.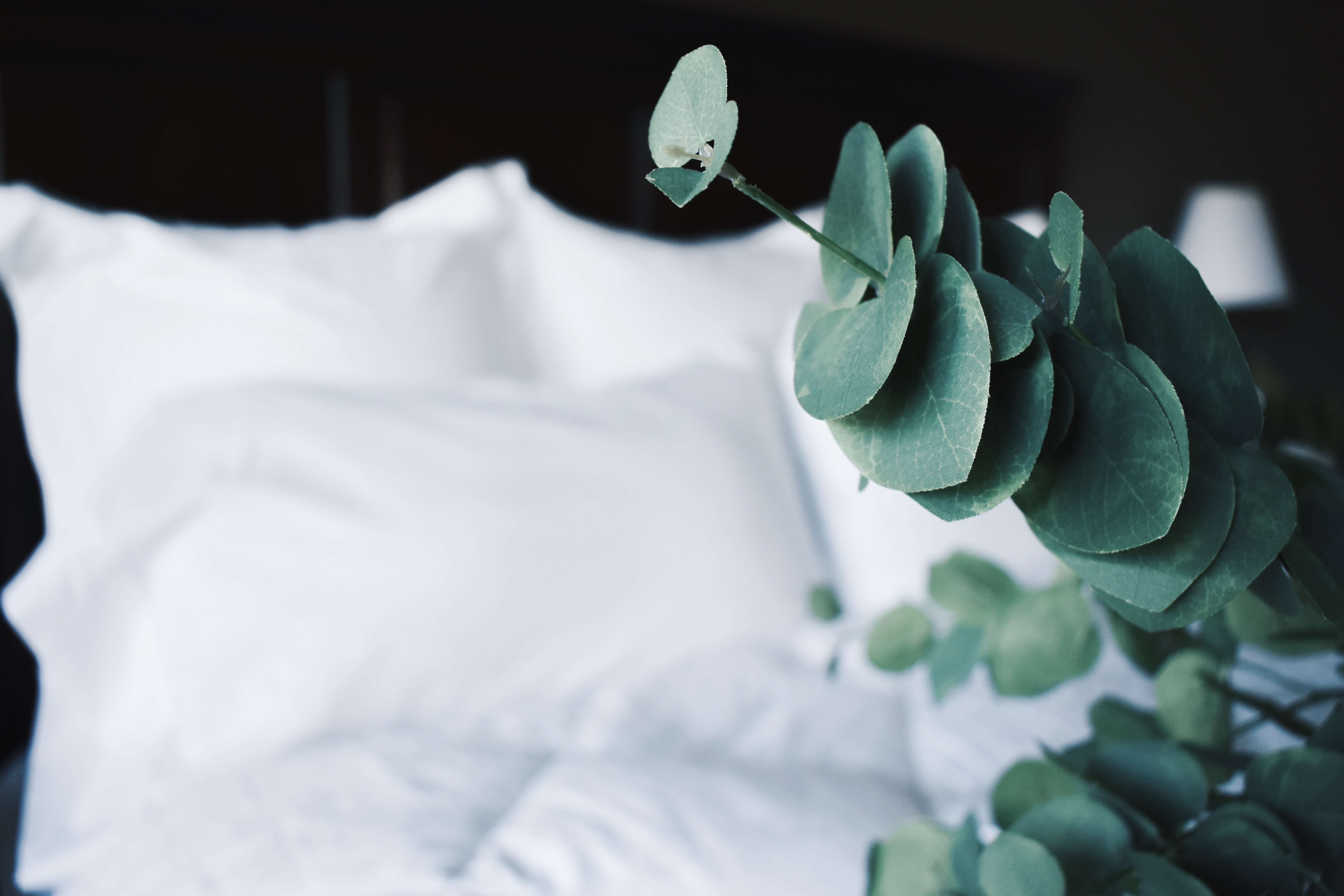 Pillow arrangement has never been my strong suit. I mean, did you see that photo of our "before" bed? I actually pinned some pillow arrangement diagrams on Pinterest, so check out my Master Bedroom board if you need pillow arrangement ideas for your own bed. For me, adding euro pillows [and euro shams, of course] made a huge difference in going to a more upscale look.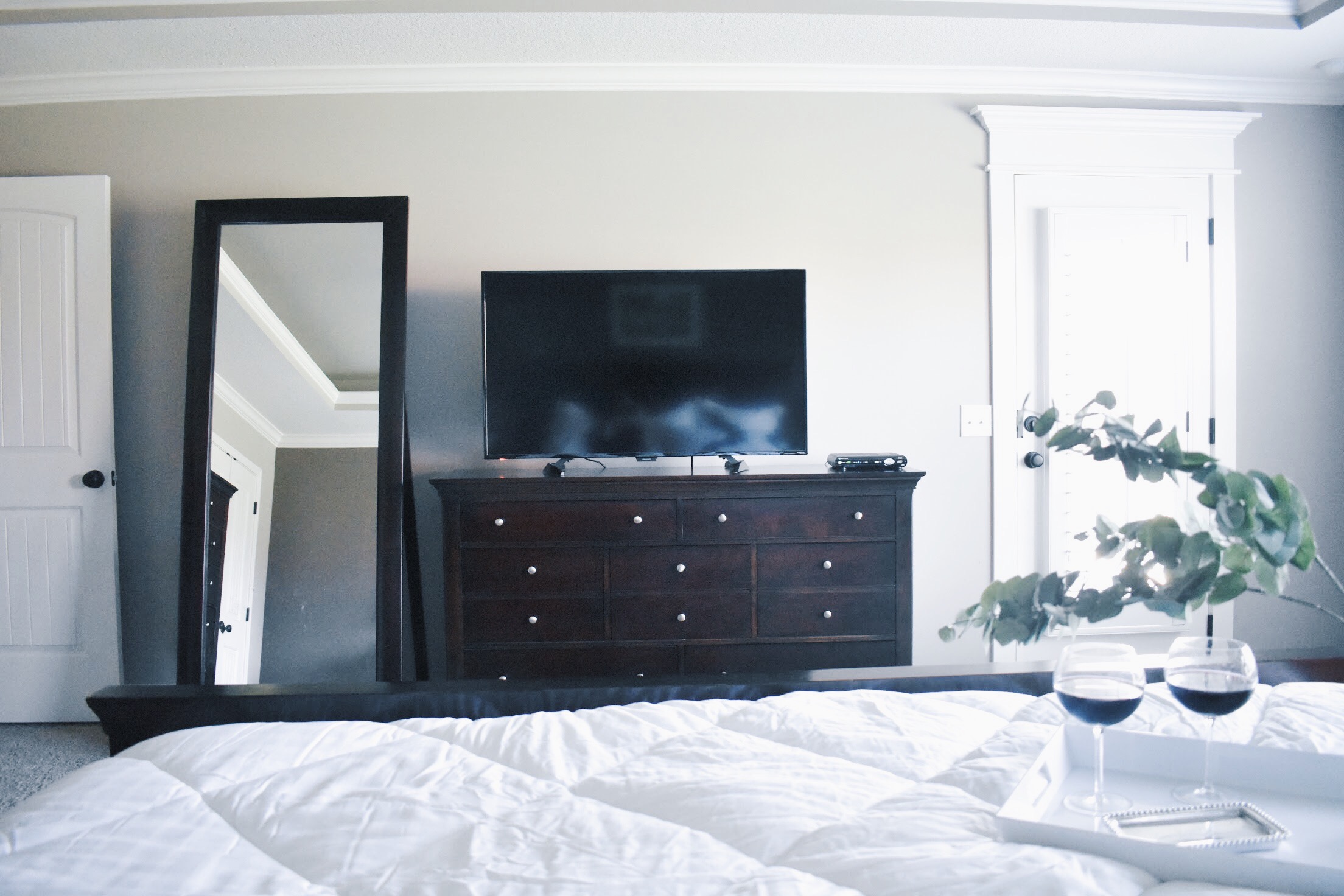 If you're wondering, here's the view from bed. I want to mount the TV and hide the cable box, plus figure out something to do with the full-length mirror. We've talked about mounting it on the wall as well, or maybe I'll move it to another spot in the room.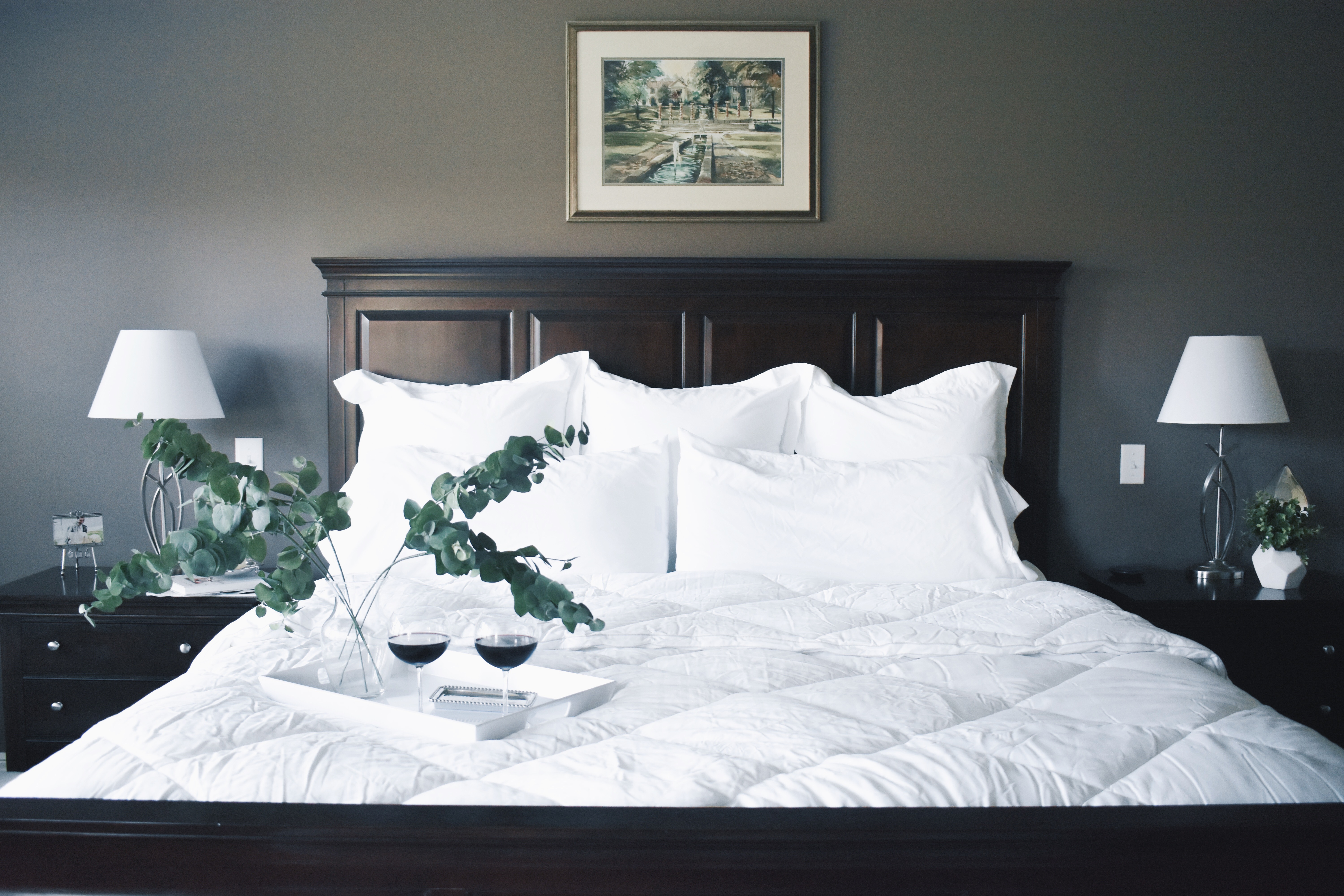 And here's the finished product… for now! After finding all this white bedding inspo, I've got the itch to change up more rooms. One project always leads to another, right?
Now that the holidays are upon us, if you're ready to refresh your bedroom [or perhaps a guest bedroom for those holiday visitors], check out Kohl's November Home Sale running from November 7-18, 2018!
My blog may contain links to other websites. I am not responsible for the privacy policies of those other websites. When you click on a link, your information may be collected by those websites so I encourage you to read their privacy policies. Any affiliate links are not associated with Kohl's.
Shop This Post: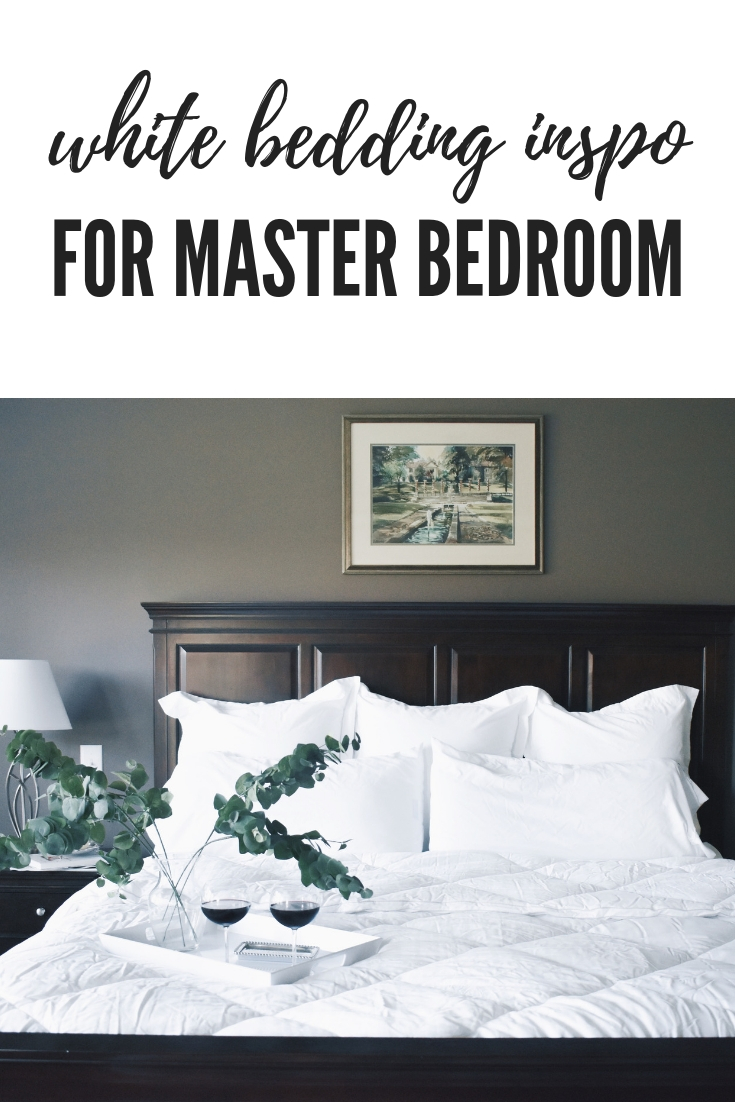 Pin this White Bedding Inspo for Master Bedroom – Master Bedroom Makeover for later!
More Winter Inspo: