Raise your hand if you're tired of your kids losing, well, everything! I have a great solution for you–Name Bubbles, the best daycare labels. These name labels for daycare are waterproof and even dishwasher safe! Read on to find out how you can get some, too.
This post is sponsored by Name Bubbles and contains commissionable links. Please see the Legal page for more info.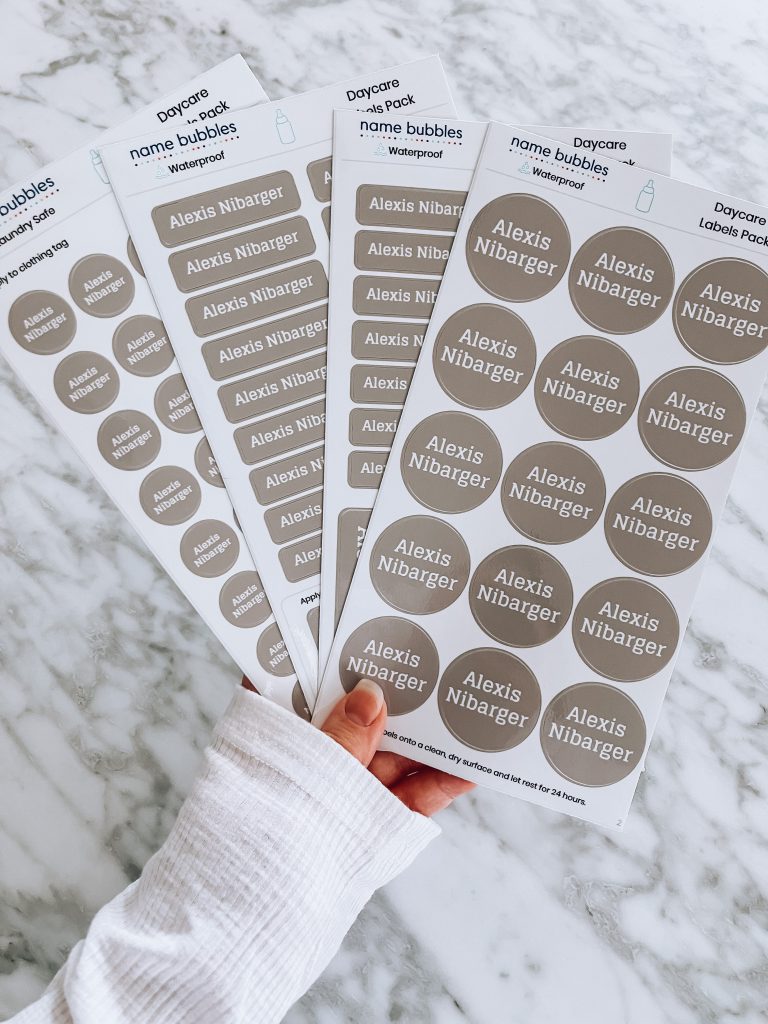 I ordered these daycare labels from Name Bubbles for Alexis and they turned out so cute! I loved being able to customize the labels exactly how I wanted. Name Bubbles are a must-have for your daycare prep and organization!
Click here to check out Name Bubbles labels for yourself! And, as a thank you for reading my post, you can use my Name Bubbles coupon code TRICIA to save 10% on your Name Bubbles order.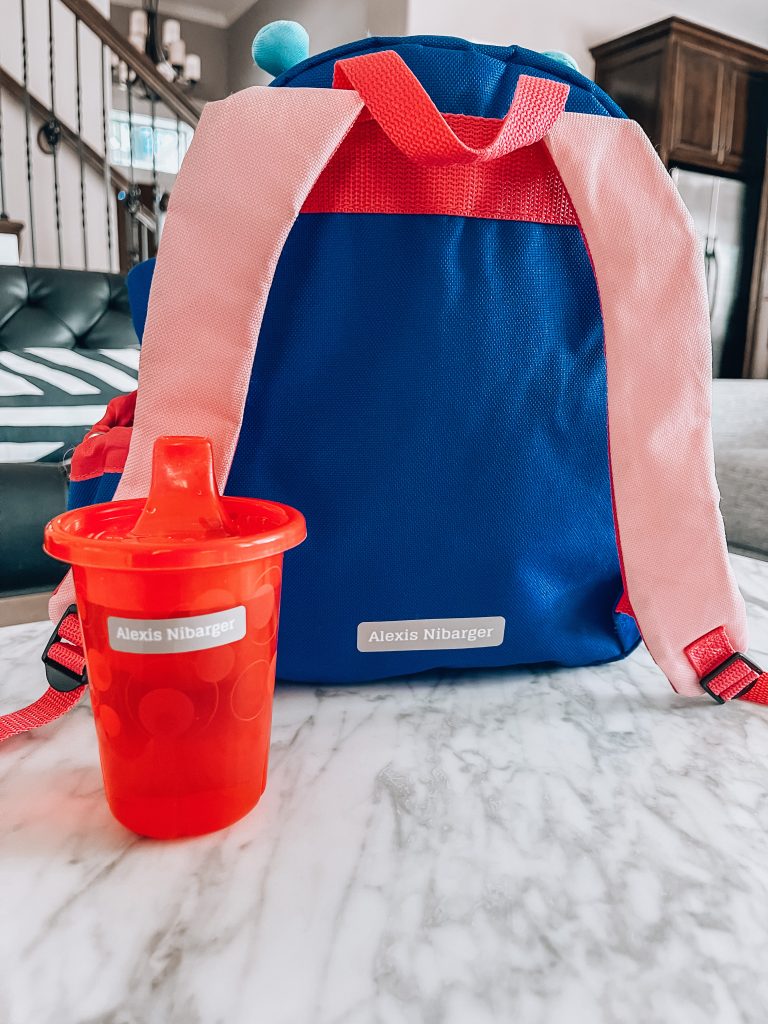 Name Bubbles daycare labels are:
dishwasher safe
microwave safe
freezer safe
laundry safe
waterproof!
This makes Name Bubbles the best daycare labels for customizing sippy cups, bottles, food containers, clothing, backpacks, and much more.
Not to mention, they're super cute! I've already gotten lots of compliments on Alexis's labels.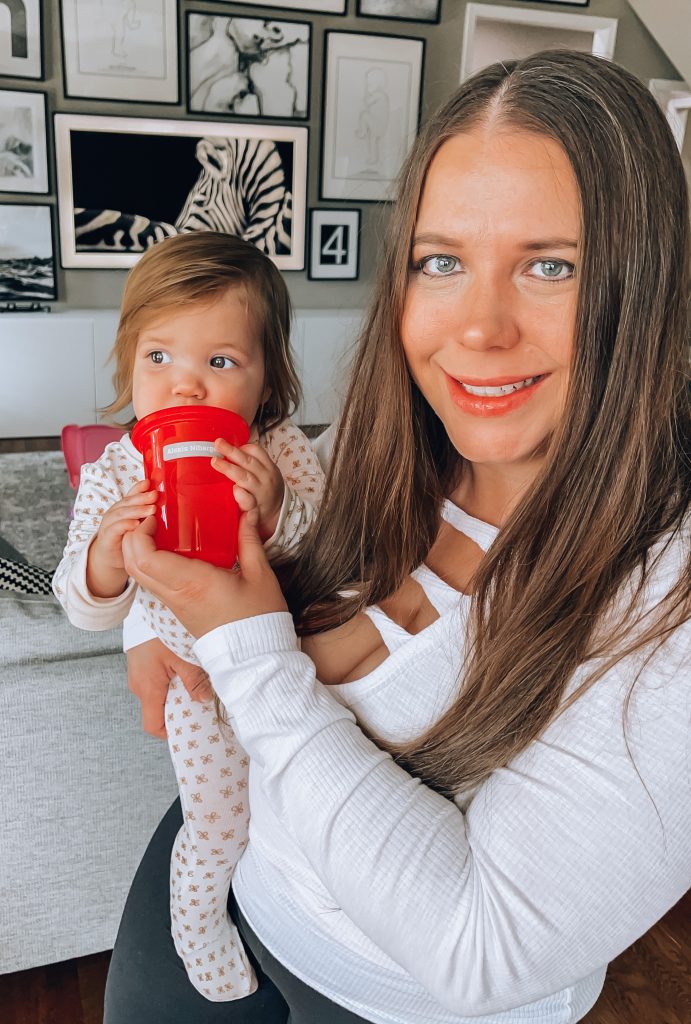 These name labels are perfect for labeling sippy cups or bottles for daycare and other outings! I love having Alexis's sippy cups labeled so I don't have to worry about her cup getting confused with anyone else's.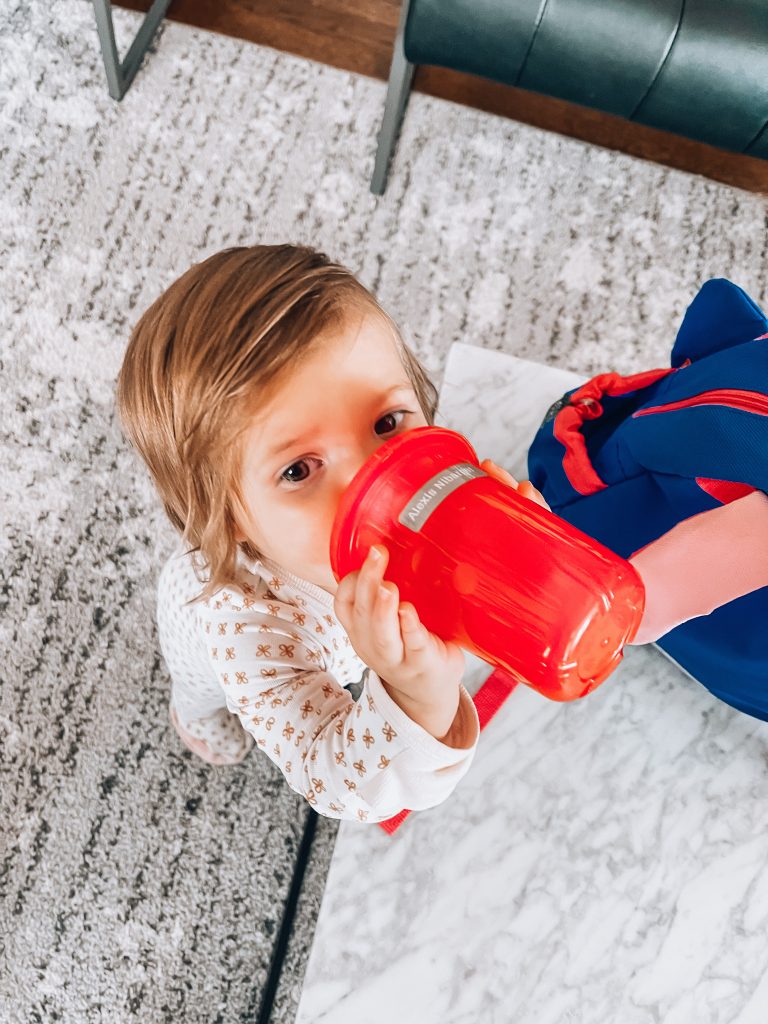 She loves it, too! Alexis uses at least a couple sippy cups each day, so I really appreciate having the waterproof labels on there when it's time to wash. She uses one sippy cup for water, one for milk, and sometimes one for juice every day. That makes for a lot of dishes!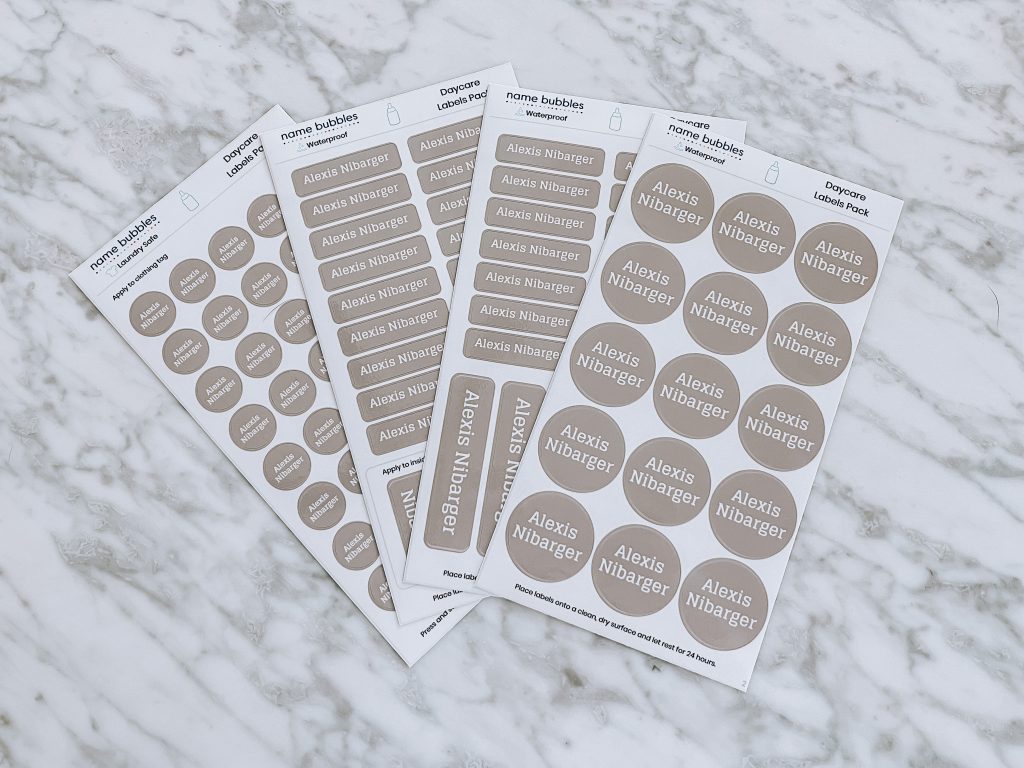 This is everything included in our Name Bubbles daycare labels pack. There are 4 pages of labels in various shapes and sizes, making it easy to find a label to fit any need!
The top left sheet of labels are laundry-safe. I can use them on Alexis's clothes to make sure they don't get mixed up with anyone else's. The laundry safe daycare labels will be especially handy for coats, jackets, sweaters, and other outwear items that get taken on and off throughout the day.
I was really impressed with the ability to customize daycare labels on the Name Bubbles website. You can choose the colors, shape, fonts, size, amount of labels, and more. They also have lots of cute designs you can add to the labels! However, I chose to keep mine neutral so they'll match all of Alexis's items.
If you want to get these exact labels, I chose this Custom Daycare Labels Pack with these customizations:
Pick a Style Daycare Labels Pack
Style: Neutral Color
Color: Putty
Font: Charm
Shape: Circle
Shoe: Rectangle
Lamination: For Clothing Care Tags
Alexis is so proud of her big girl backpack! Fun fact, this is actually a hand-me-down backpack from my older daughter, Blair. Blair is 6 years old now so she's outgrown this little backpack, but it's perfect for 1-year-old Alexis!
And, this backpack is a very popular style–I've seen it several times over the years! So, having the best daycare labels for her backpack is very smart. That way, I can easily see which backpack belongs to Alexis!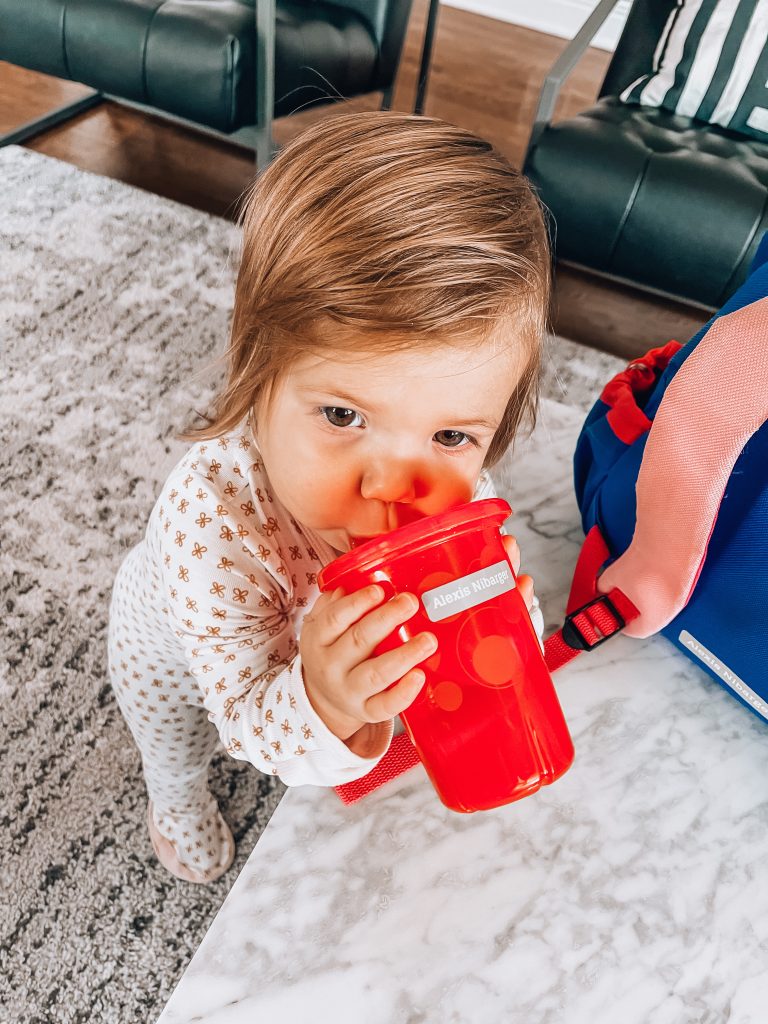 Alexis's sippy cups are a super popular style also. I feel a lot better having Alexis's cups labeled and knowing that they won't get confused with another child's. Plus, Alexis is learning to recognize her own color and style of labels!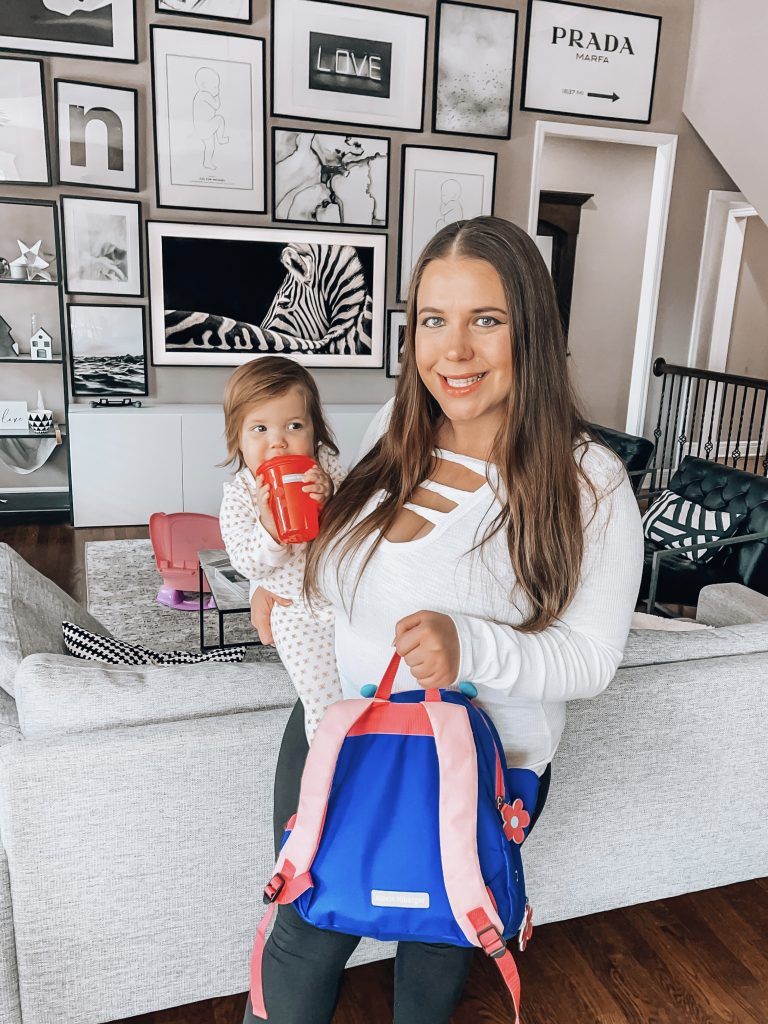 Check out Name Bubbles to get the best name labels for daycare today! Don't forget to use my Name Bubbles coupon code TRICIA to save 10% on your order as a thank you for reading my Name Bubbles reviews!
If you have any questions about my Name Bubbles labels review, feel free to leave a comment below or message me on Instagram @tricianibarger.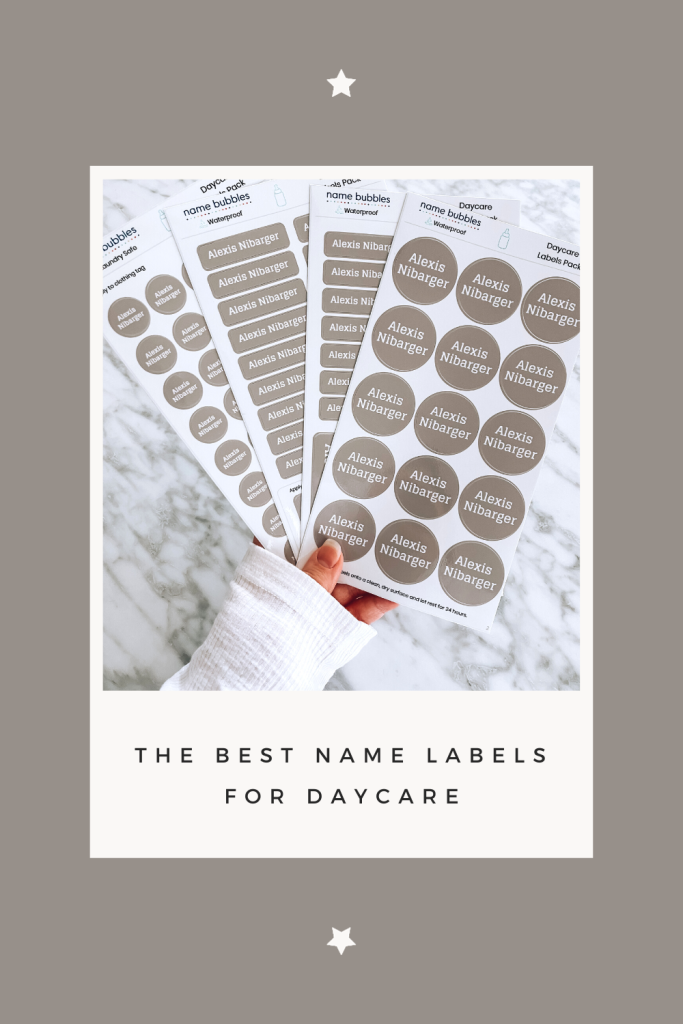 Pin this post on the best daycare labels for later!
Read these next: