Today, I'm going to show you how to rhinestone a dance costume! Stoning a dance costume is a rite of passage in the dance mom world. But, stoning a costume for the first time can be daunting. Read on to learn all you need to know about the process to rhinestone a dance costume…

This post contains commissionable links. Please see the Legal page for more info.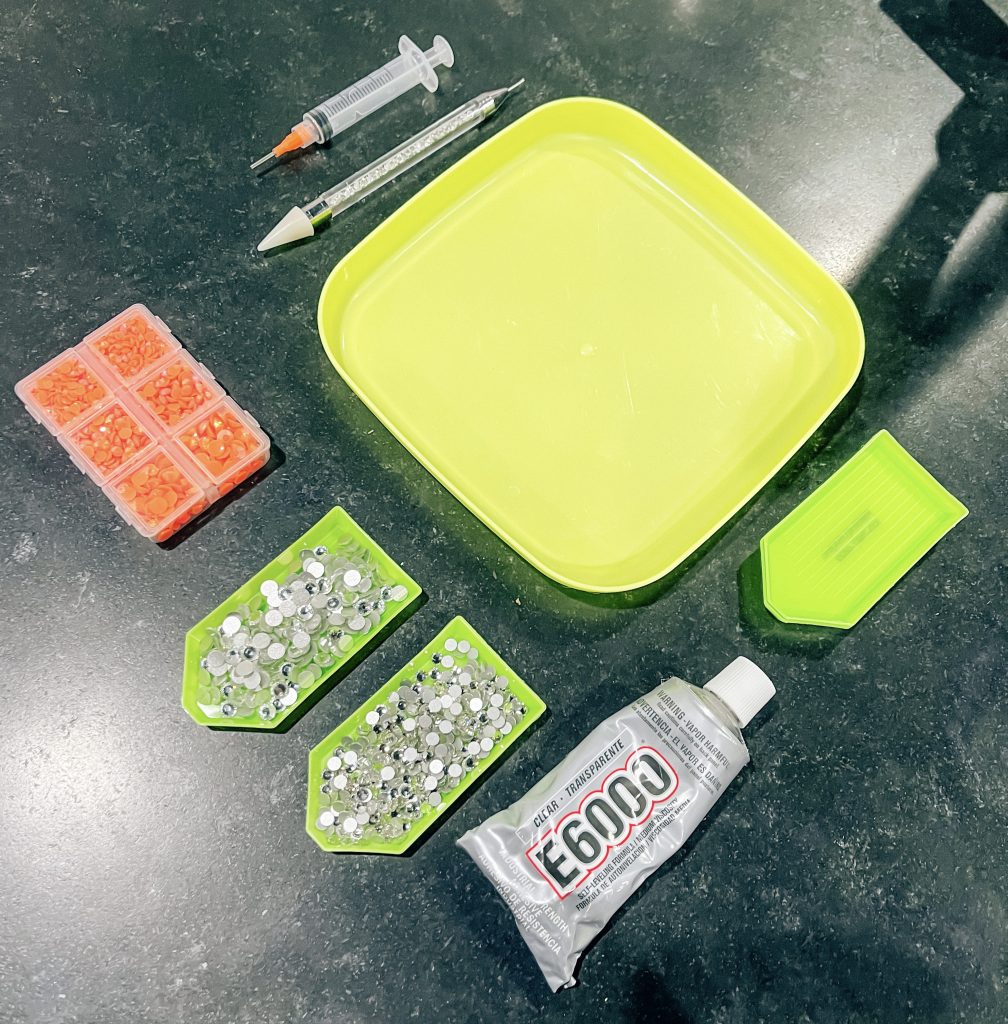 Do you learn better by video?
Quick question, do you learn better by video? If so, check out my TikTok video on how to rhinestone a dance costume for a quick and easy tutorial! Don't forget to like the video and follow me on TikTok for more dance mom content!
Gather Stoning Supplies
First, you'll need to gather your stoning supplies. Here are the items I use to rhinestone a dance costume: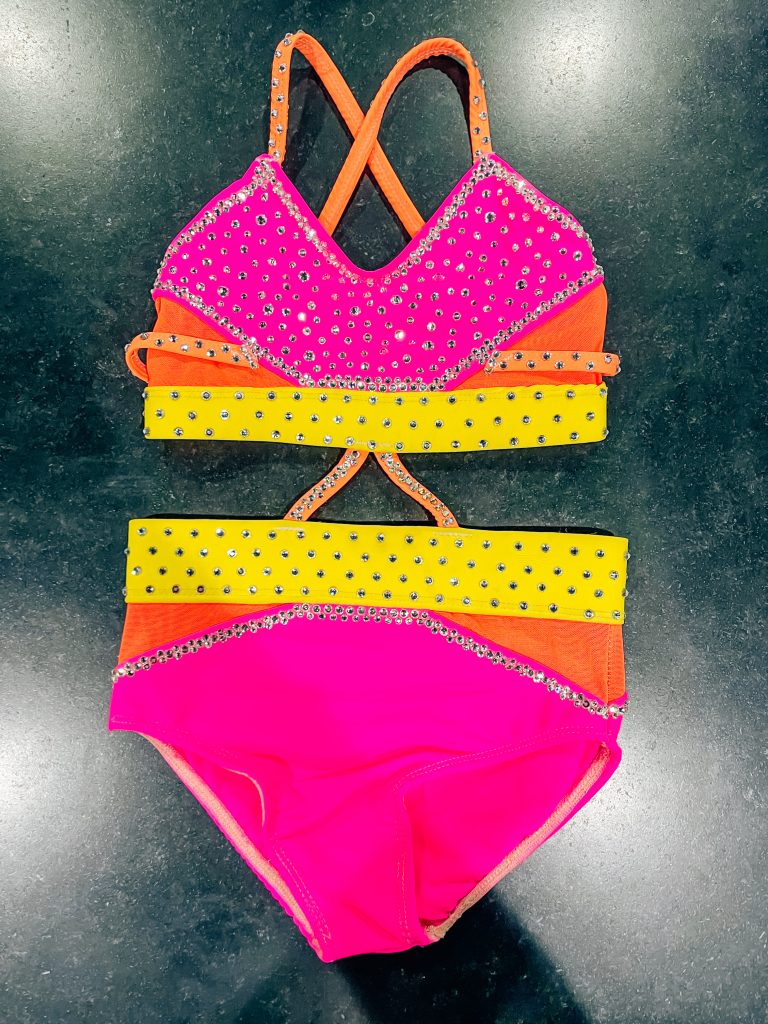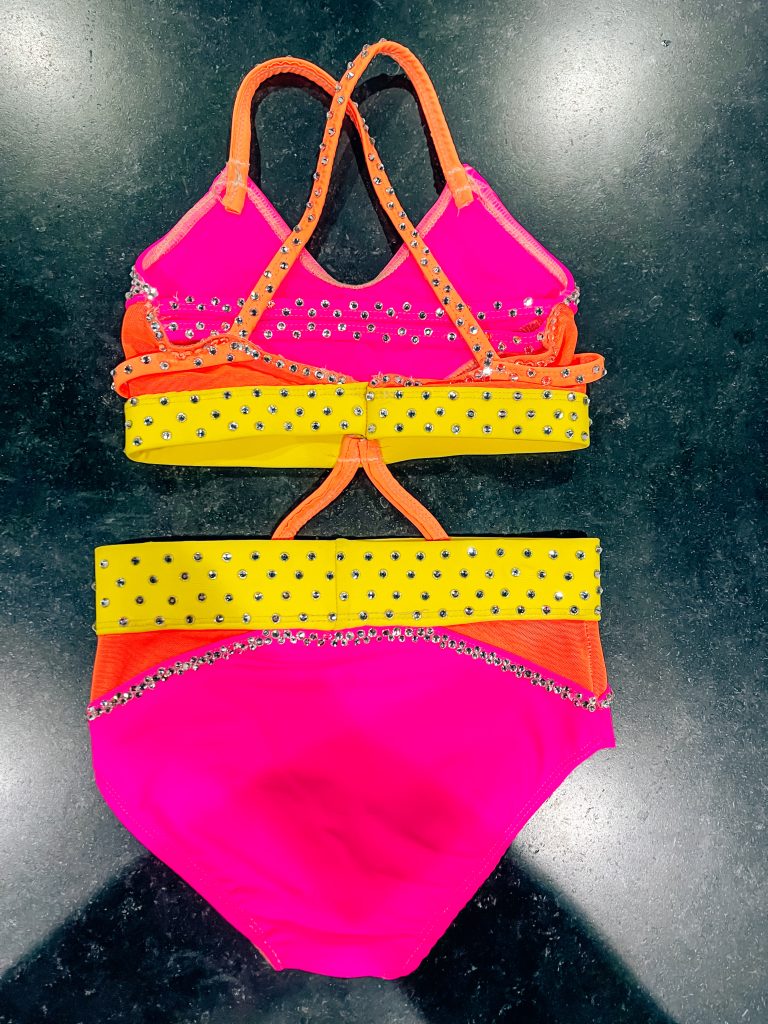 The costume that I was working with for this post already had some stones on it. I purchased it secondhand for my daughter Blair's jazz solo. However, I wanted to add some extra stones to make it unique for her!
Select Rhinestones and Stoning Pattern
If you're working with a group costume, your rhinestones and stoning pattern will most likely be pre-selected for you. But, if you're working with a solo costume, you may need to select the stones and pattern yourself. (Important note: please make sure to run your ideas by the teacher/choreographer to make sure everyone is on the same page!)
There are lots of different types of rhinestones for dance costumes. For this costume, I used crystal (those are the clear stones) and red orange AB. Crystal stones are basically clear, whereas AB (Aurora Borealis) have an iridescent coating that reflects like a rainbow.
As you can imagine, dance costume rhinestones come in all colors and sizes. People have strong opinions about the best rhinestones. Personally, I usually get my rhinestones from Amazon. They have a huge selection, great prices, and it's generally easy to return if I don't end up liking the color/size once I see it with the costume.
Once you have stones in mind, the stoning pattern can be as simple or as complex as you like. You can lay the rhinestones out on the costume to get an idea, or take a photo of the costume and "draw" rhinestones on in an app to create a pattern.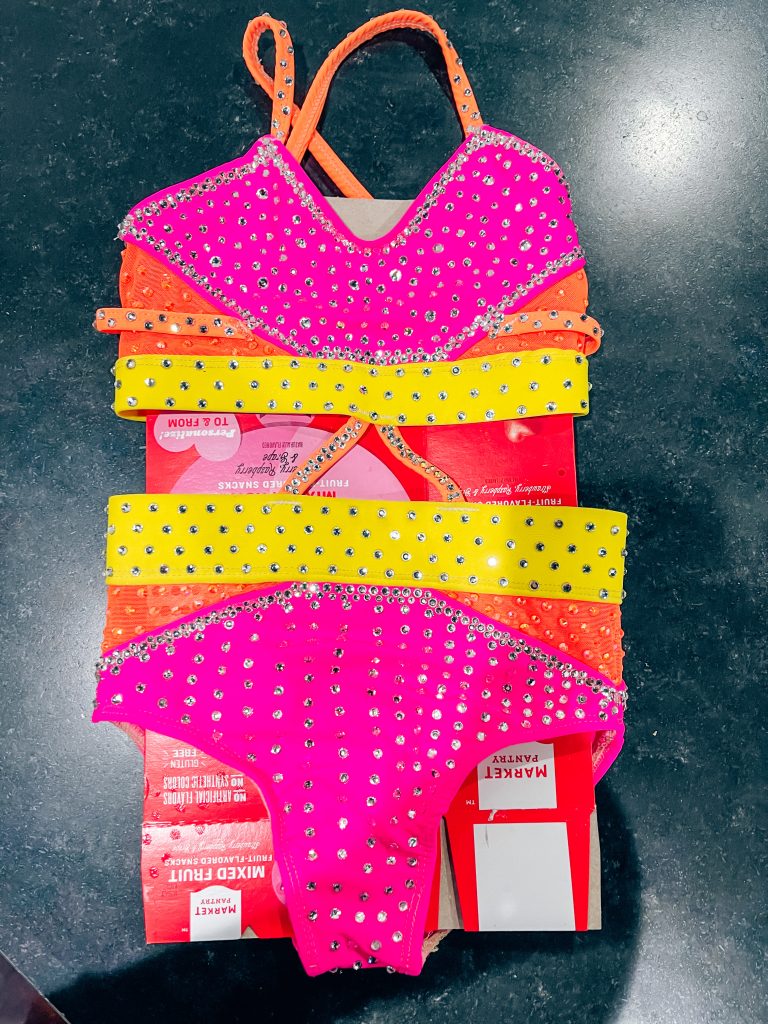 It's Time to Learn How to Rhinestone a Dance Costume!
Now it's time for the fun part–you're ready to learn how to rhinestone a dance costume!
Pour a small amount of the selected rhinestones into a rhinestone tray (these ones with covers look amazing). You'll want to start with the largest stones and the ones you'll be using the most of, then you can fill in with details later.
Fill your syringe about halfway with E6000 glue. You don't want to overfill the syringe because then you won't be able to get the plunger part into the syringe (ask me how I know). Screw the tip onto the syringe.
Use the syringe to squeeze a small drop of glue onto the costume in the desired spot. Then, use the wax end of the rhinestone picker to grab a face-up rhinestone from the tray, then set the rhinestone onto the costume.
If needed, you can use the opposite end of the rhinestone picker to adjust placement and/or press the stone more firmly into the glue.
Once you're comfortable with the process, you can make more than one glue dot at once. When you're first setting the pattern, I recommend doing just one glue dot then one rhinestone to make sure you don't make any errors.
If you have any mesh areas in the costume, place a thin cardboard box (I used an old fruit snacks box) in the costume so glue doesn't leak through the mesh.
I know this is a lot to explain in writing so feel free to check out my video for the visuals!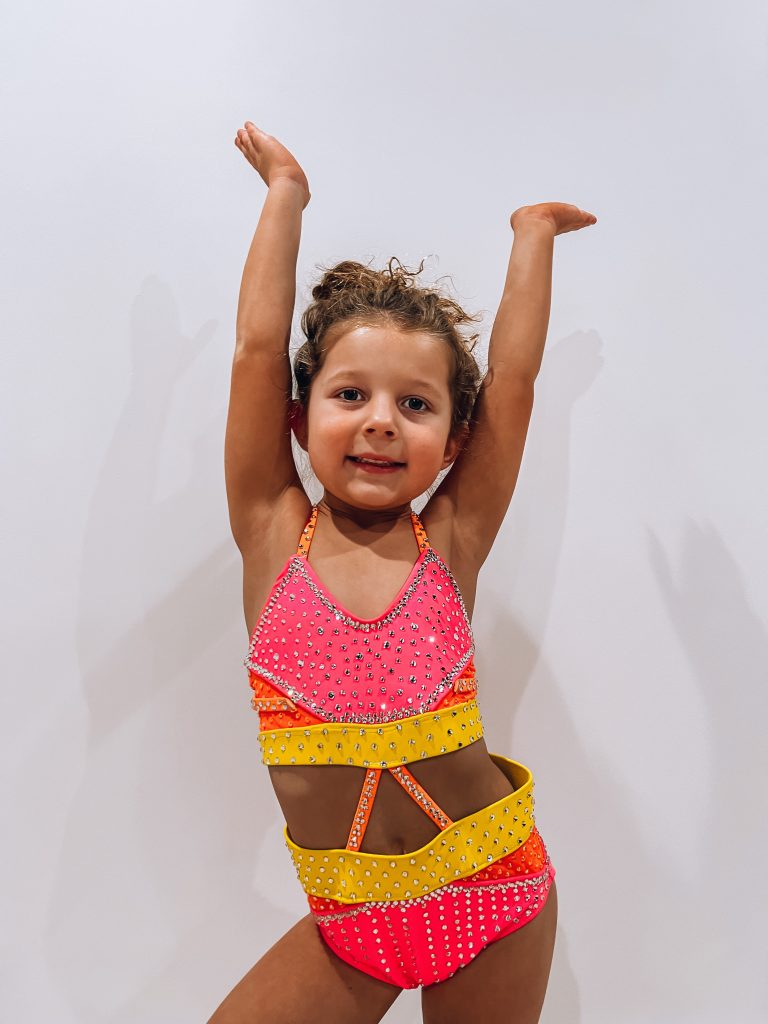 Let the costume dry at least overnight before putting it on. I usually rhinestone after my kids go to bed so that I don't get interrupted. Here is Blair trying on the completed costume the next morning! She was really excited. Watch my TikTok video of how to rhinestone a dance costume to see her sweet reaction!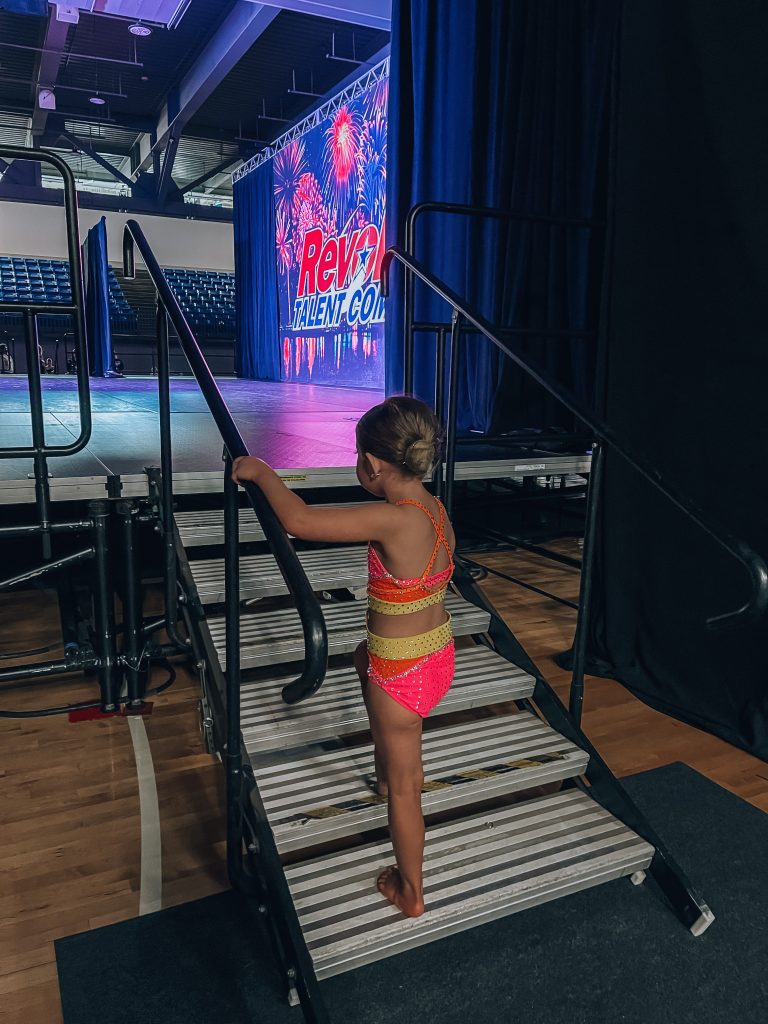 And here she is wearing it a couple days later, ready to take the stage with her jazz solo!
How to Rhinestone a Dance Costume
I hope this post helped with your questions on how to rhinestone a dance costume! If you have any more questions, feel free to leave a comment on TikTok or on this post. (Full disclosure, I read my TikTok and Instagram comments/DMs much more frequently than my blog comments, so you'll get the fastest reply on those platforms!)
Get your Stoning Supplies Now: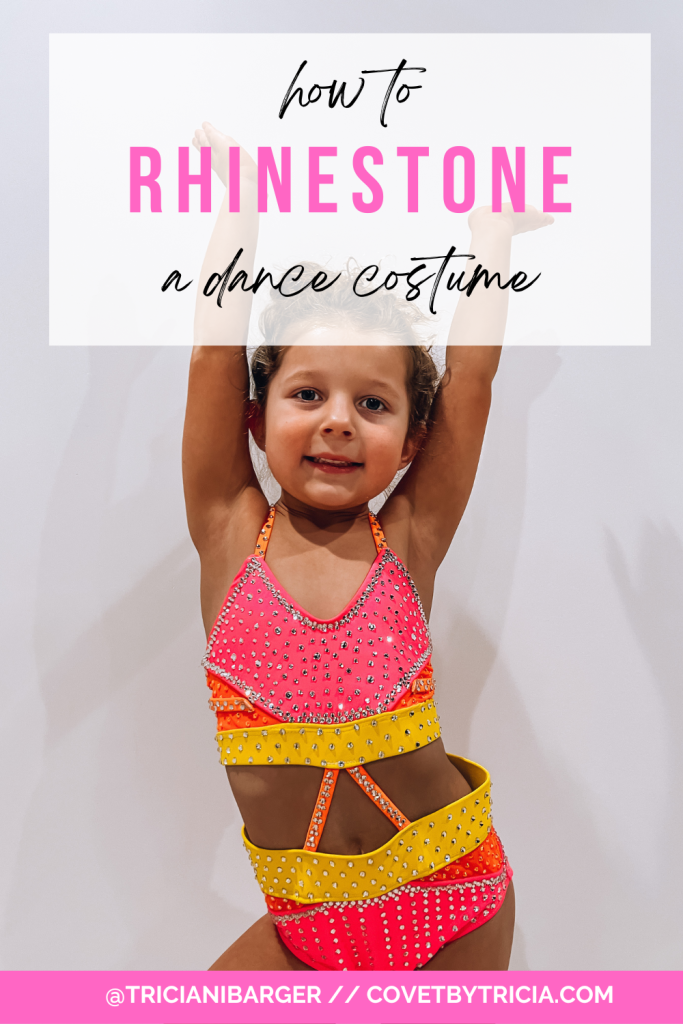 Pin this post on how to rhinestone a dance costume for later!
Read these next: