I just had a TikTok video go viral! A few days ago, I posted a TikTok rating baby freebies I received while pregnant with Alexis. There was a lot of interest in how to sign up for the baby registry freebies. I mean, who doesn't love free stuff? So, today I'm sharing how you can get lots of baby freebies for your little one!

This post contains commissionable links. Please see the Legal page for more info.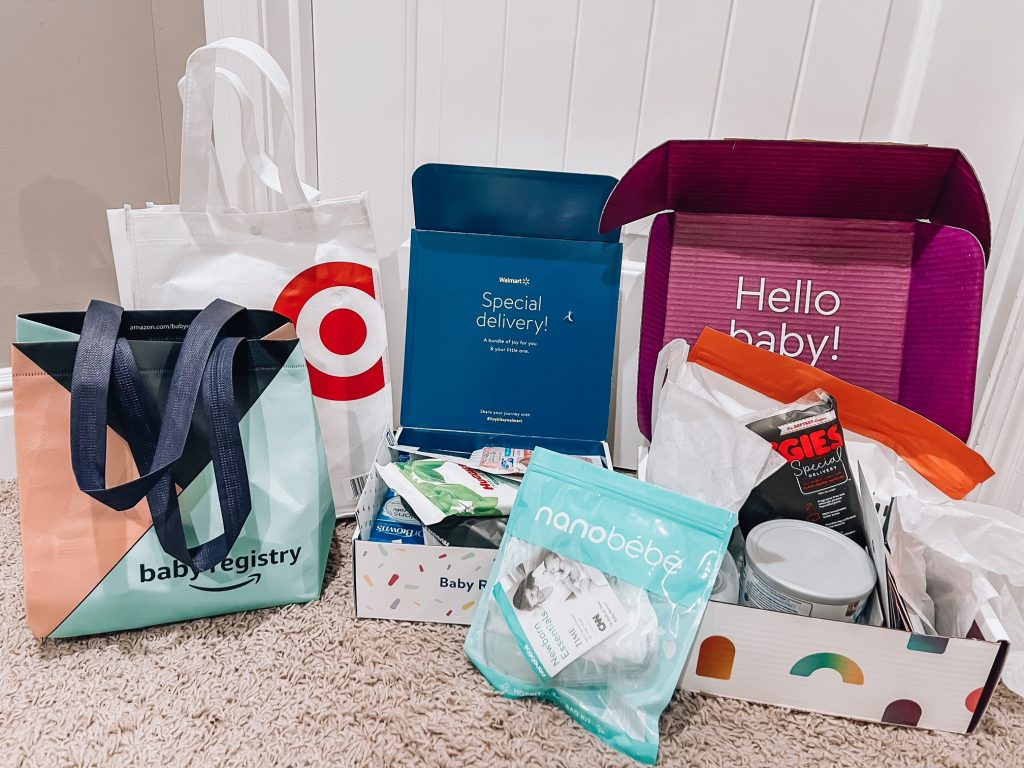 If you haven't seen my TikTok video yet, check it out here! The video shows everything I received in each baby sample box, so you can see which ones you're interested in.
One more thing: please keep in mind that each baby freebie gift could be different, even from the same company. That's part of the fun! This is only an example of some items you could potentially expect in the baby sample boxes. There are some comments on the TikTok video where people shared what items they received (and didn't receive) in their baby freebie boxes, so you can check there as well.
OK, let's get to the baby freebies!
Amazon Baby Freebies
The Amazon Baby Box is available only to Amazon Prime members. If you're not a Prime member, you can sign up for a 30 day free trial here. (This link will also allow you to join the Amazon Family program, which gets you additional discounts on diapers and more!)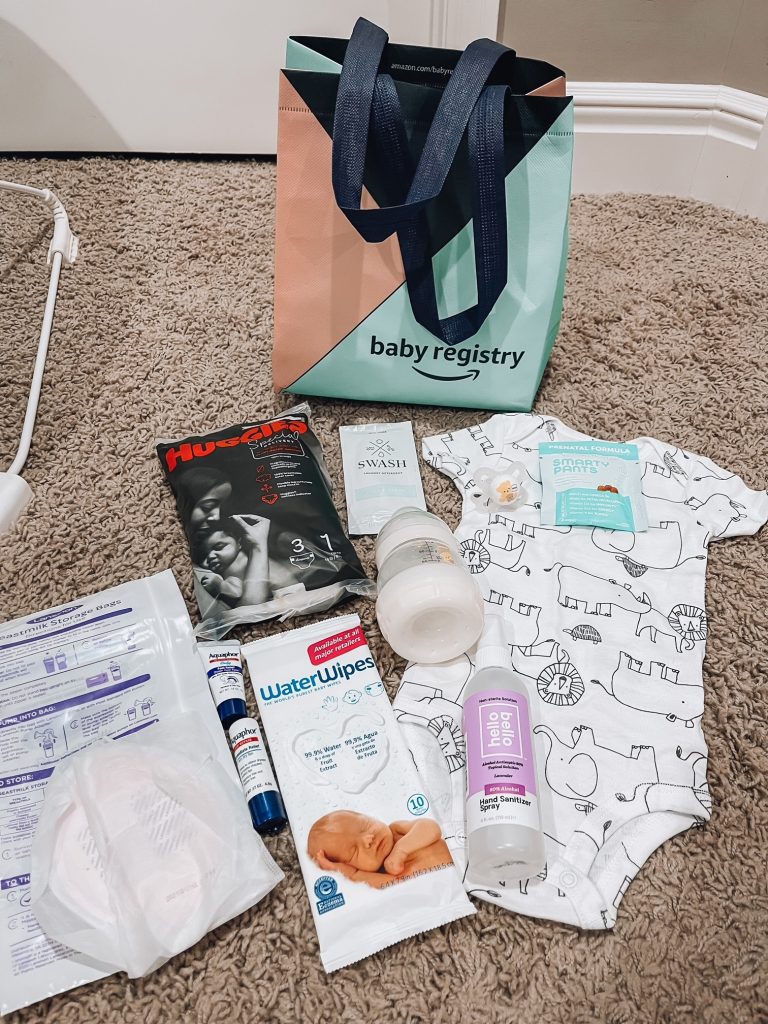 The first step is to create an Amazon baby registry here. To qualify for the Amazon Baby Box, you'll need to complete 60% of your registry checklist. That just means you need to add an item to your registry from at least 60% of the categories Amazon suggests–car seats, strollers, nursery furniture, diapering, etc. The Amazon baby registry site walks you through this and keeps track of what percentage you've completed, so it's pretty easy. Keep in mind you can always swap these items out later, so you don't need to spend a lot of time on this step.
Once you've hit the 60% threshold, you need to have a $10 (pre-tax) purchase made off the registry. The purchase can be made by yourself or someone else. I did the purchase myself by adding a box of diapers to my registry and buying them. You can never have too many diapers! (These are our favorites and what I've used with all 3 of my babies!)
You're able to claim your baby box after the $10 purchase is shipped. Keep in mind it can take a couple days for the item(s) to ship, depending on what you order. Once the $10 purchase is shipped, log into your Amazon Baby Registry and select "Benefits," then "Welcome Box."
What's inside the Amazon Baby Box? Keep in mind, every box can be different! Mine came in a small reusable bag and contained sample sizes of Huggies Special Delivery diapers, Lansinoh nursing pads, Water Wipes, a MAM bottle and pacifier, Smarty Pants prenatal vitamins, Hello Bello sanitizer spray, Aveeno Baby lotion, Swash laundry detergent, Aquaphor Baby, and a bodysuit.
Target Baby Freebies
To receive the Target baby bag, all you need to do is create a baby registry at Target! There is no requirement as to what you need to put on the registry, and no purchase from the registry is required.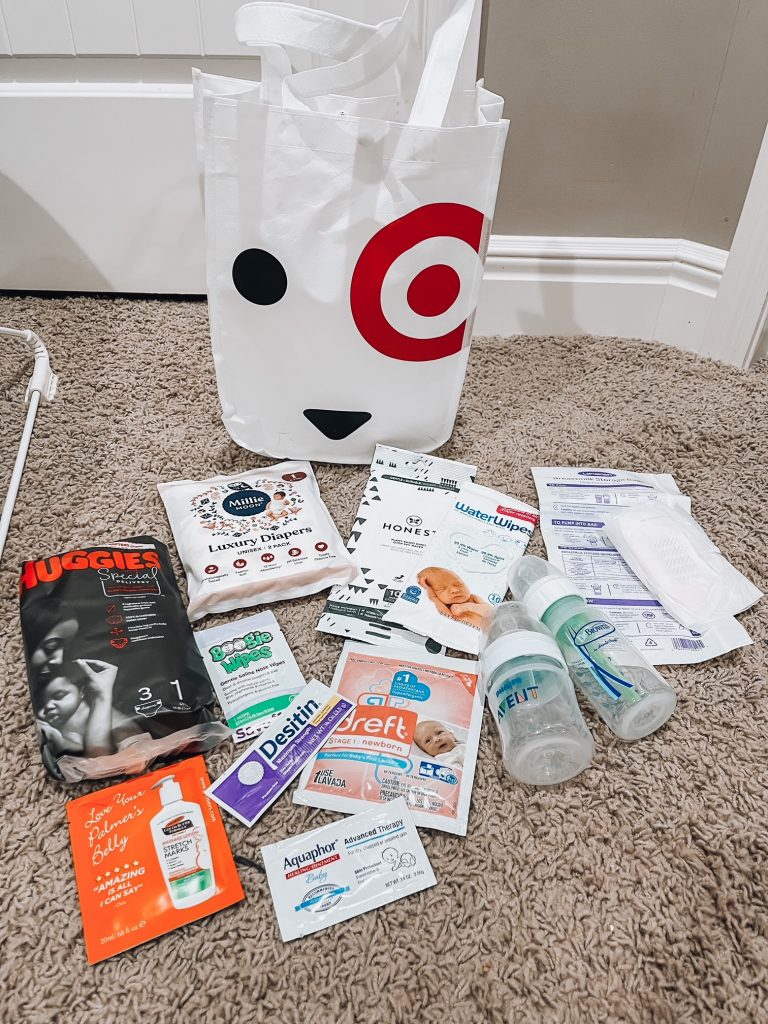 Once you've created your Target baby registry, you can claim your Target baby bag in one of two ways: ordering it online here, or in-person at your local Target's Guest Services desk (subject to availability). When ordering online, the bag only ships with a $35+ purchase… but that's not hard to do at Target.
What's inside the Target Baby Box? Again, all boxes can be different! Mine came in a reusable Target bag and contained sample sizes of Huggies Special Delivery diapers, Palmers stretch mark lotion, Millie Moon diapers, Boogie Wipes, Desitin diaper rash cream, Aquaphor Baby, Dreft laundry detergent, Honest Company baby wipes, Water Wipes, Lansinoh nursing pads, an Avent bottle, and a Dr. Brown's bottle.
Walmart Baby Freebies
It's easy to get a Walmart baby box! Just create a Walmart baby registry. There are no requirements on what needs to be added to the registry, and no purchase from the registry is required.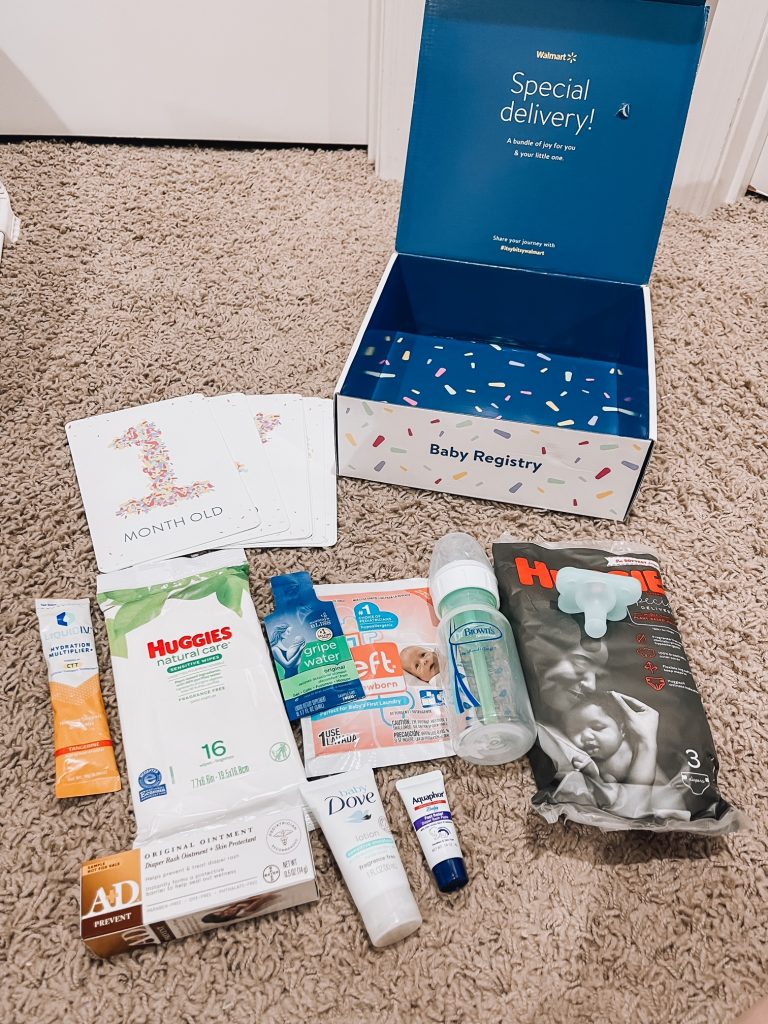 After creating your Walmart baby registry, visit this website to sign up for the Walmart baby box. You'll need to copy the URL to your Walmart baby registry into the form in order to receive your baby box.
What's in the Walmart Baby Box? All boxes can be different–here's what I received: sample sizes of Liquid IV, Huggies Natural Care wipes, A&D diaper ointment, Mommy's Bliss gripe water, Dreft laundry detergent, Baby Dove lotion, Aquaphor Baby, Huggies Special Delivery diapers, a Dr. Brown's bottle, a pacifier, and monthly photo card props.
Nanobebe Baby Freebies
You do not have to create a registry to get the Nanobebe sample kit. Simply add it to your cart here. Keep in mind you'll have to pay shipping, which at this time is around $6. (You'll be able to see the exact shipping cost in the check out process, so you won't have to go through with the order if shipping is prohibitive.)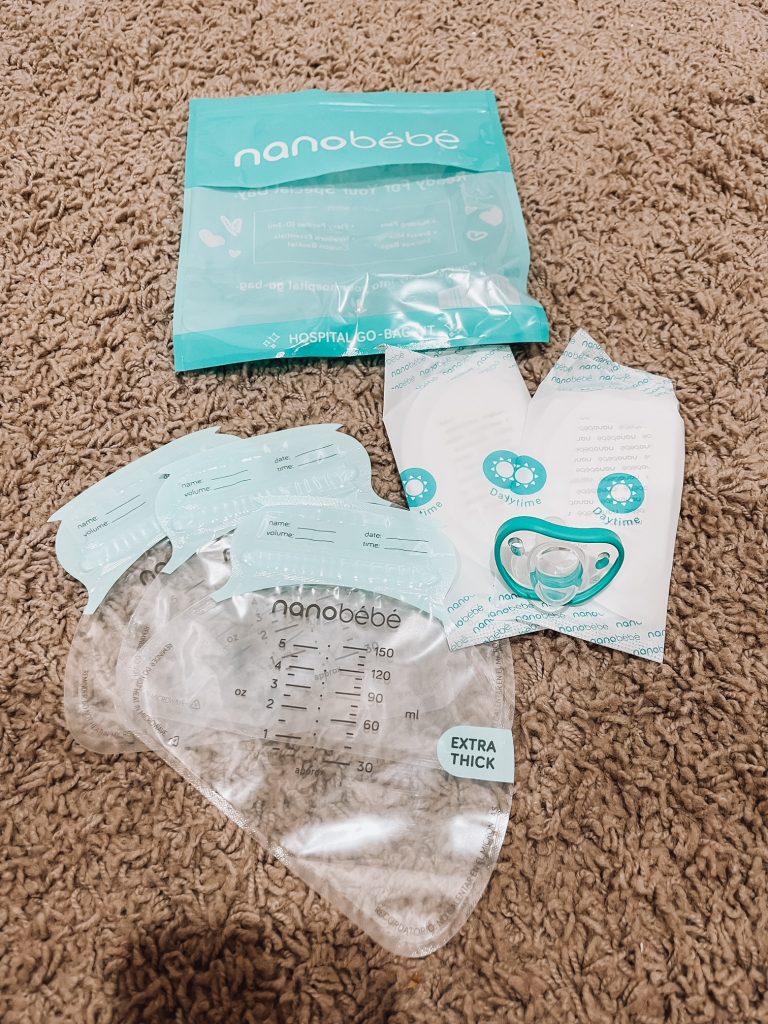 Currently, the Nanobebe sample kit contains a Flexy pacifier, nursing pads, and breastmilk storage bags.
Babylist Baby Box
The first step to getting a Babylist Baby Box is to create a Babylist registry. Make sure to add your name, shipping address, and due date in your settings. (Due date must be within the past 4 weeks or up to 9 months in the future to qualify for the Babylist Baby Box.)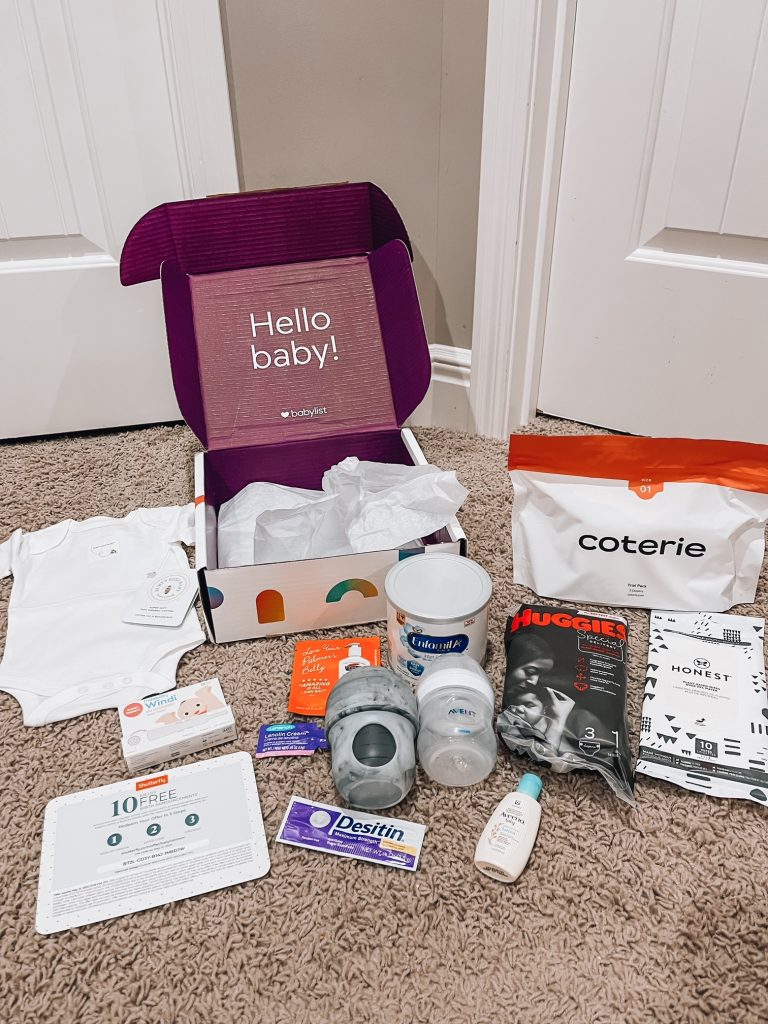 Once the registry is set up, add 3+ items from the Babylist Shop and 3+ items from other stores. You can switch these items out later, so you don't stress if you're not confident in your selections.
Next, a $10+ purchase needs to be made from your Babylist registry. You can make the purchase yourself or wait for someone else to make a purchase from your registry. Personally, I added some diapers to my registry and purchased them myself. (This diaper and wipe variety pack is a great option to allow your baby to try multiple brands and find out what works! The bottle box is the same concept, but with bottles.)
Once the purchase is made, you're ready to claim your Babylist Baby Box! Log in to your Babylist registry and click on the "Hello Baby Box" icon. Sometimes the boxes go out of stock, but keep trying! I checked a couple times per day and was able to claim one within a week. Note that there is a shipping fee (currently $6.95 + tax) associated with the box, however, I definitely feel the contents are worth it.
What's in the Babylist Baby Box? There are no guarantees, but here's what was in mine: Shutterfly coupons, a Burts Bees Baby bodysuit, a Boon Nursh bottle, an Avent bottle, a can of Enfamil formula, and sample sizes of Lansinoh lanolin, Desitin diaper rash cream, Palmer's stretch mark lotion, the Windi, Aveeno Baby lotion, Huggies Special Delivery diapers, Coterie diapers, and Honest Company wipes.
Even More Baby Freebies
Still want more baby freebies? Here are a few other options!
Buy Buy Baby: Set up a Buy Buy Baby registry and you're eligible for their gift box. Then, you'll need to order the box from their website or pick it up in store. (I didn't receive one of their boxes, so I can't speak to what's inside.)
Formula Companies: Enfamil, Similac, and Gerber offer samples and coupons through their rewards programs. Enfamil sent me a 4-pack of the small premix bottles and several coupons. Similac sent a couple cans of formula and continues to send me coupons. I never received anything from Gerber, but others report they have. Parent's Choice (Walmart brand) does not offer free samples, however, they have some cans priced at a lower cost (currently $8.98) to allow parents to try a few options at an affordable price point.
Doctor's Office: OB/GYNs and pediatricians regularly receive pregnancy and baby-related samples (prenatals, formula, etc.) to distribute to their patients. Ask at your next appointment!
Buy Nothing Groups: Honestly, the biggest source of baby freebies for me has been my local Buy Nothing group on Facebook. Check to see if there is one in your area! People give away all kinds of things in these groups. I've been gifted baby clothing, toys, a bouncer, activity center, etc. I've also given away plenty of things as my kids outgrow them!
Any questions about Baby Freebies?
I hope you found this post helpful to collect some baby freebies of your own! Join the conversation on TikTok or contact me directly if you have any questions on how to claim these. I love to help other moms!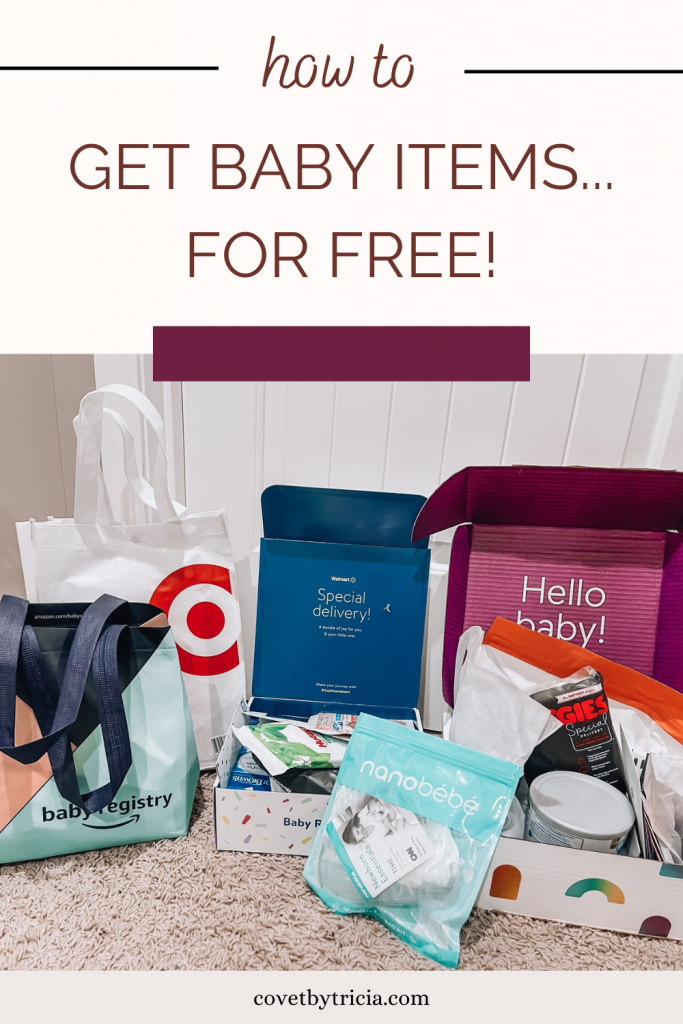 Don't forget how to claim your baby freebies! Pin this post on Pinterest now!
Read these next: