Can you believe Christmas is only 9 days away? Every year, I do this thing where I feel like I'm all prepared for Christmas–then I realize it's like a week away and I still have a million things to do. One thing I actually have checked off my list is our Christmas decor! Read on to see our modern living room Christmas decor (and a peek of our exterior, too!)…

This post contains commissionable links. See the Legal page for more info.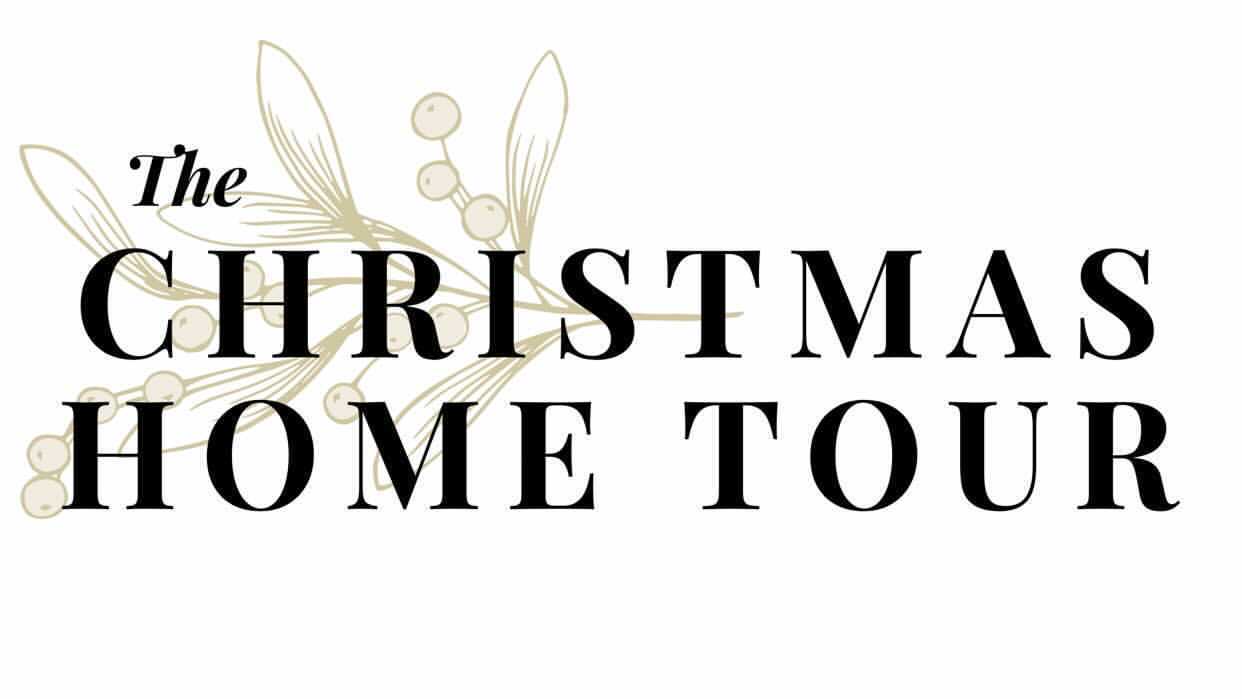 I've teamed up with some amazing fellow bloggers who are sharing their Christmas decor today, too! Make sure to scroll to the end to check out their beautiful homes as well.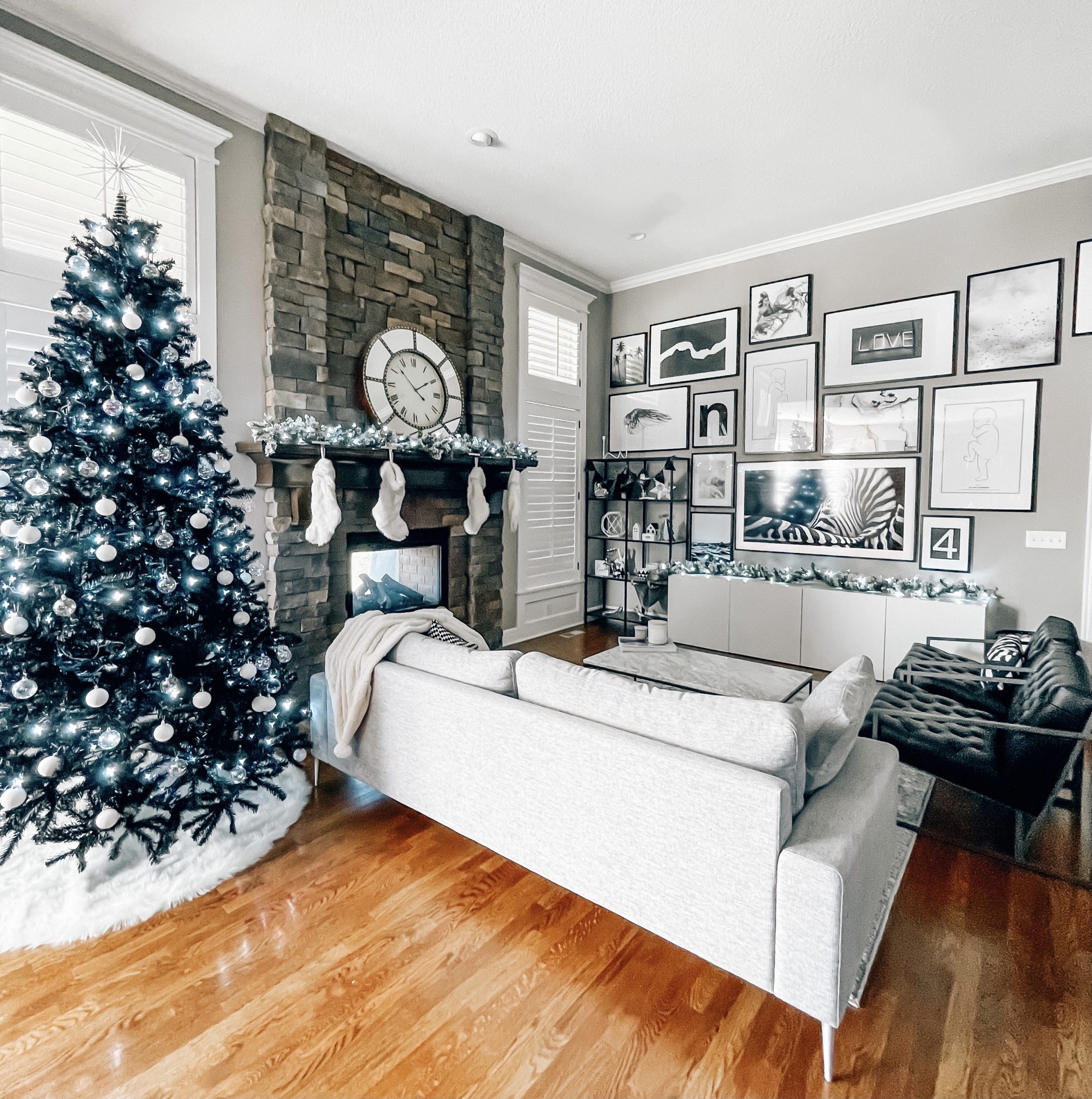 Our modern living room is my favorite space in the house. It's also where I do the vast majority of our Christmas decor. The kids have little trees in their bedrooms (that's where our sentimental ornaments are hung). Other than that, though, it's pretty much living-room-only.
Focusing on decorating just one room is much less overwhelming! If I knew I had to decorate multiple trees and such, it would probably never get done (just being honest here). I don't have that kind of motivation.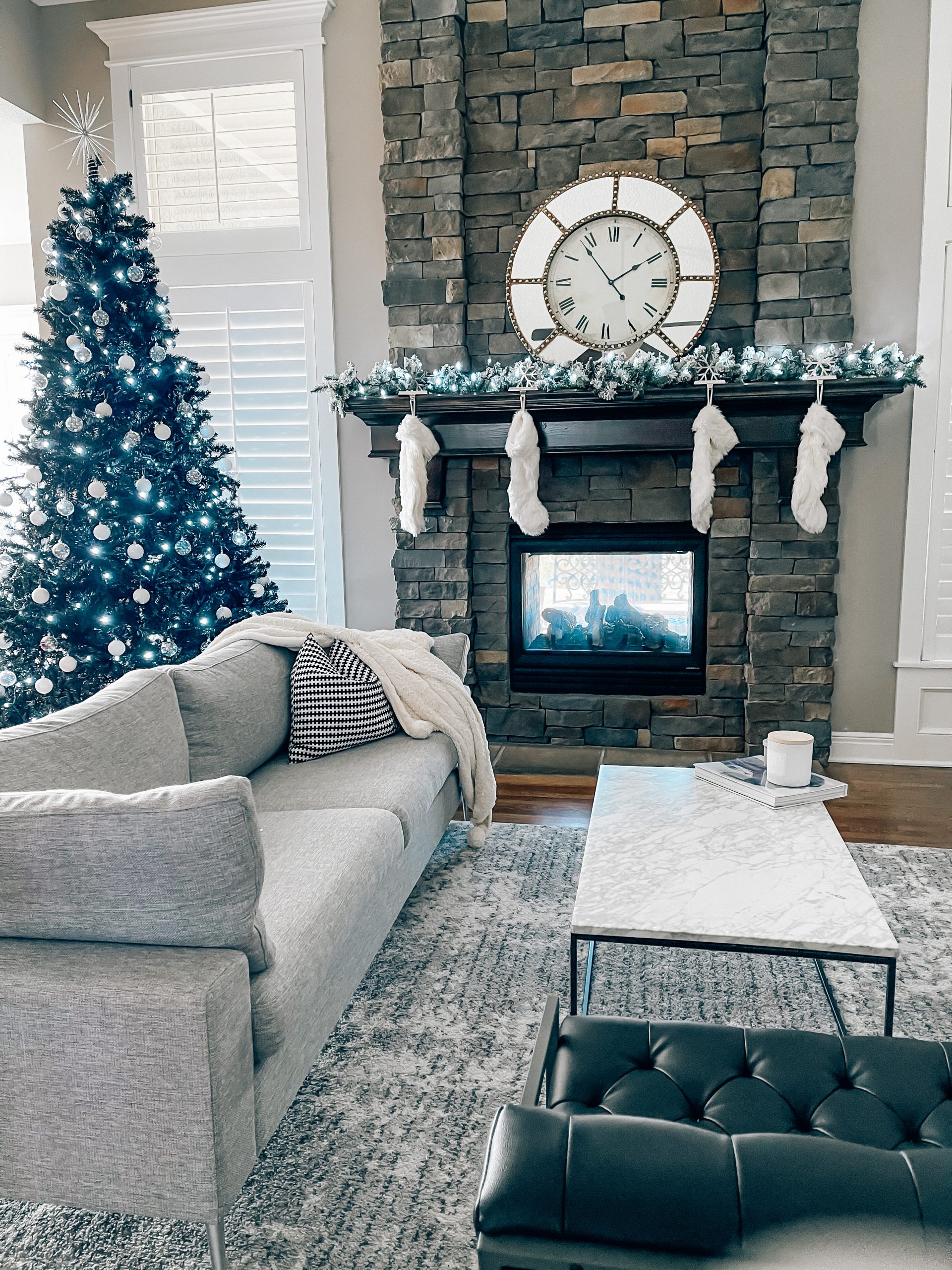 Our faux fur stockings and snowflake stocking holders were new last year.
The mantel garland is new addition this year. Our old pre-lit garland finally bit the dust. I offered it for free on Facebook Marketplace (obviously disclosing that the lights no longer work!), and someone actually claimed it right away. I'm truly shocked by the things people will pick up off Marketplace, but I'd rather an unwanted item go to someone who will use it instead of the trash. (By the way, if you have old decor to offload, check out my tips on how to sell on Facebook Marketplace fast!)
I've lost patience with pre-lit items, so I created my own lighted garland. I started with a plain flocked garland similar to this one, then strung these cool white lights through it myself. Now, if the lights stop working, I won't have to ditch the entire garland. I did the same on our TV stand, as you can see below.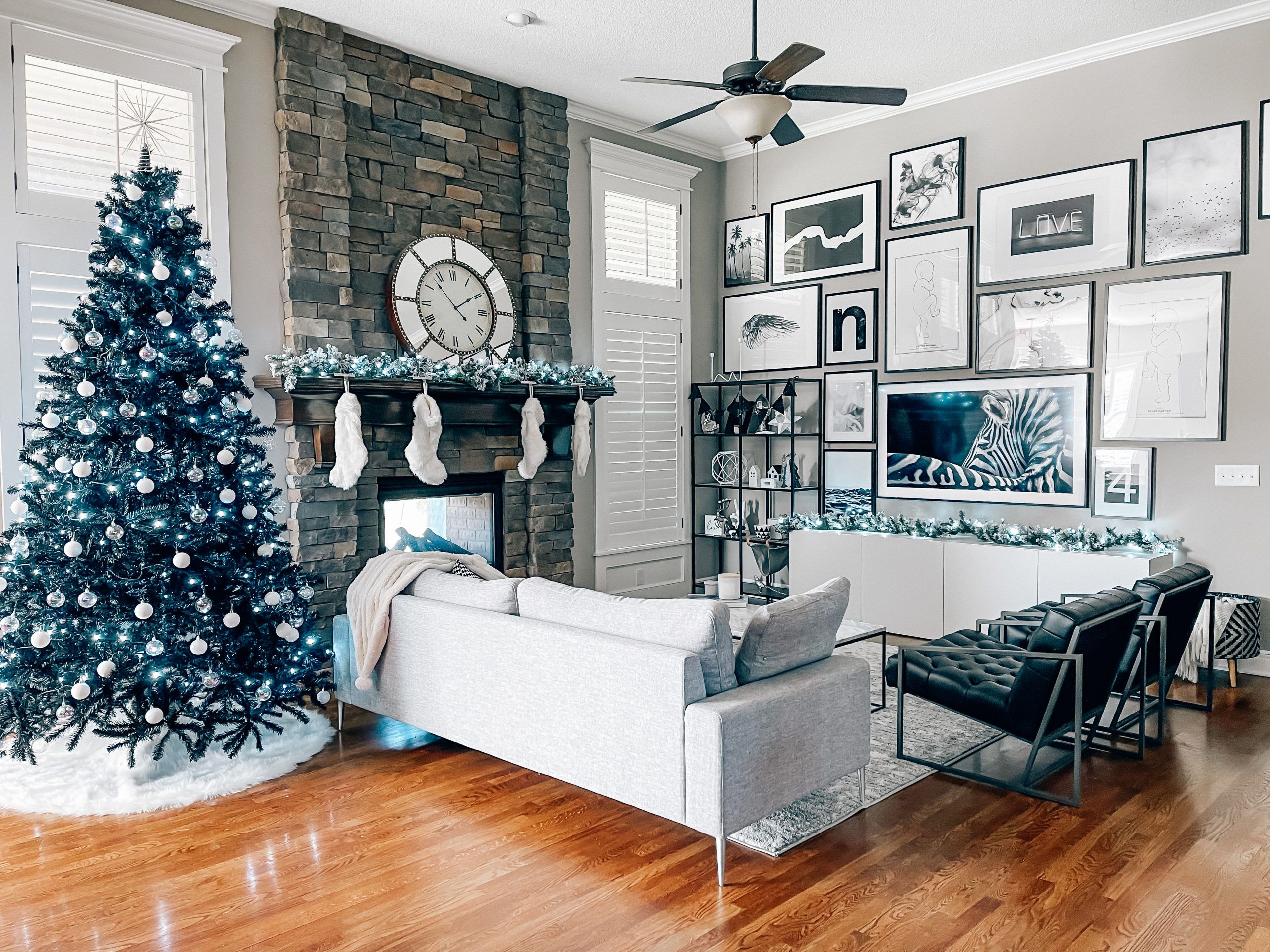 If you've been following me for awhile, you'll recognize our black Christmas tree from last year. Everyone who comes over compliments it! I definitely don't think a black Christmas tree would work in every home, but if you have a more monochrome aesthetic like mine, it fits right in.
Here's the exact tree we have. For size reference, our tree is the 9′ version and we have 12′ ceilings. We have this topper which adds about another foot to the tree also. I am in love with the look!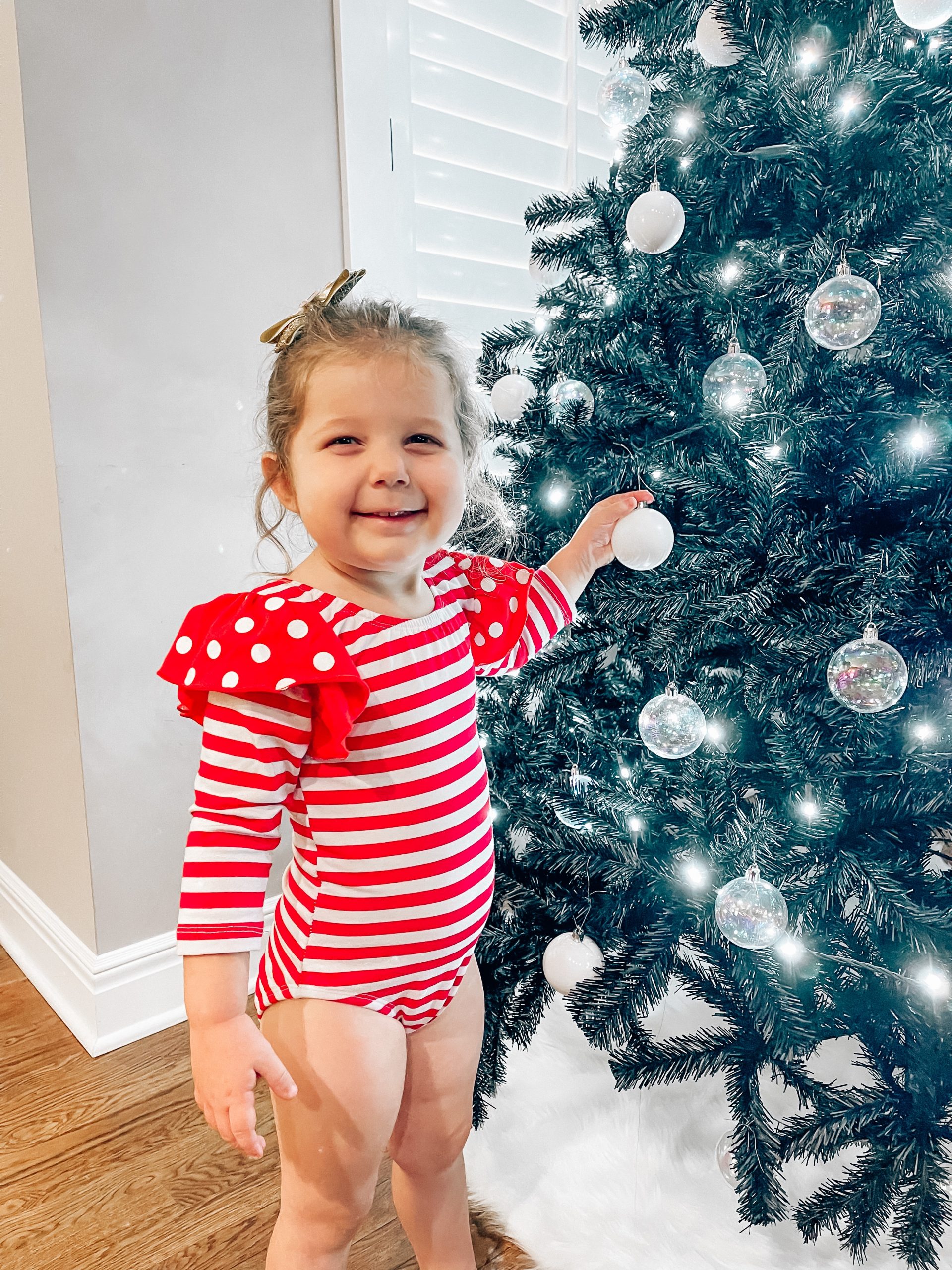 Blair loves our tree, too! I snapped some pics of her before dance class a couple weeks ago. She recently became an Ambassador for one of her favorite dance lines, ISP Dancewear. That's where she got this cute candy cane leo!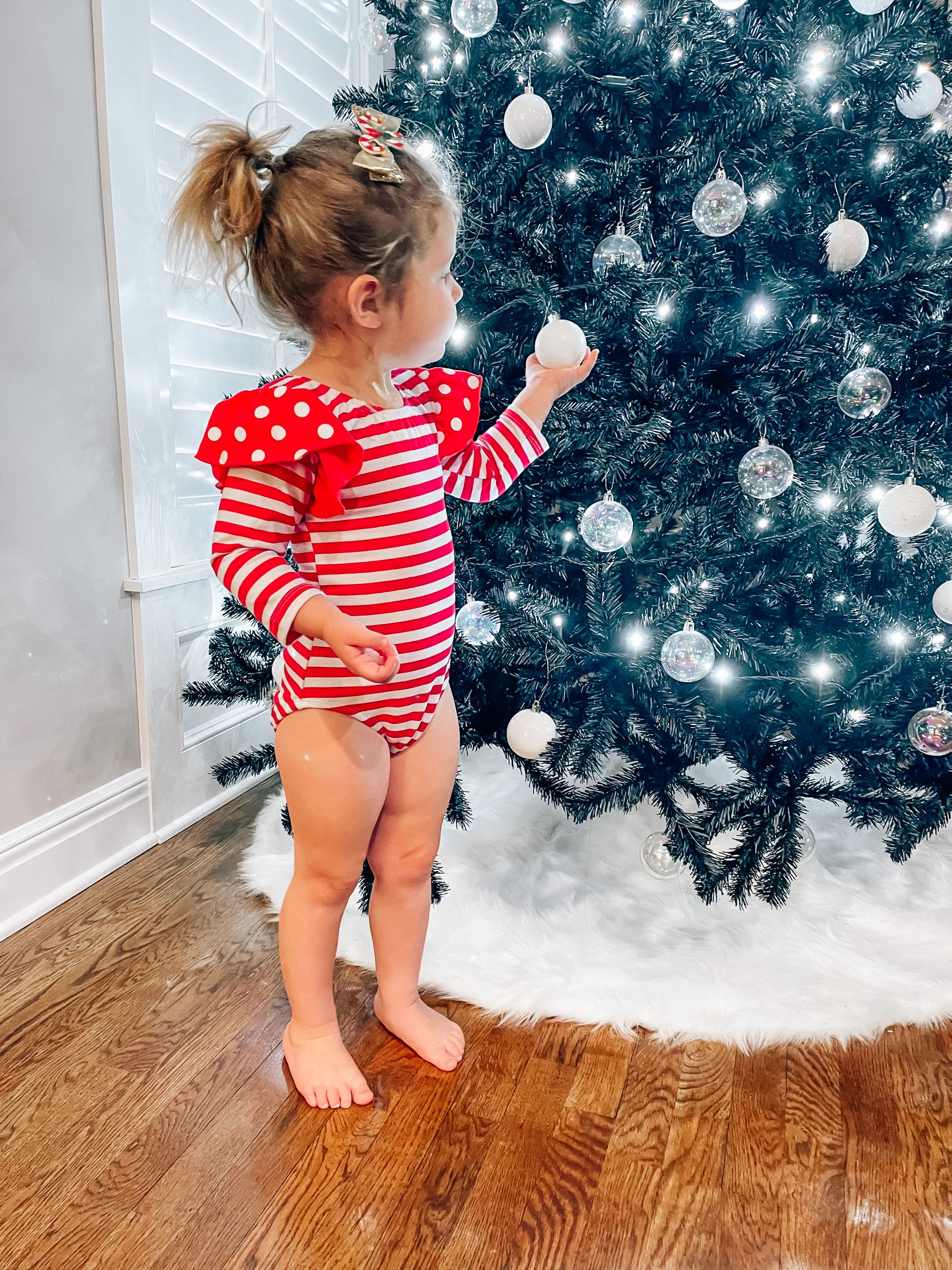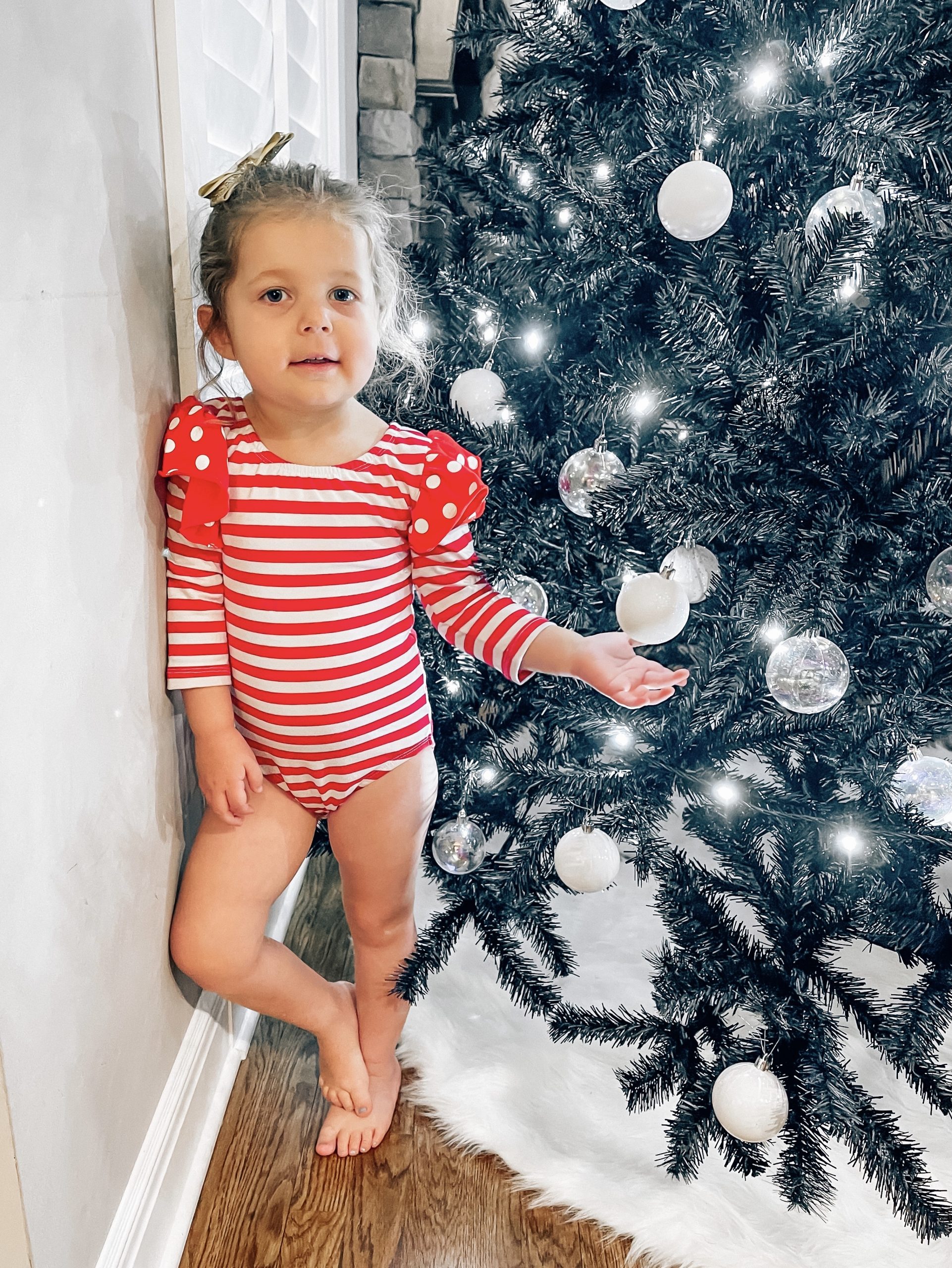 If you have a little dancer too, check out ISP Dancewear for adorable and affordable dance outfits. Blair even has a special discount code for you: use coupon code BLAIR10 at checkout!
Also, shameless plug here: if you're a dance mom, make sure you join my dance and gymnastics moms Facebook group for special deals and sales!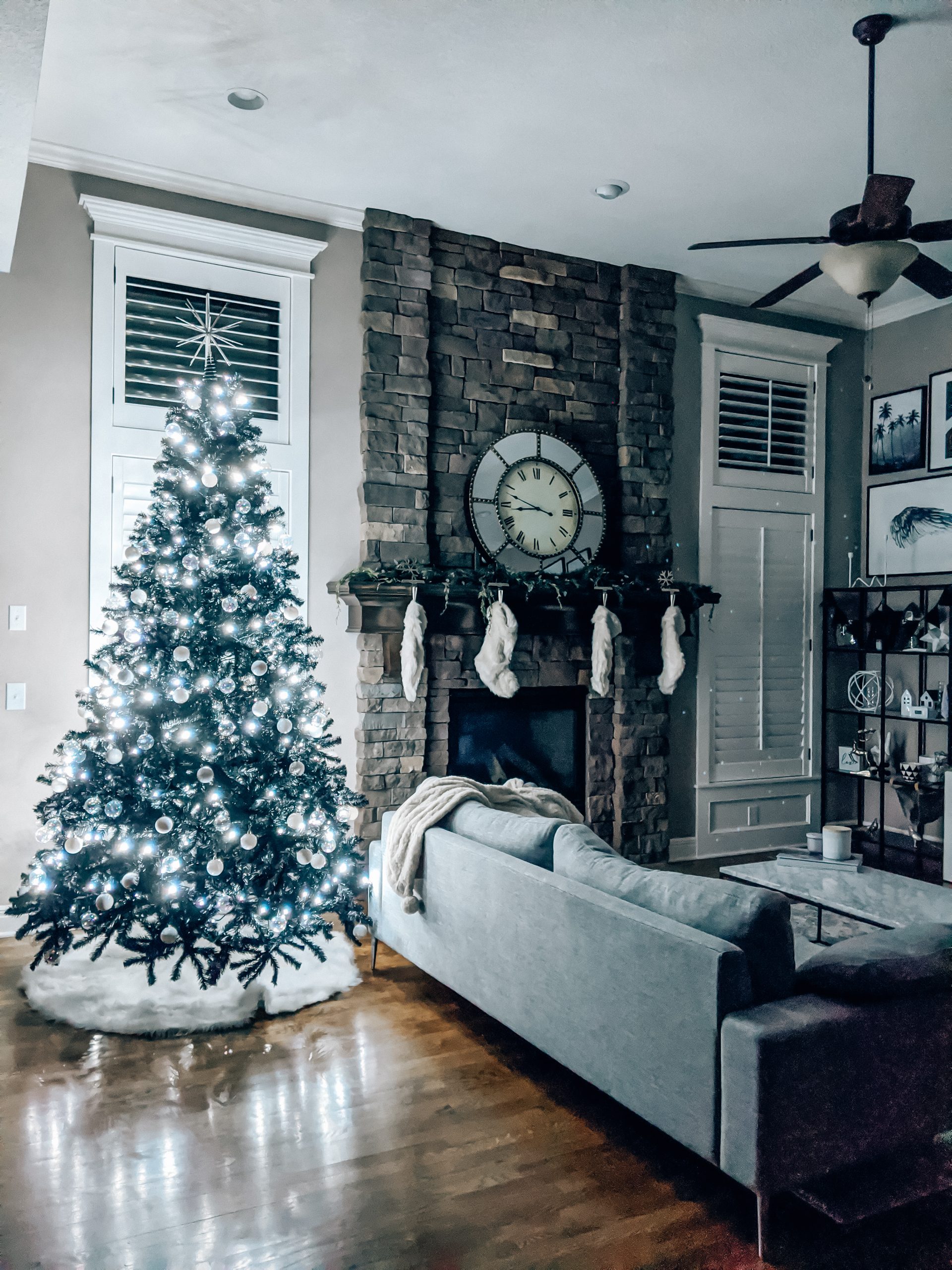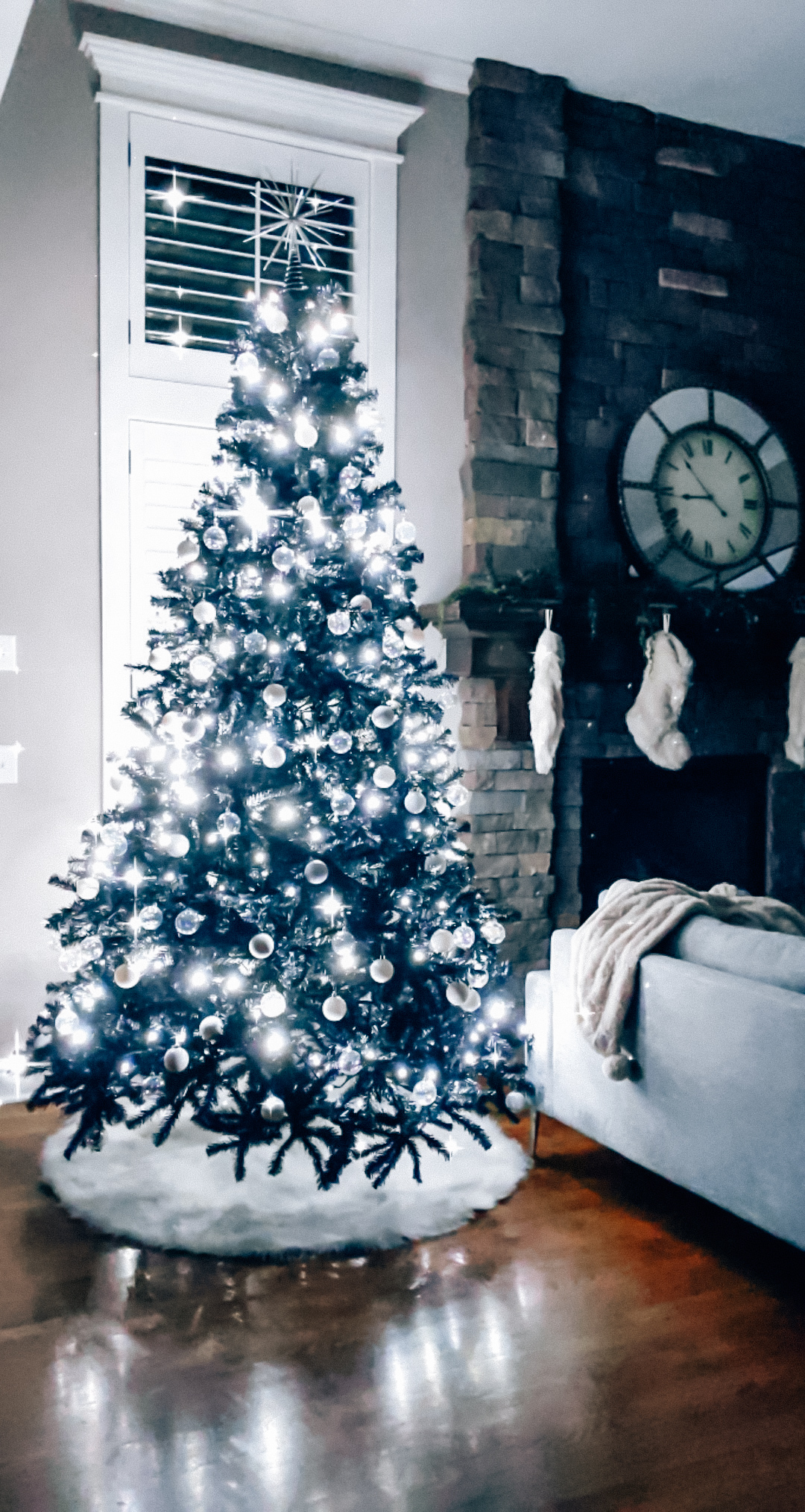 Here are a couple photos to show you how the tree looks at night. (I took these before we got the new garland, so it isn't lit up in the pics above.)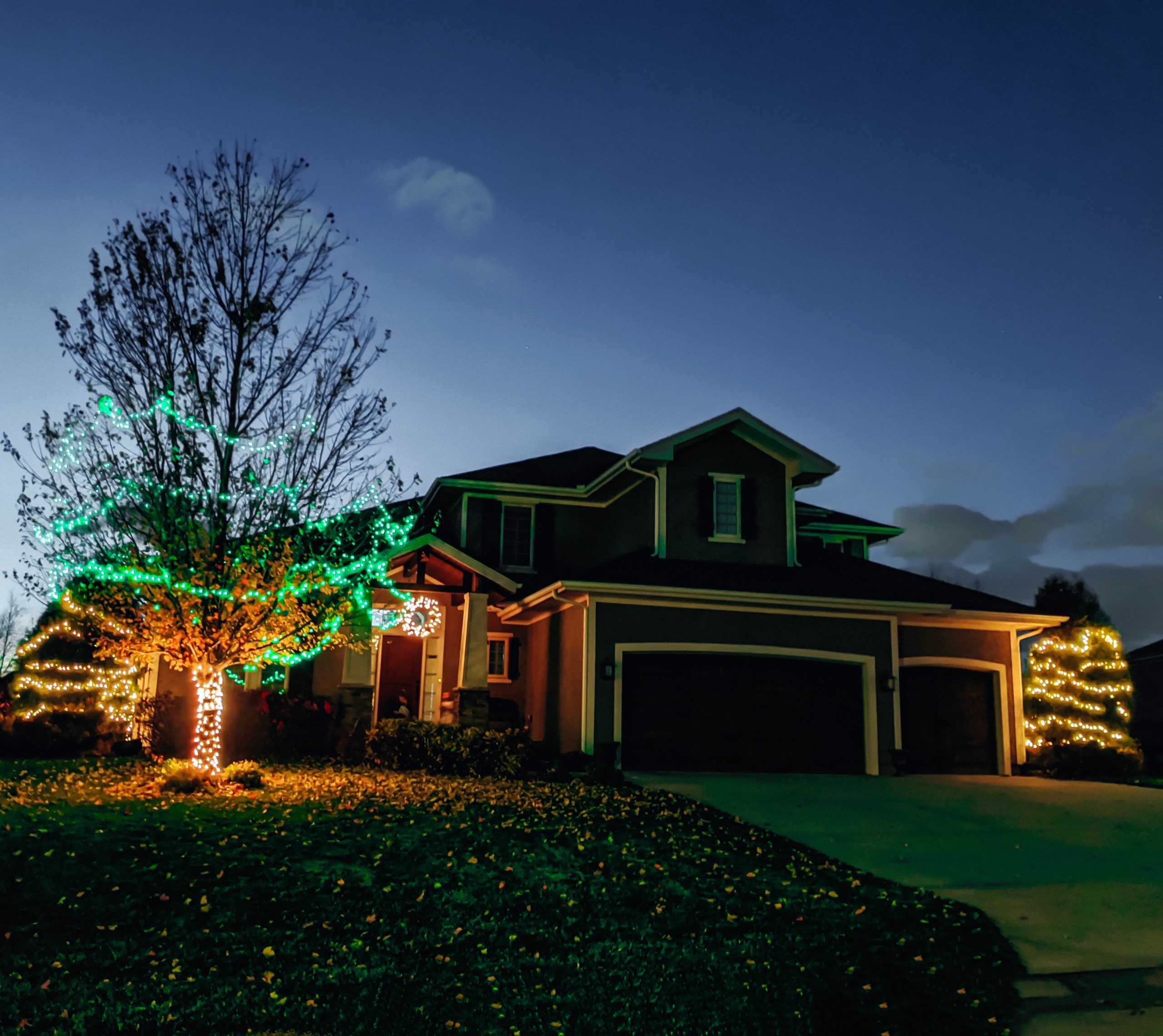 Finally, here's a photo of our outdoor decor this year! It's a bit weak, I know. A lot of our light stands didn't light up this year, but we decided to just make the best of it and get one final year out of the ones that do work. Sadly, a lot of these have went out over the past couple weeks as well, so now our outside is looking *very* sad. Maybe it's a good thing Christmas is coming up so quickly after all.
The good news is we can buy all new next year and it will look better than ever! I'm looking forward to switching the exterior to cool white lights to match the interior.
I'll link sources for this post below. If I missed anything, feel free to reach out or leave a comment below. Don't forget to follow me on Instagram and LIKEtoKNOW.it for more decor finds!
Shop our Modern Living Room Christmas Decor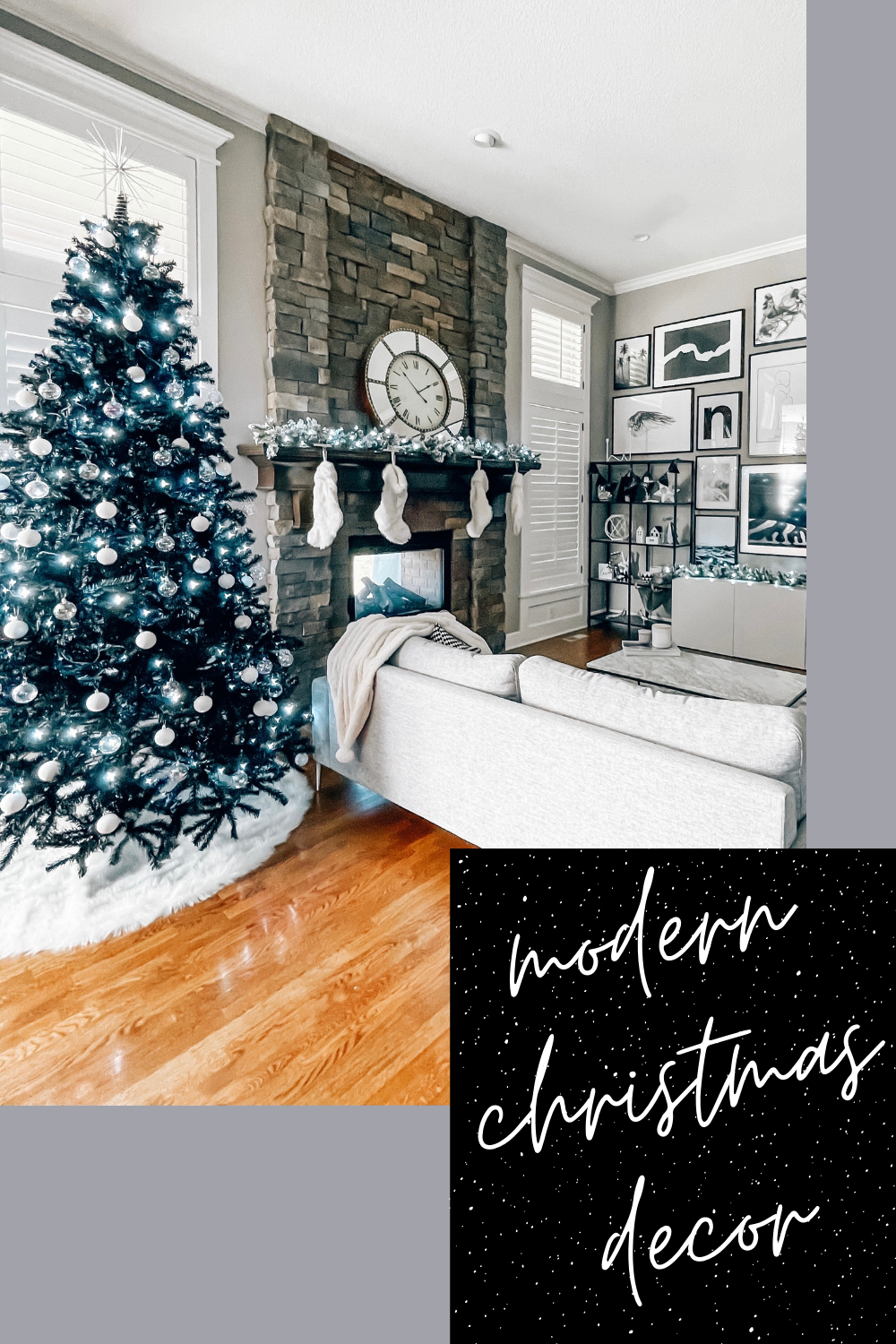 Pin modern living room Christmas decor to your holiday Pinterest boards!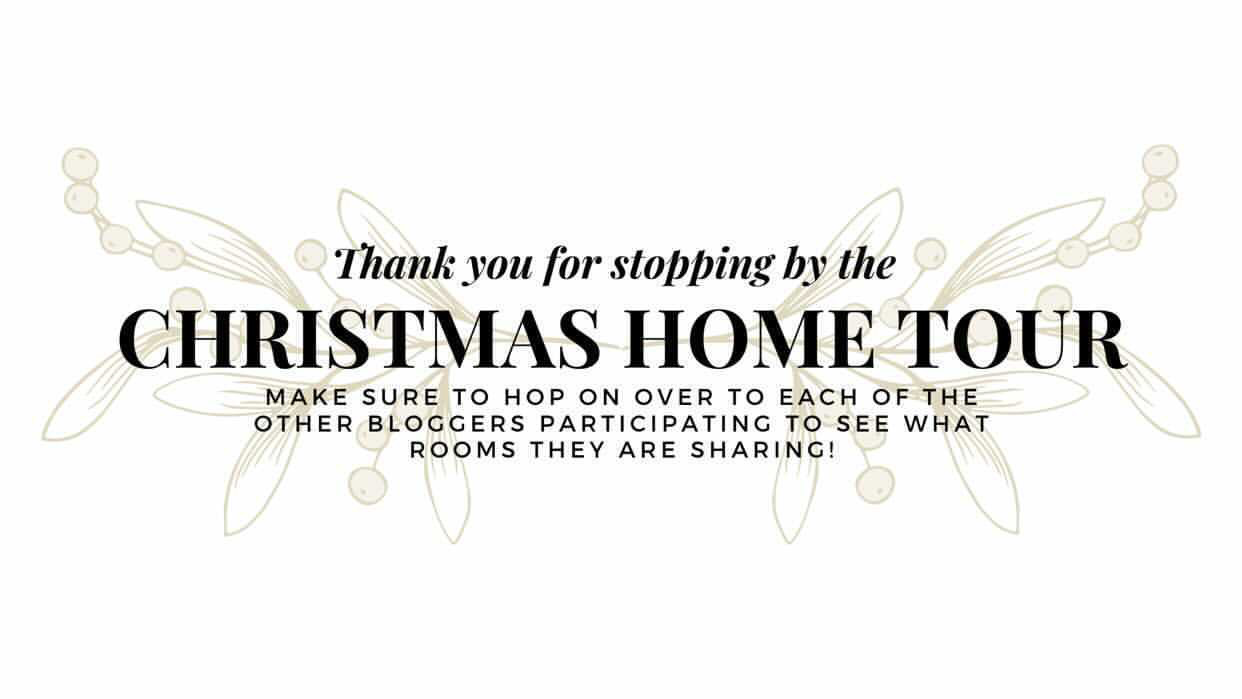 Now it's time to check out some more decor from these beautiful ladies!
Gracefully Glam // Masha and the Bears // Glambytes // J. Cathell // Brie Bemis Rearick // COVET by tricia // London Had a Little Lamb