Nordstrom Fall Sale is now live! This is a great time to get some early holiday shopping out of the way. I've hand-picked some of the best deals on top wishlist items like Hunter boots, Tory Burch sandals, Nike sneakers, and more. Read on for the best Nordstrom Sale Gift Ideas!
This post contains affiliate links.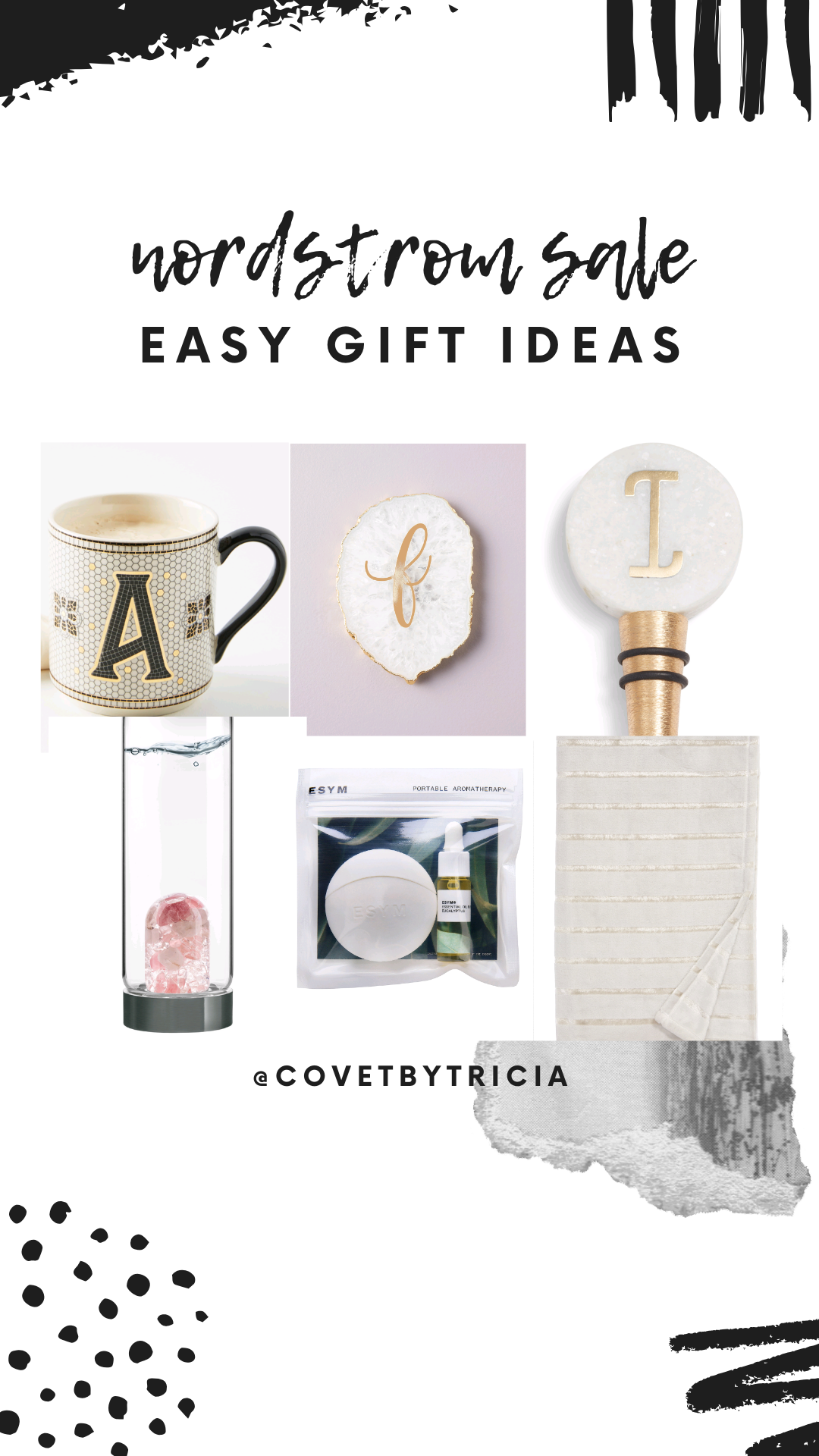 Monogram Mug // Monogram Coaster // Monogram Bottle Stopper // Gemstone Water Bottle // Portable Aromatherapy // Shimmer Throw 
Nordstrom Sale Gift Ideas for Friends
This first collage is full of great gift ideas for almost anyone! Who doesn't love a good monogram? These items are perfect for friends, teachers, co-workers, hostesses, parents or in-laws, just about everyone!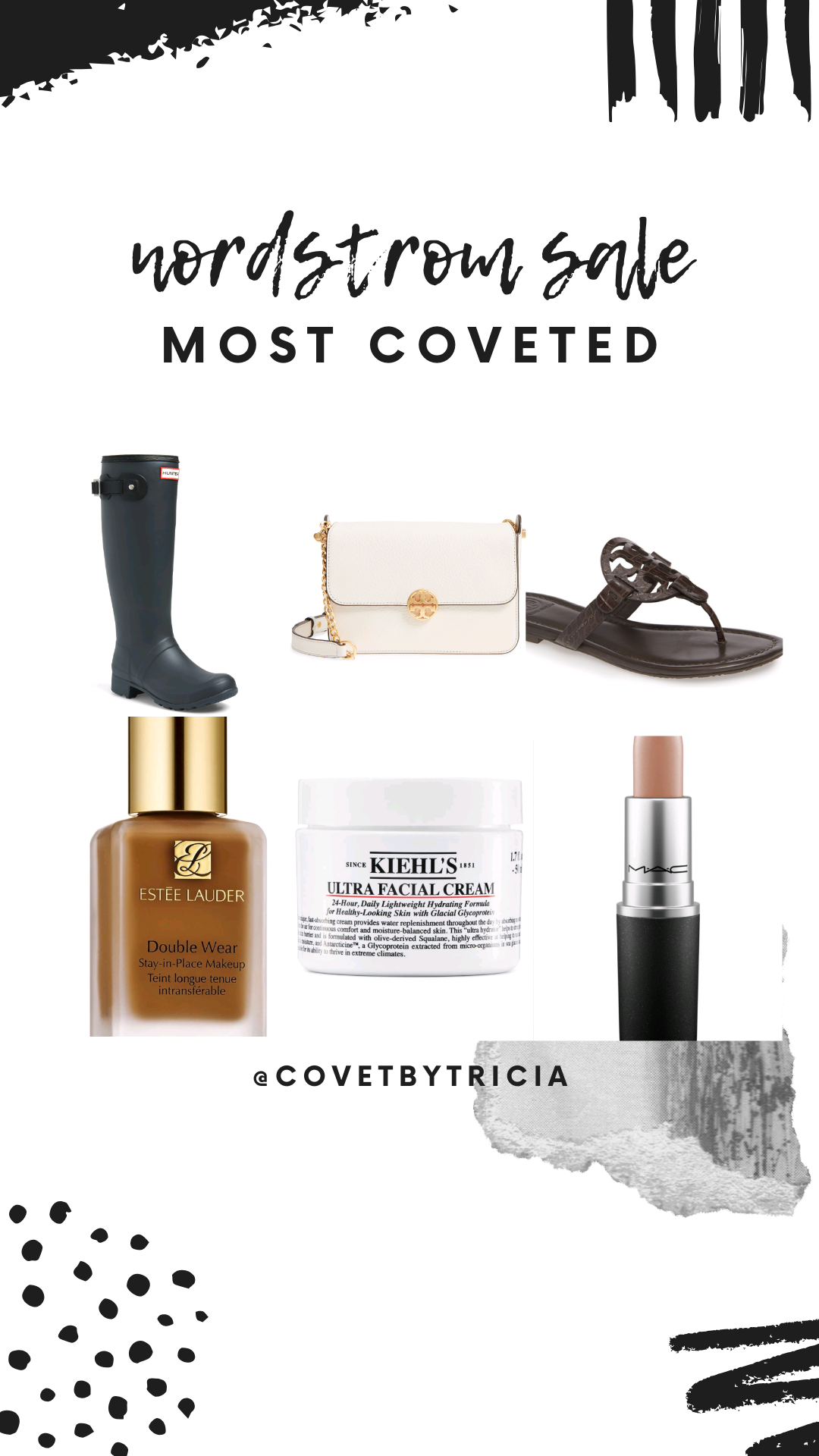 Hunter Boots Sale // Tory Burch Crossbody // Tory Burch Miller Sandals Sale // Estee Lauder Doublewear Foundation Sale // Kiehl's Ultra Facial Cream Sale // MAC Lipstick Sale 
Nordstrom Sale Gift Ideas for Her
These items are all consistently popular for a reason!
I wear these boots all the time–I even got a pair for each of my kids, too. [You can see Colton and I wearing them in this post, and Blair and I wore them apple picking earlier this year!]
I've been wanting a pair of these sandals forever! They don't go on sale often, so now is a good time if you're eyeing them.
Estee Lauder Doublewear is my holy grail foundation. I discovered it while I was struggling with acne several months ago. You can use a light coverage or build up to full if you need to cover acne or acne scarring. Plus, it doesn't irritate my sensitive skin! I use these affordable sponges to apply it; they're a great BeautyBlender dupe. [For more on how I cured my acne and how I covered it up, check out the Acne highlight on my Instagram Stories.]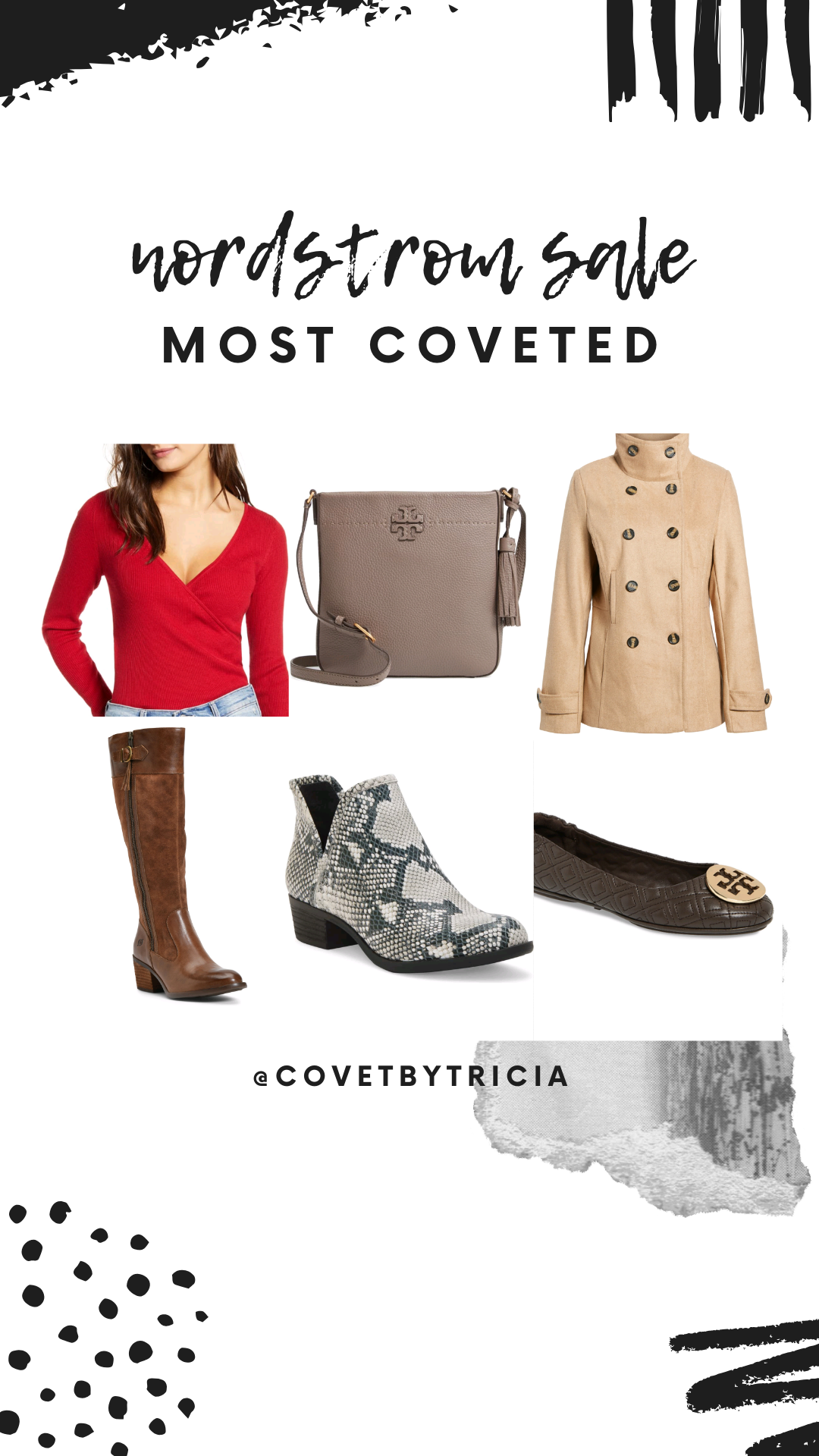 Wrap Sweater [multiple colors] // Tory Burch bag sale // Double Breasted Pea Coat // Knee High Boots // Snakeskin Booties // Tory Burch flats 
More Tory Burch goodies! Nordstrom has lots of Tory Burch on sale right now.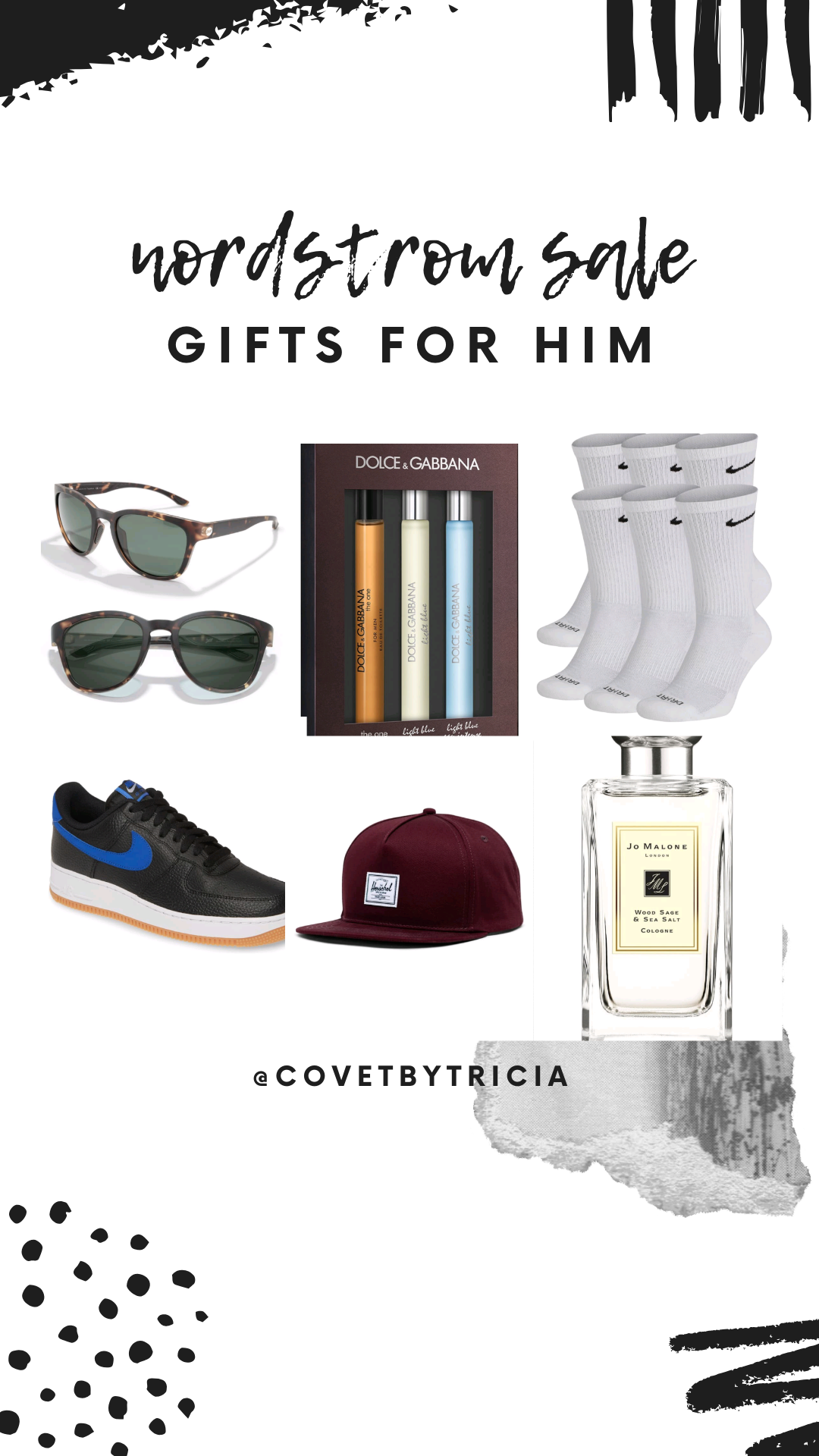 Sunglasses // Dolce & Gabbana Fragrance Trio // Nike Socks sale // Nike Air Force Ones sale // Baseball Cap // Jo Malone Fragrance 
Nordstrom Sale Gift Ideas for Him
When I've polled on Instagram Stories, so many of you responded that husbands/boyfriends are the hardest to shop for. That makes sense, because this post I wrote back in 2017 about best gifts for husband's birthday is one of my most popular to this day!
This collage is full of items of your guy might not buy for himself, but would likely appreciate. A good scent [or three!] is always a classic gift, and what guy couldn't use some new socks?
If your guy isn't the type to think about accessories on his own, how about upgrading his look with some stylish sunglasses [here's a more affordable option, too] or an on-trend cap?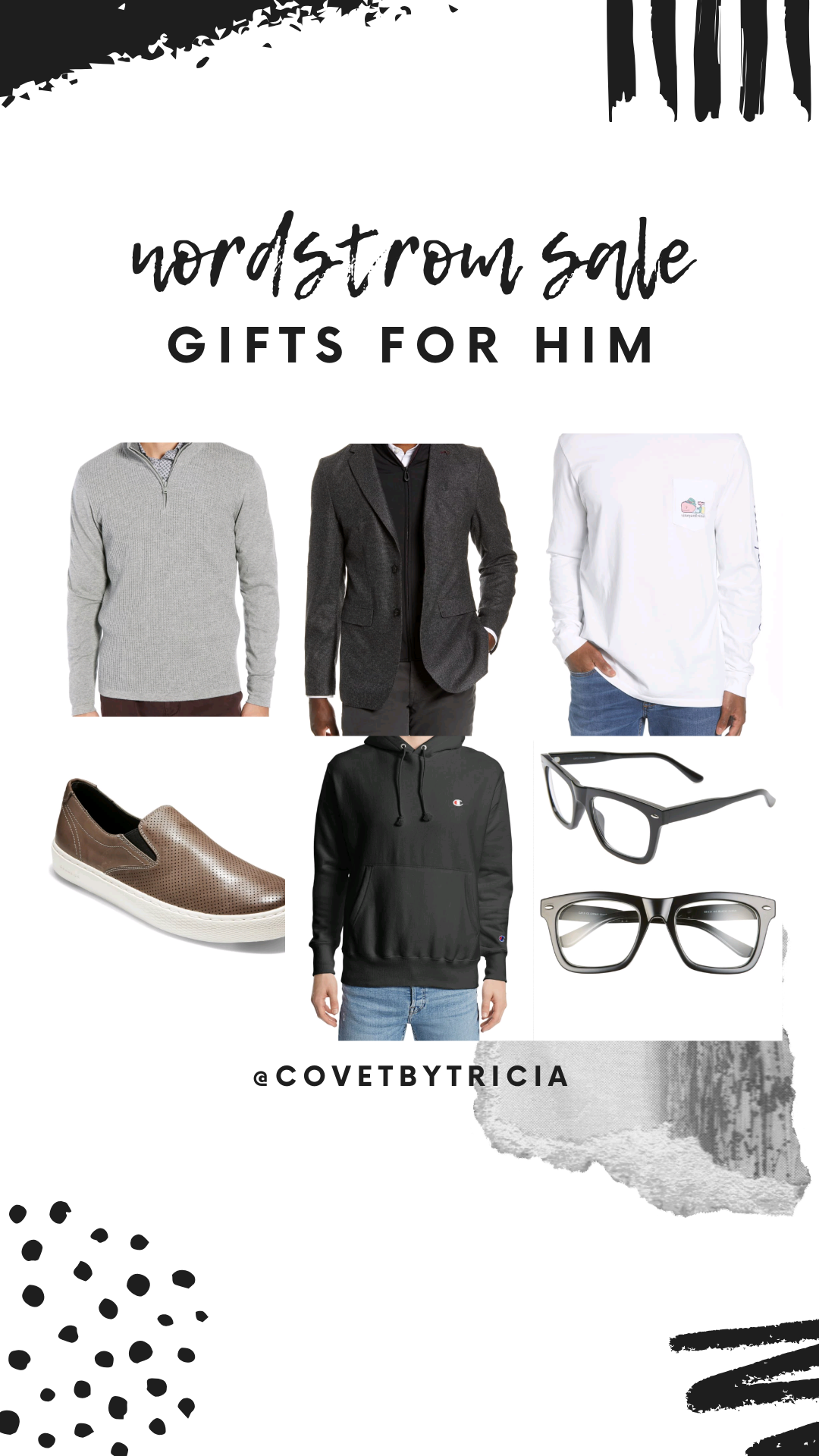 Quarter Zip Sweater // Sport Coat // Vineyard Vines shirt sale // Slip On Shoes // Champion Hoodie // Sunglasses
Quarter zip sweaters are a must for a guy's wardrobe. They're versatile and an easy way to create an on-trend layered look. [My husband wore one for our family Christmas photos last year!]
The blazer is a splurge, even at a sale price. I try to pick up a couple nice, classic pieces like this for my husband each year. He's a CPA, so he does get a fair amount of wear out of his suits and such.
And, of course, this shirt and this hoodie are great casual weekend pieces. Champion has really taken off in popularity lately. I grabbed a sweatshirt of theirs recently and it is really warm! I love the material.
Nordstrom Sale Gift Ideas
Don't forget to follow me on Instagram and LIKEtoKNOW.it for more fun finds + sales!
If you're looking for more gift ideas, check out my post on the Most Popular Items of 2019, according to LIKEtoKNOW.it!

Read these next: