One of my favorite holiday traditions is spending time in the kitchen with my little ones. Earlier today, we used this Reindeer Treats recipe to whip up a big batch to take to Grandma and Grandpa's house for Christmas Eve. I've heard this stuff called Reindeer Treats, Reindeer Chow, Christmas Muddy Buddies, and even Puppy Chow… but in the end, it doesn't really matter what you call it. All that matters is that you make it.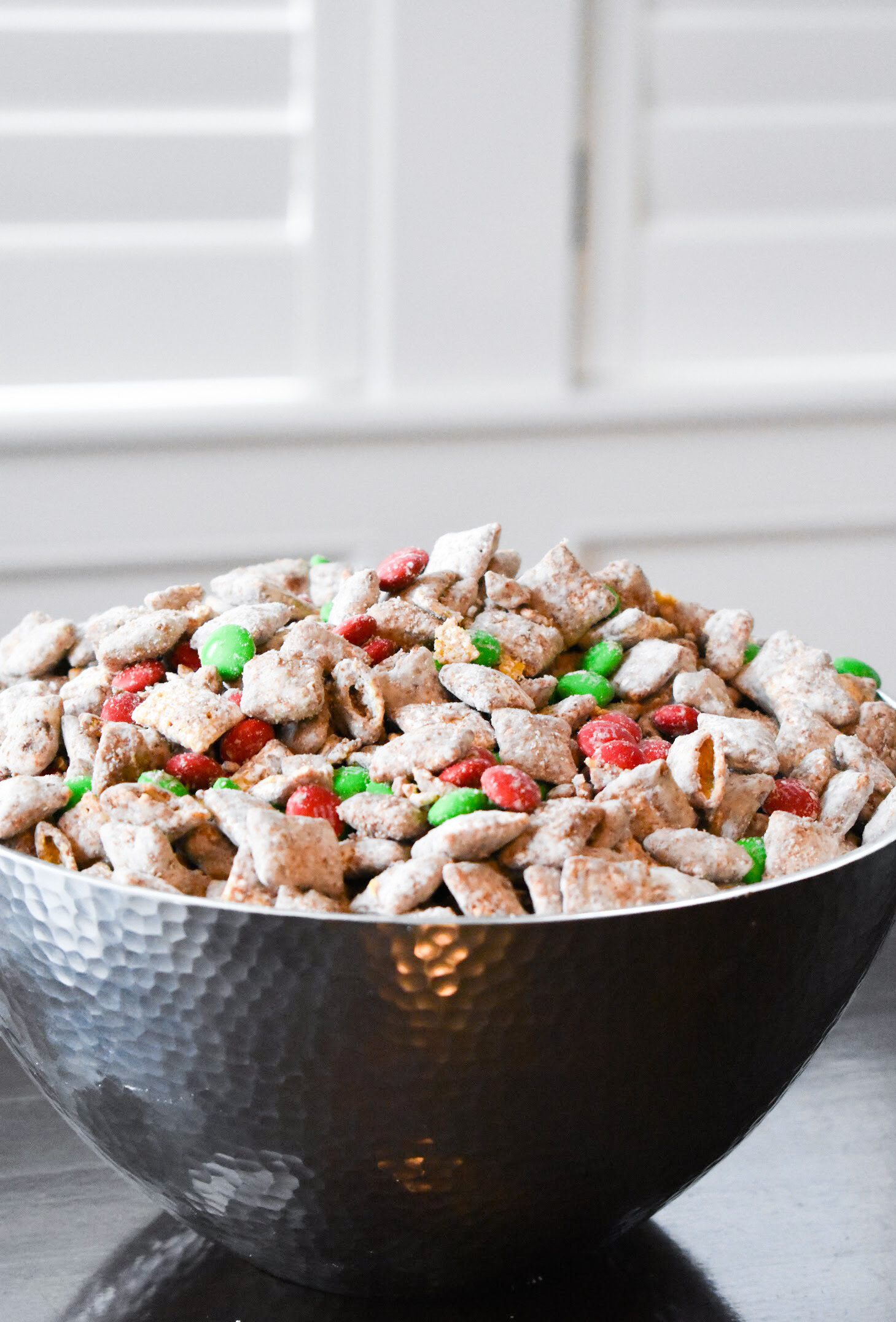 This Reindeer Treats recipe is basically your usual "puppy chow" recipe, but with the addition of red and green candies to give it a festive touch. Last year, there must have been a shortage on M&Ms, because I couldn't find the red and green ones anywhere. So, I went a little overboard this year and purchased a ton of bags. Then, I realized I'm on a diet [yup, still trying to get rid of that c-section pouch] and don't really need 6 bags of M&Ms taunting me in the pantry.
So, I've been trying to find lots of ways to use up holiday M&Ms this season. And lots of people to give treats to. Let's just say my popularity with my son's preschool classmates and my husband's co-workers has really skyrocketed this season.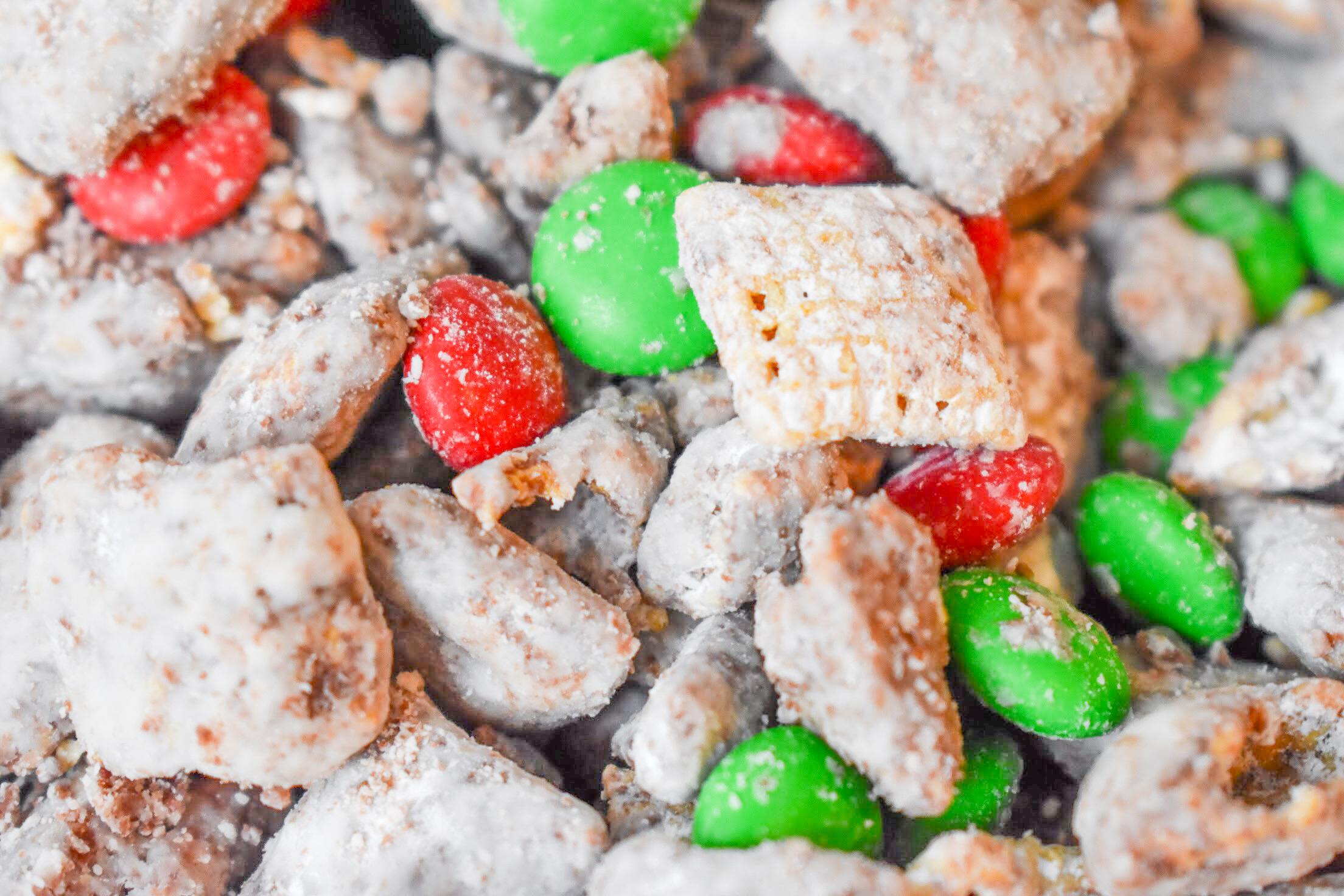 My favorite thing about making this Reindeer Treats recipe is how kid-friendly it is. There's no actual baking [just microwaving] and the measurements are all approximate, so your little helpers can do a lot of the work themselves. Colton made this batch basically all by himself! Or, "by my own," as he likes to say. He's almost 3 and getting so independent. Which is bittersweet, because I somehow want him to simultaneously need Mommy all the time and also let me have some time to myself. That makes sense, right?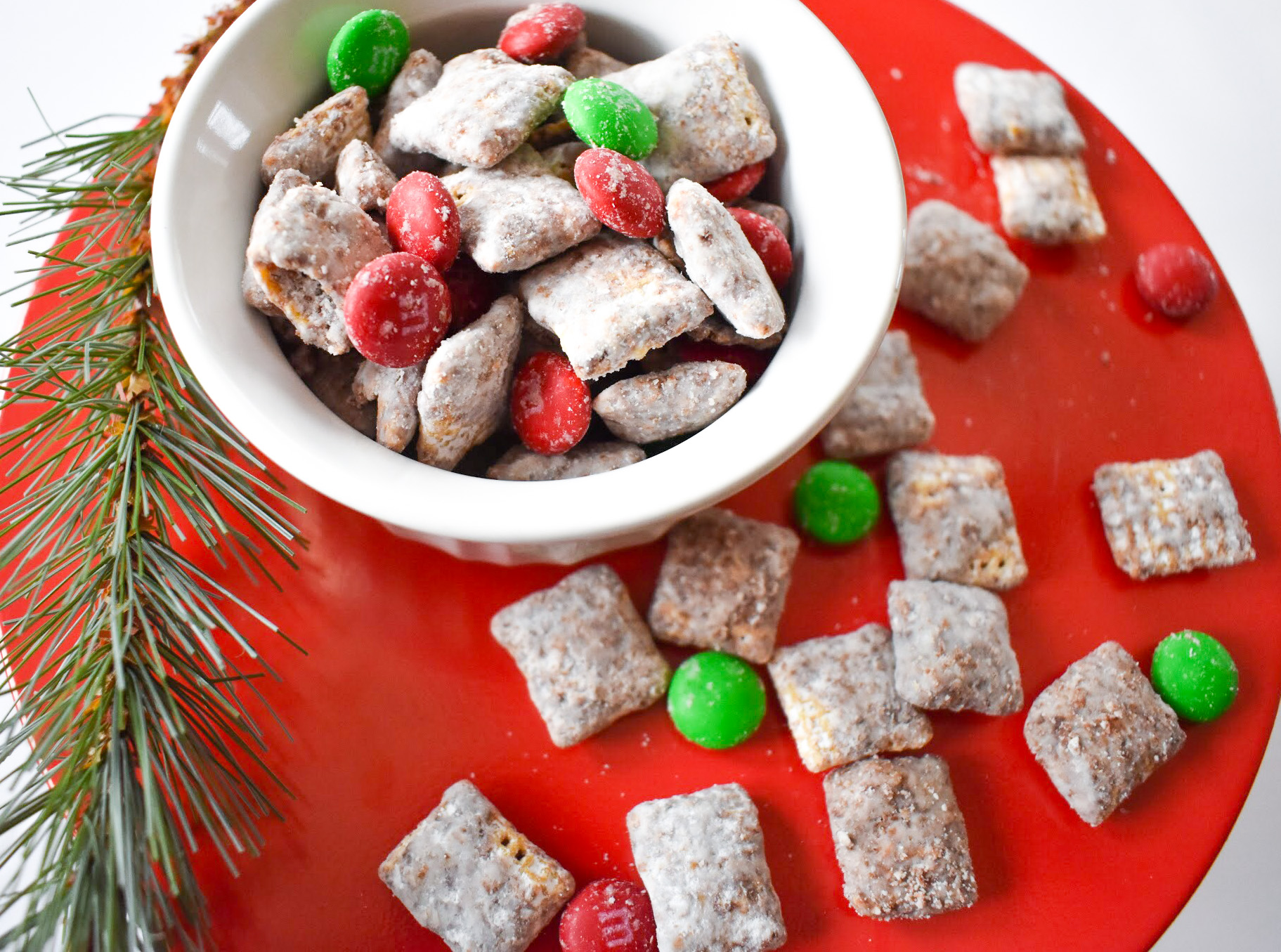 This is Blair's first Christmas, and it was really special to have her in the kitchen with Colton and I. But the best part was when I set the bowl of Reindeer Treats next to her and she started reaching in for handfuls! Colton said, "Not for you! You no have teeth!" More for us, buddy…. Blair is still on a strictly-milk diet for another month or so.
I felt like a bit of a bad mom because I didn't get her much for Christmas this year. I got her the obligatory Baby's First Christmas ornament and a pair of $5 pajamas I scored on Black Friday. Then, I got stuck. I didn't want to buy a bunch of baby toys because we already have so many from Colton, but I didn't really know what else to get. In the end, I ended up doing a bit of a "Baby's First Meal" themed box, plus I put some purees and puffs in her stocking. Mainly because we would buy those things anyway, but this way she has something to pull out of her stocking with the rest of us.
We did a bit of a modified baby-led weaning with Colton, and plan to do the same with Blair. Basically, we fed him what we ate, so long as it was 1] possible and 2] healthy. Some foods just aren't practical for feeding to babies, and sometimes, we just weren't eating healthy enough for a baby. That's when it's nice to have the baby purees and little meals available!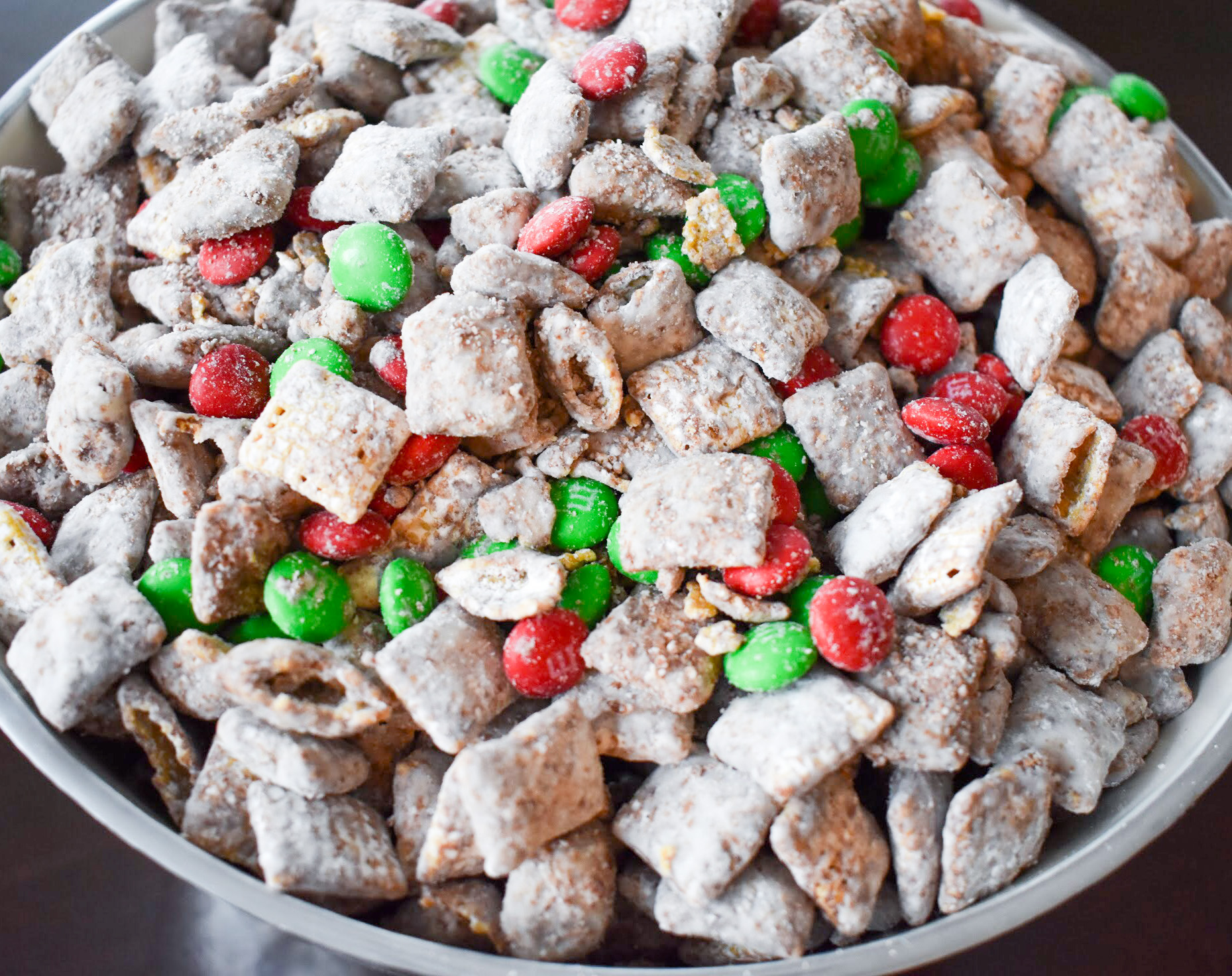 Grab these ingredients during your last-minute grocery store run and let your littles have run of the kitchen! They'll love eating this Reindeer Treats recipe, especially if they help make it. Colton loves to eat anything that he helps make. [I'm the opposite; I'd much rather eat food that someone else prepares! Eating out is where it's at.]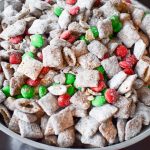 Reindeer Treats
Your family will love this kid-friendly Christmas dessert recipe for Reindeer Treats! It doesn't matter whether you call it Reindeer Treats, Reindeer Chow, Christmas Muddy Buddies, or even Puppy Chow... everyone loves a big bowl of this stuff! This holiday version is even more festive with the addition of red and green candies.

Course:
Appetizer, Dessert
Ingredients
1

box

Corn Chex

1

bag

Holiday M&Ms

12

oz

Semi-Sweet Chocolate Chips

1/2

cup

Unsalted Butter

1

cup

Peanut Butter

1

tsp.

Vanilla Extract

4

cups

Powdered Sugar
Instructions
Melt the peanut butter and butter together in the microwave, using 30 second intervals.

Once the butter is melted, add the chocolate chips to the mixture. Continue microwaving at 30 second intervals until the chocolate chips are melted.

Stir in the vanilla with the melted peanut butter, butter, and chocolate chips.

Place your cereal in a large bag [a large Ziploc is great, but a plastic grocery store bag also works]. Drizzle in the chocolate mixture and manipulate the bag to coat all the cereal with the chocolate mixture.

Add the powdered sugar to the bag. Mix until the powdered sugar coats all the chocolate-covered cereal pieces.

Add the M&Ms as the final finishing touch. Enjoy!
I won't be blogging for the next few days so I can soak up some family time. I'm sure I'll be posting on my Instagram Stories during my downtime [aka Blair's mealtime], though! Follow me on Instagram [@mamabops] and see how our first Christmas as a family of four plays out. I can't wait to share what my hubby got me this year… he let me open my gift early and I am in love!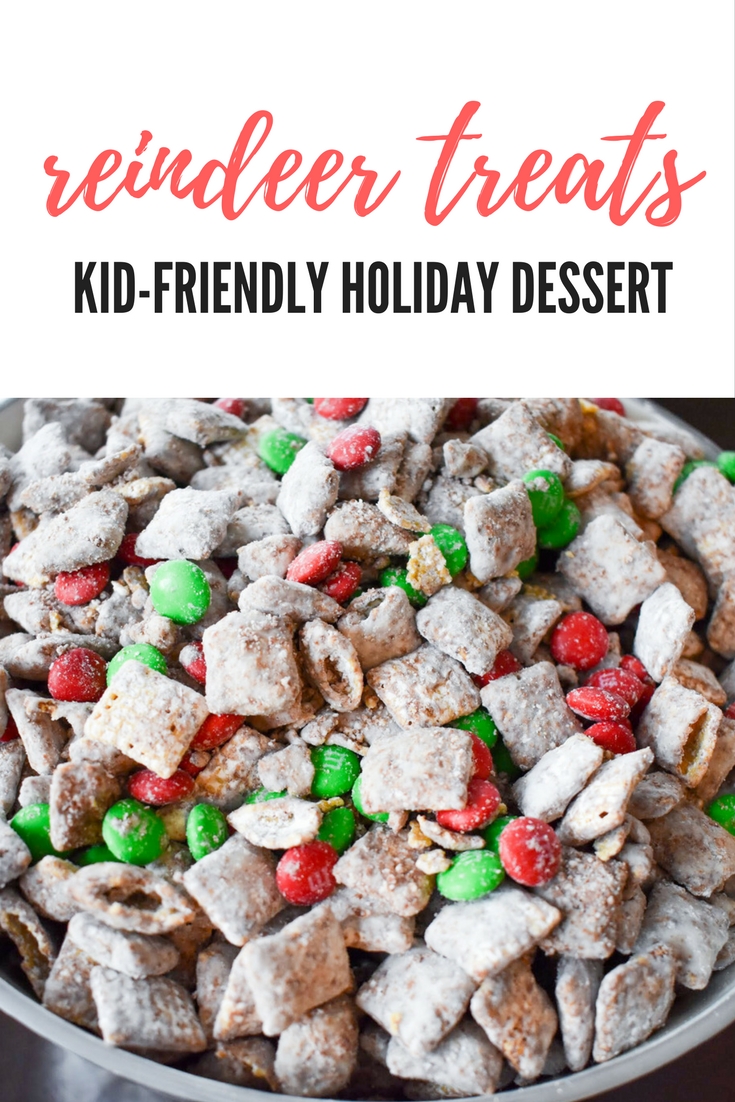 Pin this Reindeer Treats recipe for next year, too!
'Tis the season!