We went apple picking last weekend! Both the kids are at an age where they can enjoy it, so I wanted to be sure we didn't miss the u-pick season at Cider Hill Family Orchard, our favorite place for apple picking in Kansas City. If you're looking for apple picking Kansas City, read on!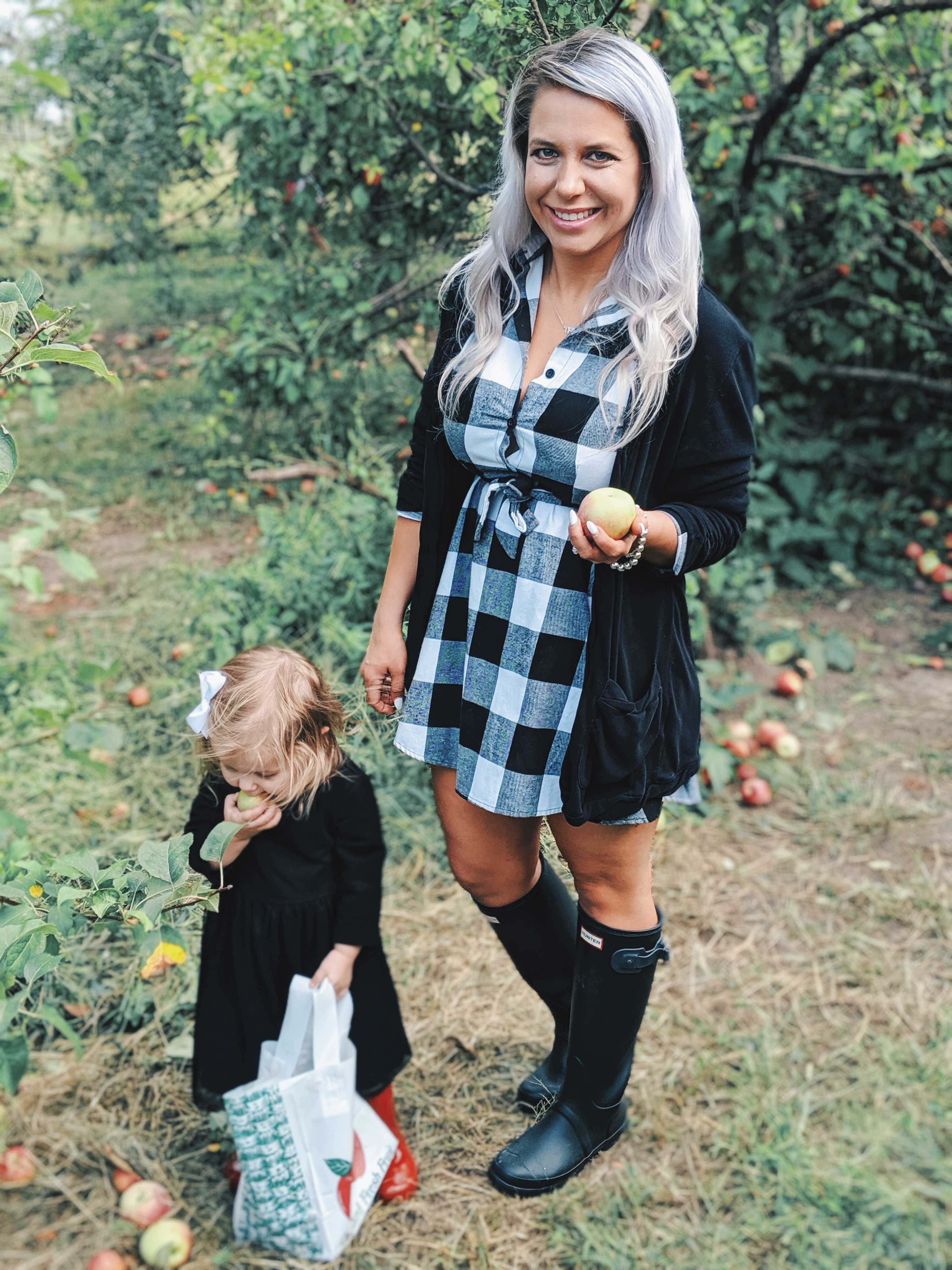 Shop our Apple Picking Outfits
I'm wearing the same dress I wore in this Mommy & Daughter matching dresses post from last fall! Unfortunately, Blair has outgrown hers but I was still able to find this cute little dress for her for just $8. I love the tulle skirt on it!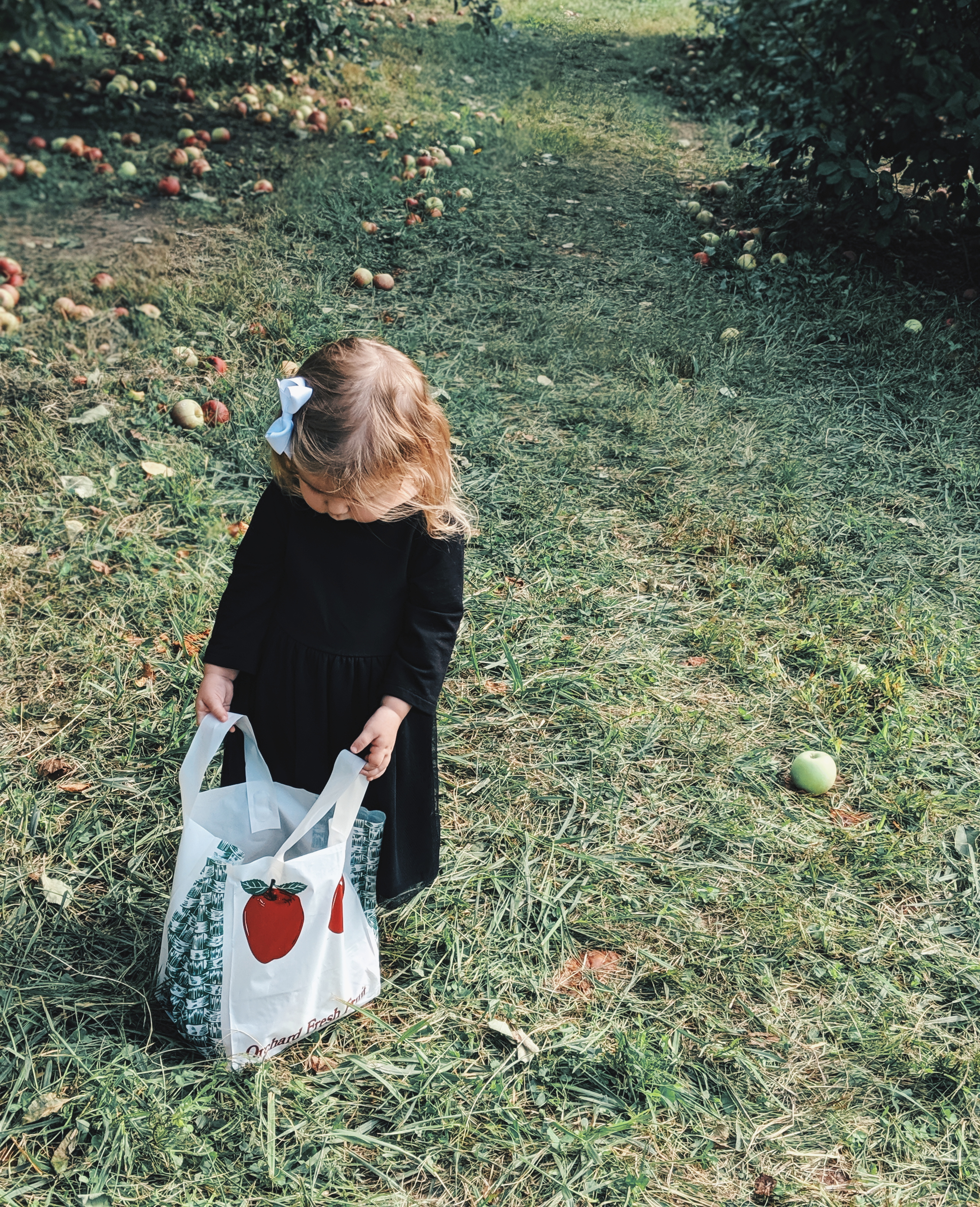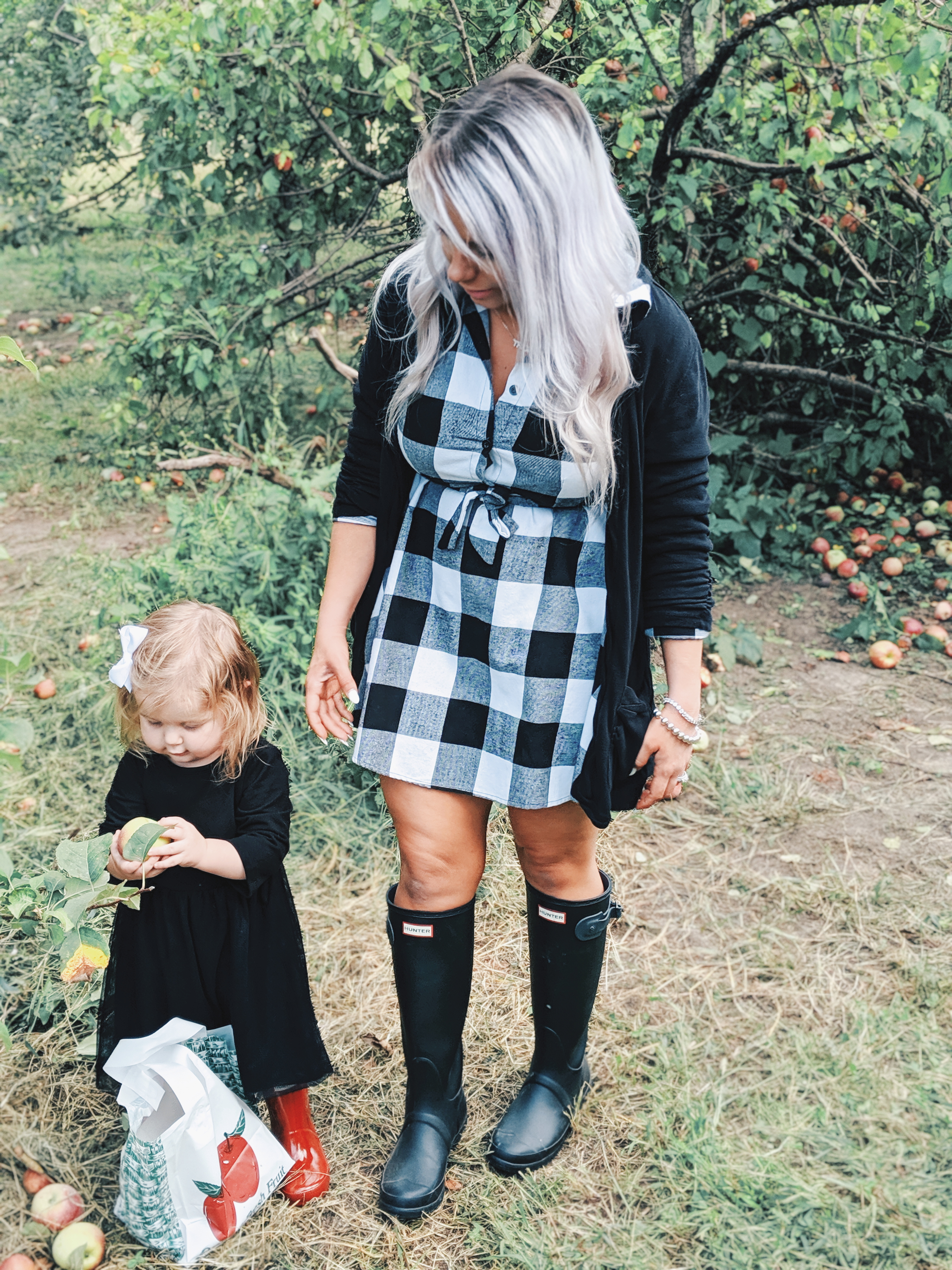 Apple Picking Kansas City
The kids have only gone apple picking once, and it was kind of a fail. Blair was only a couple months old, so she didn't get anything out of it. Unfortunately, neither did Colton–I waited until too late in the season to go, and we could only find 2 apples in the whole orchard. Mom fail. [Here's a look back at our first apple picking adventure–look how empty that sad little bag is!]
That was in 2017. In 2018, I made the same mistake of waiting until too late in the season, so I didn't even take them. I already knew how that story ends.
So, this year, I was determined to redeem myself. As soon as I saw friends start posting apple picking photos, I told my husband, IT'S TIME. WE'RE GOING THIS WEEKEND.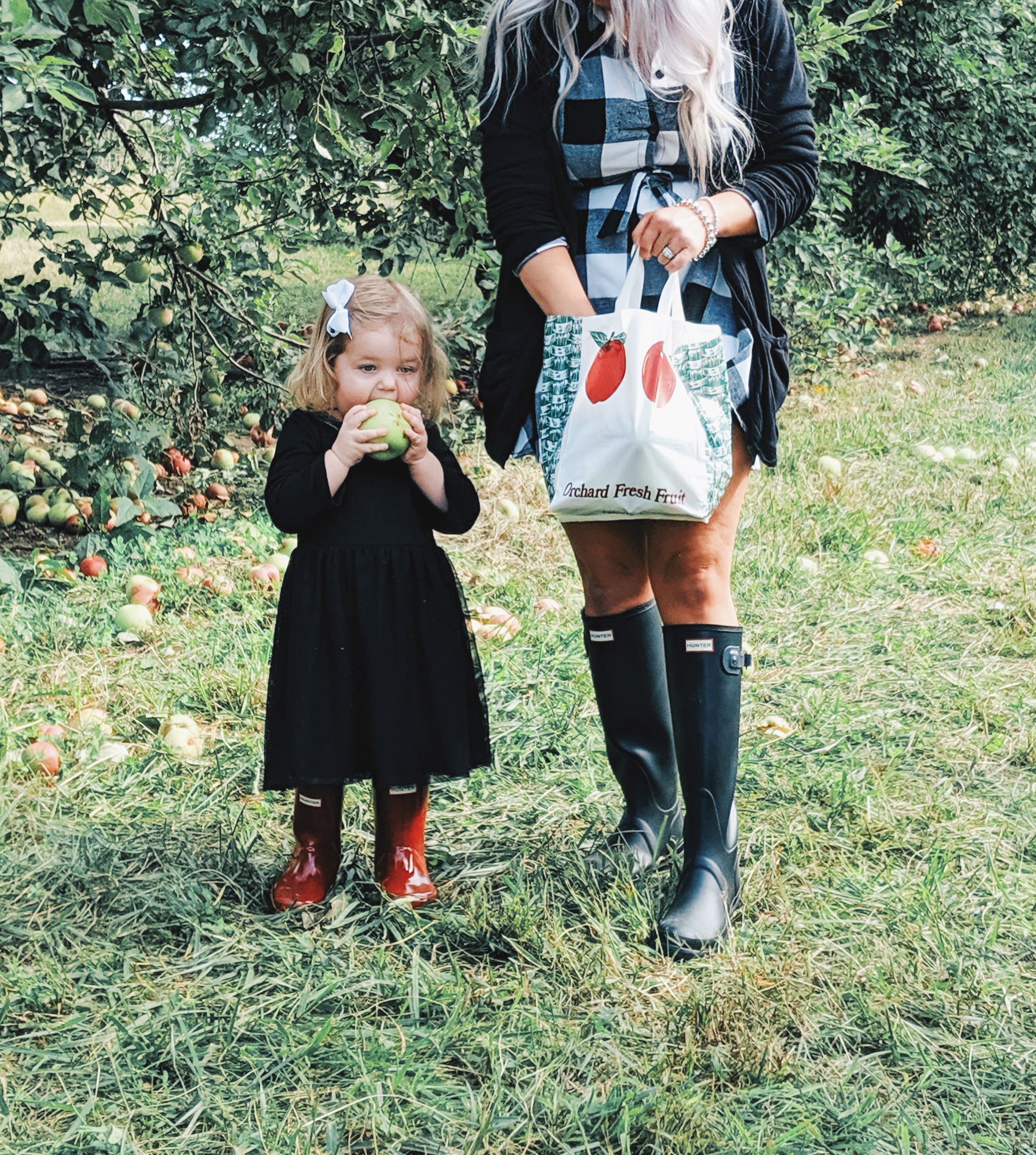 We picked at Cider Hill Family Orchard in Kansas City, KS. For Kansas City locals, the orchard is near The Legends and Providence Medical Center Amphitheater [or Sandstone, or Verizon Wireless, or whatever they change the name to next week]. This isn't sponsored, just sharing a good spot!
Everyone at Cider Hill was super friendly and they did a great job explaining the process to us. Basically, you choose a size of bag–we chose the medium for $11–and take a hayride out to the apple trees.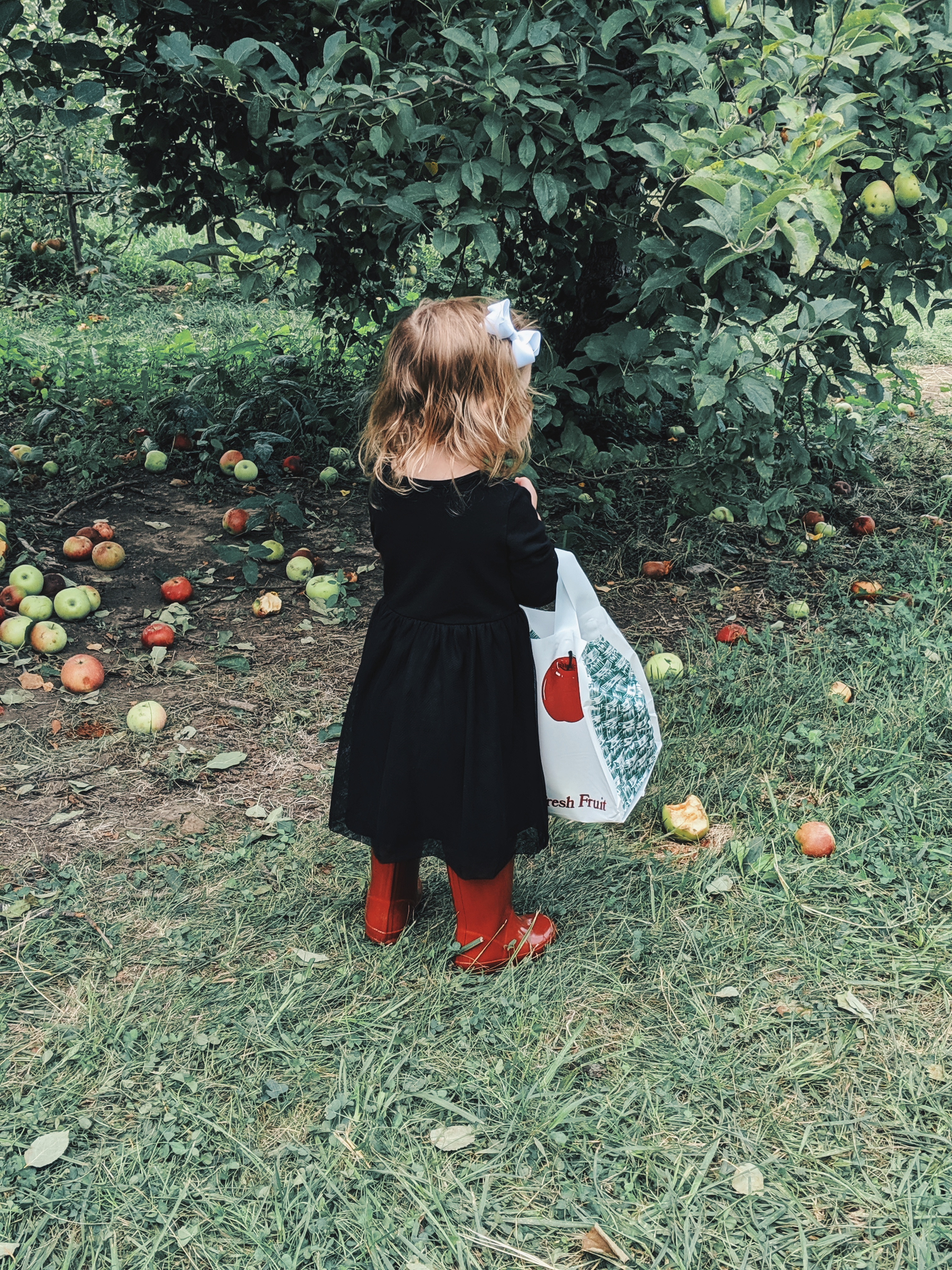 Blair was our designated bag carrier. She's surprisingly strong, as the staff told us the full bag was about 10 pounds, and Blair carried it all over for us.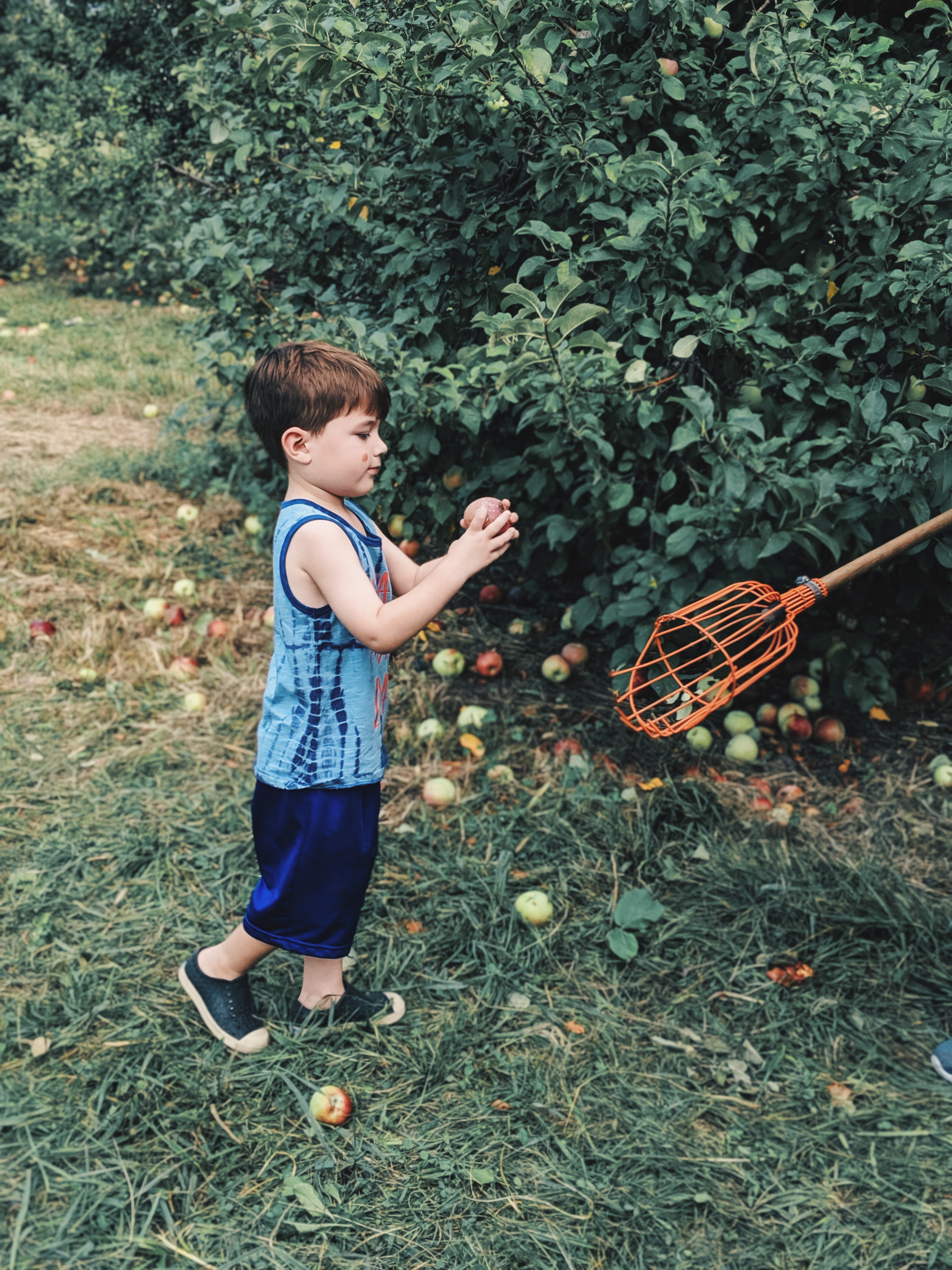 Because we went later in the day, a lot of lower branches were picked over. With kids, it would probably be better to go earlier. But my husband grabbed one of these apple picker things [official term, I'm sure] and was able to snag some good apples from the top. Then, Colton's job was to select the best ones and put them in Blair's bag.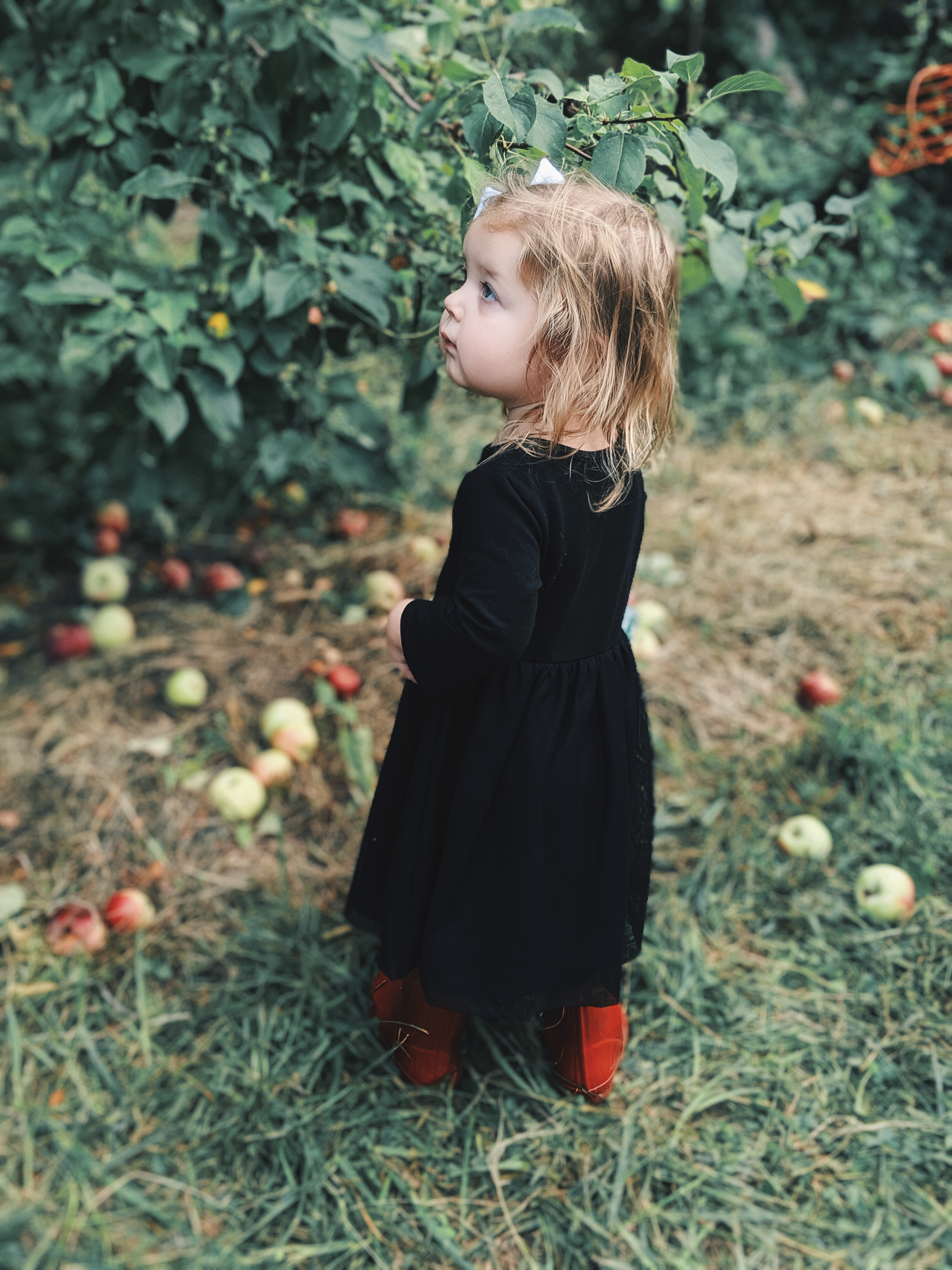 Apple Picking Outfits
The main thing to keep in mind when selecting apple picking outfits is your footwear. Definitely no heels and preferably no sandals, as you'll be walking around in grass and mud. Hunter boots are perfect–and, bonus, they make for adorable photos!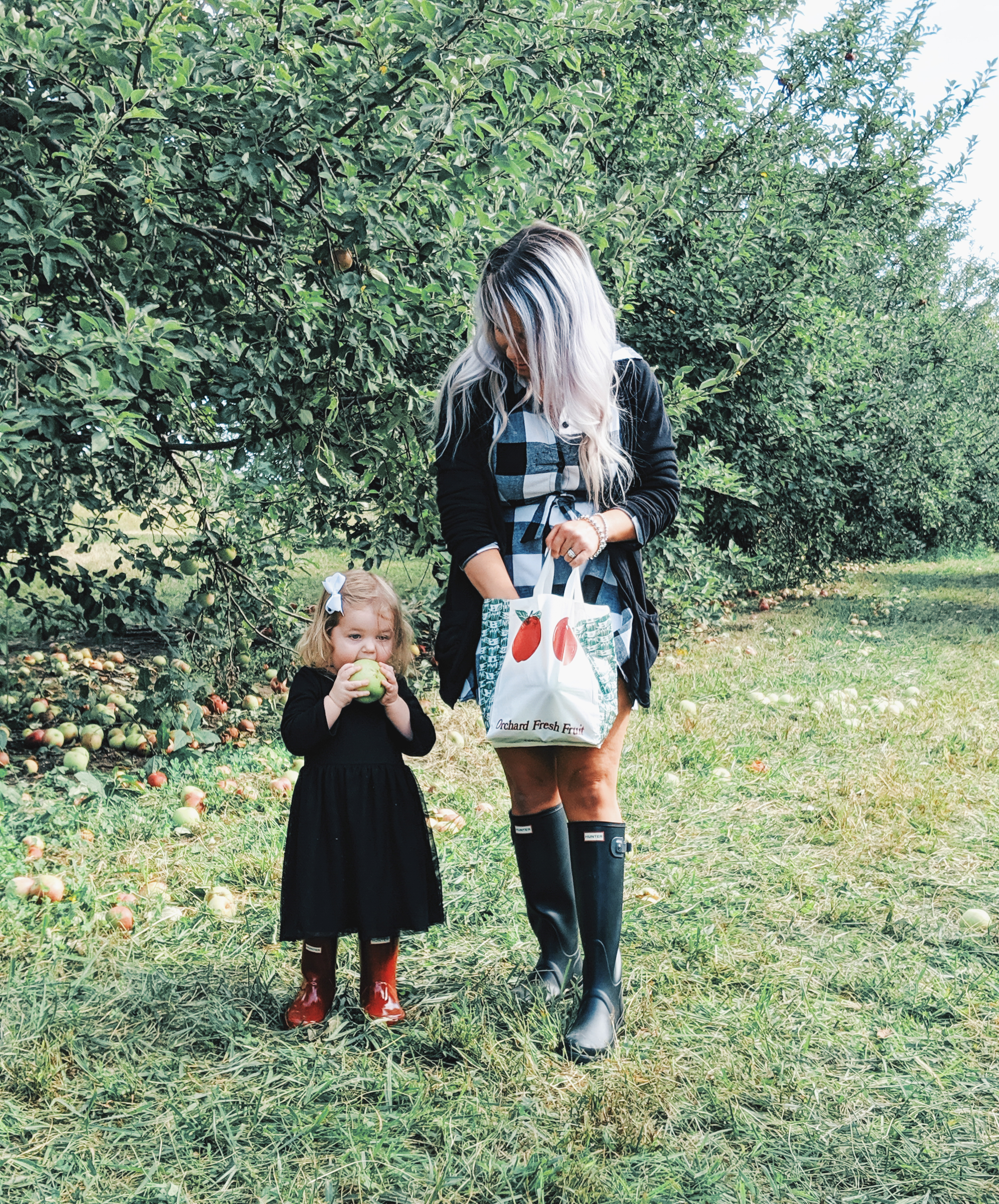 Wear something you can move in easily, as you'll need to stretch to grab those apples! If you're wanting to get some adorable apple picking photos, try to coordinate everyone–here, Blair and I were doing a bit of a black/white/red theme. [Here's a quick post I did on how to select family photo outfits with a lot more tips–save it for future reference!]
Apple Picking Treats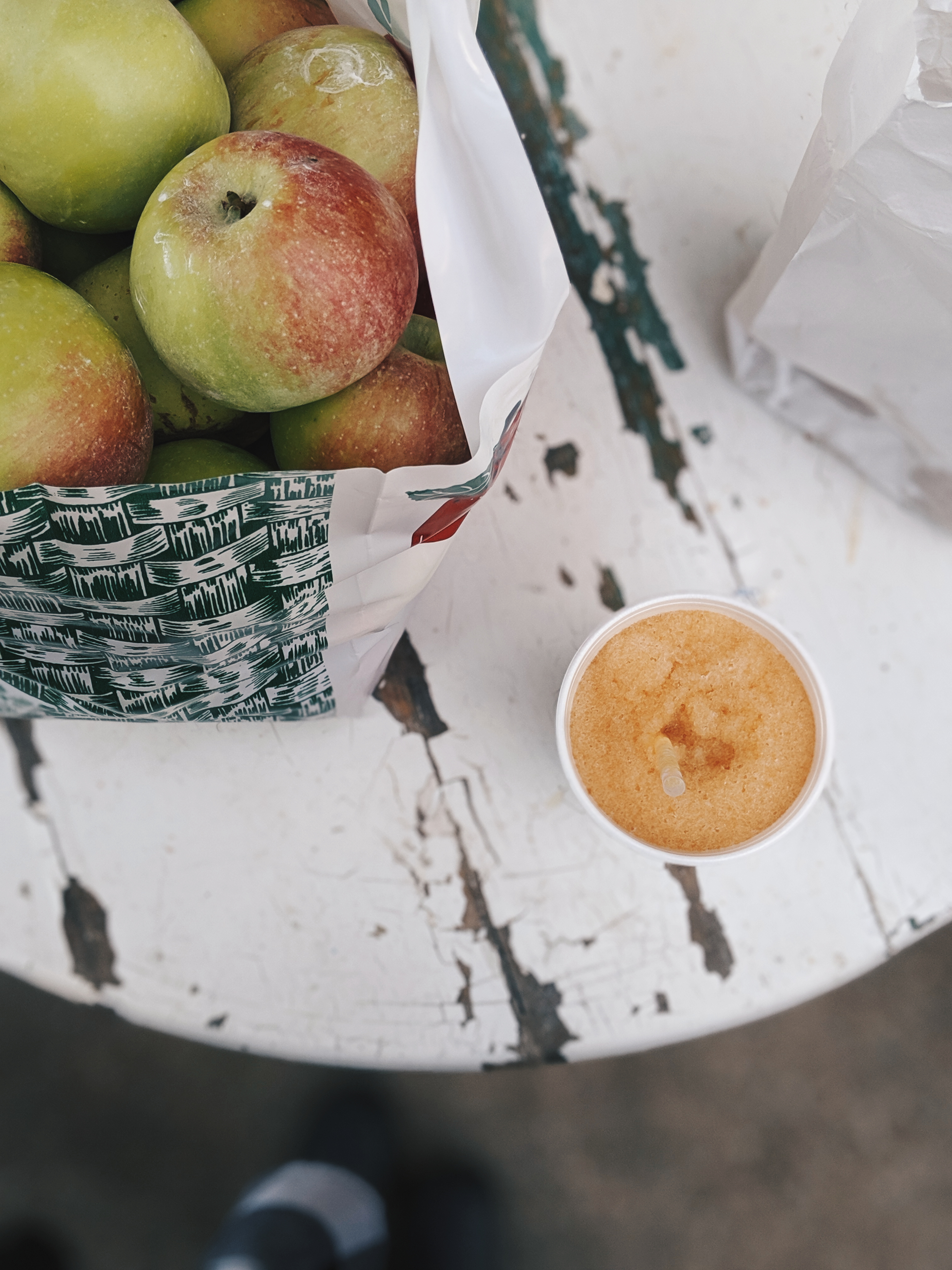 Cider Hill Family Orchard had several fun treats to choose from after our apple picking adventure! The apple cider slushie was my favorite. It tasted like a frozen apple juice, nice and sweet. The kids loved it too.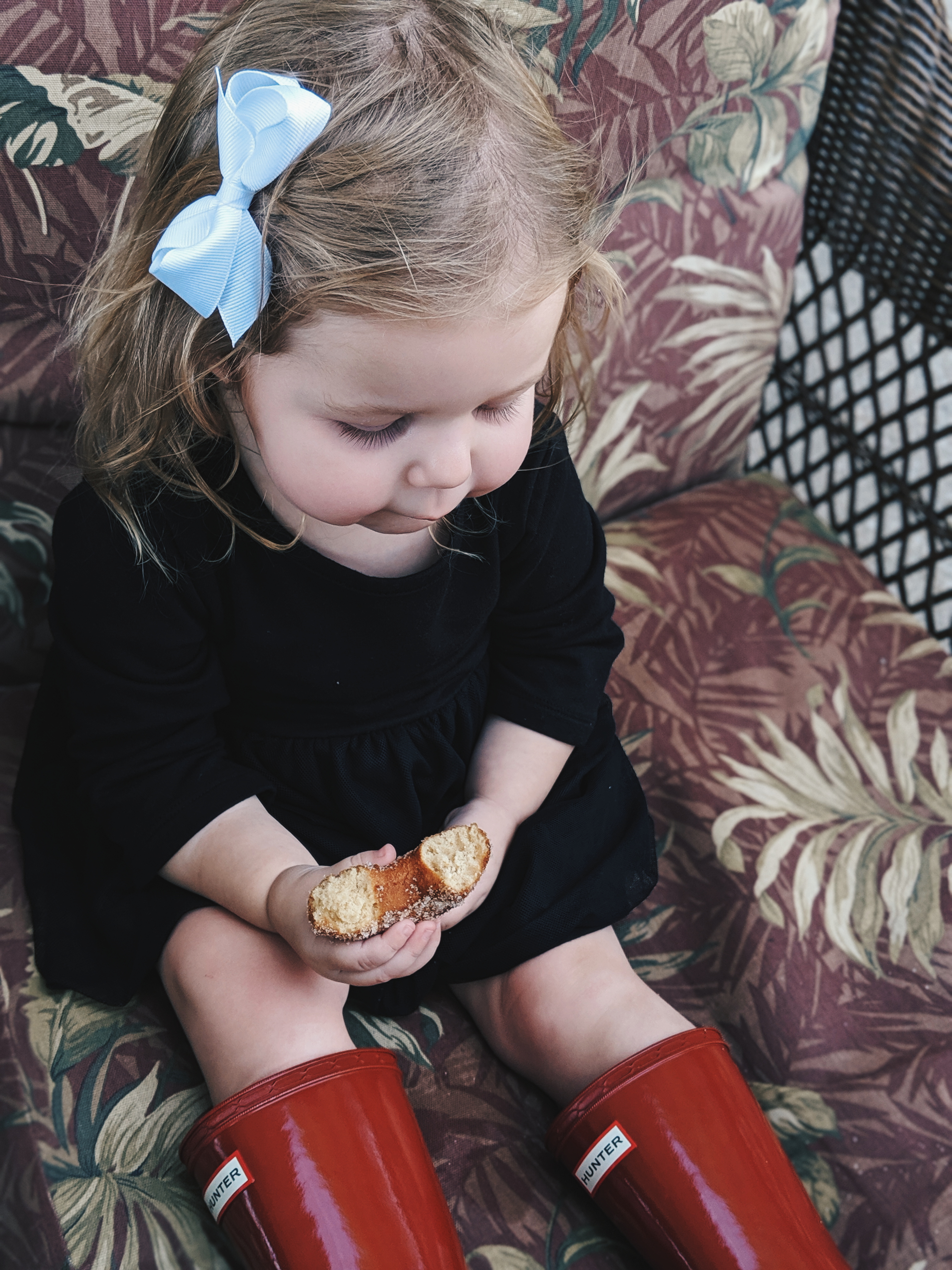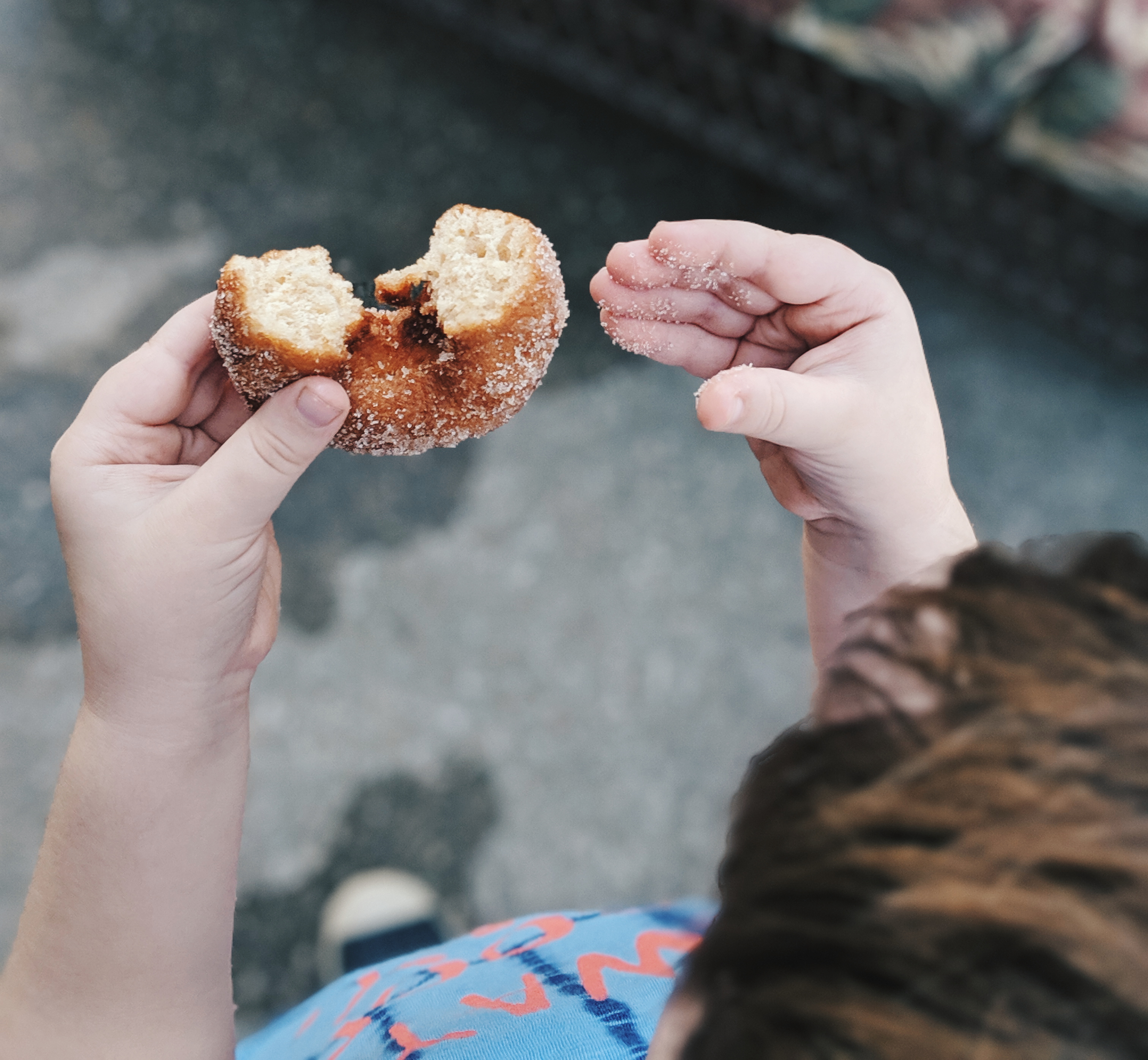 But I really think they preferred the apple cider donuts! We got a half dozen so we'd have a couple to eat for breakfast the next day. Pro tip, if you want the donuts you may want to order them as soon as you arrive to the orchard. They actually sold out while we were there.
Cider Hill Family Orchard also offered kettle corn and a few other snacks that we didn't have the chance to try. There is also a little shop with some homemade treats and souvenirs, as well as a barn to explore. I read there was a train for the kids but I didn't see it on our visit, so maybe it's not operational at the moment.
Apple Picking in Kansas City
Overall, we had a lot of fun apple picking in Kansas City and I'm already looking forward to going again next year!
I'll link our apple picking outfits and lots more cute finds below so you can put together the perfect apple picking outfit for your crew!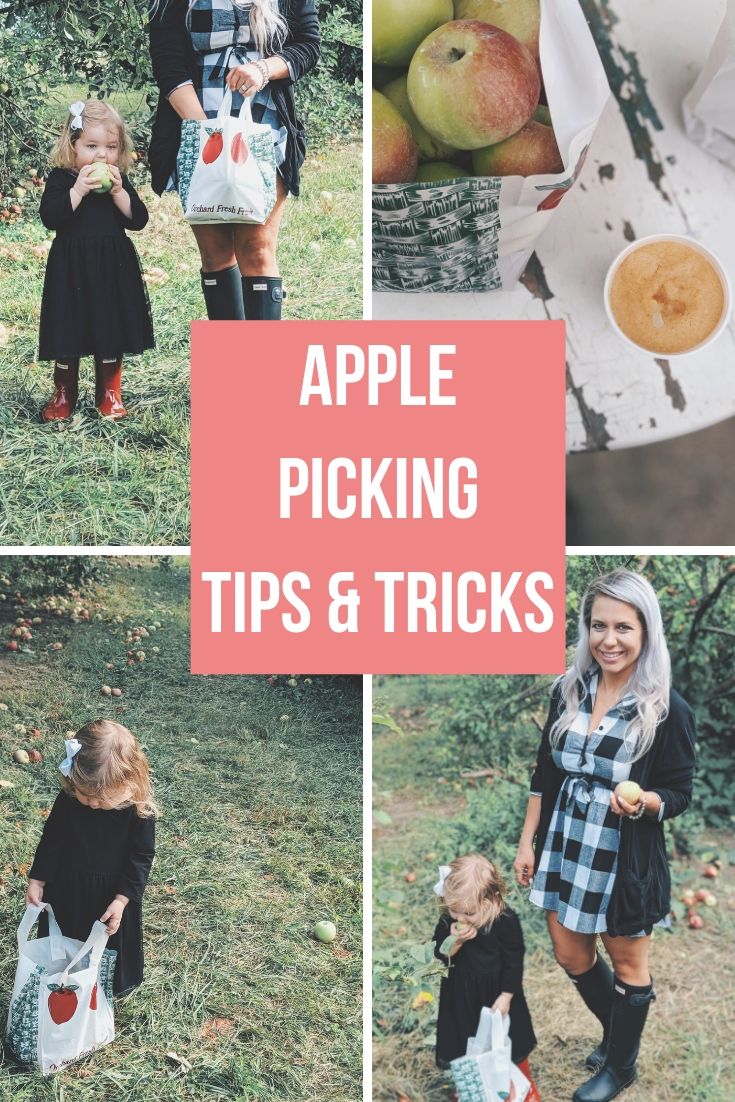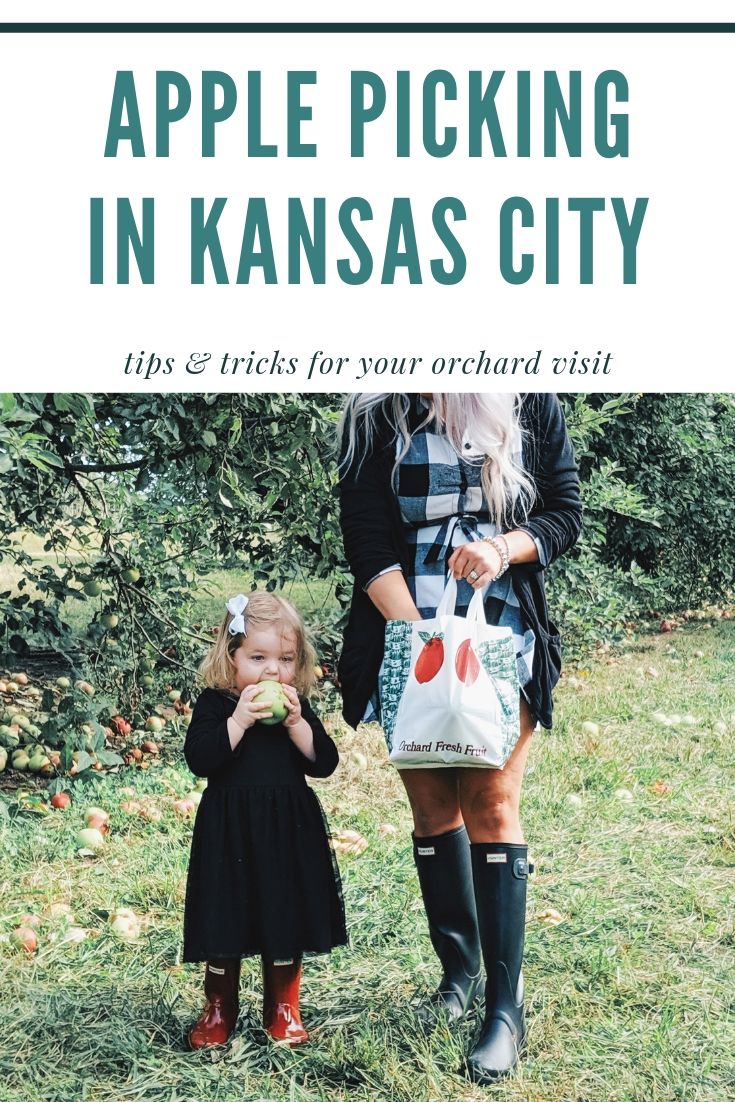 Pin these tips on apple picking Kansas City for later!
Read these next: