Winter break is here, and Colton is so excited for 3 weeks at home with Mama, Dada, and "baby Blair." I'm excited to have him back full-time, too! Having him in preschool just makes him seem like such a big boy, you know? We snapped some fun photos together and I wanted to show you some of my favorite winter break style and tech devices we're enjoying.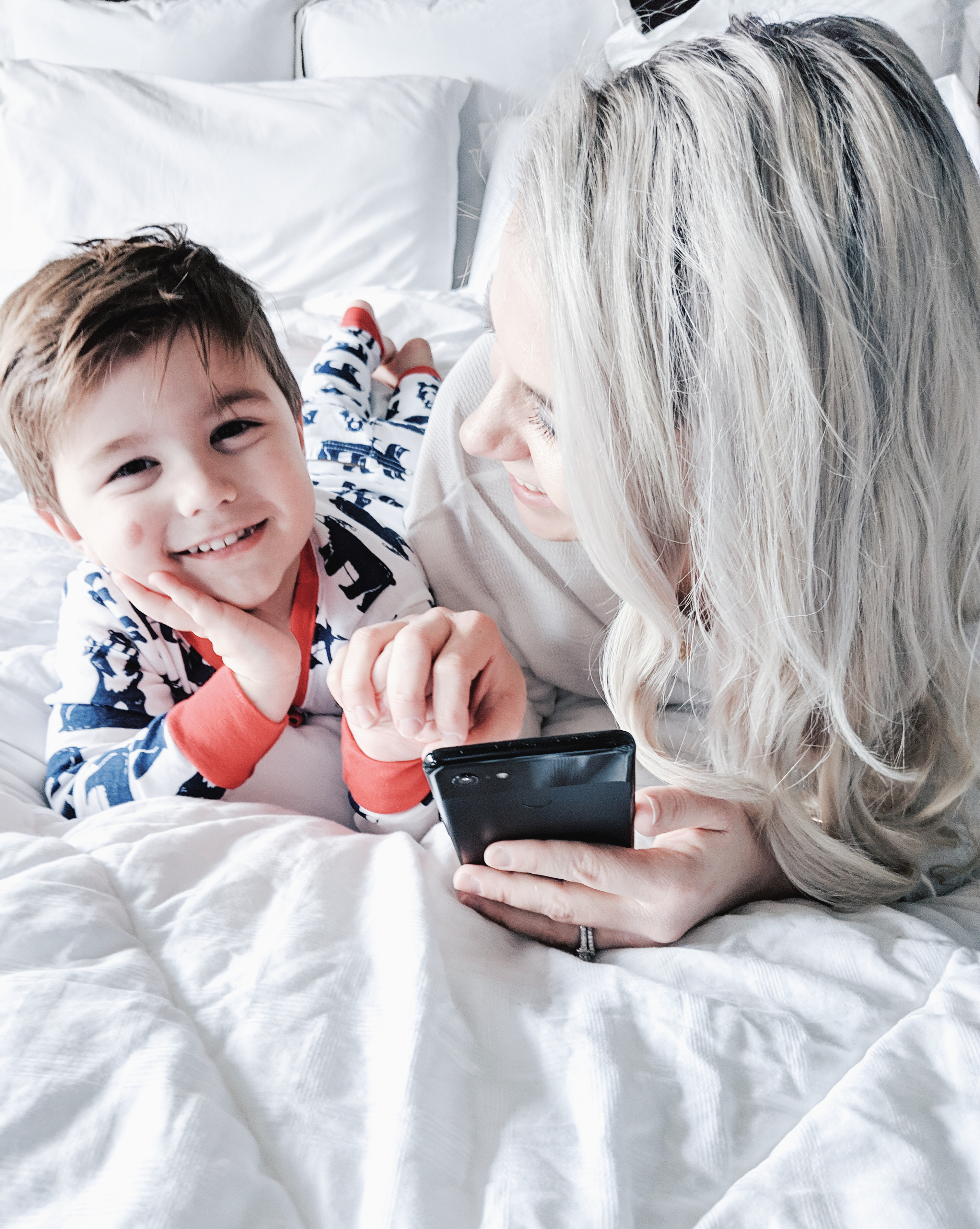 Like most little kids, Colton loves to play on our phones. As I mentioned before, my husband and I both recently upgraded to the Google Pixel 3 phone on Verizon. I have the regular Pixel 3 and my husband got the Pixel 3 XL, pictured here. The main reason I made the switch to Pixel 3 from iPhone was the camera–even compared to the latest iPhone camera, the Pixel 3 was so much better. It's been a bit of an adjustment switching to the Android operating system, but now I think I like it even more [please don't tell my husband that because I don't want to endure him bragging about how he was right… haha].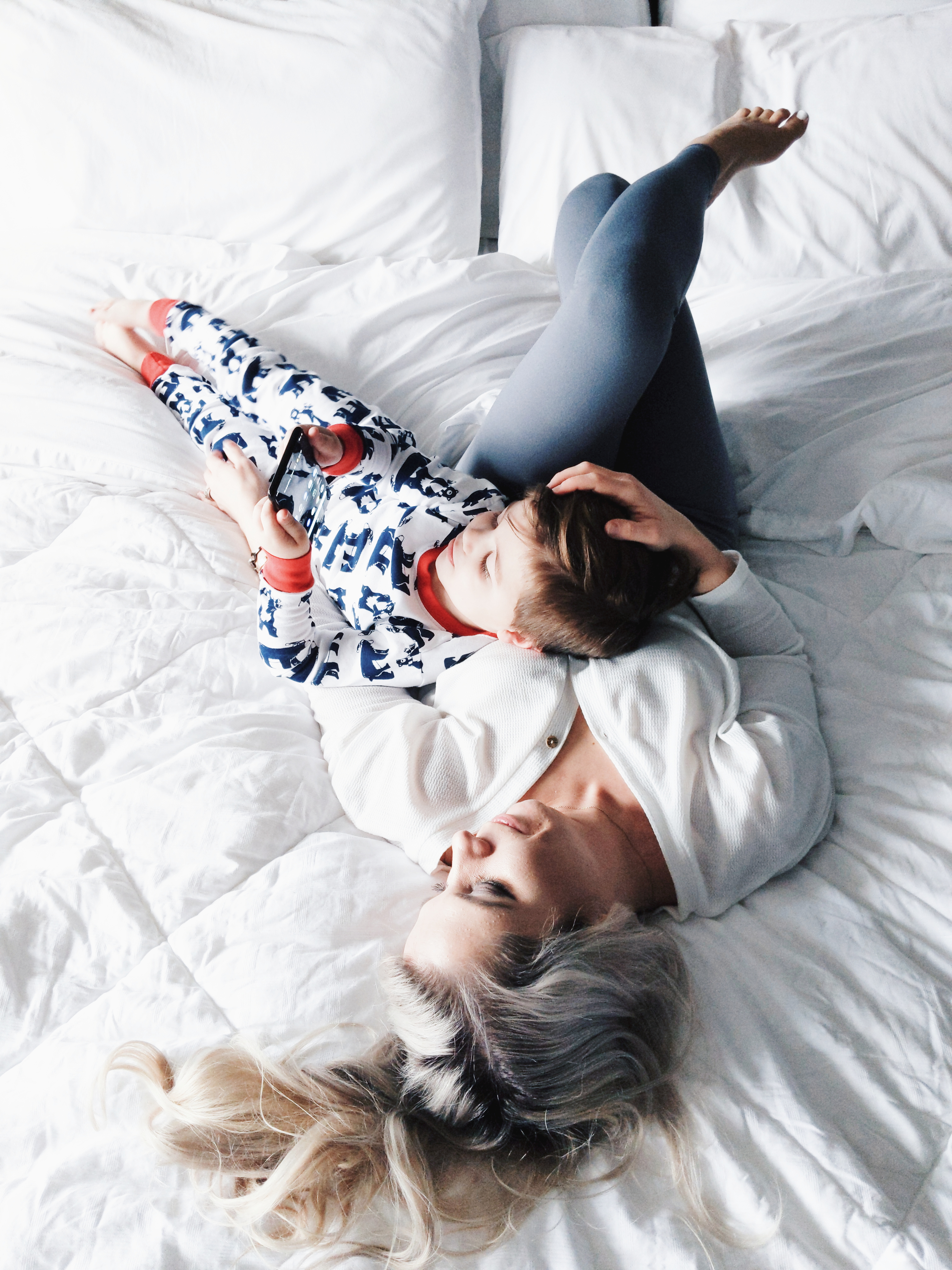 [My Tie-Front Henley // Grey Leggings // Nail Polish]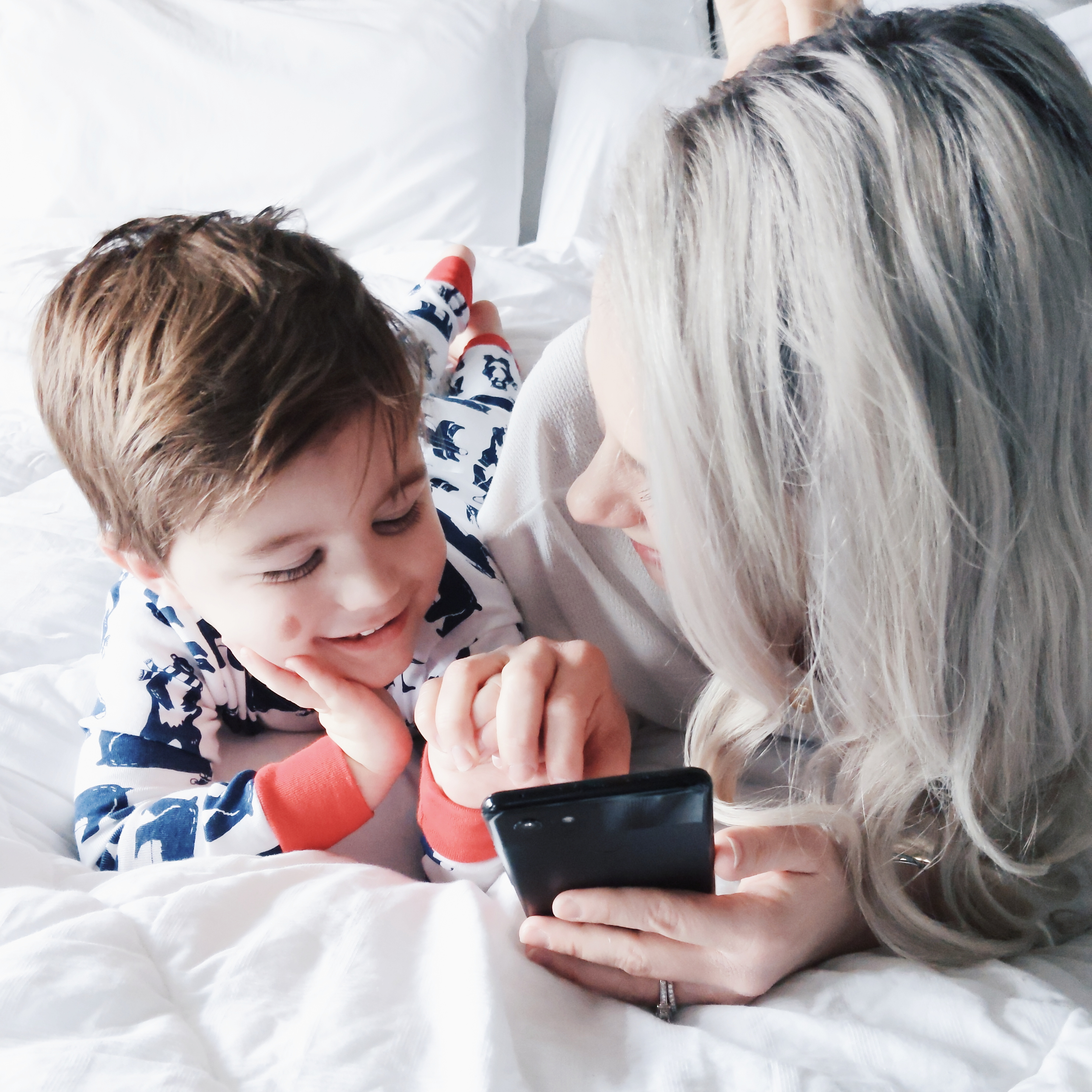 Generally, my husband and I are both pretty lax about screentime with Colton [Blair isn't interested in screens yet, so it's a non-issue with her]. Honestly, I use my phone a LOT, mostly for work/blogging but also for personal correspondence, sending out room parent reminders, and the like. My husband has his phone glued to him most of the time too, since his career is extremely demanding and he's expected to be responsive basically at all times. It's the way of the future–and, as parents, we're in a unique position because our kids are the first generation to grow up with this type of technology.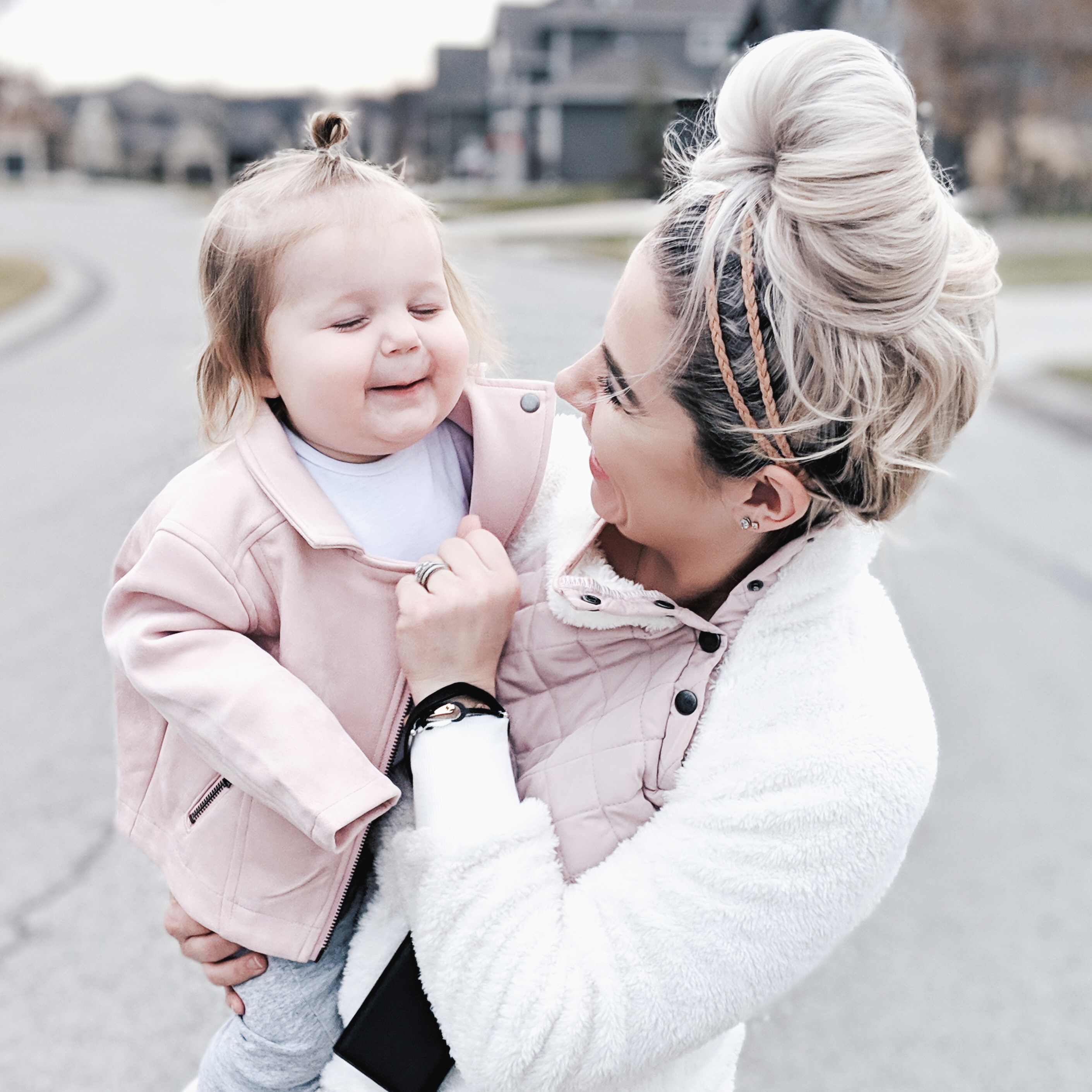 Our Winter Break Style:
[My Kate Spade Palm Wristlet // Palm device // Sherpa Pullover // Leggings // Pink Combat Boots // Cuffs // Bolo Bracelet]
[Blair's Pink Moto Jacket // Grey Ruffle Leggings // Pink Sherpa Boots // Hair Ties]
For more winter break style, here's how I styled a pink moto jacket earlier this year!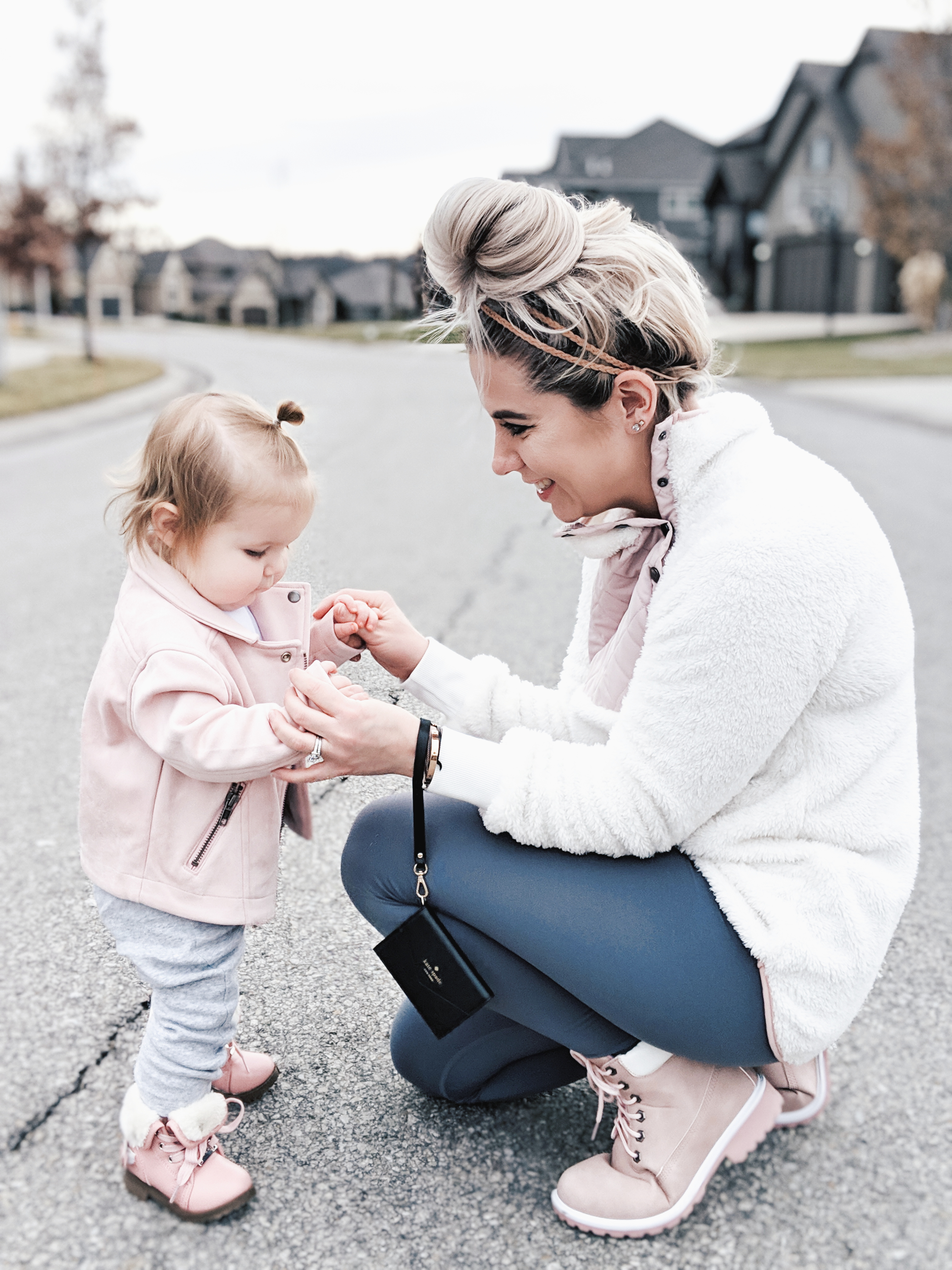 See, I told you I keep my phone with me at all times. This adorable Kate Spade wristlet holds a Palm device, which is basically like a miniature phone. Palm isn't a standalone phone, rather, it connects to your existing smartphone so you don't have to carry a bulky phone around all the time. I love having this handy little wristlet to carry the Palm in when my hands are full [which is basically always, since neither of my kids carry anything themselves EVER]. Palm is also great for slipping into your wristband during a workout!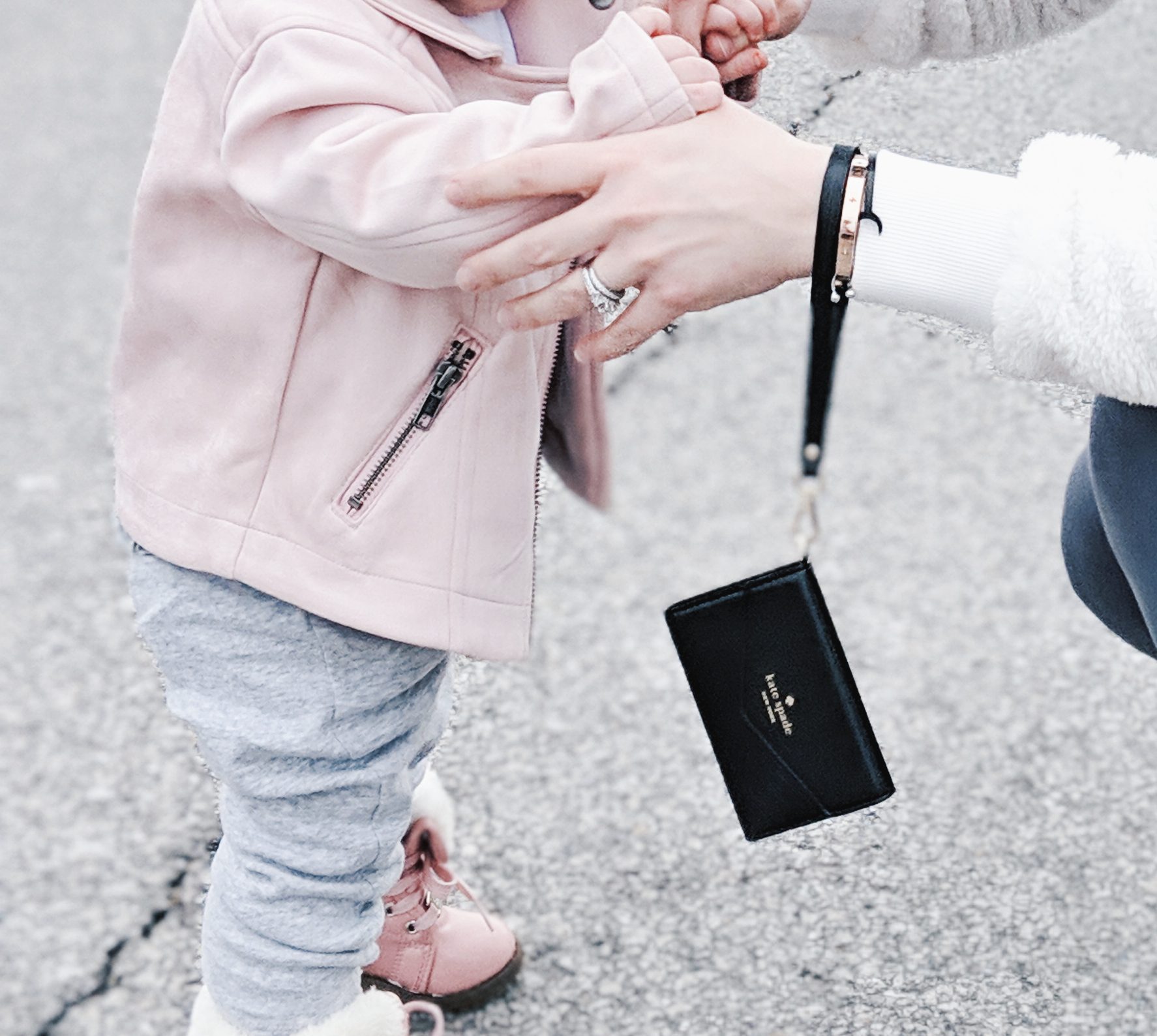 Plus, it just looks so sleek. The Kate Spade brand can do no wrong. [Plus, I love that she was from Kansas City, like me!]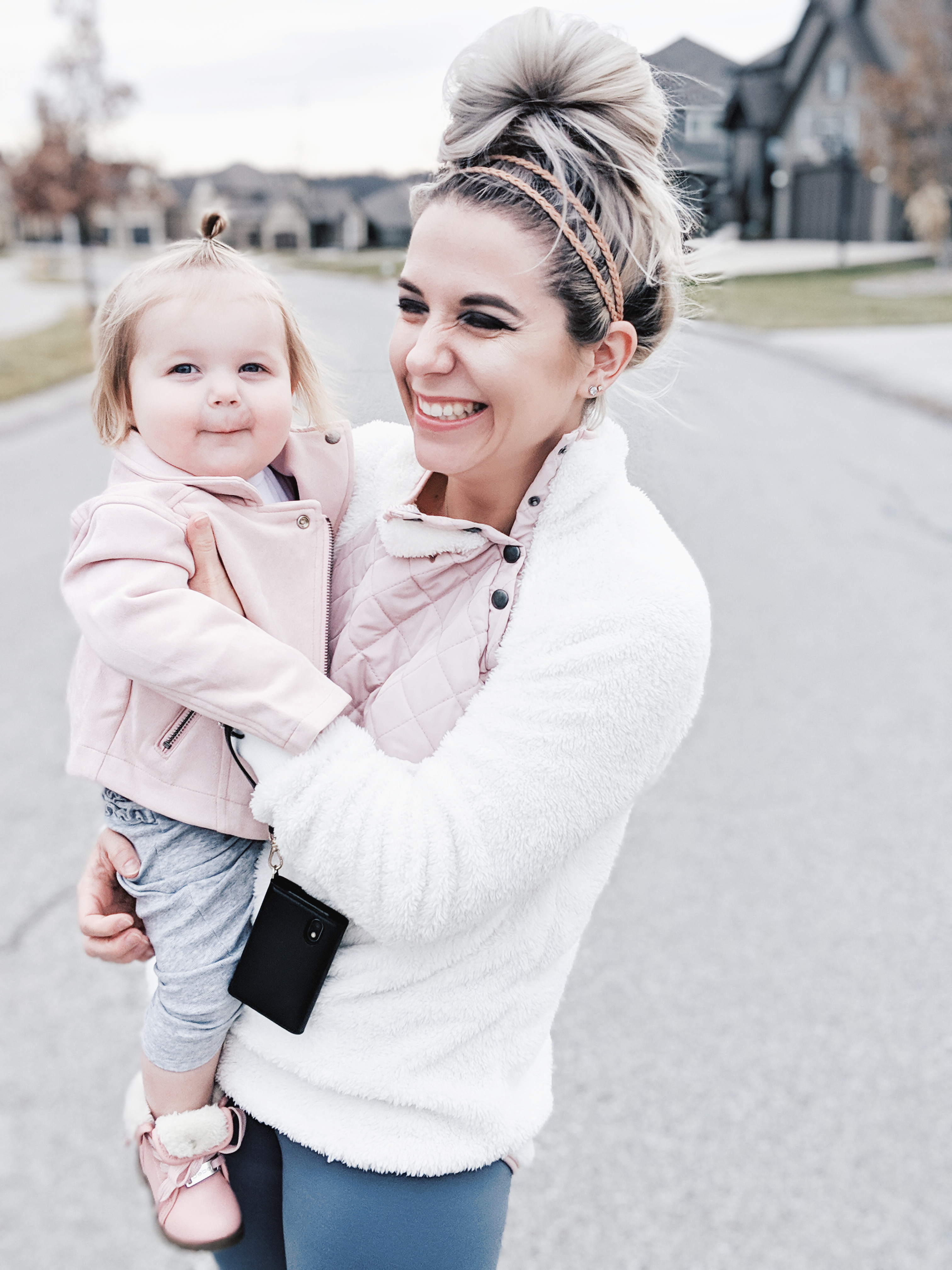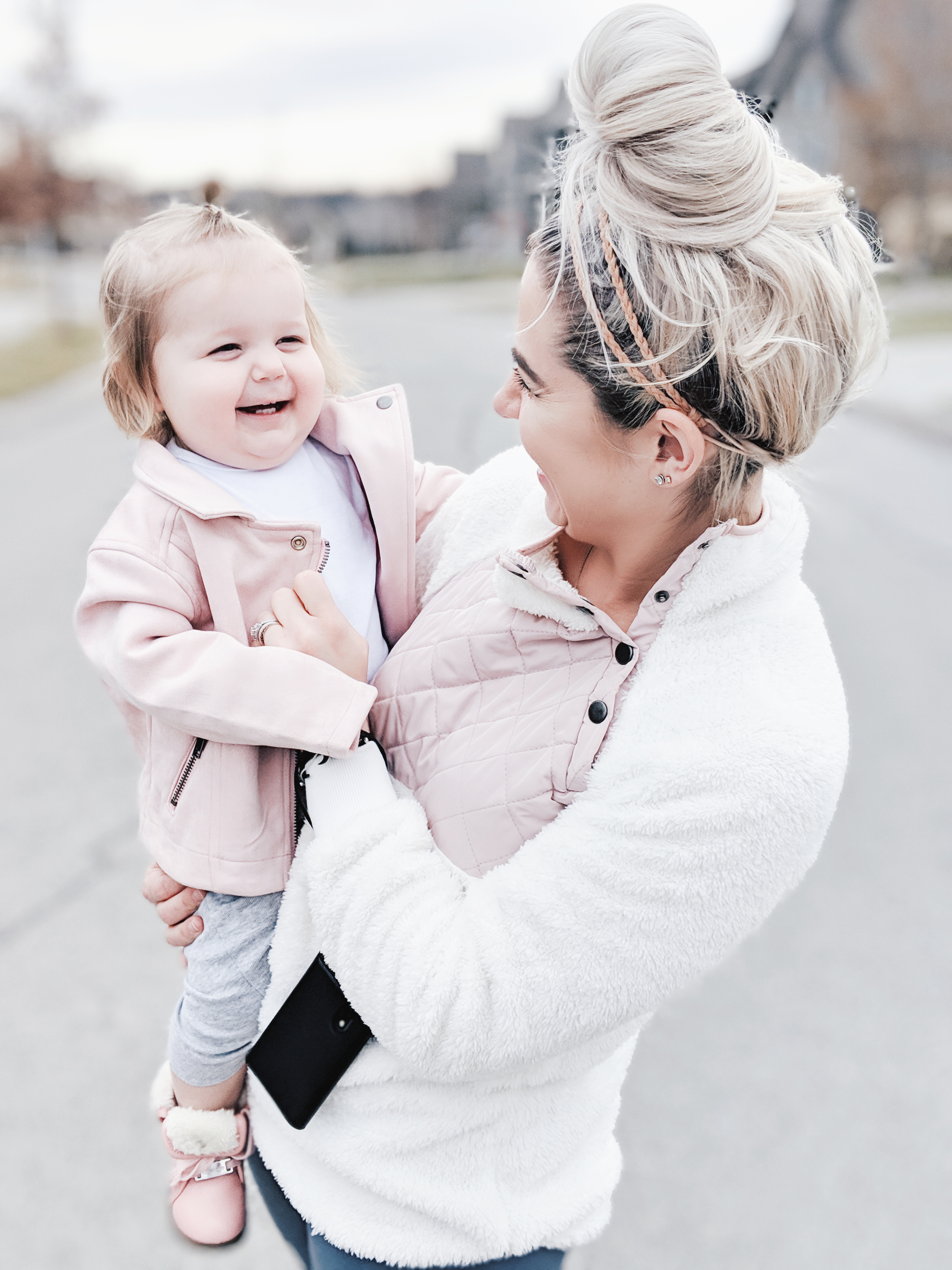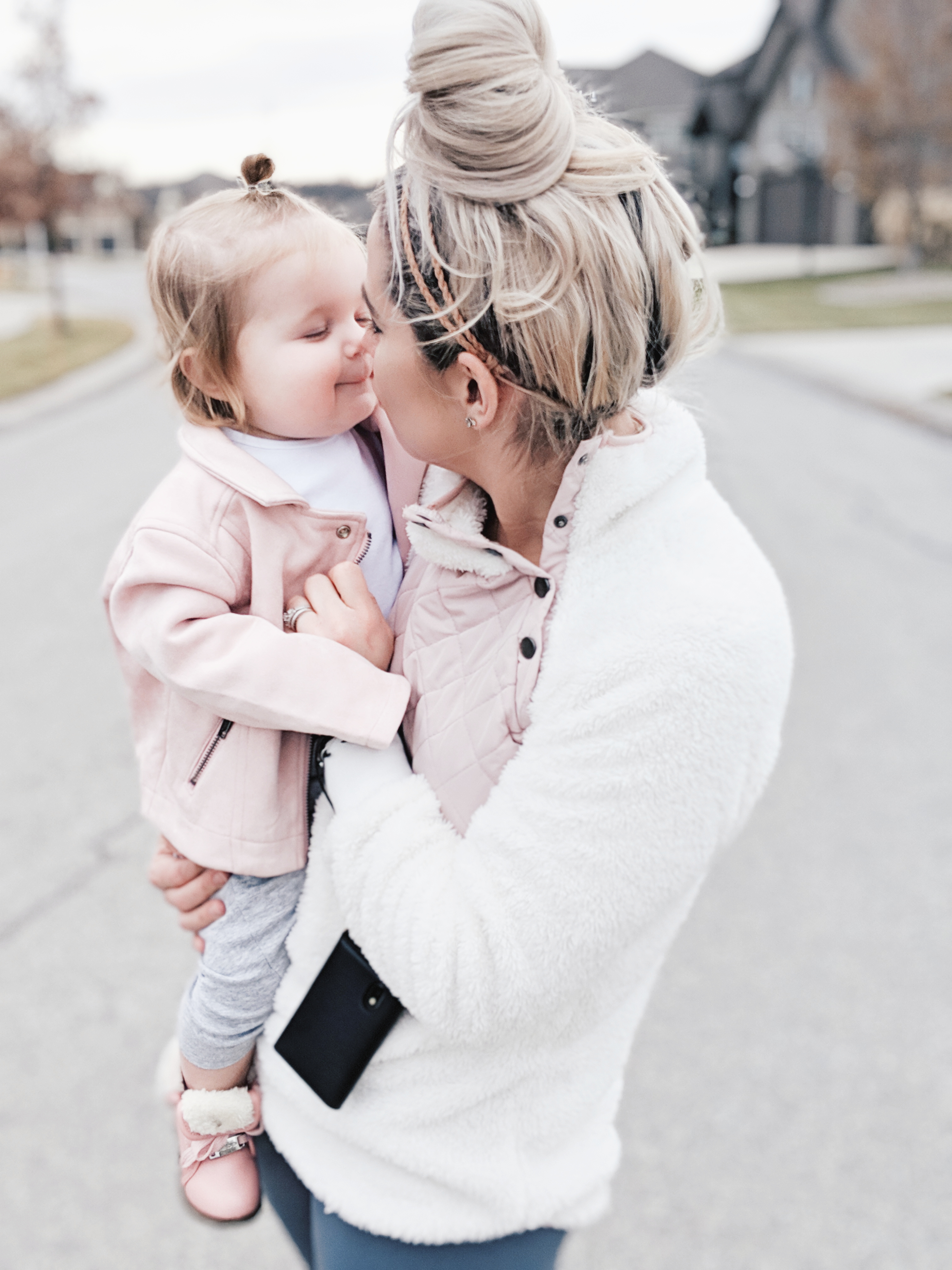 There's nothing better than a kiss from your baby! Blair gives the sweetest kisses, but I should warn you that they're usually open-mouthed. 🙂 Also, can we talk about her baby topknot?
You can also see the back of the wristlet here, showing the Palm camera–it includes a 12MP camera, so you don't have to worry about missing any moments.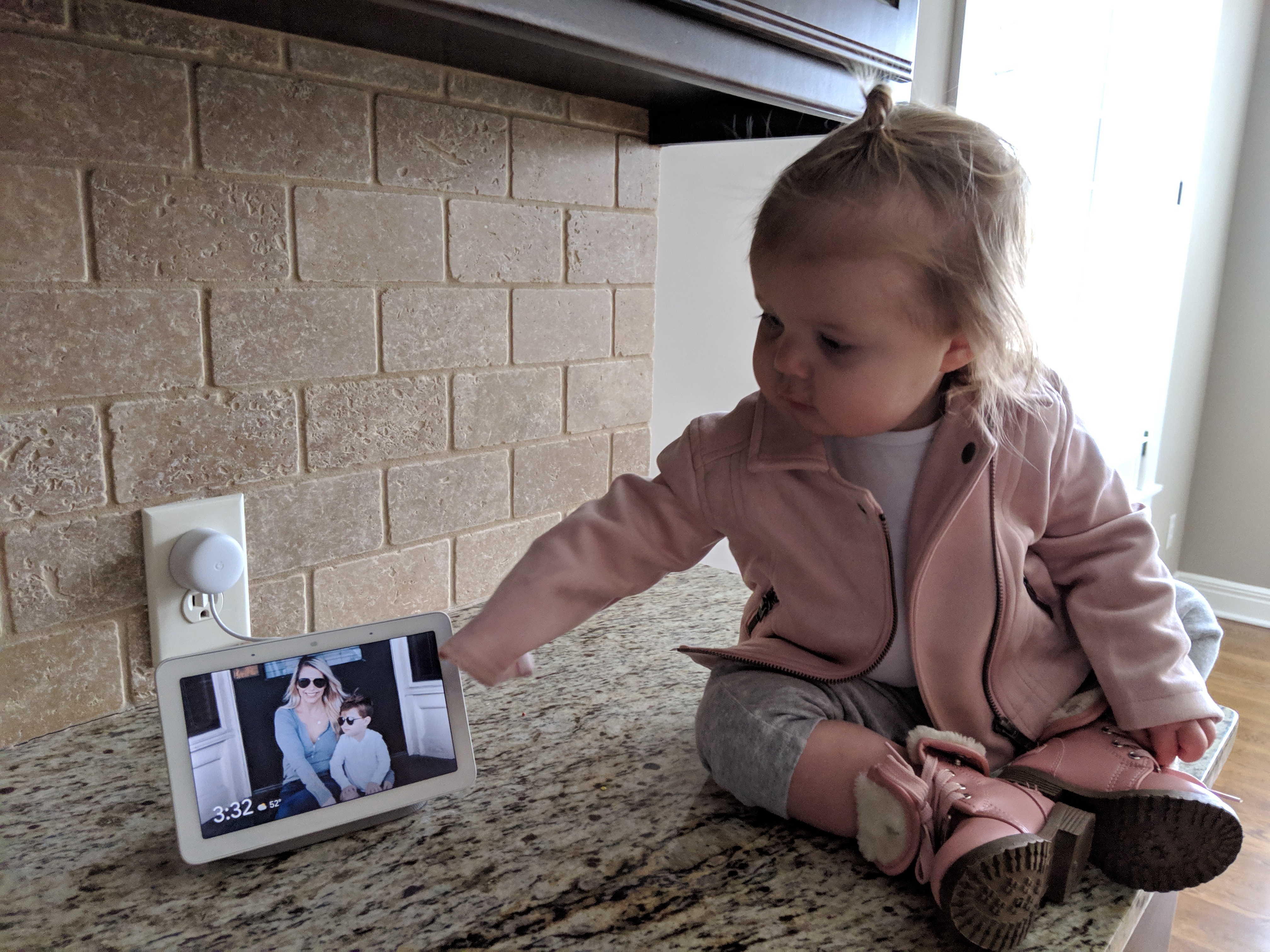 Verizon also sent us a Google Home Hub to play with, and I've really enjoyed having it in our kitchen. Obviously, so has Blair.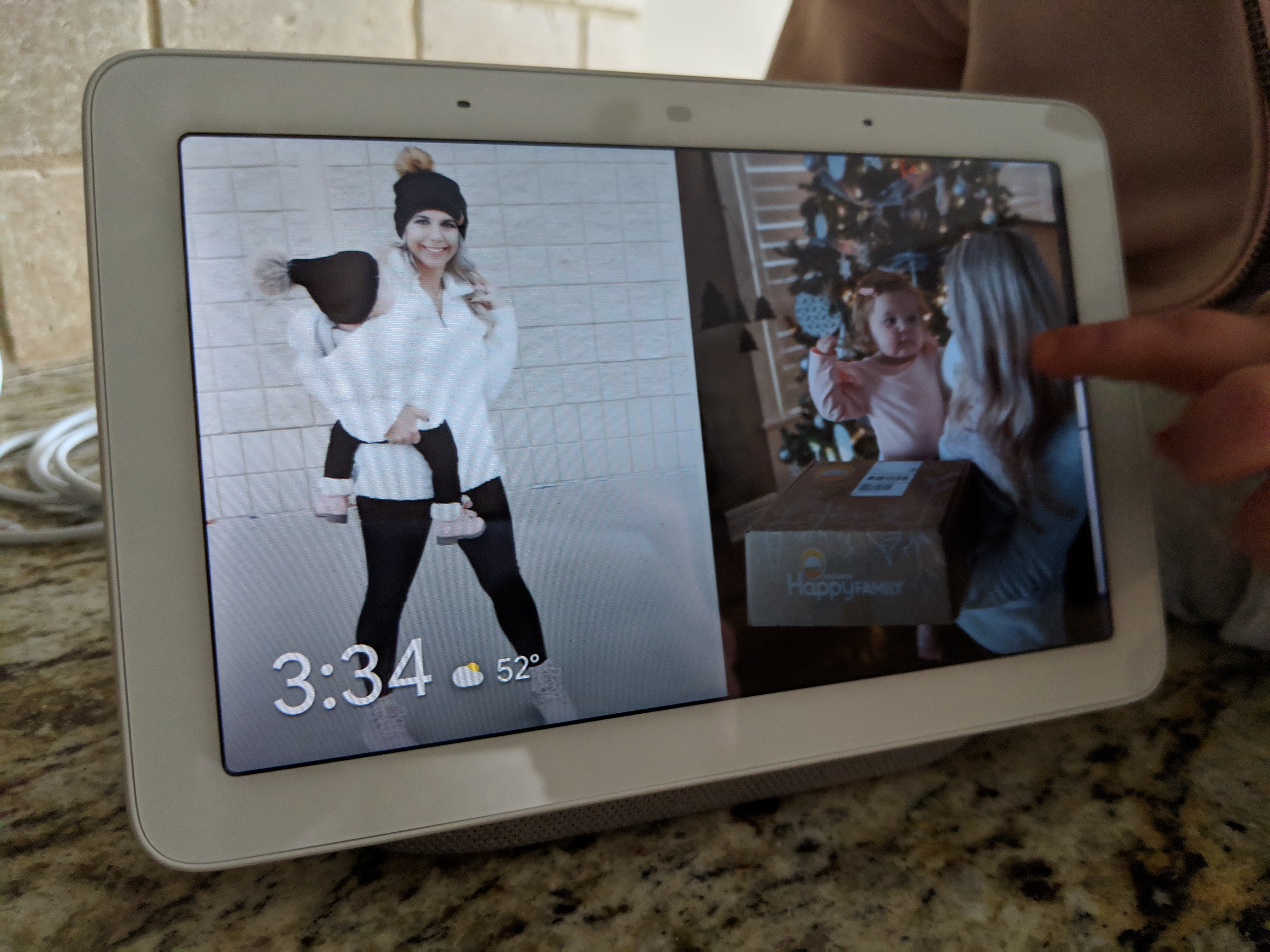 Her favorite feature is that the Google Home Hub rotates through a selection of photos from our smartphones. She loves to watch the screen for photos of herself and "Bubba" [her word for brother]. With typical Google magic, somehow the device knows which photos to display–I have it set for Google to select the photos [you can also set up a folder of ones to display if you'd prefer] and it shows a lot of my favorites! Many that I've even forgotten about.
Our winter break is off to a quick start  because I'm having my mommy makeover surgery tomorrow! Thankfully, my husband will be off work for a bit to be able to help out around the house, both with the kiddos and with my recovery. I'm hoping to be back to "functional" [not normal, but OK] before break ends so I can squeeze in at least a few more fun activities with my little man before he heads back to school!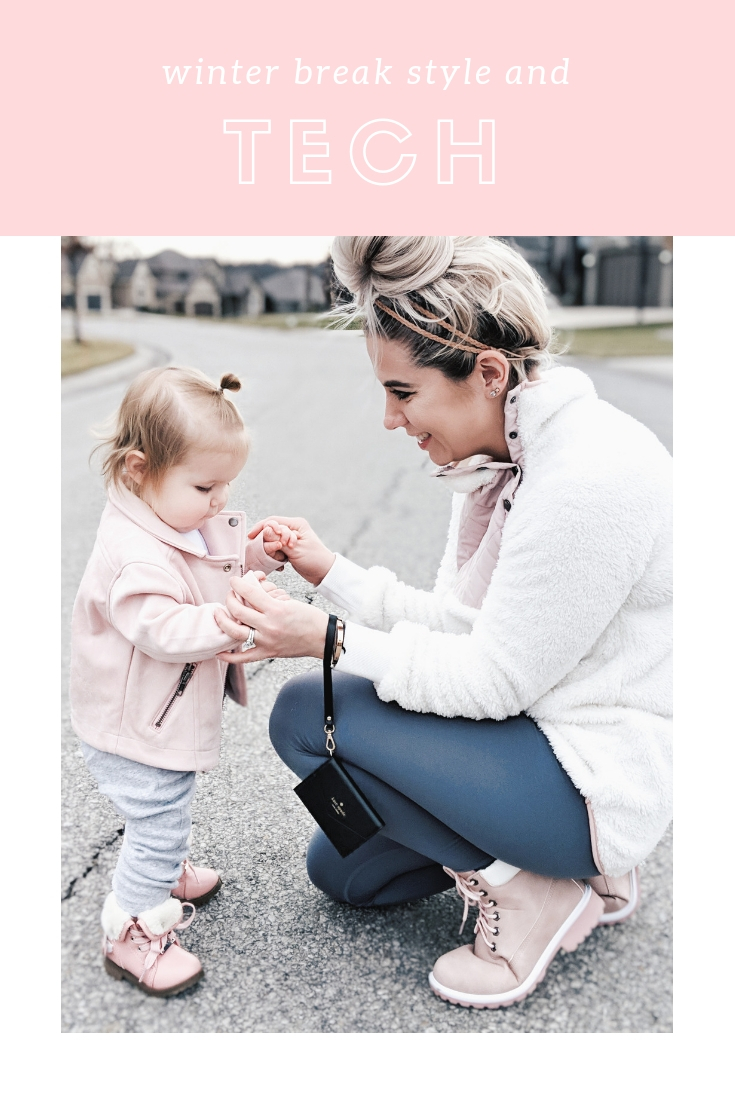 Pin this Winter Break Style + Tech for later!
More Winter Inspo: