This post contains affiliate links. Please see our Legal page for more information.
Sip, sip, hooray! It's Valentine's Day!
I am so excited about how Colton's Valentines turned out this year! I wanted to do a non-candy Valentine for multiple reasons, the main one being to give out something a little different than the norm. He'll be passing these out at his playgroup, which consists of about 15 kids ages 1-5. Another plus for non-candy Valentines is that they are food allergy friendly! A couple of his little friends are allergic to certain candies and I wanted to be sure that no one felt left out.
To make these Valentines, you'll need Krazy Straws
, hole punch
, cardstock
, marker
, Kool-Aid
(optional), and tape
(if using Kool-Aid). You can certainly make them without adding Kool-Aid, however, I liked adding the red Kool-Aid to make them feel more Valentinesy. That's a word, right? You could also use all red or pink straws if you want to be extra festive.
The adorable printable I used for the tags is from Kinzie's Kreations. Marci Coombs also has a similar option. Both are free to download. Of course, you could also design your own tag if you're an overachiever (I am not).
The most challenging part of the project was cutting out all the tags. The printable I used has an intricate border and my hand literally wouldn't stop shaking when I finished cutting them out. Oh, the sacrifices we make in the name of toddler crafting.
Once the tags are cut, write your child's name on them. Then, punch a hole in the top and bottom of each one. You can then weave it onto your straw. Next, tape a Kool-Aid packet onto the straw. Experiment with the placement of the tag and packet to see what looks best with the specific straws you have.
That's it! It took me about an hour to make 20 of these and my cost per Valentine was about 50 cents. Gotta love a quick, cheap, and cute project!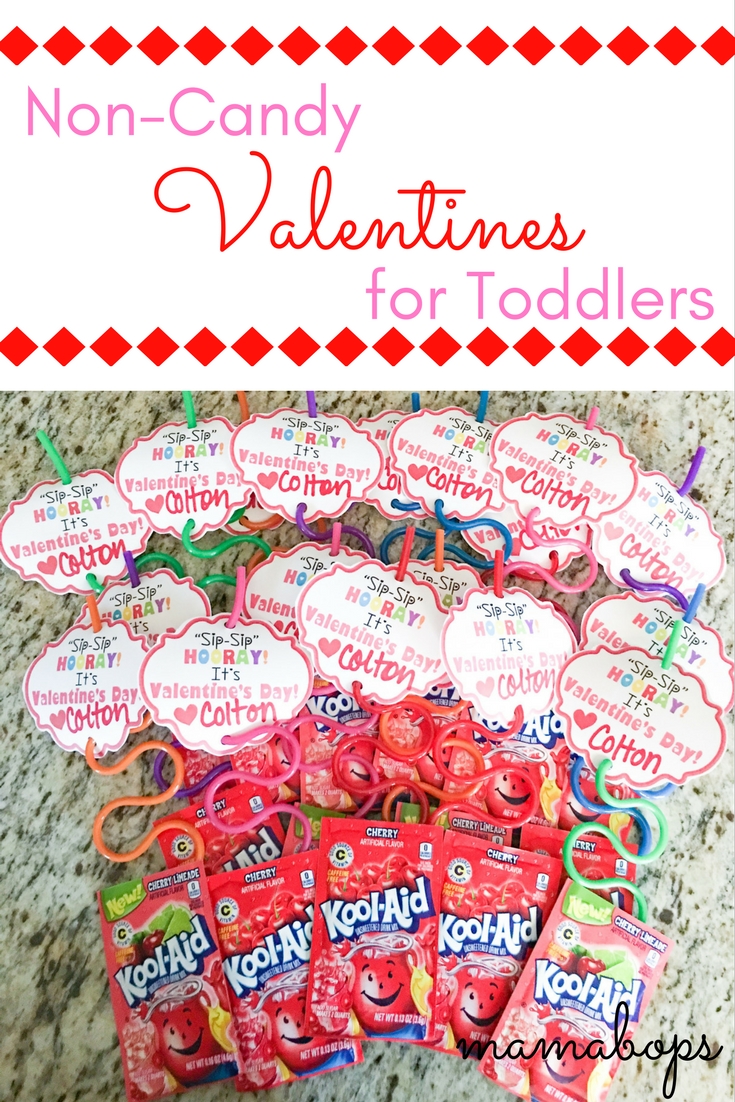 What are you doing for your kids' Valentines this year? What are some of your favorite ideas you've used in the past?