It's time for Fall Street Style 2018, and today I'm sharing one of my favorite fishnet tights outfit ideas. A couple of years ago, fishnets were way out of my comfort zone. As I've gotten more adventurous with my style, I've found that fishnet tights are a great way to transition skirts and shorts into fall. Here's how you do it…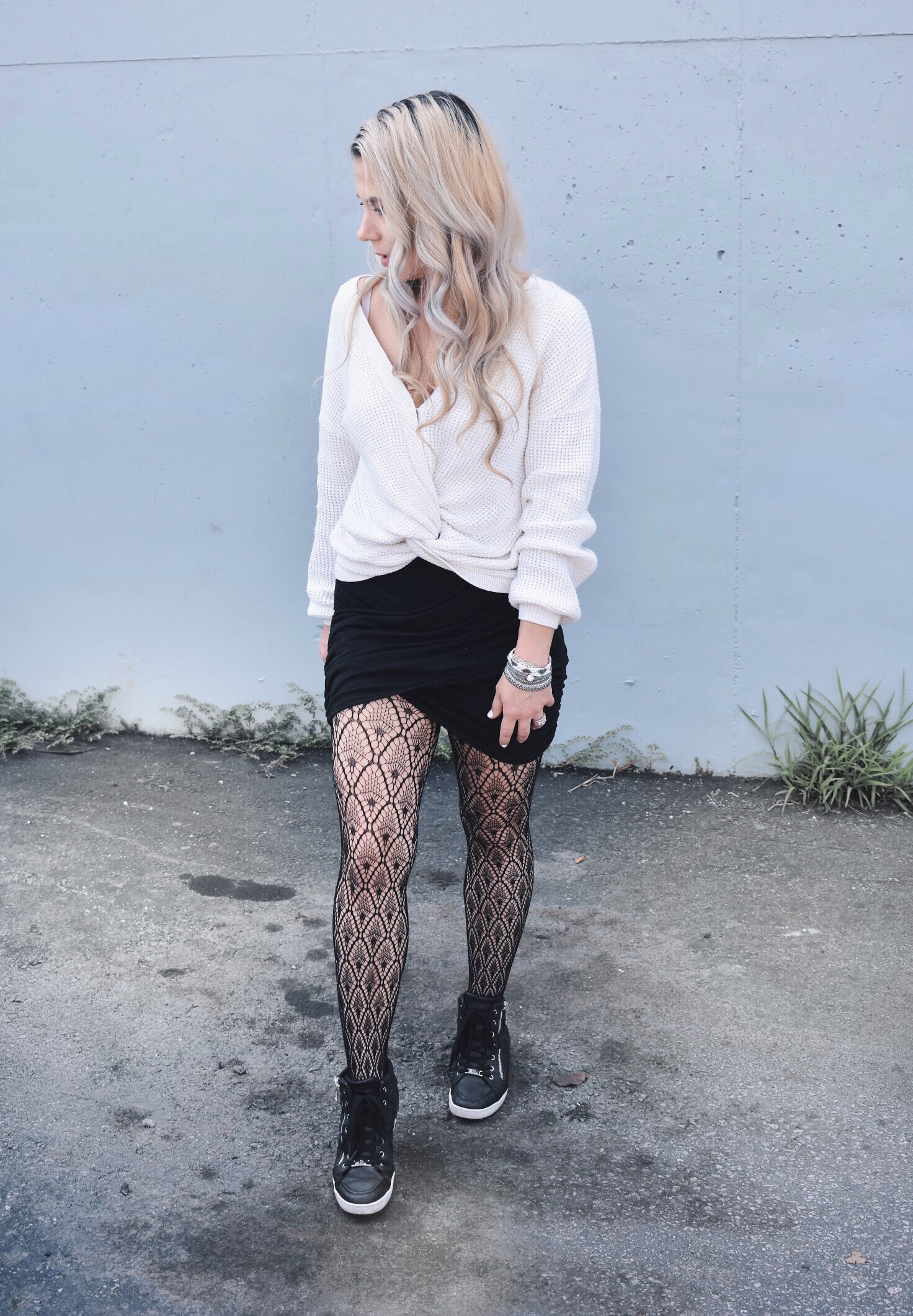 Shop this Look
Twist-Front Sweater [one of my top-selling items ever!] // Criss-Cross Mini Skirt // Fishnet Tights [4 pack of the cutest designs] // Wedge Sneakers [similar] // Bracelet [use code COVETBYTRICIA to save 30%!] // Initial Pendant // XO Ring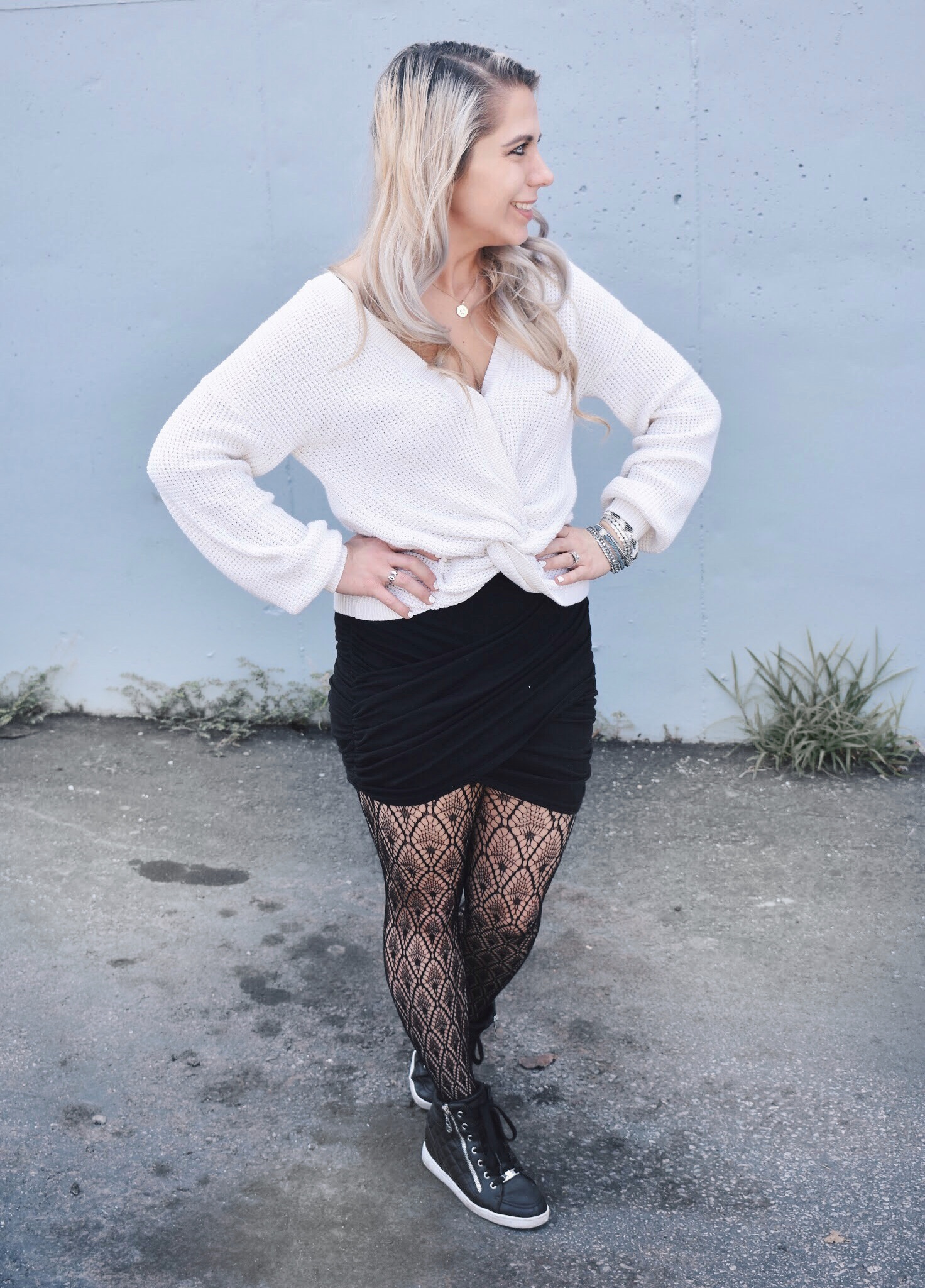 I shared this look on Instagram and LIKEtoKNOW.it a few days ago and you all loved it! Well, except for one random guy who simply commented "#sucks" but hey, you can't please everyone. Anyway, I often share sneak peeks of my outfits on those platforms, so make sure to follow along if you aren't already.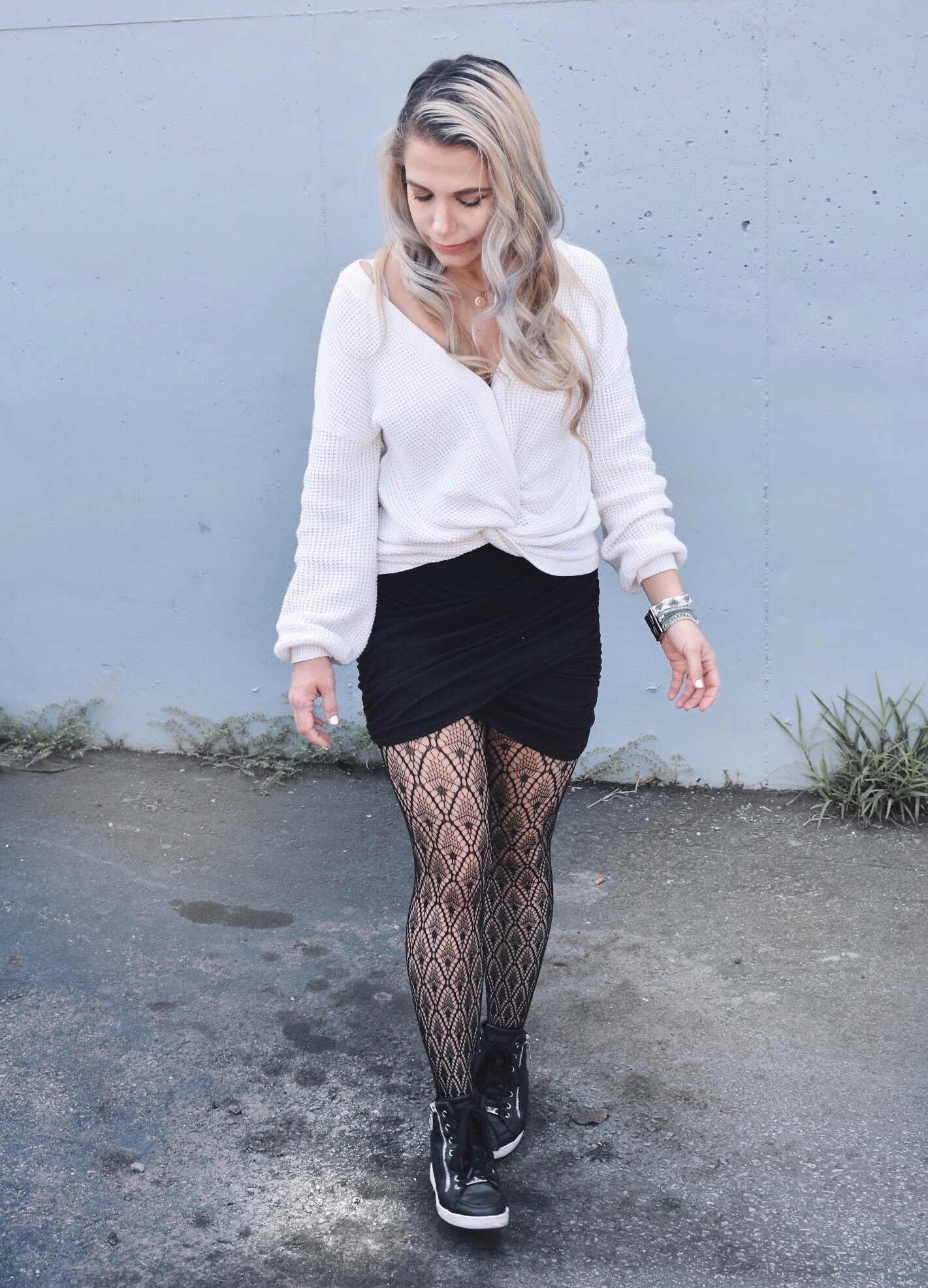 These fishnet tights are so unique, and I get a lot of compliments on them whenever I wear them. They actually come in a 4-pack and I love all 4 designs.
If fishnet tights are outside of your usual comfort zone [no shame, they were outside of mine not too long ago!], I really think these unique designs are a good way to ease into the look. Another tip would be to wear them with boots and/or a slightly longer knee-length skirt, so not as much of the fishnets are actually showing.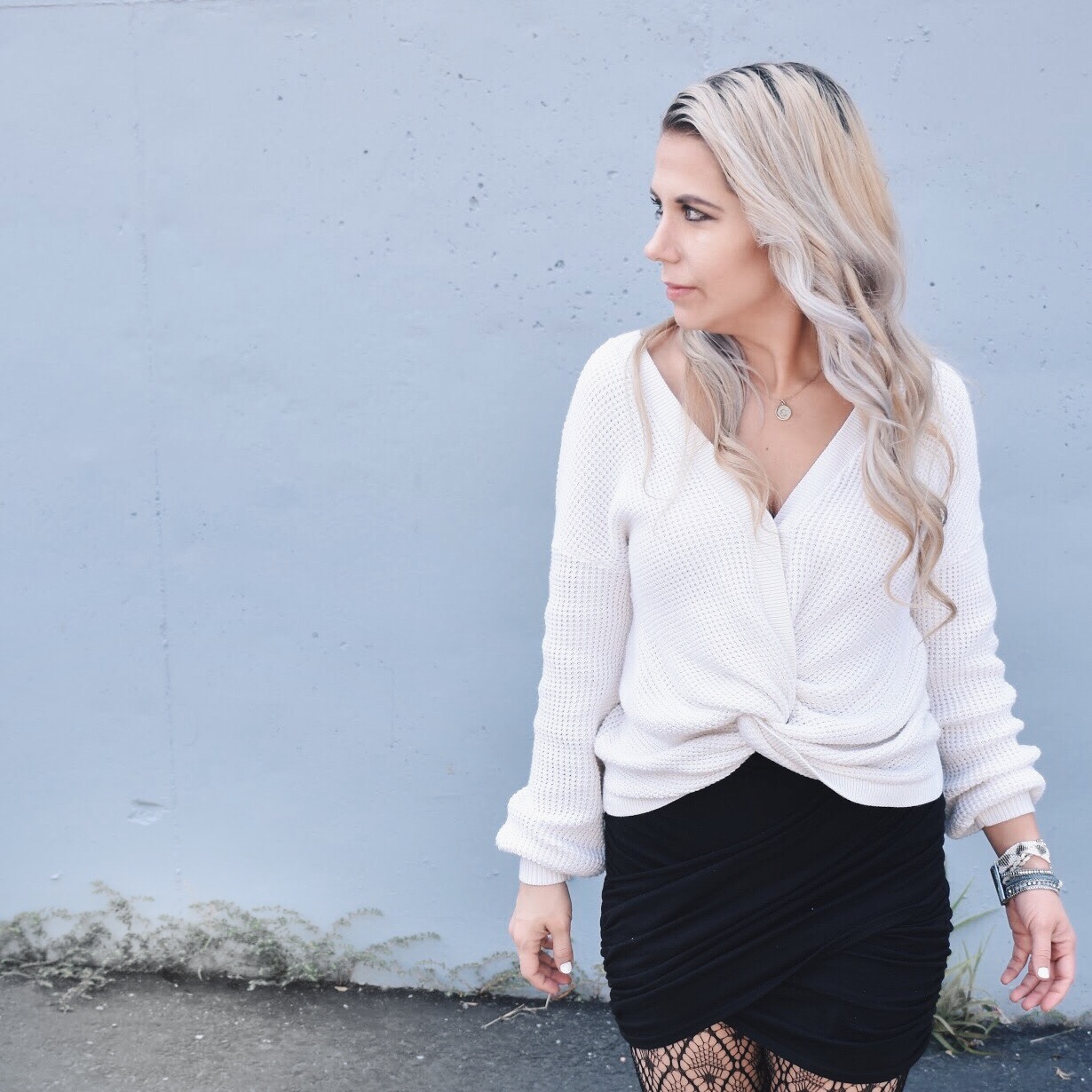 This twist-front sweater is one of my most popular items of all time. It's currently 40% off, which puts it under $30. I love the details on it, and I've already worn it several times. And, I actually have another post coming up featuring it as well. I find myself reaching for this sweater a lot!
It could also be worn during the work week with a cami underneath [otherwise, it's a bit low cut].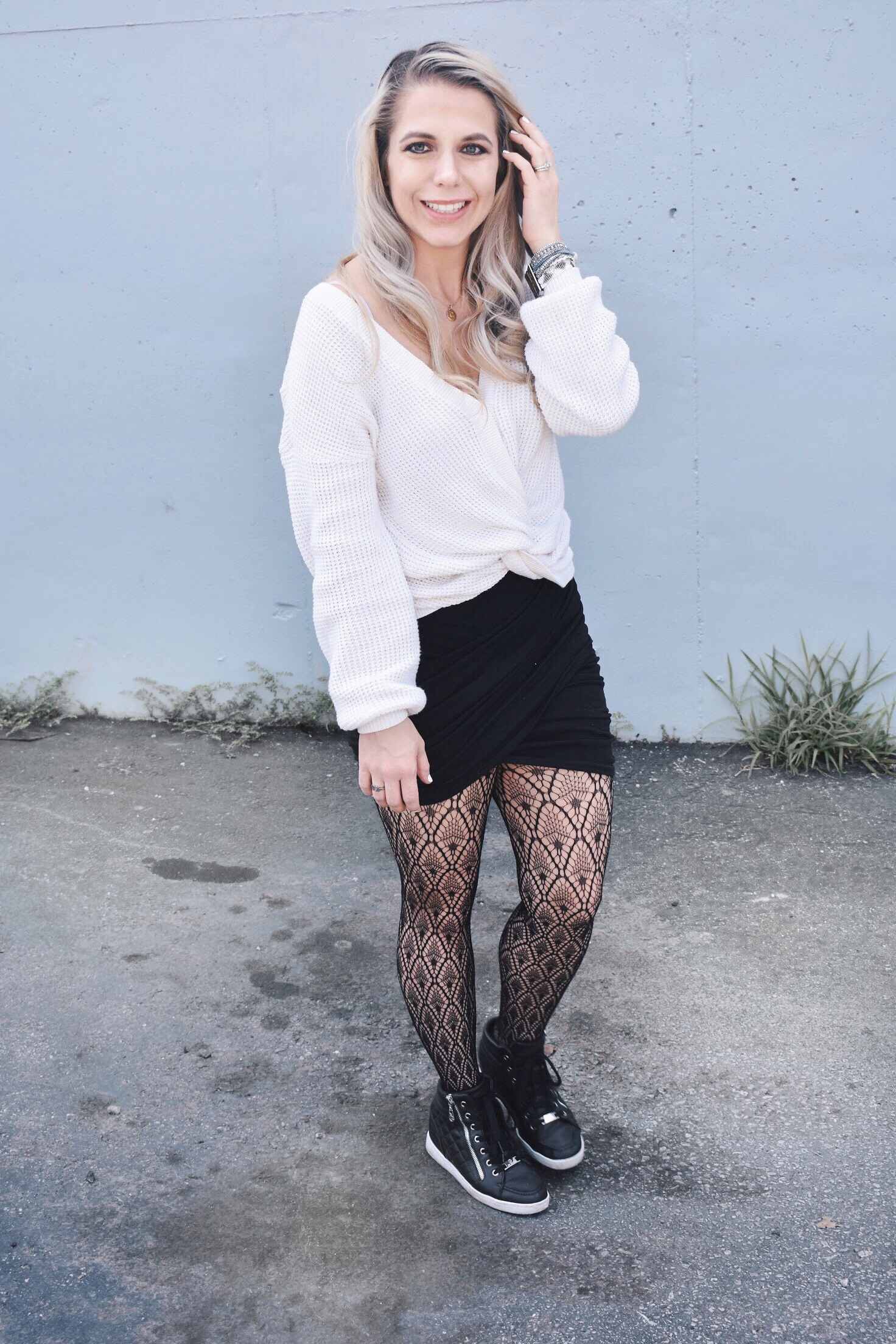 My mini skirt also has a twist front, so I thought it'd be fun to pair with the sweater.
There's a lot going on with these fishnet tights outfit ideas, but [for me] it works because everything is black or white. I'm not one to wear a lot of patterns; instead, I look for unique details that take basic pieces to the next level.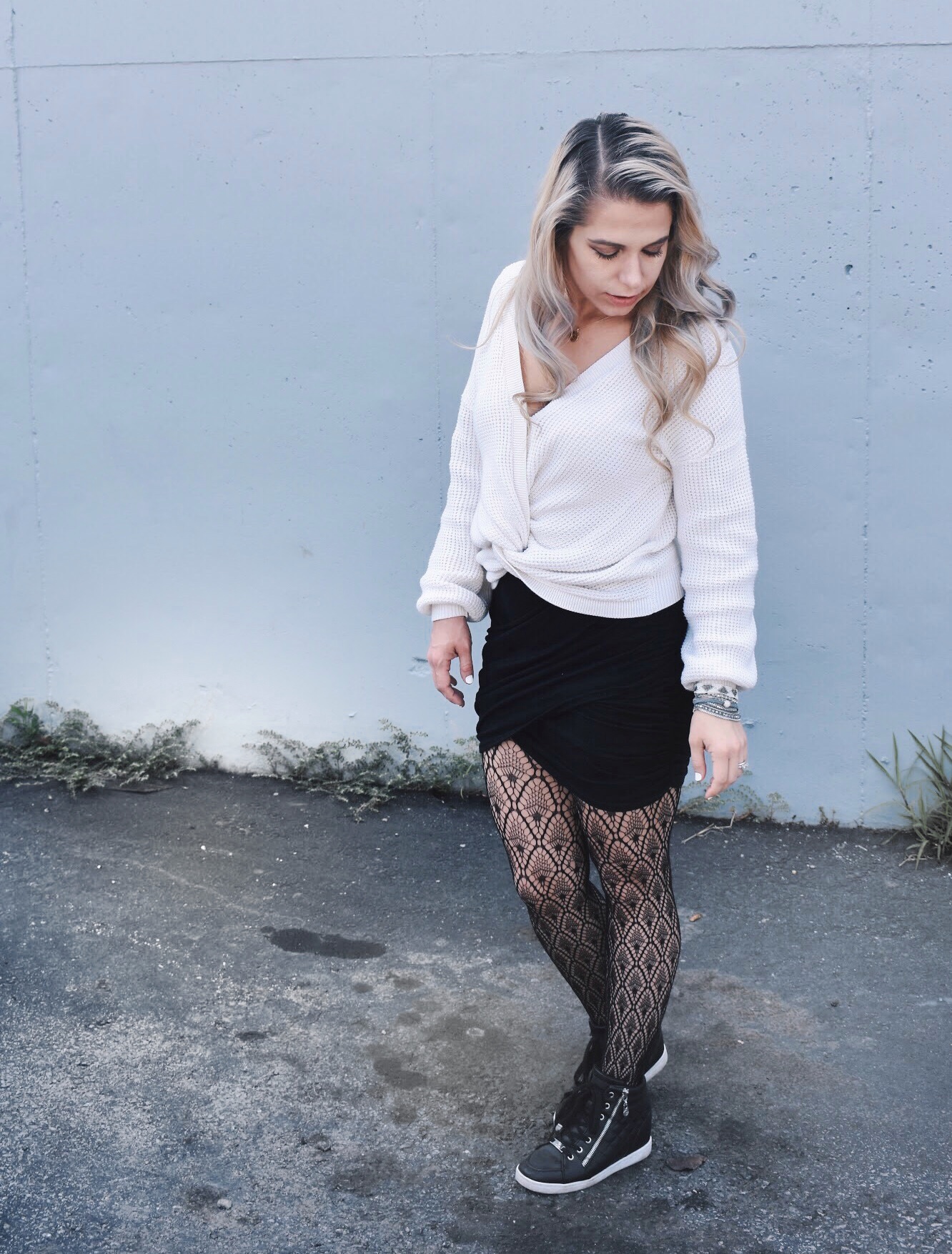 We actually took these photos after taking Colton to see Marvel Universe Live, which he absolutely loved. If you have a little one who's in to superheroes, I highly recommend it.
Bring your headphones, though! We always bring them for sporting events, but didn't think about it for this. We ended up having to get some earplugs from the venue because Colton was complaining about the volume.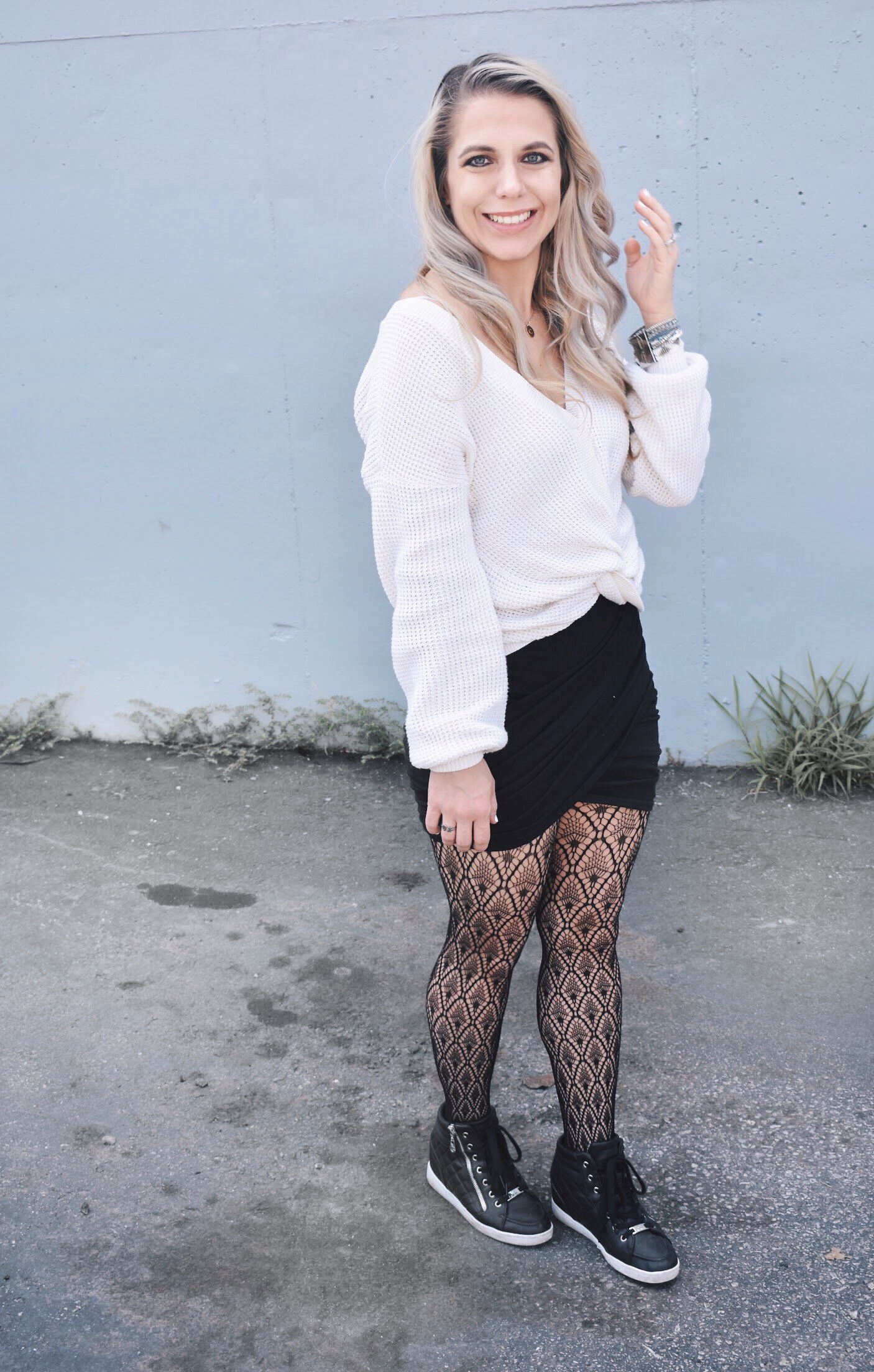 I knew we'd be downtown and didn't want to waste the opportunity for some good photos. Unfortunately, it was 90+ degrees, so the sweater was actually a terrible choice that day. Instead of trying to find an amazing photo spot, I basically wanted to rush back to the car and soak up some air conditioning. As Colton would say, "that was a fail." [He really does say that, and it kills me every time.]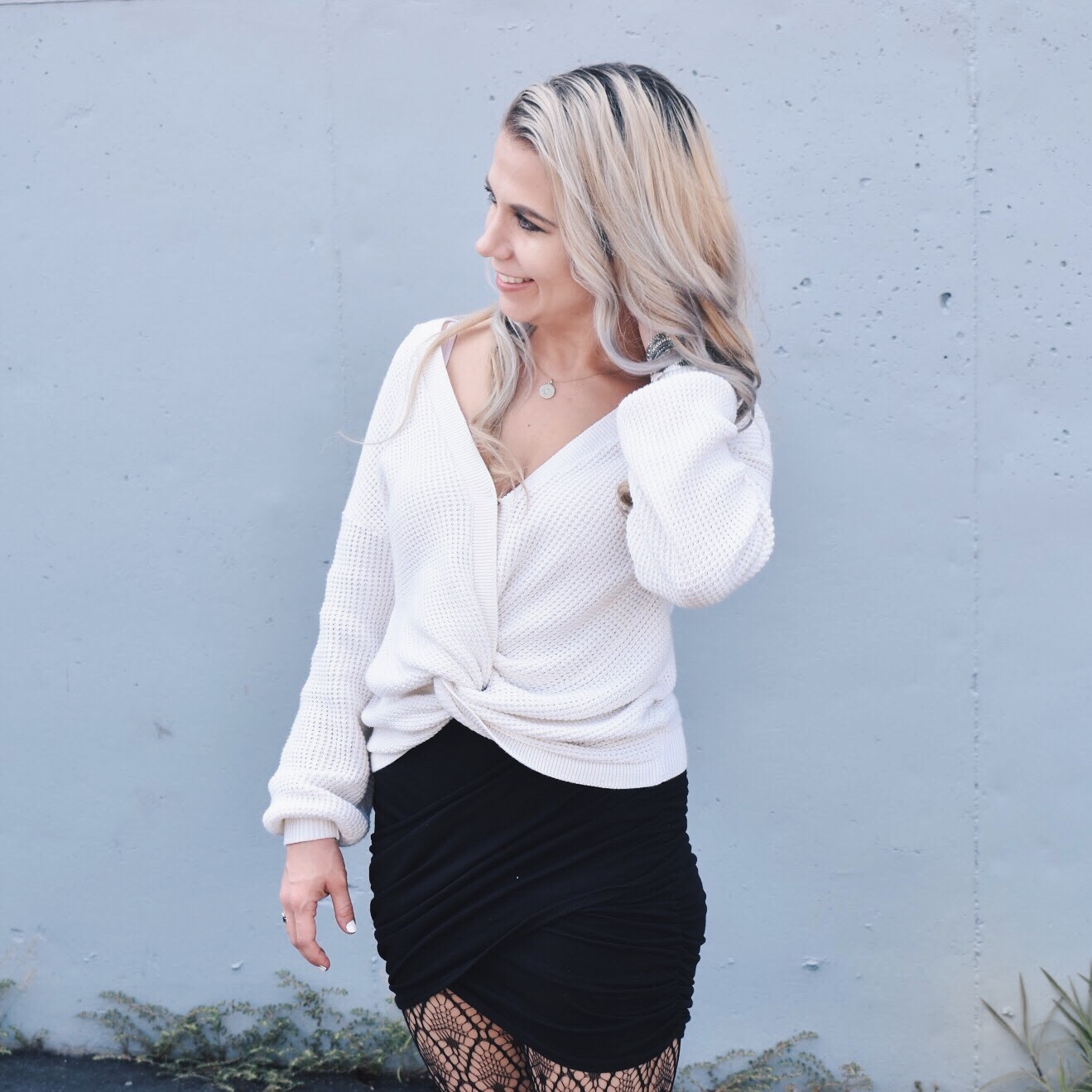 That was a couple weekends ago, and it's finally feeling like fall here in Kansas City. I've already got my husband on the hook to visit the pumpkin patch next weekend, but I may end up taking the kiddos earlier just because I'm so excited. [Here's our pumpkin patch post from last year! Blair was soooo tiny.]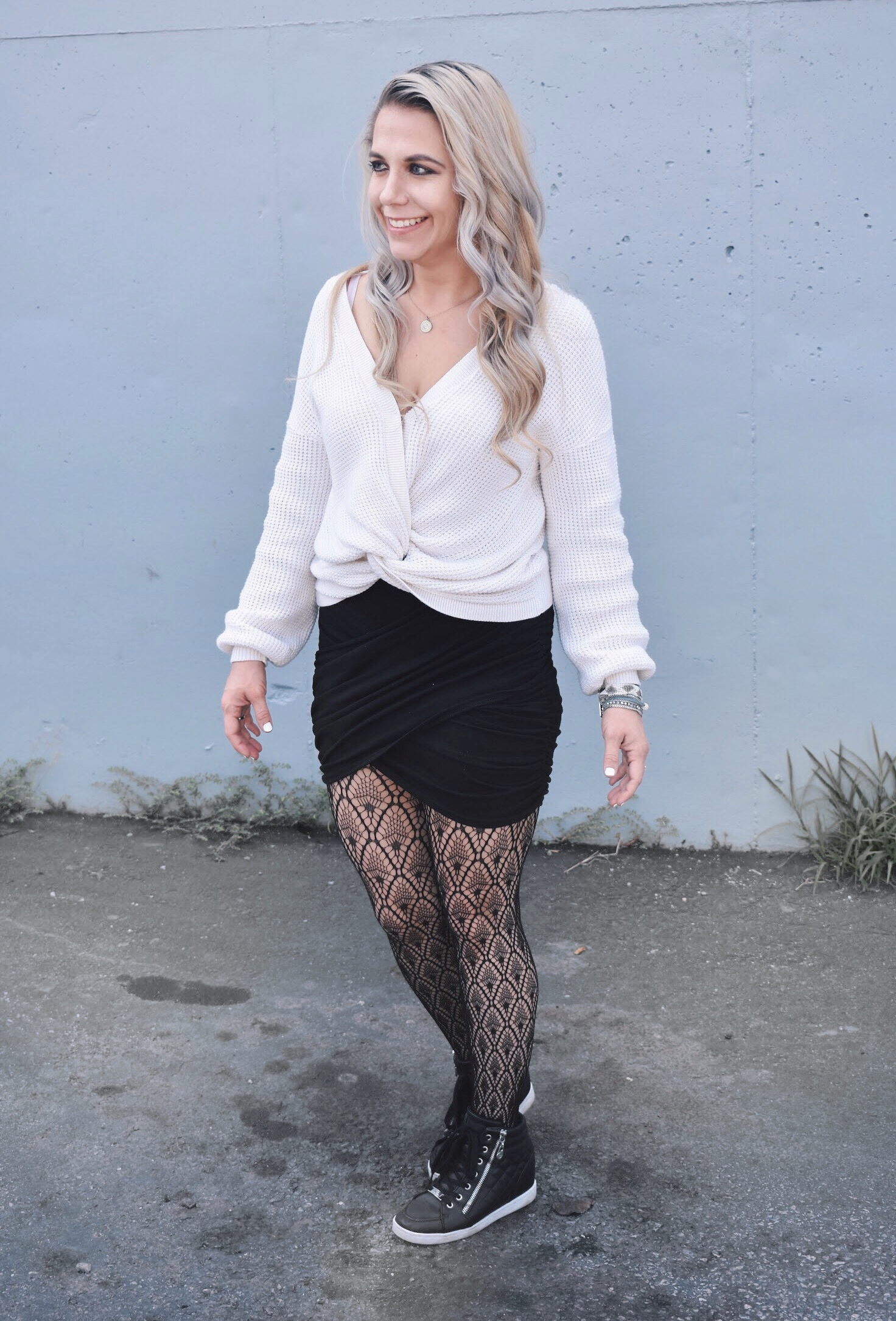 I also want to make caramel apples with the kids this year. Colton loves apples, so I know he'll be all about it. I get so into this fall stuff that I used to make my husband do everything with me before we even had kids. I remember when we were 18 and 19 years old, I made him come over to my house just to make caramel apples with me. He's a good guy.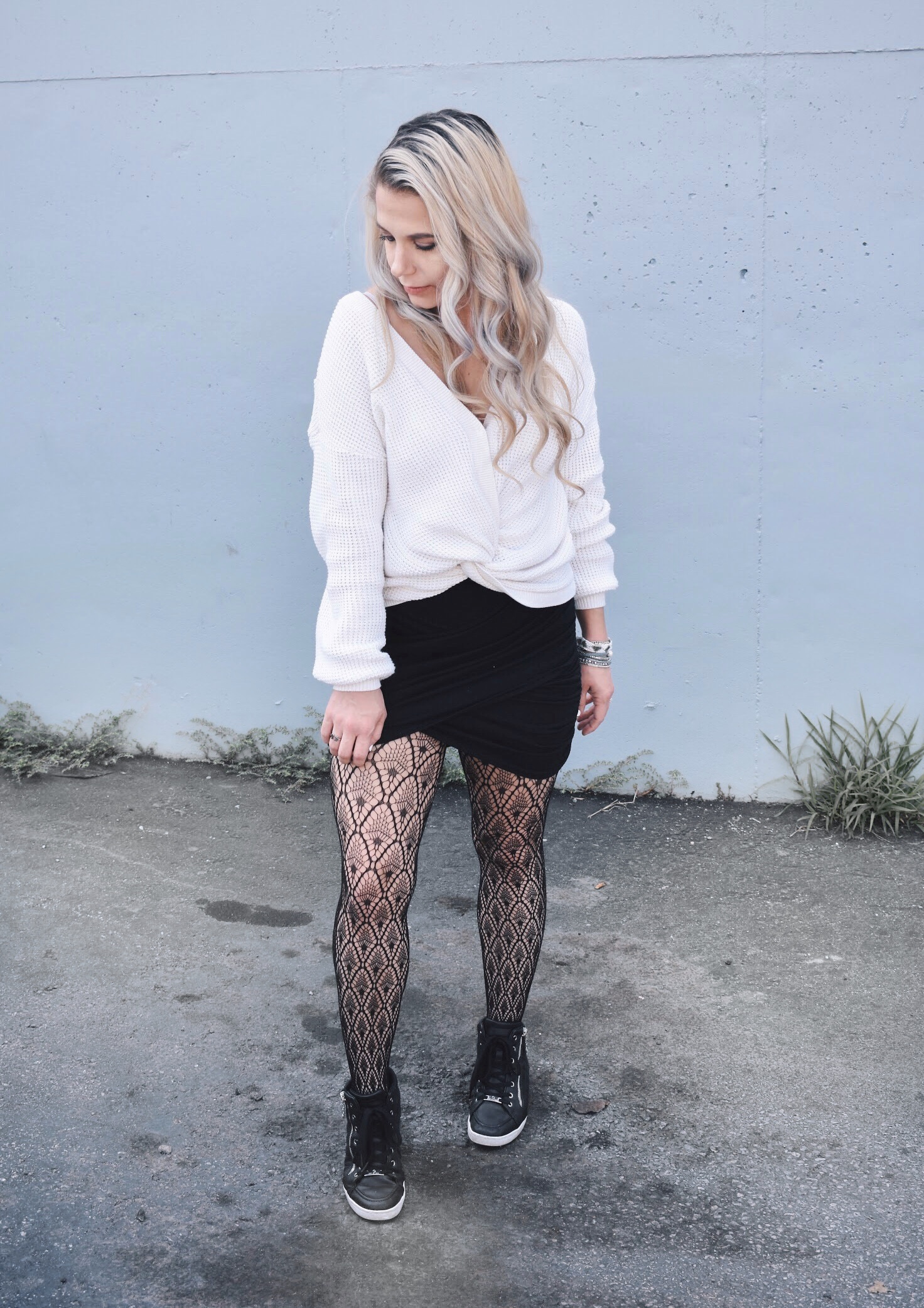 And he takes all my blog photos, so he's definitely a winner. I hope you liked one of my favorite fishnet tights outfit ideas for fall street style 2018! If you haven't incorporated fishnet tights into your wardrobe yet, give them a shot. You'll be surprised how much you'll like them and how many compliments you receive!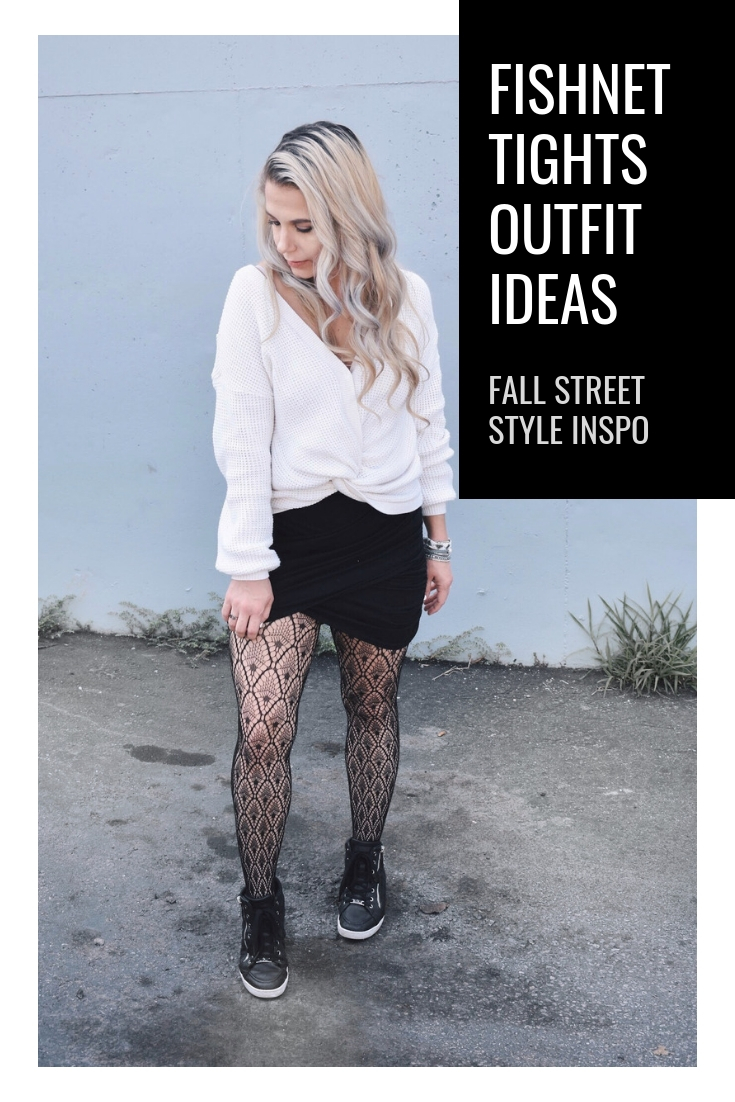 Pin these Fishnet Tights Outfit Ideas for Fall Street Style 2018 for later!
While you're here, don't forget to enter this amazing giveaway for a $1000 Nordstrom gift card!
To make your Fall shopping a little bit easier, I've teamed up with a group of bloggers to give you
a chance to win a $1,000 Nordstrom Gift Card!
To enter: complete the steps in the rafflecopter below. The more steps you complete,
the more entries you receive, and the better your chance at winning!
This giveaway runs until Tuesday, October 2nd at 12am PST
Winner will be announced here. Good Luck!
*this giveaway is in no way sponsored by Nordstrom.
More Fall Street Style 2018 inspo: