Our first Christmas as a family of four is officially in the books! And wow, this holiday season was a complete whirlwind. For starters, various combinations of the kids and I were sick for about the first 2 weeks of December. Between recovering from illness and having a baby who doesn't sleep through the night, I felt like I was on auto-pilot for most of the season.
Of course, I still wanted to do all of our favorite holiday traditions with the little ones. We just had to cram everything in super fast once we were all feeling better! I knew this would be a really fun year, since Colton is at an age where he thinks Christmas is really magical. Plus, it was Blair's very first Christmas! And there's nothing better than a baby's first holiday season.

Crown Center at the Holidays
One of our favorite holiday traditions in Kansas City is an annual visit to Crown Center. For those of you who haven't been to Kansas City during the holidays, Crown Center is home to the Mayor's Christmas Tree, the Ice Terrace, Santa's Gingerbread Village, and more. I've taken Colton to visit Santa here every year because there is usually no line. Plus, you can take your own photos! He also loves to play in Gingerbread Village, the kids play area with trains, houses, and more for the littles to climb in and around.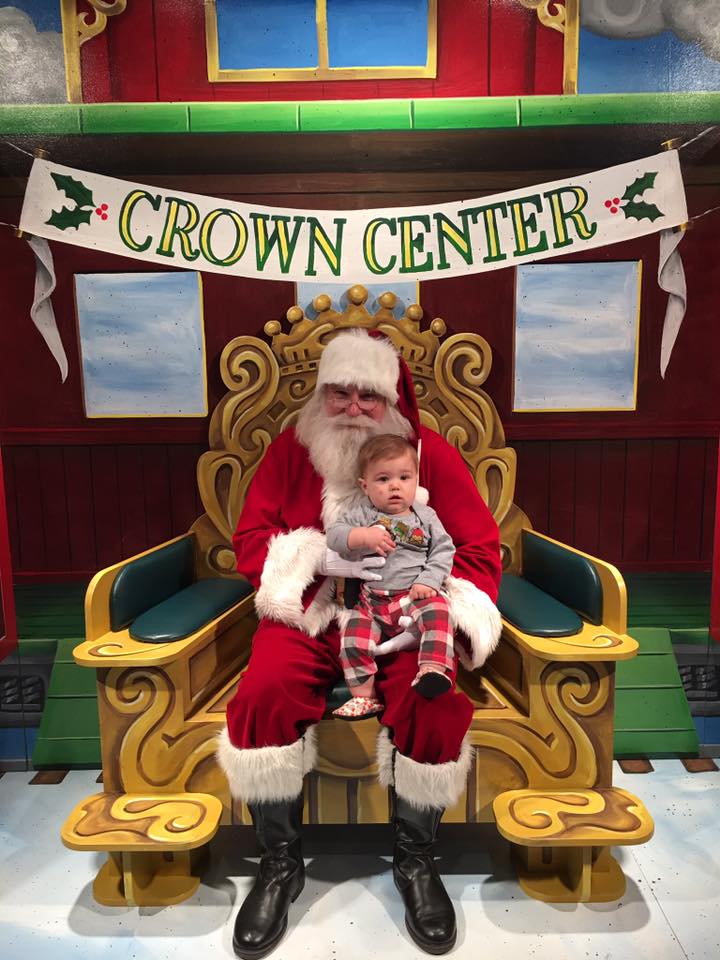 Colton's very first photo with Santa! I still love those buffalo plaid pants he's wearing. In fact, I'm saving them for Blair. It doesn't look like the vendor I purchased from is in business anymore, but here are some similar buffalo plaid baby leggings.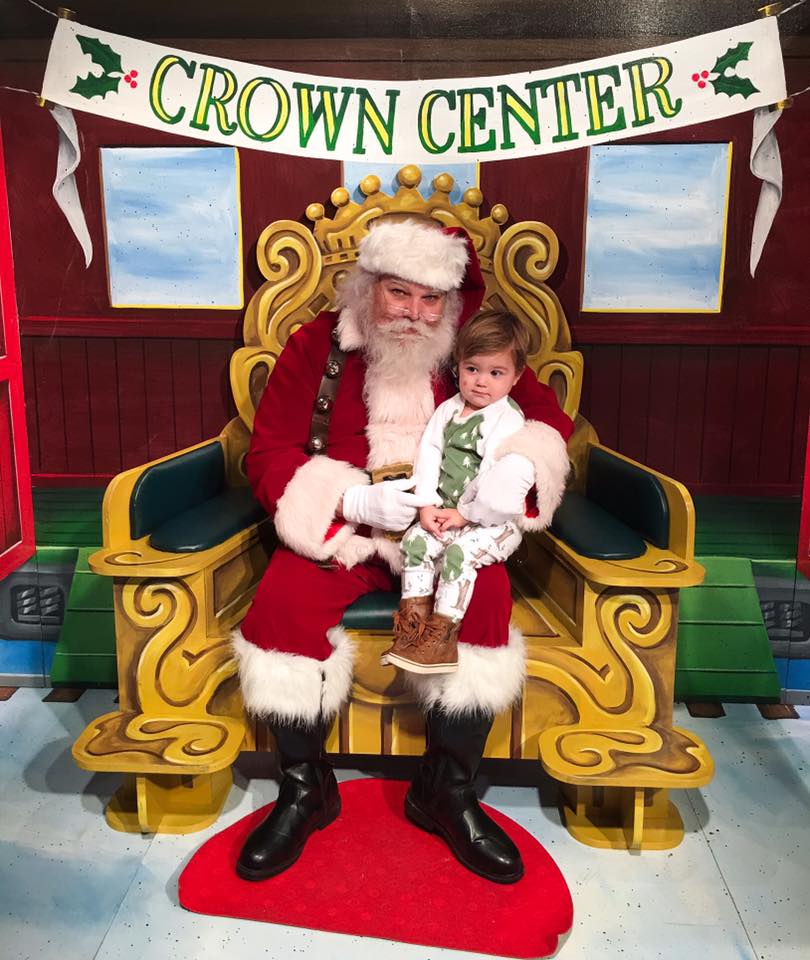 Still not too sure of the big guy in 2016.
Colton's boots are from Target. They have the best little boy boot selection! These and these are my favorites for this year.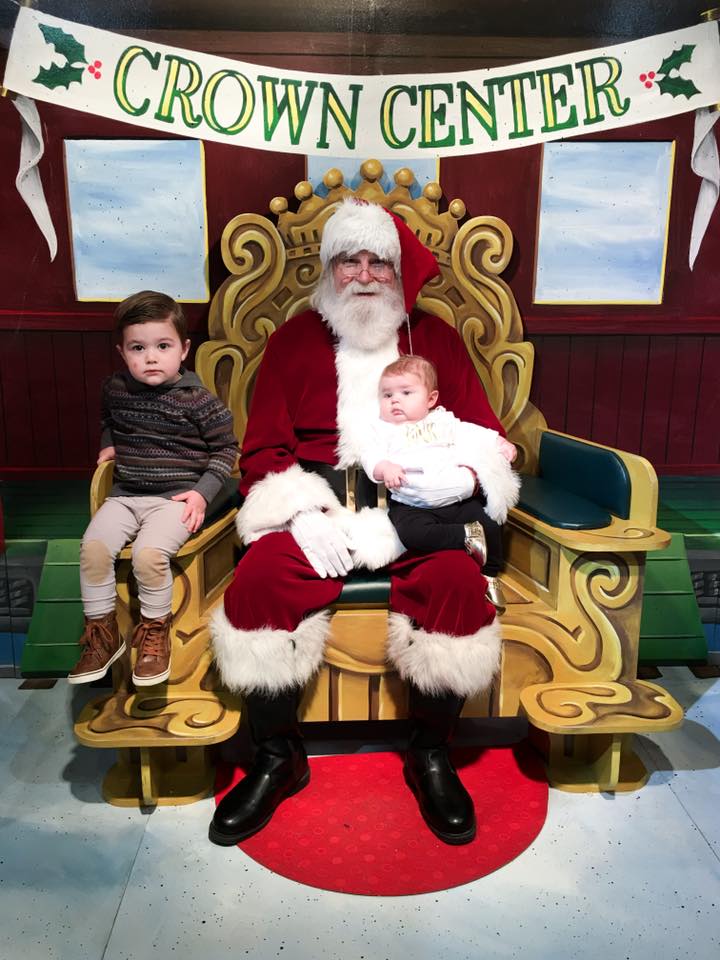 And this year's photo! Still yet to capture either of my children smiling with Santa. But hey, at least no one is crying.
You can see that I liked those boots so well that I bought the next size up, too.
[Outfit Details: Colton – Sweater / Pants + Blair – Monogram Bodysuit / Ruffle Pants / Moccasins]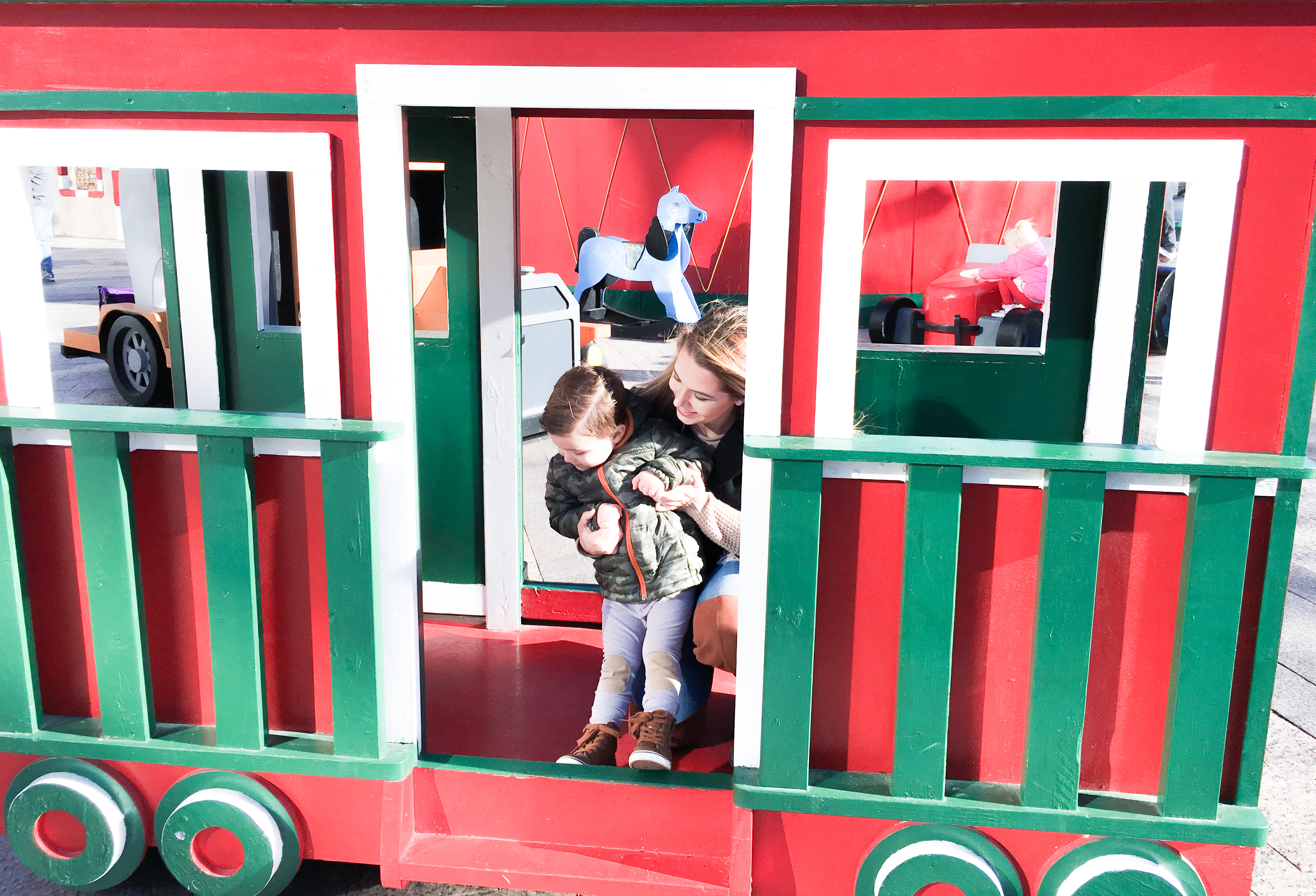 There's also a fun outdoor play area for the kids near the Mayor's Christmas Tree. There are all sorts of wooden vehicles for them to explore. We went on an unseasonably warm day, so we got to explore outside for awhile. Unfortunately, the day I'm writing this post is not unseasonably warm… we've been having negative temperatures for a few days now.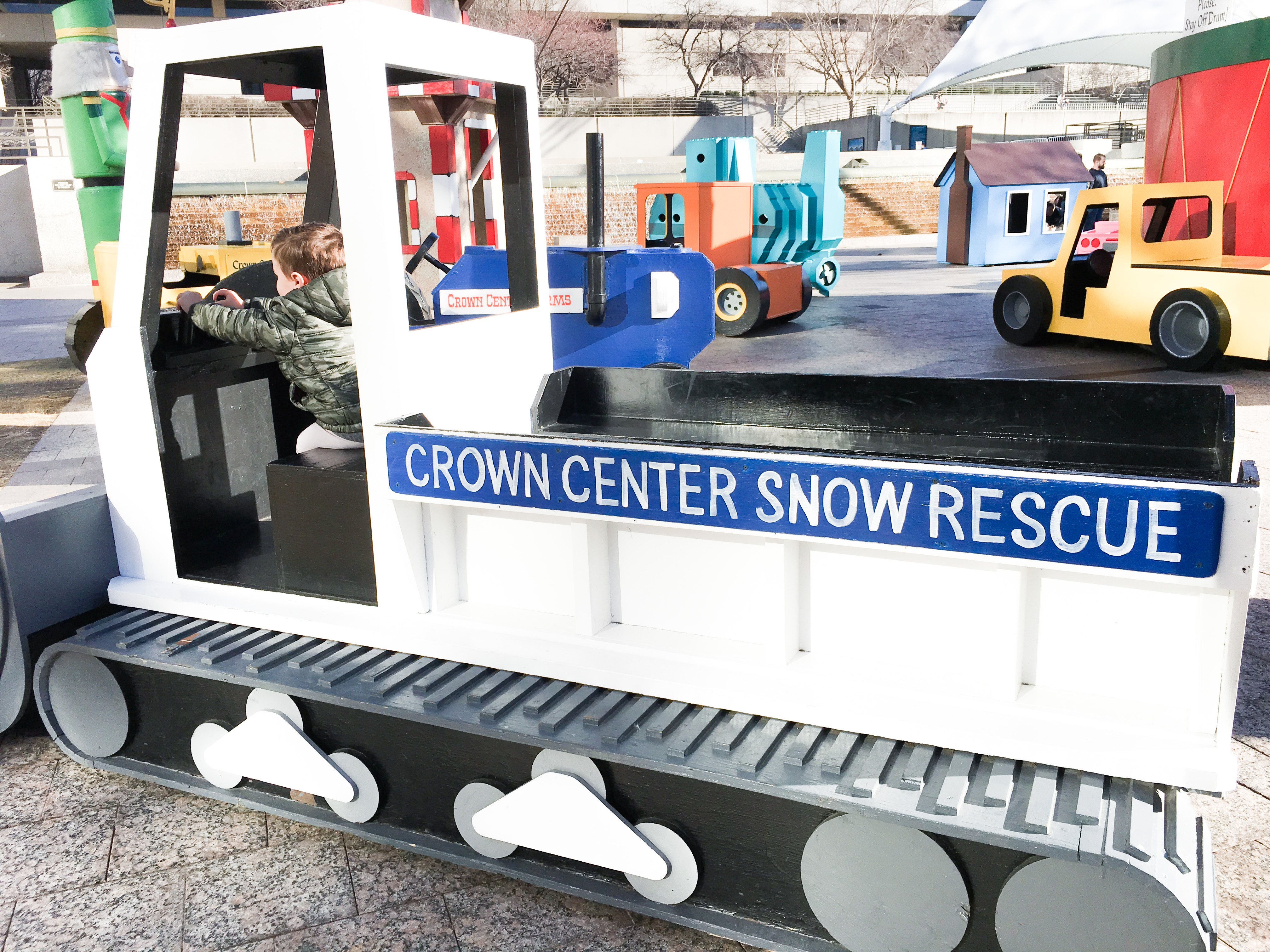 Of course, Colton was drawn to the trucks and trains. No surprise there!
He also loved the fountains! Until a few years ago, the fountains didn't have a railing around them, and it was an open splash pad during the warmer months. I miss that, but it seems like a lot of the splash pads around here are closing.
[Outfit Details: Me – Wool Pea Coat / Jeans / OTK Boots / Diaper Bag / Earrings + Colton – Puffer Jacket]
Breakfast with Santa
Another of our favorite holiday traditions is Breakfast with Santa. This year, we were invited to the best Breakfast with Santa that we've attended yet! There was a professional photographer taking Santa photos, a photo booth with props, and face painting. Colton liked the caterers the most… he got to pick out whatever mix-ins he wanted for his pancakes! His favorites were chocolate chips and sprinkles.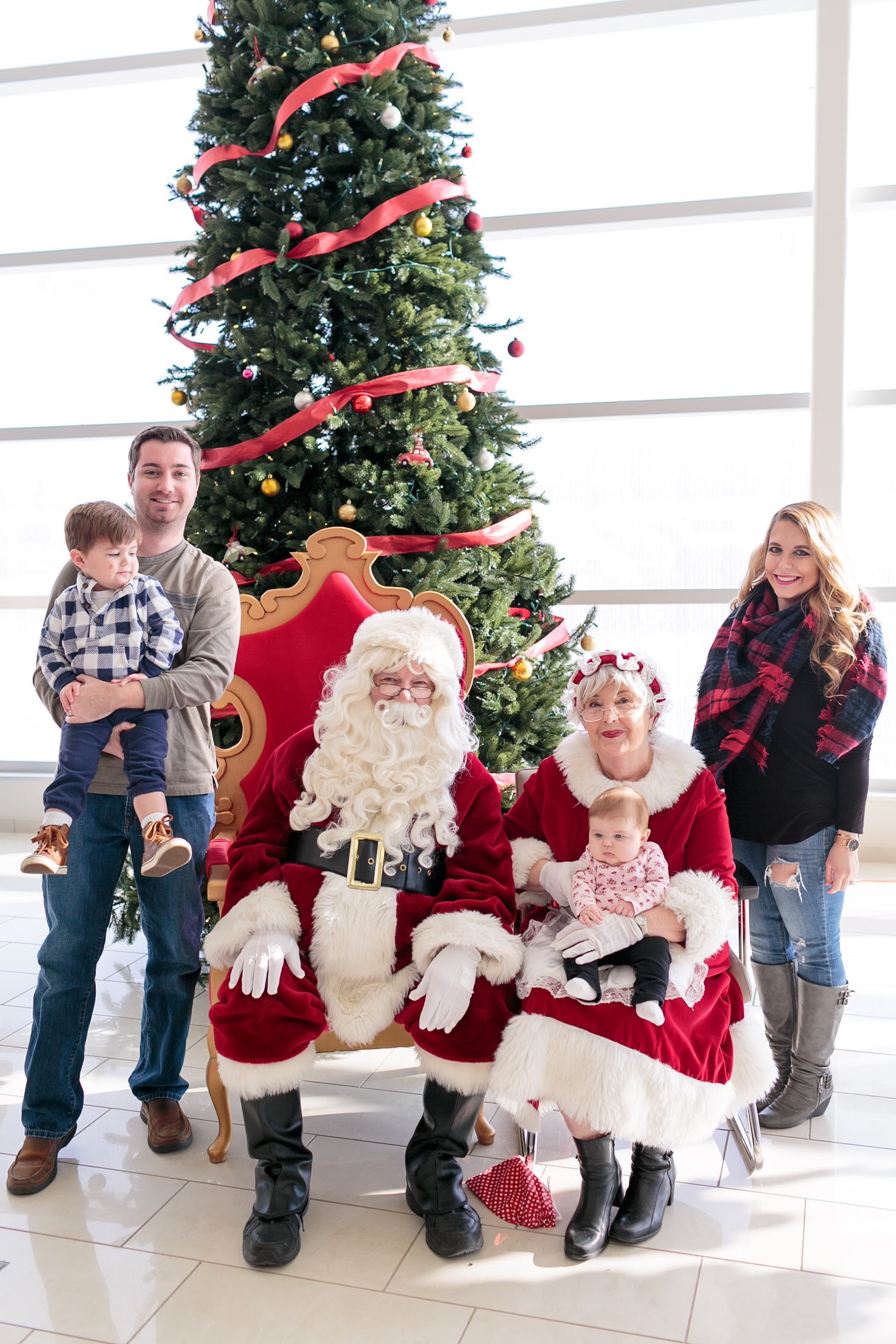 Sadly, this was the best we could do for a family photo with Santa. Colton had already spied the cotton candy maker, so he had other things on his mind…
[Outfit Details: Colton – Fleece Shirt & Pants / Boots + Blair – Bodysuit / Ruffle Pants + Me – Shirt / Blanket Scarf / Jeans / Boots / Watch / Cuff]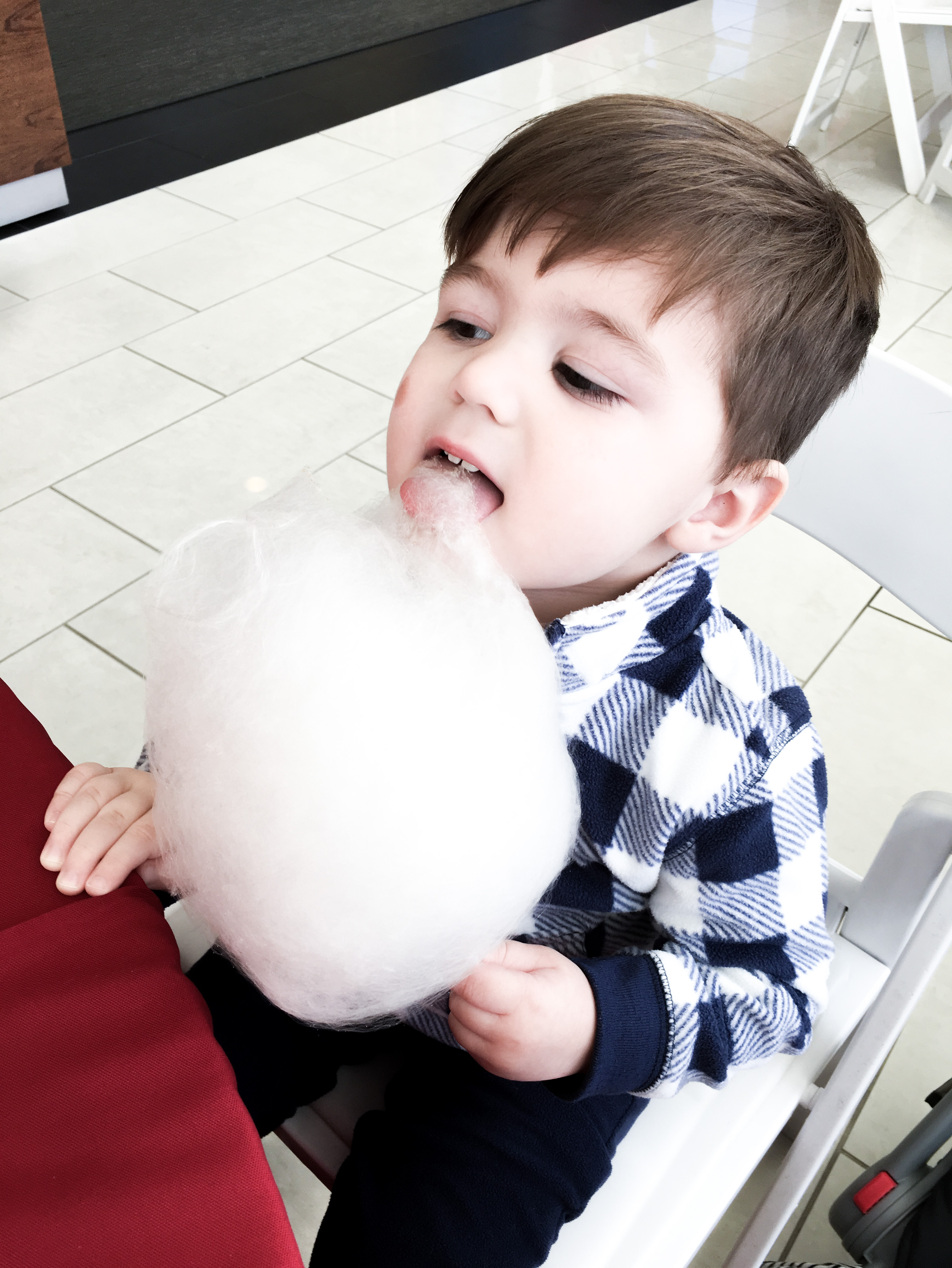 Interestingly, the cotton candy vendor was trying to make it sound healthy. I forget exactly how it was advertised, but the sign had lots of words like organic, gluten-free, etc. Like, come on… it's cotton candy, not kale. No one is eating this for the health benefits.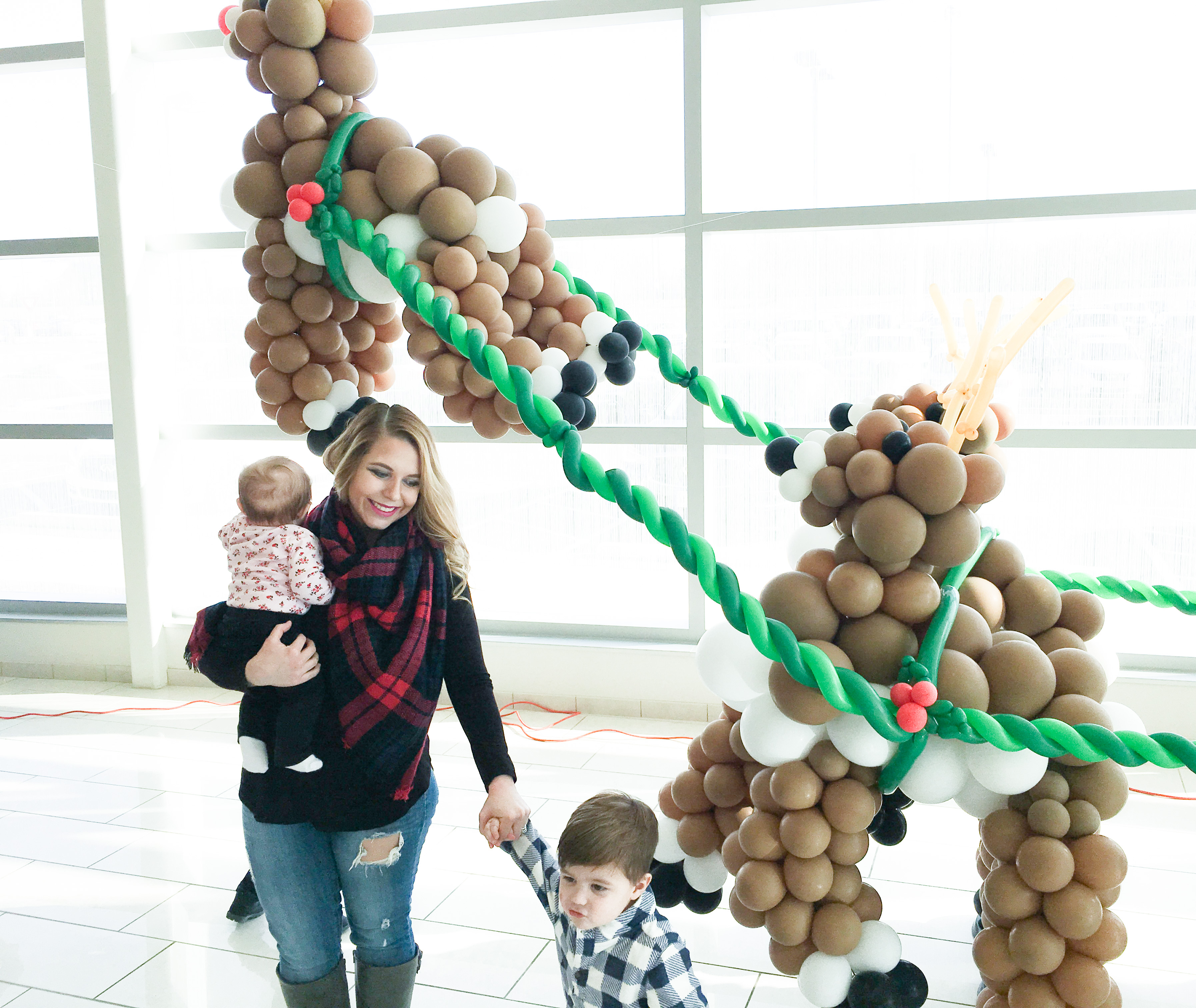 How cool are these balloon reindeer? Colton wanted to take them home! As for Blair, she doesn't care about much at this age other than milk.
Christmas Light Displays
Of course, no Christmas season is complete without checking out some holiday light displays! This is the first year that Colton really enjoyed the lights [for reference, he's about a month shy of 3]. Last year, he got bored about 5 minutes in. This year, though, he was definitely interested! On a night that my husband was working late, I loaded up the kids and drove to some local displays. Colton and I have a tradition of stopping to get some food, then parking to watch one of the music-and-lights displays from our car. It's a lot of fun!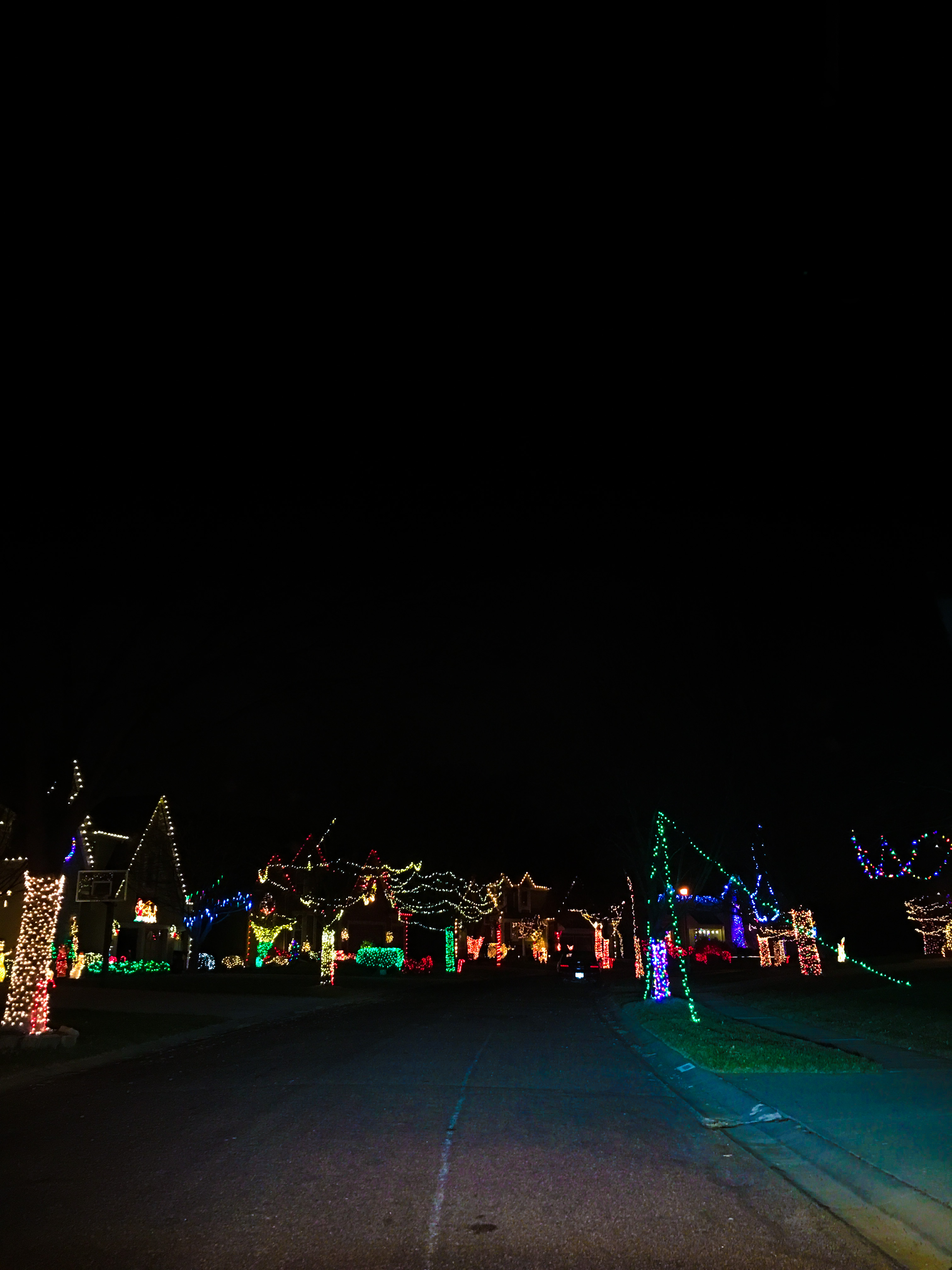 This neighborhood goes all out. Every single house is decorated to the hilt. I'm glad we don't live there, because I could never keep up.
Visiting Great-Grandpa
A few days later, we visited Great-Grandpa in his nursing home. He just loves getting to see his great-grandkids, and Colton thinks it's so special how Great-Grandpa has photos of him displayed in his room.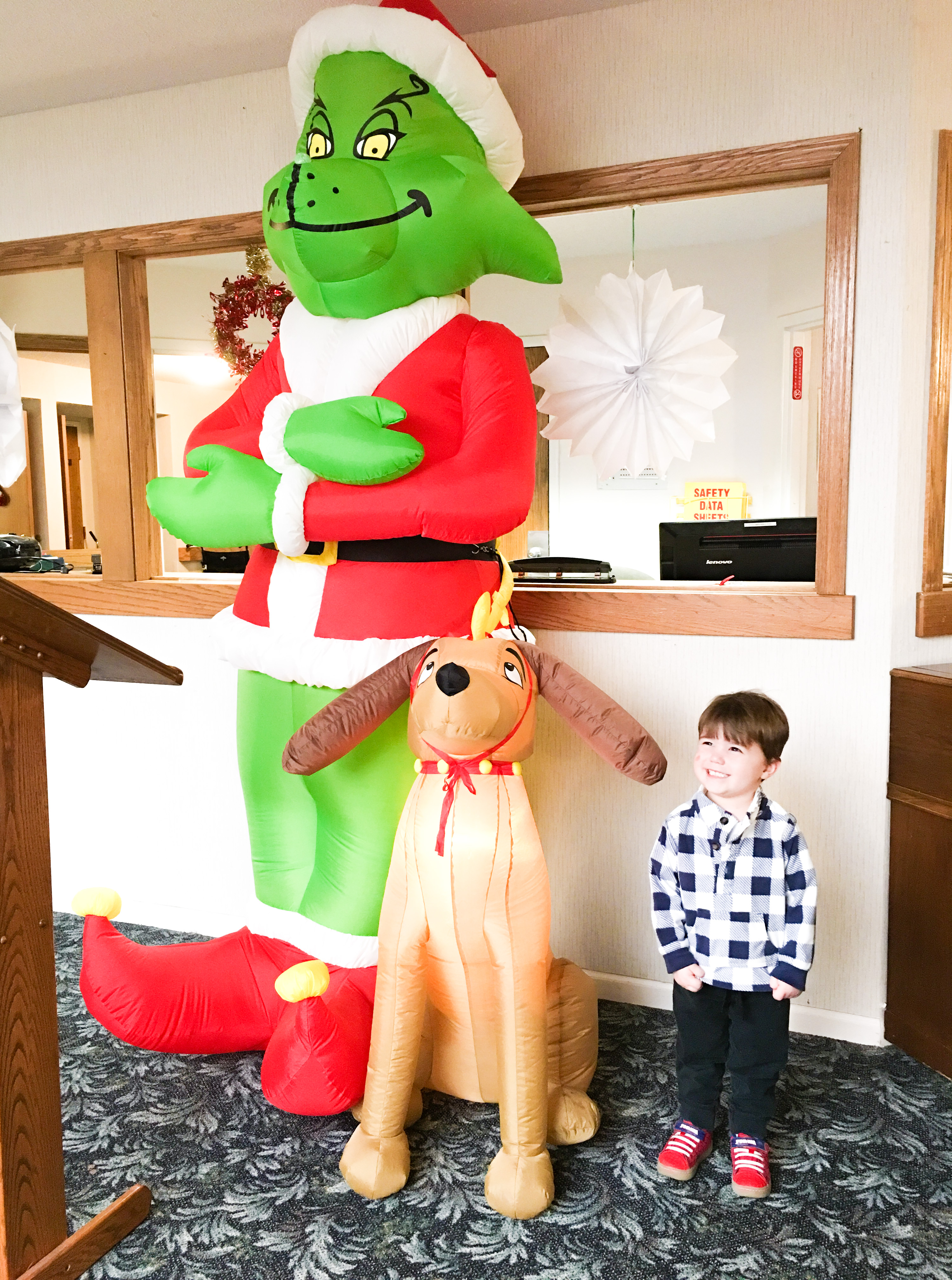 He's really into How the Grinch Stole Christmas, so finding this inflatable Grinch at the nursing home was like hitting the jackpot. Look at that cheesy little smile! Personally, I found an inflatable Grinch to be an odd choice of living room decor, but… whatever works. Also, he won't stop wearing these Spiderman shoes for anything. He was starting to outgrow them, so he went shoe shopping… and picked out the exact same ones.
Christmas with the In-Laws
Next, we "officially" kicked off Christmas on the 22nd by celebrating at the in-laws. We decided to keep things casual and picked up some food on the way. I chose grilled salmon and it was delicious… although Colton's chicken tenders were much tastier! My husband had a burger. The classic Christmas meal, right?
After we all opened gifts, there was one more special surprise for Colton… a Radio Flyer bike! Or, as he likes to call it, "my brand new bike." He's obsessed with asking if things are "brand new." I don't know where he picked it up, but I think it's hilarious. Needless to say, he was thrilled with his surprise. I don't have any good photos of him riding it because, well, the temperature has been below zero as of late. But I linked it above so you can see! I think he'll have a lot of fun with it. There's also a 2-kid version, which looks really fun.
Anyway, my husband and I had already bought Colton a balance bike for Christmas… but, since he just got a bike, we decided to wait and give him the balance bike for his birthday. It's different enough from the Radio Flyer bike that I think he'll still like it. Hopefully!
Christmas Eve Snowfall
On the 24th, we woke up to a blanket of snow! It wasn't much, but still enough to make a couple snow angels and throw some snowballs. We got the kids bundled up super fast, because I was afraid the sun would melt what little snow we had.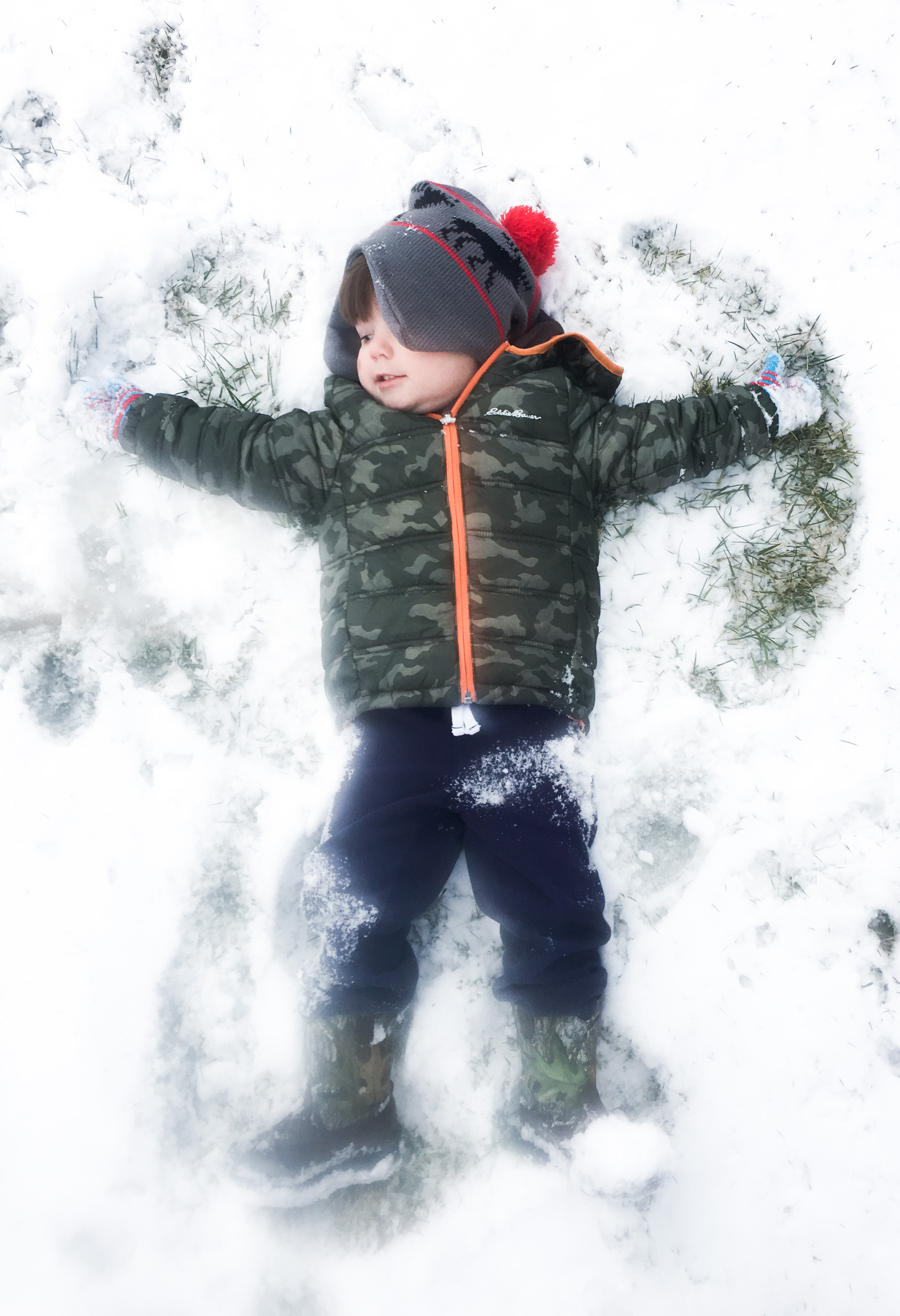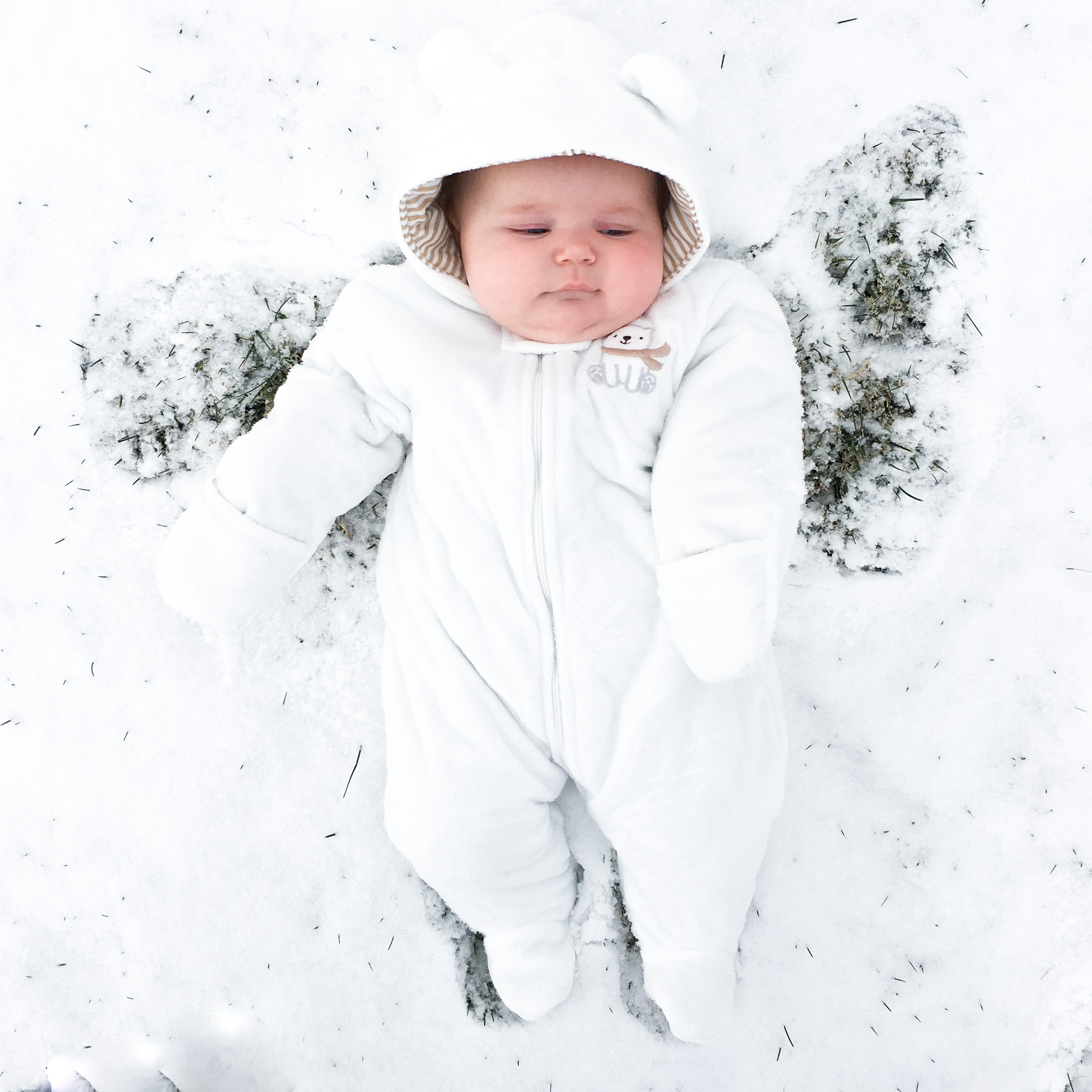 Blair wasn't impressed with her first snow experience…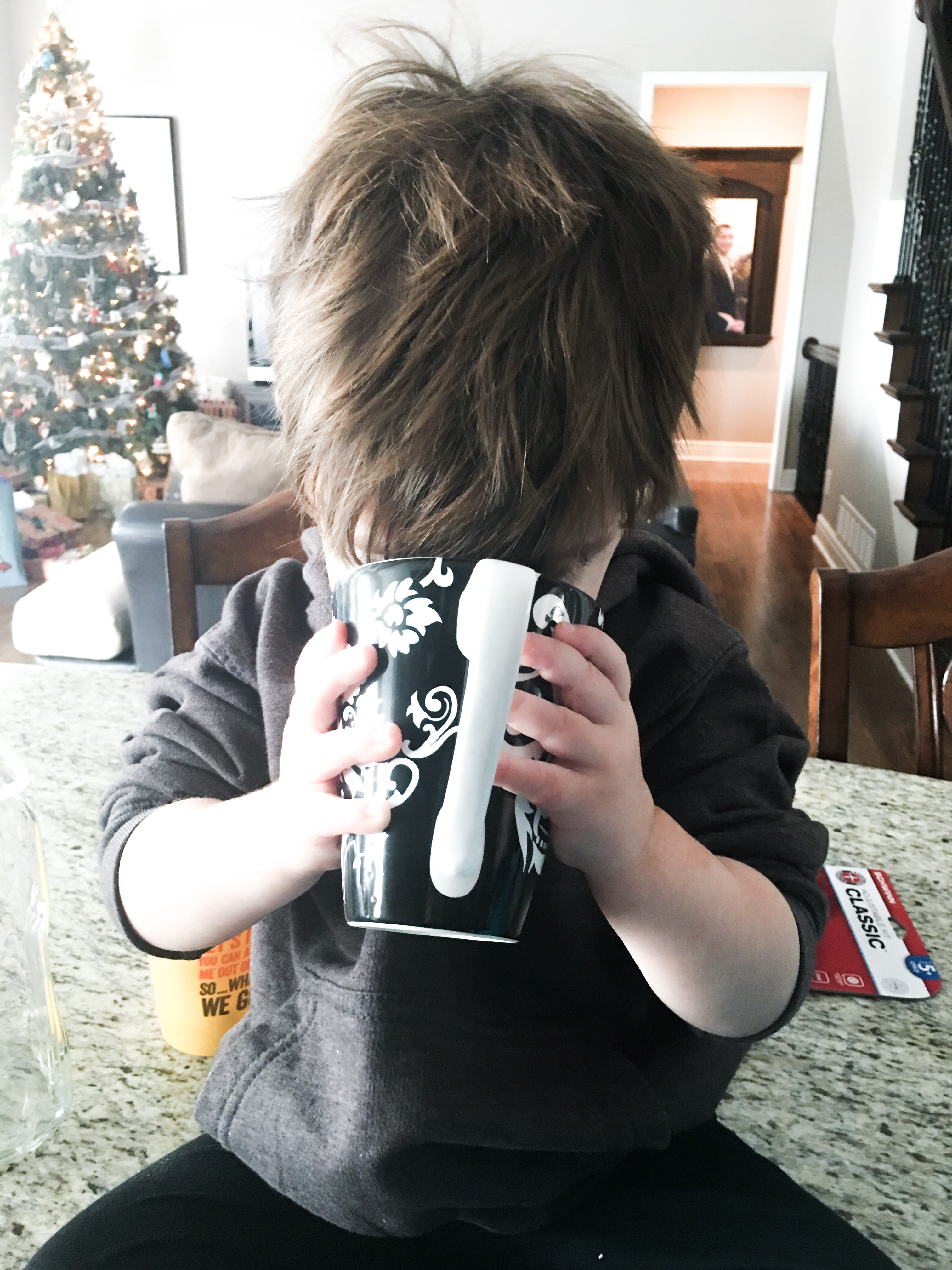 Afterwards, we came inside and warmed up with some hot chocolate. I told Colton that we always drink hot chocolate to warm up after we play in the snow. So, the next day, he asked my husband to take him outside to play, then wanted to come inside after like, 1 minute. He proudly told me that he had played out in the snow and was ready for his hot chocolate now! Now I'm wondering if I created a monster. My husband got me the best hot chocolate EVER for Mother's Day, and I've been rationing it ever since. Now, I'm pretty sure we've gone through half the canister in the past week.
Christmas Eve with My Parents
That afternoon, it was time to head to my parents' house! My family got into a tradition of doing Christmas on Christmas Eve when I was really young, because my dad often had to work on Christmas. He's owned his own company and not had to work on Christmas for many years now, but the tradition has stuck.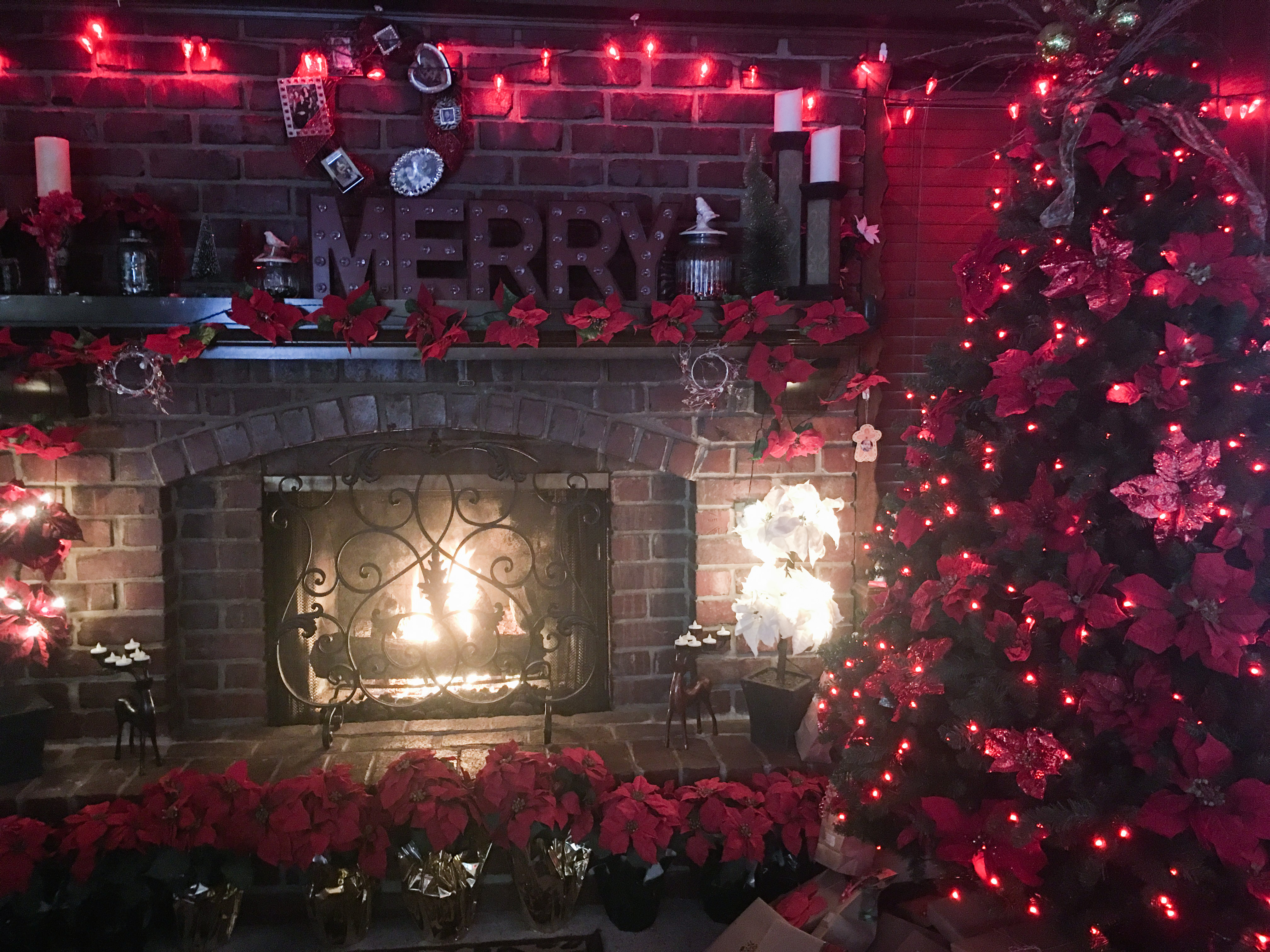 My mom goes all out with her Christmas decorating. She picks a different color or theme every year, whereas I have been decorating with metallics for the past like, 8 years. The bonus is that I get a lot of her hand-me-down decorations when she is done with them, since she cycles through them so quickly. This year, the theme was red poinsettias, obviously.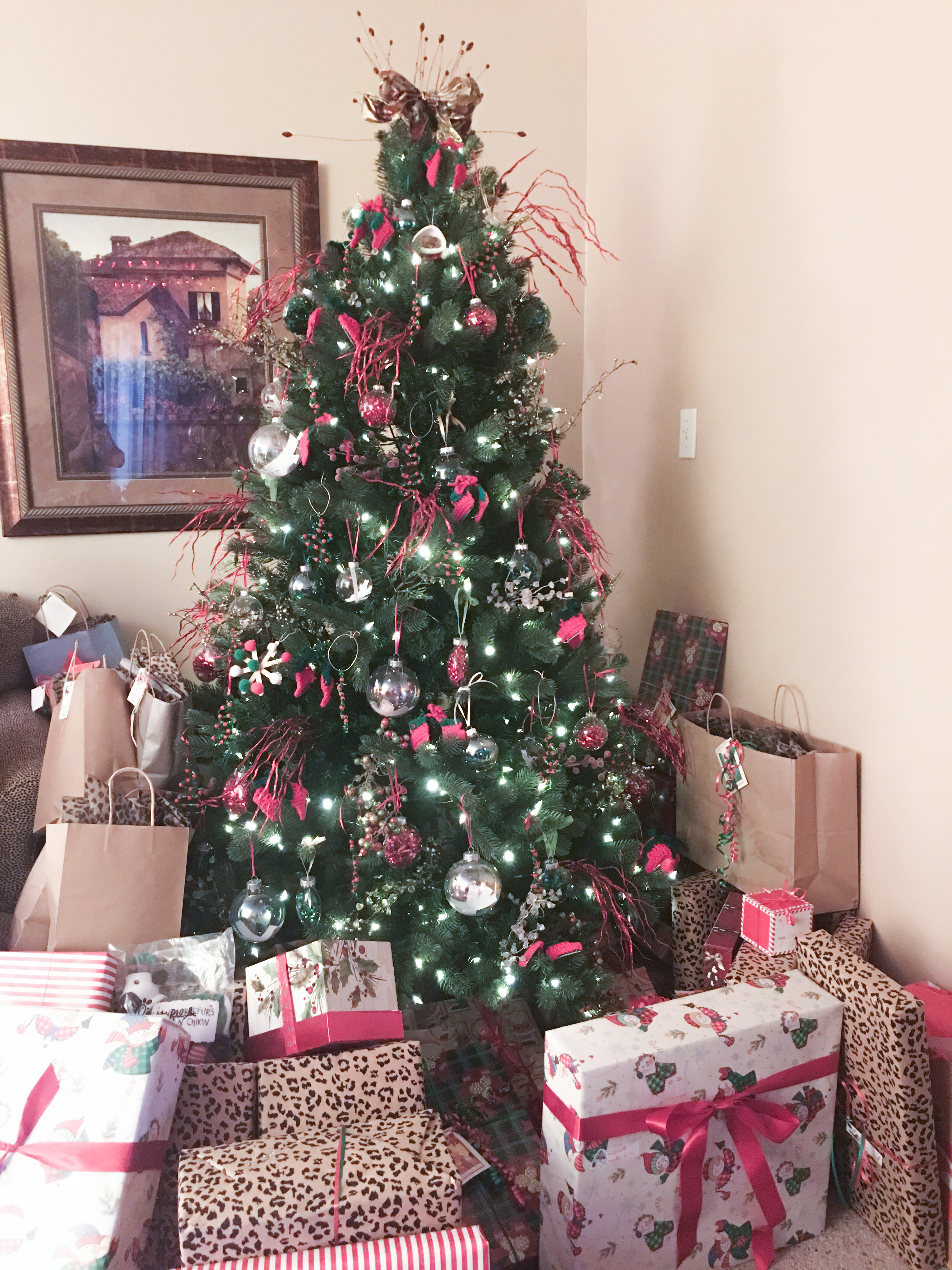 She usually puts up 3 or 4 different Christmas trees. Here's another one, decorated with all homemade ornaments. I've started a tradition of gifting a homemade ornament from Colton to each of the grandparents each year, so she should be able to fill up this tree with all grandkid ornaments soon enough. If she's even still doing that theme in a few years…!
Do you spy the Chick-fil-A cow under the tree? She said that Colton wanted to go to Chick-fil-A all the time when they were watching him while Blair was being born, so they got the Christmas cow for him. A kid after my own heart! In fact, we had Chick-fil-A for dinner tonight.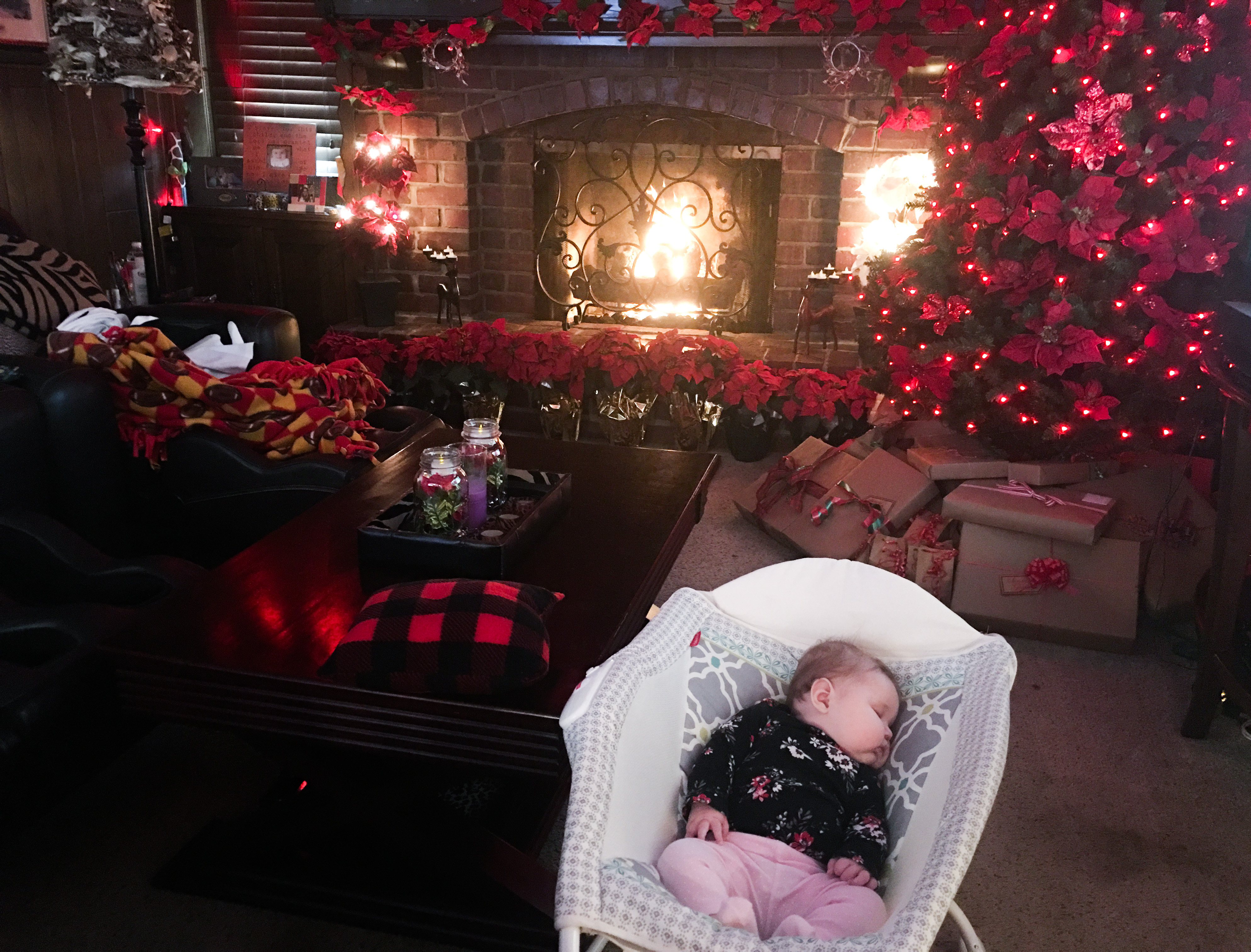 Blair enjoying her Christmas Eve nap. Not pictured: Me, jealous of her getting a Christmas Eve nap.
For food, my mom did an appetizer spread. I didn't get any photos, though, since I was nursing Blair while everyone else was digging in. We brought dessert, which was Reindeer Treats!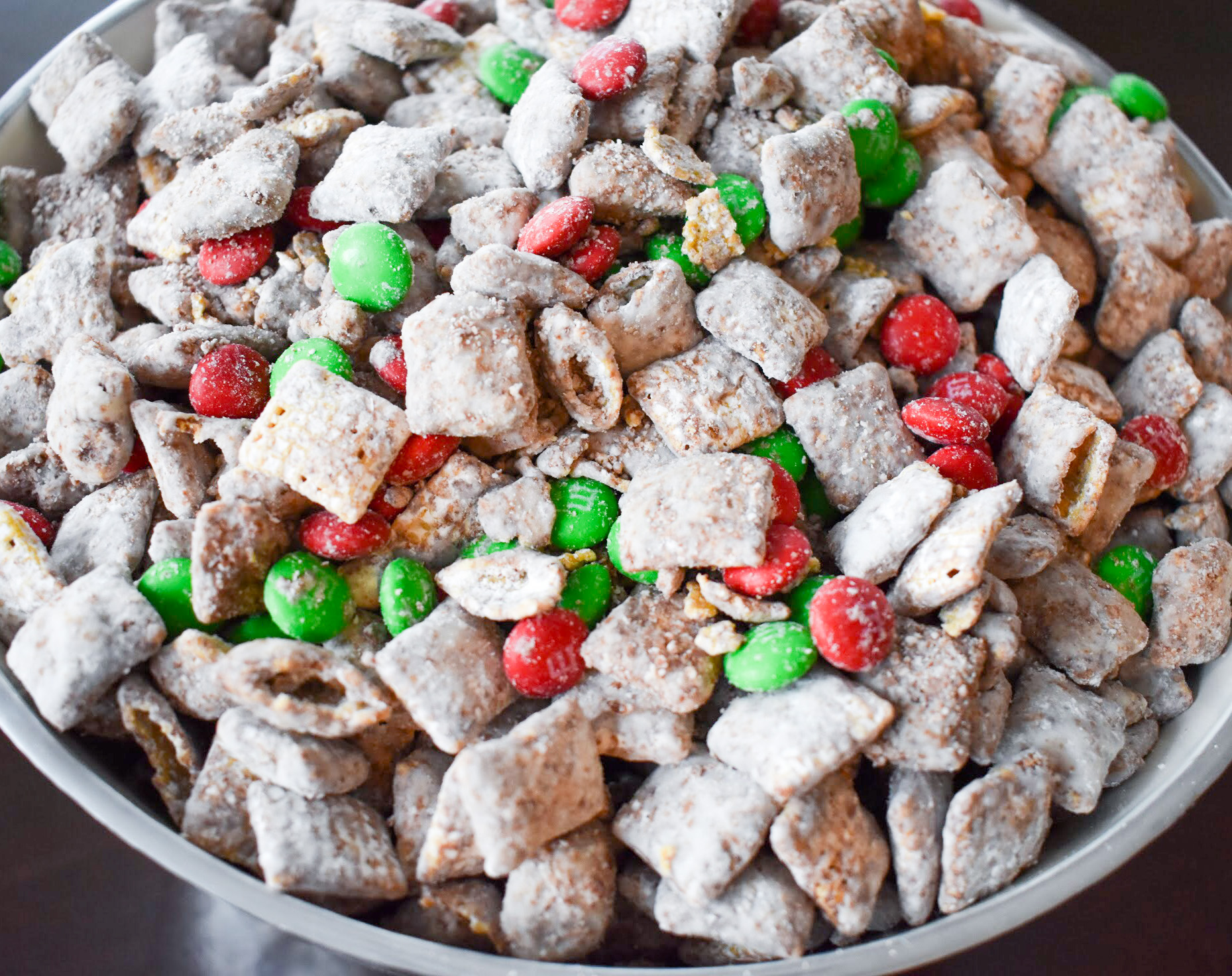 I blogged the recipe for Reindeer Treats [aka Christmas puppy chow] and let me tell you, it was a hit. We ate every last bite!
Colton got a lot of great gifts! His favorites were a Paw Patrol game box, a Hatchimal, and flashcards. Really, he loves doing flashcards! Blair mostly got clothes, which she needs. She is growing so fast! At 5 months, she's already wearing 12 month clothes. My husband got a year of SiriusXM radio, which is what my parents have been gifting him for probably 10 years at this point. He likes listening to it but hates paying for it, so it's a great gift.
After food and gifts, we headed home to get the little ones in bed! Then, we played Santa and assembled an air hockey table to surprise Colton when he came downstairs in the morning. After that, we crashed. Holidays are exhausting. Or maybe I'm just old.
Christmas Day at Home
Finally, it was Christmas morning! Colton woke us up at a reasonable hour [a Christmas miracle!] and immediately wanted to start playing air hockey. This kid loves air hockey. Any time he sees it at one of those kids' play places, he begs me for money to play. I got this table on clearance for $15, which will hopefully save me that much or more on quarters in the future.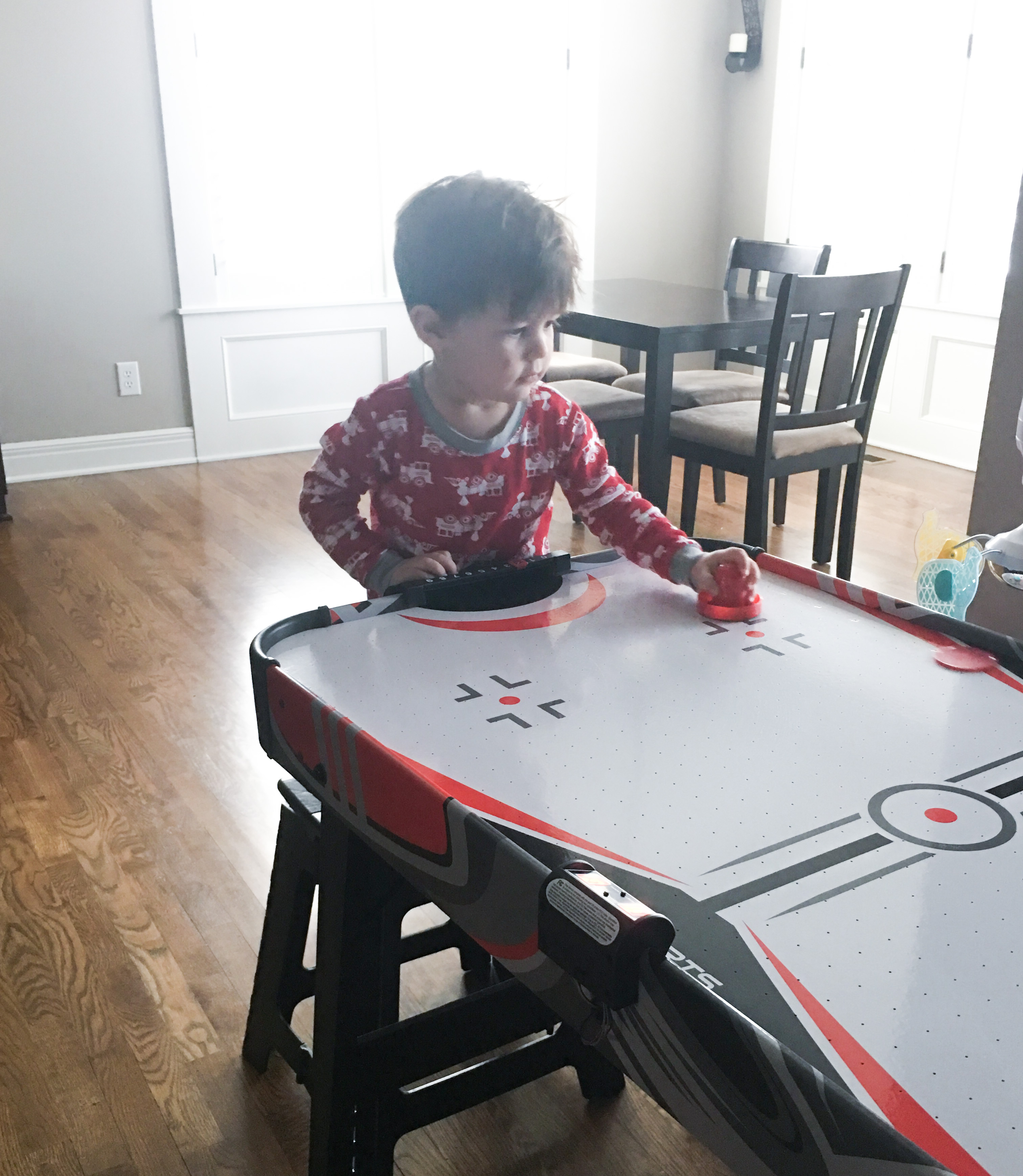 Spoiler alert: unfortunately, the pucks were lost as of December 26th. If you get one of these for your kids, learn from my mistake and hide one of the pucks as a backup. As for us, Amazon to the rescue once again: 16 pucks delivered to my door in 2 days for $10. And yes, I'll be hiding 15 of them upon arrival.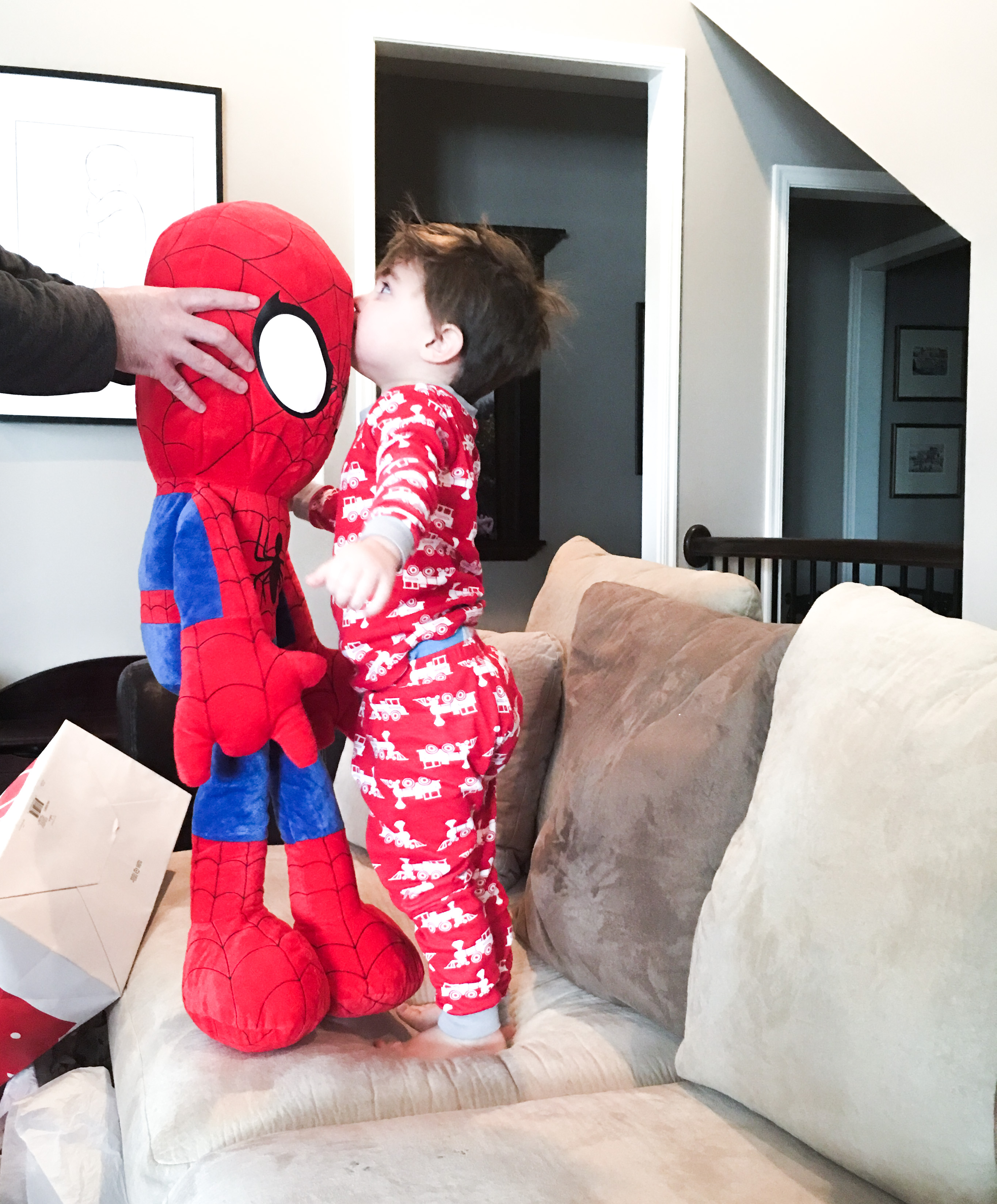 This lifesize Spiderman plush was a huge hit! Colton is obsessed with Spiderman, and he thought it was so cool that he and Spidey are the exact same size. They're both 36 inches!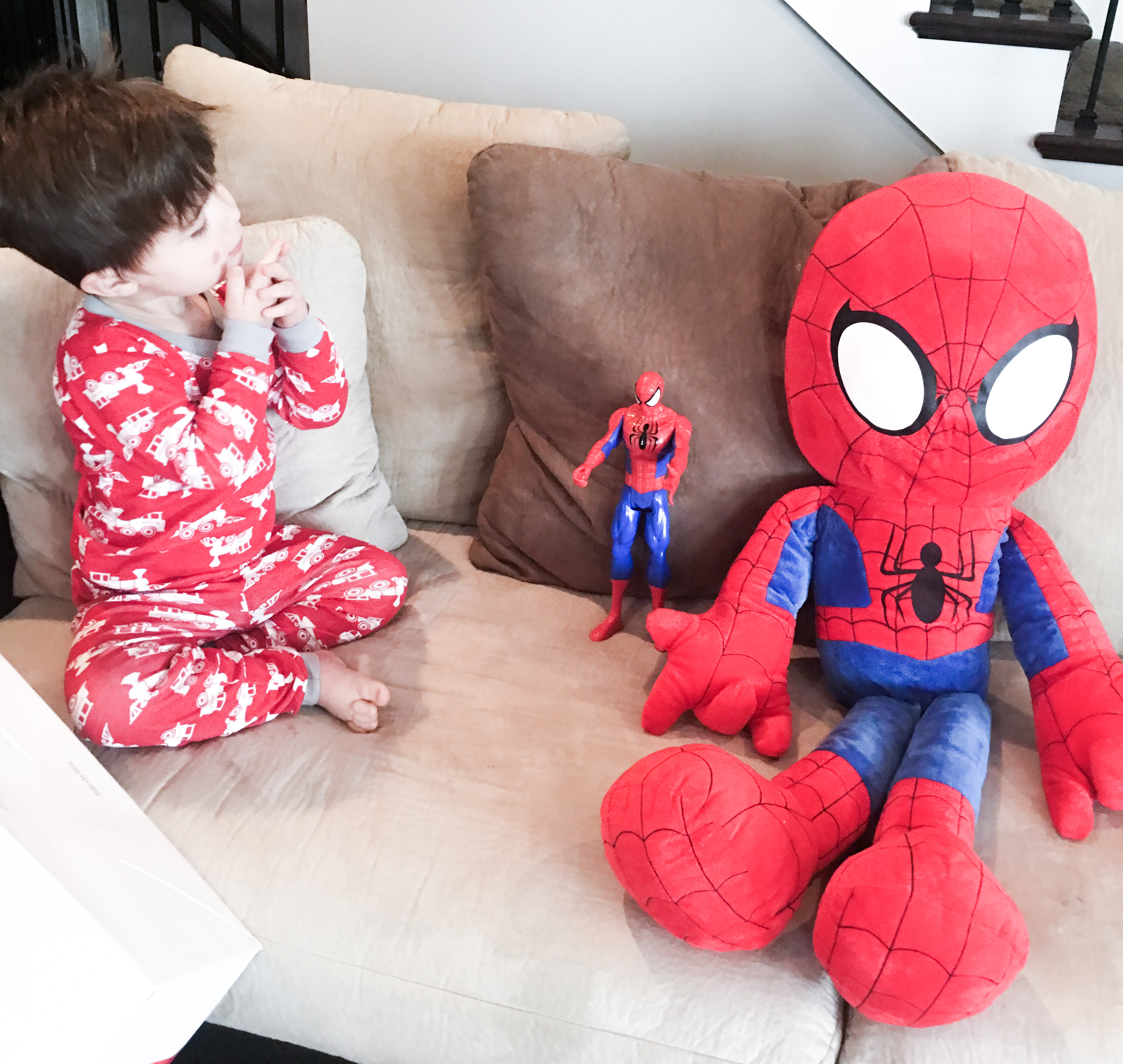 He calls the plush one "my great big Spiderman" and the action figure is "my great tiny Spiderman." It's so funny how he heard us calling things "great big," so he decided to use "great tiny" as well.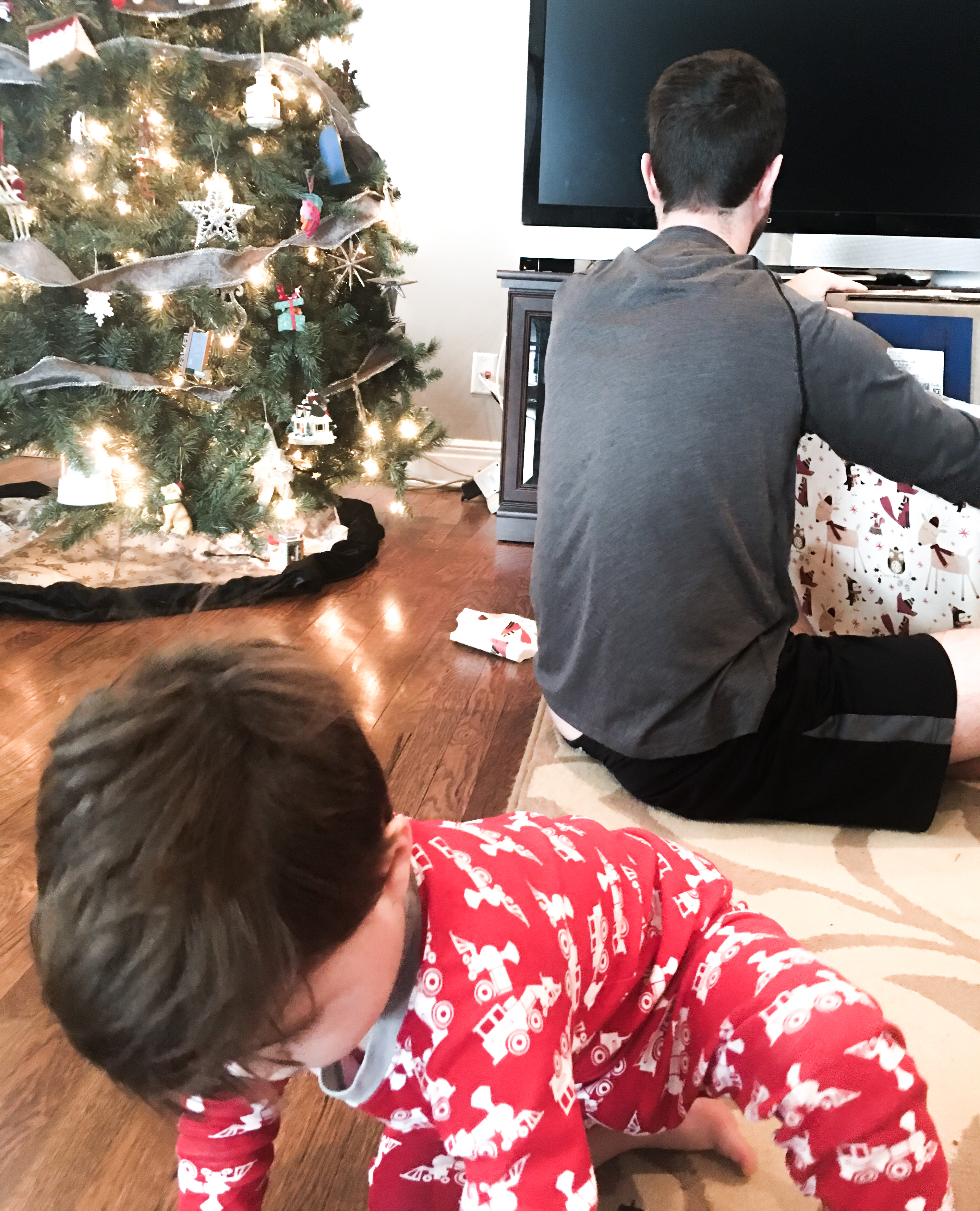 Neither of my boys like to wait to tear into gifts! Here, my husband was opening a couple of diploma frames. He passed his licensing exam this year, and I wanted to get him some professional frames to hang in his office to commemorate the occasion. He was really surprised, which I was thrilled about. I also got him a new Samsung smartphone, but that surprised was ruined thanks to a shipping snafu. So, I was glad I got to surprise him with at least one gift.
I was also surprised by my main gift: diamond earrings! My husband got me diamond studs for our first Valentine's Day while we were dating, almost 13 years ago. He surprised me with an upgrade this year and I am over the moon! I also got some super cute booties, a new memory card for my camera [seriously, I was using a 4GB before!], and Victoria's Secret thongs [sorry mom].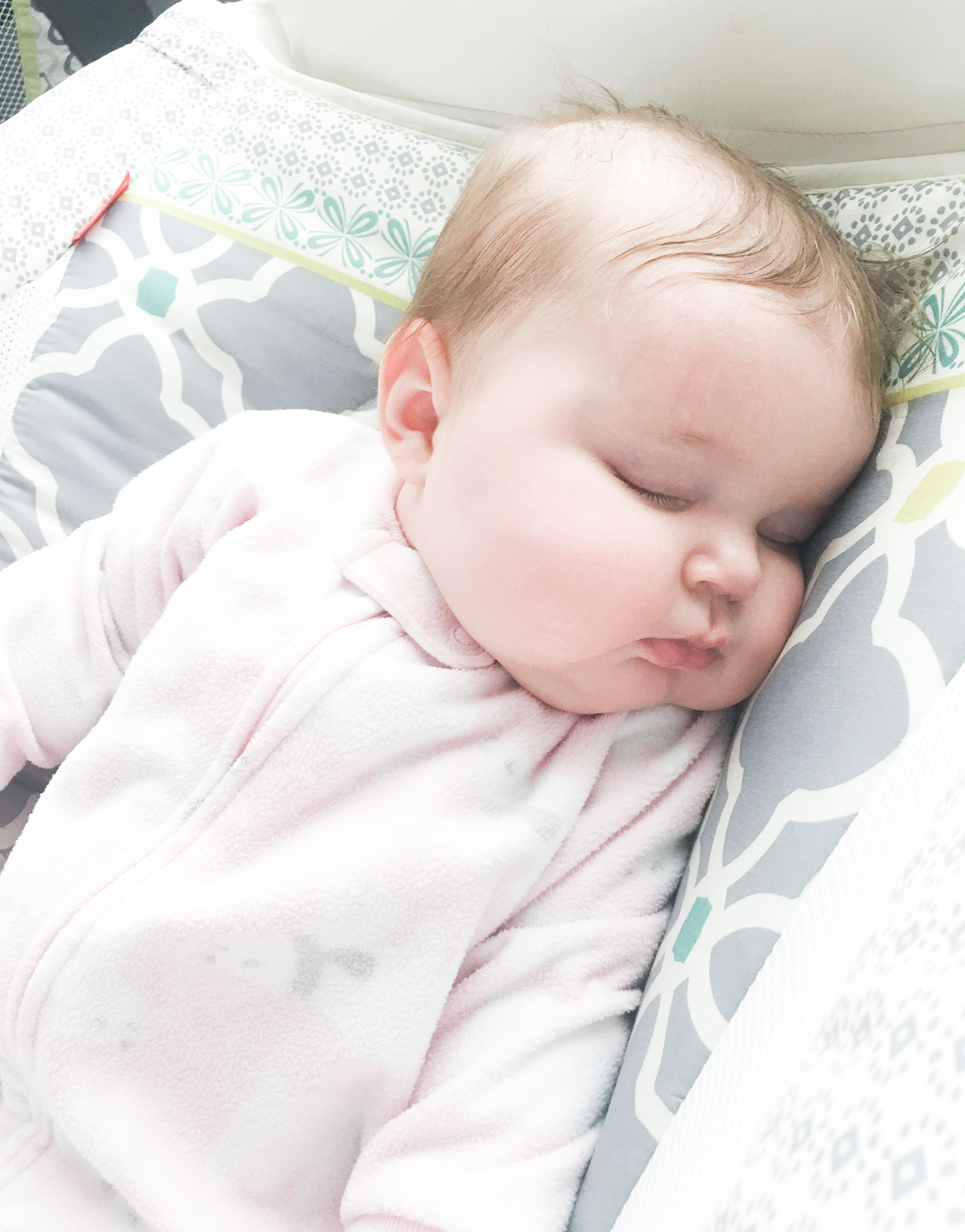 All that gift opening wore Blair out! As I wrote previously, we didn't get Blair much for her first Christmas. She's young enough that she won't mind, so I figure we'll take advantage while we can. Colton has been such an amazing big brother that we wanted to devote more resources to him.
Before we even got married, I said that I always wanted to have Christmas at our house with our immediate family once we had kids. This was our third year of having Christmas at home, and I just love being able to relax and not have to rush around to get anywhere. We can leisurely open gifts and enjoy time playing with them and just being a family. We all pitched in for the traditional Christmas meal, which is Honeybaked Ham, cheesy potatoes, corn on the cob, and rolls. For dessert, Colton helped me make some tasty cake batter cookies with sprinkles!
All in all, this was a year for the books. Even though we had to cram all the activities into just a couple of weeks, we all had a great time and made some great memories. You only get so many Christmases before kids don't want to hang out with mom anymore, or they think certain activities are for babies, or they want to start celebrating with their boyfriend/girlfriend, or whatever… so I try to make as many memories as I can, while I can.
What are your favorite holiday traditions? I'd love to hear about them in the comments below! And if you happen to blog about them, include a link!
Want more holiday inspiration?