Long time no talk, friends! I've missed blogging a lot these past couple of weeks. The flu hit our house with a vengeance, and we're just now coming up for air. No better way to get back into my readers' good graces than with a yummy recipe, though… right? This KitKat cookie recipe is amazing. The cookies are soooo soft, and the KitKat adds a little something different from my usual chocolate chip cookies. Trust me, this is the perfect unique holiday party dessert.
I first made these KitKat cookies around Halloween, when we had an overabundance of candy at our house. Colton loves bringing treats to his preschool class, so I figured I could do something creative with all the candy. You guys… we had like, single digit trick-or-treaters this year. The weather was so cold that a lot of kids didn't even go out. I took Colton out and the streets were like, bare. It was so weird to look down the street on Halloween and see no one.
But, the plus side is that we had a lot of candy to play with afterwards! I actually made these cookies pre-Halloween [so Colton could take them to school], and I was worried that I used too much candy and we would run out. Thankfully, that wasn't the case! Even if I had used up the candy, though, I'm pretty sure these yummy cookies would've been worth it.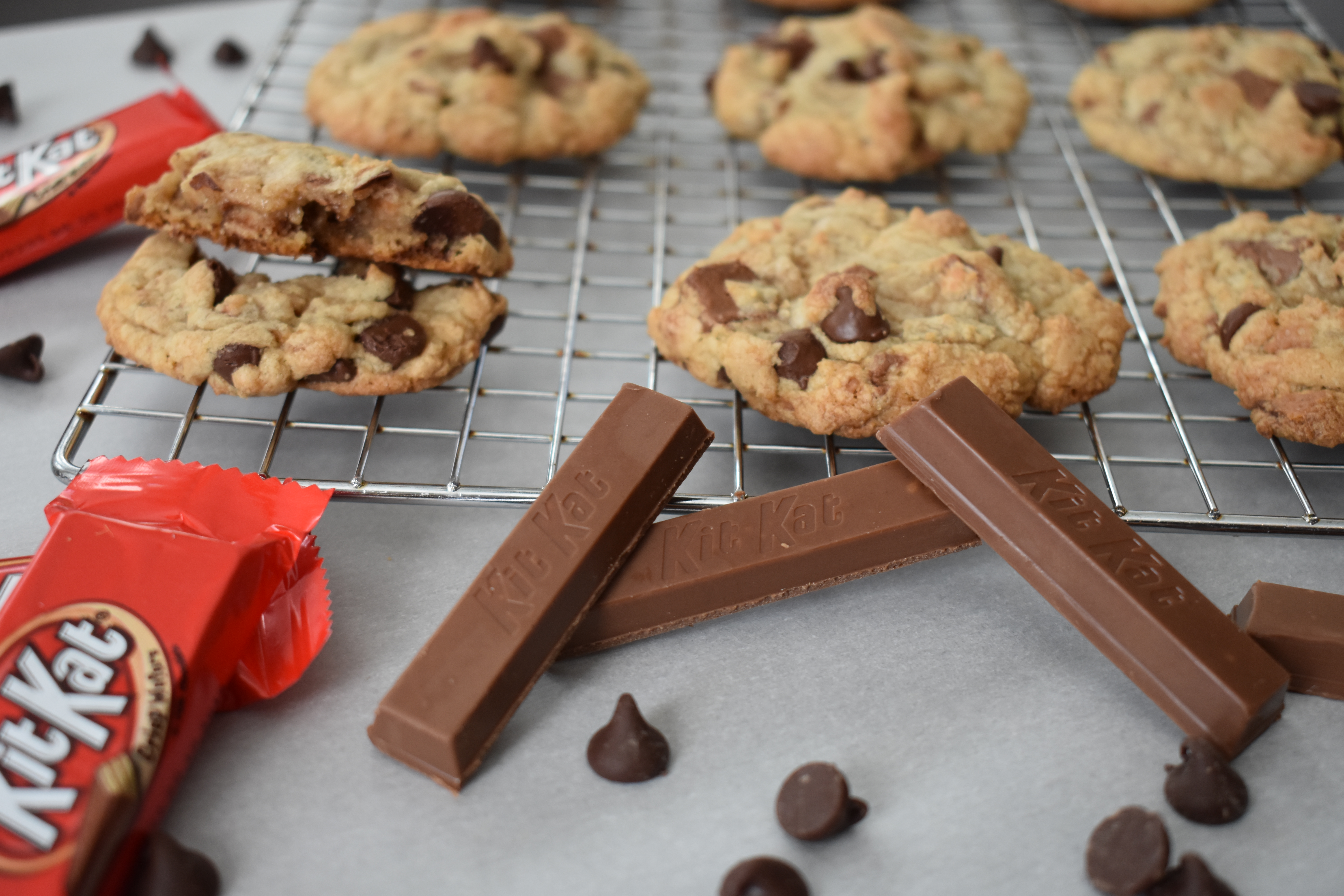 Break me off a piece of that!
To make KitKat cookies, you'll need KitKat candy [obviously!], chocolate chips [these are my go-to brand], shortening, brown sugar, sugar, eggs, water, vanilla, flour, baking soda, and salt. You'll also want a good cookie sheet, parchment paper to line it with [this kind is super handy], and a wire cooling rack. And a hungry group of preschoolers… OK, that last one is optional, but they'll definitely appreciate the cookies.
Here's the full KitKat cookie recipe: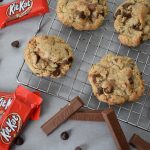 KitKat Cookie Recipe
This delicious KitKat Cookie Recipe is the perfect way to use leftover Halloween candy! These KitKat cookies also make a great holiday party dessert or a treat any time of the year.
Ingredients
1

cup

Shortening

1

cup

Brown Sugar

1

cup

Sugar

2

Eggs

1/4

cup

Water

2

tsp.

Vanilla

3

cups

Flour

1

tsp.

Baking Soda

1

tsp.

Salt

2

cups

KitKat Candy

Chopped

2

cups

Chocolate Chips
Instructions
Cream together the shortening, brown sugar, and sugar.

Add the eggs, water, and vanilla and mix until fluffy.

Mix in the flour, salt, and baking soda until combined.

Mix in the chocolate chips.

Mix in the chopped KitKat candy. I chopped each KitKat into 3 pieces. Hint: KitKats are easier to chop after sitting in the refrigerator for a bit.

Form into balls and place onto a cookie sheet. Hint: use parchment paper to prevent the cookies from sticking to the sheet.

Bake at 375 for 9-10 minutes for soft, gooey cookies. Increase baking time for your individual preference.

Allow cookies to cool on parchment-lined cookie sheet for approximately 5 minutes before moving to wire cooling rack.
There you have it! A traditional chocolate chip cookie recipe with a little something extra. Bring these to your holiday parties and watch the compliments pour in!
Pin this KitKat cookie recipe for your leftover Halloween candy!
Still hungry?