Lately, I've been getting pretty sentimental about the idea of not having a "baby" anymore. Blair is 2, which means she's well on the way to big girl status. I've been selling a lot of our old baby items on Facebook and started working on turning Blair's nursery into a big girl room. So I snapped these photos of her nursery so I can always remember what it looked like. Plus, I want to share some baby girl nursery ideas not pink for those of you looking for something different!

This post contains affiliate links.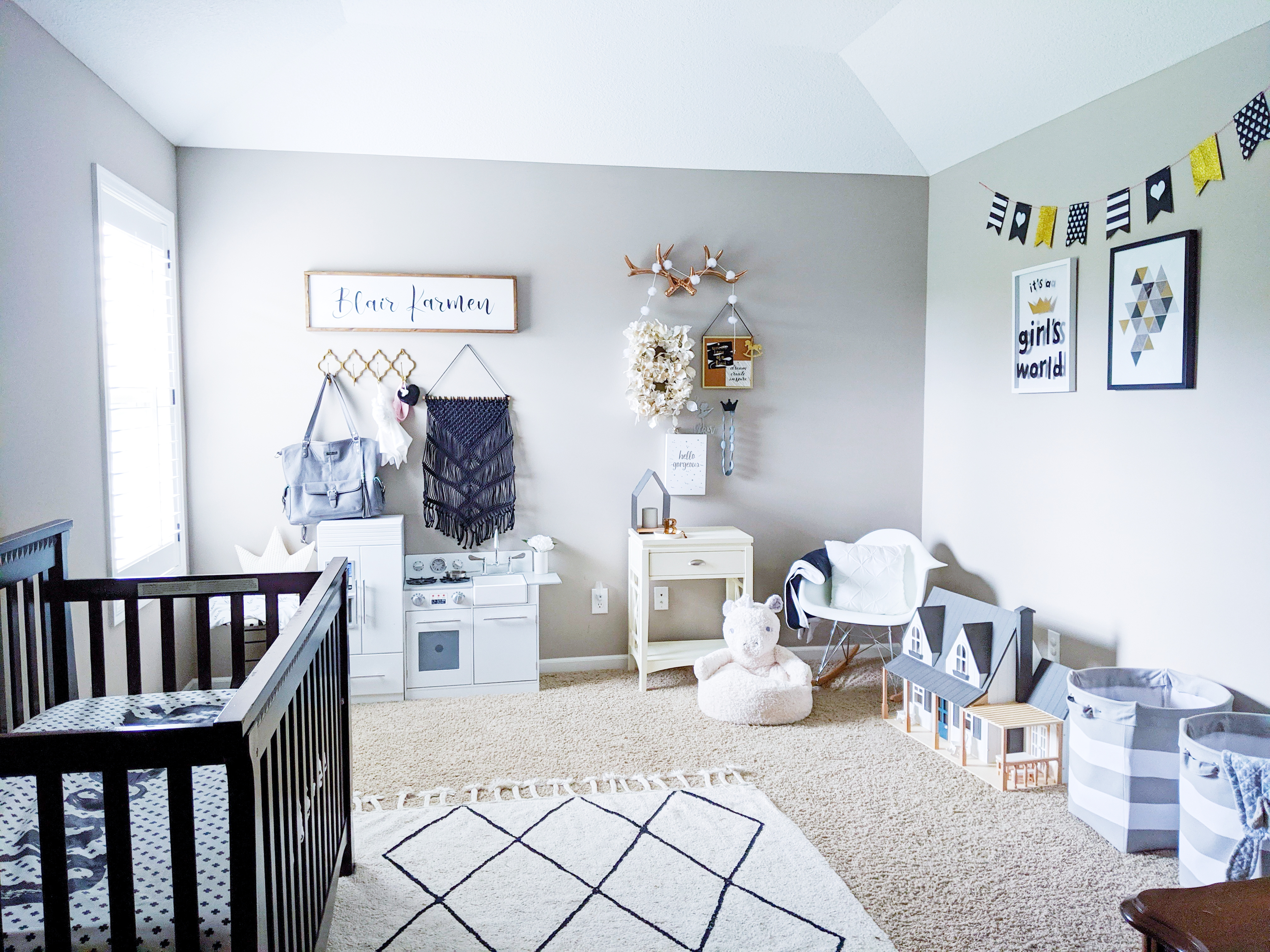 I chose a neutral black/white/grey color scheme for Blair's baby girl nursery. Then, I also added a few touches of gold.
All sources are linked at the bottom of this post!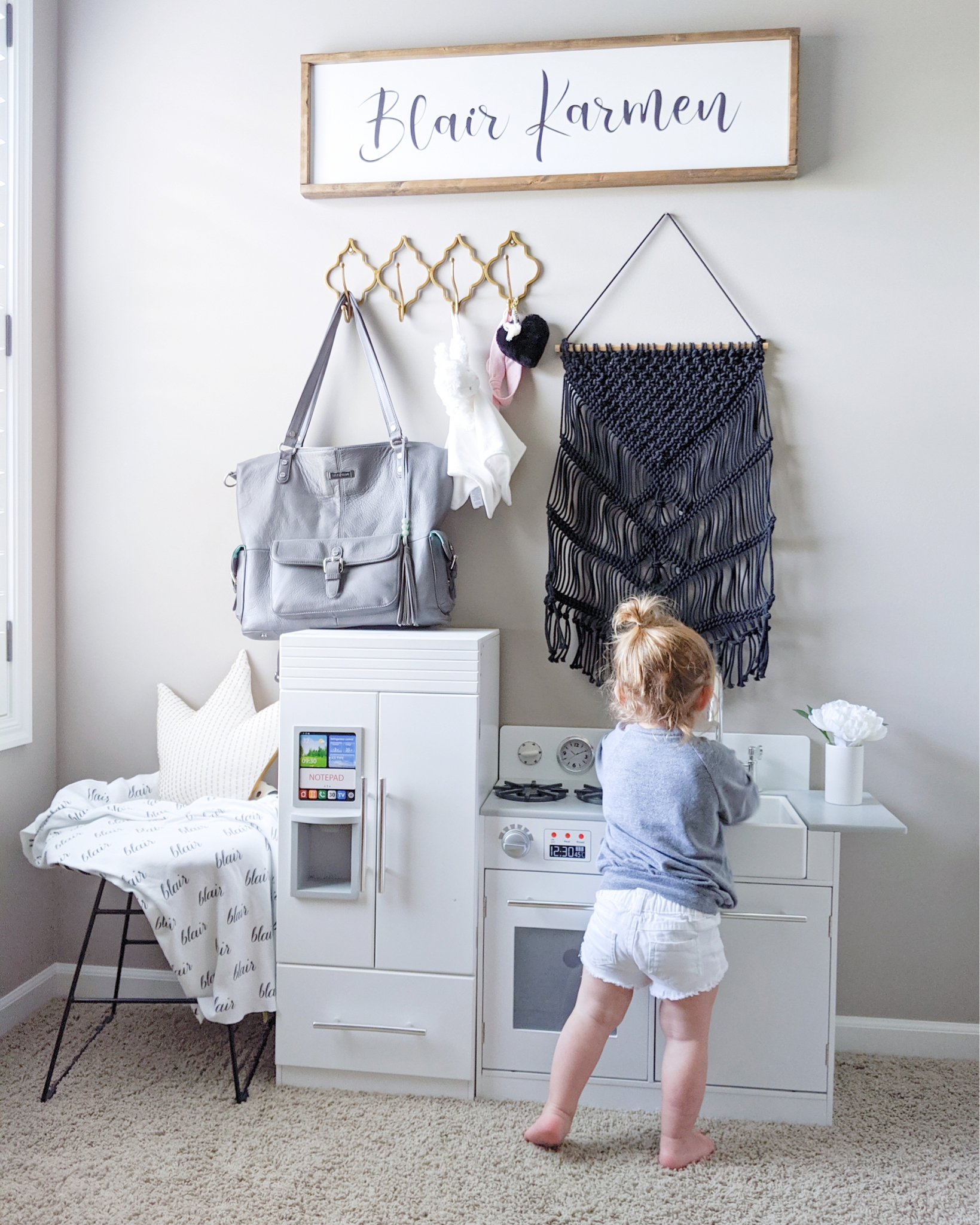 This little area is by far my favorite part of Blair's baby girl nursery. It might be my favorite spot in the entire house! [Our gallery wall is a close second, though.]
I highly recommend this wooden play kitchen! Blair's little kitchen is more stylish than my own kitchen. Haha. The price fluctuates so check at Amazon, Target. and Overstock to see which is cheaper before you order.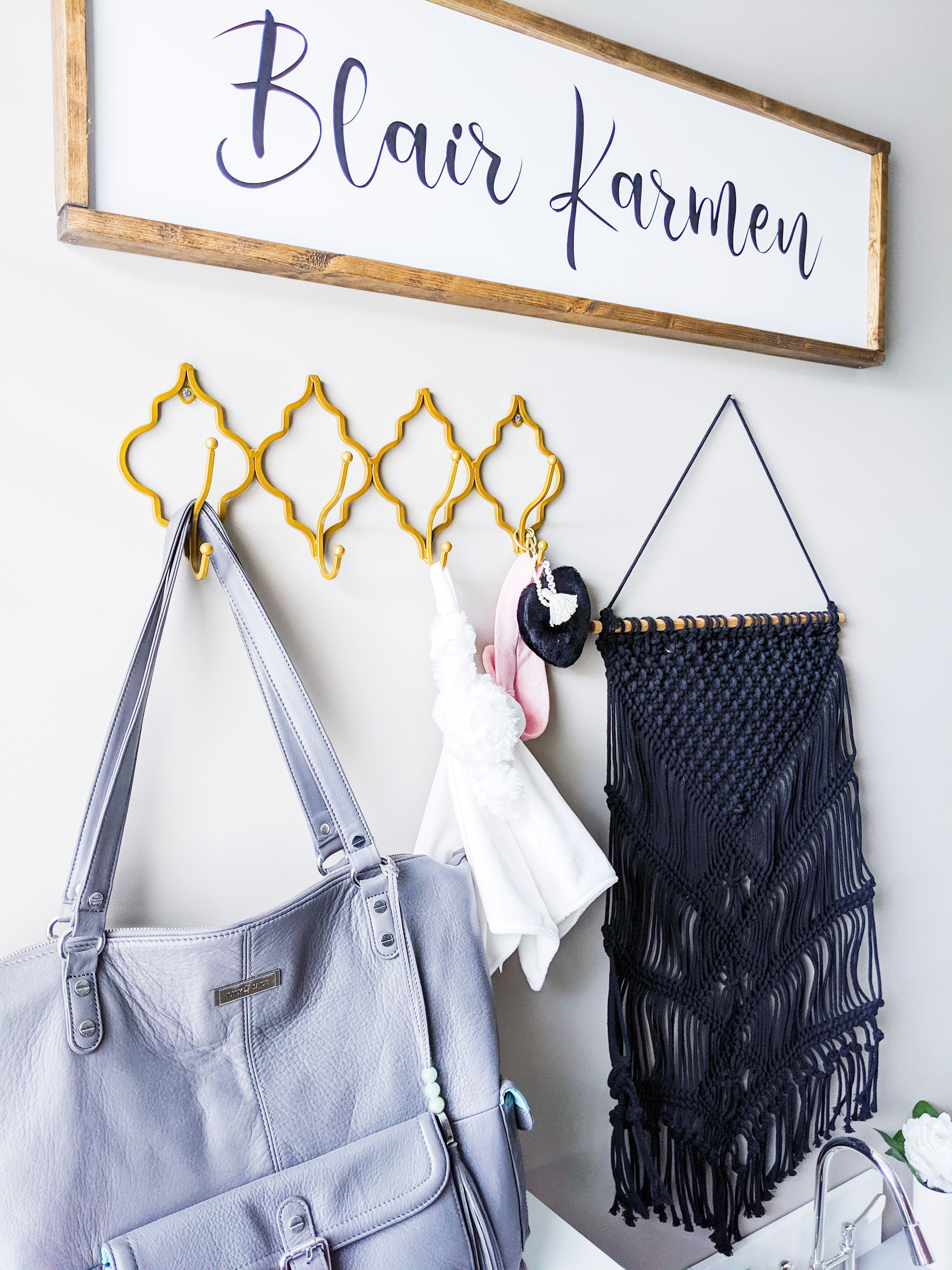 Here's a close-up of the decor above her little play kitchen. And I'm in love with her custom name sign!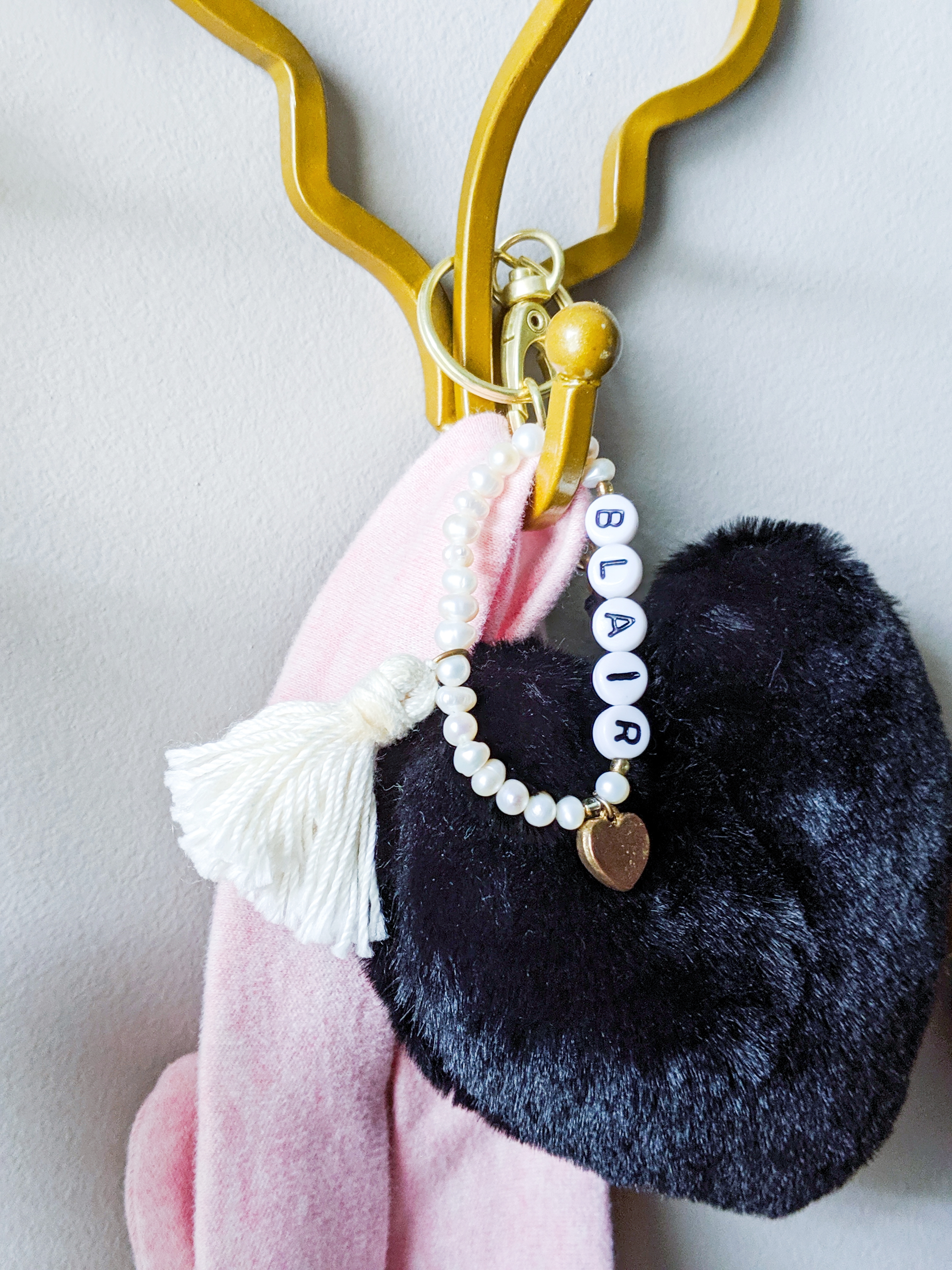 And her name bracelet, of course. [Other cute options here and here!]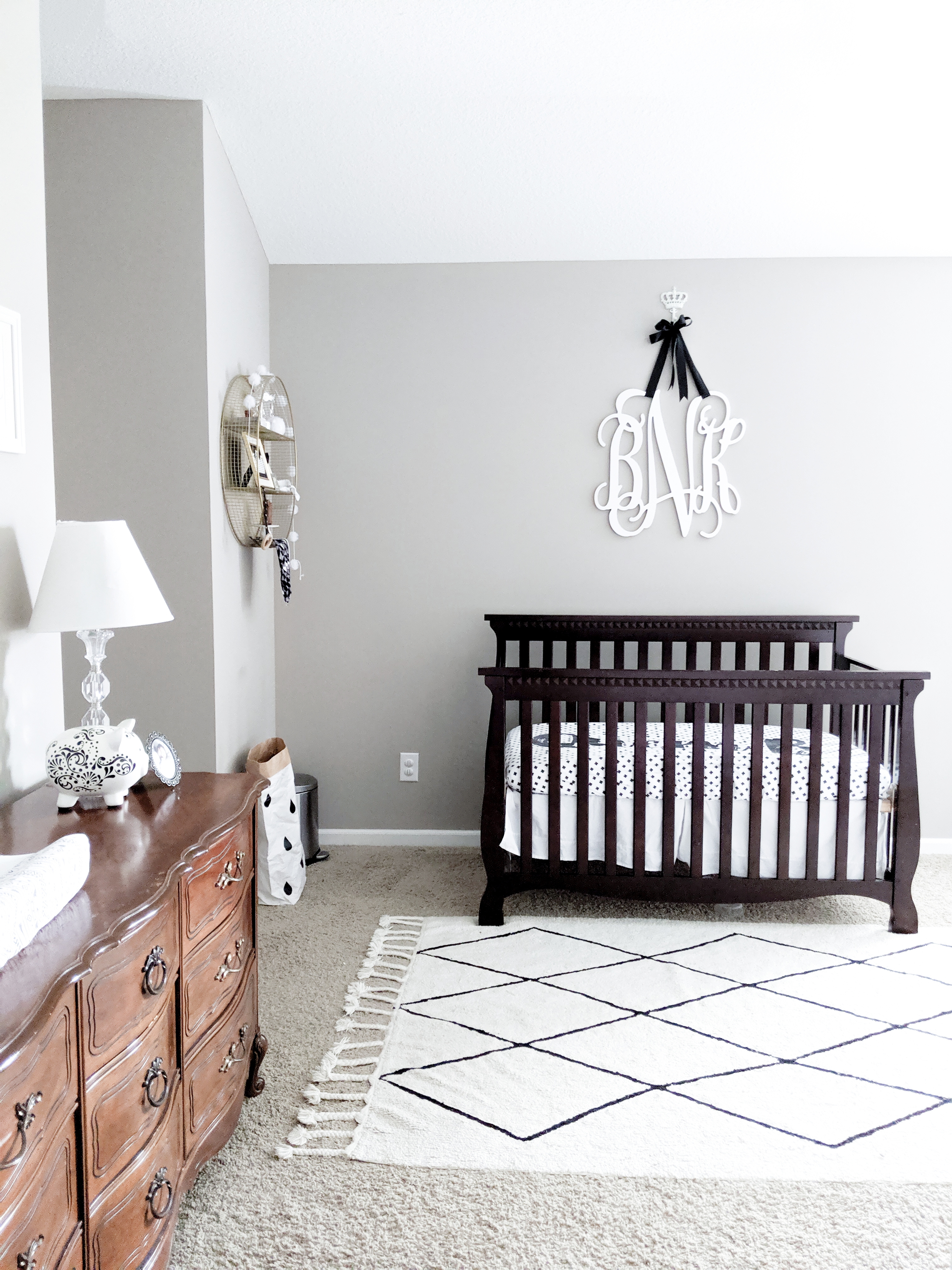 This is the view from Blair's vanity area. She and Colton each have their own sink/vanity area, then they share a jack-and-jill bathroom between their rooms.
Having this machine-washable rug in a nursery is a great idea. I've thrown this thing in the washer more than once!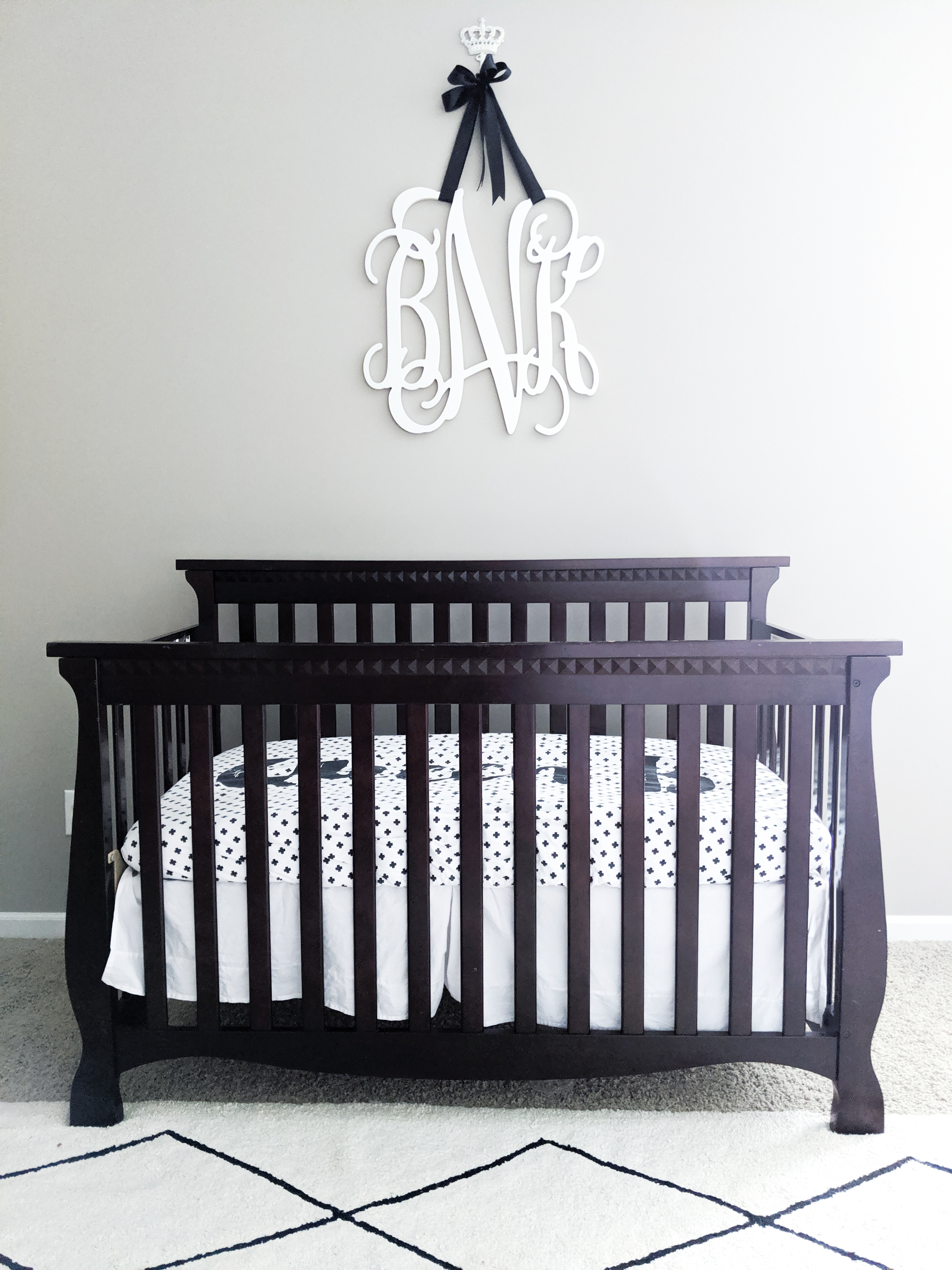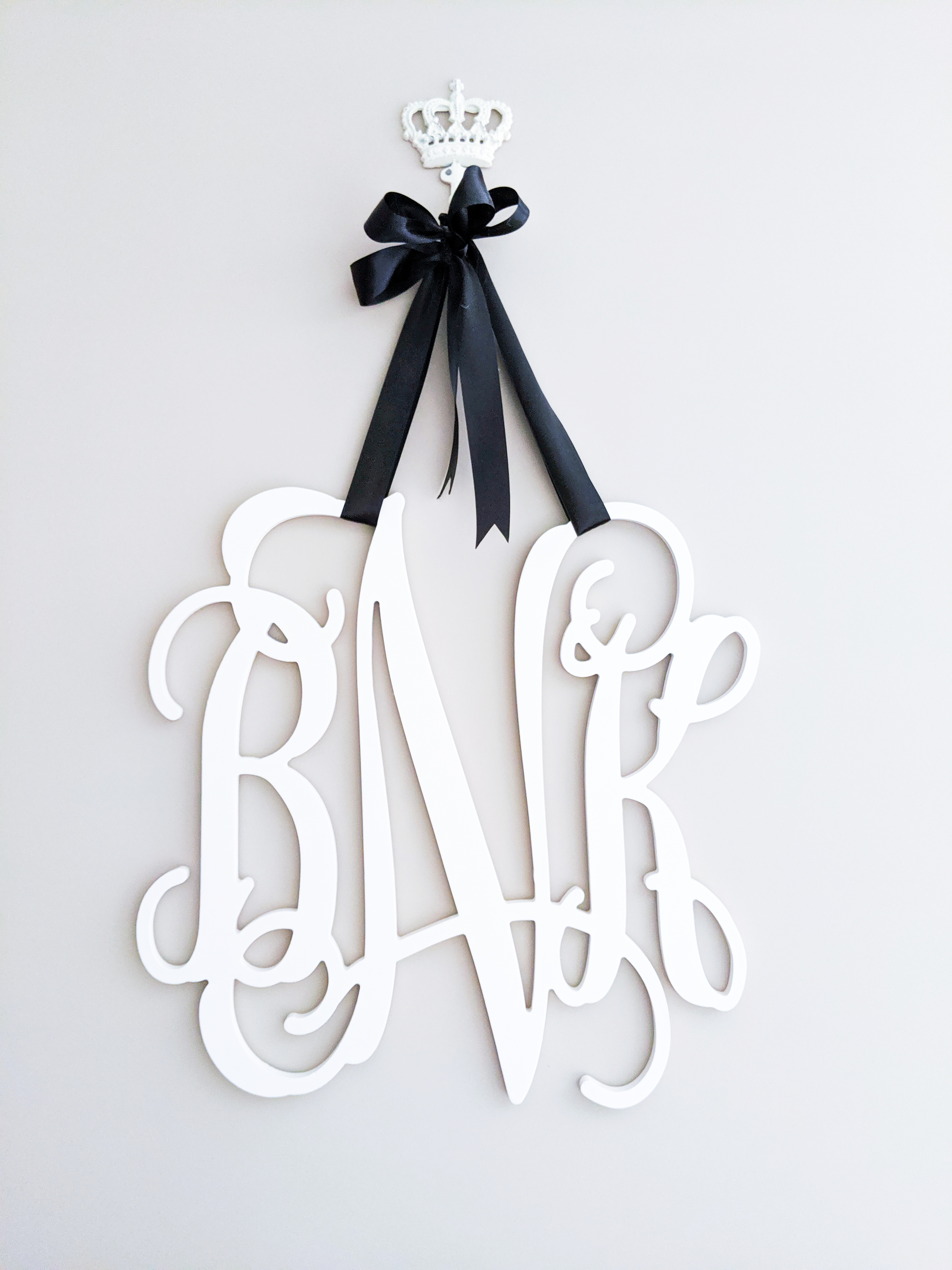 We went with a lot of personal touches in Blair's baby girl nursery, like her monogram over the crib. [Don't miss this post I did on 5 ways to personalize your baby's nursery!]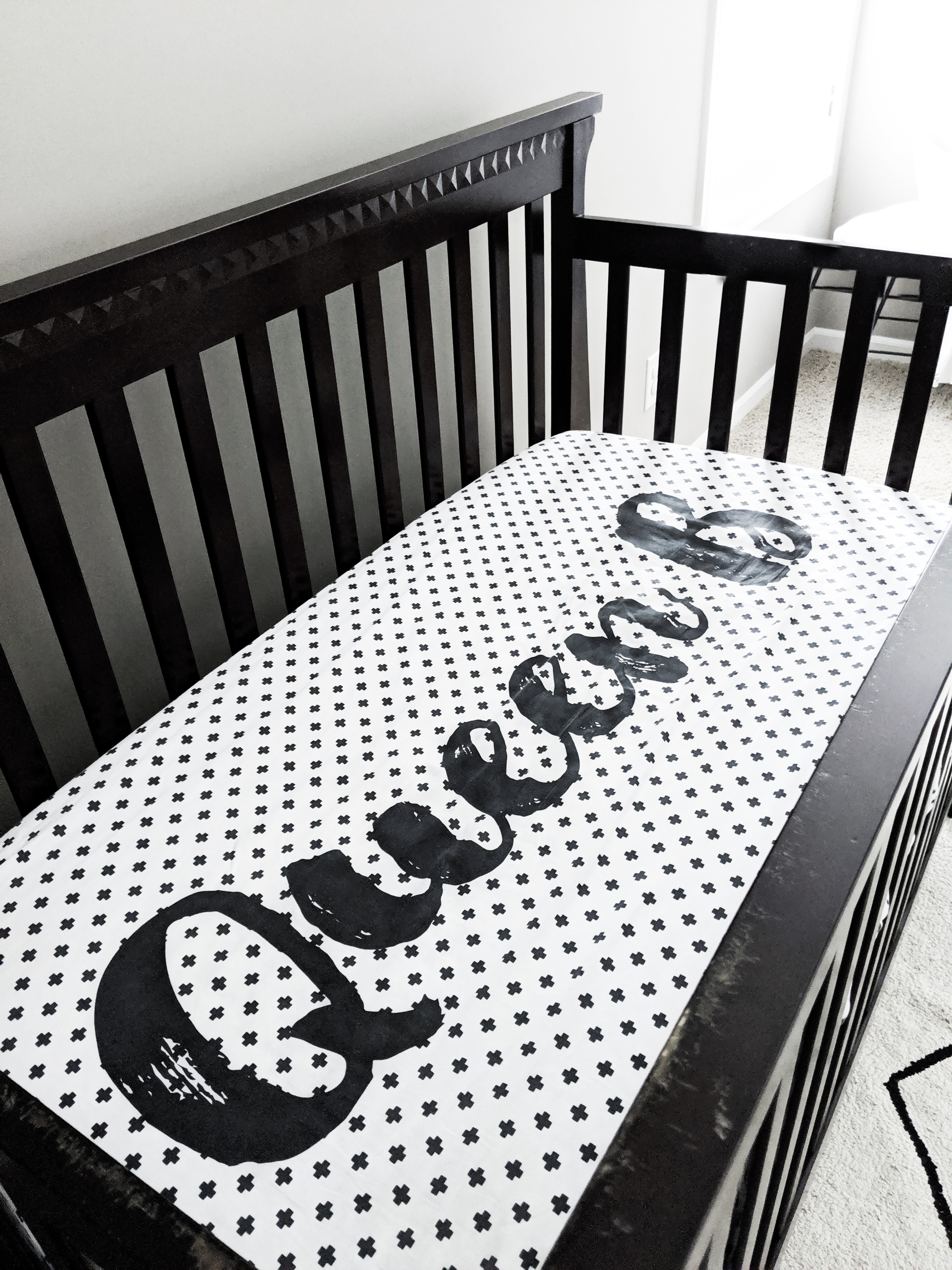 And her "Queen B" crib sheet.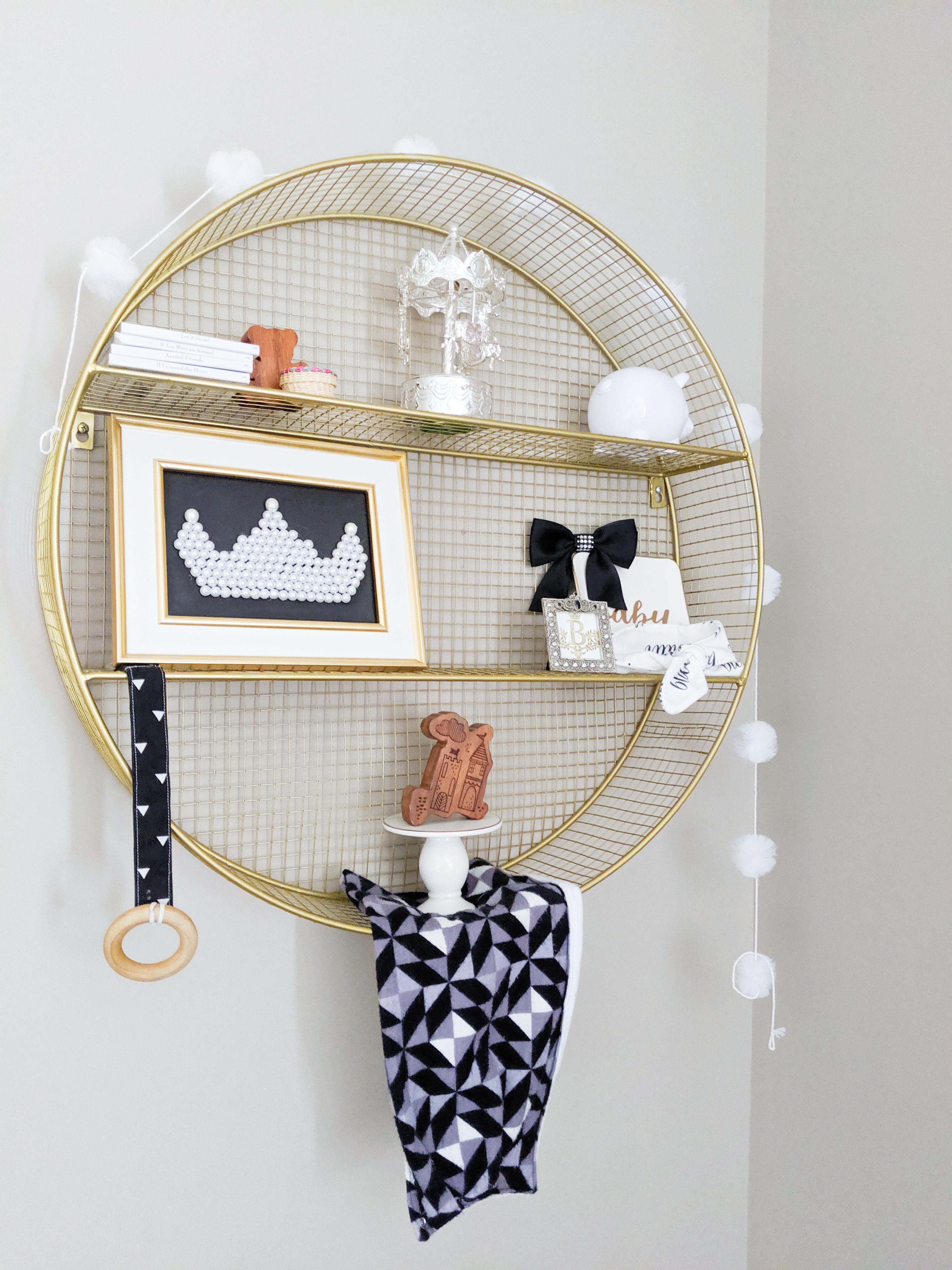 This wire shelf is super popular. A few tips on shelf decorating: mix up the height of your objects [it will look weird if everything is the same size], leave some blank space, and arrange your objects in groups instead of each item individually.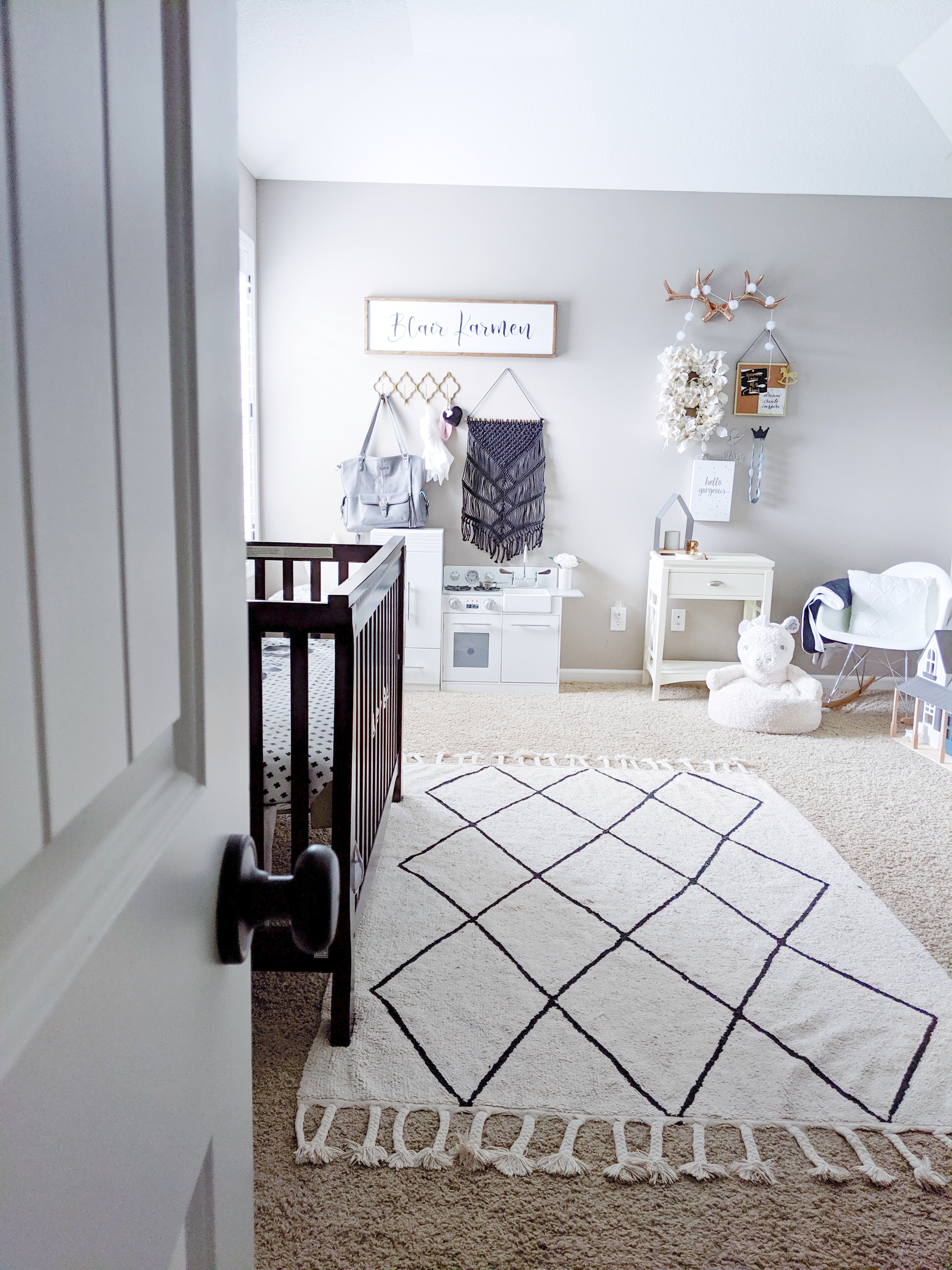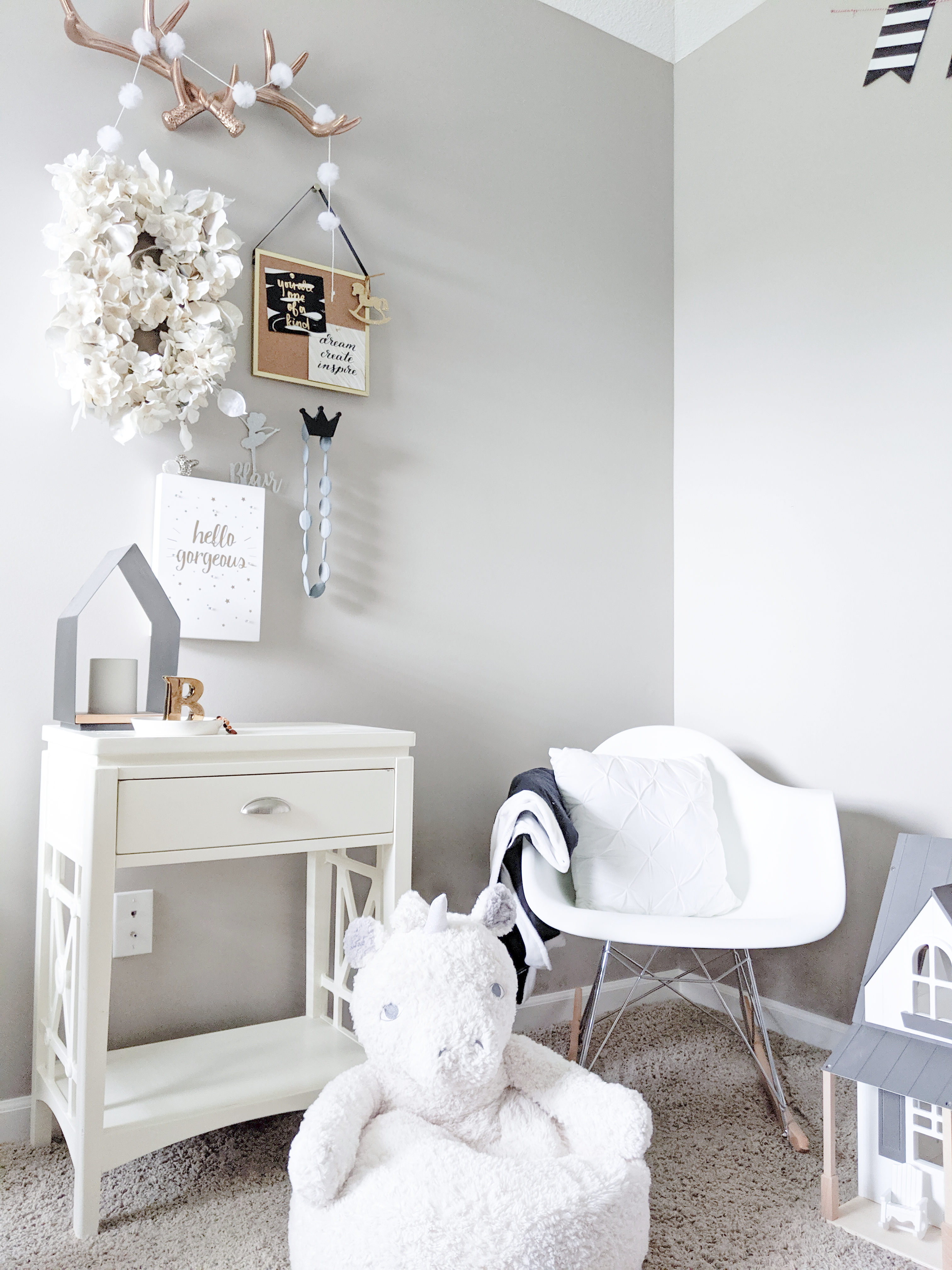 This corner is home to a cute little modern rocking chair along with Blair's unicorn seat.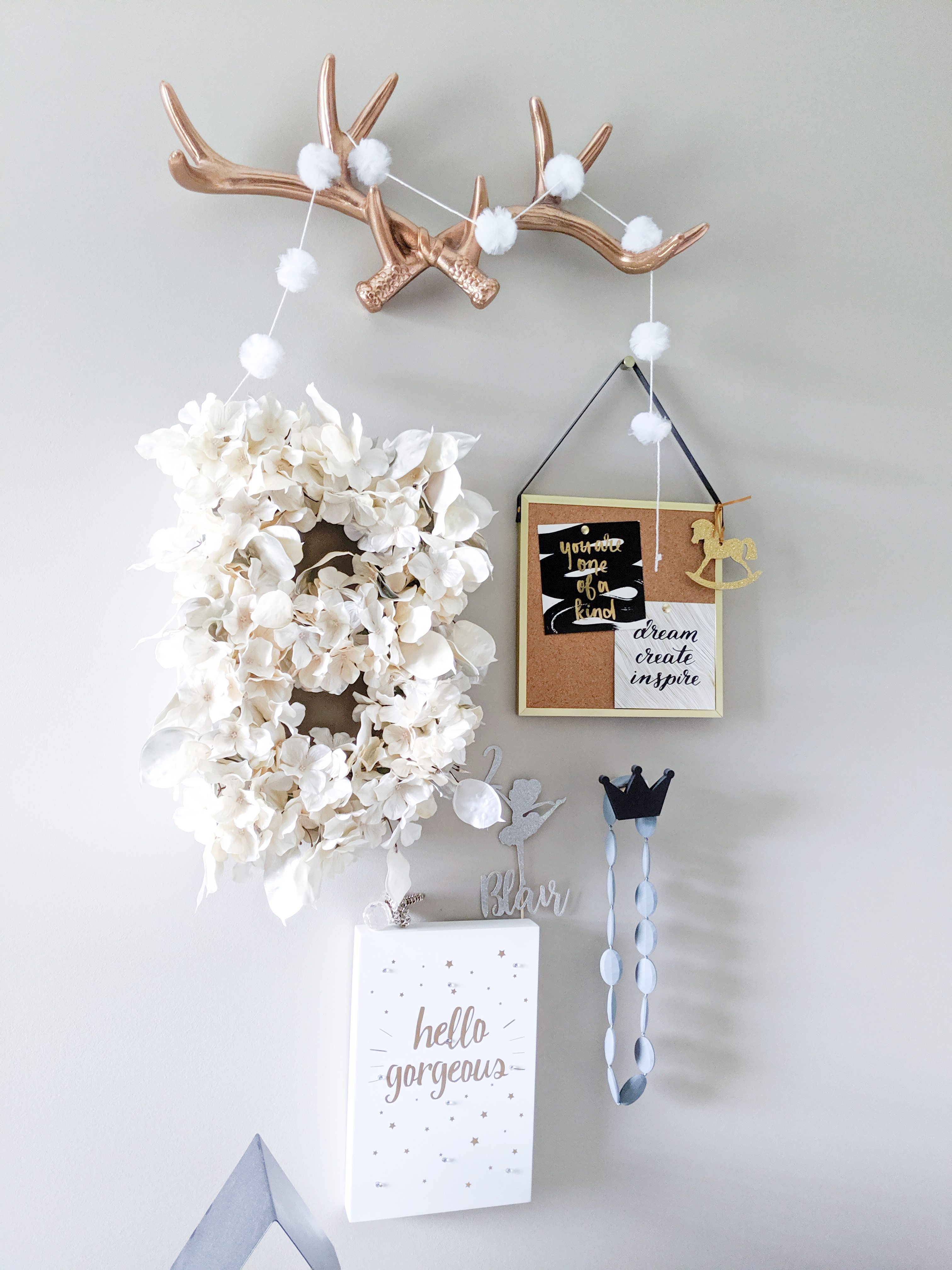 Her "Hello Gorgeous" sign actually lights up!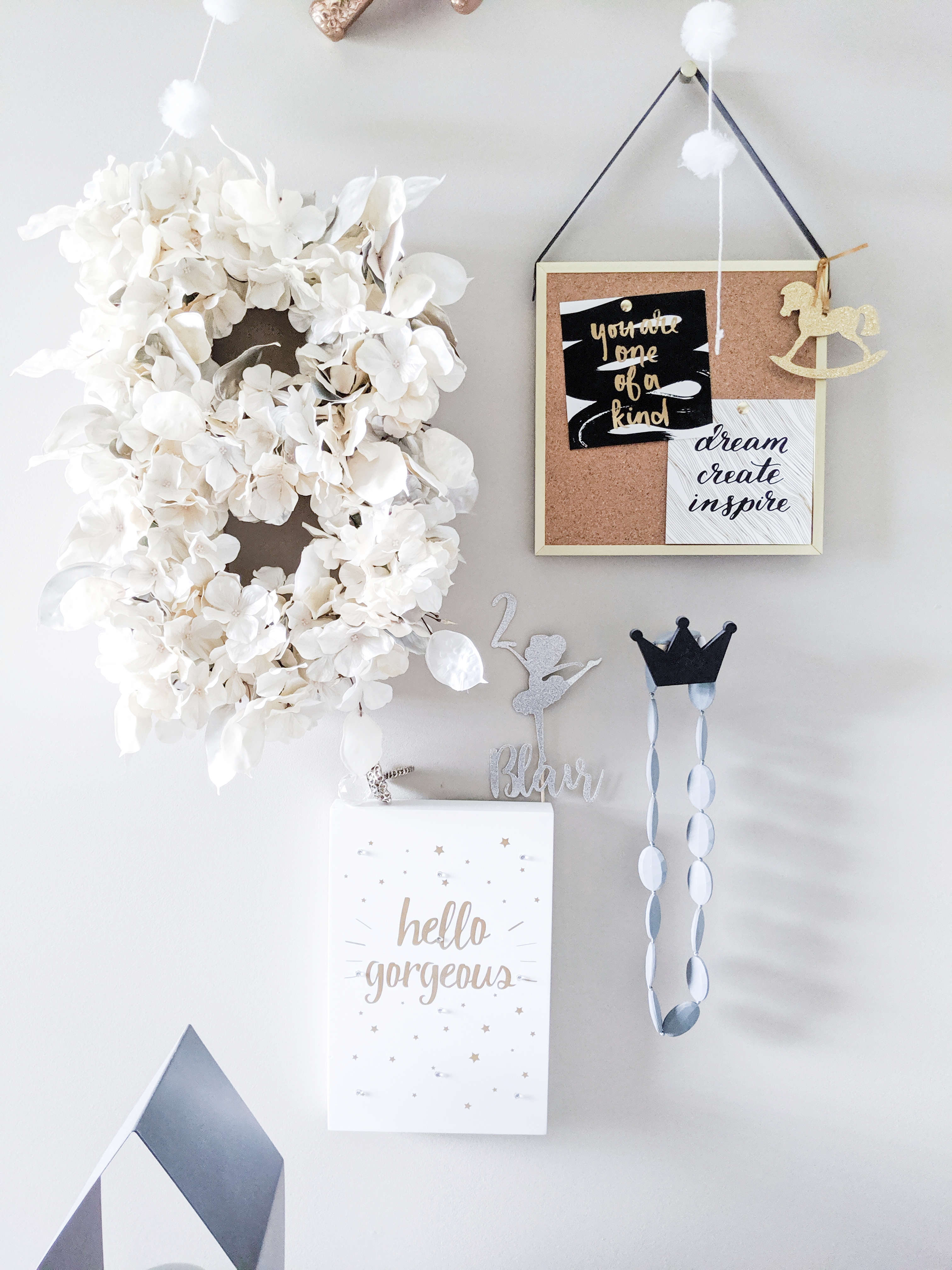 The floral B was a DIY project we did while I was pregnant. And the ballerina is actually the cake topper from her Tutu Cute 2nd birthday party!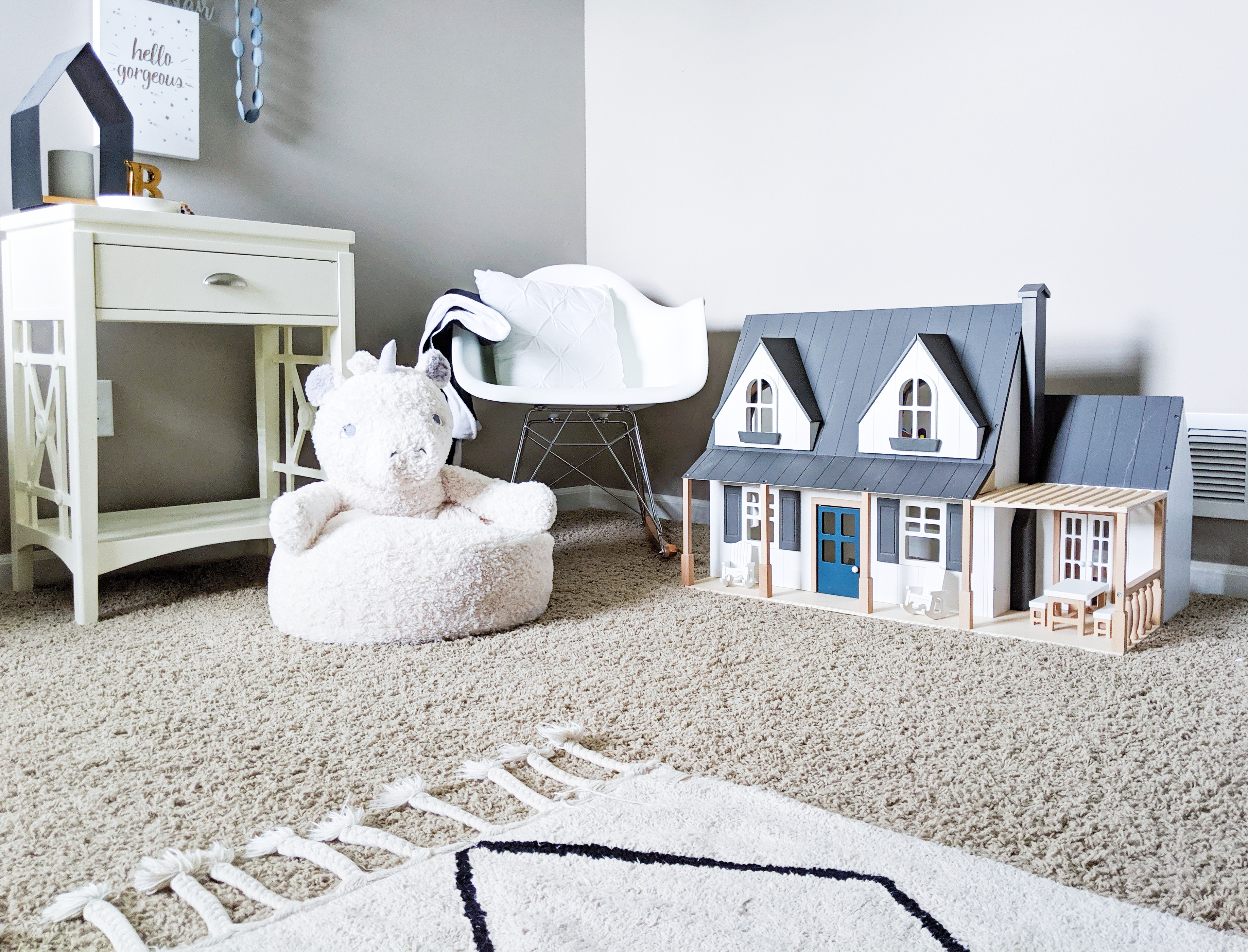 The dollhouse was her big 2nd birthday gift, and she loves playing with it. [If you have the same dollhouse, here's a post I wrote on the best dollhouse families for Hearth & Hand dollhouse!]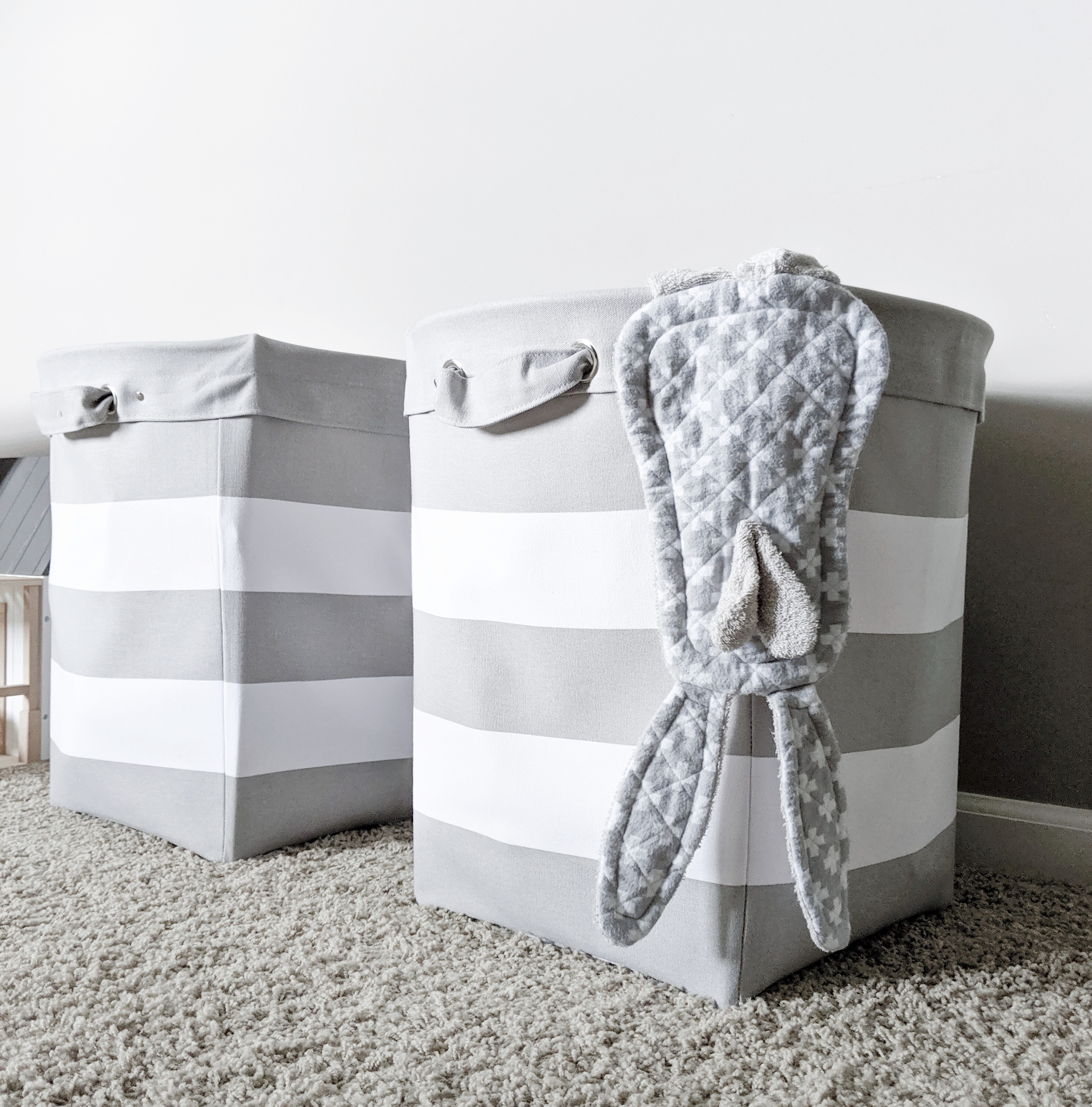 These bins hold her baby doll accessories + stuffed animals. We have the large size, and they're extremely versatile.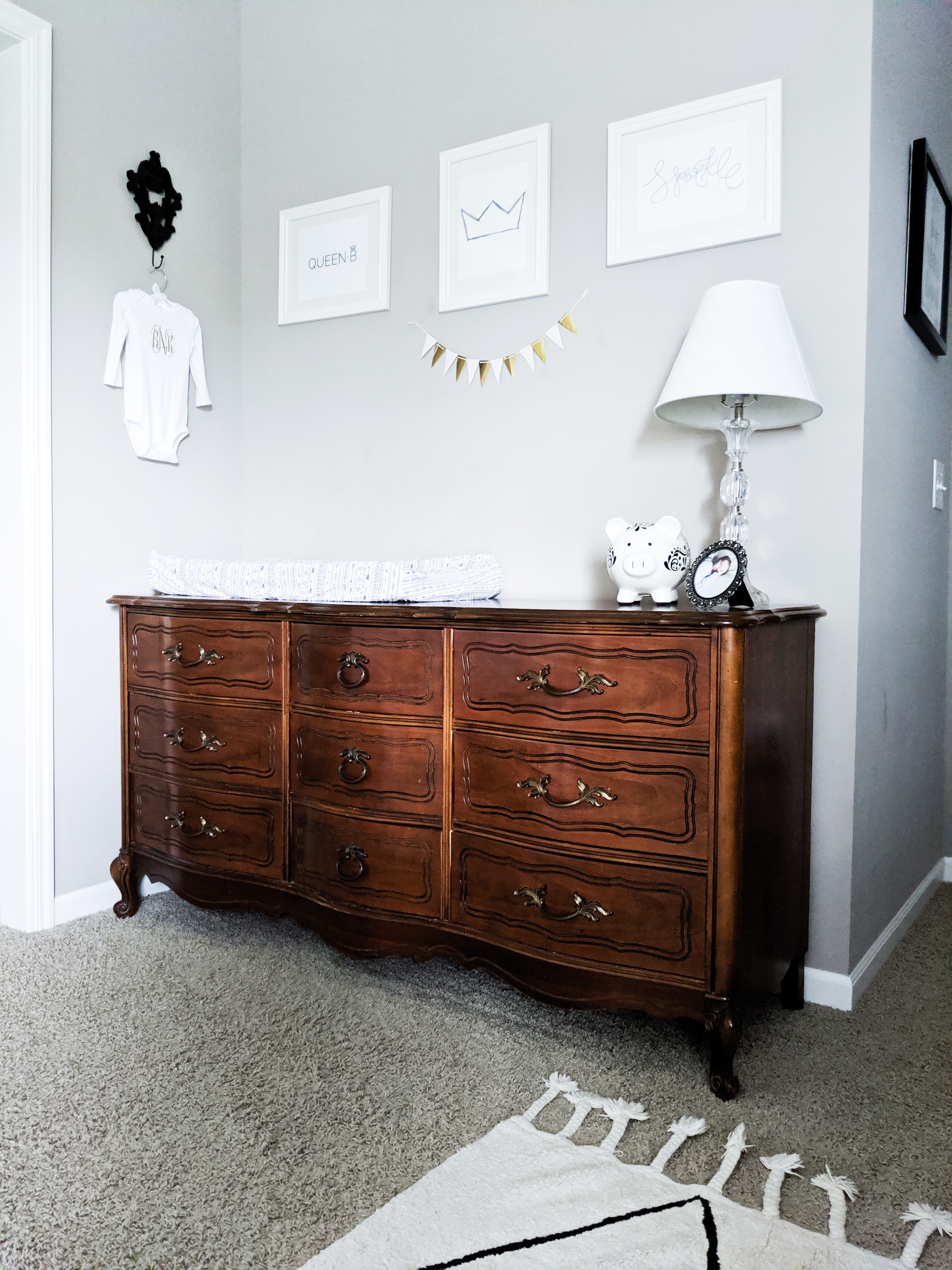 I found this dresser at a garage sale while I was pregnant with Colton! We used it as a changing table for him as a baby, then moved it into Blair's room since it fits perfectly along this wall. I like using a dresser instead of a changing table because it seamlessly transitions to a big kid room. [Pro tip: I use this to keep the changing pad from sliding around!]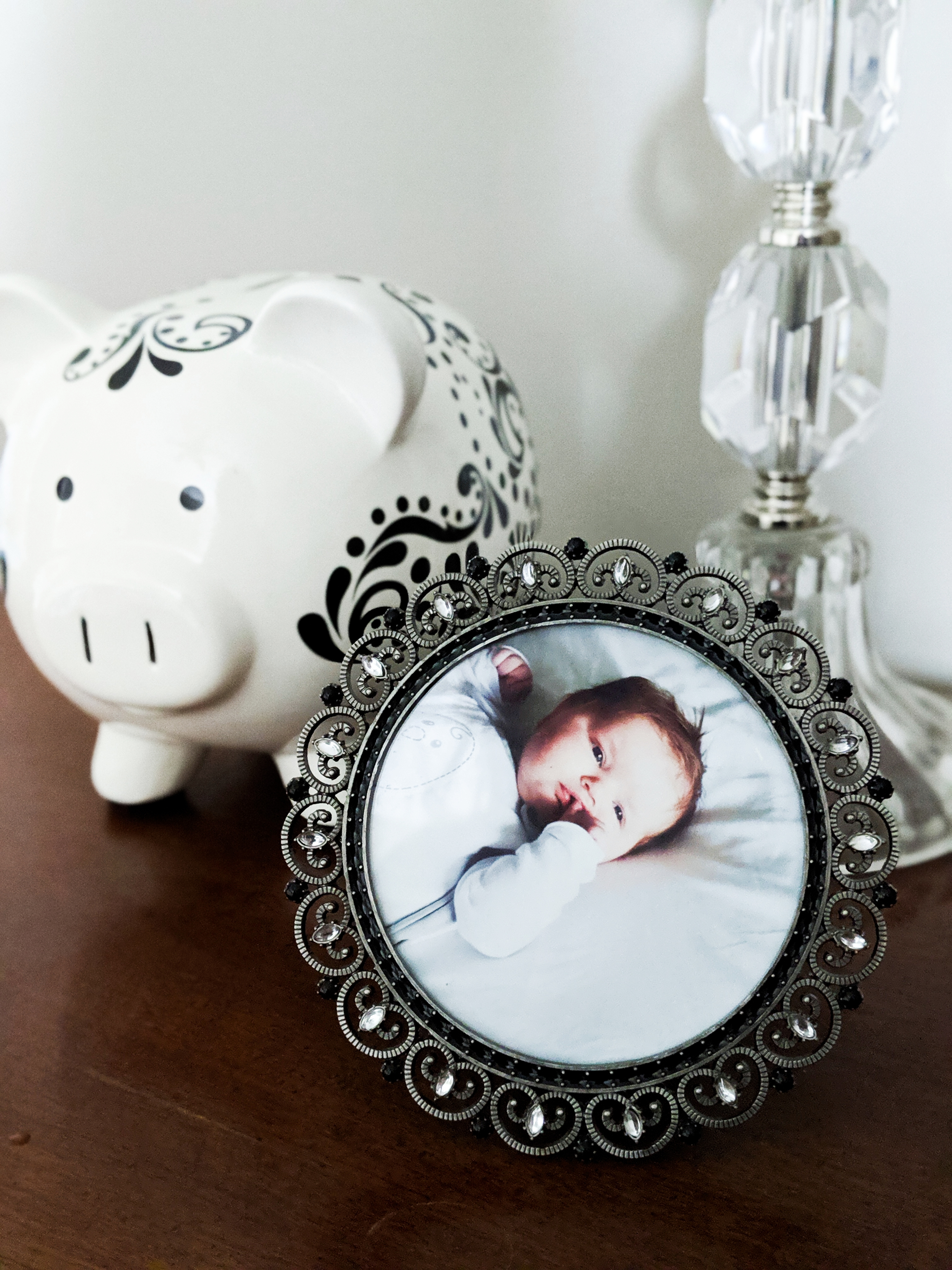 A framed copy of one of my favorite photos I've ever taken of Blair. [It was for this old blog post!]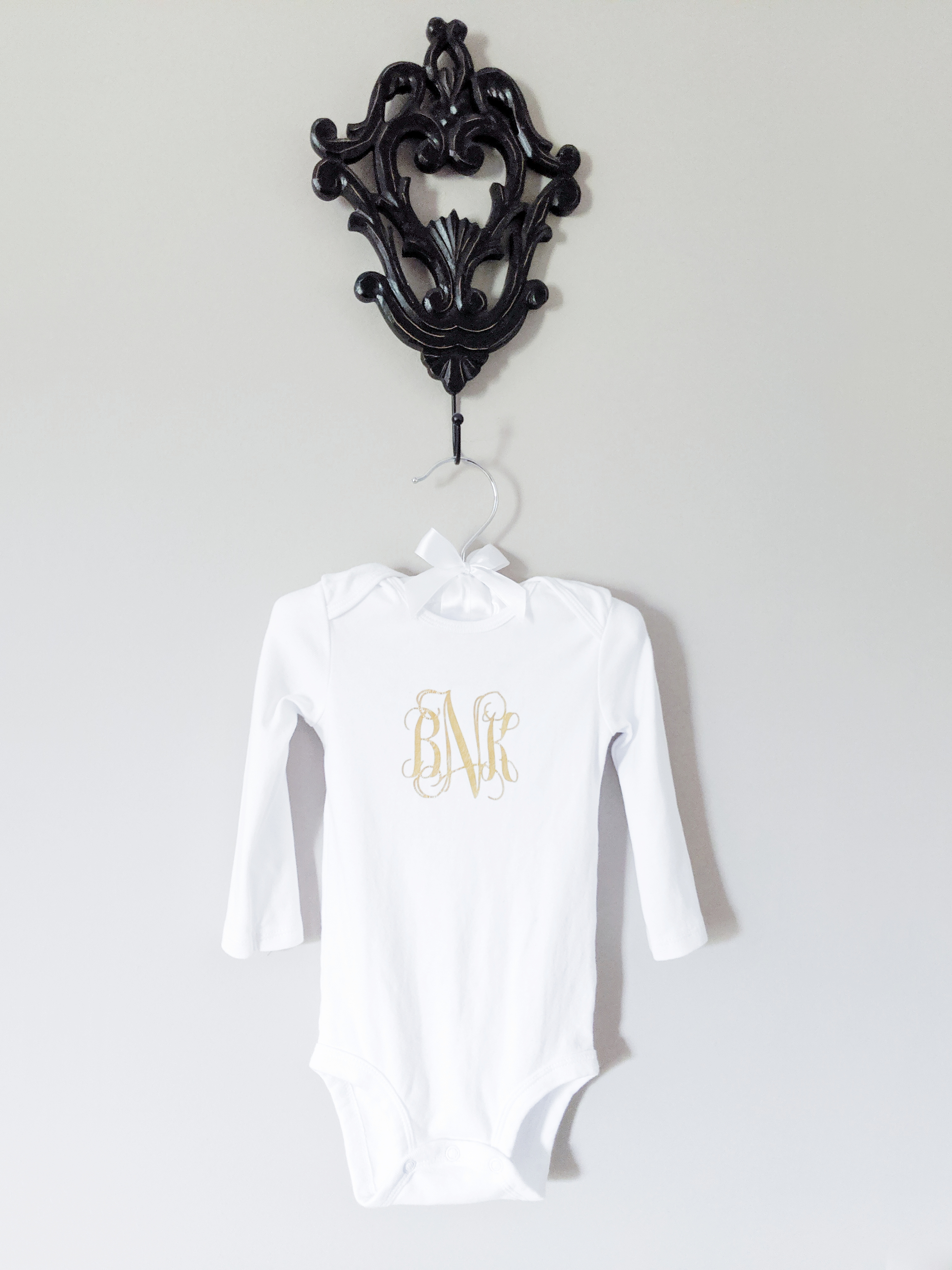 And her first monogram bodysuit.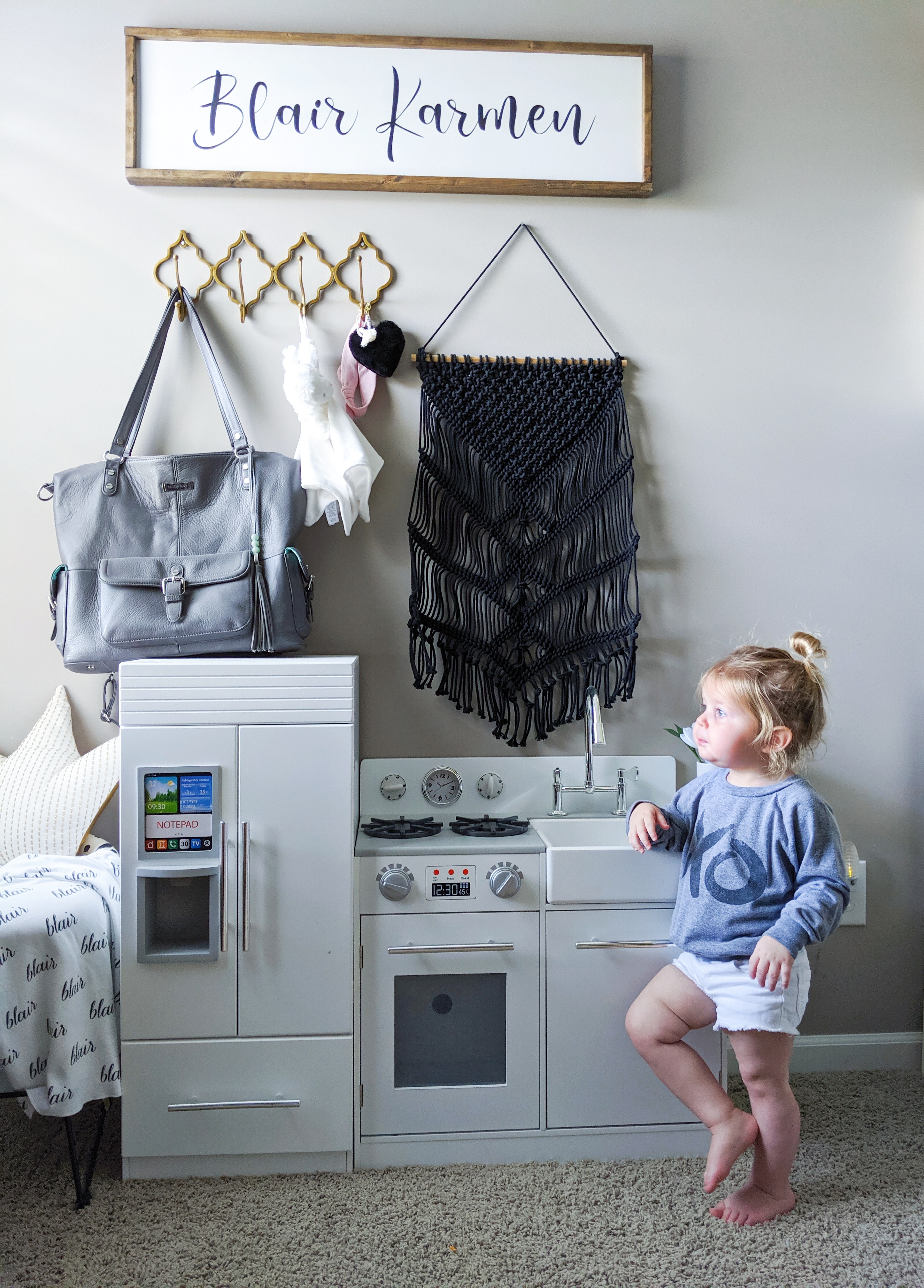 Looking like such a big girl at her kitchen. It's time for Blair to say goodbye to her baby girl nursery!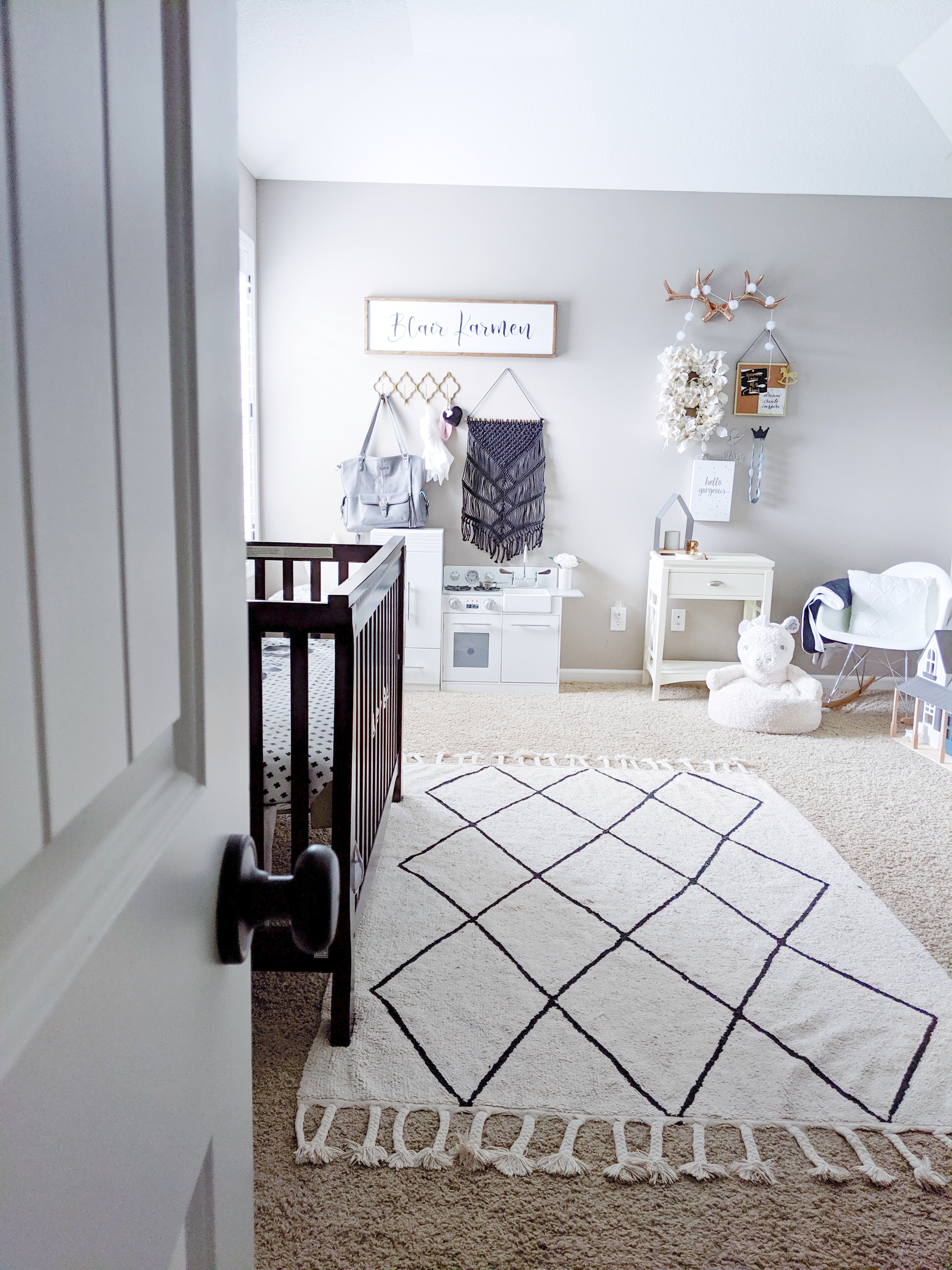 And for me to say goodbye to this view.
I'm not crying, you're crying.
But seriously, mamas, they grow up so quickly. If you're reading this while your kids are around, please give them a big hug right now. And remember that they'll never this small again. TEARS.
Shop Baby Girl Nursery Ideas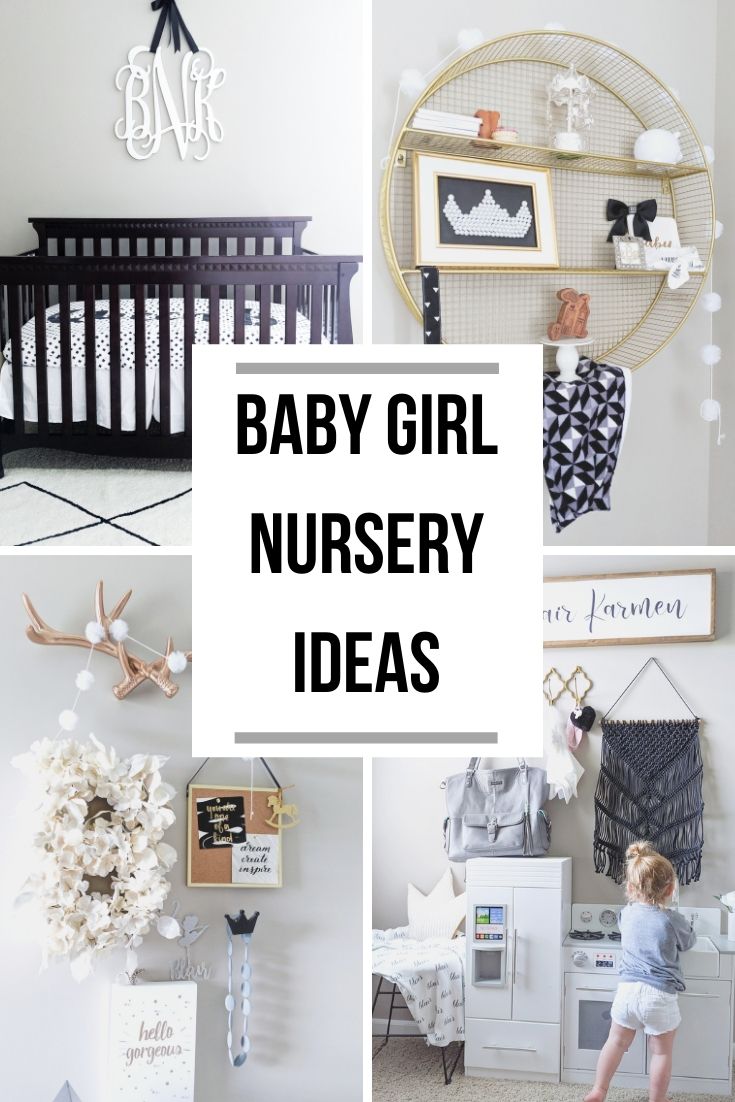 Pin these Baby Girl Nursery Ideas not pink for later!
Read these next: