I've been waiting to share this post with you for SO LONG. Seriously, this living room gallery wall is years in the making and I can't even count how much time I've spent looking at living room gallery wall ideas. If you follow my Instagram Stories, you've seen our living room re-do unfold in real time, but I've held off on sharing my gallery wall in its full glory until today. Without further ado, here's my new favorite space in our home…
Sponsored by Desenio.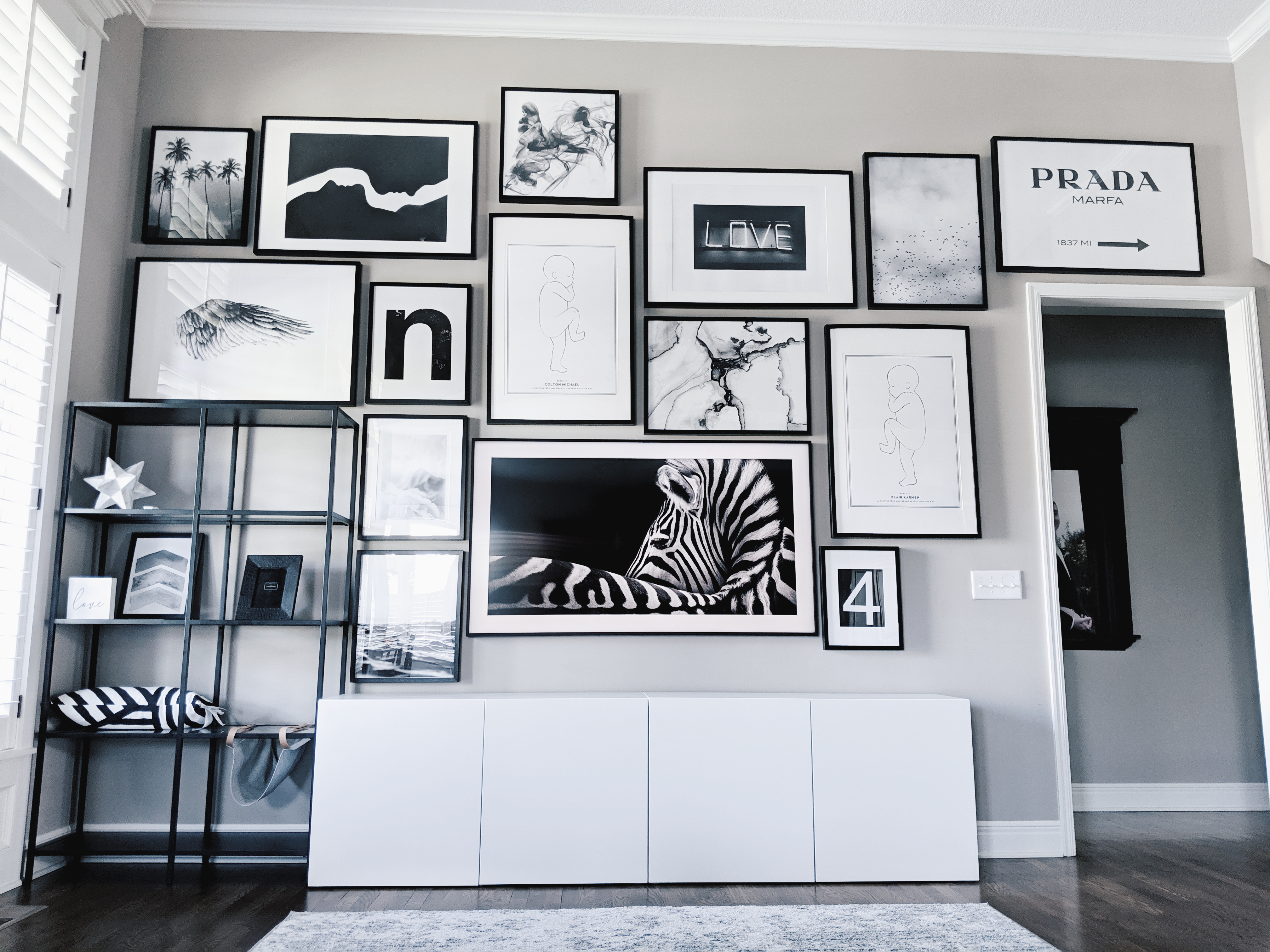 YOU GUYS. I cannot believe that is actually my living room. This wall takes me by surprise [in a good way!] every time I walk in the room.
To fully appreciate the transformation, let's take a look at where we began.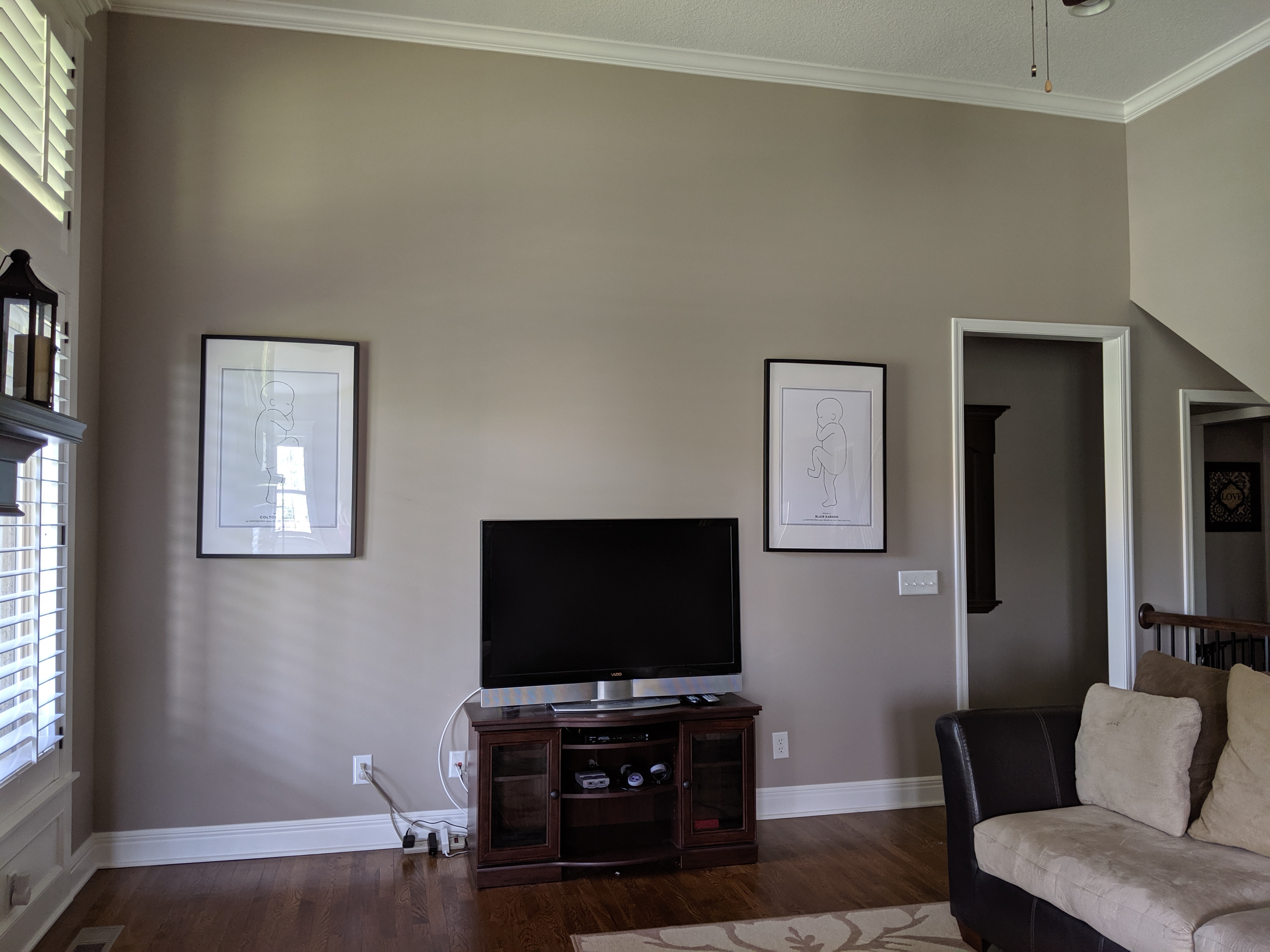 Yeah. So, we built our house 7 years ago and never really knew what to do with this big blank wall. It's huge–the ceilings are 12′ tall–which makes decorating it quite overwhelming.
For a long time, we talked about doing 2 large built-in bookshelves with room in the middle for a TV. But built-ins are expensive, and I didn't want to invest if I wasn't 100% sure we would love them.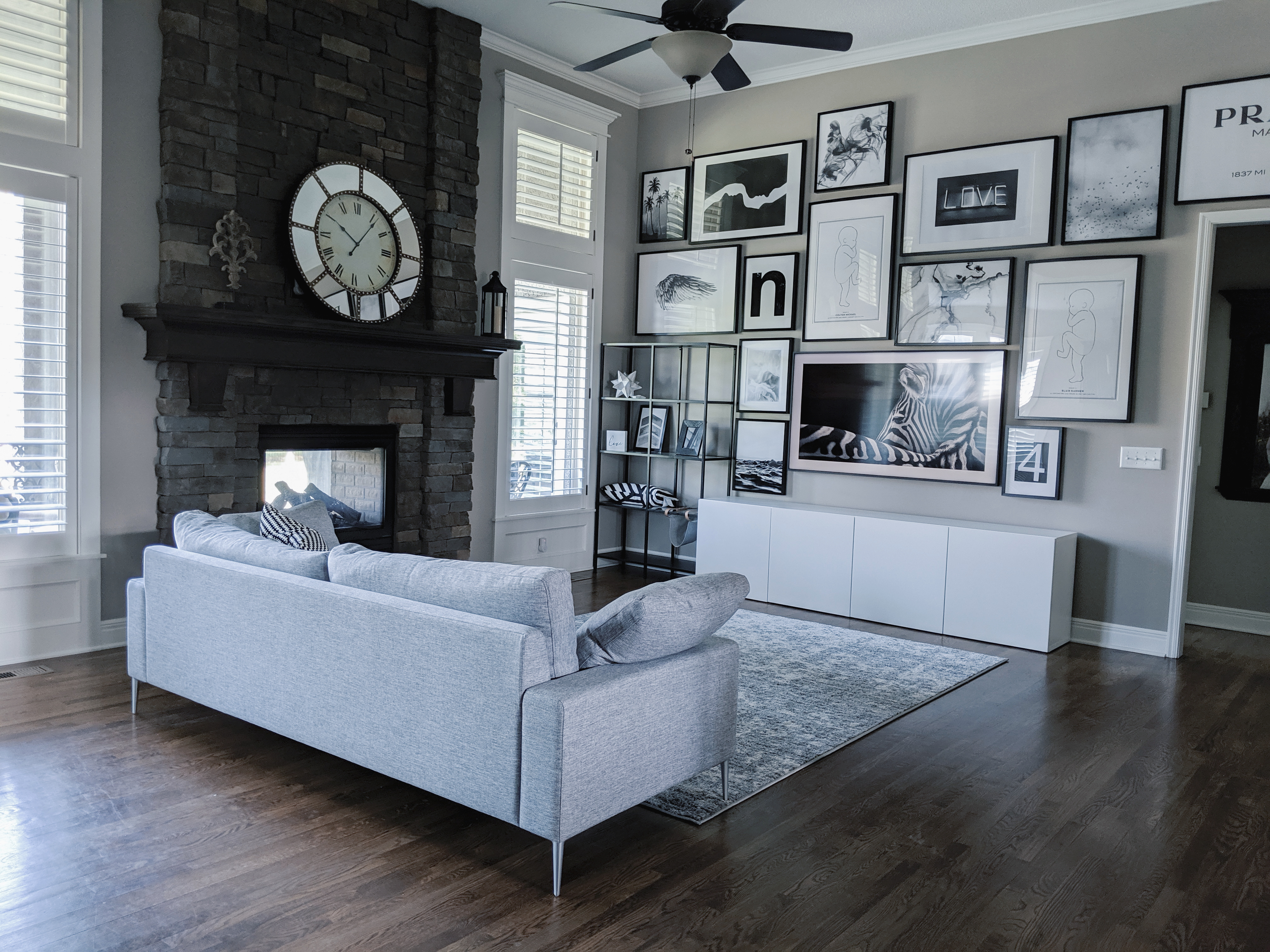 I started toying with the idea of a gallery wall a couple of years ago. But I could never find enough art that I liked and I didn't want to buy things piecemeal and not have the right sizes down the line. So I just put it on the back burner [which is where you'll find most of my projects tbh].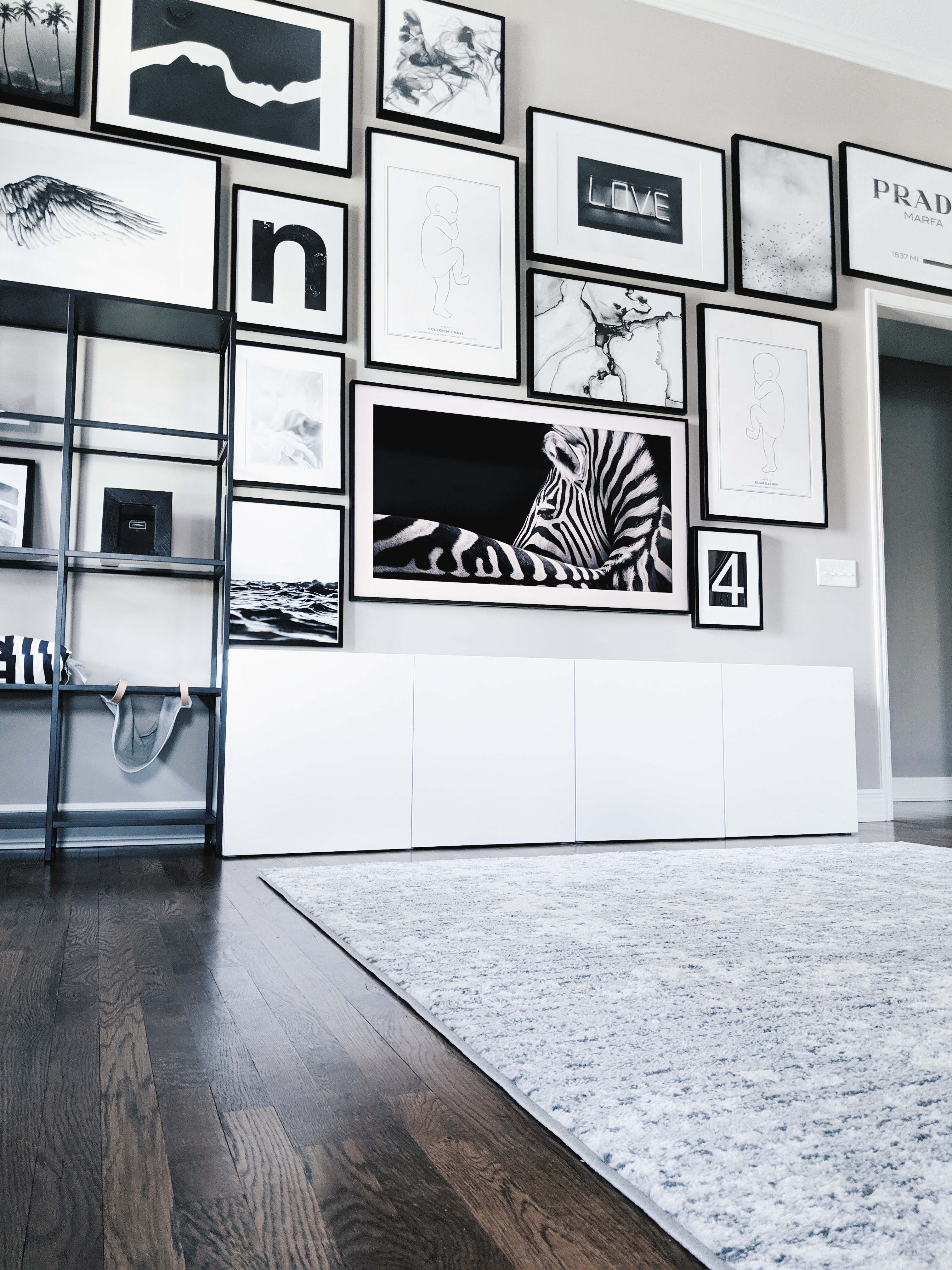 Eventually, I came across Desenio and absolutely loved their black and white collection. They're a Swedish company that specializes in Scandinavian design, which fits perfectly with my minimalist decor vibe. [Check out our black and white master bedroom and Blair's monochrome nursery if you like this style too!]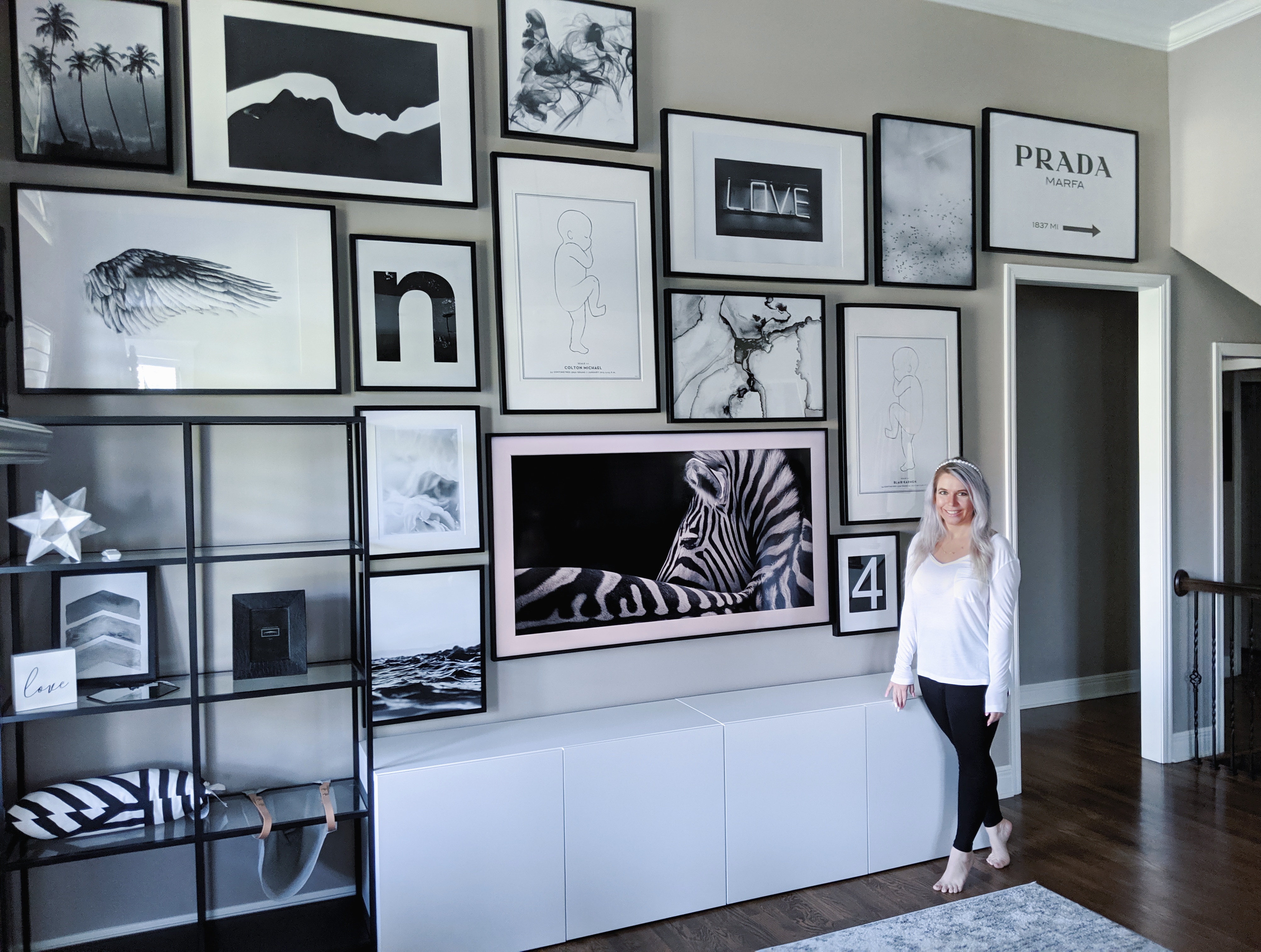 Obviously I still need to style the shelves, but I couldn't wait any longer to show you how my living room gallery wall turned out.
I also got Desenio to agree to offer a special Desenio coupon code just for my readers! The code COVET gives 25% off posters* on all Desenio sites until August 15, 2019. Follow @desenio for more inspiration! *Except for frames and handpicked/collaboration/personalized posters.
Here are names of the specific posters I have from Desenio, if you want to recreate this look [from left to right]: Palm Trees, Ikaros, Profiles, Dusty Rose, Fade Away, Neon Love, Number 4, Bird Sky, and Prada.
By the way, a couple of the images have special meaning for us–N is our last name initial and 4 is for the number of people in our family. I love adding little personalized touches like that.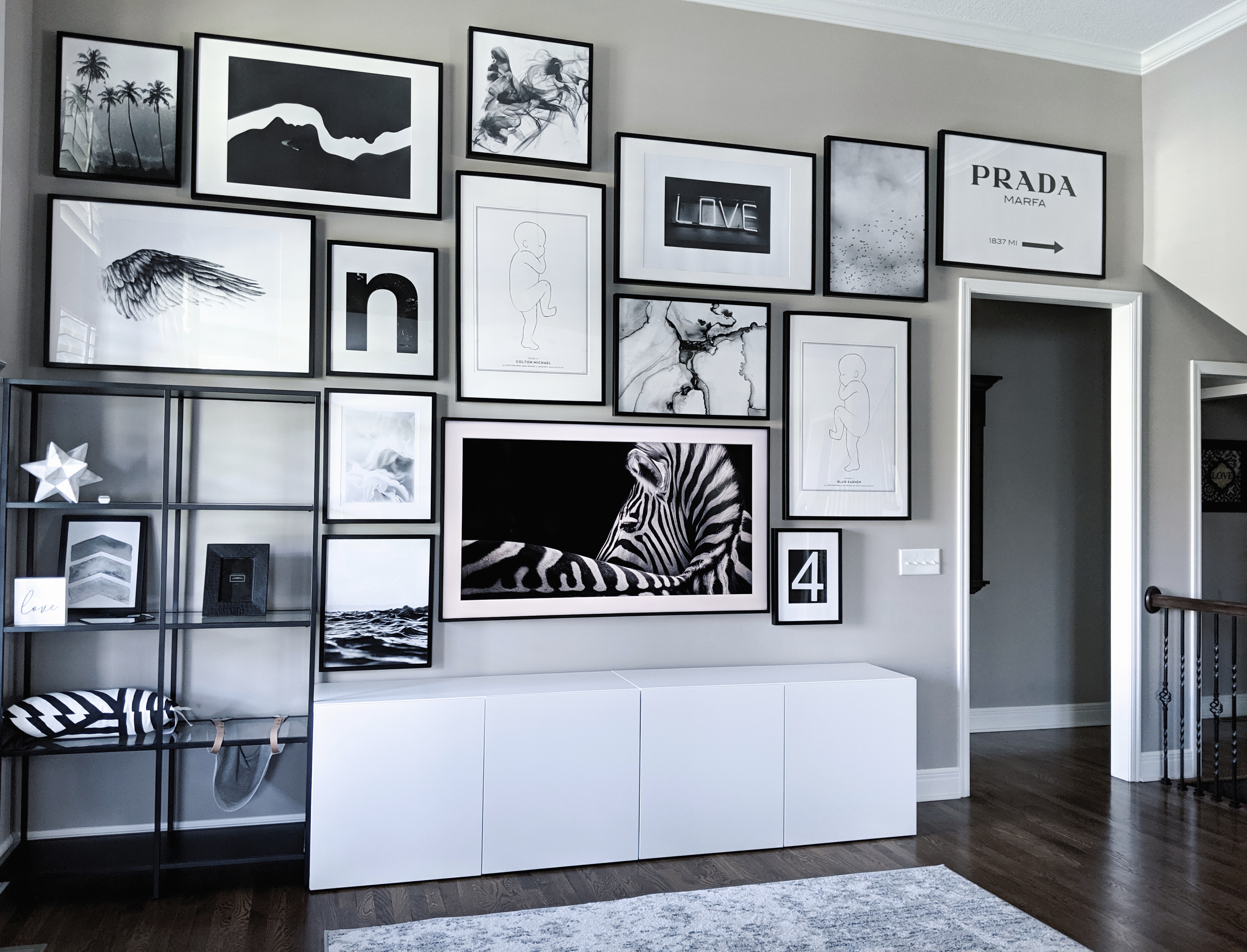 Can you guess which picture doesn't belong?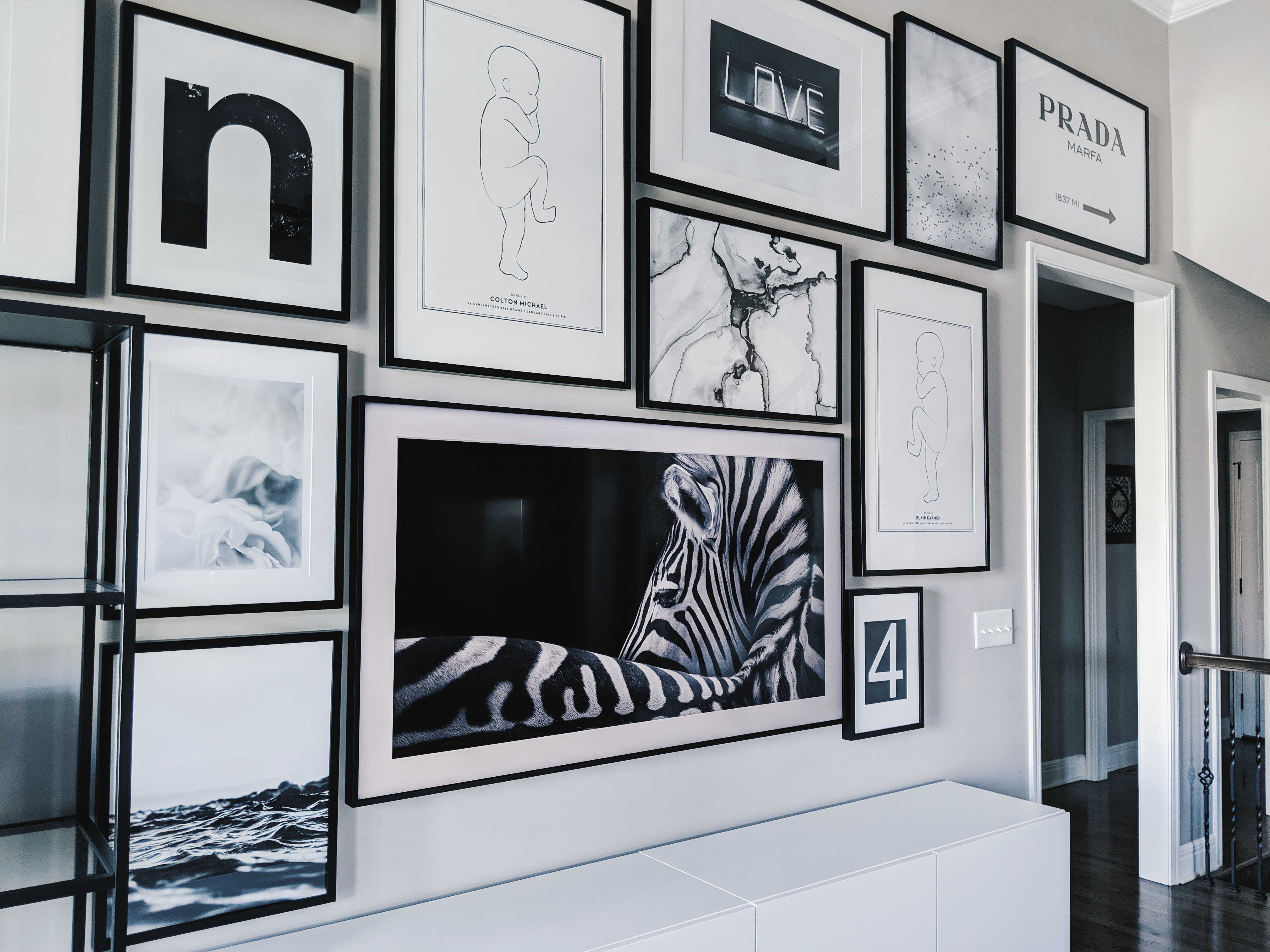 The zebra is actually our TV! My husband had sent me a link to this TV a couple years ago and said we should get it if we ever end up doing that gallery wall I'm always talking about. It's literally called "The Frame" and it does live up to the hype. Someday I'll do a full post reviewing it, but for now I'll just say this–if you have the money, do it. You won't regret it.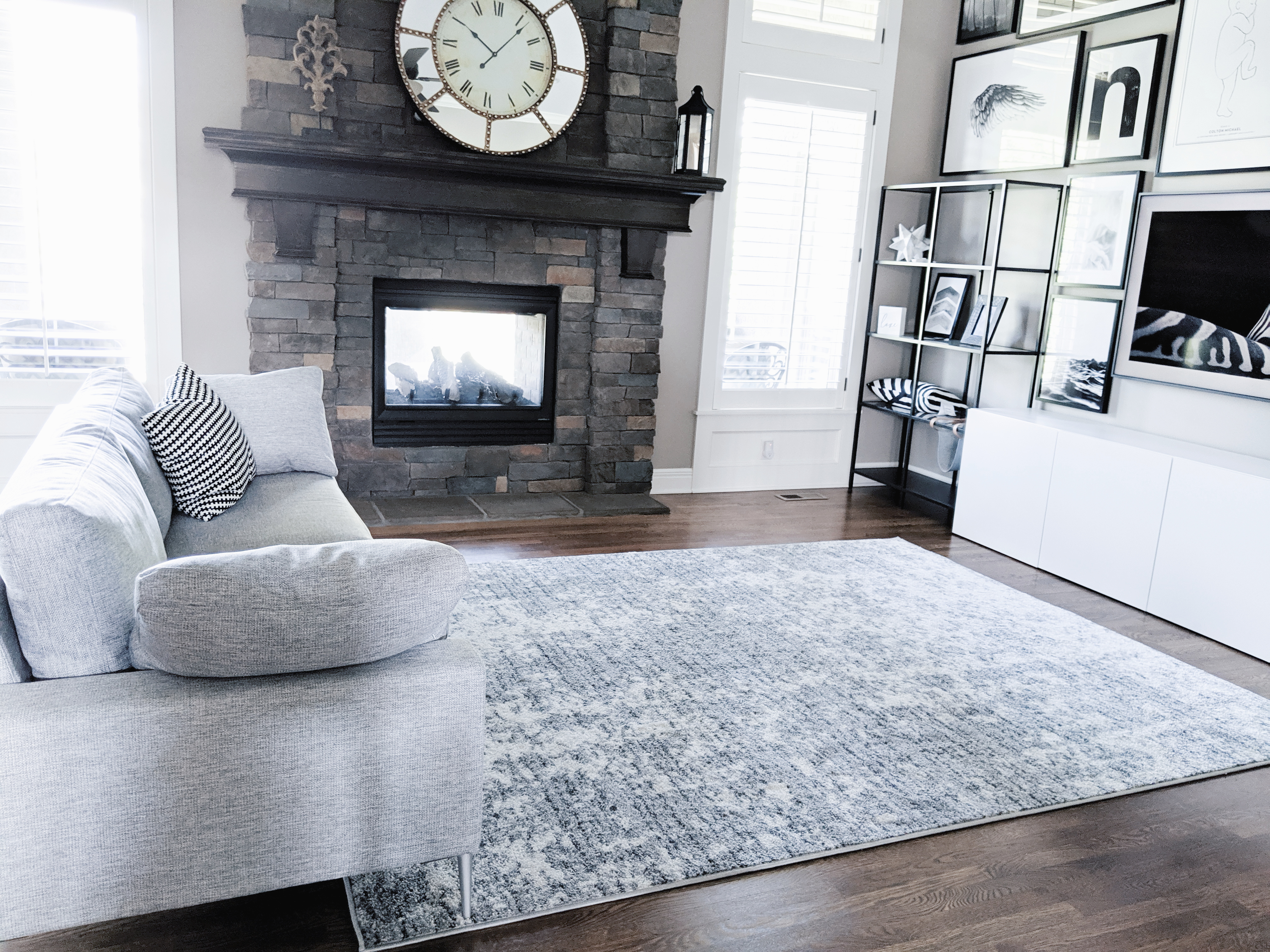 I know the room still looks a bit bare here. Our new rug is really helping to anchor the space, though. We've also ordered these chairs and coffee table to complete the space. Unfortunately, they've both been delayed in shipping. I'm so eager to see how everything looks together!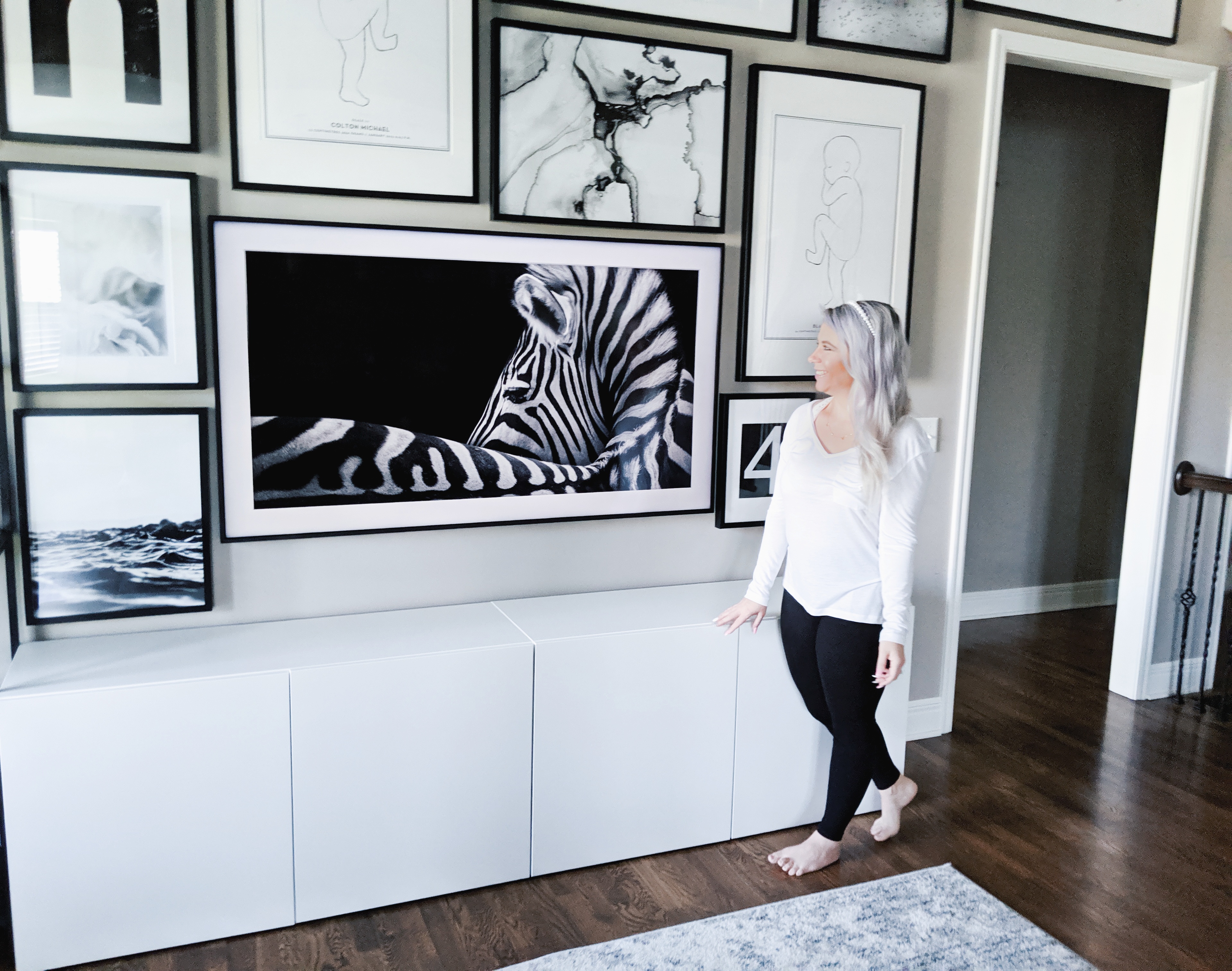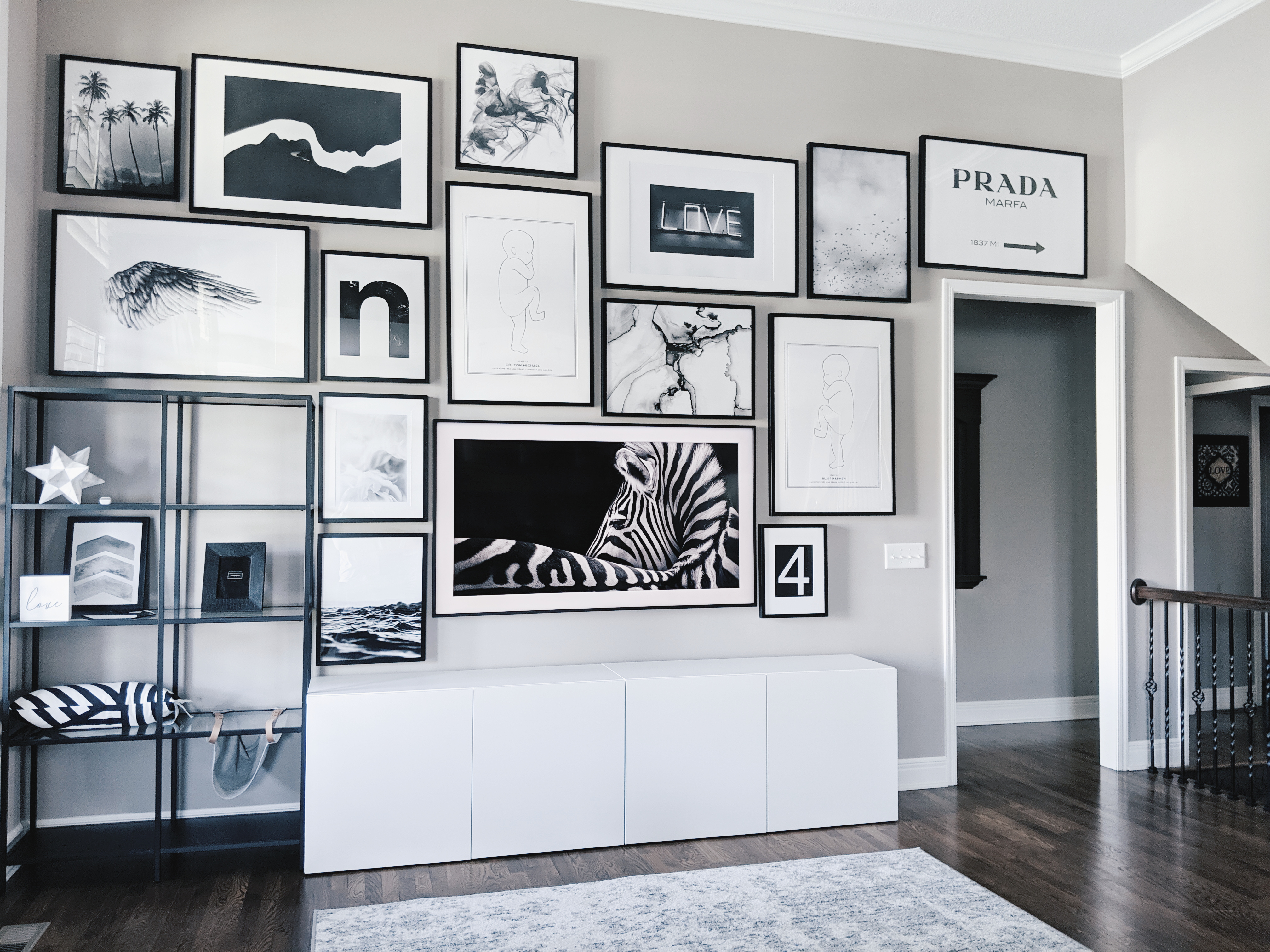 As for my Desenio review, I've been very impressed with the quality of the posters as well as the shipping speed. I was a little worried that shipping would take forever from Sweden [especially given what I'm dealing with for the chairs and coffee table, and they're from the USA!]. But Desenio shipped via DHL and my packages arrived within a few days! The posters arrived rolled in a sturdy cardboard tube, so I unrolled them and used some heavy books to flatten them out on my dining room table for a couple days. The Desenio posters are printed on a nice, thick matte paper. I'm really pleased with them!
Especially considering we went from this…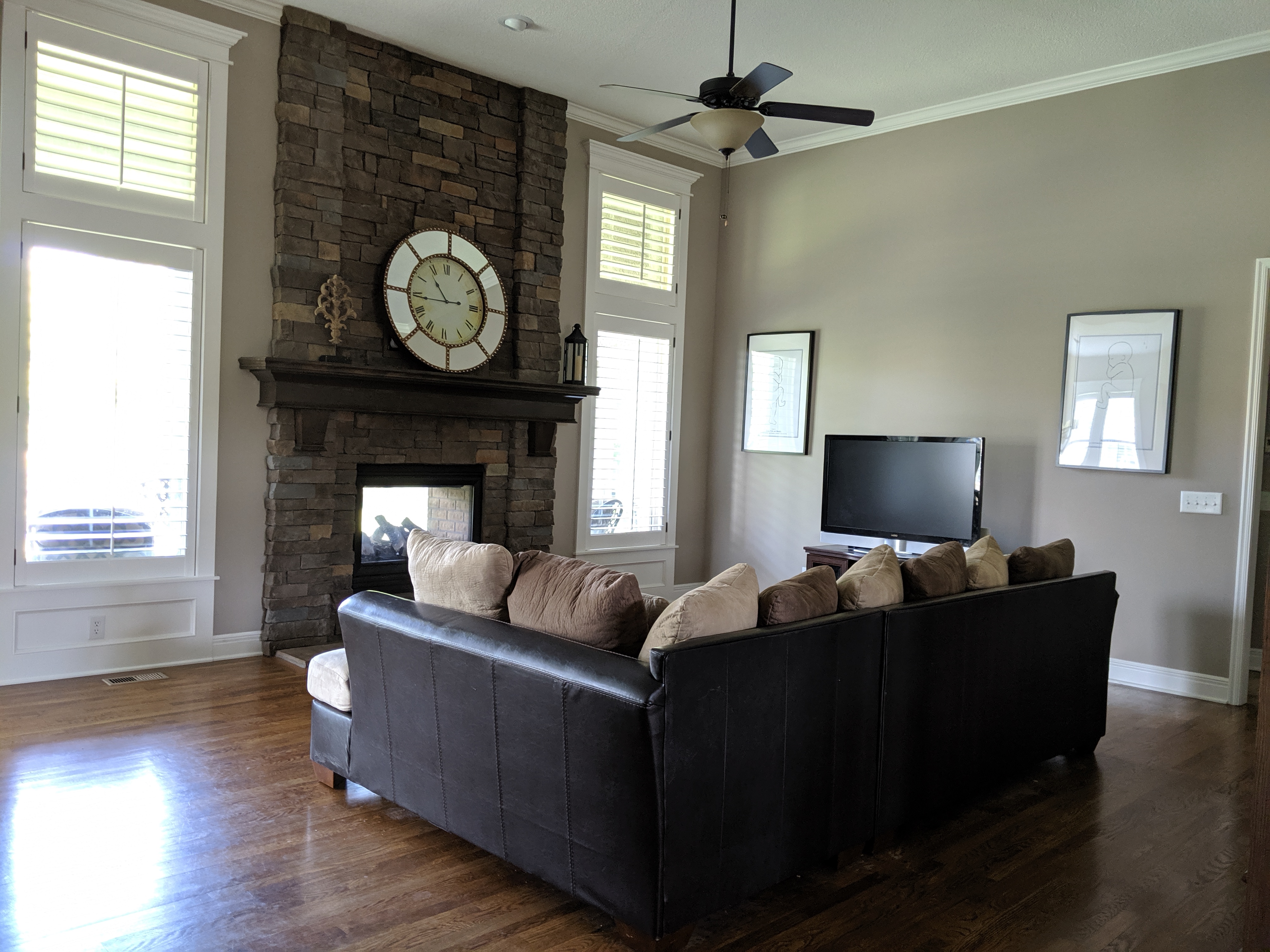 TO THIS.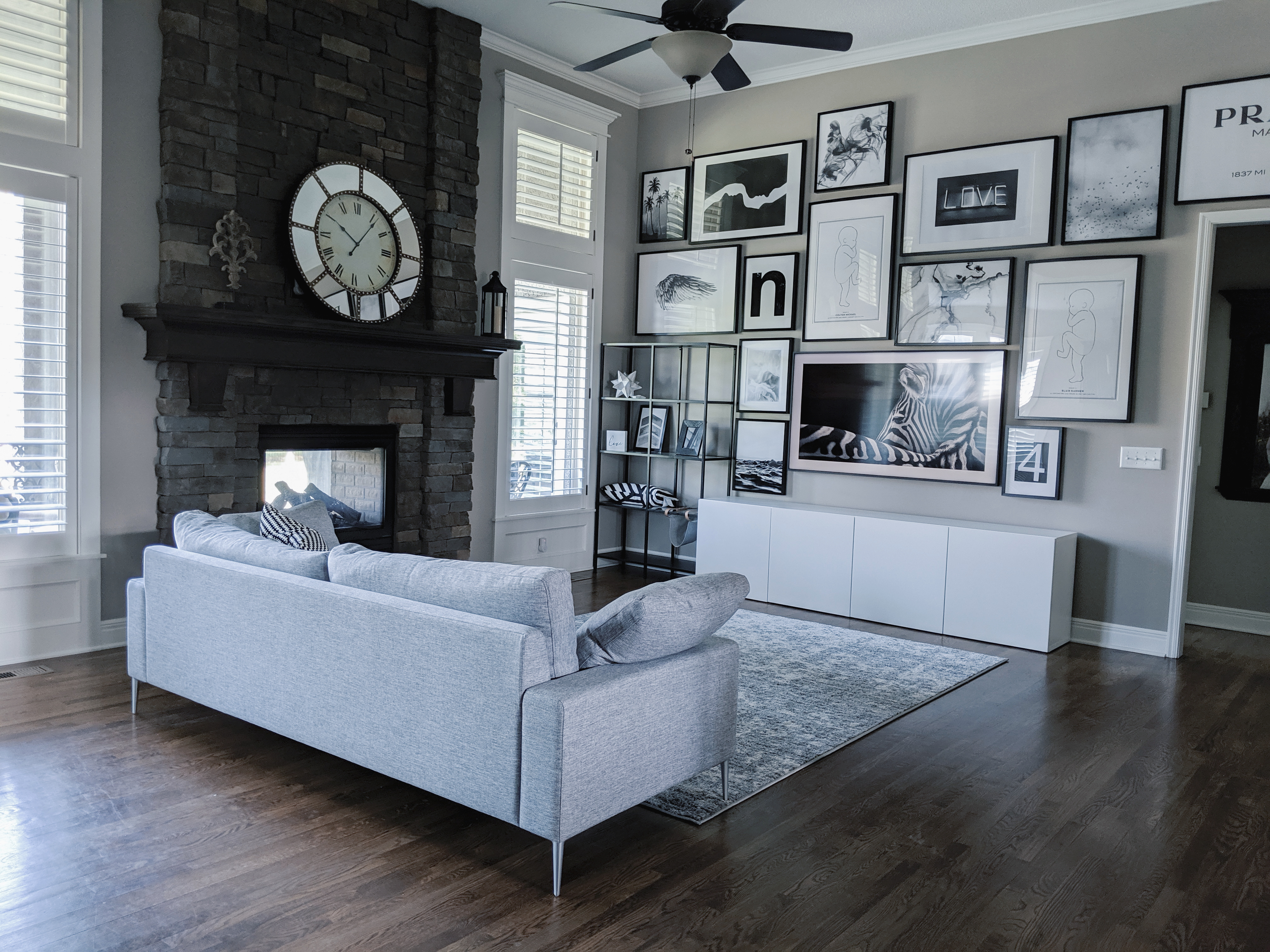 Looking forward to sharing more of our living room redo with you soon. When I've polled on Instagram Stories, you always say you want to see more home-related content, so I'm working hard to create more inspo for you!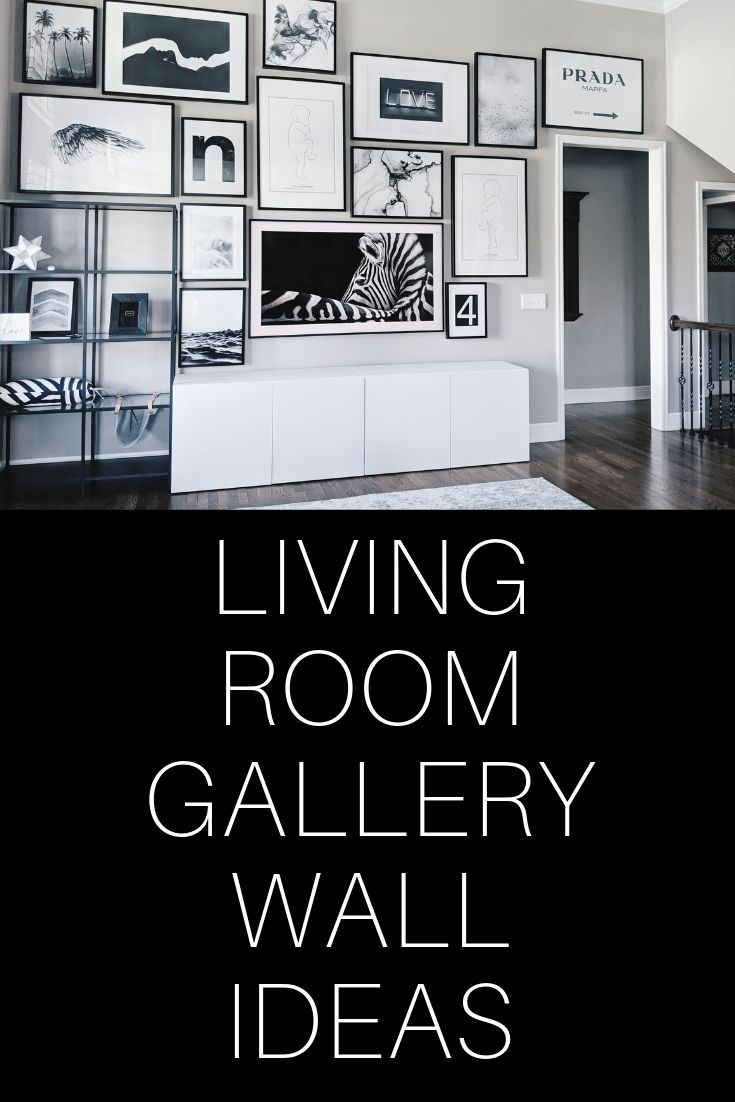 Pin these living room gallery wall ideas for later!
Read these next: