Having 2 kids means I spend a lot of time at the park! I always try to scope out new parks online before visiting in person, but a lot of them don't have much information available. So, I thought I'd start a new series and post some photos and info on our favorite parks to help those of you looking for new places to explore around Kansas City. I'm starting with one of our favorite parks in Stilwell, KS. Keep reading for my Stilwell Community Park Review…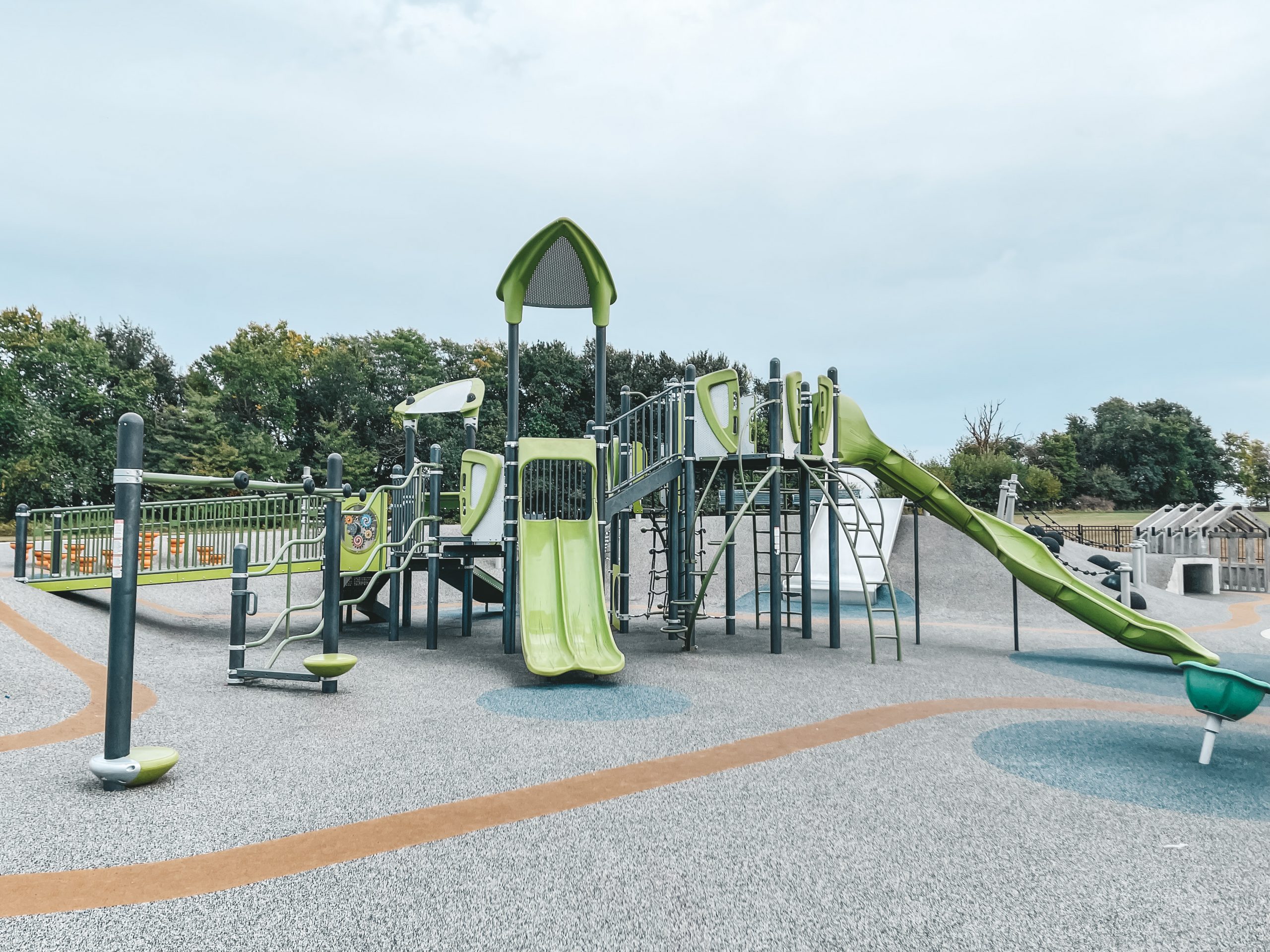 Pictured above is the main play structure at Stilwell Community Park. It's very large and has plenty of room for lots of kids to play together. Stilwell is also an inclusive park–note the ramp on the left side of the play structure.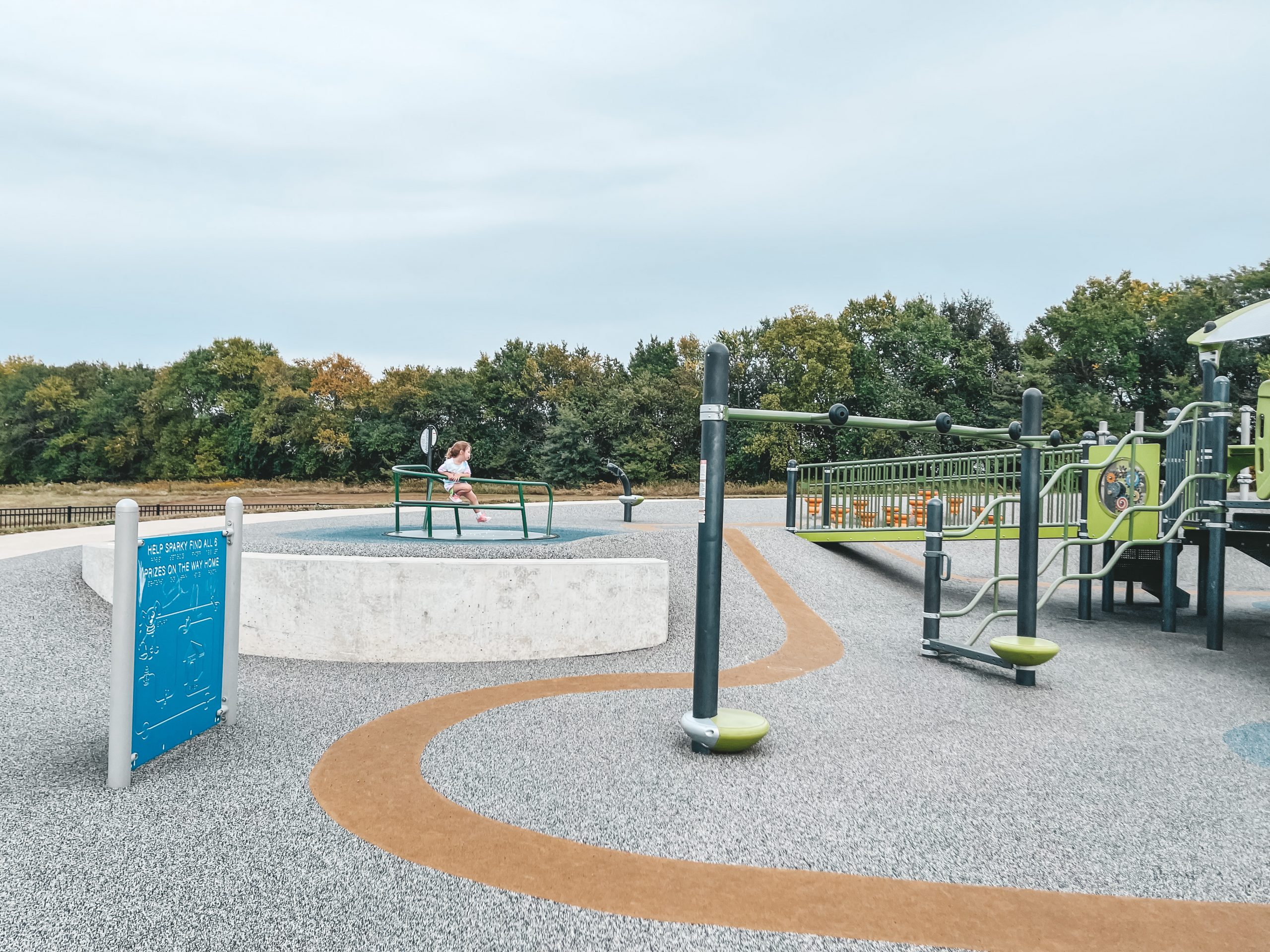 Although it looks like asphalt in the photos, the play area at Stilwell Community Park has padding underneath. It's sturdy enough for kids to run on but soft enough to handle their inevitable falls. And no mulch to get in their shoes!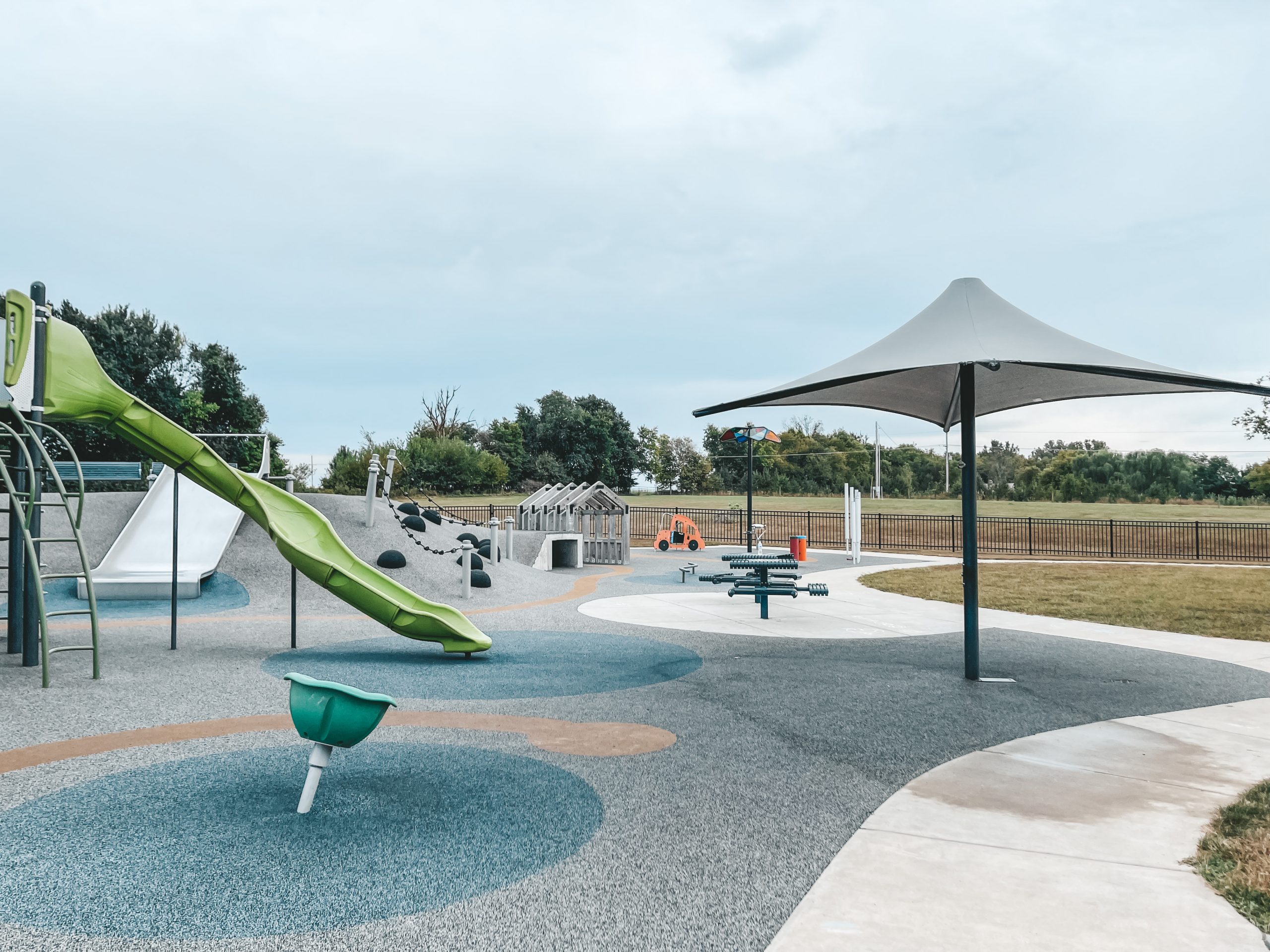 Behind the large play structure is another slide and some smaller play items for little kids to climb on and around. The large umbrella in the right side of the photo above is actually a water feature. It sprays a mist of water whenever kids push the button, which is great for hot days.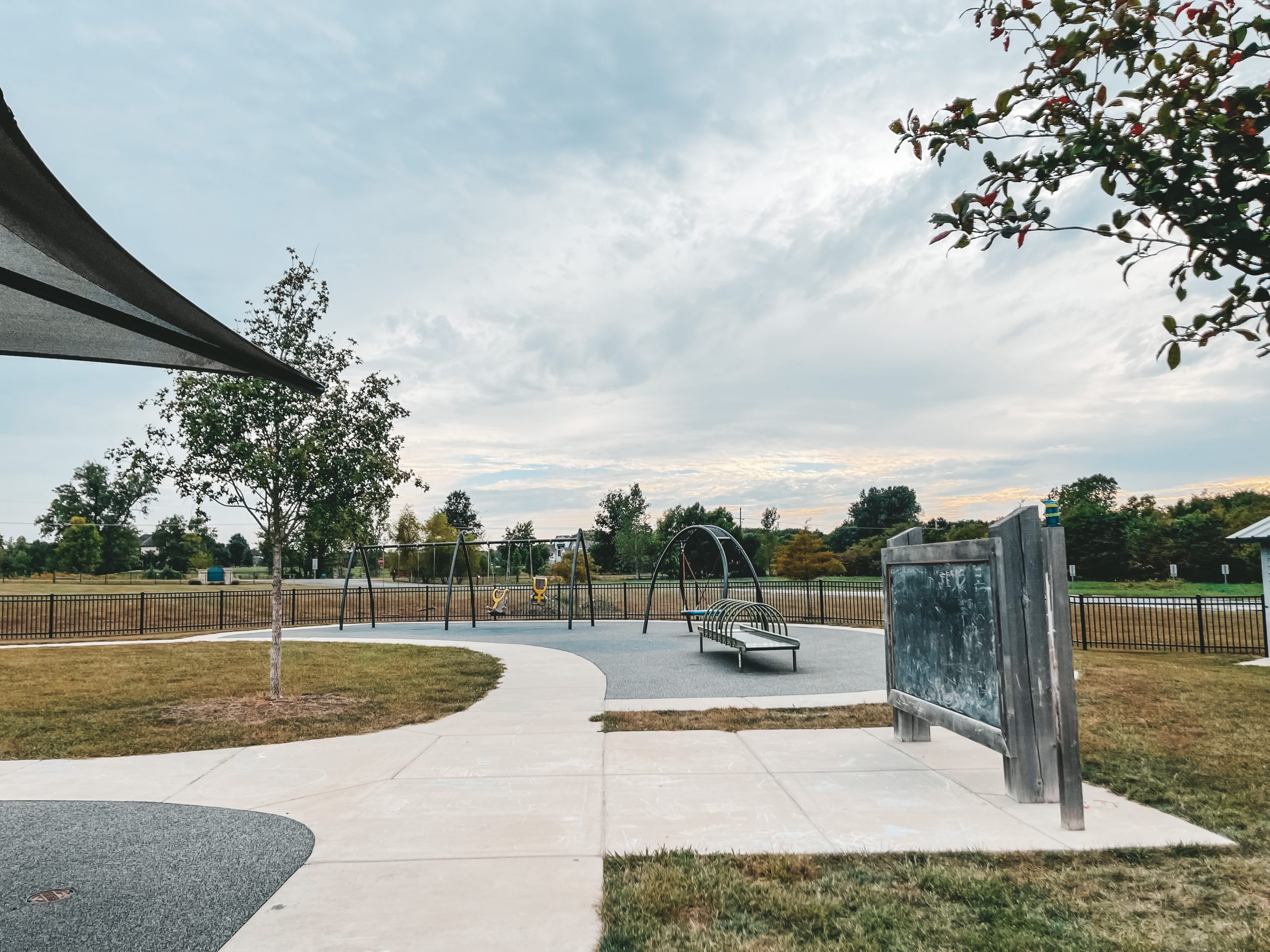 To the other side of the umbrella structure (seen at the left of the photo above) are a couple of swing sets. Some of the swings are inclusively designed, and the standalone swing is one of those disc swings where a couple kids can use it at once. There's also a chalkboard, so you might bring some chalk for your little artists. (It's 50/50 on if chalk will be at the park, so bring your own if you definitely want to use the chalkboard.)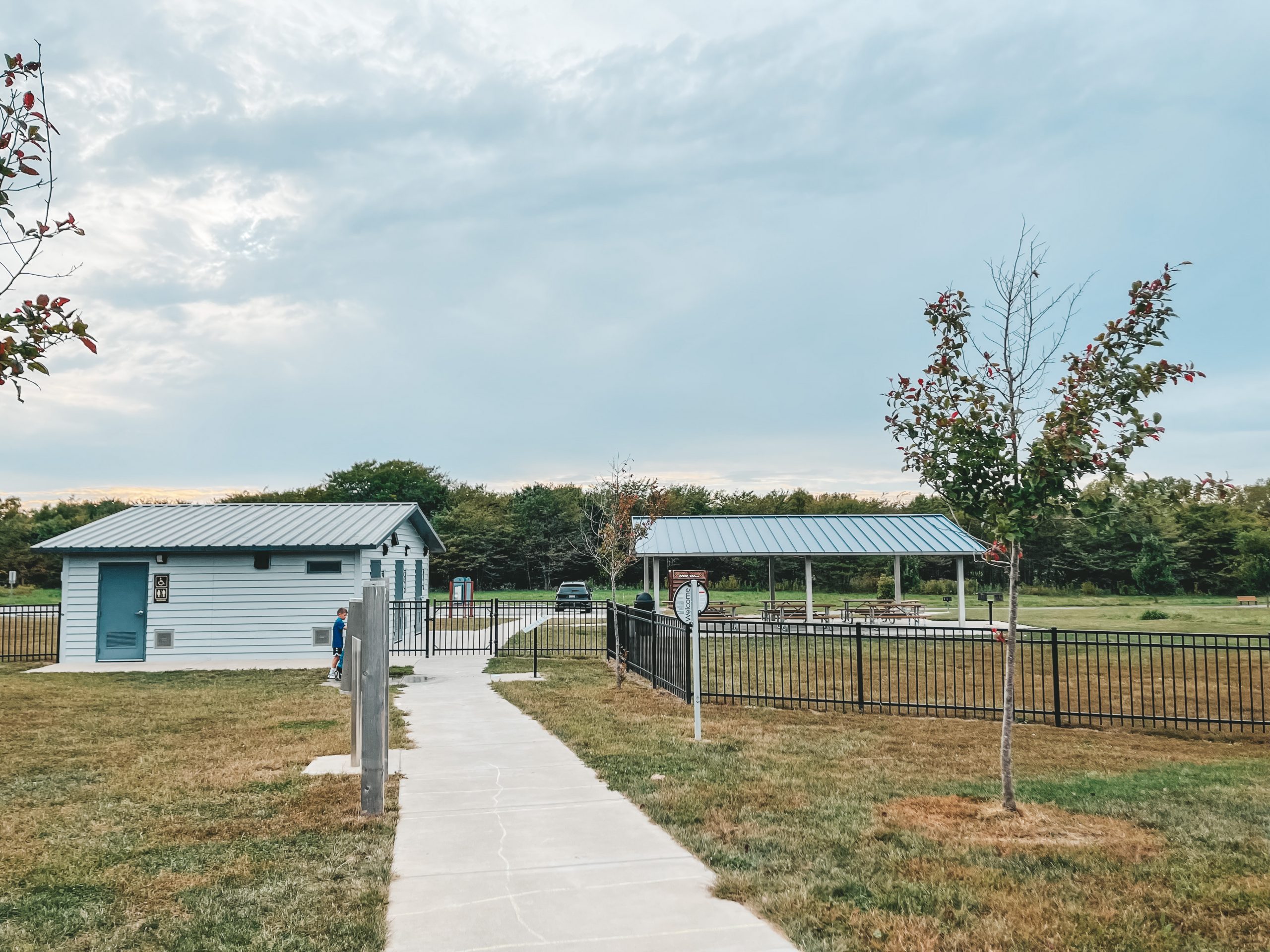 My favorite part of Stilwell Community Park is that the play area is fully fenced! You can see the gate in the photo above, which you open when coming in from the parking lot. There are also 3 private restrooms and one shelter, which you can reserve through Johnson County Parks & Rec. I do recommend a reservation if you want to have a party/event here, because this park does get busy (especially on weekends) and you can't guarantee the shelter will be available without a reservation.
Overall, Stilwell Community Park is a great place to bring your kids to play! It's one of our favorite parks in Kansas City. The exact address of Stilwell Community Park is 6402 W. 207th St., Stilwell, Kansas 66085. The park is open from dawn to dusk year-round.
Stay in touch! Follow me on Instagram for more Kansas City fun, and check out all of my family's social media here.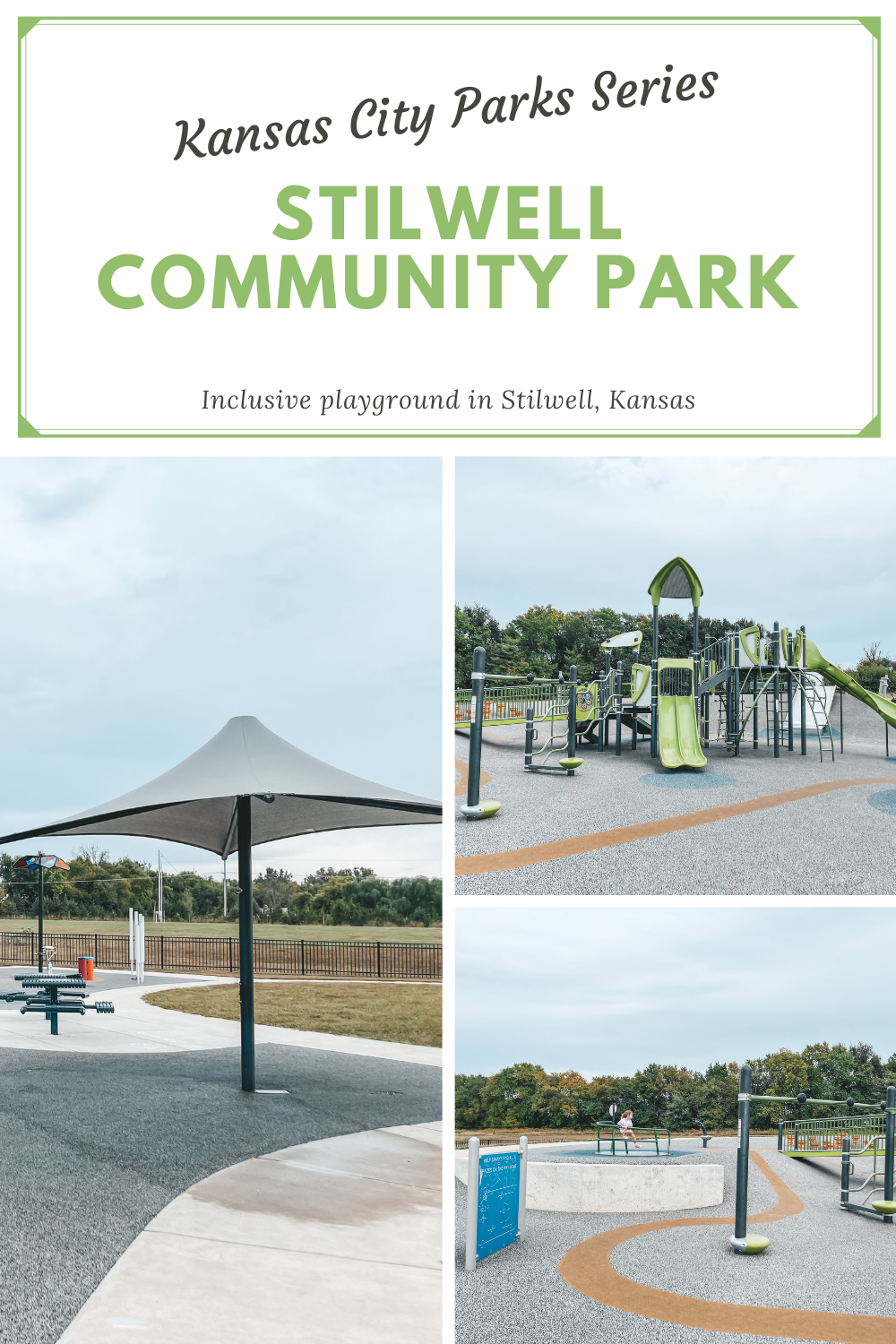 Pin this post about Stilwell Community Park to Pinterest for later!
Want more family activities in Kansas City? Read these next: