If you follow me on Instagram, you know the Kansas City area is on a "stay at home order" right now. Basically, we can only leave our house for necessities, which means I've been doing a lot more cooking at home. I shared these baked chicken tenders with crispy panko breading on my Instagram Stories a few nights ago and had several requests to blog the recipe. This is an easy, family-friendly main dish–and the kids can even help prepare it!

If you make a purchase from this post, I may earn a small commission. Please see our Legal page for more information.
Since we've been staying home for the past several days, we've been cooking at home both out of necessity as well as something to do. After all, a big part of having kids at home is just keeping them occupied. So, I look for recipes that they can help prepare. And that they might actually eat.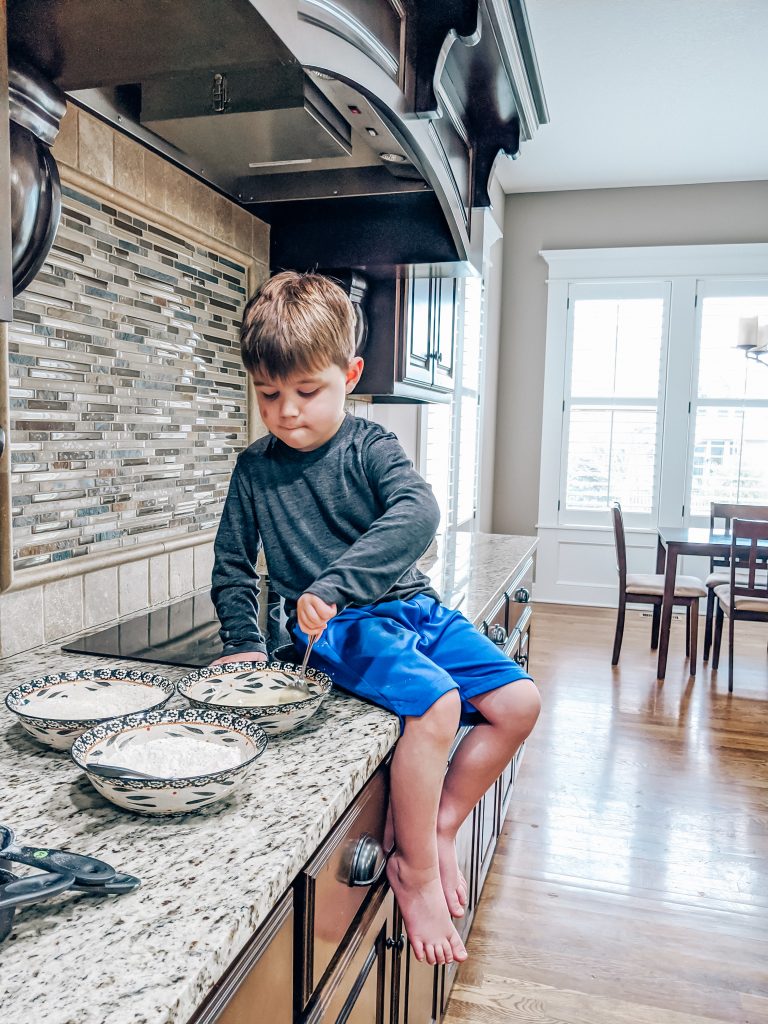 Colton was happy to help me whip up this easy baked chicken tenders recipe. He was even breading the chicken himself!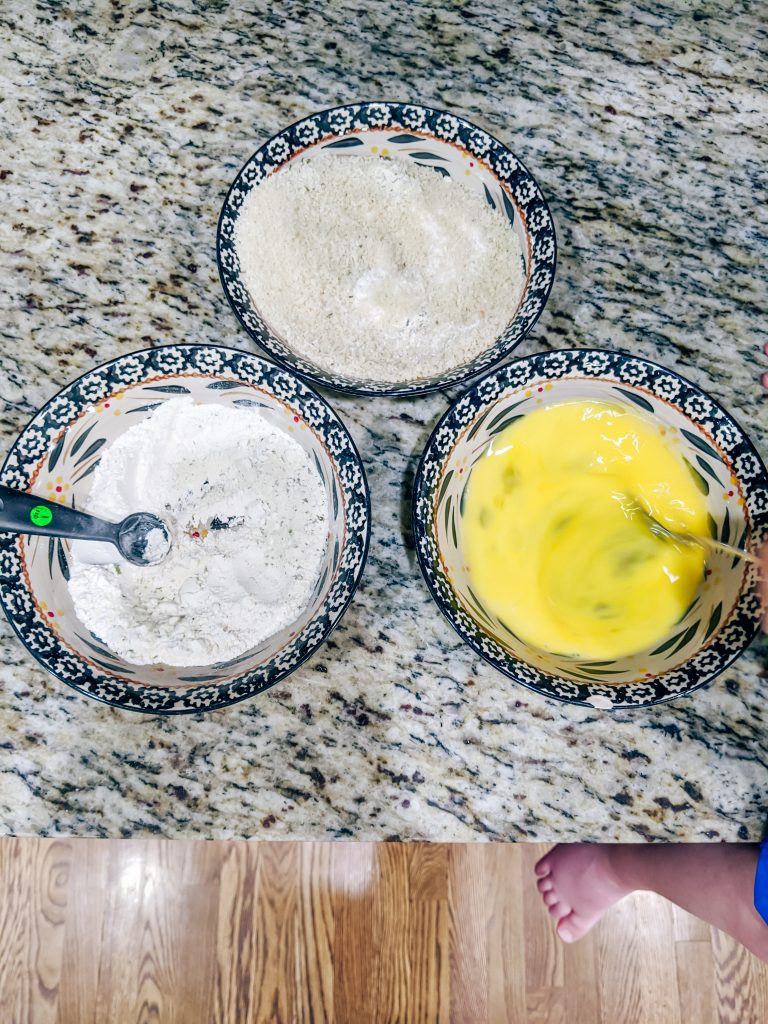 To make your own chicken tenders, you'll need to mix up 3 bowls of ingredients:
Bowl 1:

1/2 cup flour
2 tsp ranch seasoning

Bowl 2:
Bowl 3:

1 cup panko breadcrumbs
2 tsp ranch seasoning
1/2 tsp salt
Preheat your oven to 425 F. I always have to write this, because if a recipe doesn't say to preheat your oven, I will forget. Without fail. So, preheat your oven.
Coat the chicken in the flour mixture, then dip in the egg mixture, then coat with the breadcrumb mixture. Make sure to use enough egg mixture that the breadcrumbs will stick easily.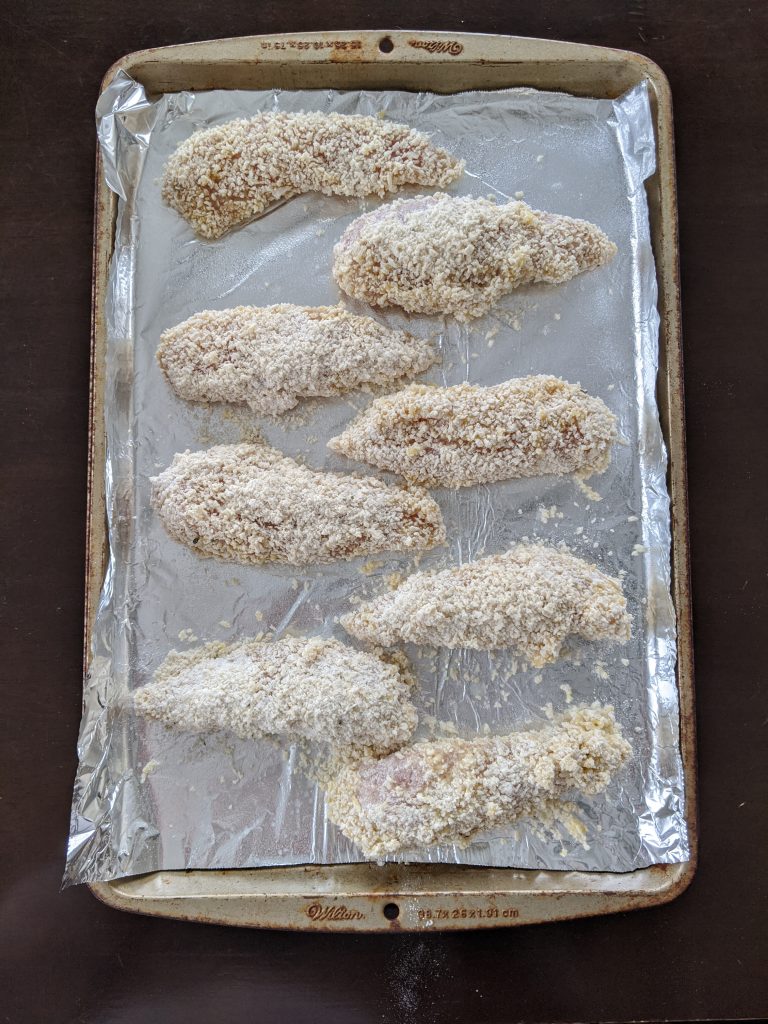 Here's what they looked like before going in the oven. Lining your baking sheet with aluminum foil makes for easy cleanup!
Put them in the oven [which you remembered to preheat!] for 15-20 minutes. Cook until they register an internal temperature of at least 165 F. [If you don't have a meat thermometer yet, grab this one with 20k+ reviews!]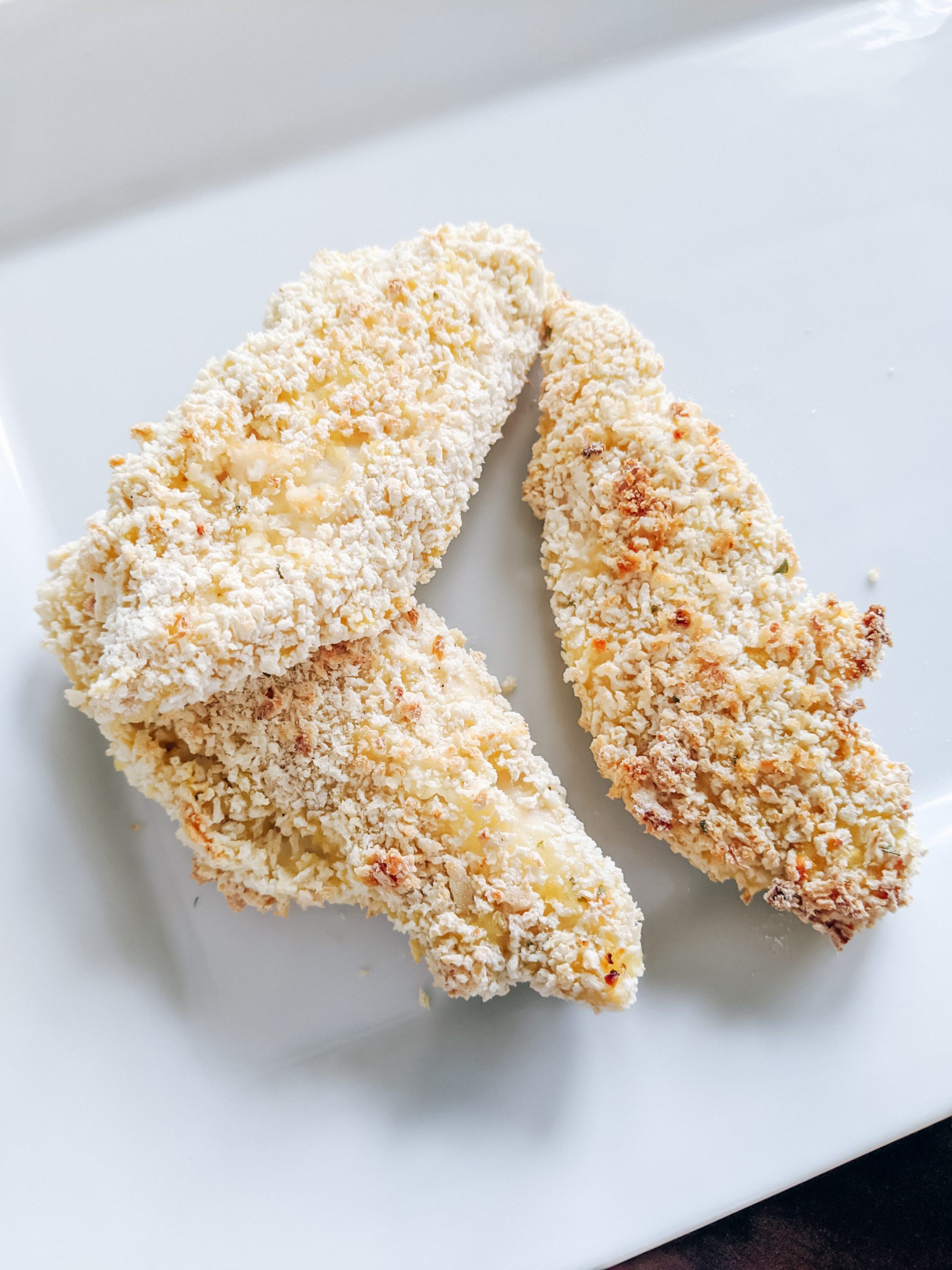 And here's what they look like right out of the oven! Nice and crispy, without having to fry them.
If you have leftovers, make sure to re-heat them in the oven the next day to make the panko crumbs crispy again. You can even do a couple minutes under the broiler to make them extra crispy.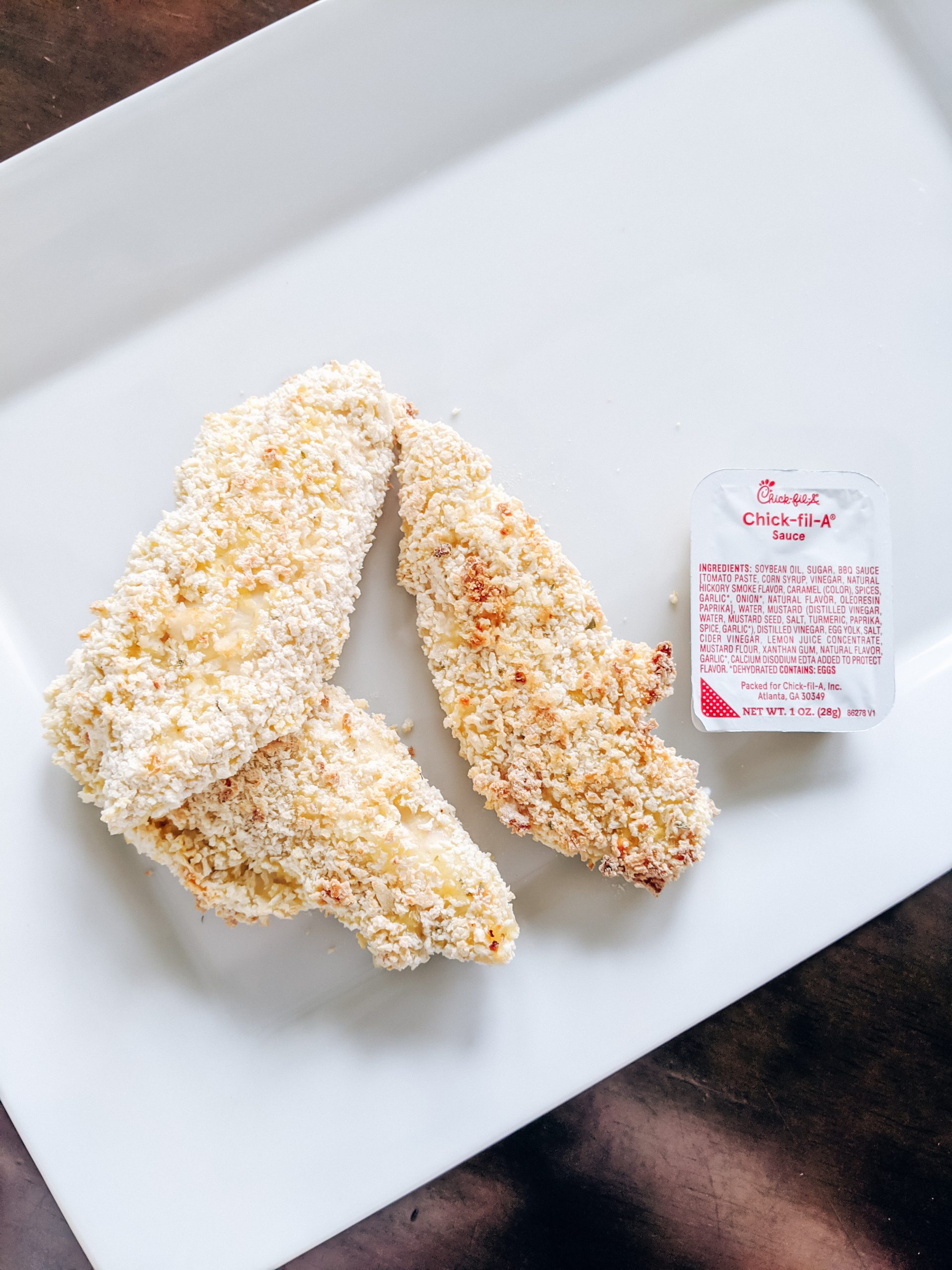 Serve with sauce of choice–for me, that's Chick-fil-A sauce. I hoard that stuff like gold. My kids prefer ketchup, and my husband likes BBQ sauce. But it has to be from a local Kansas City place, not chain BBQ! [If you're wondering, my favorite BBQ sauce is Gates. The rest of my family likes Zarda.]
Full recipe below! Grab your supplies here: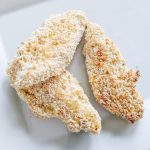 Baked Chicken Tenders with Crispy Panko Breading
These oven-baked chicken tenders make use of panko breadcrumbs for an extra crispy finish!
Keyword:
Chicken, Kid-Friendly
Ingredients
1/2

cup

Flour

4

tsp

Ranch Seasoning

2

Eggs

2

Tbsp

Water

1

cup

Panko Breadcrumbs

1/2

tsp

Salt

1

lb

Chicken Tenders
Instructions
Preheat oven to 425 F. Line a baking sheet with aluminum foil.

In 1 bowl, mix flour and 2 tsp ranch seasoning.

In a second bowl, mix eggs and water.

In a third bowl, mix panko breadcrumbs and 2 tsp ranch seasoning.

Coat 1 chicken tender in the first bowl (flour/ranch), then in the egg mixture, then finish with the third bowl (panko crumbs).

Place the chicken tender on the lined baking sheet, then repeat for all tenders.

Cook in preheated 425 F oven for 15-20 minutes, until an internal temperature of at least 165 is reached.

Enjoy with sauce of your choice!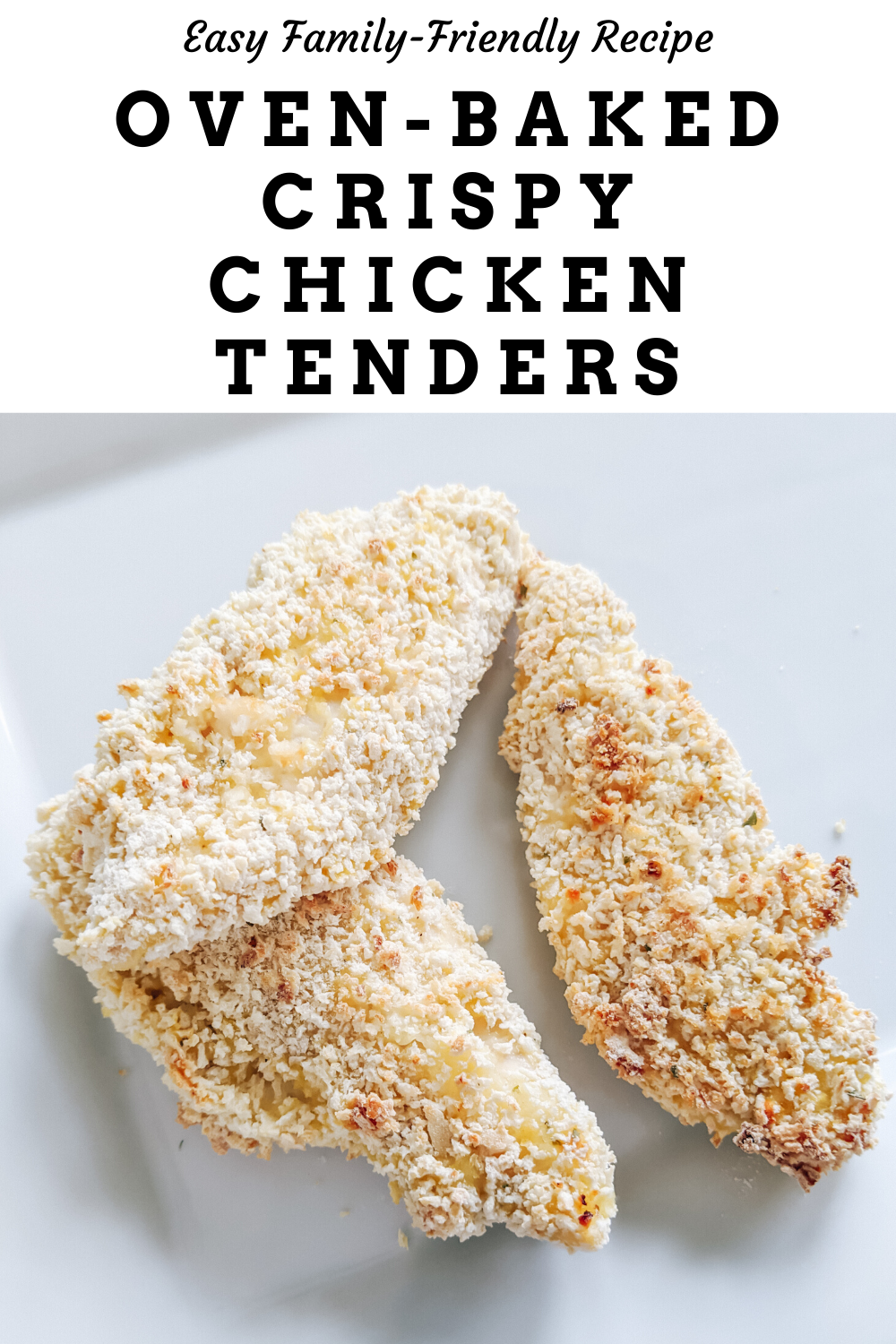 Pin these Baked Chicken Tenders with Crispy Panko Breading for later!
More family-friendly recipes: